Roasted cherry tomatoes combined with roasted garlic, sweet potato and shallots magically transform into a truly comforting and flavor-packed soup. It's simple to make, nourishing and perfect as a light lunch or dinner during soup season or whenever you want a warm, cozy bowl of soup. This is the best tomato soup made with simple ingredients and minimal time in the kitchen!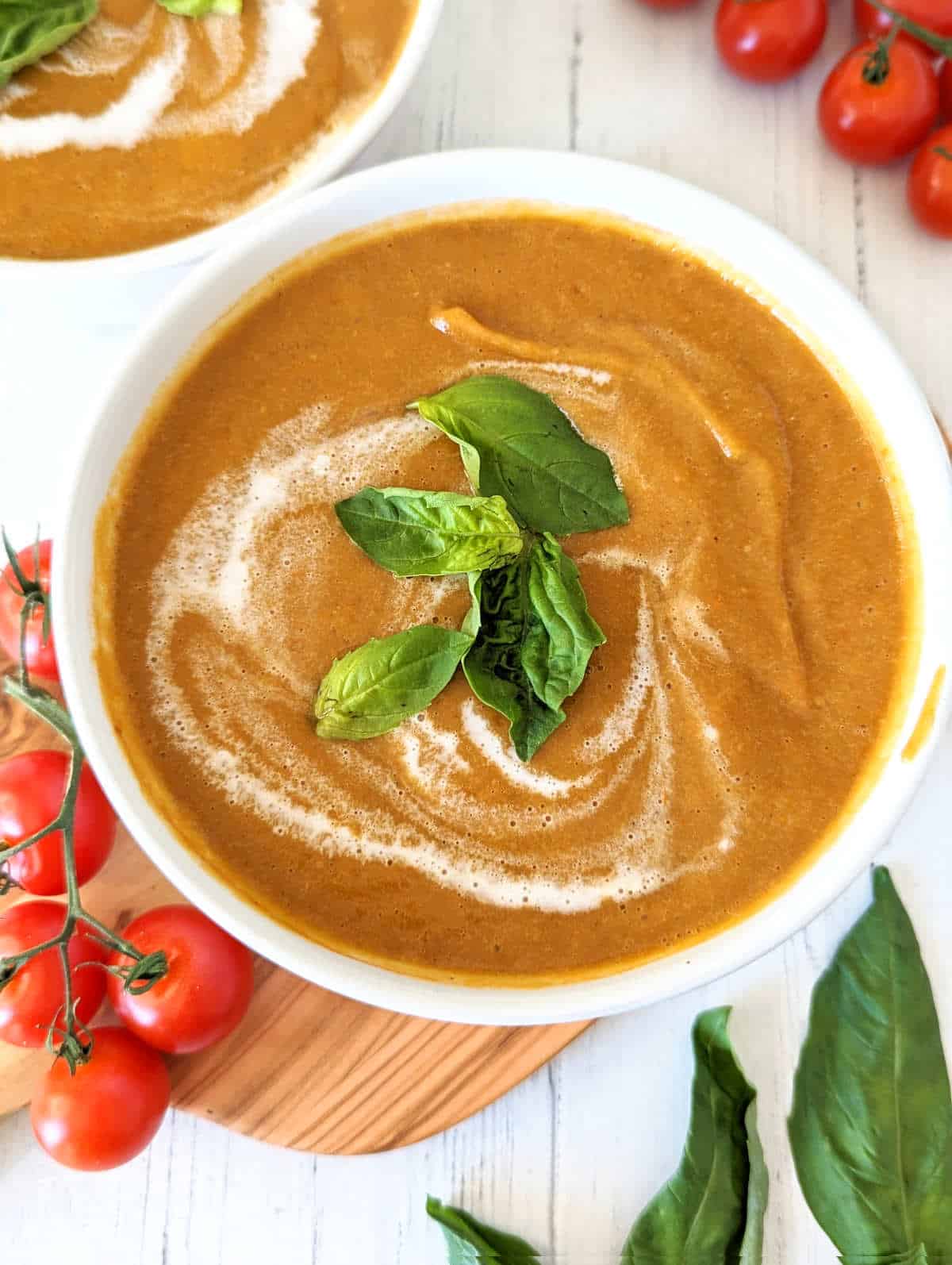 Jump to:
Reasons to love this cherry tomato soup
Nothing beats a cozy bowl of soup, especially one made with sweet, juicy tomatoes and fresh basil. If that's not enough, here are more reasons you're going to love this recipe.
Easy to make: Cherry tomato soup is a simple and quick dish to prepare. Just roast your veggies until tender and blend them together with seasonings. It couldn't get any easier!
Healthy: Cherry tomatoes are packed with vitamins and minerals, making this soup a great way to get your daily dose of nutrients.
Versatile: You can serve cherry tomato soup as a starter, side dish, or even as a main course. It pairs well with vegan grilled cheese sandwiches, side salads, or even just some crusty bread.
It's delicious: The sweet and tangy flavor of cherry tomatoes makes this soup irresistible. Plus, it's easy to customize the flavor by adding in different herbs and spices.
Comforting: There's something about a warm bowl of soup that just makes you feel better. Cherry tomato soup is the perfect comfort food for cold winter days or when you're feeling under the weather.
Health benefits of cherry tomatoes
1. High in Nutrients: Cherry tomatoes are an excellent source of vitamins A and C, as well as potassium, folate, and iron.
2. Low in Calories: One cup of cherry tomatoes contains only 27 calories, making them a great snack for those watching their weight.
3. Rich in Antioxidants: Cherry tomatoes are rich in antioxidants such as lycopene, which can help protect against certain types of cancer and heart disease.
4. Good for Blood Pressure: The high potassium content of cherry tomatoes may help lower blood pressure levels.
The only negative side to cherry tomatoes, and tomatoes in general, is that it can give you acid reflux due to the acidity of the tomatoes. If you are prone to acid reflux you may want to limit your tomato consumption.
Ingredient notes
Using an abundance of fresh ingredients makes this creamy tomato soup extra wholesome, nourishing and flavorful! Here are some key notes and substitutions to keep in mind: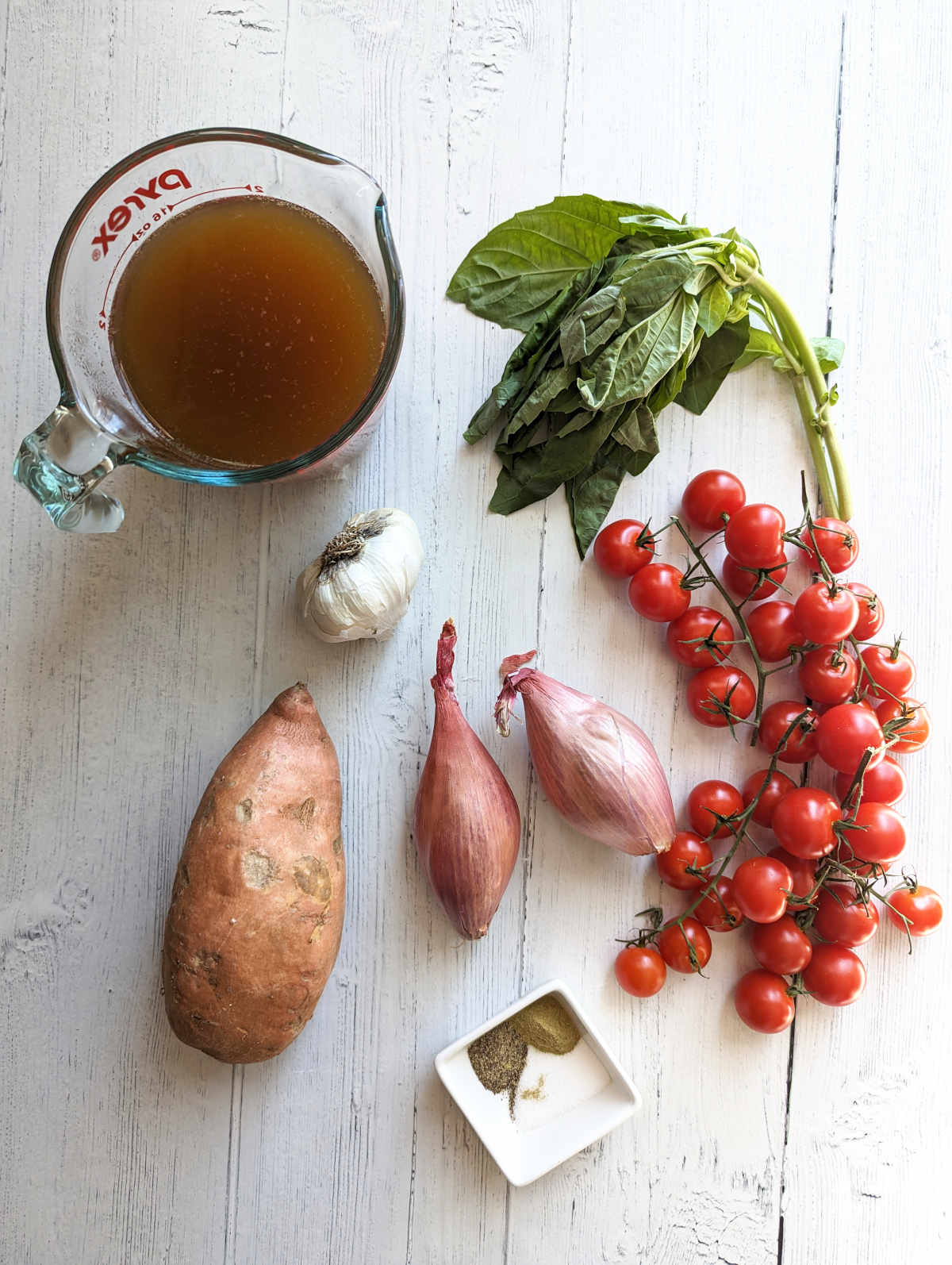 Fresh cherry tomatoes—The star ingredient, cherry tomatoes have a sweet, juicy flavor that translates perfectly into a robust soup. True cherry tomatoes can be pricey so feel free to use grape tomatoes as needed. Both are small, round varieties of tomatoes, the main difference between the two is size; cherry tomatoes are typically smaller than grape tomatoes. Cherry tomatoes also tend to be sweeter and have a more intense flavor than grape tomatoes but either will work in this homemade tomato soup recipe! You can even use roma tomatoes if needed!
Shallots—These small, elongated bulbs with a mild flavor are slightly sweeter than regular onions. Sweet onions can also be used, just bear in mind they have a stronger flavor than shallots. Both are on the sweeter side, making either a great addition to this cherry tomato soup.
Garlic—This cherry tomato soup is a garlic lover's dream. I used one whole head of garlic for a strong, pungent and slightly sweet flavor after roasting.
Fresh basil—Basil leaves add a sweet, peppery, and slightly anise-like flavor. Fresh is best but you can also use dried. Some other good substitutes for basil include oregano, thyme, marjoram, and tarragon.
Sweet potato—To make this soup heartier than a typical cream of tomato soup, I added roasted sweet potatoes. The starch from the potatoes helps to thicken the soup while also giving it more sustenance so that it can be enjoyed as a main dish too. Yukon gold potatoes can also be used if you don't have sweet potatoes on hand.
How to make this cherry tomato soup
This roasted cherry tomato soup will quickly become a weeknight favorite once you see how easily it all comes together. There's minimal prep, then the oven and blender do the rest of the work for you!
Start by roasting the vegetables. Chop them up and spread them out in a single layer on a large baking sheet and sprinkle with the seasonings. Roast until tender and the cherry tomatoes have started to burst.
Remove from oven and allow to cool for 5-10 minutes for easier handling. Transfer to a high-speed blender (including the roasted tomatoes' own juices from the sheet pan) along with the rest of the ingredients. Blend well until smooth.
Alternatively, you can use an immersion blender. Transfer to a large soup pot or dutch oven and add in the remaining ingredients. Use an immersion blender to blend until smooth. At this time if you prefer a hot soup you can heat it for a few minutes over medium heat, or serve as-is.
This delicious soup pairs beautifully with a pinch of sliced fresh basil on top and a swirl of creamy coconut milk!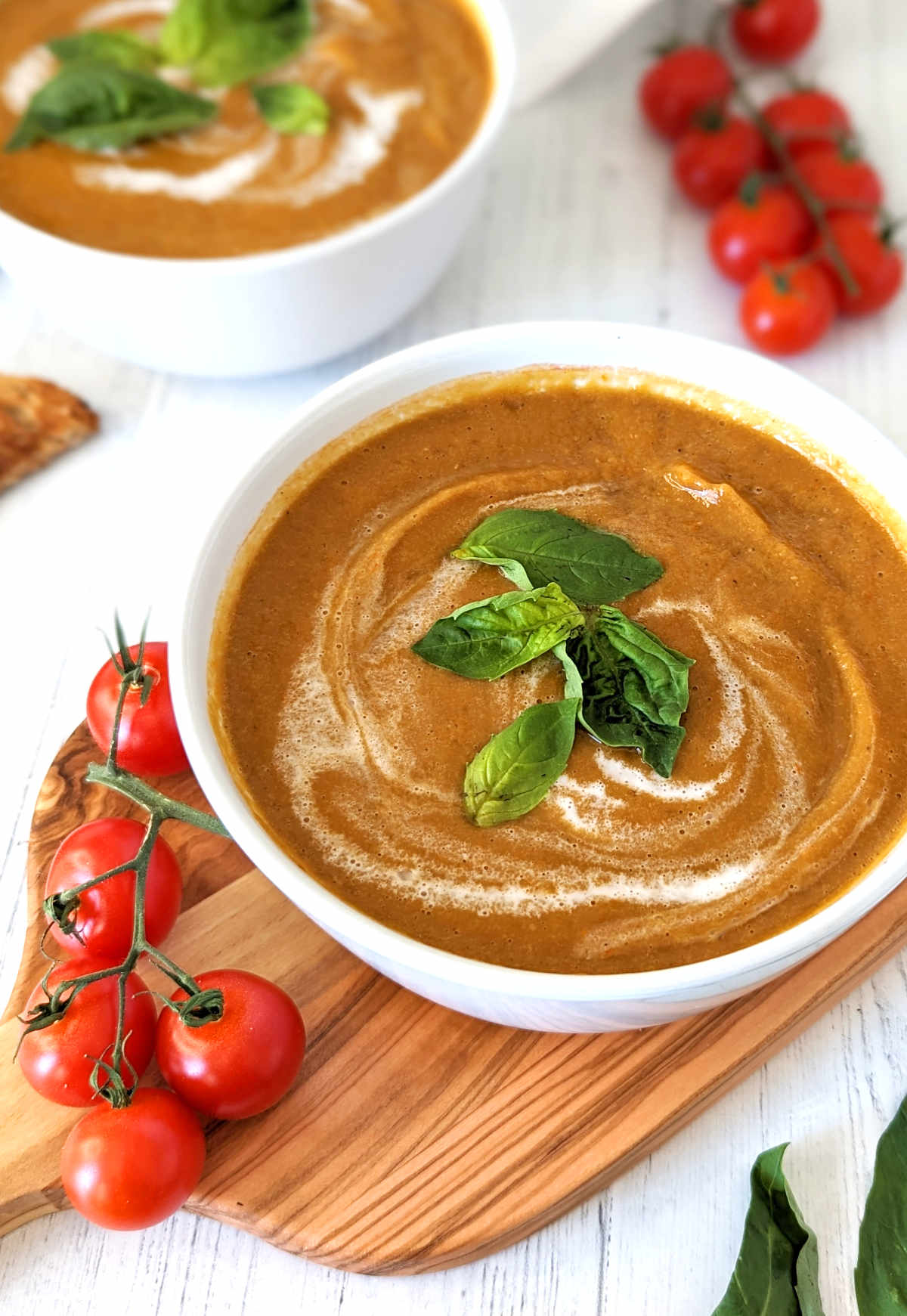 How to store leftovers
This cherry tomato soup recipe stores easily in an airtight container in the refrigerator for up to a week.
For longer storage, you can freeze the soup.
Freezer instructions:
Cool the soup completely to room temperature before placing in freezer-safe containers, leaving ½ inch of headspace to allow for expansion. Label the container with the date and contents and place in the freezer to store for up to 3 months.
Reheat by allowing the soup to thaw in the fridge overnight, then transferring to a pot over medium-low heat, stirring occasionally as it heats up. You can also reheat by microwave.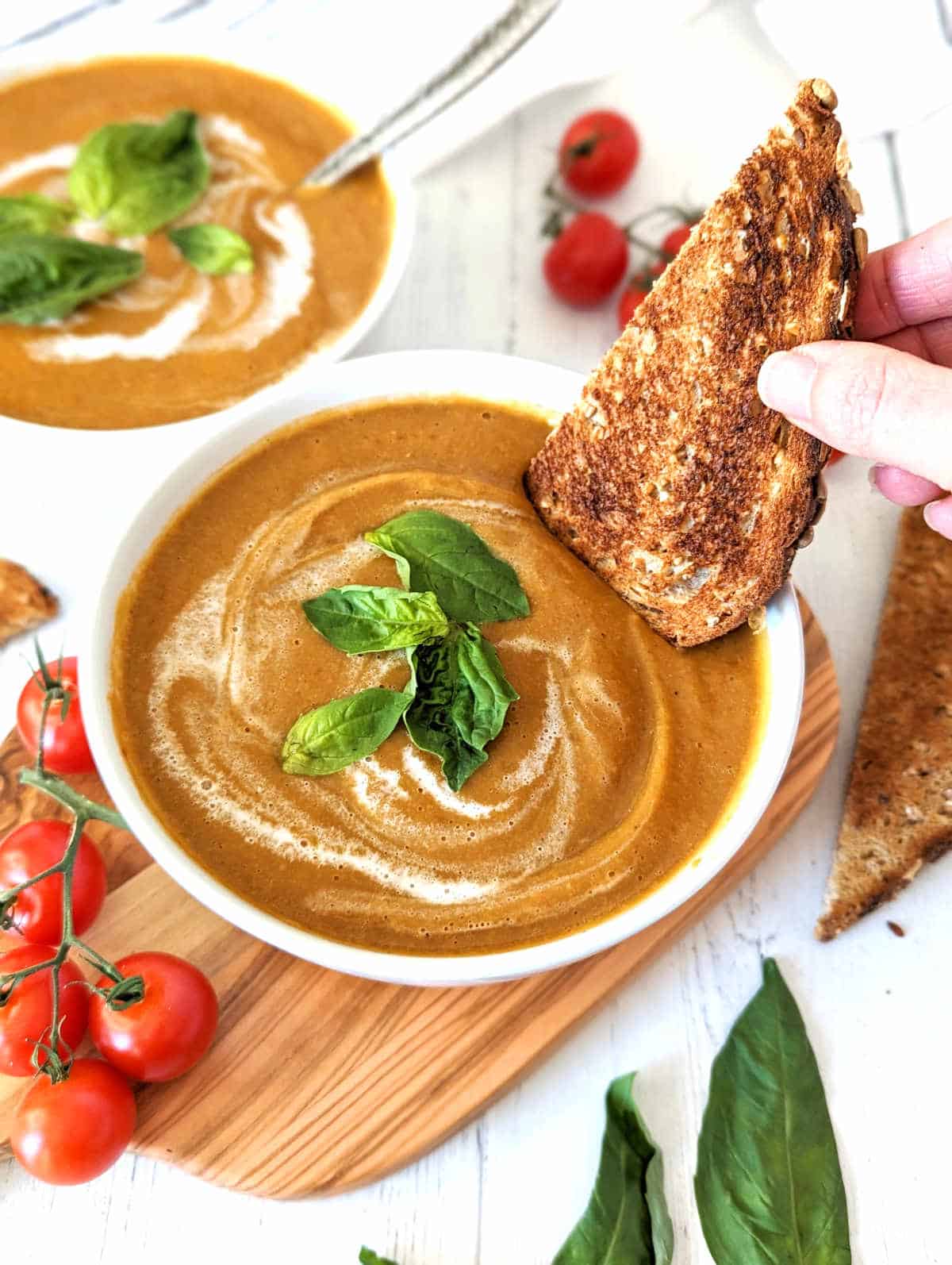 Variations and Serving Suggestions
One of the best things about this creamy roasted tomato basil soup recipe is how easy it is to customize. Here are a few ways to change it up:
Add some crunch: Top if off with some homemade croutons and crusty bread.
Make it creamy: Swirl in some coconut milk or vegan heavy cream to make it extra rich!
Fill it with fiber: Before blending, add a can of drained white beans. You won't taste them but it will add some bulk and fiber to this soup to make it extra hearty!
Heat it up: Sprinkle with red pepper flakes for some extra flavor and spice.
More comforting and cozy meals
If you enjoyed this recipe please leave a comment below and give it 5 stars! Or on Pinterest (don't forget to follow me!) and please help me share on facebook!
📖 Recipe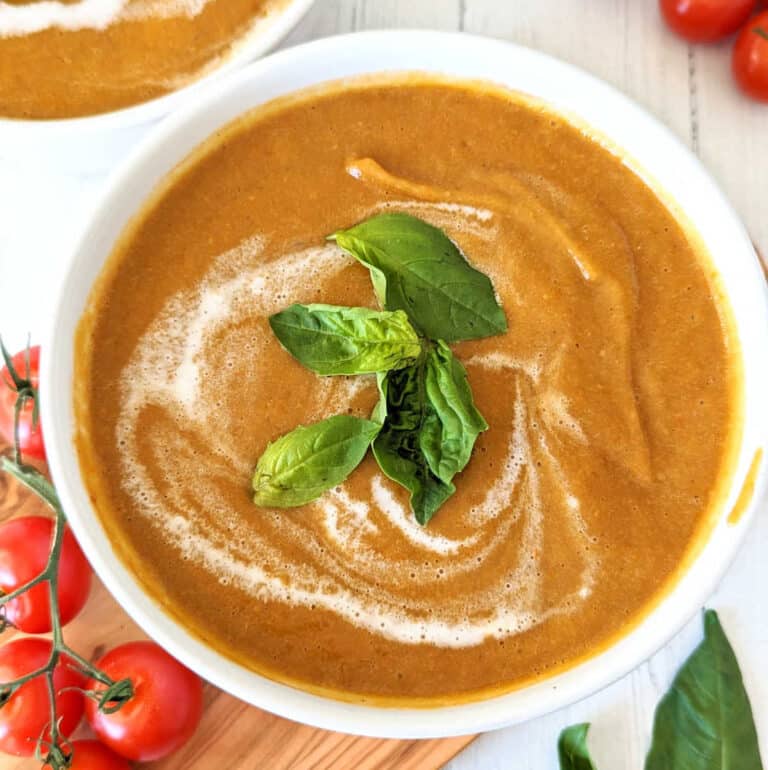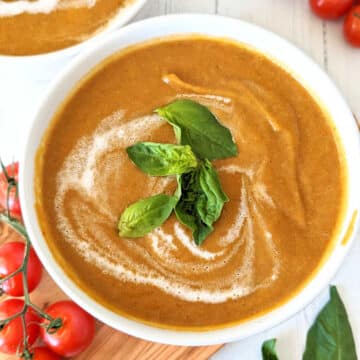 Cherry Tomato Soup
This is the best roasted cherry tomato soup made with simple ingredients that effortlessly transform into a flavor-packed soup. It's simple to make, nourishing and perfect as a light lunch or dinner during soup season or whenever you want a warm, cozy bowl of soup.
Print
Pin
Rate
Ingredients
2

pints

cherry tomatoes

2

shallots

,

or 1 sweet onion, roughly chopped

1

head

garlic

,

sliced in half

1

small

sweet potato

,

sliced into ½ inch cubes

1

teaspoon

salt

½

teaspoon

black pepper

½

teaspoon

ground thyme

2

cups

low-sodium vegetable broth

½

cup

fresh basil leaves

canned coconut milk

,

optional topping
Instructions
Preheat oven to 400°F (205°C) and line a rimmed baking tray with parchment paper.

Add the cherry tomatoes, shallots, garlic and sweet potato to the baking tray and spread out into a single layer. Sprinkle with salt, black pepper and thyme. Roast in the oven for 30-35 minutes, until the vegetables are soft.

2 pints cherry tomatoes,

2 shallots,

1 head garlic,

1 small sweet potato,

1 teaspoon salt,

½ teaspoon black pepper,

½ teaspoon ground thyme

Remove pan from the oven and allow to cool until safe to handle (at least 5-10 minutes). Remove the garlic head, then transfer the remaining roasted vegetables from the pan to a high-speed blender. Alternatively, use an immersion blender and transfer everything to a large soup pot. You may need to work in batches if your blender bowl is smaller. Squeeze the garlic cloves out of the head into the blender and discard the skin. Add the broth and basil leaves to the blender. Blend until a smooth soup is formed, adding more vegetable broth or seasonings as desired.

2 cups low-sodium vegetable broth,

½ cup fresh basil leaves

Divide into bowls and top with a swirl of coconut milk if desired. Enjoy!
Notes
Leftovers: Store in an airtight container in the refrigerator for up to a week. For longer storage, you can freeze the soup, just make sure to allow it to cool completely before storing, and leave room in the container for expansion as it freezes.
Nutrition Per Serving
Calories:
106
kcal
Carbohydrates:
24
g
Protein:
4
g
Fat:
0.3
g
Saturated Fat:
0.1
g
Polyunsaturated Fat:
0.1
g
Monounsaturated Fat:
0.05
g
Sodium:
1118
mg
Potassium:
741
mg
Fiber:
4
g
Sugar:
10
g
Vitamin A:
9540
IU
Vitamin C:
55
mg
Calcium:
55
mg
Iron:
2
mg