Ramen noodle packages are incredibly affordable instant noodles that are convenient for a quick meal or snack. On a vegan diet, it's not so simple as not all ramen brands have vegan options. Read on for what ingredients to look out for and which brands are best for vegans.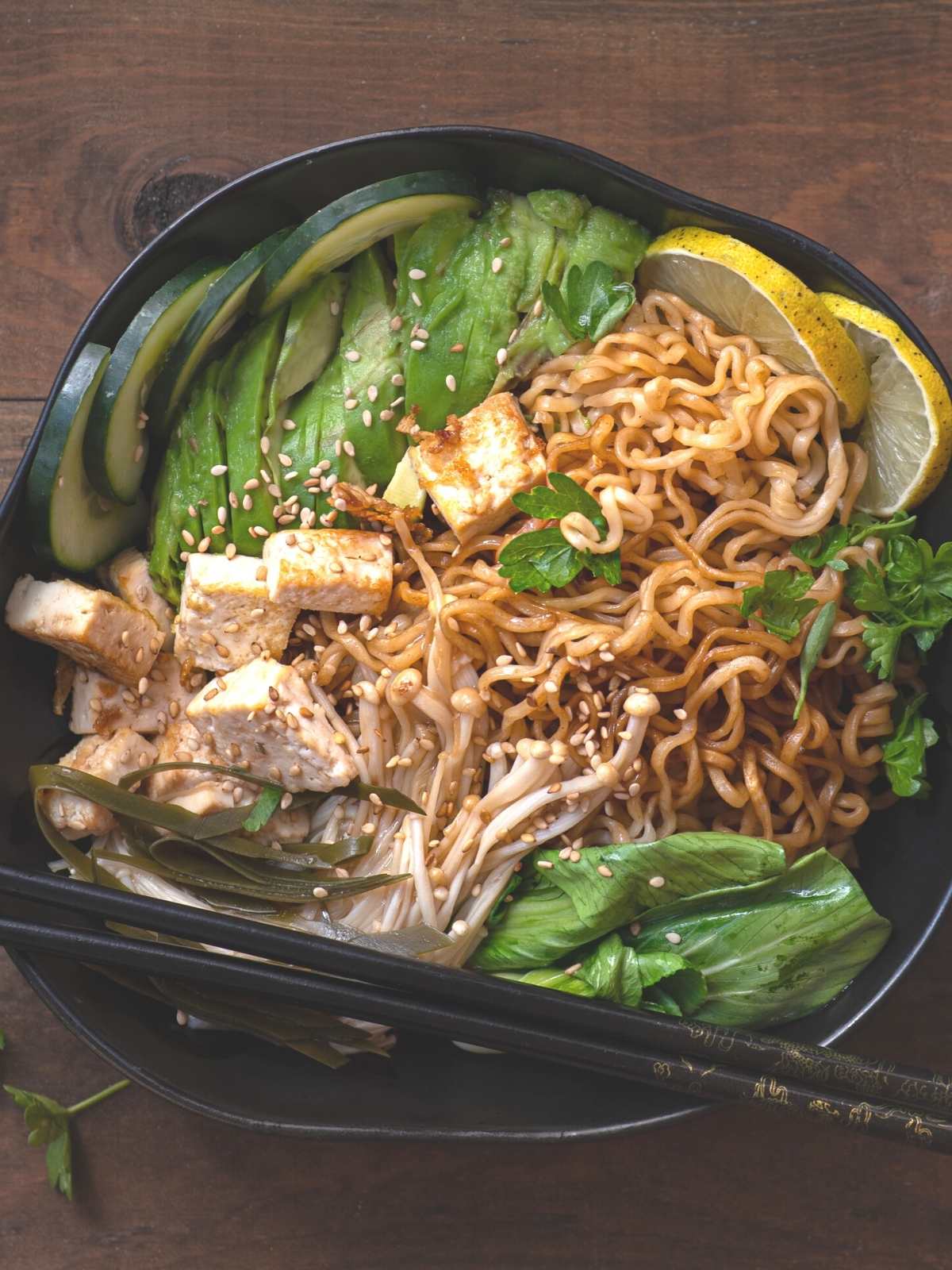 Jump to:
What is ramen?
Ramen is a Japanese-style noodle dish that uses Chinese-style wheat flour noodles. It is served in a broth, typically made from stock based on chicken or pork, and topped with sliced pork, nori (seaweed), bamboo shoots and scallions.
Vegetable-based broths are a modern alternative that can be found more frequently in restaurants and convenience store noodle bowls than in the past, but this style broth is not traditional.
The noodles themselves are completely free of animal products, made with just wheat flour, salt, water and kansui, a type of alkaline mineral water. Kansui is what gives ramen noodles their yellowish hue as well as firm texture.
Sometimes eggs are substituted for kansui. This is usually done in fresh ramen dishes at restaurants and less likely in instant noodles. Instant noodles found in the store are most often made with wheat flour and oil.
Instant noodles came onto the scene in 1958 by Momofuku Ando, the Taiwanese-Japanese founder and chairman of Nissin Foods. Instant ramen noodles were named the greatest Japanese invention of the 20th century in a Japanese poll. It changed the accessibility of ramen, allowing anyone with boiling water to make it easily.
Brands of ramen that are not vegan
Thanks to Momofuku Ando, there are now so many instant ramen noodle options in stores it can be overwhelming!
To simplify it, the following brands are not vegan friendly and are best avoided. However, you've probably heard of vegans and vegetarians using the noodles, which are vegan, and discarding the flavor packets. Some vegans and vegetarians will still choose to purchase the packages for convenience and simply discard the flavor packets, opting to add their own seasonings.
Whether or not you feel comfortable with that choice is up to you and could be an option in a pinch. If you're enjoying ramen with friends, give them your extra seasoning packet so it doesn't go to waste.
Now, without further ado, if you don't want your money going towards non-vegan options, avoid the following brands.
Maruchan ramen noodles
The short answer: All Maruchan ramen flavors are not vegan.
It's true, those classic noodle packs from Maruchan are not vegan-friendly, regardless of flavor. Aside from the obvious beef, pork, chicken and shrimp flavors, their chili flavor and soy sauce flavor are both not vegan.
The soy sauce flavor contains lactose, a milk derivative and beef extract. The chili flavor contains lactose and beef extract as well as beef fat.
Samyang
This Korean ramen brand does have one vegan option but I've chosen to include in the non-vegan friendly section because overall the brand is not vegan-friendly.
The Samyang 2x Spicy Hot Chicken Flavor ramen is made with artificial flavor and is therefore technically vegan. No other flavor is vegan.
Ramen brands that are vegan-friendly
The following are vegan ramen brands as well as ramen brands with several vegan options. These are those easy cup of noodles that you can find at the grocery store or convenience stores when you just want a quick meal or snack. And you can trust that the following brands and flavors are safe for vegans to eat without having to look at the ingredients list!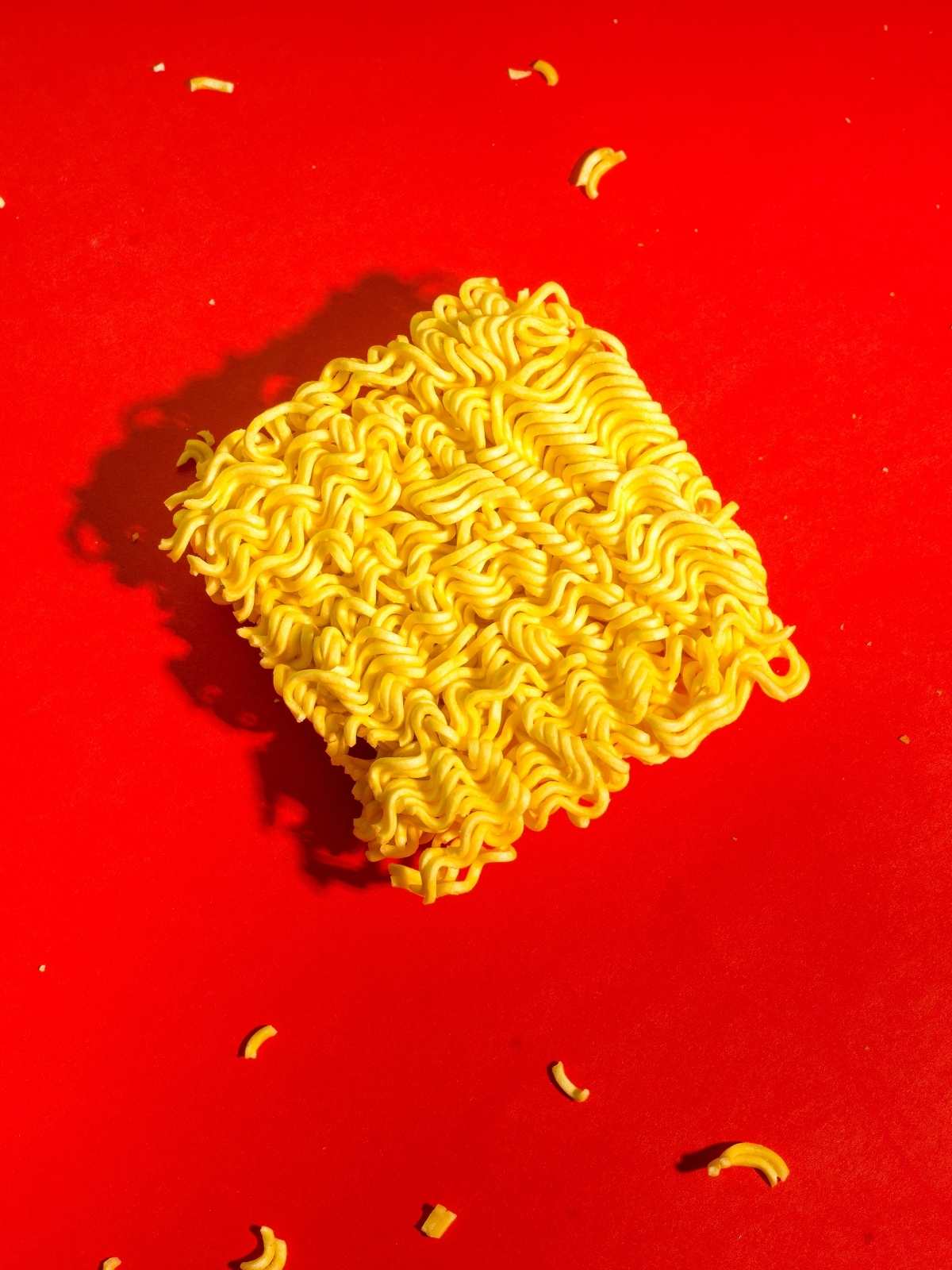 Dr. McDougall's Right Foods
Dr. McDougall's Right Foods is a plant-based brand and now has a few flavors of vegan ramen: Chicken Ramen, Hot and Sour Ramen, and Miso Ramen.
As an added bonus, these vegan ramens are also organic and oil-free.
Nissin Top Ramen
Nissin has two vegan flavor options: Nissin Top Ramen Soy Sauce Flavor (originally called Oriental Flavor) and Nissin Top Ramen Chili Flavor. Although labeled "vegetarian" they are technically vegan.
What about their Cup Noodles line or Top Ramen Bowls? The Stir Fry Sweet Chili flavor of Cup Noodles and Top Ramen Bowl Soy Sauce flavor contain no ingredients of animal origin.
Unfortunately all other Nissin Top Ramen flavors are not vegan including Chicken Flavor, Beef Flavor, Shrimp Flavor, and Hot & Spicy Beef Flavor.
Annie Chun's
This gourmet asian brand has several vegan flavors! The Spicy Ramen, Vegan Tonkotsu Ramen, Spicy Miso Ramen, and Shoyu Ramen are all vegan.
Although on the pricier side, these bowls are also fairly filling and packed full of flavor!
Koyo
Koyo offers both ramen packages and ramen cups in various flavors. For their ramen cups, the Garlic Vegetable Ramen Noodle Soup and Spicy Szechuan Rice Ramen Noodle Soup are the two cup flavors that are vegan friendly.
As of writing this, all of their ramen packets (in plastic wrapping) are vegan. And they have a ton of flavors including Shiitake Mushroom Ramen, Tofu Miso Ramen, Asian Vegetable Ramen, Lemongrass Ginger Ramen, Garlic Pepper Ramen, Buckwheat Shoyu Ramen, and Wakame Seaweed Ramen.
If you have trouble finding them in stores or can't decide on which flavor to try first, they offer a variety bundle online.
Nongshim
Nongshim has a Shin Ramyun Vegan flavor as well as a few noodle cups that are vegan.
Lotus Foods Millet & Brown Rice Ramen
If you're looking for just the noodles without worrying about the flavor packets, these ramen noodles from Lotus Foods are perfect! And they also happen to be gluten-free!
They cook quickly and they come in 10-packs so you can enjoy instant ramen without all that extra packaging!
Simply Asia
Another ramen noodle option comes from Simply Asia. Use these Japanese-style wheat noodles to make your own ramen noodle soup at home! Check out the topping and seasoning options below for ideas.
Frequently asked questions
Are Maruchan ramen noodles vegan?
Unfortunately all Maruchan ramen noodles are not vegan. Even their soy sauce flavor contains lactose, a milk derivative.
Is Nissin Top Ramen vegan?
Nissin has two flavors of instant ramen that are vegan: Nissin Top Ramen Soy Sauce Flavor (originally called Oriental Flavor) and Nissin Top Ramen Chili Flavor. These are labeled "vegetarian" but they are vegan.

All other Nissin Top Ramen flavors are not vegan including Chicken Flavor, Beef Flavor, Shrimp Flavor, and Hot & Spicy Beef Flavor.
Are the flavor packets in ramen vegan?
Not always. There are oftentimes many animal products added to the flavor packets. It's always best to check the ingredient list to be sure.
What ingredients in instant ramen noodles are not vegan?
Unfortunately there are several animal ingredients included in the flavoring packets:

-animal stock (beef, chicken or pork are most common)
-beef extract or beef fat
-natural flavors (chicken flavor for example)
-chicken fat
-dairy products (usually lactose in small amounts but can be found in prepackaged seasoning packets)
Are ramen noodles gluten-free?
Traditional ramen noodles are made with wheat flour and are therefore not gluten-free. As a gluten-free alternative, use rice noodles or buckwheat noodles instead.
How to make homemade ramen noodles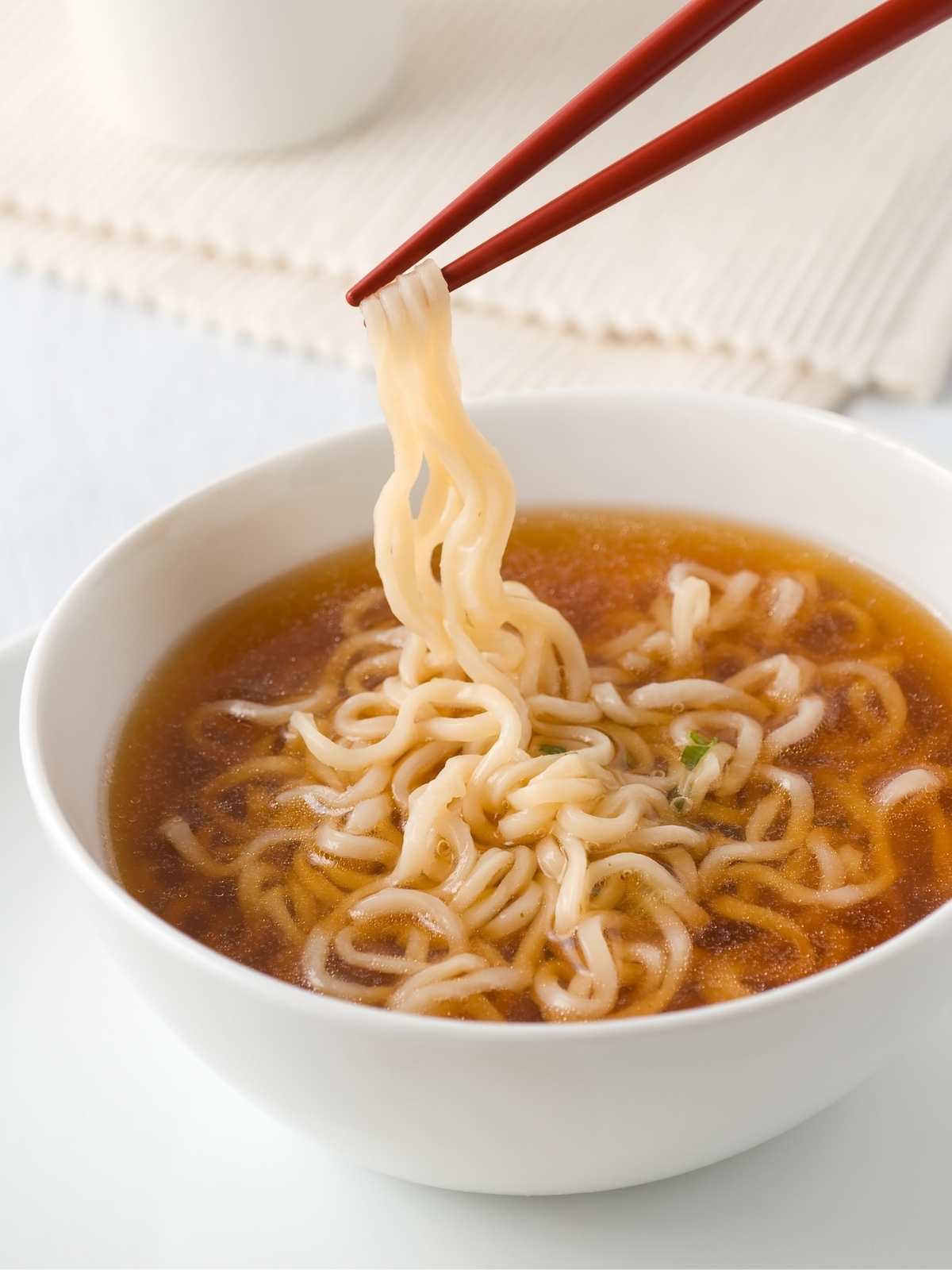 Want to save yourself the headache of going to the store, and instead make ramen noodles from scratch at home?
To make ramen noodles at home sounds harder than it is but it's really not much different than making bread. You only need a few ingredients, but a pasta machine is recommended to get the desired long noodle shape.
Here's a quick run-down of the process:
Start by adding baking soda to warm water to make an alkaline solution.
In a large mixing bowl, add the alkaline water solution along with the flour. Mix together until a dough ball forms.
Cover the bowl with a damp towel and allow the dough to rest for 30 minutes.
On a floured surface, knead the dough for 2-3 minutes using a rolling pin. Pat it into a ball then roll it out a little and repeat.
Roll dough flat using a pasta machine.
Cut the flat dough into long thin strips of noodles with the pasta machine.
Cook noodles in boiling water for about 1 minute.
For a in depth tutorial on how to make homemade ramen noodles, check out this recipe.
Vegan Ramen Toppings
No ramen is complete without the toppings! Luckily, many classic ramen toppings are vegan-friendly.
mushrooms—any type will do but shiitake is a classic
green onions
bambo shoots
bean sprouts
cucumber
avocado
bok choy
crushed red chili flakes
edamame
nori sheets—shred them up into small pieces and add on top to give a fishy flavor
Vegan Ramen Sauces and Seasonings
Soy sauce, tamari sauce, or liquid aminos
hot sauce—Sriracha or whatever you prefer
garlic chili sauce or sweet chili sauce
sesame oil
rice vinegar
chili powder
garlic powder
onion powder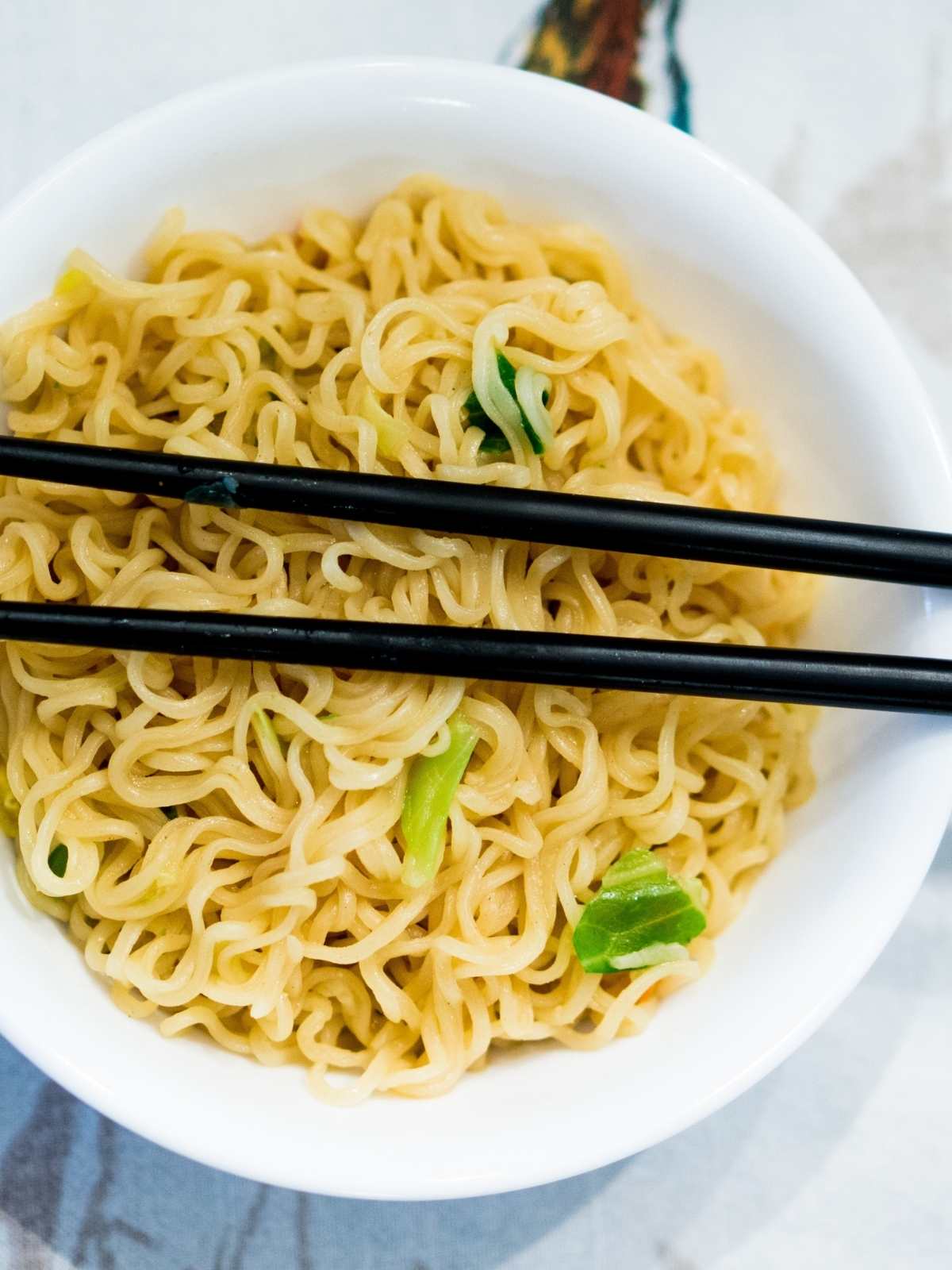 Best Vegan Ramen Recipes
Not feeling adventurous enough to throw it together blind but still want to make your own vegan ramen at home? Check out these tried and true recipes instead!
Perfectly seasoned and full of flavor, these vegan ramen recipes will make you glad you made it fresh at home!
Vegan Ramen with Shiitake Broth
Easy Vegan Ramen Noodles with just 8 ingredients
Creamy Vegan Ramen with a peanut broth
Let me know in the comments which vegan ramen recipe is your favorite. And don't forget to rate the ones you try!
Have you discovered any other vegan-friendly store-bought ramen options?