It's easier than you think to switch to oil-free cooking. Here are the best ways to sauté, bake, roast, and fry without oil.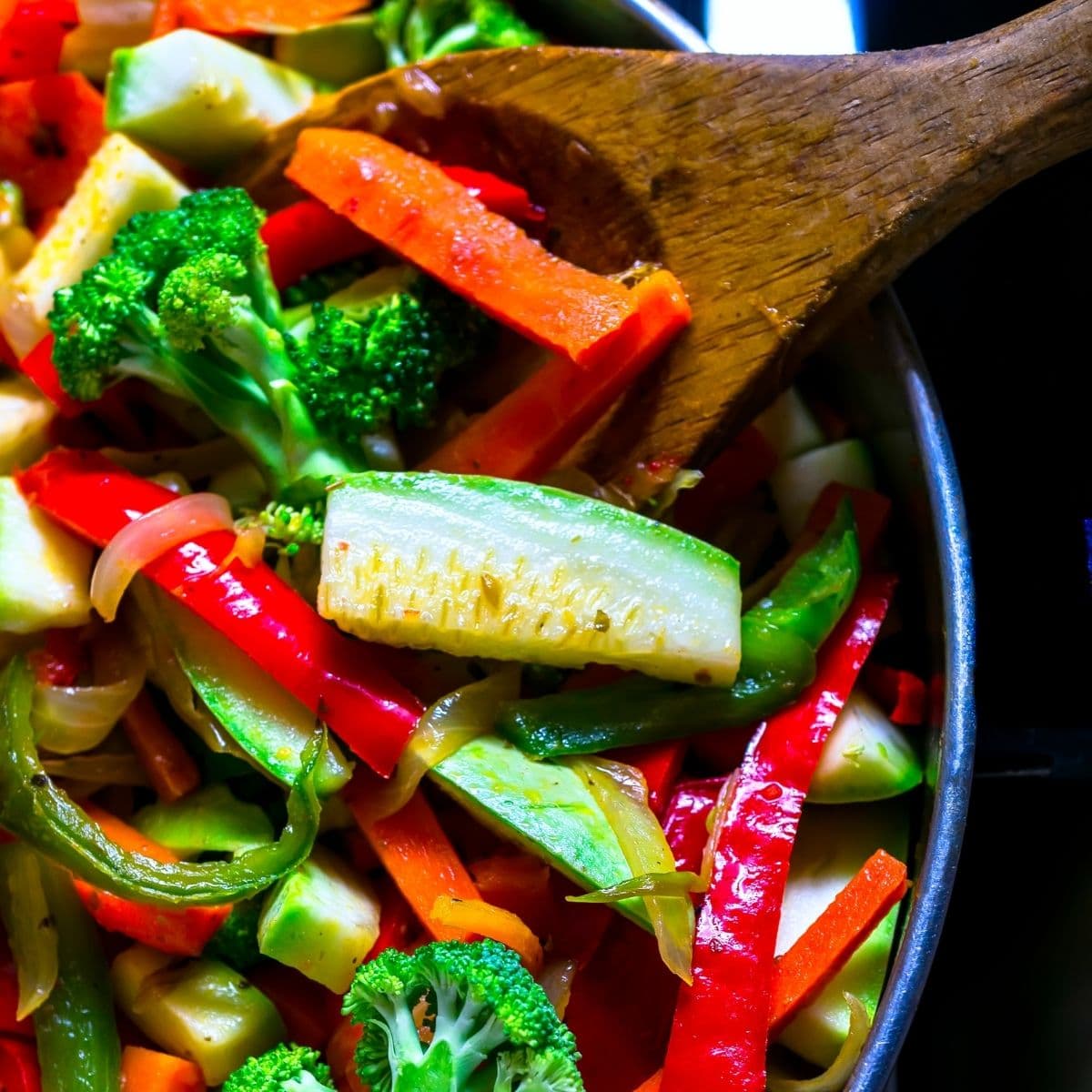 Many of the top leading plant-based doctors recommend a reduction or elimination of oil in the diet for improved health. While fat is a key component in the diet and should not be eliminated, oils are considered a refined, processed fat. Let's dive into why some cook without oil and how to do it.
Why cook without oil?
Oil is often promoted as a health food but the reality is it's a processed food stripped of the fiber and many of the nutrients attached to the fiber. It is the only food that is 100% fat calories.
Dr. Greger, a prominent plant-based doctor and founder of NutritionFacts.org, says "I think of oil as the table sugar of the fat kingdom" source. It makes sense in that regard. Table sugar isn't regarded as a health food and neither should oil.
Additionally, oils have been shown to have a negative impact on endothelial function, the cells that line our arteries, including a significant decrease in endothelial function three hours after each meal, regardless of the type of oil or whether the oil was fresh or deep fried. Although olive oil might be a better option than high omega-6 oils or saturated fats, it is not a better option over eating the whole olive.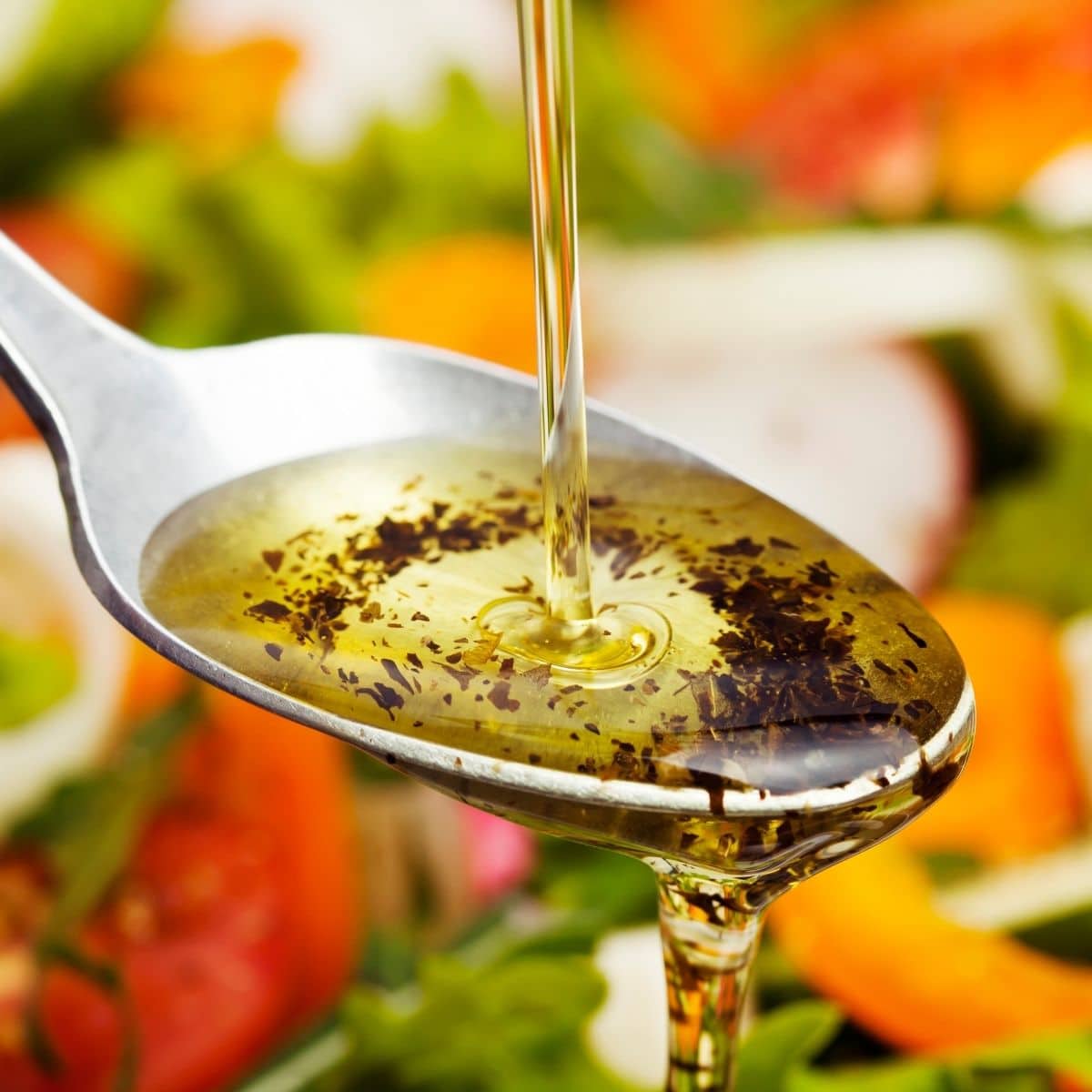 Another benefit of avoiding oils is weight management. Since oil is a concentrated fat, there's 126 calories in just one tiny tablespoon. If cooking with several daily and adding it to dressings, sauces, soups, and curries, those calories can add up fast. By eliminating oil you can eliminate some unnecessary calories that you won't even notice are gone once I show you how to cook without it. Don't worry we'll get to that next.
I try to avoid oils when cooking at home but I don't stress out about it outside of the house. Most restaurants are going to use oil and although I could ask to have my dish made oil-free, I typically don't worry out about it. We don't eat out often so having a little oil here and there isn't that big of a deal in the grand scheme of things.
Lastly, when talking about oil-free diets, remember we're not talking about completely fat-free diets. All fruits and vegetables have some fat after all. What we're talking about is removing processed oils. There are plenty of ways to enjoy an oil-free diet with the right techniques I've outlined below.
How to sauté without oil
It may come as a surprise that oil is not needed to crisp things up in a pan. There are several things you can use in place of oil:
water
vegetable broth
cooking wine
vinegars
soy sauce
Just use a tablespoon or two at time to keep things from sticking to the pan. Add more as needed. If you're sautéing onions or mushrooms, you won't even need to add anything since they tend to "sweat out" the excess water they're holding.
Pro-tip: When sautéing without oil, the bottom of the pan may start to brown from the food. When it gets dry, add a little liquid (whatever you prefer from above) and scrape and stir to deglaze the pan. This lifts the caramelized flavor stuck onto the pan and melts it into the liquid.
Additionally, a non-stick pan can be helpful when cooking oil-free. We love these GreenPan ceramic non-stick pans. Look for non-toxic non-stick pans that are free of PFOA and PFAS.
How to bake without oil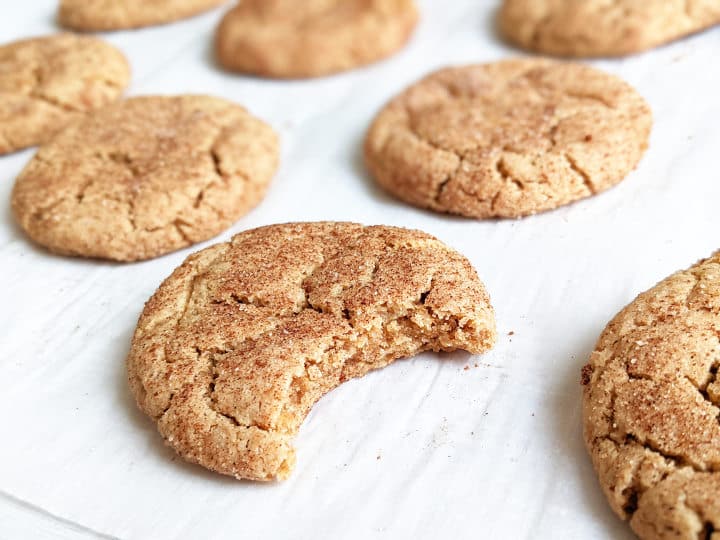 In baking, oil is used to bind ingredients and provide moisture. In vegan baking it is often used to replace eggs. Here's an article where I've outlined the best oil-free baking alternatives for eggs.
Sometimes you may come across a recipe that uses both oil and eggs. In this case I usually use a fruit puree for the egg and a nut butter for the oil. In the case of these Vegan Snickerdoodle Cookies, I used a non-dairy yogurt for the egg and peanut butter for the butter/oil replacement.
Here's a list of oil replacements in baking:
Fruit purees like mashed banana, applesauce, pumpkin puree, or mashed avocado
Creamy nut butters (ones that are more liquid-y are best)
Tahini—blended roasted sesame seeds—essentially a sesame seed butter
Tahini is a great oil replacer since it is thinner and more liquid than other nut butters. The consistency is more similar to oil which is great in baked goods like bread. One of our readers has been testing it in 100% whole wheat bread and said it has worked the best compared to nut butters—the texture is very similar and the flavor is unchanged when using tahini instead of oil.
For keeping your baked goods from sticking to the baking tray or pan I recommend a few options:
Parchment paper is an affordable and easy option
Silicone baking mats—they are reusable and clean up easily, we even throw ours in the dishwasher.
Silicon pans—yes, even the entire pan can now be made with silicone!
How to roast without oil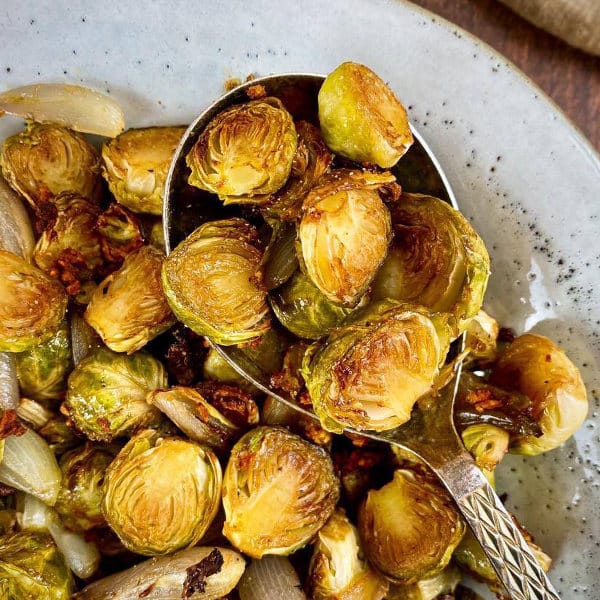 Is it possible to roast something in the oven without oil? Absolutely! No oil is needed to make things crispy in the oven. Food will still brown and crisp up without it and you don't even need oil to hold seasonings onto food.
Take these oil free french fries for example. The moisture in the potatoes is enough for the seasonings to stick to while roasting. If you do want to add a little moisture to roasted vegetables before adding seasonings you can also use a little lemon or lime juice, vegetable broth, or vinegars. I make delicious oil-free kale chips with lemon juice and they always come out crispy and well seasoned.
Use the same strategy as baking above with parchment paper or silicone mats to keep things from sticking to the pan.
How to fry without oil
Frying without oil is not going to be exactly the same but can still can produce crispiness that satisfies.
When frying oil-free, your best bet is breading your food first and either cooking in a non-stick pan or baking it.
Another option is to air fry. Air fryers are a great way to fry or bake without oil and achieve that crispy outer layer. We have this air fryer and love it. We've made fries, roasted veggies, crispy tofu, and breaded cauliflower wings in it. Honestly, everything turns out great in an air fryer!
Oil-free dressings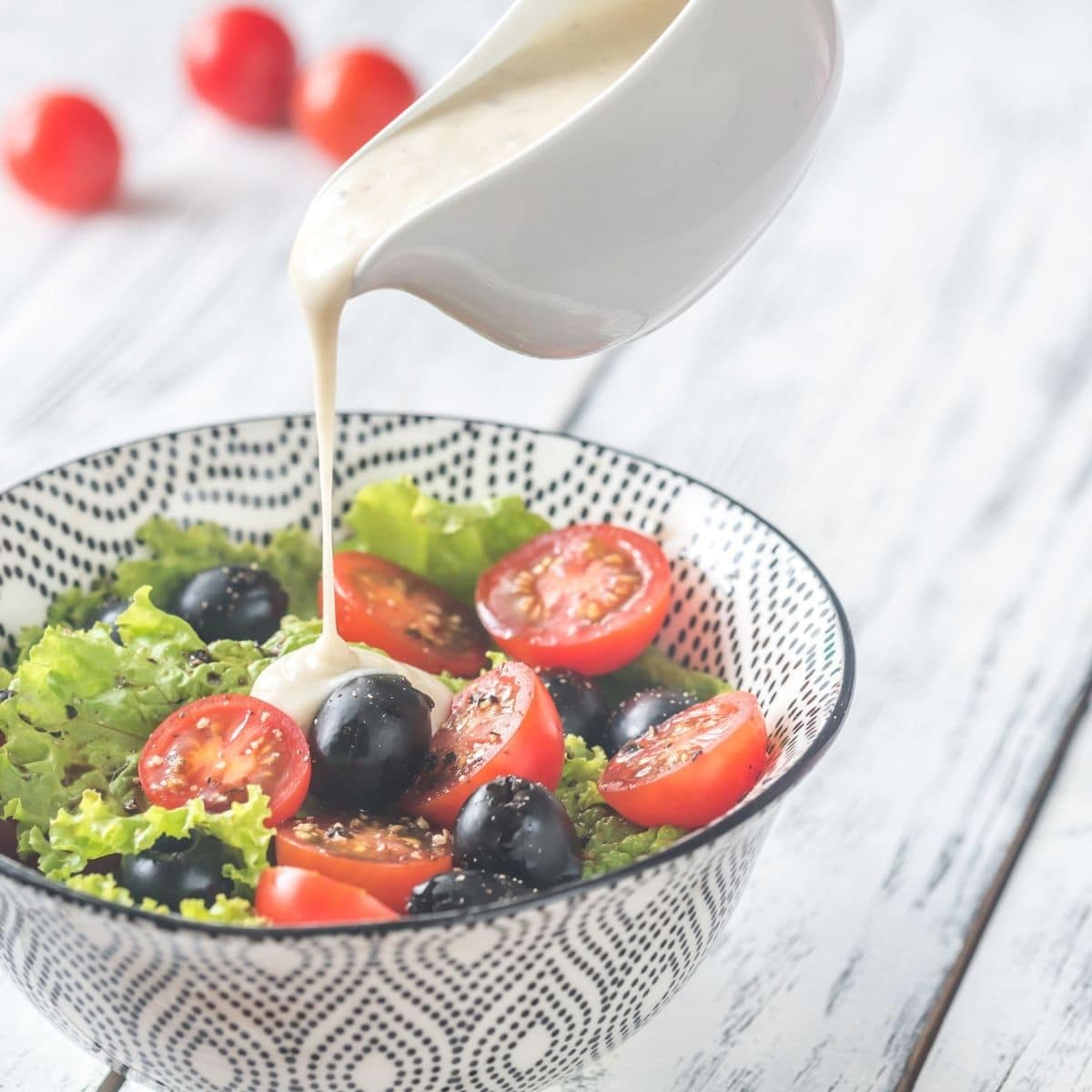 Fat does play a key role in the absorption of fat-soluble nutrients like vitamins A, D, E, and K found in raw vegetables. Because of this, we don't want to eliminate fat completely when consuming salads, but oil isn't the only answer. There are many ways to make a creamy dressing that satisfies without adding oil.
I like a tahini or hummus base for a quick and easy sauce that doesn't require a blender or food processor. You can also make a dressing with nuts and seeds blended as the base, or even avocado. Here are my top four oil-free dressings.
You could also add a handful of nuts or seeds on top or an avocado to get the fat needed for a balanced meal.
Oil-free recipes
Although you can try to remove the oil from your favorite recipes, it is much easier to find recipes that don't include oil in the first place. All the recipes on this site are oil-free and we even have a customizable Meal Planner with completely whole food plant-based, oil-free recipes! It makes oil-free eating super easy with hundreds of recipes to choose from that are simple, delicious and don't require any expensive processed ingredients.
The recipes are designed with meal prep in mind to save you time and money. There are weekly pre-made meal plans that you can customize to your needs or you can build your own for wherever you are in your plant-based journey. You can join today for 40% off your first month! (Just $5.99, cancel anytime).
I Want Oil Free Vegan Meal Plans!
And how about an easy oil-free dressing to get started? Here's my go-to.
📖 Recipe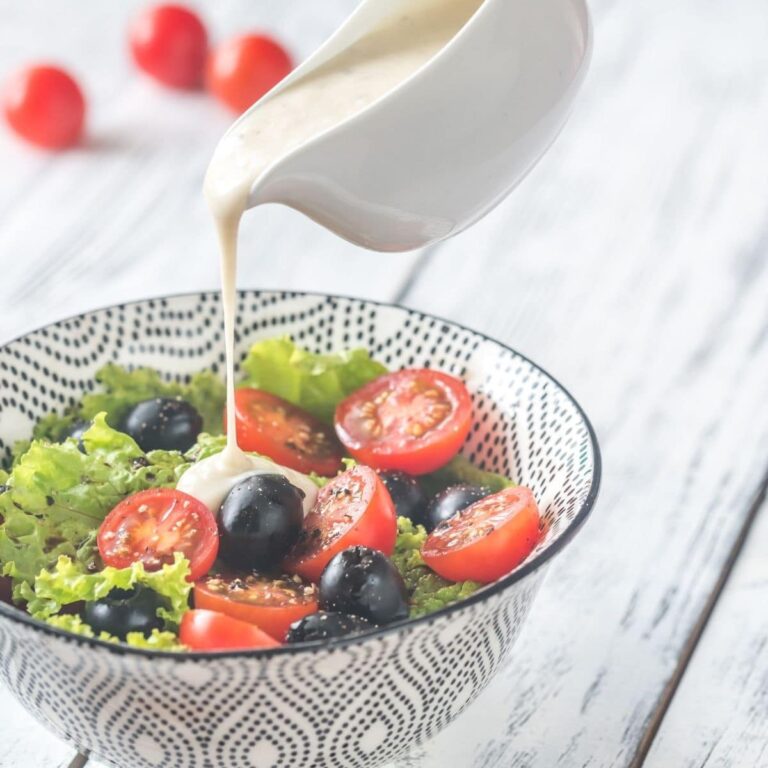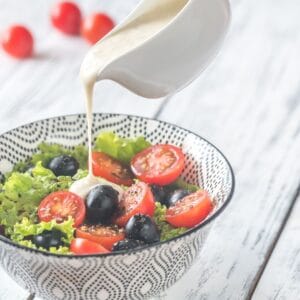 Oil Free Guide | Oil Free Dressing
It's easier than you think to switch to an oil-free diet. Here are the best ways to sauté, bake, roast, and fry without oil plus try this easy oil-free dressing recipe!
Print
Pin
Rate
Ingredients
1

tablespoon

tahini

2

teaspoon

low-sodium soy sauce

,

*

¼

lime

,

juiced

dash of

ground paprika

,

to taste

dash of

garlic powder

,

to taste

dash of

turmeric powder

,

to taste

dash of

black pepper

,

to taste

water

,

as needed to thin it
Instructions
In a small bowl whisk everything together until combined. Serve over salads, nourish bowls, or use as a veggie dip.
Notes
*In order to be soy-free replace the soy-sauce with liquid aminos.
Store leftovers in an airtight container in the refrigerator for up to 5 days.
Meal prep tip: Increase the serving size to batch prep several servings at once for the week.
Nutrition Per Serving
Calories:
99
kcal
Carbohydrates:
6
g
Protein:
3
g
Fat:
8
g
Saturated Fat:
1
g
Sodium:
339
mg
Potassium:
104
mg
Fiber:
1
g
Sugar:
1
g
Vitamin A:
18
IU
Vitamin C:
6
mg
Calcium:
28
mg
Iron:
1
mg
Whether you want to transition to a whole food plant-based diet or just want to cut down on calories, knowing how to substitute oil will help to make the process easier.
Bookmark or pin this page to reference these suggestions whenever you need. And if you're ready to jump into oil-free cooking and baking, all recipes in our Meal Planner are completely oil-free.