This post may contain affiliate links. Read our disclosure here.
Just 5 ingredients and 5 minutes to whip these up. These bars are so easy to make, you'll never buy store-bought granola bars again. They are very filling, boasting 9g of protein using only whole food ingredients, and are vegan and gluten free!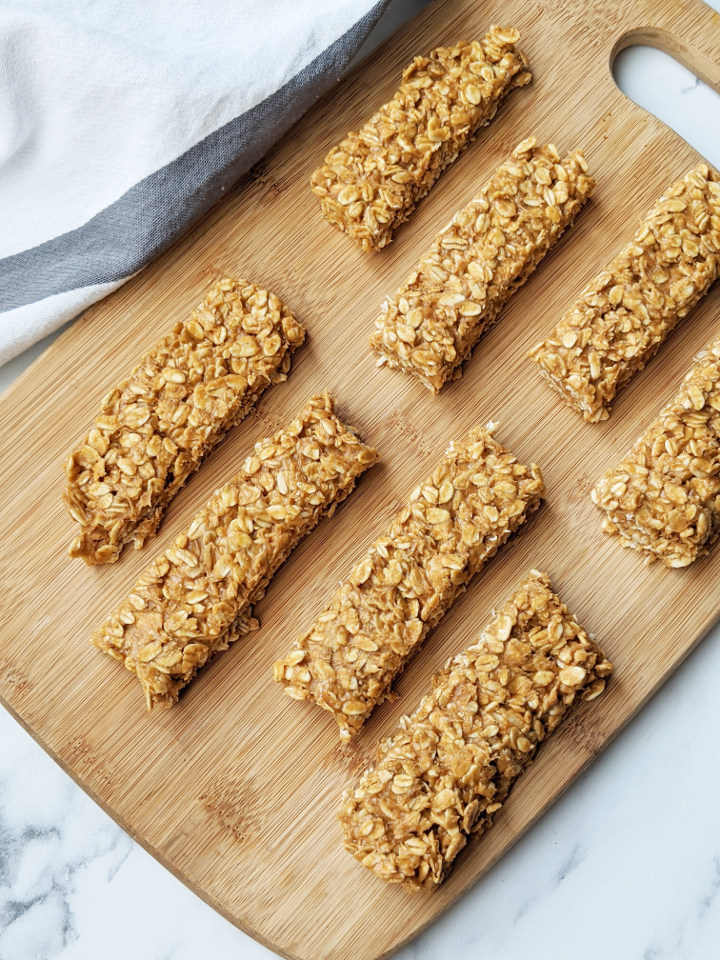 Granola bars used to be my go-to snack growing up. They were quick, convenient, tasty and healthy! Right?
You'd think, but boy was I wrong! My usual choice was the Quaker Chewy Granola Bars. I know, not the best choice in the first place. And I needed at least two to feel full. They were low calorie which back then meant healthy in my mind. What I didn't realize was that if I just ate more filling foods (yes that includes higher calories), I wouldn't have had to snack so much, which ultimately led me to more poor food choices.
Those bars were (and still are) considered low fat and have only 1 or 2 grams of protein per bar. Not satiating at all. But they were tasty!
So, I decided I needed to recreate a granola bar that is reminiscent of those granola bars, keeping the aspects I liked about them but improving upon them to make them more filling and a viable snacking option for someone low on time or on the go.
I know you're wondering, "is that even possible?!"
Introducing my 5-Ingredient No-Bake Granola Bars!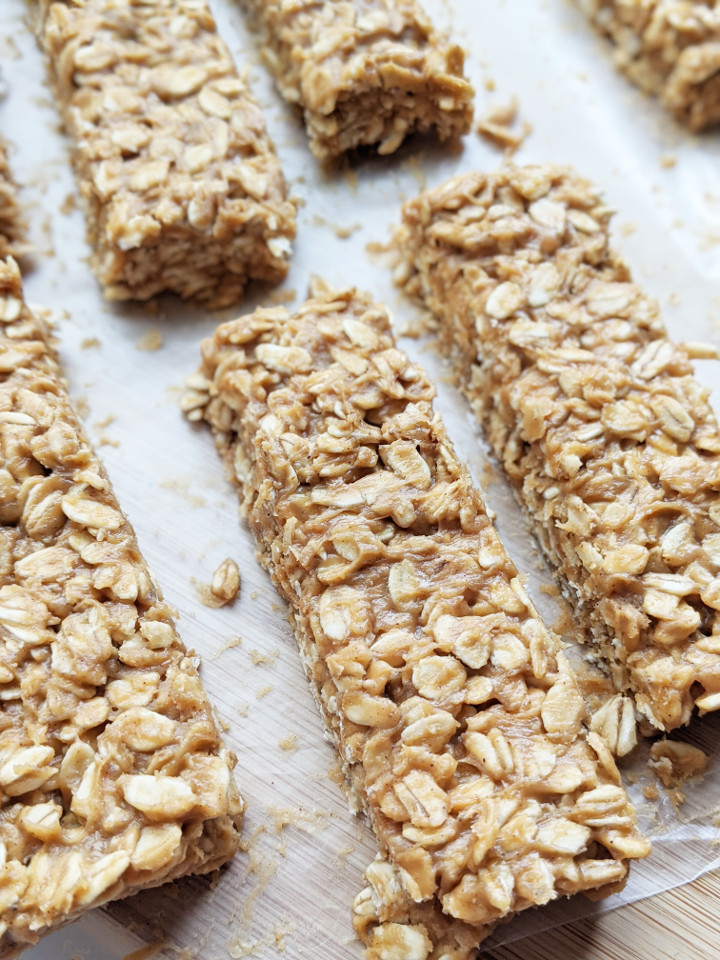 These bars are:
Filling - packing 9g of protein per bar!
Convenient - make ahead and grab when you need them
Quick - just 5 minutes to prep
Delicious - the perfect combination of salty and sweet
Healthy - no refined flours or sugar here
Chewy - they got the chewy texture that I love!
How to make
It is really so simple, you're going to be shocked. All you need is a large mixing bowl and a flat pan. No baking necessary!
I start with heating up the maple syrup and peanut butter in the microwave so that it mixes together better and becomes more liquidity. This is necessary especially if you're using a natural nut butter that has to be refrigerated.
Then I add in the cinnamon and salt to make sure they're evenly distributed before I add in the oats. After that I make sure everything is evenly mixed and then pour it in to my pan lined with parchment paper.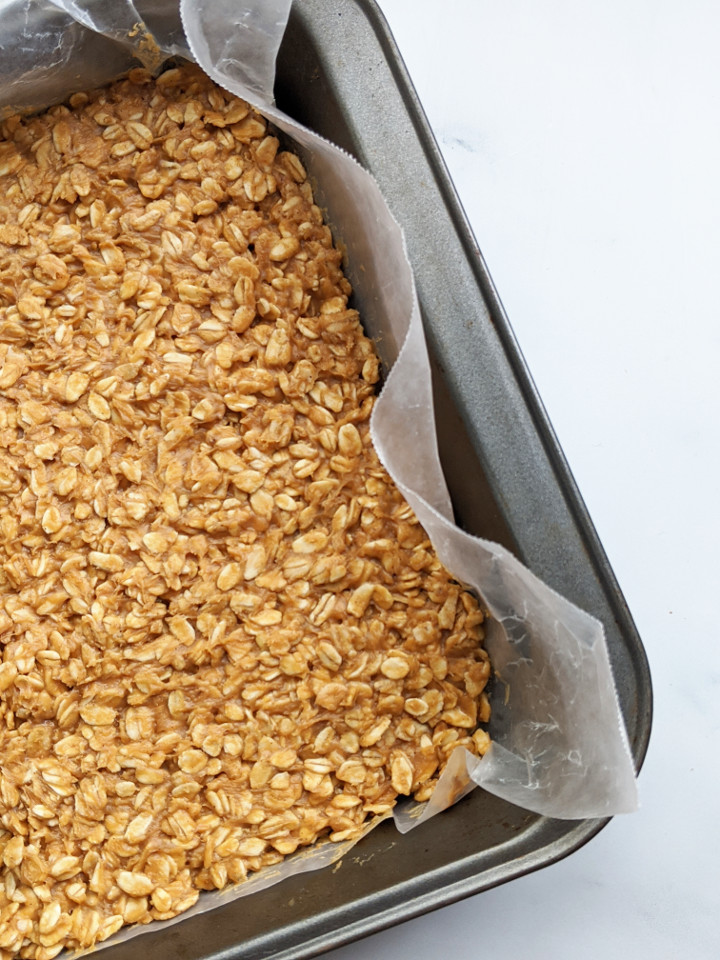 It needs about an hour in the refrigerator to firm up. Then I slice it into bars and grab one as I need. I just keep them stored in the refrigerator since I eat them within the week but you can individually wrap them in parchment paper and freeze for longer.
Additional flavor variations and mix-in options
¼ - ½ cup dairy-free dark chocolate chips
½ cup unsweetened shredded coconut
½ cup dried fruit
2 - 4 tablespoons of chia or hemp seeds for a protein boost
½ cup chopped nuts
The possibilities are endless! These bars are a great base recipe to build upon. You can make them as sweet or as salty as you want. Make them crunchier with nuts or get a dose of those omega-3s with added seeds. They're so versatile.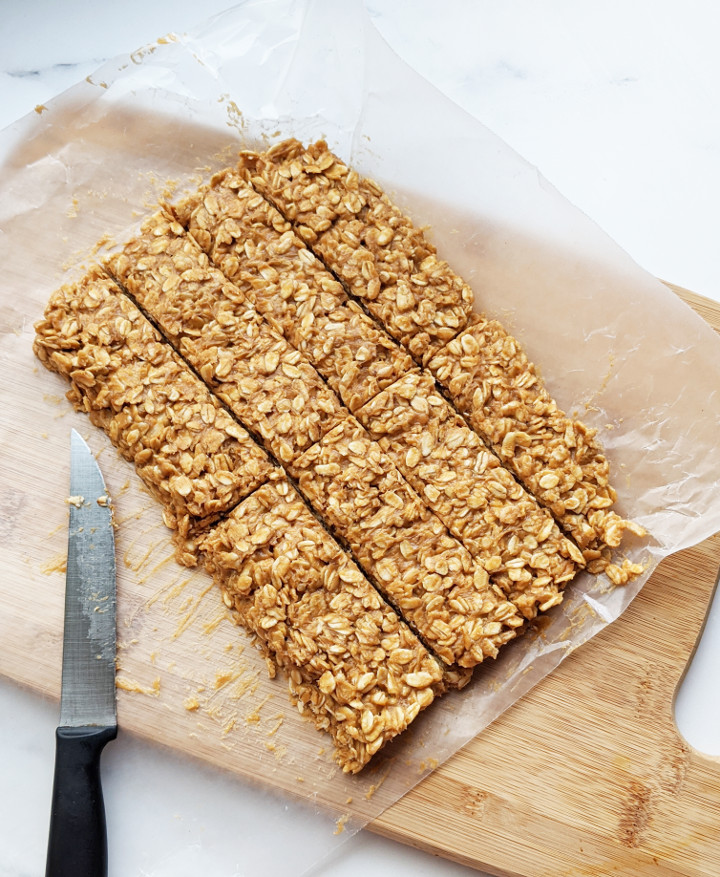 I can tell they're going to be on my weekly rotation from now on because of how simple they are to make and how easy it is to modify them to a different flavor. If I get bored of one flavor I'll just add something new in next time to mix it up. Easy peasy!
These bars are so hearty and delicious, full of healthy fats, protein, and fiber. No more snack time dilemmas — just make these! Problem solved.
Need more healthy snack ideas? The Health My Lifestyle Meal Planner is full of them! You can easily narrow down exactly what you're looking for with the extensive filtering options, plan out your week in seconds or grab a pre-made plan, track your calories and goals, and more! Right now it's 40% off your first month! Check out the Meal Planner here.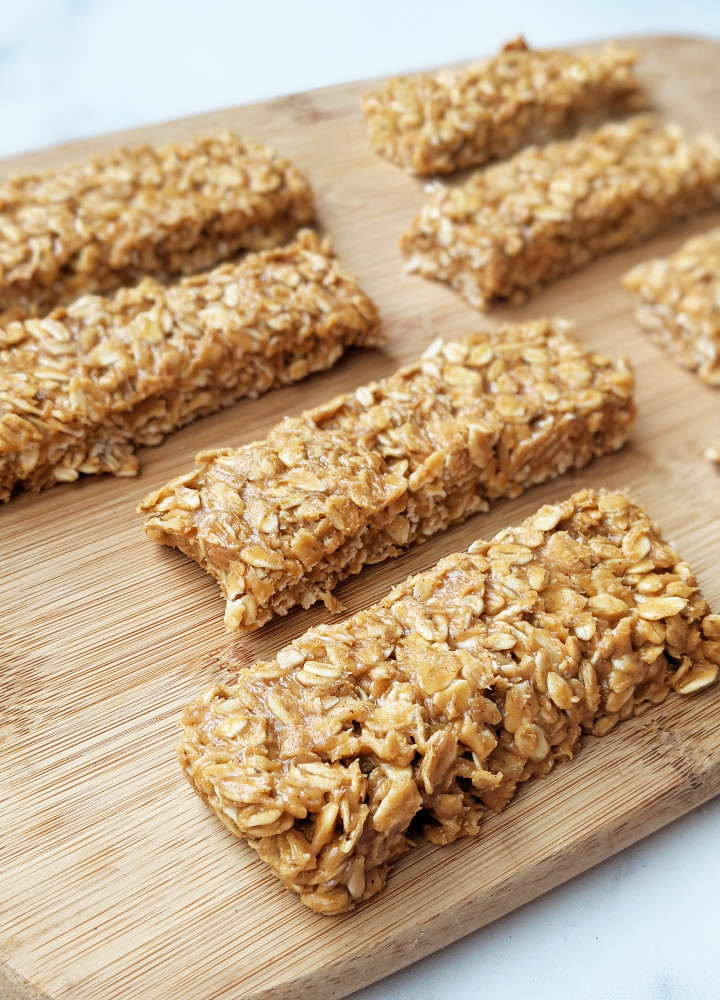 If you enjoyed this recipe please leave a comment below and give it 5 stars! Or on Pinterest (don't forget to follow me!) you can now add pictures into reviews, too, and be sure to help me share on facebook!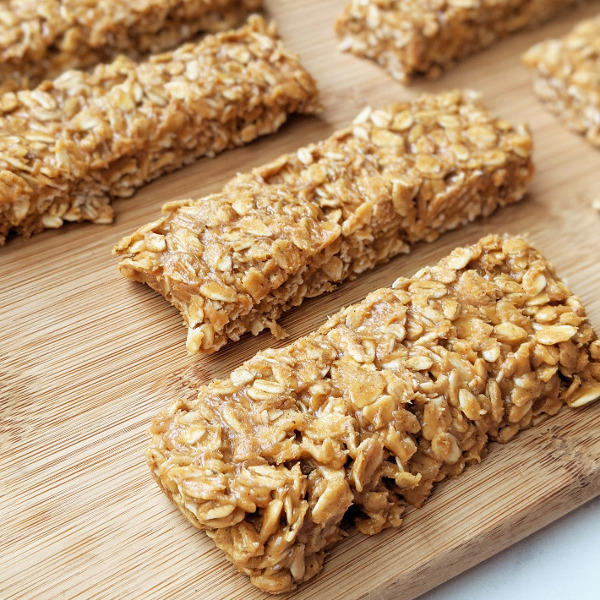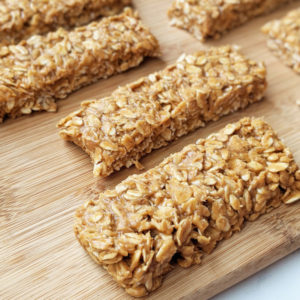 5 Ingredient No Bake Granola Bars (Vegan + Gluten Free)
Just 5 ingredients and 5 minutes to whip these up. These bars are so easy to make, you'll never buy store-bought granola bars again. They are very filling, boasting 9g of protein using only whole food ingredients, and are vegan and gluten free!
Print
Pin
Rate
Instructions
Line an 8x8 inch pan with parchment paper. Set aside.

In a large microwave-safe mixing bowl add the peanut butter and maple syrup. Microwave until heated through and then thoroughly mix them together. Alternatively use the stovetop to heat.

Add in the cinnamon and salt and stir to combine. Then add the oats and mix well.

Pour the oat mixture into your prepared pan and press down evenly into place. Refrigerate for at least one hour to allow the bars to firm up.

When ready, remove from pan and slice into 8 bars.

Store in the refrigerator for up to a week or freeze for longer.
Notes
For portability you can wrap individual bars in parchment paper.
Nutrition Per Serving
Calories:
255
kcal
Carbohydrates:
28
g
Protein:
9
g
Fat:
14
g
Saturated Fat:
3
g
Sodium:
186
mg
Potassium:
260
mg
Fiber:
4
g
Sugar:
10
g
Calcium:
36
mg
Iron:
1
mg
Do you struggle with staying consistent on a plant-based diet?
If you need help our easy plant-fueled meal plans are for you!
Did you make this recipe?
I love seeing how it went! Tag me on Instagram at @HealthMyLifestyle
Join our Plant Based Meal Prep Facebook Group!
Join the group here!
Pin this for later: