These vegan bacon recipes are going to blow your mind! Who knew you could recreate the delicious flavor of bacon in so many ways? If you miss bacon, you need to try out these recipes!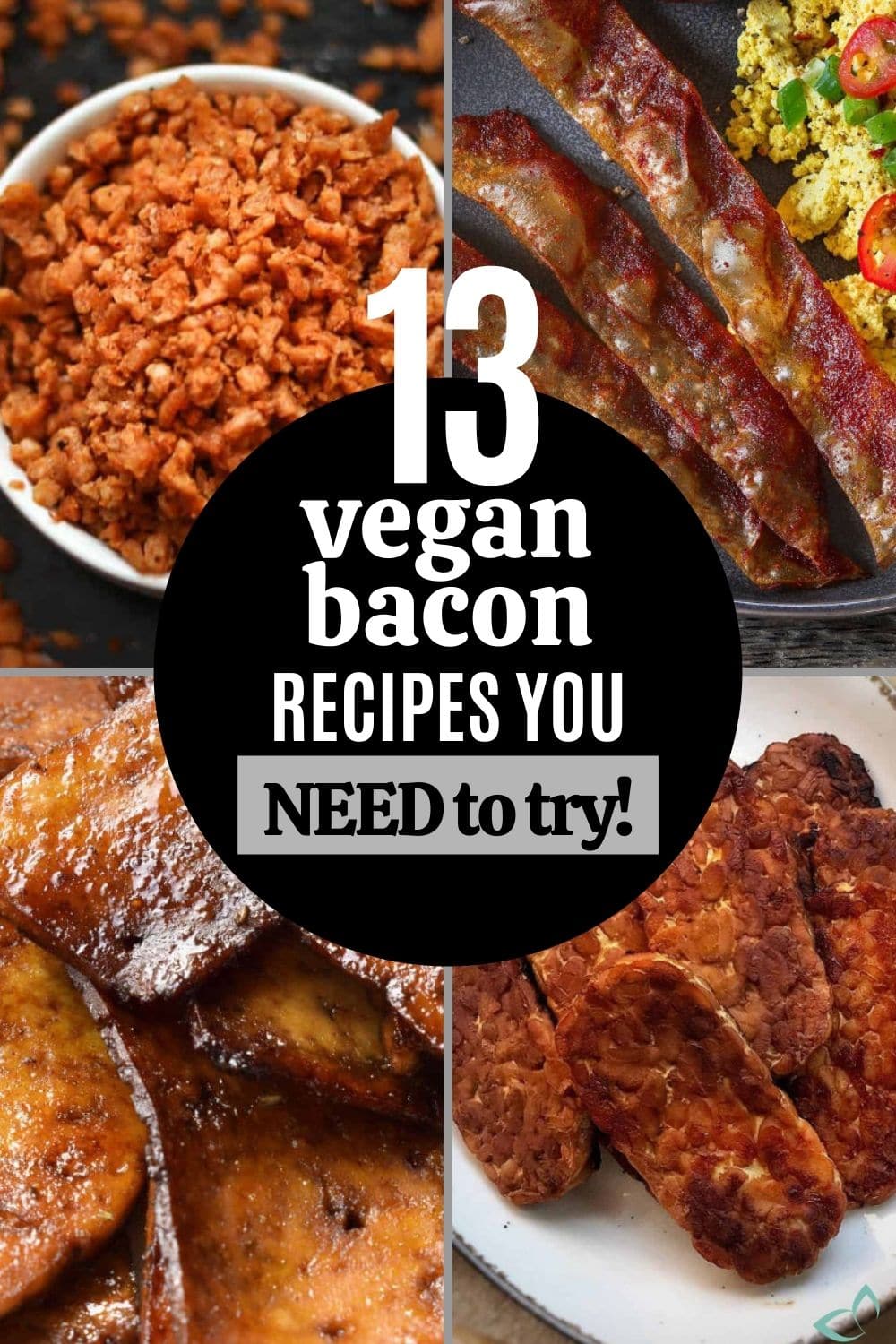 "But bacon" is a common response I often hear when people first find out that I'm vegan. Yes, yes, bacon is delicious, I get it. Most people don't go vegan because they hate the taste of meat.
There's just something about that crispy, sweet, smoky goodness that makes it so hard to give up. The good news is there are plenty of options to make your own vegan and vegetarian bacon.
There's always the store-bought route but trust me, you're going to want to try some of these homemade bacons! It's actually really easy and more affordable to make your own at home. Plus you can control how sweet or smoky you like it.
There are so many good vegan bacon recipes out there but I rounded up the best ones to share with you here. Work your way through them and let us know in the comments which ones you try!
Veggie Bacon
These faux bacons are made with vegetables as the base. Some vegetables make a great base when sliced thinly. They crisp up nicely and work well with the flavors to make a truly delicious bacon alternative.
Tofu and Tempeh Bacon
Tofu and tempeh are both soy products that are perfect for making bacon with. They're best when you want a flat piece of bacon like for a BLT. They both also absorb the flavor well, making them a great bacon substitute.
This next one is not technically tofu or tempeh but it is made with soy. TVP, or Textured Vegetable Protein, is made from defatted soy flour that has been cooked under pressure and then dried. It makes a great bacon replacement as well!
Coconut Bacon
Coconut bacon is a great alternative to bacon bits. They already have a touch of sweetness and crisp up easily.
Almond Bacon
Yep, even nuts can be turned into bacon! And nuts provide a nice crunch.
Rice Paper Bacon
Rice paper makes a nice neutral based for vegan bacon. It also doesn't require as much prep as preparing vegetables.
Banana Peel Bacon
So which are your favorite fakin bacons? Or facons if you will. Let us know below which ones you try. We make carrot bacon often and even use it in this delicious carrot bacon wrapped apple bites vegan appetizer. Use these veggie bacons just as you would real bacon—the possibilities are endless!
Pin this for later: