This post may contain affiliate links. Read our disclosure here.
This is the perfect summer treat—sweet AND refreshing. And 100% plant-based using vegan coconut whipped cream that you can make easily at home!
This recipe is inspired by Goodful—my sister-in-law sent me the recipe video and I'm so glad she did! I think this will become my new summer tradition.
I also FINALLY made coconut whipped cream properly. I think I've tried twice now where I just couldn't get it to "whip"—but doggone it I've done it! And I'm going to share with you just how I did (it's sooo much easier than I thought).
How To Make Coconut Whipped Cream
To make the coconut whipped cream, you'll need one 15 ounce can of coconut cream. Make sure it's cream, not coconut milk. You can use milk if it's full fat, but you won't have as much cream from it. Place the can in the refrigerator for at least 8 hours or overnight. One hour before making, place your metal mixing bowl and beaters in the freezer (this step is important!).
When ready, open the can and scoop out the cream into your mixing bowl.
Make sure to only scoop the cream. There will be liquid in the bottom that you can save for something else (maybe add to a smoothie?) but you will not need it for this recipe.
Now beat the coconut cream for 5-7 minutes. Start on medium speed and then move up to high speed. You want soft peaks.
Then add in some sugar and vanilla extract if you'd like. It also tastes great plain but I added 1/2 teaspoon of sugar and 1/4 teaspoon of vanilla extract. Beat for an additional minute if adding sugar and vanilla extract.
The coconut cream can last up to two weeks in the refrigerator. I think it would be delicious added to coffee. Can you imagine swirling into a hot cup of joe? Mmmmm…
How To Make Watermelon Dessert "Pizza"
First you need a ripe watermelon. I *think* they're ripe when there's a yellow patch on the side. Any watermelon connoisseur out there want to correct me?
Slice your melon into 1/2 – 1 inch thick disks. Like so:
Refrigerate the sliced watermelon to keep them cool until you're ready to assemble your "pizzas."
Make your coconut cream next. See above for detailed directions.
Now assemble your pizza! Spread some whipped coconut cream on a slice of watermelon.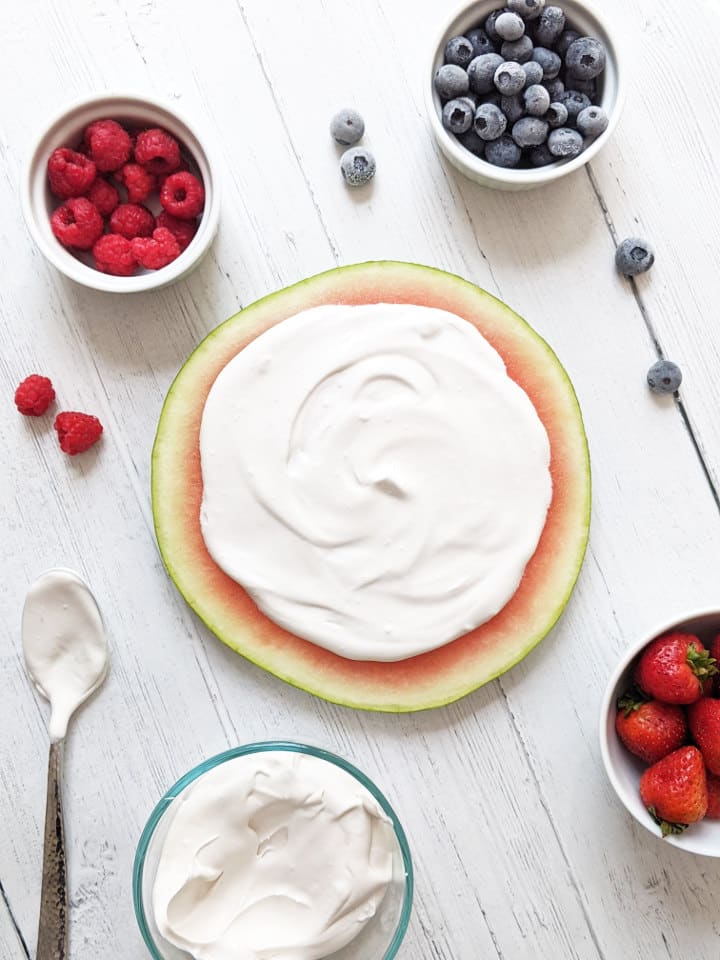 Slice up your preferred fruit, and top the watermelon pizza.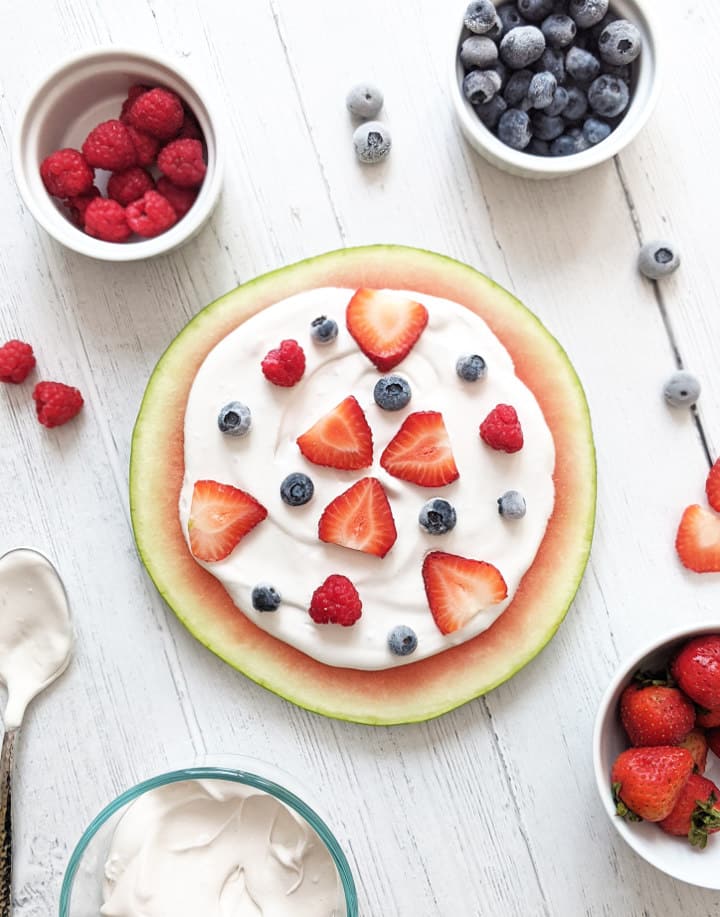 Additional topping suggestions:
granola
coconut shavings
chocolate chips or a drizzle of chocolate
chopped nuts
drizzle of maple syrup
You really can't go wrong with the toppings. Get creative with your designs!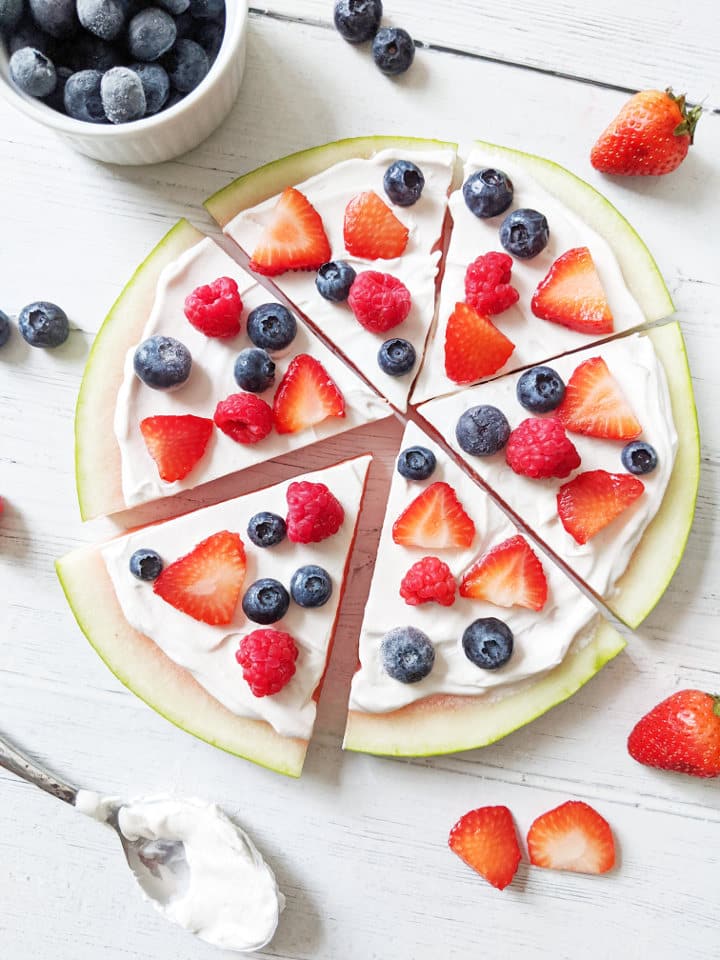 Then slice up your dessert pizza and serve!
Tip: If you're adding lots of toppings, it's easier to slice after adding the whipped cream but before the toppings so that you don't have an issue slicing through and messing up your design.
Here are more summer treats that don't require an oven:
Chocolate Peanut Butter Banana Protein Smoothie
If you make these recipes and decide to share it on Facebook or Instagram, don't forget to tag me @HealthMyLifestyle + #HealthMyLifestyle so I can see your recreations! 
For more plant-based eats check out the Health My Lifestyle Meal Planner. Right now it's 40% off when you sign up today! Just $5.99 your first month and you get access to the entire databased of recipes with meal planning and calorie tracking tools to keep you consistent with your goals and help you become a plant-based pro. Click here to check it out!
Pin this for later: