This cake is a hug in a mug. It's perfect when you need a little extra lovin'—it's warm, comforting, and lifts your spirits right up. I mean—who isn't happy about cake? Plus, this Snickerdoodle mug cake is so easy to make!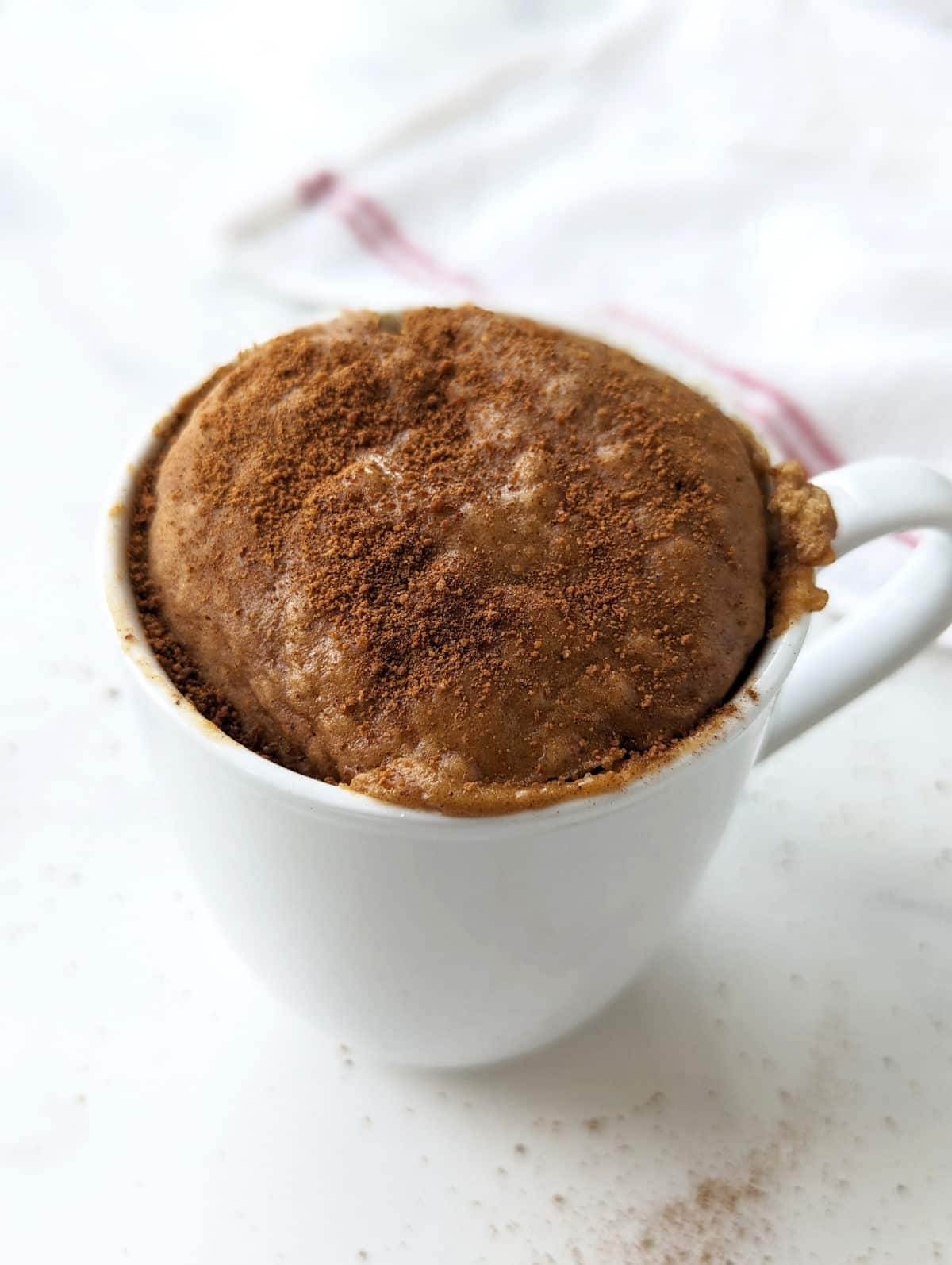 Another great thing about mug cakes is that they are single serving. For someone like me that needs to eat all the sweets—having a single serving option keeps me from overindulging.
If you have the same issue, this recipe is for you! Remove all temptation and just make single-serving desserts when the craving strikes.
Jump to:
What is a mug cake?
It's exactly how it sounds, a cake made in a mug! It's a single-serving cake that is quickly and easily prepared in a mug and cooked in a microwave. It's a convenient dessert option for those looking for a quick and simple way to satisfy a cake craving without the need for baking an entire cake.
The ingredients are combined within the mug itself, making it easy to prepare and making cleanup a breeze. Plus, the process could not be faster, with a few minutes to mix and just 1-3 minutes to cook in the microwave, you'll have yourself a delicious cake for one!
You can enjoy the cake straight from the mug—no plates needed. They're a popular choice for their simplicity, speed, and portion control.
Why this recipe works
Quick and Convenient: This snickerdoodle mug cake is a perfect solution when you're craving a delicious dessert but short on time. It takes just a few minutes to prepare and cook in the microwave, making it an ideal choice for a quick sweet treat.
Easy Clean-Up: You can mix everything up right in the mug you're going to cook it in. Less bowls and pans to clean up later? Count me in.
Singe-Serving: The recipe yields a single-serving portion, ensuring you indulge without making a whole cake. It's portion-controlled, reducing food waste and allowing you to enjoy a freshly baked cake whenever the sweet tooth cravings strike.
What you'll need
All you need are 8 simple ingredients, a mug, and a microwave for this easy snickerdoodle mug cake recipe.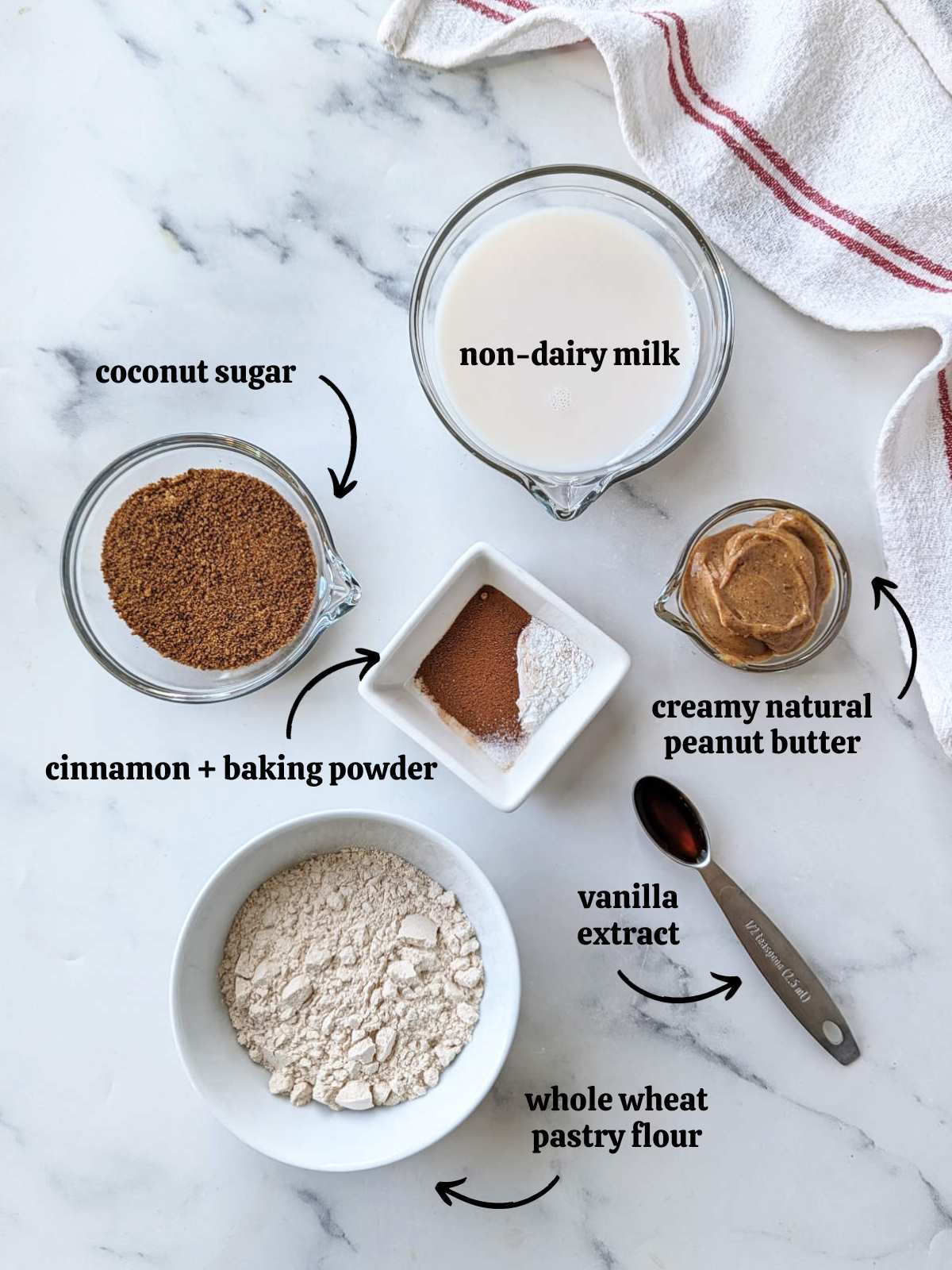 Here's the key ingredients:
All-Natural Peanut Butter: Use creamy, all-natural peanut butter without added sugar or hydrogenated oils for a rich and nutty flavor in the cake. I chose to make this recipe oil-free instead of using vegetable oil. This adds a subtle peanut butter flavor, but you can use sunflower seed butter for a nut-free option.
Vanilla Extract: Enhances the flavor of the cake and provides a subtle vanilla essence. Use pure vanilla extract for the best taste.
Unsweetened Non-Dairy Milk: Opt for a plant-based milk like almond milk, soy milk, or oat milk. The unsweetened variety ensures you can control the sweetness of the cake.
Coconut Sugar: A natural sweetener derived from coconuts, providing a slightly caramel-like flavor. It's a healthier alternative to traditional refined sugars. If you don't have it on hand, here are some easy coconut sugar substitutes.
Ground Cinnamon: Essential for that classic snickerdoodle flavor. It infuses a warm and spicy taste into the cake, reminiscent of snickerdoodle cookies.
Whole Wheat Pastry Flour: A healthier alternative to all-purpose flour, whole wheat pastry flour adds a nutty taste and better nutritional value to the cake. It's a finer, lighter whole wheat flour suitable for baking.
Baking Powder: A leavening agent that helps the cake rise and achieve a soft and fluffy texture.
Salt: Enhances the overall flavor of the cake by balancing the sweetness and highlighting other ingredients. A small amount of salt is essential in baking!
How to make a snickerdoodle mug cake
This cinnamon sugar mug cake is ready in four simple steps! Scroll to the recipe card below for full details.
Grab a 12-ounce microwave-safe mug for this recipe. I don't recommend using a smaller mug or the batter may overflow during cooking. Start by combining the wet ingredients in the mug by mixing together the peanut butter, vanilla extract, and milk until the mixture is smooth. Tip: A fork is effective for whisking the ingredients together.
Incorporate the dry ingredients, including the coconut sugar, ground cinnamon, whole wheat pastry flour, baking powder, and salt. Stir until just combined and no dry flour is visible.
Place the mug in the microwave uncovered and cook at full power for about 1 minute. If the cake still looks wet in the center, continue cooking for 30-second intervals until done. Optionally, you can test doneness by inserting a toothpick in the center, if it comes out clean with no wet batter, it's ready.
After microwaving, sprinkle the top of the mug cake with additional cinnamon and sugar, if desired.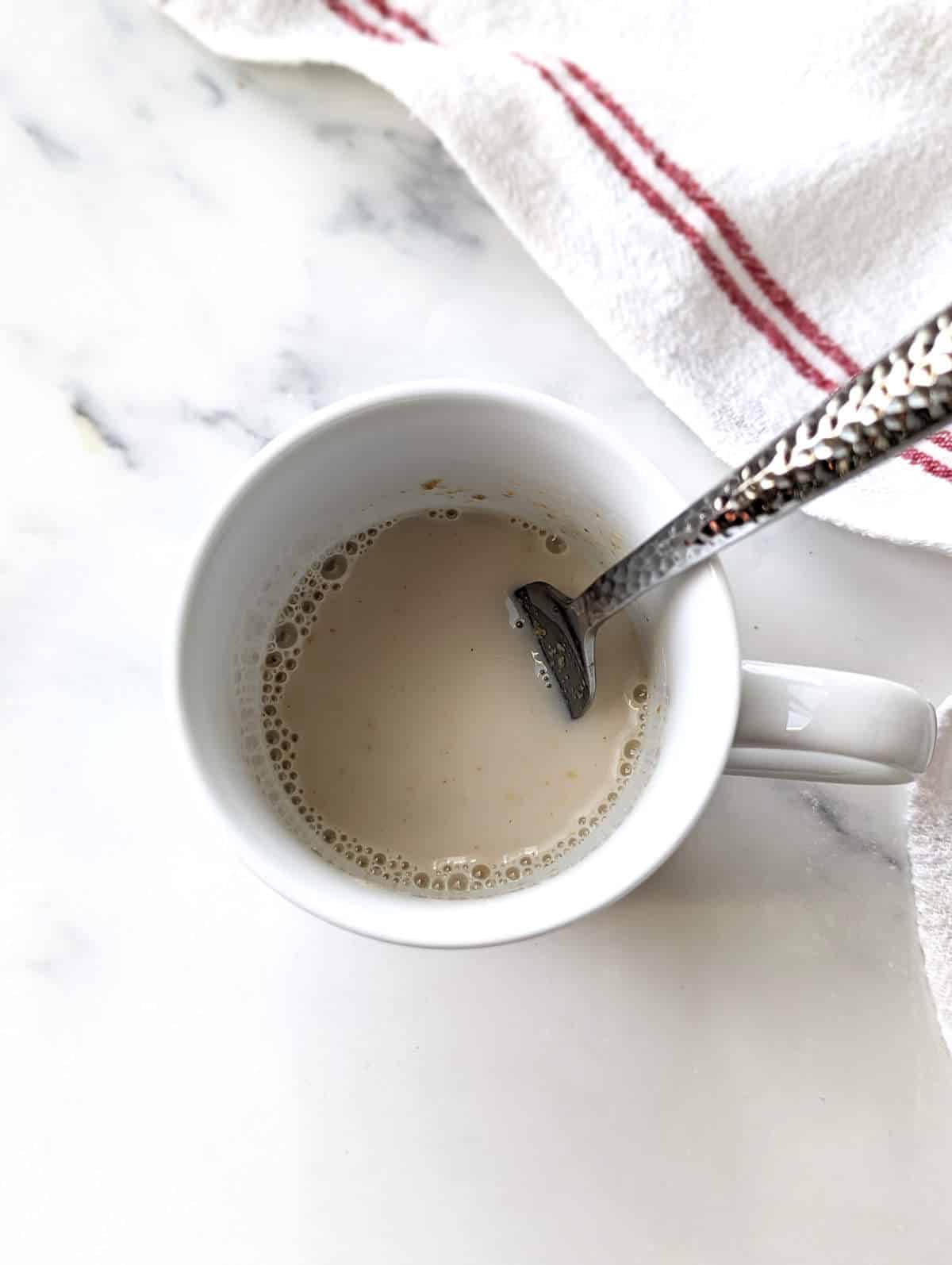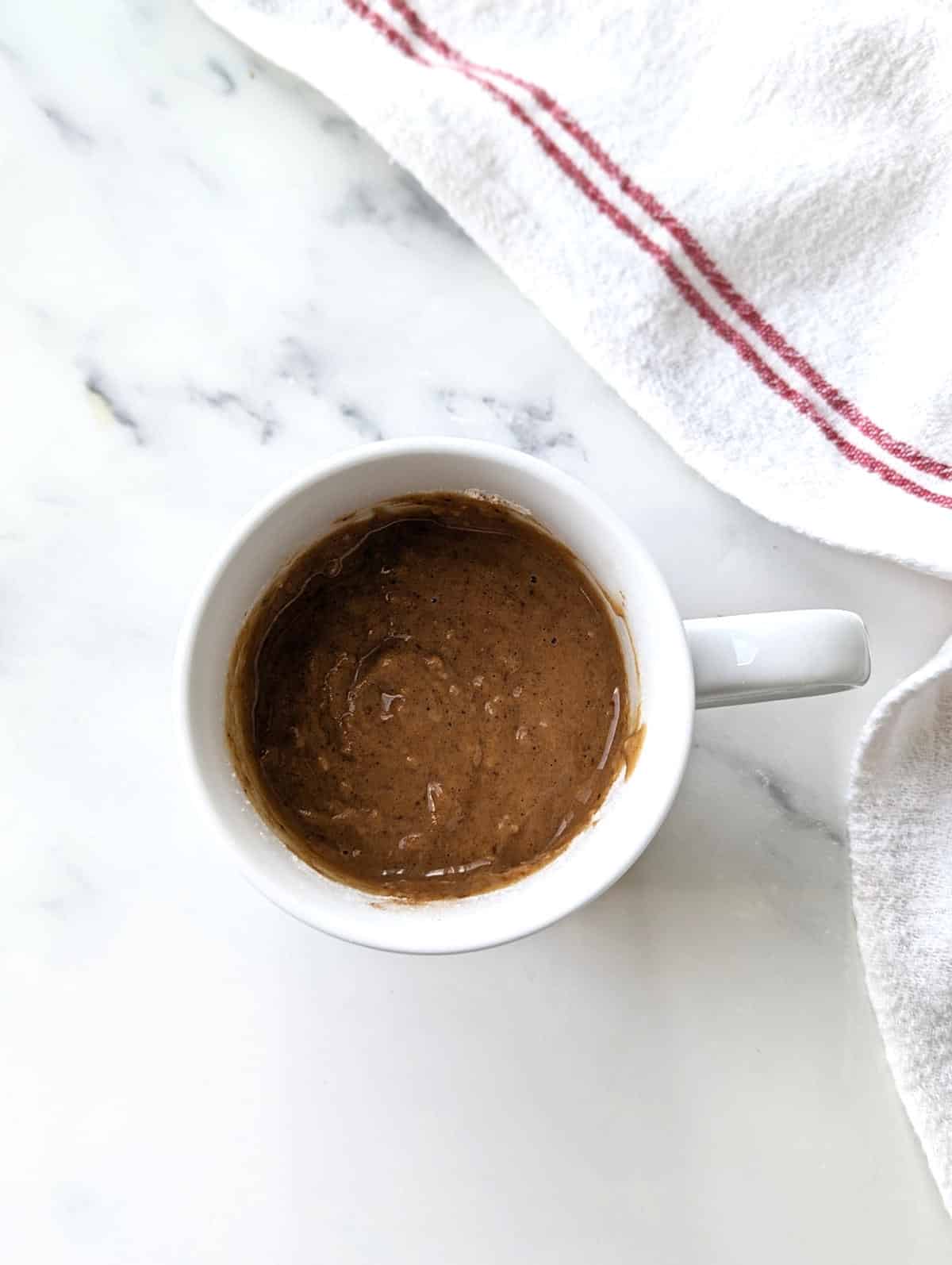 Serve your microwave mug cake immediately and enjoy your delicious, single serving dessert!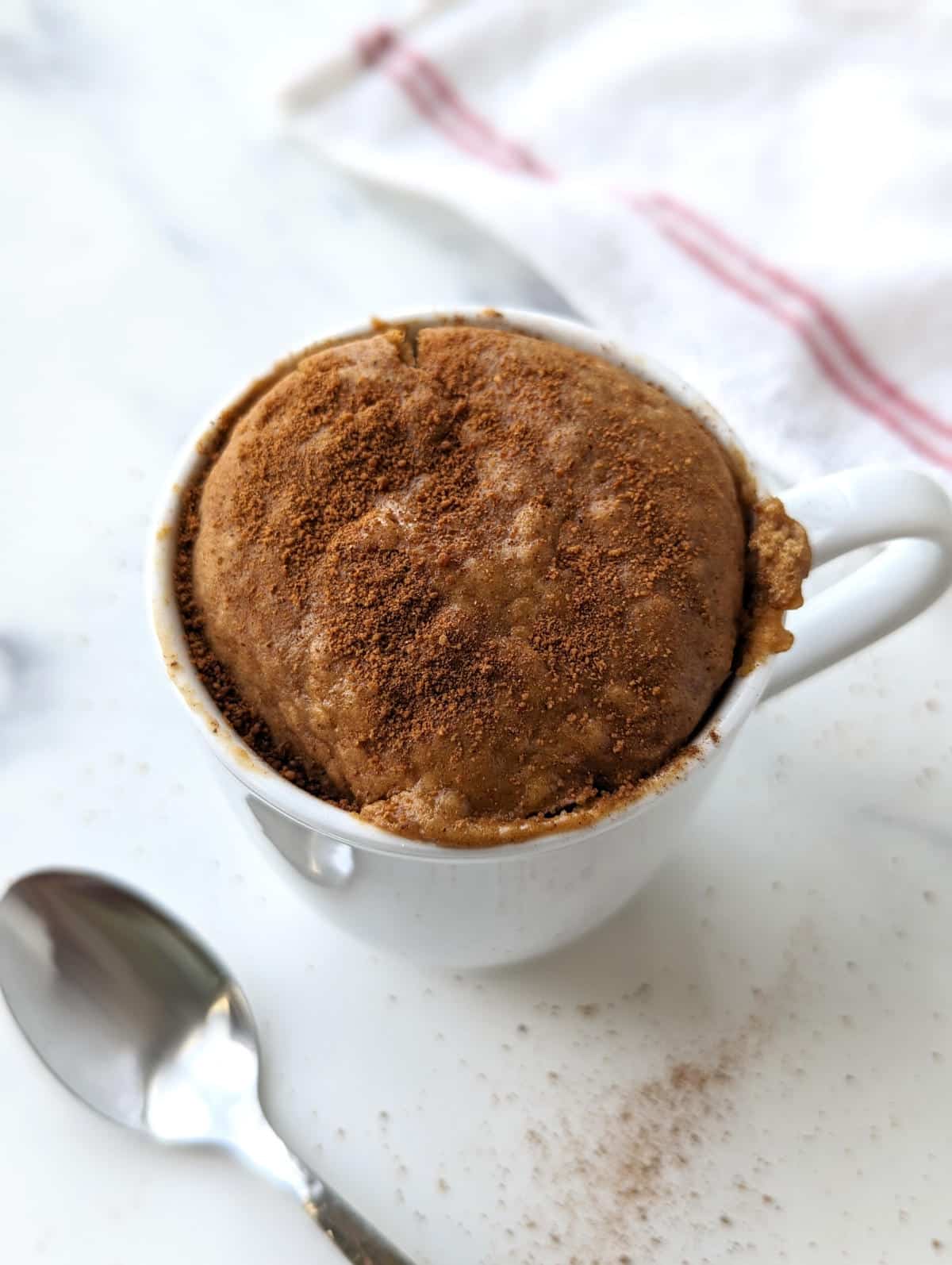 Expert tips
Don't over mix the batter. This can result in a dense cake or tough cake. Stir until no dry flour is visible for the best texture.
If your microwave has a rotating plate, place your mug cake on the outer edge for more even cooking.
Every microwave is different but typically a mug cake will require at least one minute of cooking. After that, check for doneness and adjust the cooking time in 30-second intervals based on your microwave's wattage to avoid a dry cake.
Opt for a microwave-safe mug that's around 12 ounces in size to allow for proper rising and cooking of the cake. Make sure it's big enough to prevent spillage during cooking.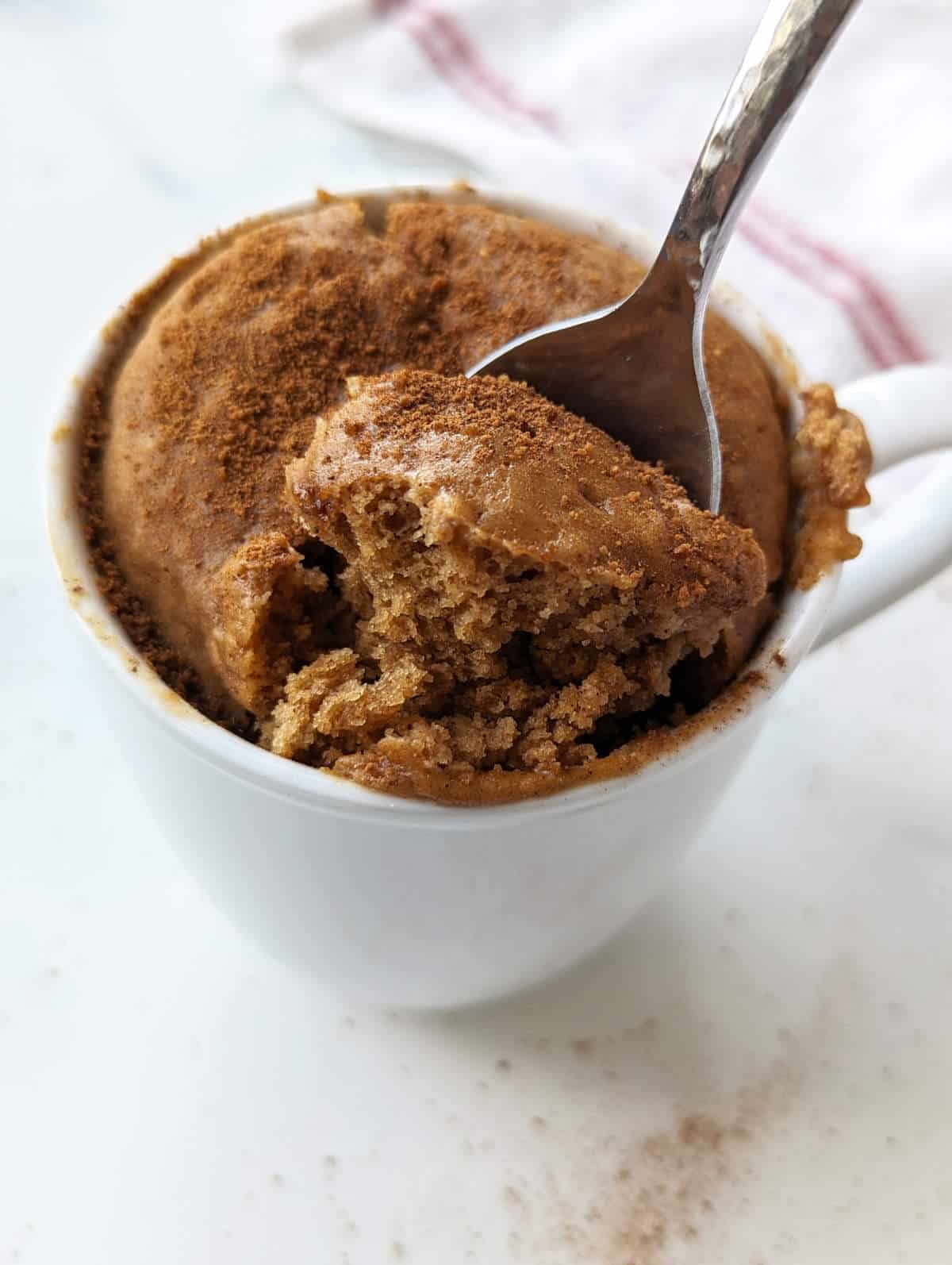 Variations
Make a chocolate mug cake by adding a teaspoon of cocoa powder along with the dry ingredients.
Stir in a small handful of dairy-free chocolate chips into the batter for even more chocolatey goodness.
Use coconut milk instead of other non-dairy milk options to impart a subtle coconut flavor to the cake.
Incorporate 1-2 tablespoons of pumpkin puree into the batter for a moist and fluffy cinnamon pumpkin cake.
FAQs
Do you have to mix a mug cake in the mug?
No, you can also mix a mug cake in a small bowl. If you are wanting to make multiple servings of mug cakes, mix in a small bowl, then divide that batter into the mugs before microwaving.
How do you keep a mug cake from getting rubbery?
The biggest culprit of rubbery cakes is over-mixing. This activates the gluten, which makes it firm and can cause a dense mug cake. To keep it light and spongey, just mix until the flour is just combined.
Can you bake a mug cake?
You can technically bake a mug cake, but why heat your oven up for such a small thing? However, if you find yourself without a microwave, place it in a small oven-safe dish, and bake at 350F for 10-15 minutes.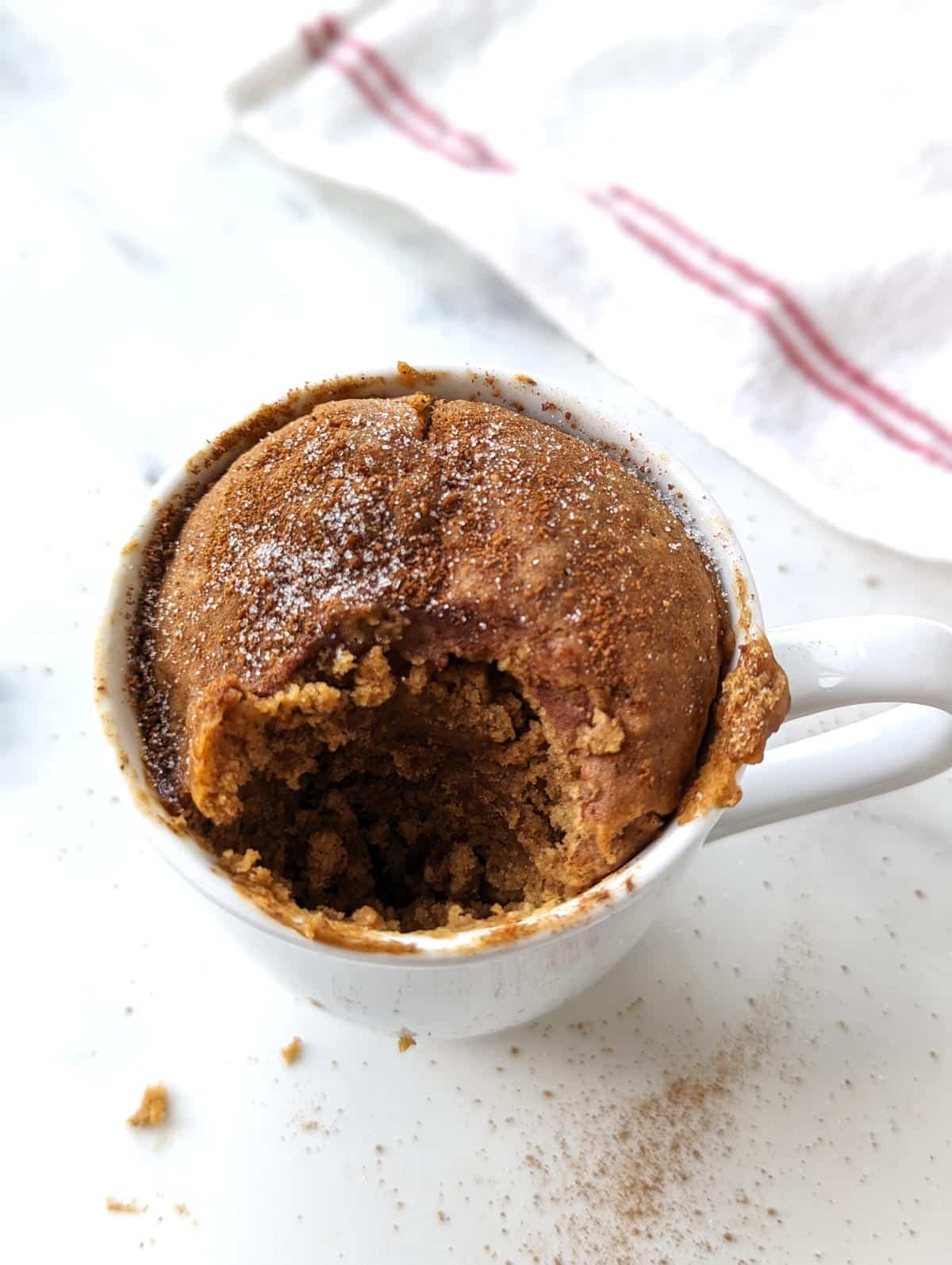 These babies are best served immediately but luckily they only take 5 minutes to prepare. You can soothe that craving within minutes of it striking! Get ready for your taste buds to sing with joy over the sweet cinnamon flavors and fluffy texture of this snickerdoodle mug cake.
I could wax poetic forever about my love of mug cakes, but I'll just let you try it for yourself 😉
More vegan desserts
If you enjoyed this vegan mug cake, don't forget to check out these other awesome desserts:
This recipe first appeared in the Health My Lifestyle Meal Planner. It's the last meal planning tool you'll ever need! It helps members stay on track with their fitness goals, plan their weeks with ease, and enjoy healthy plant-based recipes, all while saving time and money.
📖 Recipe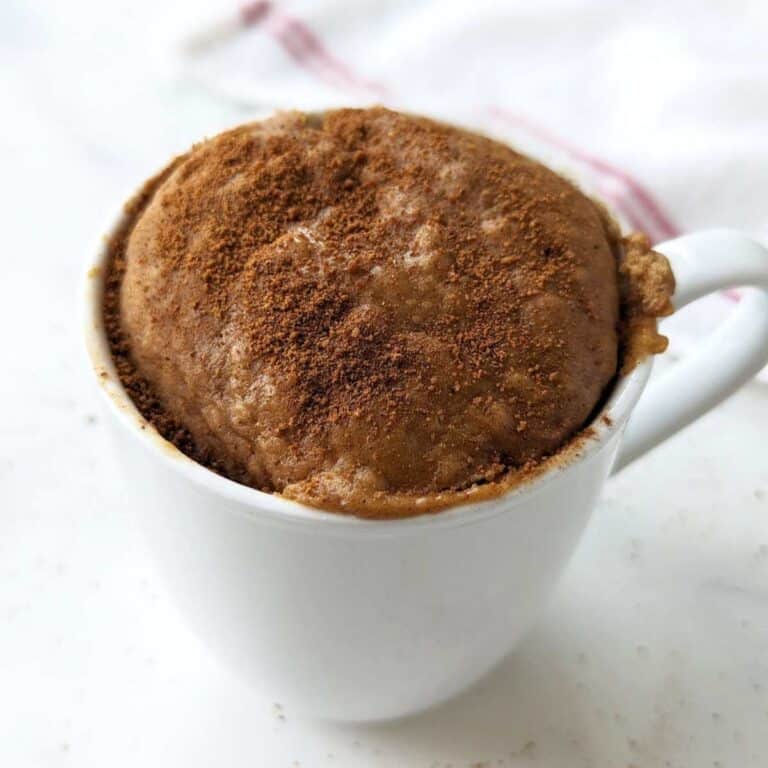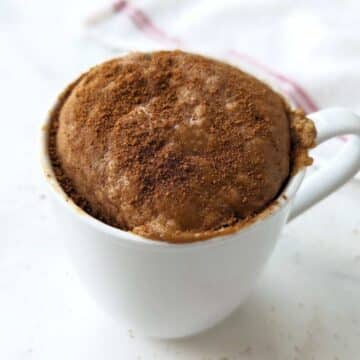 Snickerdoodle Mug Cake
This is the BEST Snickerdoodle Mug Cake! It's the perfect, quick dessert that requires only 5 minutes to make and is also dairy-free and egg-free! See notes below to easily adjust ingredients to make it gluten-free and nut-free.
Print
Pin
Rate
Ingredients
1 ½

tablespoon

all-natural peanut butter,

*

½

teaspoon

vanilla extract

6

tablespoons

unsweetened non-dairy milk

3

tablespoons

coconut sugar

½

teaspoon

ground cinnamon

6

tablespoons

whole wheat pastry flour

,

*

1

teaspoon

baking powder

pinch of

salt
Instructions
In a 12 oz size mug, combine the peanut butter, vanilla extract and milk. Stir until completely smooth. A fork works well to whisk it all together.

1 ½ tablespoon all-natural peanut butter,

½ teaspoon vanilla extract,

6 tablespoons unsweetened non-dairy milk

Add the sugar, cinnamon, flour, baking powder and salt and stir until combined. Careful not to over mix it, just until you can't see dry flour anymore.

3 tablespoons coconut sugar,

½ teaspoon ground cinnamon,

6 tablespoons whole wheat pastry flour,

1 teaspoon baking powder,

pinch of salt

Place in the microwave uncovered, cook for about 1 minute.

Sprinkle the top with some more cinnamon and sugar if you like. Serve immediately.
Notes
*In order to be nut-free, use tahini or sunflower seed butter.
*In order to be gluten-free, use a gluten-free flour. Our recommendation is oat flour but others may work.
Nutrition Per Serving
Calories:
457
kcal
Carbohydrates:
73
g
Protein:
14
g
Fat:
15
g
Saturated Fat:
3
g
Sodium:
654
mg
Potassium:
443
mg
Fiber:
7
g
Sugar:
29
g
Vitamin A:
360
IU
Vitamin C:
7
mg
Calcium:
396
mg
Iron:
3
mg
This snickerdoodle mug cake recipe was originally published April 29, 2020 and has been updated September 30th, 2023 with additional tips and photos.