Is Cool Whip vegan? This popular whipped cream option is great for adding to desserts but is not vegan-friendly. Read on for what ingredients to look out for that are not vegan in whipped cream and find out which are the best vegan whipped cream alternatives to use instead!
Jump to:
What is cool whip?
You're probably familiar with this product from Kraft but just in case you aren't, Cool Whip is a store-bought whipped cream. It's a fluffy, light cream sold in a tub container in the freezer section of most main-stream grocery chains.
It was launched in the 1960's as an alternative to homemade whipped cream, which required making it from heavy whipping cream. It's touted as being able to maintain its creamy texture without melting over time and was originally marketed as "non-dairy" despite having sodium caseinate in it. As of 2018 it now contains skim milk as well.
Cool Whip now has several varieties including Original, Lite, Sugar Free, Fat Free, and Extra Creamy.
It's most often used as a topping for desserts such as on pies, cakes, brownies, or on top of milkshakes and hot drinks like your favorite hot cocoa or latte.
There are many whipped cream brands on the market now but Cool Whip was the first ready-made option.
Non-vegan ingredients in Cool Whip
Cool Whip varieties vary slightly in ingredients but they are similar so today we're looking at just the main ingredients in the original version.
The more obvious non-vegan ingredients in Cool Whip are:
Skim milk
Light cream
Sodium caseinate
These are all derived from dairy, making Cool Whip not suitable on a vegan diet.
The following ingredients are potentially non-vegan depending on the source:
Natural flavor–An essential oil or extract that can be plant or animal derived.
Polysorbate 65—This is usually derived from animal sources.
Sorbitan monostearate—This depends on the type of stearic acid used. If the stearic acid is made from vegetable oils, it remains a vegan product.
Beta carotene—Generally from plant sources but can be made from animal sources.
Note: The tricky thing about natural flavor is that the FDA does not require companies to disclose what the natural flavor is composed of. This makes it hard to determine whether something is vegan without reaching out to the company for clarification. Regardless, Cool Whip already contains dairy ingredients so it isn't vegan but these are ingredients to keep in mind when looking at other whipped cream options.
Best Cool Whip Substitutes
The good news is there are several dairy-free alternative whipped cream options on the market these days. The following vegan cool whip brands make a great alternative to traditional whipped cream and taste so similar to real whipped cream that you won't even notice a difference!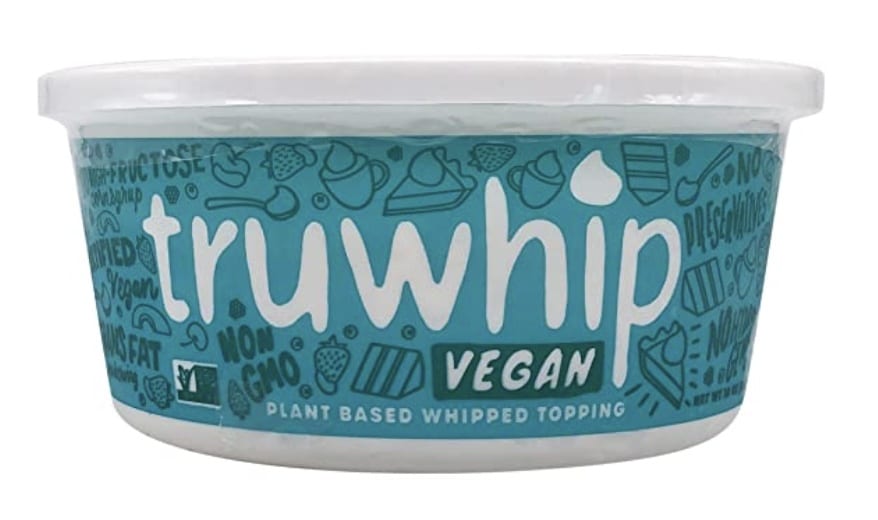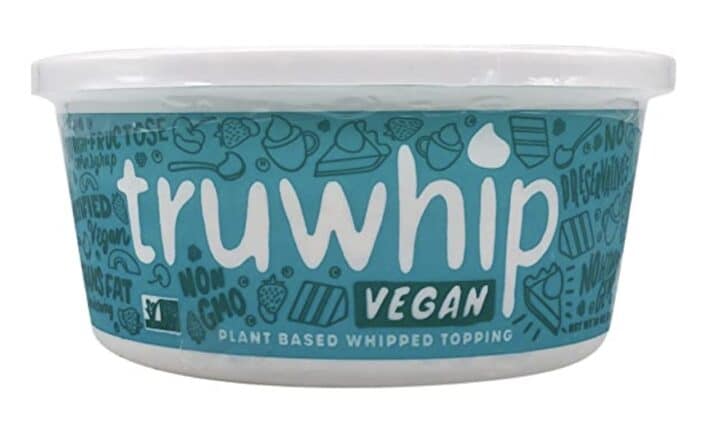 Truwhip has a few varieties that aren't vegan but the one in the teal-colored tub is vegan! It has a really similar texture and flavor to Cool Whip and is sold in the freezer section of the grocery store. It is a wonderful topping alternative to Cool Whip and one I buy often.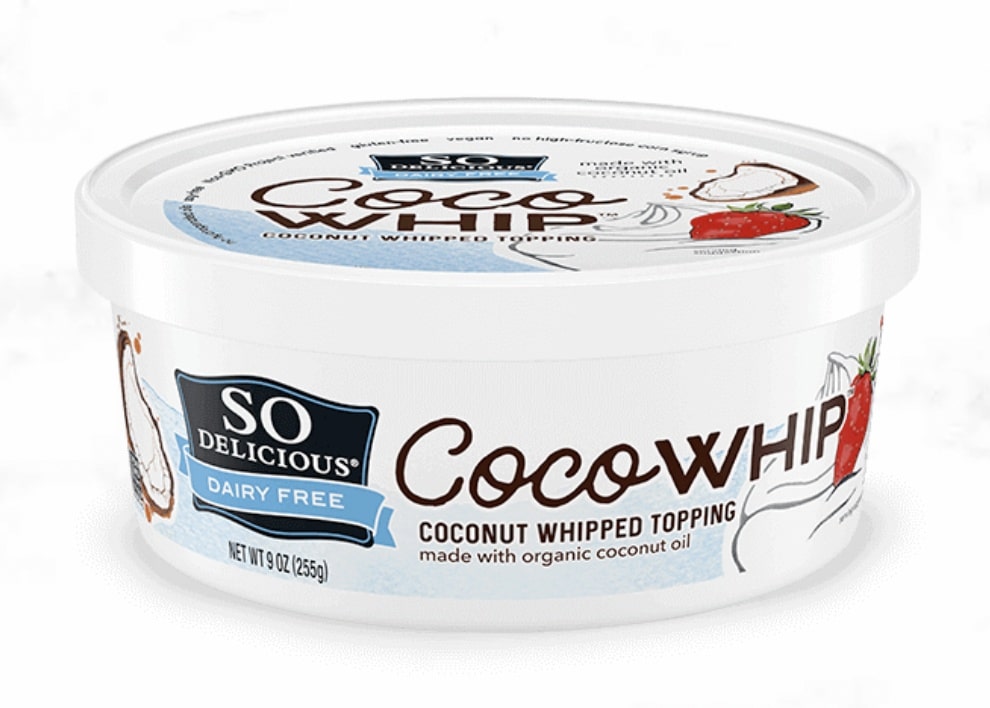 So Delicious offers a great dairy-free whipped cream made from coconut oil. It has a slight coconut flavor but is very similar in sweetness and texture to Cool Whip. It can be found packaged in a tub in the freezer aisle. They make a Light version as well that is also coconut-based.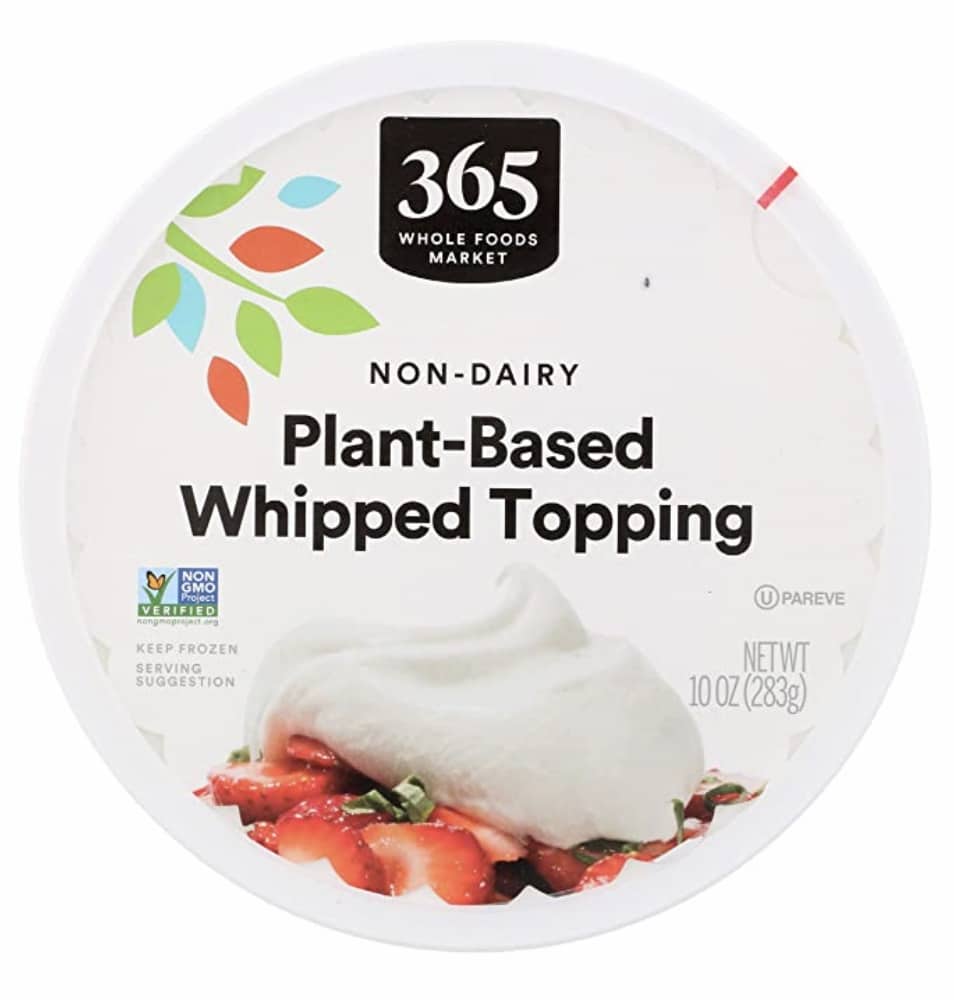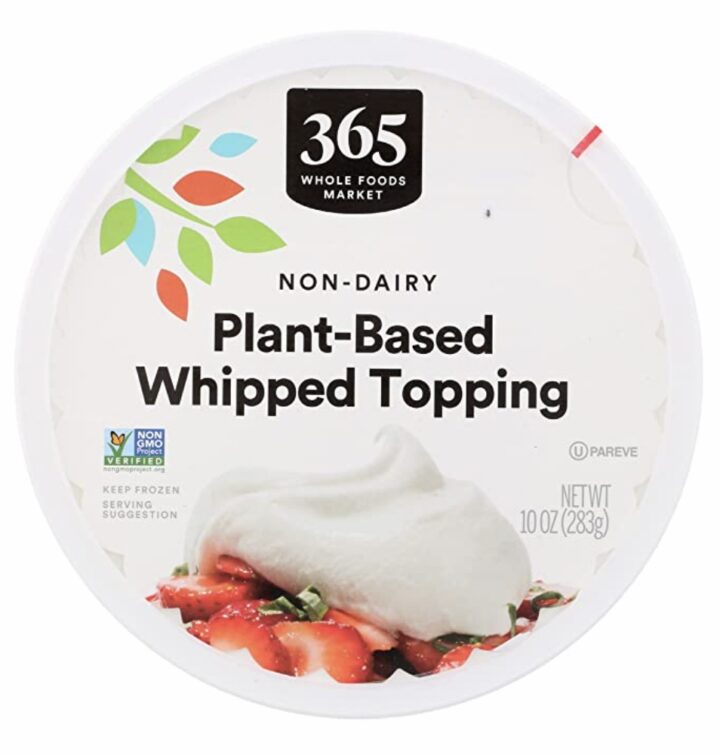 365 from Whole Foods Market has a non-dairy whipped topping that is coconut free. It comes in a tub and can be found frozen.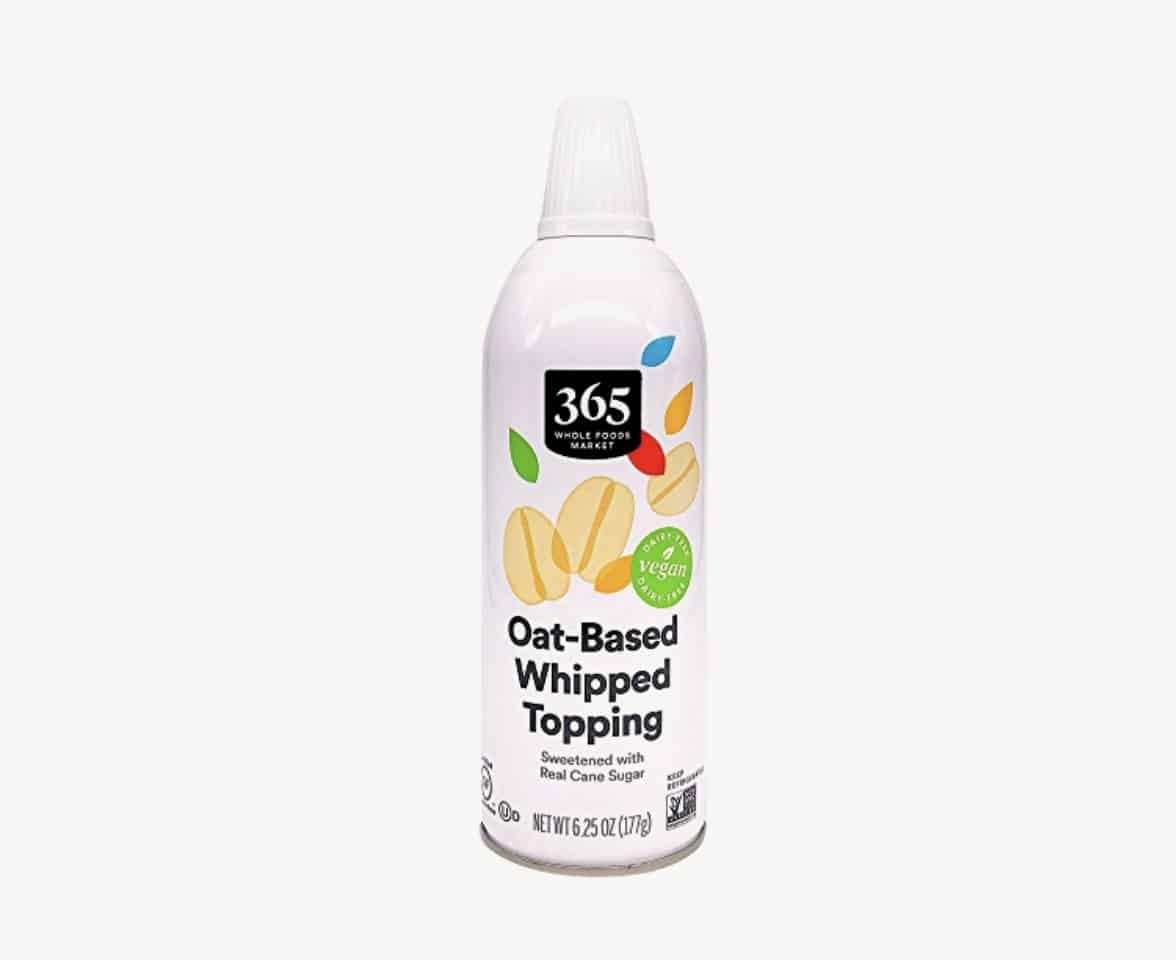 The 365 brand from Whole Foods Market also has a delicious oat-based whipped cream found in a sprayable canister. You can find this in the refrigerated section. They do make a dairy version so check the label to make sure you're grabbing the oat-based one.
Reddi-Wip makes two dairy-free varieties from coconut milk and almond milk. They are in a sprayable canister but there are a lot of complaints that it's hard to get the cream out. It does have a great taste just like their non-vegan, dairy options, but it may not be worth the price until they fix the bottle issue.
Trader Joe's Coconut Whipped Topping
Trader Joe's now offers an affordable coconut-based whipped topping in a sprayable canister. It is sold in the refrigerated section and is a seasonal item so it may not be available year round.
Gay Lea has a coconut whipped cream made from pure coconut and is in a sprayable canister. They also have a Regular and Lite option, which are not vegan. This is a great choice if you prefer the easy serving option of spraying your whipped cream on top.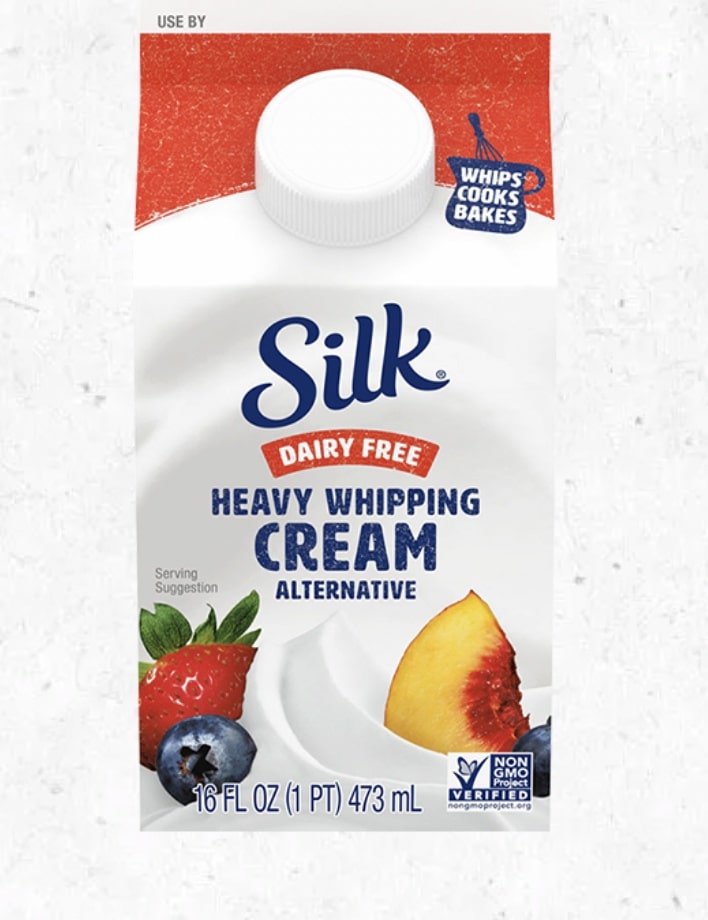 Silk's heavy whipping cream can be used just like regular whipping cream to make whipped cream. It's a good substitute if you can't find pre-made vegan whipped cream. It's coconut and sunflower-based and can be found in a carton in the refrigerated aisle.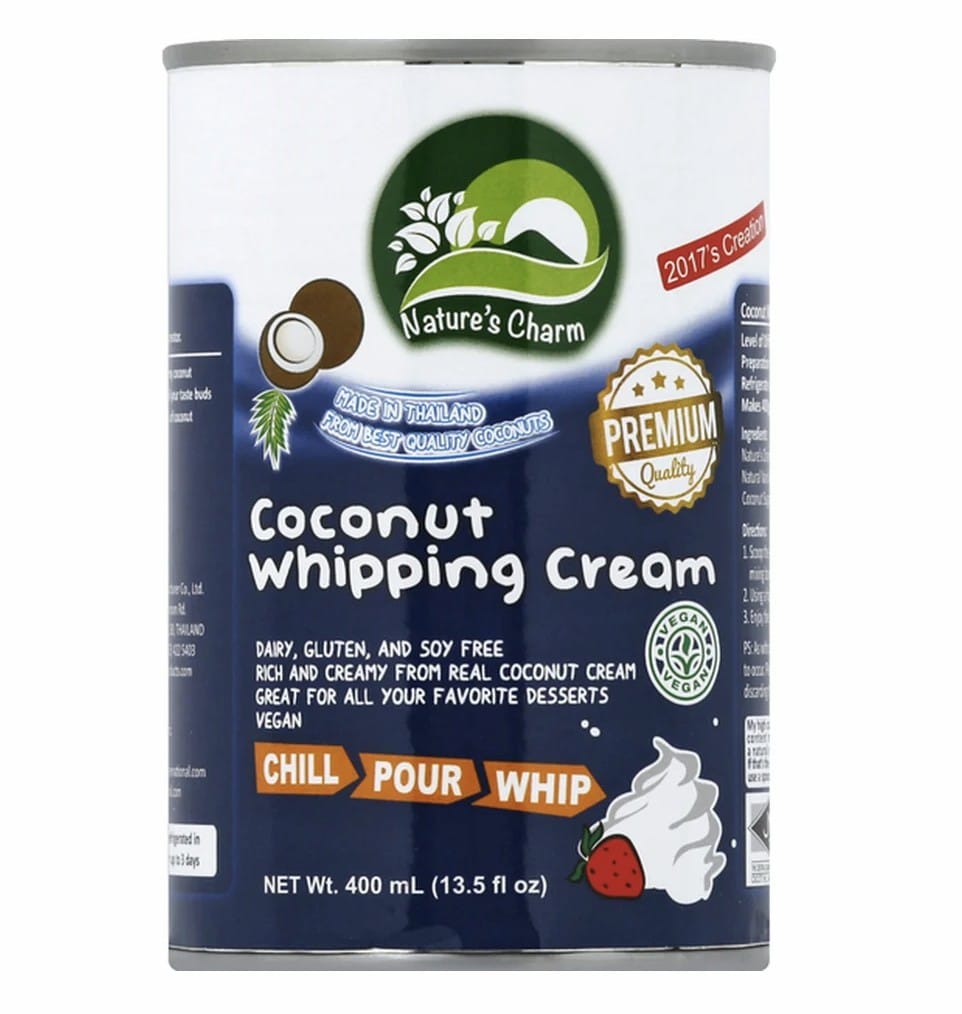 Another vegan whipping cream option is Nature's Charm Coconut Whipping Cream. It is found in a can and is shelf stable. You will need to chill it before attempting to whip it but in just 3 minutes with an electric hand mixer you can have vegan whipped cream!
Homemade Vegan Whipped Cream
Did you know you can make your own vegan whipped cream at home? Here are a couple different homemade vegan whipped cream recipes: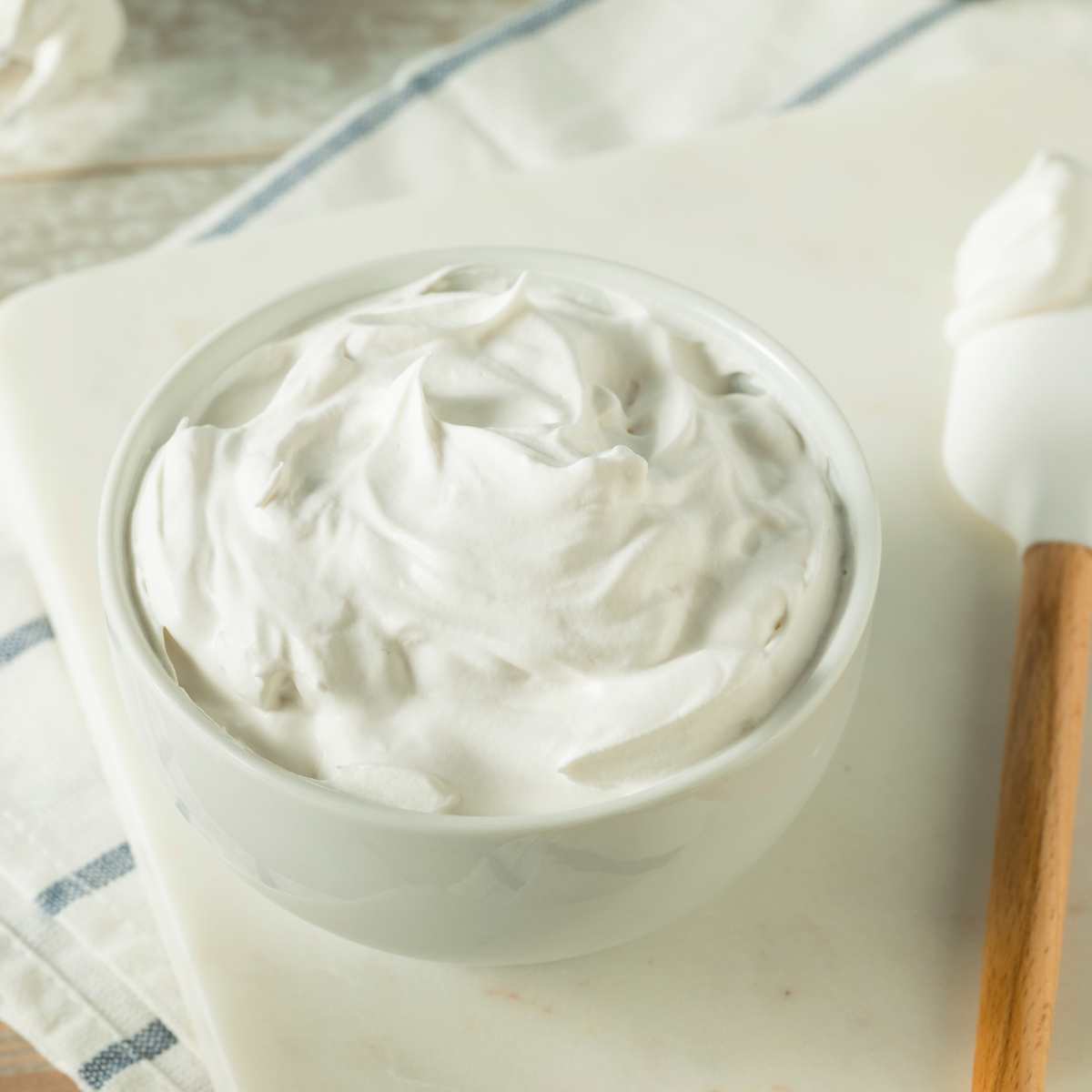 Coconut Whipped Cream
You can easily make your own homemade coconut whipped cream with canned coconut cream or even full-fat coconut milk! It's actually really is to do!
Here are the directions for the coconut whipped cream with photos. It's part of another recipe but you can ignore that if you're just wanting the whipped cream recipe.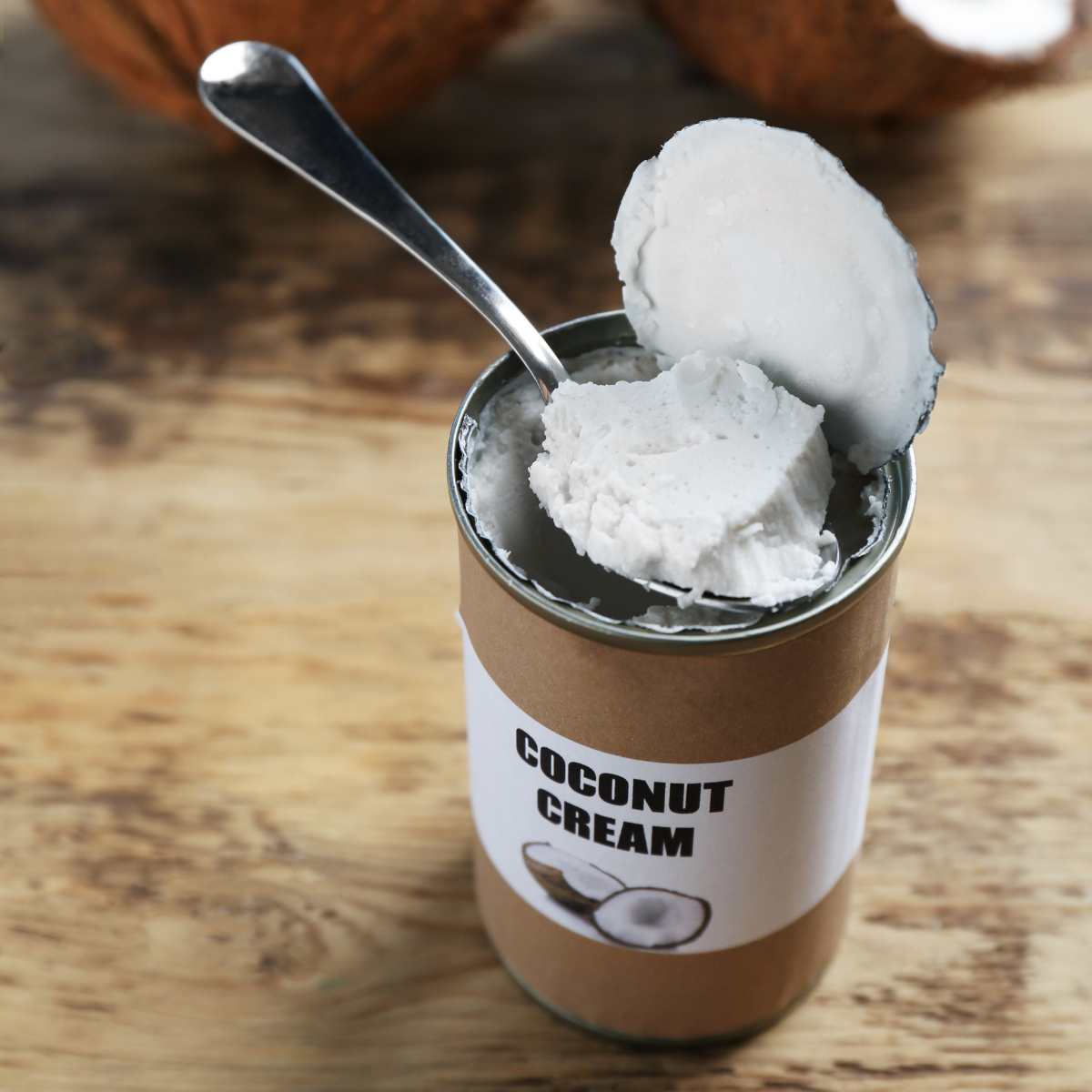 Aquafaba Whipped Cream
Aquafaba (the liquid from a can of garbanzo beans) can also be used to make a vegan whipped cream without any coconut. Mix it along with powdered sugar and vanilla extract to achieve a creamy topping that's completely dairy-free, coconut-free and soy-free!
Frequently asked questions
Does cool whip have eggs in it?
No, Cool Whip does not contain eggs.
Is cool whip dairy free?
No, Cool Whip contains several dairy ingredients including skim milk, light cream and sodium caseinate (derived from milk.
Is Reddi Whip vegan?
Reddi Whip is not vegan inherently but does have a couple vegan options. Both their coconut milk and almond milk versions are vegan-friendly.
More vegan questions answered
Are Tortillas Vegan + Best Vegan Tortilla Brands
Is Honey Vegan + Best Honey Substitutes
Which vegan alternative is your favorite? Is there a brand we missed? Let us know in the comments!