If you need the perfect vegan nacho cheese sauce to dip into, look no further! This sauce has the perfect combination of flavors and is made with a base of potatoes and carrots that are completely undetectable. It's also oil- and nut-free, and requires just a handful of simple ingredients in a matter of minutes!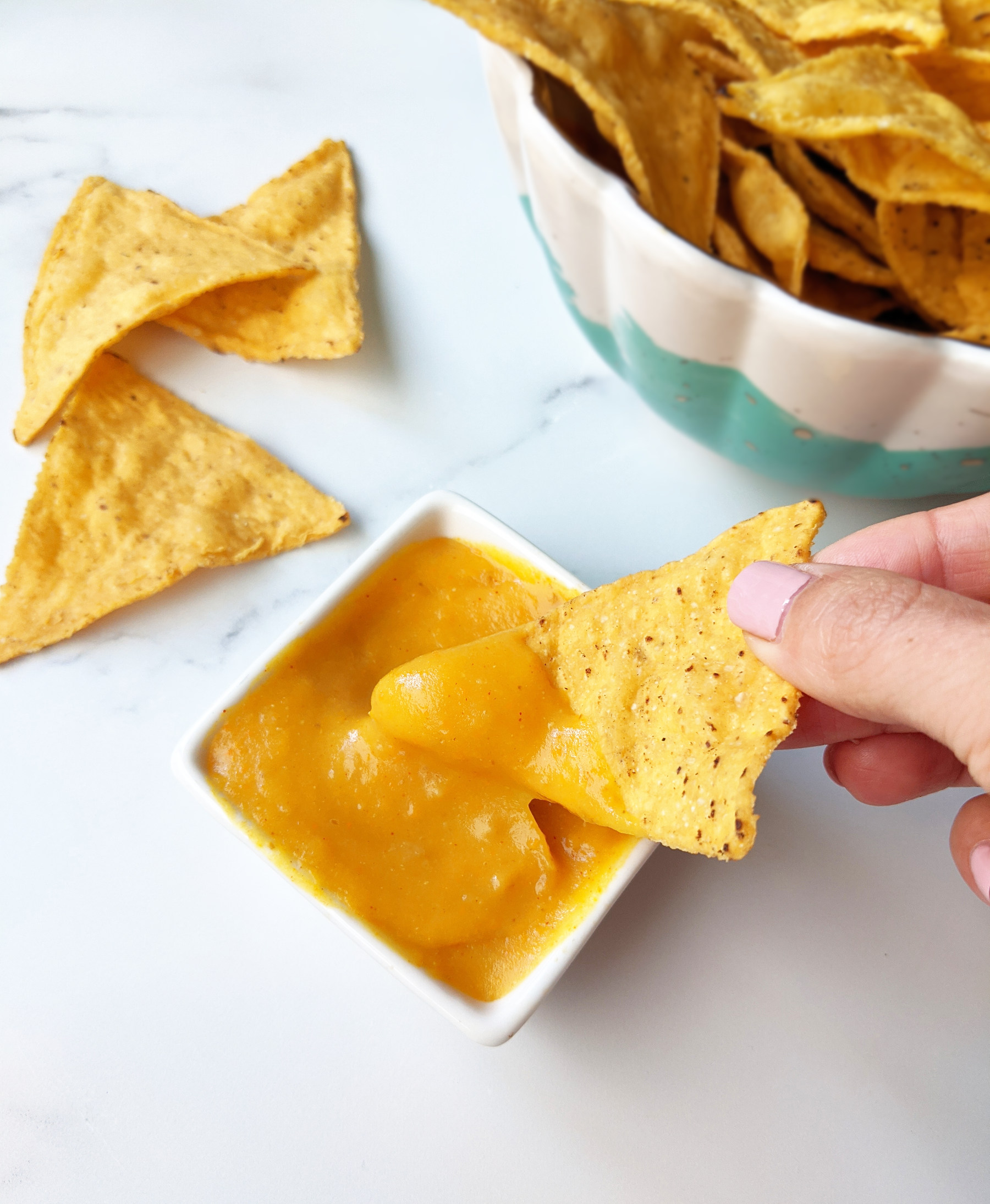 Vegan cheese sauce can be expensive to buy at grocery stores but it turns out it's incredibly easy and affordable to make at home!
I adapted this recipe from Hot For Food. It's amazing but I prefer to cook oil-free. Then I saw Brand New Vegan using mostly potatoes and carrots to make cheese sauces, so I increased the amount, because mo' veggies, mo' better. Am I right?
Jump to:
What is vegan nacho cheese made out of?
Get ready to spice up your snack game, my friends, because we're about to talk about vegan nacho cheese! The best part? There are so many different bases to choose from, so you can mix it up and keep your taste buds on their toes. Here are some popular bases for vegan nacho cheese:
So what are you waiting for? Grab your favorite base and get creative with your vegan nacho cheese!
Key ingredients
The base of this particular vegan nacho cheese recipe is made using whole foods: potatoes and carrots. They are cooked and blended to make a smooth and creamy sauce. Don't worry it won't taste like vegetables!
They're the perfect base because their mild flavors allow for the additional ingredients to really shine and give it the nacho taste we're looking for. Here's what all you'll need:
Find the exact quantities in the recipe card at the bottom of this post.
What is nutritional yeast?
It's deactivated yeast so it won't make your bread rise like baker's yeast. It provides a cheesy, nutty flavor. Sometimes it also has the added benefit of being fortified with vitamin B12 but not always. And it boasts 8 grams of protein per 2 tablespoons!
This is a great additive for anyone looking to replace cheese on a vegan diet, however, it's recommended to avoid for those with Crohn's Disease as yeast can make symptoms of the disease worse. For everyone else, it is perfectly safe to eat.
If you're curious about this unique ingredient, we have an entire article dedicated to what nutritional yeast is and how to use it.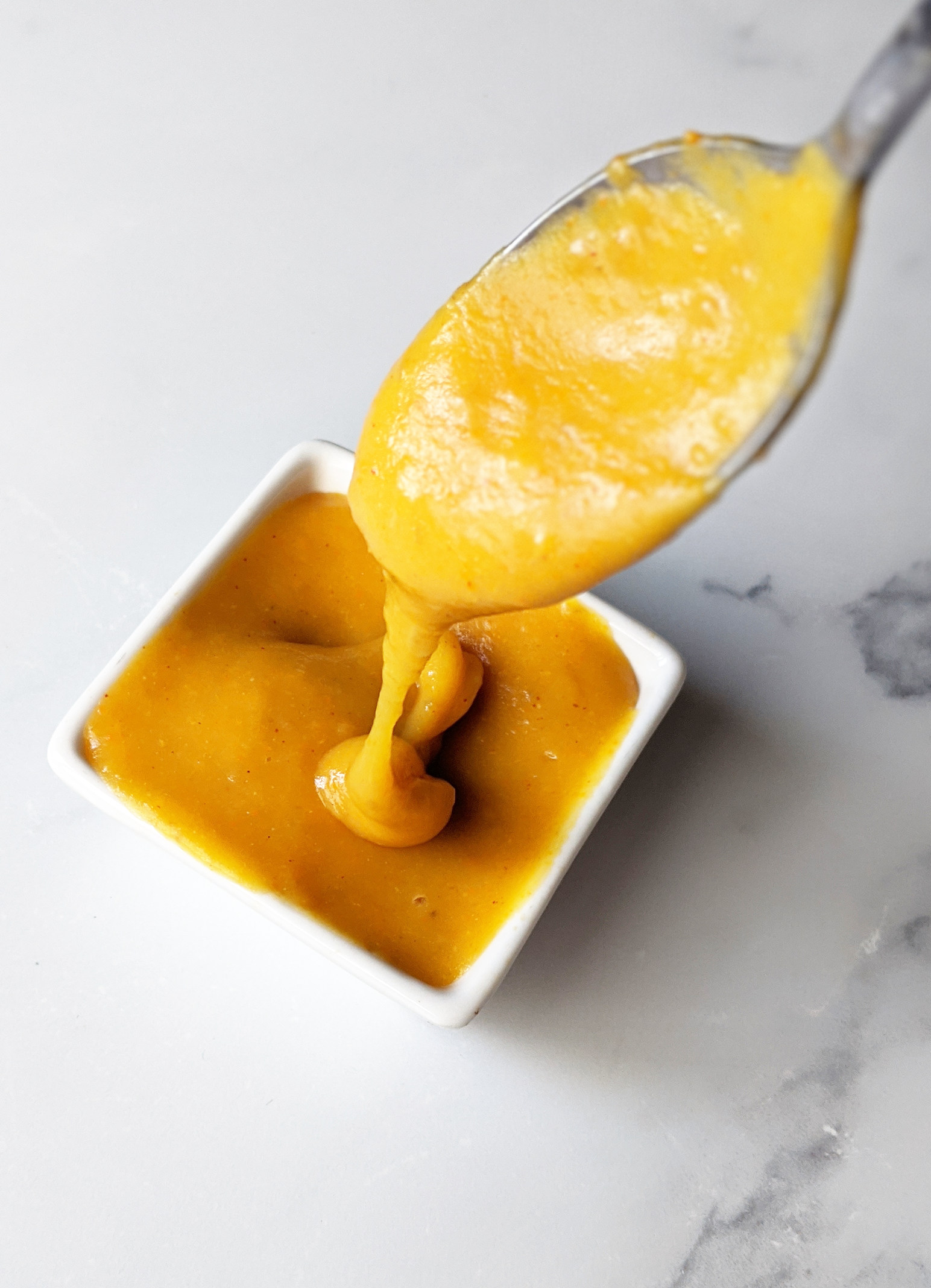 What equipment do you need?
You're going to need a large soup pot to boil the carrots and potatoes, as well as a blender or food processor to blend everything together.
A high-powered blender like a Vitamix blender will work best but a Ninja blender works well and is more affordable.
What to Serve With it?
This vegan nacho cheese sauce recipe is a delicious and versatile dip that pairs well with a variety of foods. Here are some of my favorite ways to serve it:
I also love drizzling this sauce over my Vegetable Breakfast Hash or on top of my famous Three-Bean Chili Sin Carne. Better yet, dip these Baked Zucchini Chips into it for a satisfying snack. Enjoy!
How long will it keep?
I've stored this sauce in an airtight container in the refrigerator for up to a week. For longer, store in the freezer. Thaw and reheat on the stove or in the microwave.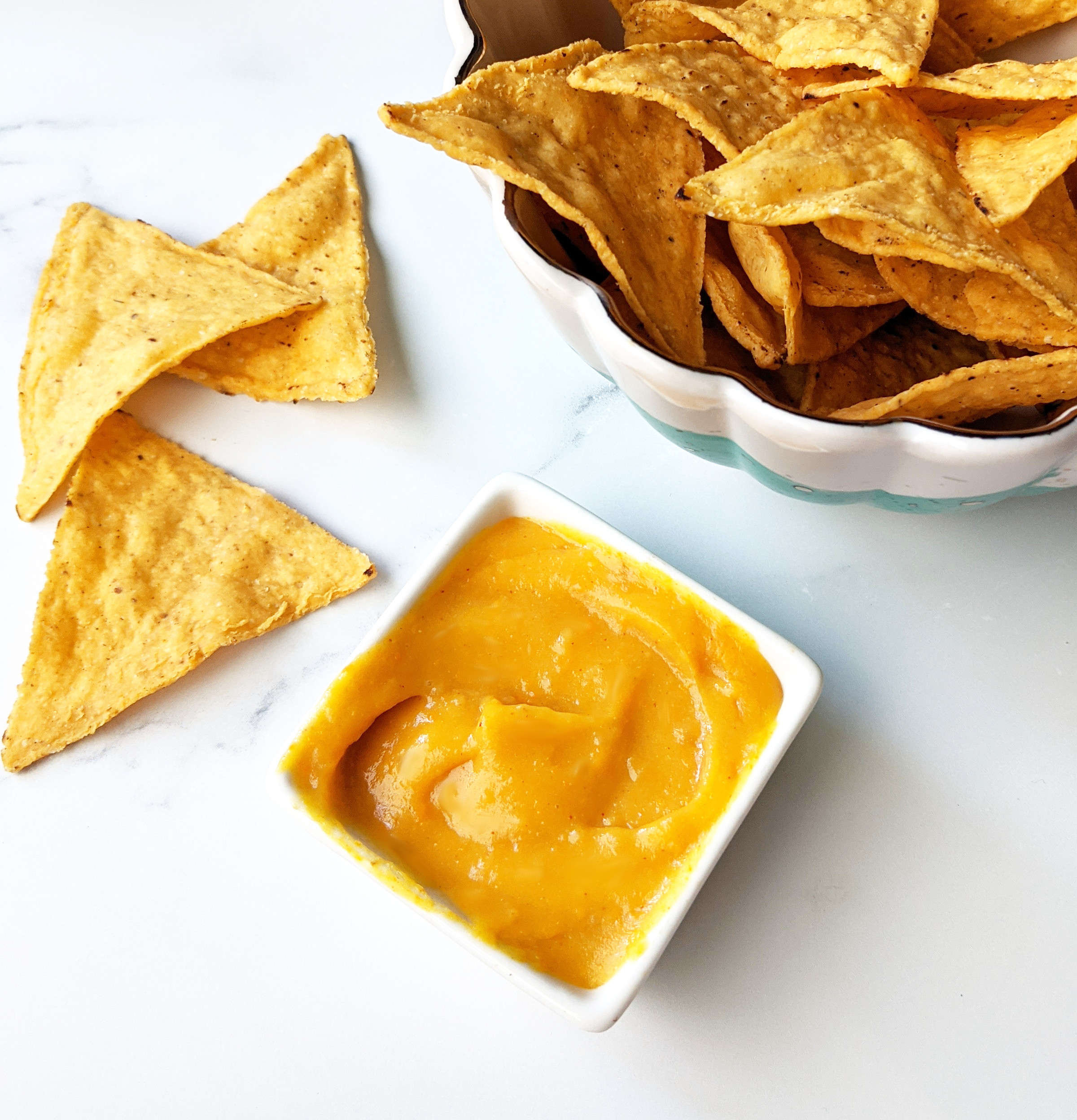 More Vegan Cheese Recipes
If you need help with sticking to a plant-based diet, we have you covered! The Health My Lifestyle Meal Planner is a customizable meal planner that takes all the guesswork out of what to eat by giving you new ideas with delicious easy recipes, helps you plan weekly meals, gives you an itemized grocery list based on the meals you choose, helps you eat better, and most importantly, helps you eat more plant-based, all in one platform!
📖 Recipe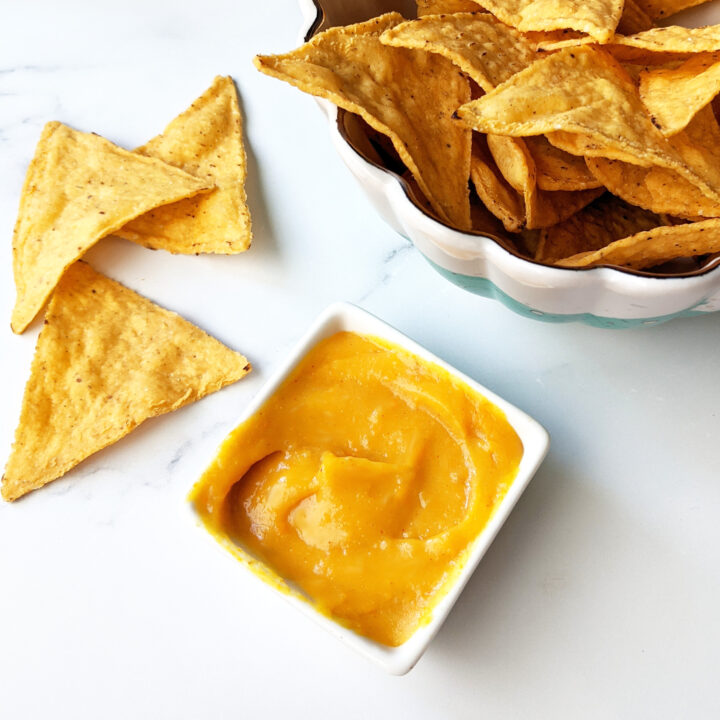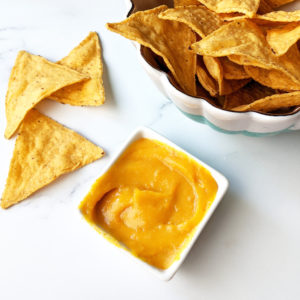 Easy Vegan Nacho Cheese Sauce (No Nuts)
This is the best vegan nacho cheese sauce! Completely oil free, nut free, and gluten free!
Ingredients
1

lb

Yukon potatoes

2

large

carrots

½

cup

water

used to boil the potatoes

6

pickled jalapeño slices

3

tablespoons

jalapeño pickling liquid

2

tablespoons

nutritional yeast

1

tablespoon

tomato paste

2

teaspoons

lemon juice

1

teaspoon

garlic powder

1

teaspoon

onion powder

½

teaspoon

salt
Instructions
Prep the vegetables first by washing and scrubbing both the potatoes and carrots. Peel if desired. I peeled the carrots but left the skin on the potatoes.

1 lb Yukon potatoes,

2 large carrots

Chop potatoes and carrots into uniform pieces (½-1 inch cubes) and boil for 10 minutes. Allow to cool for 5 minutes without draining, then use a slotted spoon to transfer the veggies to your blender.

Add

½

cup of the boiled water to the blender and pulse to mix (the starches in the water left from the vegetables help to thicken the sauce).

 Add remaining ingredients and blend until smooth.

6 pickled jalapeño slices,

3 tablespoons jalapeño pickling liquid,

2 tablespoons nutritional yeast,

1 tablespoon tomato paste,

2 teaspoons lemon juice,

1 teaspoon garlic powder,

1 teaspoon onion powder,

½ teaspoon salt

Can be served cold or hot.
Nutrition
Calories:
60
kcal
|
Carbohydrates:
13
g
|
Protein:
2
g
|
Fat:
1
g
|
Saturated Fat:
1
g
|
Sodium:
364
mg
|
Potassium:
356
mg
|
Fiber:
2
g
|
Sugar:
2
g
|
Vitamin A:
2771
IU
|
Vitamin C:
14
mg
|
Calcium:
17
mg
|
Iron:
1
mg
This has been adapted from Hot For Food's and Brand New Vegan's cheese recipes to make the perfect oil-free vegan nacho cheese!
Pin this for later: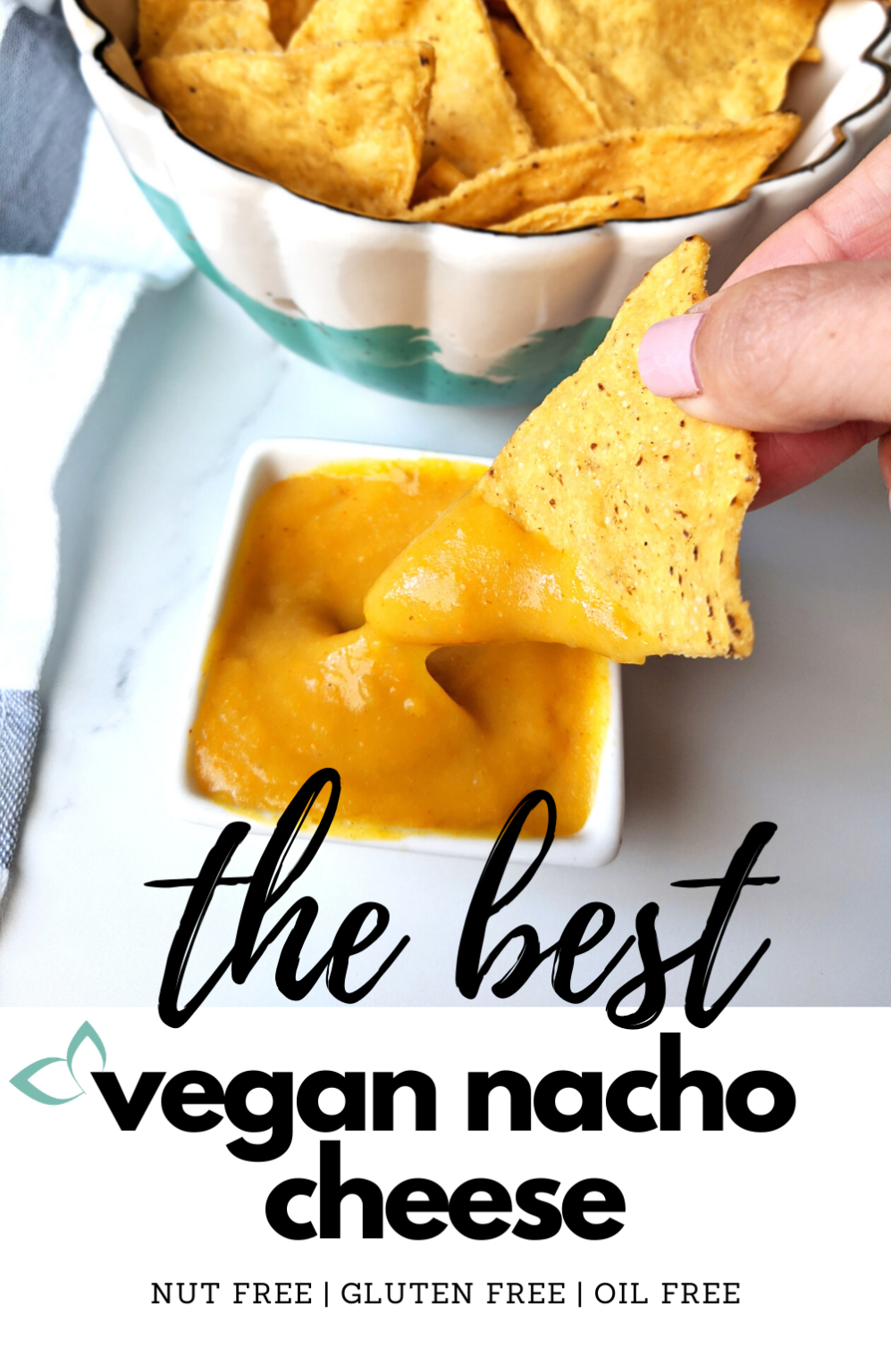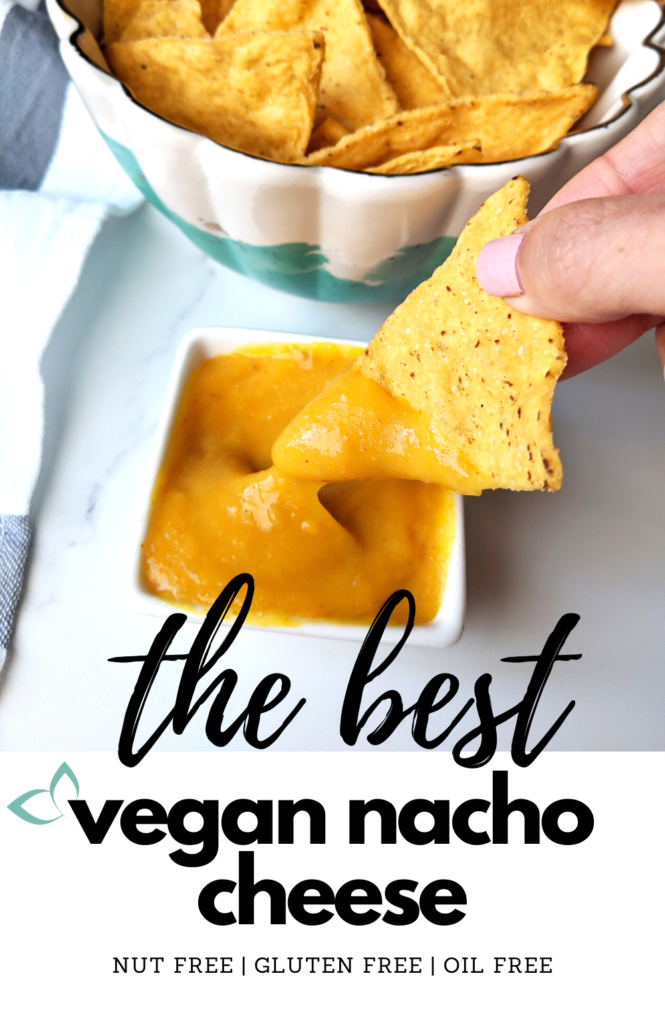 This vegan nacho cheese article was originally published on July 8th, 2020 and has been updated April 19th, 2023 with additional information and tips.