Breakfast or dessert?
You decide! This wholesome bowl of vegan snickers overnight oats has the delicious flavors of the famous candy bar but in a much more filling and healthy format. The best of both worlds!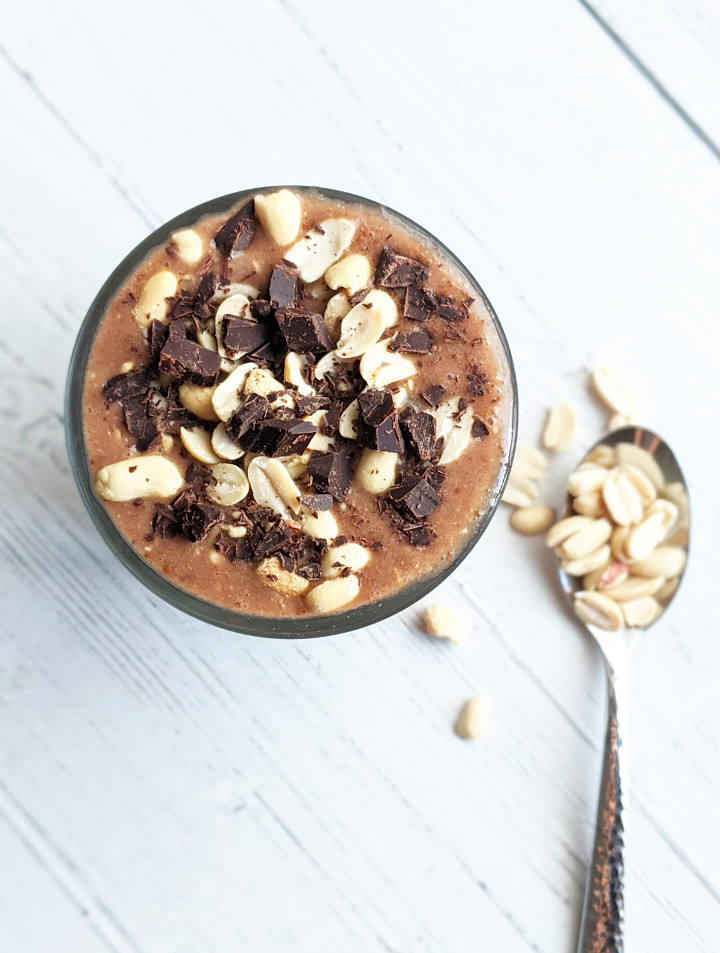 I first shared this recipe on my Instagram account last year and received many comments saying "that's got to be a thousand calories!" or "that's way too much sugar for breakfast!"
But the truth is, this breakfast is made up of mostly whole foods save for the tablespoon of chocolate! This is only 500-700 calories depending on the plant milk and how much sweetener you use. And when it keeps you full all morning, that really isn't that many calories!
I used to think I needed to eat a tiny breakfast of 200-300 calories max because I thought "well, I'm just going to snack later so I need to save more calories for that." But if I had just allowed myself to have a bigger, more filling breakfast, I wouldn't have had the desire to snack anyways. And let's face it, my previous snack choices were not always the best options (sugary granola bars anyone?).
What I'm getting at is that you can totally allow yourself a big filling breakfast and not feel guilty about it. And it can definitely include chocolate (of the vegan variety of course).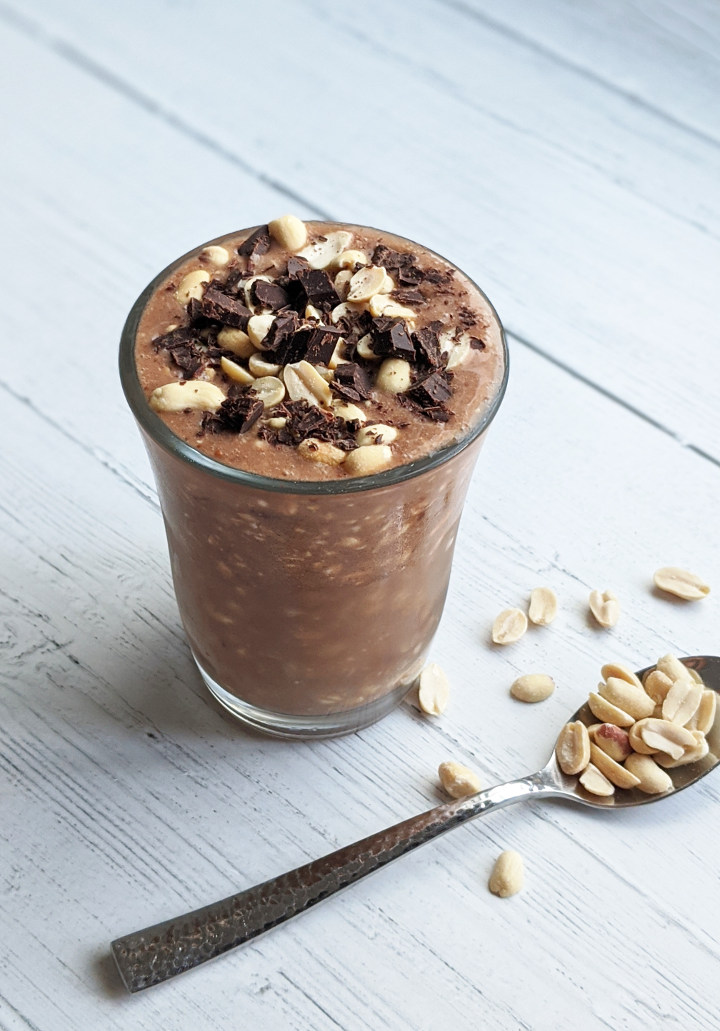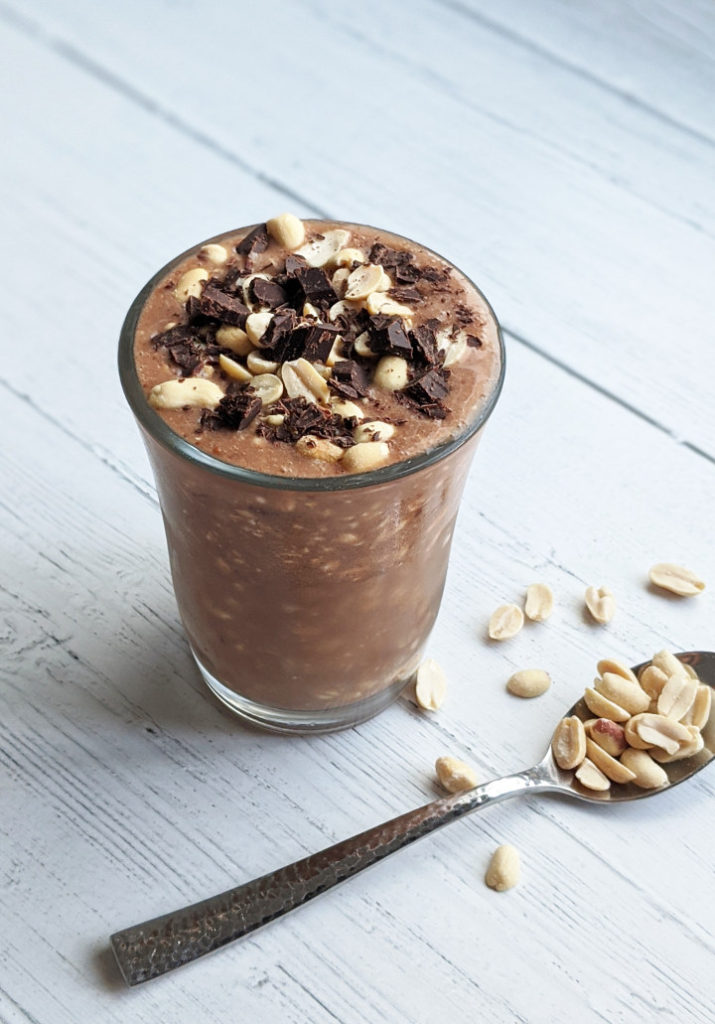 How to recreate the Snickers flavors
Snickers were my favorite candy bar so I decided to recreate it as a healthier, plant-based version. Also, oats are just the perfect base for almost anything.
I tout a more whole food plant-based diet, so I used mostly whole foods to recreate the flavors. You'd be surprised what you can accomplish with some plants!
Snickers have 3 main components to it: nougat layer, caramel peanuts layer, and a chocolate coating.
Here's how we're going to recreate these flavors:
Nougat layer —> rolled oats, banana, and milk
Caramel peanuts layer —> dates, maple syrup, peanuts, peanut butter
Chocolate coating —> dark chocolate plus cocoa powder
How to store
Overnight oats need to set up for at least a few hours or overnight night to allow the oats to soften and absorb some of the liquid. To do this, keep them in a sealable container and store them in the refrigerator.
They can also be prepped a few days in advance. Just keep them refrigerated in an airtight container until the day you need them. So easy!
How to heat
I know some people aren't a fan of cold oats. If that's you, you can still benefit from the advanced prepping that overnight oats provide, but heat them up when you're ready to eat.
The easiest option would be the microwave. Leave off toppings and heat in a microwave for 1-2 minutes. Alternatively you can use the stove. Since the oats are already soft from soaking you don't need to boil them per se, you can just heat through. However, if there's more liquid than you desire, you can simmer off some of the excess until you reach your desired consistency.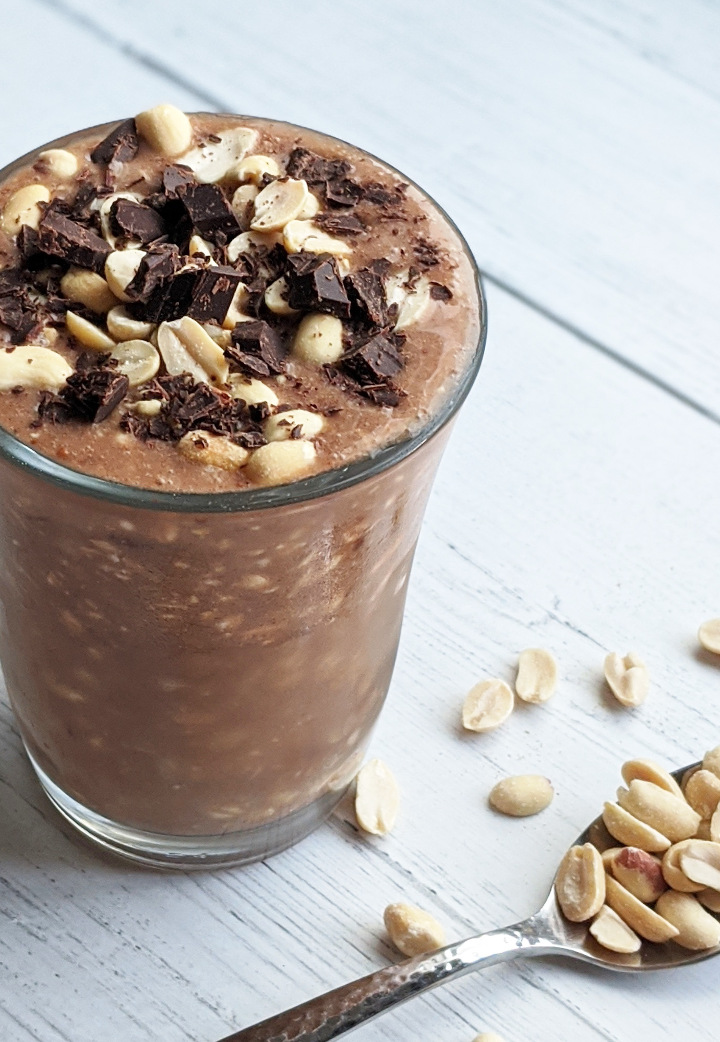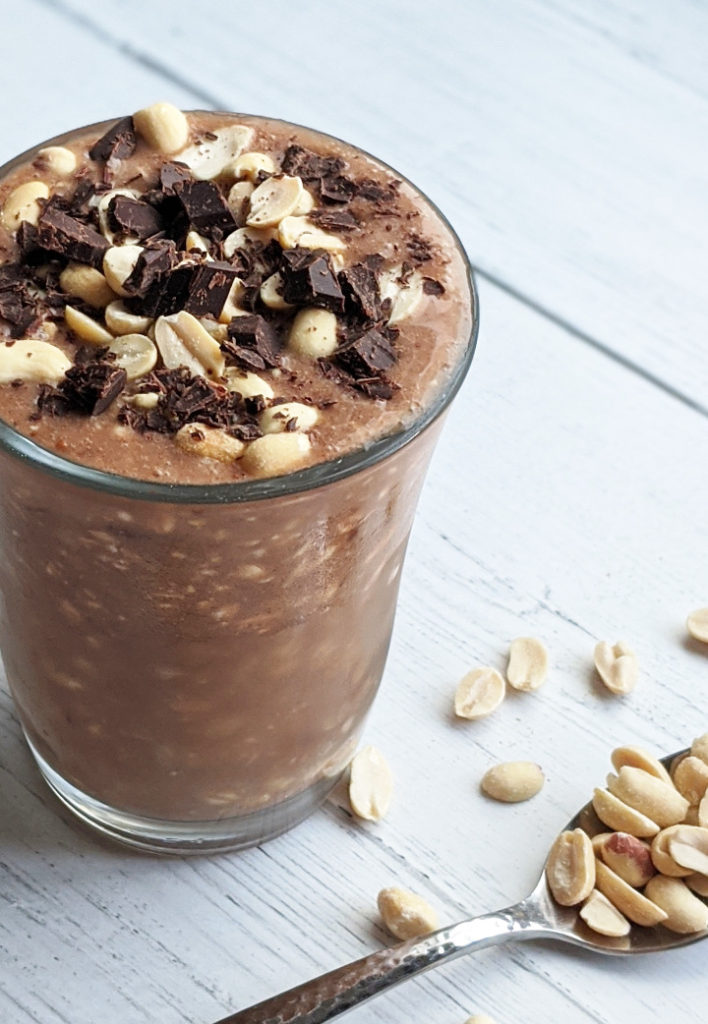 Overnight oats are the perfect make-ahead breakfast. I've been in the habit of making them on the days I have something first thing in the morning. It really makes getting up early so much easier when you have a tasty breakfast waiting for you!
These overnight oats also pack in 17g of protein! It makes for a great post-workout snack too.
Members of the Health My Lifestyle Meal Planner have been enjoying this recipe so much that I thought it was time it lived on the blog for others to enjoy too. If you haven't heard, the Health My Lifestyle Meal Planner takes all the guesswork out of what to eat on a plant-based diet with a database full of simple, healthy and delicious recipes. And the best part? It's completely customizable to you! Find recipes that match your busy schedule and taste preference. Check out the Meal Planner here.
If you enjoyed this recipe please leave a comment below and give it 5 stars! Or on Pinterest (don't forget to follow me!) you can now add pictures into reviews, too, and be sure to help me share on facebook!
📖 Recipe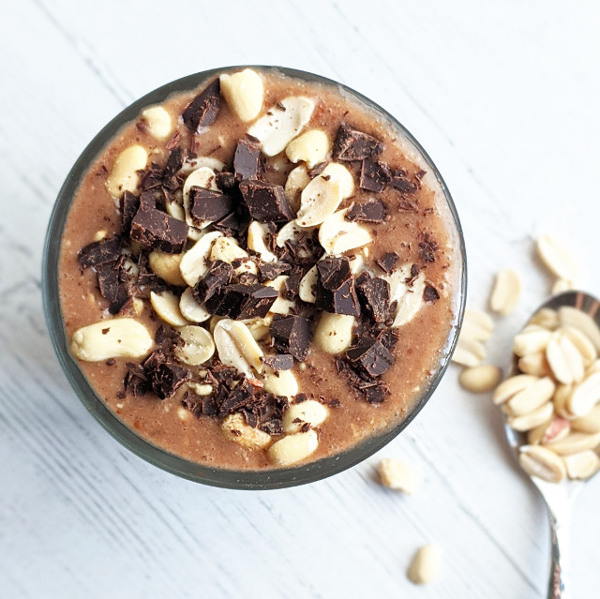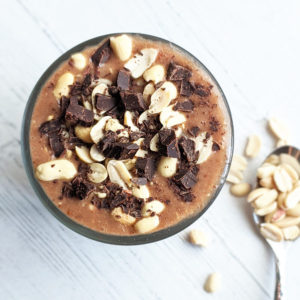 Snickers Overnight Oats
Breakfast or dessert? You decide! This wholesome bowl of vegan snickers overnight oats has the delicious flavors of the famous candy bar but in a much more filling and healthy format. The best of both worlds!
Print
Pin
Rate
Instructions
Soak the date in hot water (just enough to cover it) for 15 minutes.

Meanwhile, mash the banana in a bowl then add in the oats and milk. Stir in the maple syrup, peanut butter, and cocoa powder.

When the date is done soaking, mash with a fork in the water to create a date paste. Stir it into your oats. Cover and place in the refrigerator for a few hours or overnight to let the oats absorb the liquid and thicken.

Top with peanuts and chocolate chips when ready to serve. Enjoy!
Notes
Nutrition information is a rough estimate calculated with unsweetened almond milk.
Overnight oats will keep in the refrigerator for up to 3 days.
If you prefer hot oats, you can heat up in the microwave for 1-2 minutes. See blog post above for more details.
Nutrition Per Serving
Calories:
645
kcal
Carbohydrates:
91
g
Protein:
17
g
Fat:
30
g
Saturated Fat:
10
g
Sodium:
324
mg
Potassium:
793
mg
Fiber:
13
g
Sugar:
41
g
Vitamin A:
76
IU
Vitamin C:
10
mg
Calcium:
300
mg
Iron:
5
mg
Pin this for later: