Who doesn't love Almond Joys? Now you can drink it too! This luscious concoction beautifully marries the rich flavors of almond and coconut with a hint of chocolate. Ready in less than 5 minutes, every sip is reminiscent of the beloved candy bar we all adore.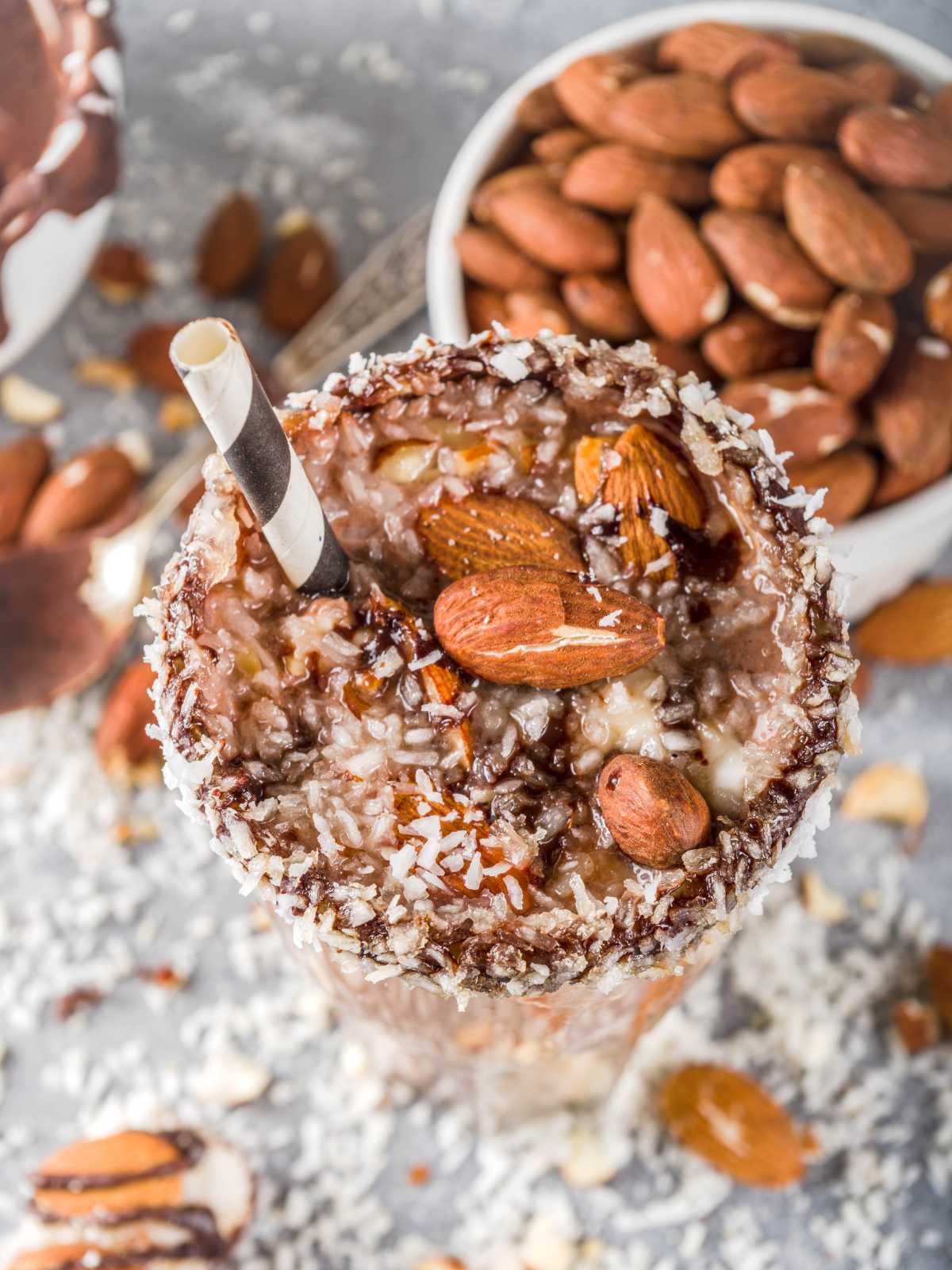 Key ingredients
Almond Milk: Opt for unsweetened and preferably vanilla-flavored almond milk to maintain a delicate balance of flavors in the smoothie.
Coconut Yogurt: Choose a dairy-free coconut yogurt to enhance the coconut flavor and creaminess of the smoothie.
Ground Flax Seeds: Adding ground flax seeds not only contributes to the nutritional profile but also lends a subtle nutty taste and helps achieve a thicker texture.
Maple Syrup: Use maple syrup to sweeten the smoothie naturally, complementing the almond and coconut flavors.
Vanilla and Almond Extracts: Using a combination enhances the overall taste.
Cocoa Powder: Unprocessed cocoa powder infuses the smoothie with a rich chocolatey taste, reminiscent of the classic Almond Joy candy bar.
Dairy-Free Chocolate Chips: Blending in the chocolate chips offer delightful bursts of chocolate flavor throughout the smoothie. Feel free to omit if you don't have a high-speed blender. Alternatively, you can try melting them and dipping the rim of your glass in it for a fancy touch.
Unsweetened Shredded Coconut: An almond joy smoothie is not complete without some shredded coconut! Add it to the smoothie as well as use it for garnish.
How to make this almond joy smoothie
Making this almond joy smoothie couldn't be easier!
Simply add all of the ingredients to a high-speed blender and blend until smooth!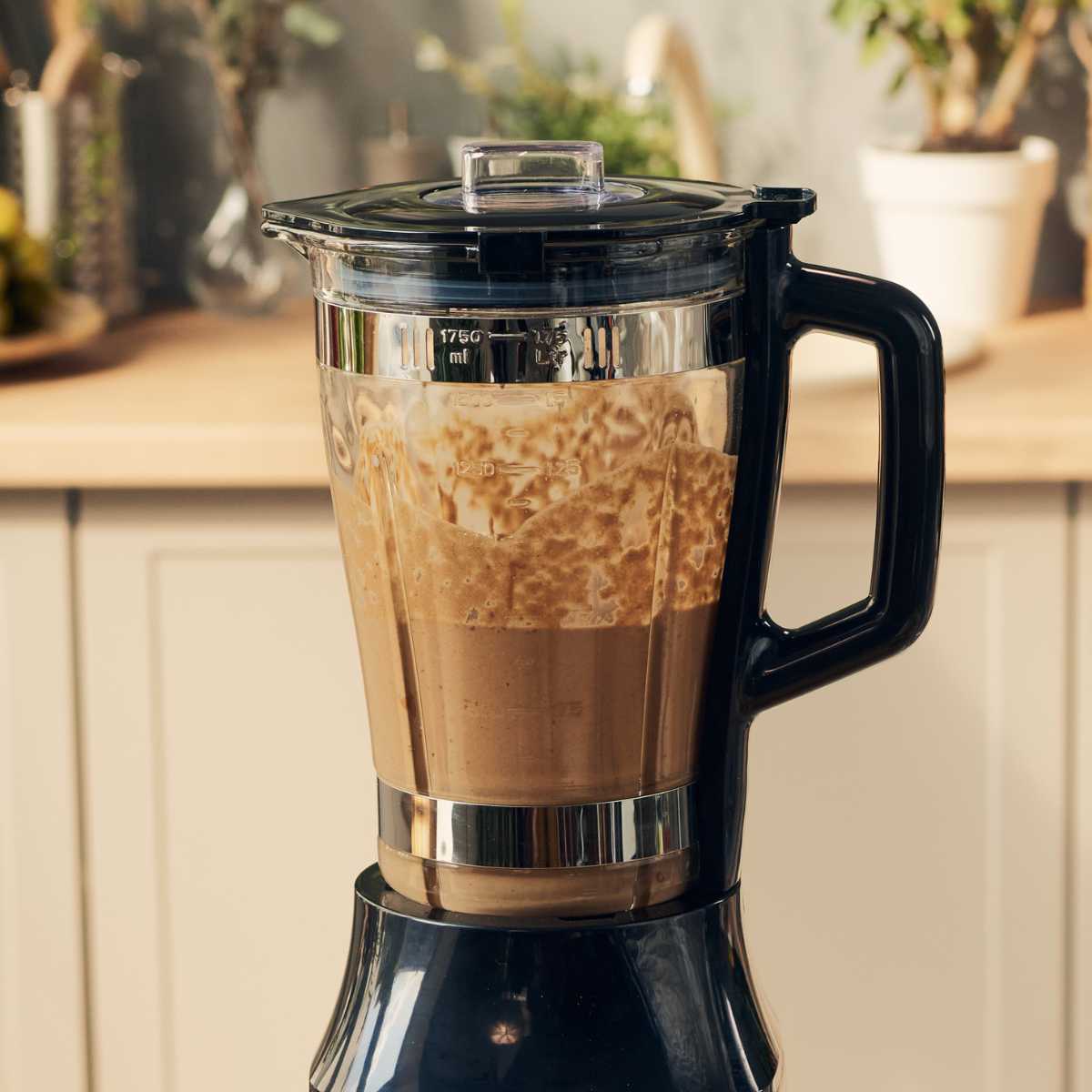 Want to make it fancy? Melt some extra chocolate chips to decorate the rims of your glasses. Place in a microwave-safe dish and microwave for 30-second intervals, stirring in between until almost fully melted. Stir to dissolve the last few chunks. Add some extra shredded coconut to a shallow dish.
Allow the melted chocolate to cool slightly, then dip the rims of your glasses in it followed by dipping in the shredded coconut. Pour your almond joy smoothie into the glasses and enjoy!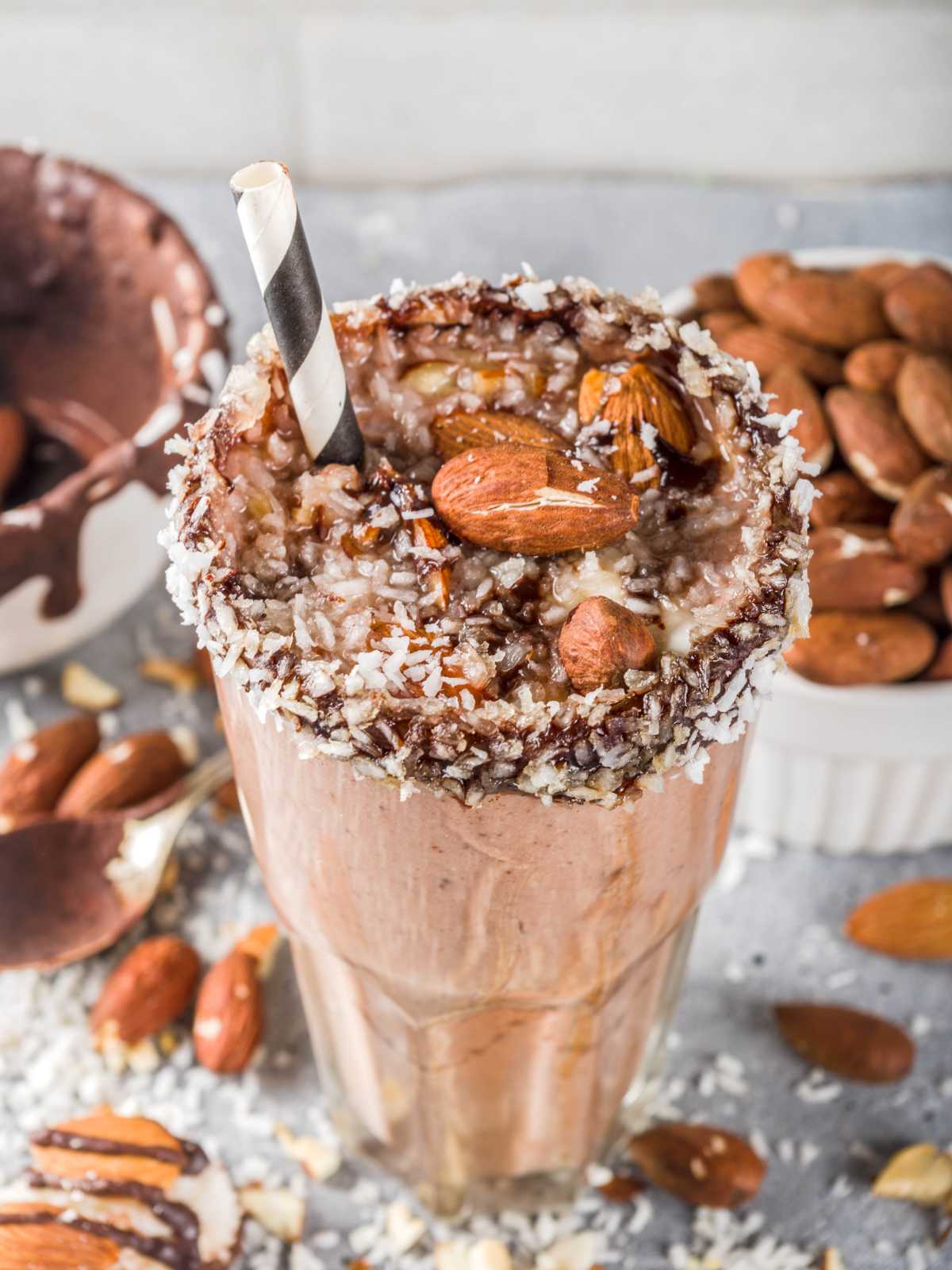 Top tips
Make sure you have a high-speed blender, or I would recommend chopping the chocolate chips up in a food processor first. Otherwise, they sink to the bottom of your blender and don't get incorporated very well into the smoothie.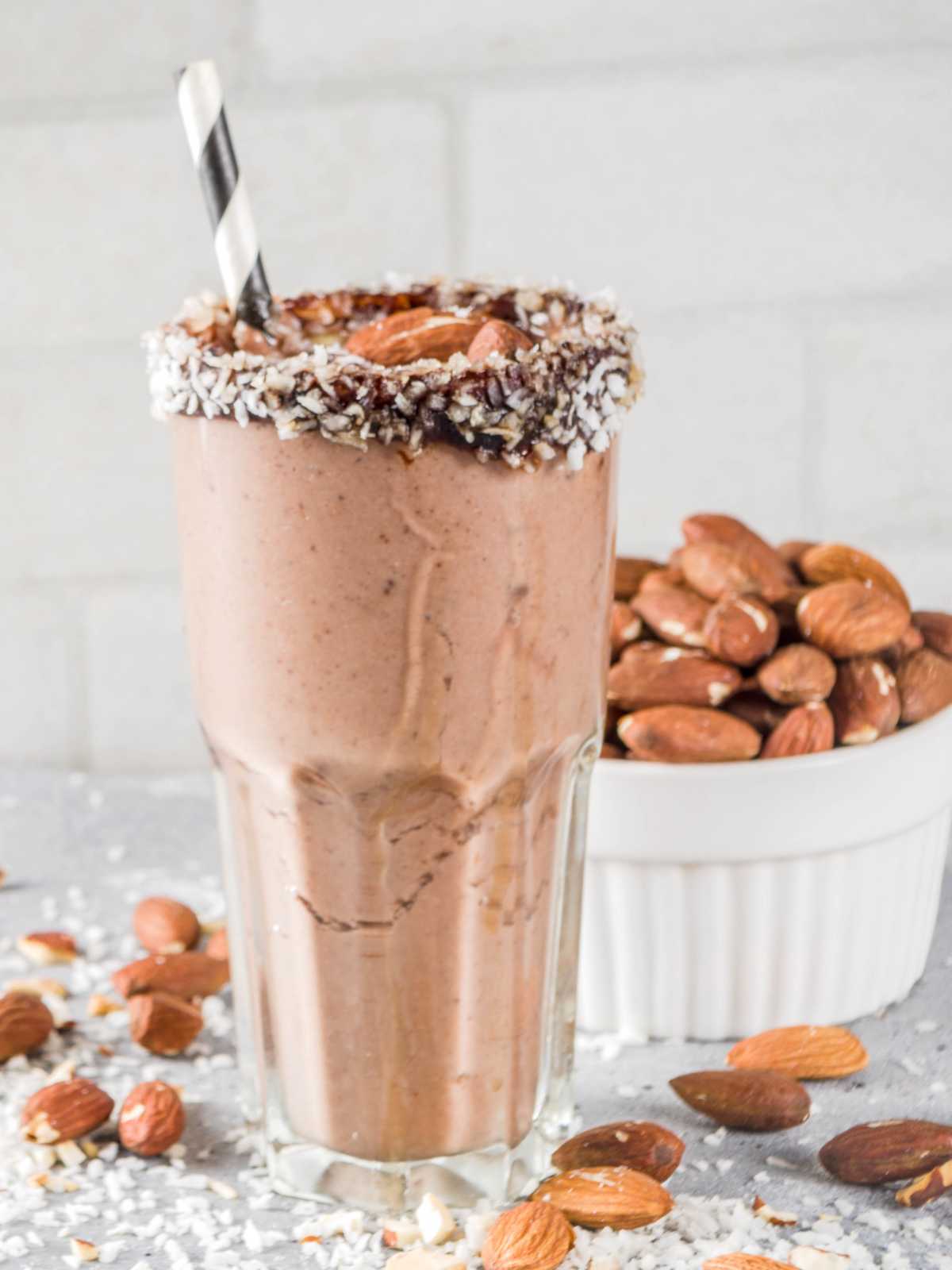 If you get the hankering to try it out let me know what you think! Or what you would add to make it even better!
More delicious drink recipes
📖 Recipe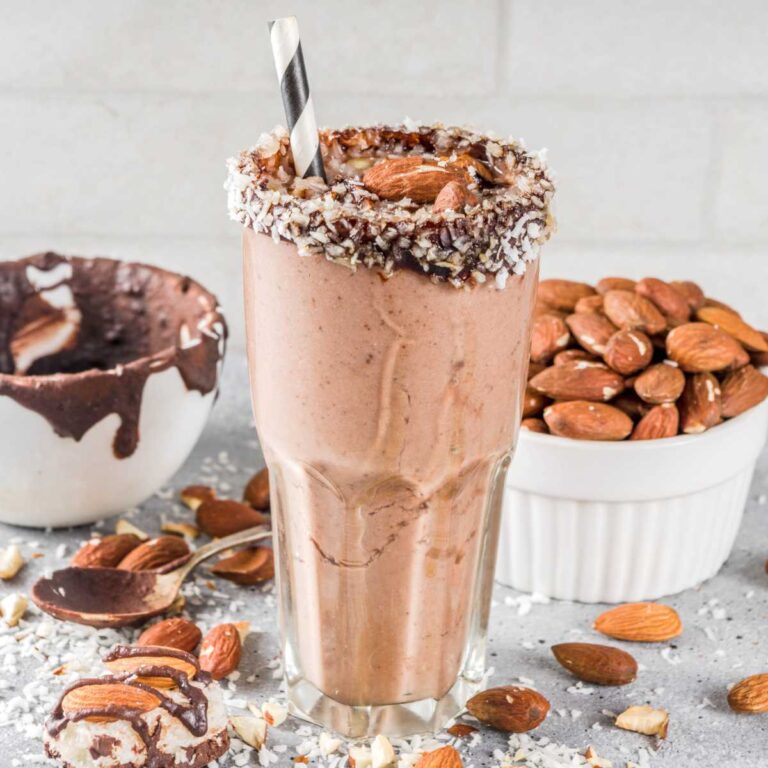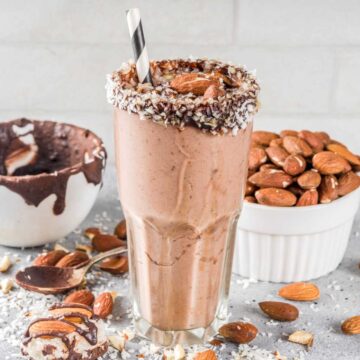 Almond Joy Smoothie
This almond joy smoothie recipe is the perfect combination of chocolate and coconut to make the classic candy bar into a healthy smoothie recipe.
Print
Pin
Rate
Instructions
Place everything into a high speed blender and blend until smooth.
Nutrition Per Serving
Calories:
289
kcal
Carbohydrates:
32
g
Protein:
6
g
Fat:
17
g
Saturated Fat:
7
g
Polyunsaturated Fat:
4
g
Monounsaturated Fat:
3
g
Sodium:
503
mg
Potassium:
222
mg
Fiber:
7
g
Sugar:
20
g
Vitamin C:
6
mg
Calcium:
571
mg
Iron:
2
mg
This almond joy smoothie was originally published August 28th, 2013, and has been updated on September 18th, 2023, with additional tips and new pictures.