This vibrant green tea smoothie is packed with nutrient-rich fruits, leafy greens, and energizing green tea—a refreshing blend you'll want to enjoy often!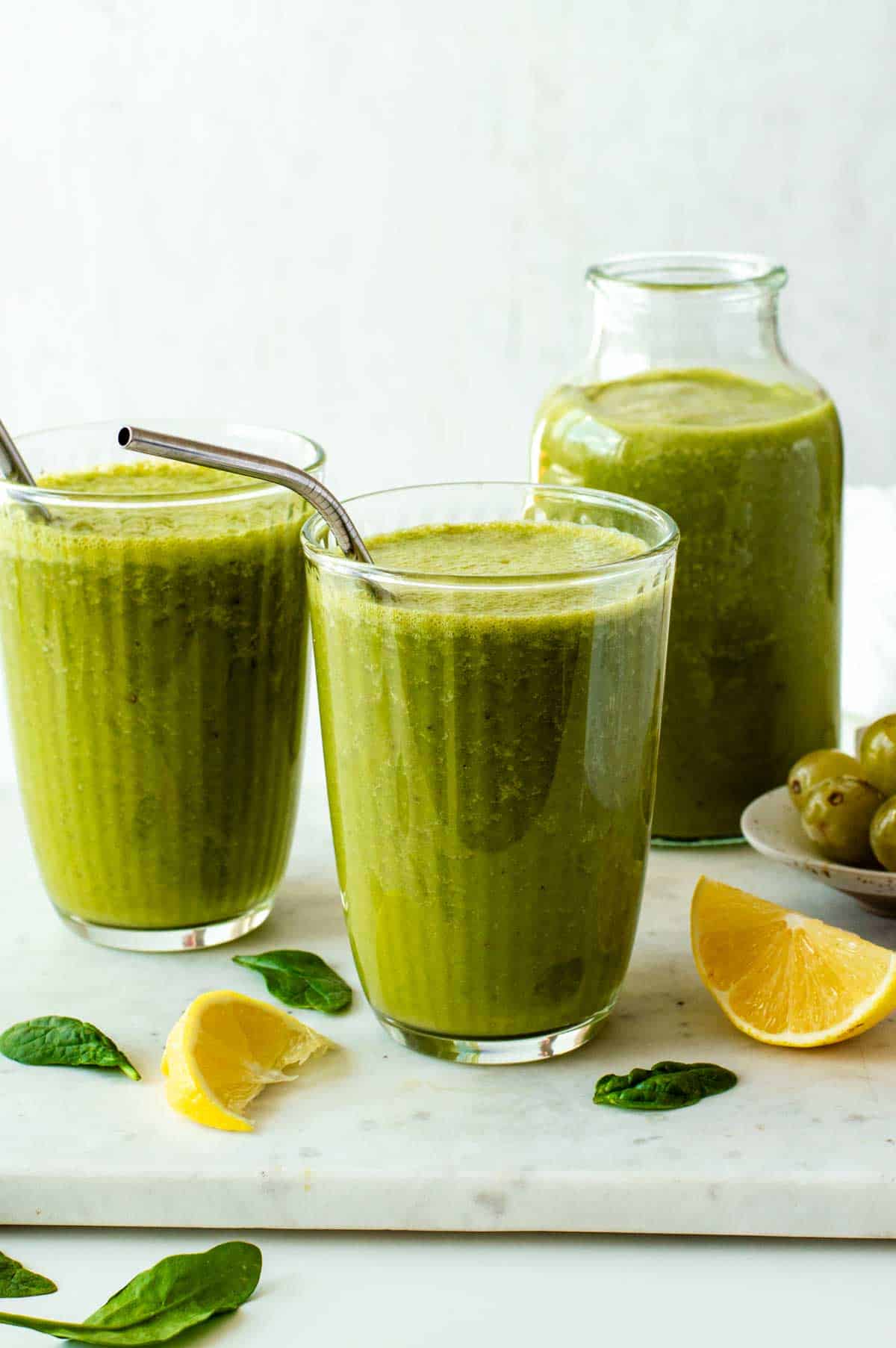 If you love green tea and are looking for ways to shake up your normal tea time, try this green tea smoothie! I like it as a pre or post-workout treat but this delicious smoothie is great any time of day!
This idea came to me when I was trying to have green tea daily but needed something more filling after a workout on a particular day. I usually enjoy a smoothie after working out so I thought "why not combine the two?"
What I came up with is the perfect combination of a fruity smoothie and green tea. And it's super easy to make!
Jump to:
Why you'll love this green tea smoothie
Revitalizing Flavor: The infusion of green tea lends a refreshing and invigorating taste to this smoothie, perfect for a morning boost or a midday pick-me-up.
Nutrient-Packed Powerhouse: Packed with a variety of fruits, vegetables, and green tea, this smoothie is a nutritional powerhouse, providing essential vitamins, minerals, and antioxidants.
Balanced Energy Boost: Green tea leaves offer a gentle source of caffeine, providing a natural and sustained energy boost without the jitters often associated with coffee.
Weight Management Support: Green tea is known to boost metabolism and aid in weight management, making this smoothie a great addition to a healthy diet and fitness routine for those interested in weight loss.
Detoxifying and Cleansing: Green tea has detoxifying properties that can help flush out toxins from the body, thanks to its antioxidants that help fight free radicals.
Ingredient notes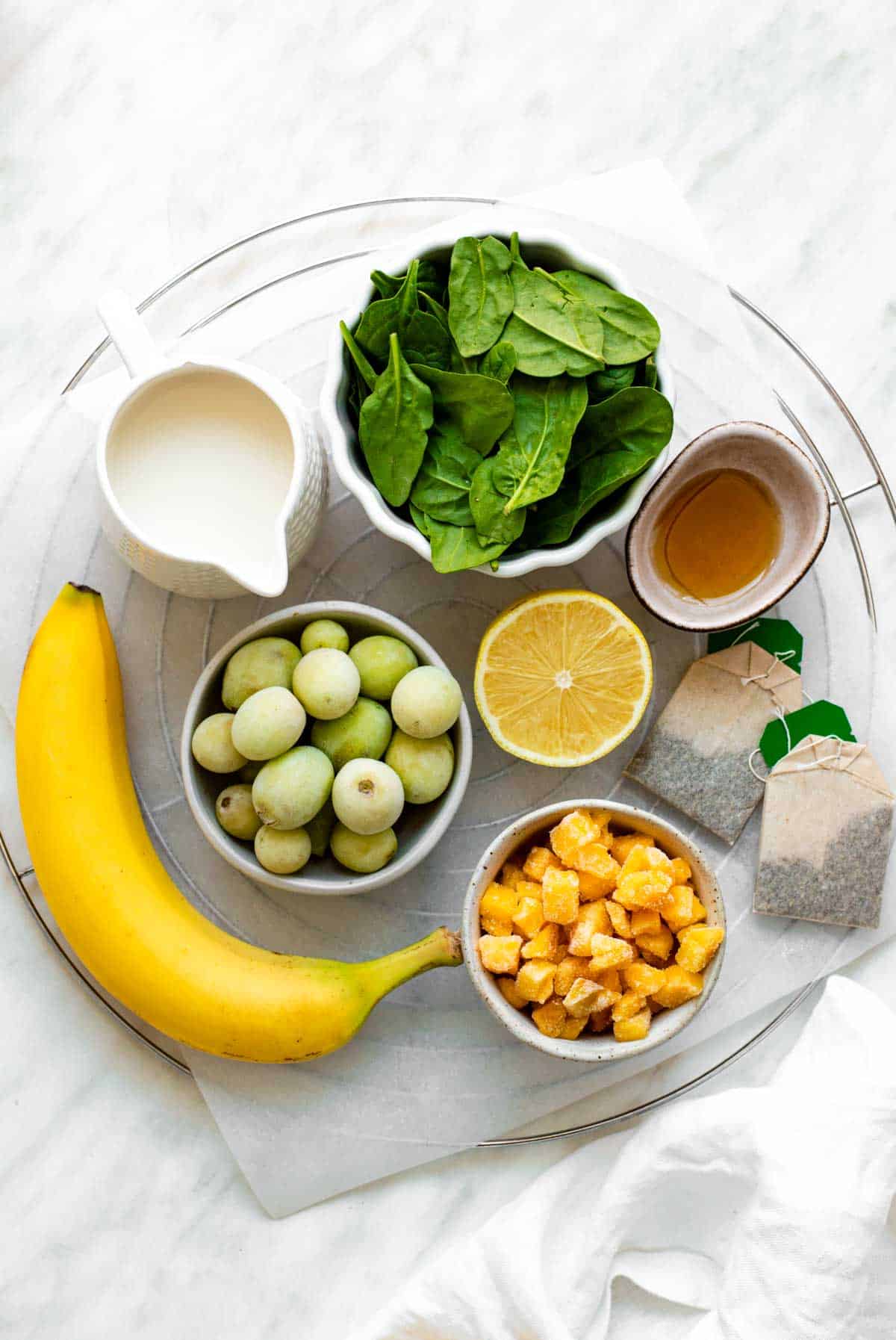 Here's everything you need:
Green Tea - Use any brand you like! I used regular green tea bags but you can also use matcha powder if you have it and make this a matcha green tea smoothie!
Banana - Make sure it's ripe and spotty. This adds some natural sweetness and fiber to the smoothie along with vitamin C and B6 and potassium!
Almond Milk - Any non-dairy milk will do to make it nice and creamy. Try soy milk, oat milk, or even coconut milk instead!
Frozen Grapes - I used frozen to make the smoothie thicker but you could also use fresh grapes and add ice cubes.
Frozen Peaches or Mango - Again, both frozen or fresh fruit work. Just make sure to add some ice if you still want a thick smoothie. Peaches or mangoes are great for a burst of flavor to complement the green tea but you can use different fruits depending on what you have on hand.
Spinach - Adds a beautiful green hue and some added nutrition!
Maple Syrup - Or vegan apple honey. Adds little more sweetness to balance out the green tea but feel free to omit for less sugar.
Lemon Juice - A splash of lemon juice adds a little brightness to balance out all the flavors.
How to make
The process couldn't be easier. First, prepare your green tea. If using tea bags, steep them in hot water according to the packaging instructions. Using matcha? Whisk into hot water first.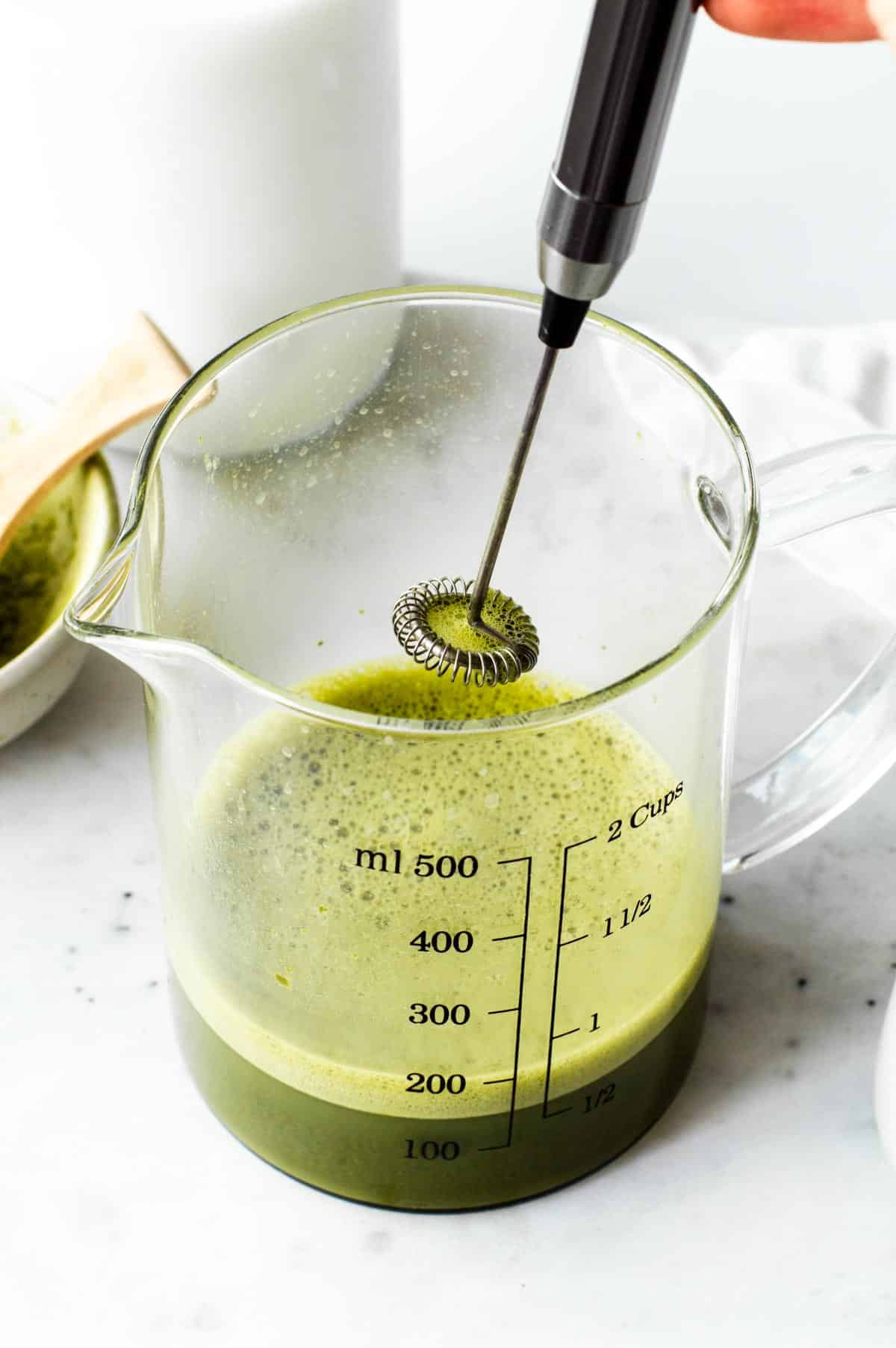 Add your prepared green tea to a blender pitcher along with the rest of the ingredients. Blend well until smooth.
If you'd like it thicker, add more ice cubes and blend again. If it's too thick, add a splash of milk.
Variations
Protein-Packed Smoothie: Add a scoop of your favorite protein powder to boost the protein content and make this smoothie a satisfying post-workout drink.
Creamy Nut Butter Delight: Incorporate a tablespoon of almond butter, peanut butter, or cashew butter for a creamy and nutty twist. It enhances the texture and adds healthy fats and protein. Need a nut-free option? Try tahini instead.
Chia Seed Booster: Stir in a tablespoon of chia seeds before blending to introduce a pleasant, slightly chewy texture and a dose of omega-3 fatty acids, fiber, and protein. Or stir in the chia seeds after to enjoy as a chia fresca.
Paradise Smoothie: Substitute almond milk with coconut milk or even mango juice for a tropical flavor profile. Top your smoothie with shredded coconut for an added exotic touch. Can even combine a couple fruit juices by adding a splash as kiwi juice or peach juice.
Antioxidant Berry Blend: Include a handful of frozen berries (such as blueberries, strawberries, or raspberries) to infuse your smoothie with additional antioxidants, fiber, and vibrant color.
Oatmeal Power-Up: Mix in a quarter cup of rolled oats to create a heartier, more filling smoothie. Oats add fiber and can make this smoothie a satisfying breakfast option.
Kale Kick: Substitute spinach with kale for a slightly earthier taste and an increased nutrient boost, as kale is known for its high vitamin K and vitamin C content.
Feel free to mix and match these variations to tailor this healthy green smoothie to your liking!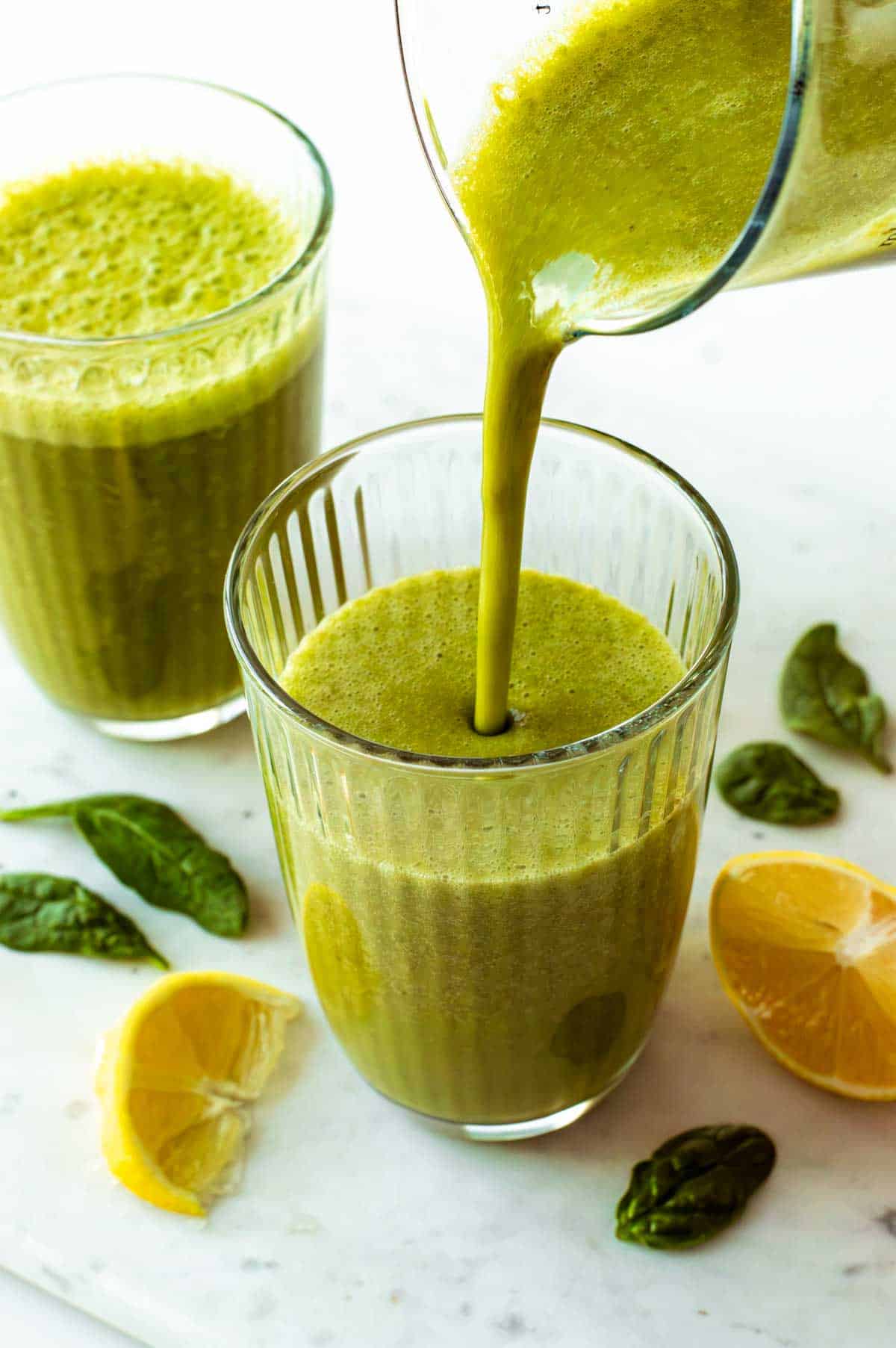 More Refreshing Tea Drinks
Turn this delicious green tea smoothie into a bubble tea! Mango bubble tea or strawberry bubble tea is surprisingly easy to make and so tasty!
📖 Recipe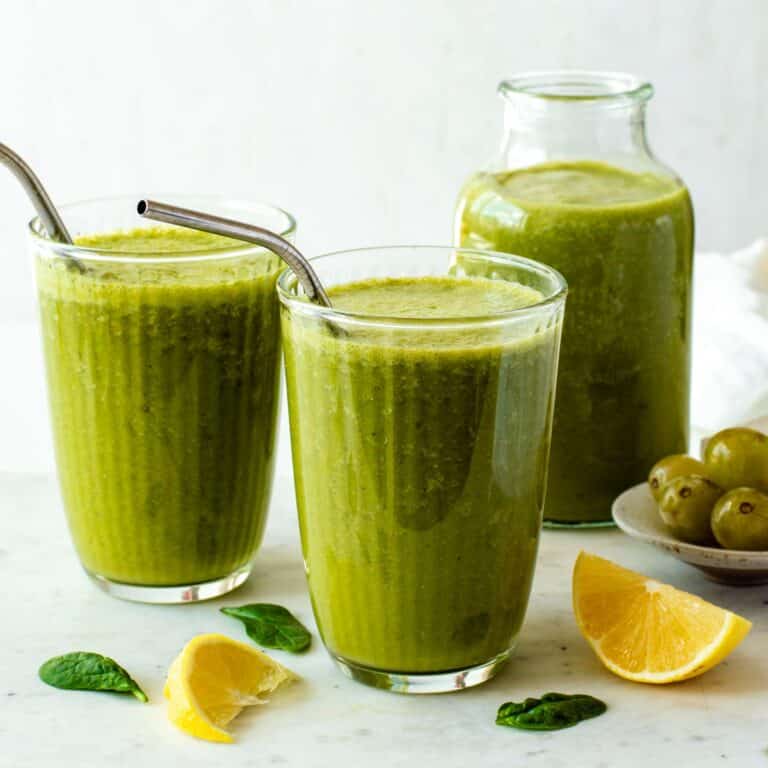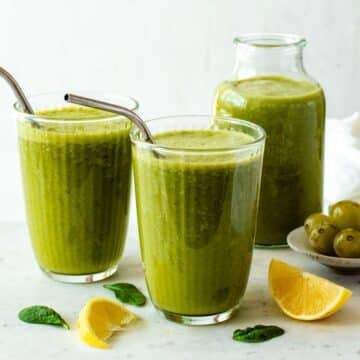 Green Tea Smoothie
A refreshing smoothie made with green tea and sweetened with frozen grapes, peaches, and a touch of maple syrup.
Print
Pin
Rate
Ingredients
1

green tea bag

,

steeped in one cup of water (or 1 teaspoon matcha powder whisked into warm water)

1

banana

,

ripe

1 ½

cup

unsweetened plain almond milk

½

cup

frozen grapes

,

can also use fresh seedless grapes

⅔

cup

frozen peaches

,

or frozen mango

1

cup

baby spinach

½

teaspoon

maple syrup

1

teaspoon

lemon juice

4-5

Ice cubes
Instructions
Begin by steeping your green tea bag in hot water as per the instructions on the packaging. Once done, remove the tea bag and allow the tea to cool a little bit. If using matcha, whisk in hot water until evenly dispersed.

Add the green tea along with the rest of the ingredients to a high-speed blender.

1 banana,

1 ½ cup unsweetened plain almond milk,

½ cup frozen grapes,

⅔ cup frozen peaches,

1 cup baby spinach,

½ teaspoon maple syrup,

1 teaspoon lemon juice,

4-5 Ice cubes

Blend well until smooth. Taste and adjust flavors as desired by adding more maple syrup or lemon juice. If the consistency is too thin, add more ice cubes and blend again. Enjoy!
Nutrition Per Serving
Calories:
135
kcal
Carbohydrates:
28
g
Protein:
3
g
Fat:
3
g
Saturated Fat:
0.1
g
Polyunsaturated Fat:
1
g
Monounsaturated Fat:
1
g
Sodium:
265
mg
Potassium:
436
mg
Fiber:
4
g
Sugar:
19
g
Vitamin A:
1637
IU
Vitamin C:
14
mg
Calcium:
252
mg
Iron:
1
mg
This green tea smoothie recipe was originally published on August 16th, 2013, and has been updated with additional tips and new photos on October 16th, 2023.