Papaya boats are a delicious and fun way to eat papayas. Fill your papaya up with overnight oats and fresh fruit for a truly tasty and filling breakfast. It's also easy to make and incredibly healthy!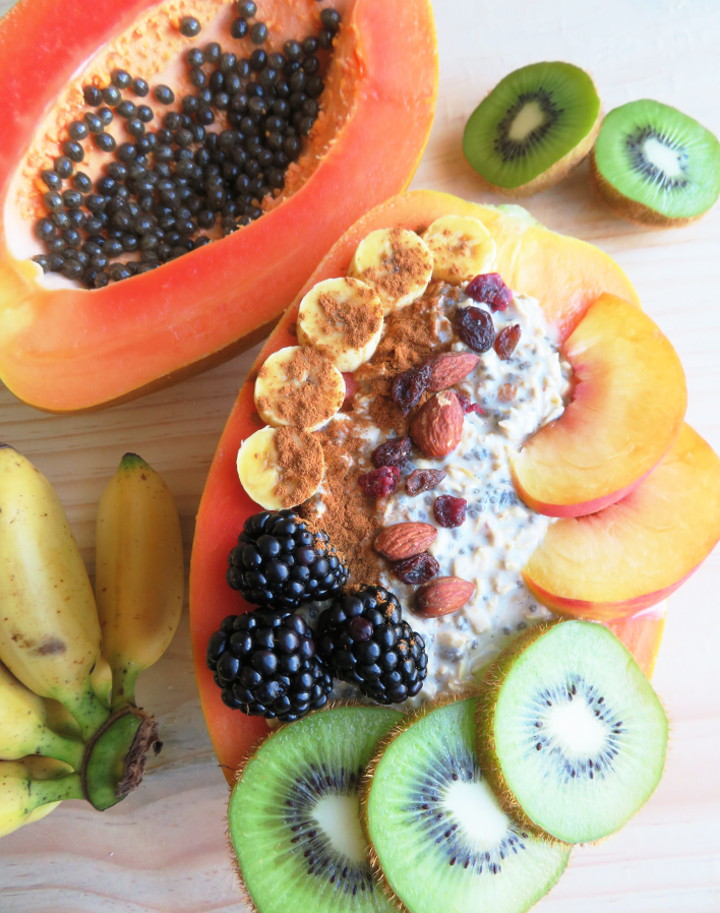 Jump to:
It is papaya season, which typically ranges from early summer through fall. Although you can get papayas all year round, this is the best time to get them when they're in season. Not only will it be more cost effective, but it will taste better when it can be picked closer to peak ripeness and not have to travel as far.
Papayas are a tropical fruit similar to melons but with a creamier texture and a subtle sweetness. They make for an excellent snack or breakfast!
Papaya health benefits
Papayas also offer a wide range of health benefits. They are good for digestion and often consumed as a way to reduce bloating. They contain the enzyme papain which is known to help with protein digestion.
Papaya is also full of nutrients boasting 157% of your daily value of vitamin C, 33% of your daily value for vitamin A, and 14% of your daily folate. It even has some Omega-3 and Omega-6 fatty acids plus healthy antioxidants known as carotenoids which neutralize free radicals and can improve heart health.
Papaya is also a great breakfast for weight loss because it's nutrient dense but not calorie dense. It's high volume, but low in calories so it fills you up and keeps you full for longer with the extra fiber that the papaya provides.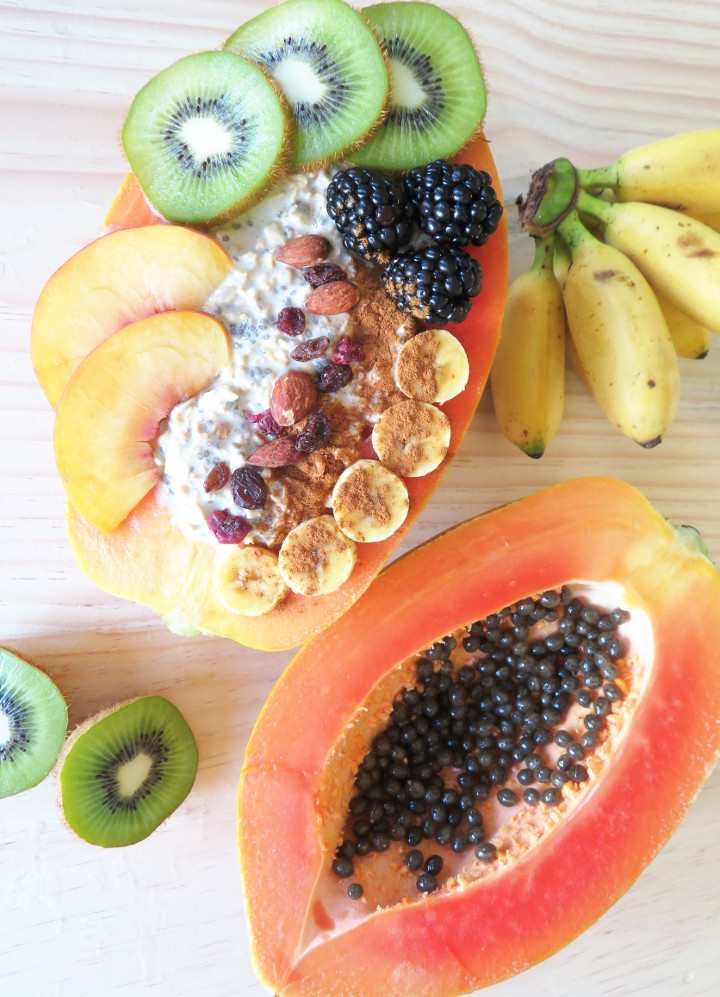 How to tell when papaya is ripe
You can tell when a papaya is ripe when the outside color is orange-red in color. Some green spots are okay but it should not be overly green. Its skin should also yield to gentle pressure much like an avocado does.
Best way to prepare and serve papaya
Once a papaya is ripe, place it in the refrigerator. Not only does this help preserve it for longer, but the flavor is best when cold.
When ready to eat, wash your papaya well, then cut it in half lengthwise and scoop out the seeds with a spoon. The flesh is soft enough that  you can eat it directly out of the rind with a spoon. Squeeze a bit of lime juice over it for best flavor. The acidity enhances its natural flavors while eliminating the 'odd' scent that is often associated with it. Don't let that scare you—papaya is refreshing and delicious when prepared right!
I also prefer filling my papaya up with something to round it into a balanced and filling meal. That's where overnight oats come into play. They're the perfect addition to your papaya to add some protein and fat for a satiating breakfast that keeps you full for hours. Chia seed pudding is also a good option for this. For something lighter, make overnight oats easily with water!
Fill your papaya up with your preferred filling and top with additional fruit, seeds, and nut butters.
Oh and did I mention it's less clean up? Enjoy a bowl you can eat!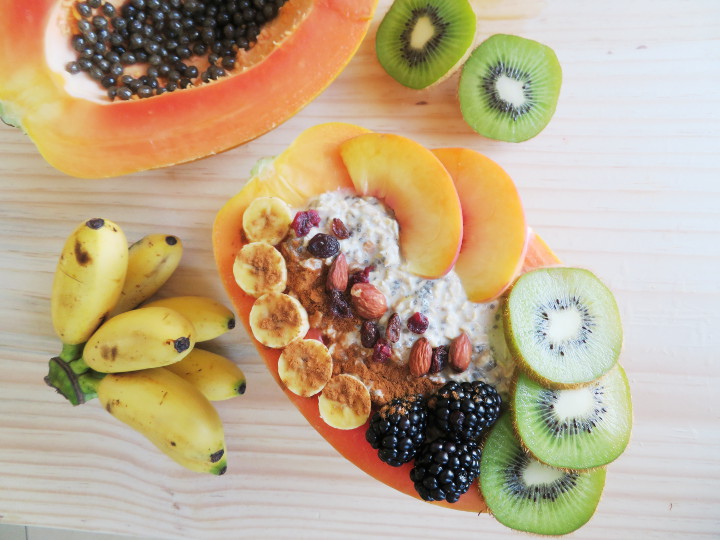 Make a fancy papaya boat brunch buffet
You can also make papaya boats a fun brunch special to serve. Impress your guests with these boats by setting up a brunch buffet and allowing guests to customize their papaya boat with a selection of toppings.
The toppings are virtually endless. Papaya has a subtle flavor that can complement most other fruits and sweet flavors. The flavor is similar to cantaloupe but with a smoother texture.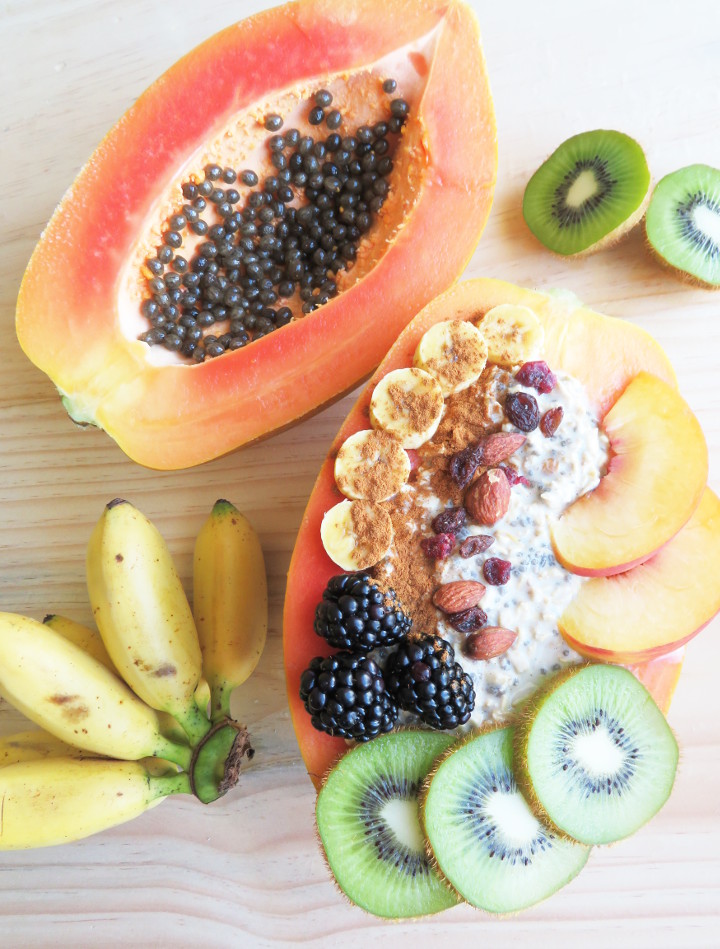 More overnight oat recipes
If you're looking for more healthy breakfast ideas the Health My Lifestyle Meal Planner is full of them! You can easily narrow down exactly what you're looking for with the extensive filtering options, plan out your week in seconds or grab a pre-made plan, track your calories and goals, and more! Try it for free! Check out the Meal Planner here.
If you enjoyed this recipe please leave a comment below and give it 5 stars! Or on Pinterest (don't forget to follow me!) you can now add pictures into reviews, too, and be sure to help me share on facebook!
📖 Recipe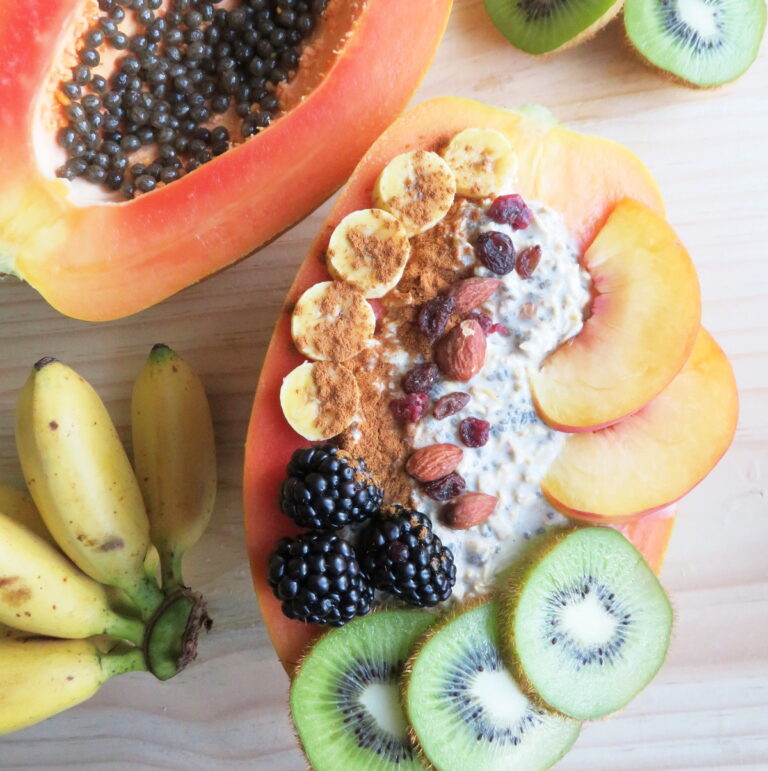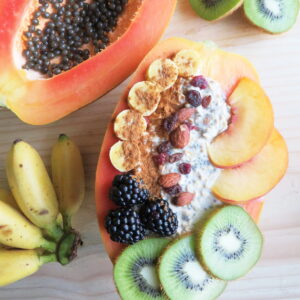 Overnight Oat Papaya Boat
Papaya boats are a delicious and fun way to eat papayas. Fill your papaya up with overnight oats and fresh fruit for a truly tasty and filling breakfast. It's also easy to make and incredibly healthy!
Print
Pin
Rate
Ingredients
Overnight Oats:
1

cup

rolled oats

1

cup

unsweetened non-dairy milk

2

tablespoon

chia seeds
Toppings:
1

banana

,

sliced

¼

cup

blackberries

½

kiwi

,

sliced

½

peach

,

sliced

handful of

almonds

dash of

ground cinnamon
Instructions
Make overnight oats:
In a sealable container, whisk together all overnight oat ingredients. Cover and place in the refrigerator for a few hours or overnight to let the oats and chia seeds absorb the liquid and thicken.
Assemble your boat:
Wash your papaya, then slice in half lengthwise (make sure you've chosen a ripe one - see discussion above for how to tell when it's ripe).

Scoop out the seeds with a spoon and discard (fun fact: you can actually consume the seeds but they are bitter).

Pour your prepared overnight oats into your papaya and top with desired toppings.
Nutrition Per Serving
Calories:
456
kcal
Carbohydrates:
74
g
Protein:
15
g
Fat:
14
g
Saturated Fat:
2
g
Sodium:
63
mg
Potassium:
1035
mg
Fiber:
16
g
Sugar:
25
g
Vitamin A:
1833
IU
Vitamin C:
124
mg
Calcium:
317
mg
Iron:
4
mg
Pin this for later: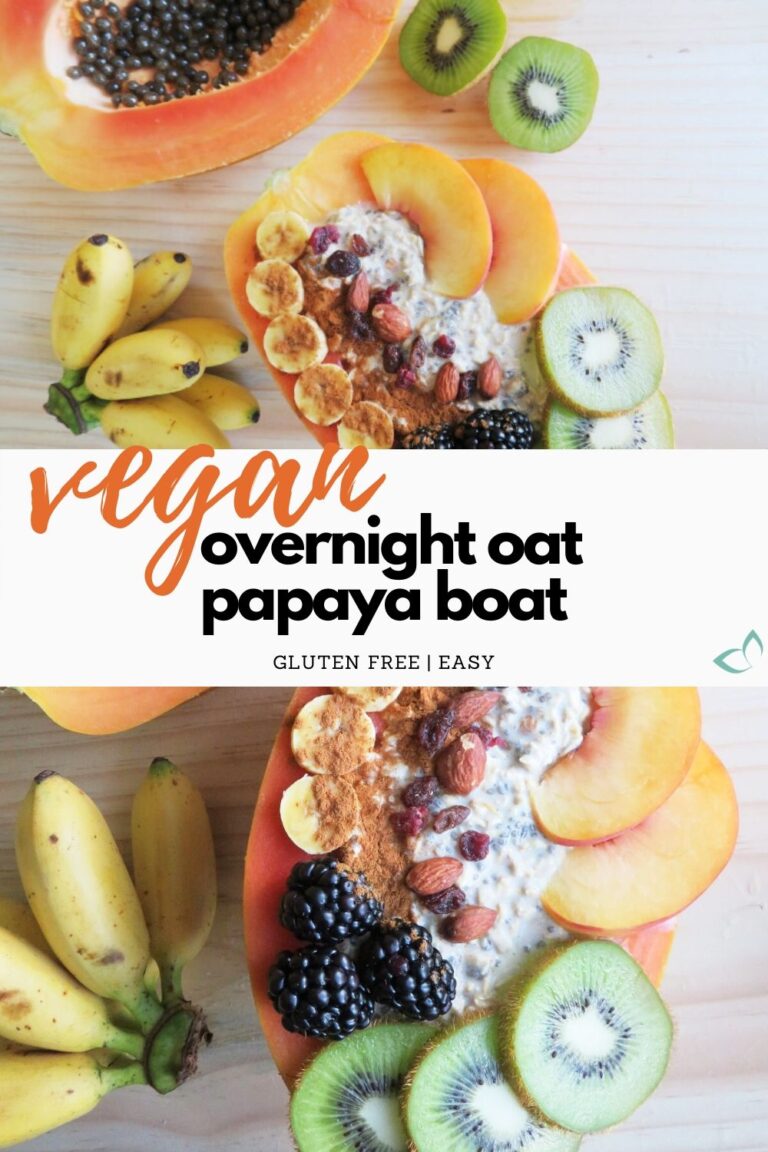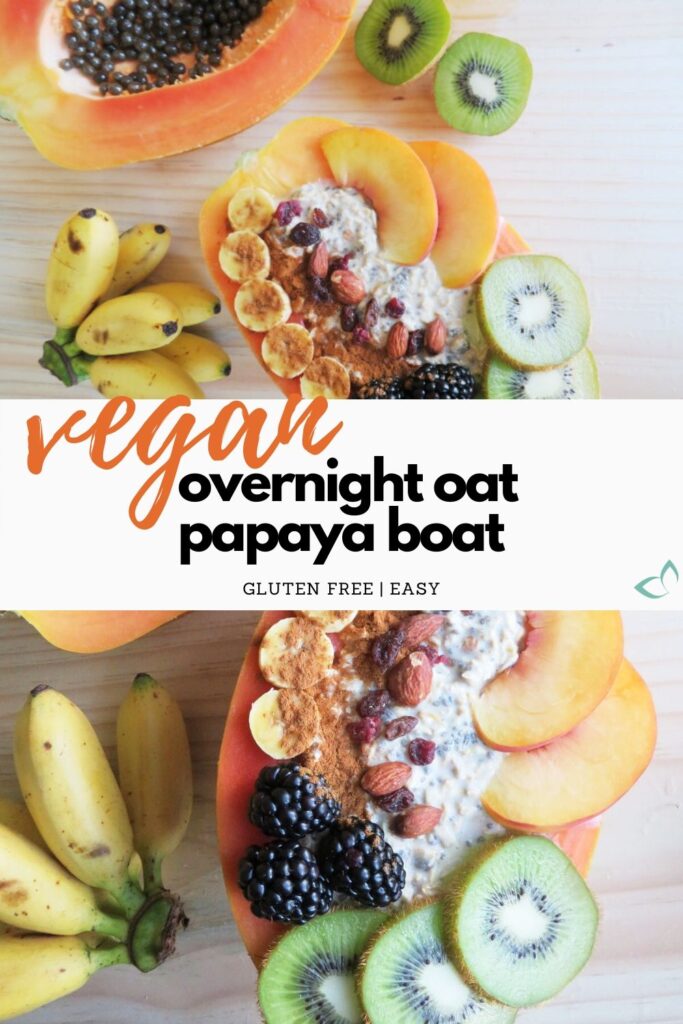 Please note this post may contain affiliate links which do not impact the cost to you but provides a small commission to keep this site running. Thank you for your support!