Many people turn to a vegan diet for weight loss and health reasons but not all vegans lose weight. If you've been trying to eat a vegan diet for weight loss and not seeing much success, read on for the best strategies to get that scale moving downward!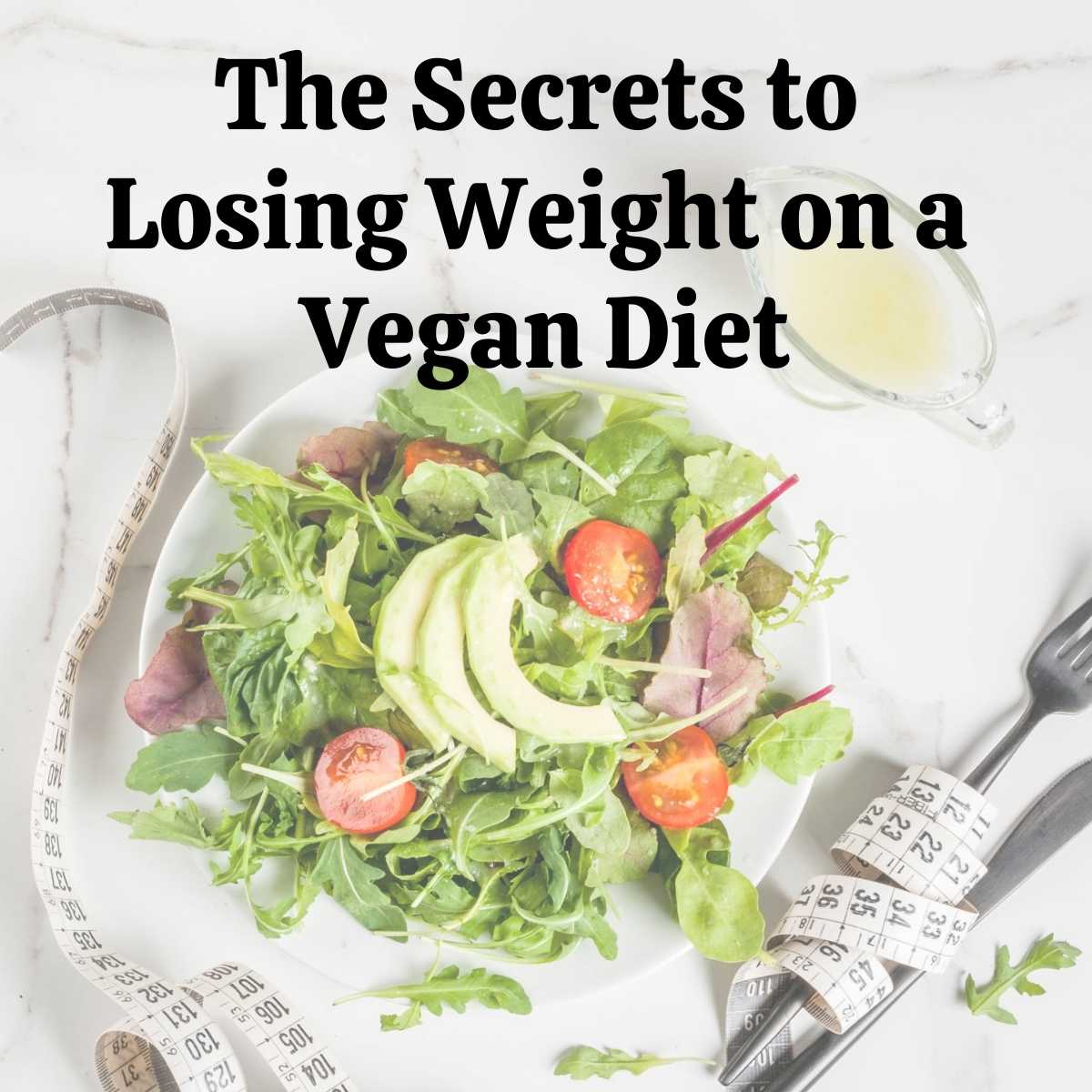 Jump To
Why you're not losing weight on a vegan diet
How to lose weight on a vegan diet:
-Maintain a calorie deficit
-Focus on fiber
-Choose whole grains
-Drink more water
-Eliminate oils
-Avoid added sugar
-Time your meals
-Eat slower
-Have healthy meals prepared
FAQ's
Why you're not losing weight on a vegan diet
There's a common misconception that vegan = healthy. In reality, vegans can fall on the broad range of healthy to unhealthy diets just like any omnivore diet.
A lot of that boils down to processed vegan foods. Vegans can eat chips, cake, cookies, soda, mock meats and cheeses. Just because it's vegan doesn't mean it is healthy.
The plus side is that a vegan diet can absolutely aid in weight loss if done in a healthy and sustainable way. After all, you want to keep the weight off don't you?
Now, everyone knows the basics like to cut out processed foods, drink more water, etc. But actually putting advice into action is the hard part.
We're going to dive into the best tips and strategies for weight loss on a vegan diet so you can lose weight, feel great, and stop yo-yo dieting.
Disclaimer: Make sure to check with your primary care physician before starting a new diet, especially if you are currently taking medications.
How to lose weight on a vegan diet
Maintain a calorie deficit
Weight loss as a concept is really quite simple. If you burn more calories than you consume (food and drinks), you'll lose weight. Easier said than done.
Let's start with ways we burn calories: resting metabolic rate (the calories we burn just to stay alive like pumping blood or growing new cells), non-exercise physical activity (standing, walking around the house, doing laundry, cleaning, etc.), exercise, and diet-induced thermogenesis (the energy it takes to digest the food we eat).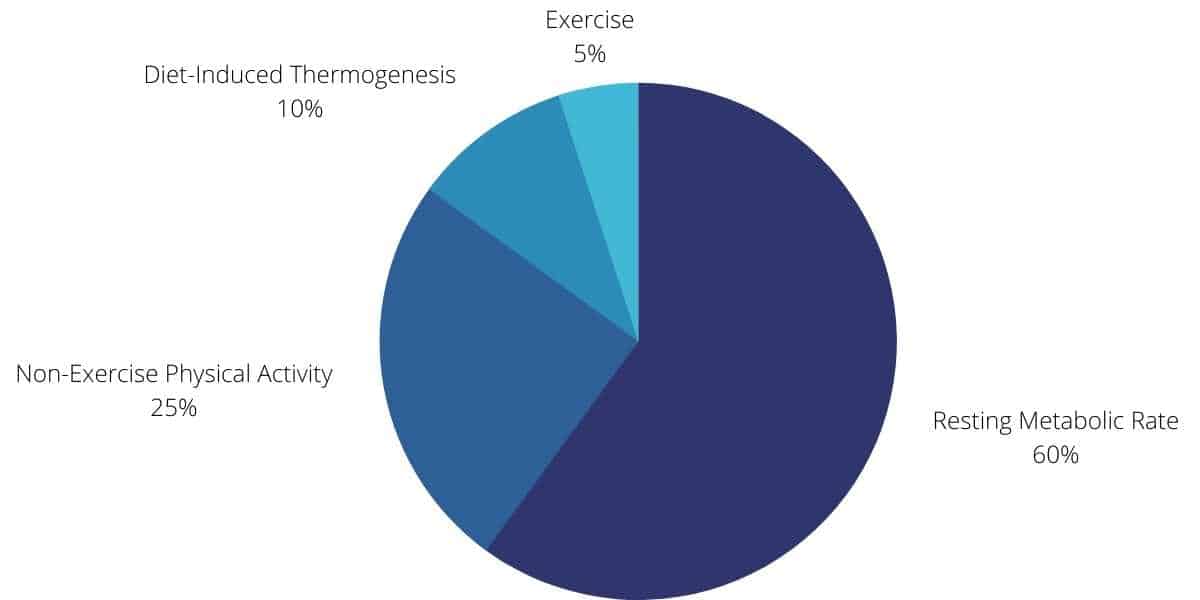 Exercise accounts for only 5% of the calories we burn. This is why we can't outrun a bad diet.
To burn off one donut you'd have to walk for close to an hour or run for 23 minutes. Plus, exercise, especially high intensity ones, rev up our appetite and can actually cause us to eat more and unintentionally move less over the following few days. There's no need for intense exercise, but a little daily movement is good for health in general.
The good news is you can lose weight without exercise or spending hours in the gym. Move more, but don't make it your main source of calories out for weight loss.
Take a 30 minute brisk walk a few times a week or do some light weight resistance training.
And the best time to workout? In the morning before a meal if possible, tends to burn the most fat.
If you can't, the next best time is 6 hours after a meal like before a late lunch or before dinner time if you had an early lunch.
Why? Carbohydrates are the preferred fuel for our bodies which means after a meal they get broken down and converted into blood sugars.
Our muscles then use them for fuel without needing to rely much on our energy stores of fat. However, when exercising fasted, our muscles dip into our energy stores so we burn more fat while exercising.
So how do we maintain a calorie deficit without focusing on exercise? Focus on the calories in side of the equation. Eat less than you burn. Not sure how many calories you need a day? Check out this calorie calculator to get an estimate.
Read on for the best tips to help you maintain a calorie deficit more easily on a vegan diet.
Focus on fiber
Fiber is zero calories but filling and nutritious. Fiber is indigestible meaning our body can't absorb it and is often just thought of helping us with regular bowel movements. However, we have billions of little helpers in our colon in the form of bacteria that can digest fiber.
When our good gut bacteria break down fiber, they turn it into short-chain fatty acids (SCFAs) that can be absorbed into our bloodstreams and bodies. These SCFAs play an important role in regulating our appetite, metabolism and body fat.
When we increase our fiber intake it also leads to a decrease in daily caloric intake. Why, you ask? The fiber adds bulk to food, but not calories, so we fill up on less calories per volume.
For example, one study showed that a high-fiber whole wheat pasta with pureed fruits and vegetables left the stomach 45 minutes later than a meal with the same volume and same calories but made with white pasta and fruit and vegetable juices (with fiber removed).
This slower emptying of the stomach leads to a longer feeling of fullness and less calorie consumption at later meals.
Additionally, fiber can act as a natural fat- and starch-blocker. When you eat apple slices with peanut butter, some of the peanut oil calories get trapped in the fiber from the apples and make it all the way through the intestine without getting absorbed.
A Standard American Diet loses about 5% of the calories in waste but a diet higher in fiber can double that. This means you can lose more weight eating a high-fiber diet with the same number of calories.
On a Standard American Diet, people get less than half the recommended daily fiber. If you increase fiber intake to the minimum recommended amount of about 30 grams a day, it could potentially decrease daily calorie absorption by one hundred calories!
Additionally, choosing higher fiber foods also helps to crowd out the less filling, processed foods. It's a win-win!
Fiber is only found in plants. Here are some high fiber options:
Beans and legumes (kidney beans, chickpeas, black beans, lentils, etc.)
Whole grains (quinoa, oats, whole wheat, etc.)
Nuts and seeds (almonds, walnuts, chia seeds, sunflower seeds, etc.)
Fruits (avocados, pears, apples, etc.)
Greens (kale, broccoli, Brussels sprouts, etc.)
Root vegetables (sweet potatoes, onions, beets, carrots, etc.)
Choose whole grains
Ditch the white bread and opt for whole grain bread. My favorite is Ezekiel which is a sprouted grain bread. No add oil or sugar and full of high fiber grains!
Same goes for pasta. Choose pastas made from 100% whole wheat or other whole grains.
These easy swaps make increasing fiber intake a breeze!
Time your meals
There's a saying that you should eat breakfast like a king, lunch like a prince, and dinner like pauper.
What does it mean? Front-load your calories in the morning and have a large breakfast, then a medium-size lunch, and a small dinner.
Research found that eating 70% of your daily calories split between breakfast, morning snack, and lunch, leaving 30% for an afternoon snack and dinner, increases weight loss.
How?
Calories eaten in the morning are more likely to be burned off due to diet-induced thermogenesis (the energy required to digest food). This is because in the morning our bodies are using energy to string together glucose molecules from the food into chains of glycogen to store in our muscles for later use throughout the day.
The extra step of assembling and disassembling glycogen takes energy that our bodies take from the meal, leaving us with fewer net calories. Pretty incredible right?
Eat Slower
Slowing down the rate at which we eat food improves satiety. Make sure to chew food thoroughly, take your time with soup, and sip smoothies slowly.
If we eat too quickly, our body doesn't have enough time to send the signals that we're getting full, which can lead to overeating.
Take your time and savor those meals!
FAQ's
Are you struggling to lose weight on a vegan diet? Let us know which tips you plan to implement in the comments below!
Have you lost weight as a vegan? Share your journey in the comments below to inspire others!
This article was inspired by the book How Not to Diet by Dr. Michael Greger. If you found this information helpful, check out the full book for an in depth look at weight loss!