Overnight oats with frozen fruit are the simple and delicious breakfast you've been waiting for! It doesn't require any cooking and you just need a few minutes of preparation the night before. The combination of sweet frozen fruits and creamy oats is the perfect start to your day. Get ready to fall in love with this easy and nutritious breakfast!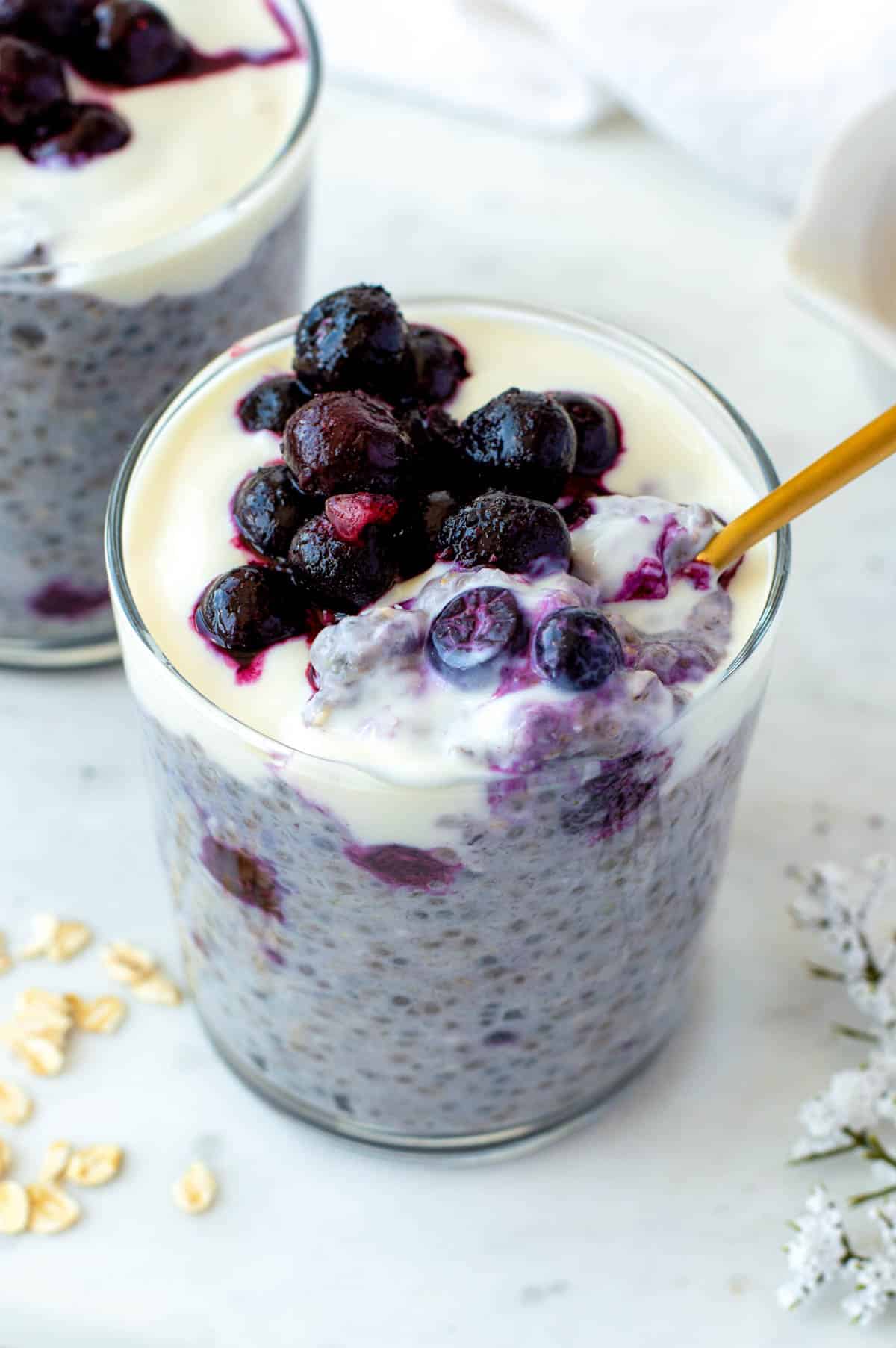 Are you tired of spending time cutting and prepping fruit for your breakfast? Well, here's a solution for you: Overnight oats with frozen fruit! It's not only delicious and healthy but also incredibly convenient.
Frozen fruit is available all year round, and you can use it straight from the freezer without any preparation. Plus, using frozen fruit keeps your overnight oats cool and fresh, making it perfect for those busy mornings when you need a quick and easy breakfast. So, let's start your day off right with a tasty and hassle-free breakfast!
Jump to:
Benefits of frozen fruit
You may be wondering if it's ok to use frozen fruit in overnight oats. Well, it's more than ok! In fact, using frozen fruit in your overnight oats recipe has several benefits that make it a better choice than fresh fruit:
Convenient: Frozen fruit is available year-round and requires no preparations, making it a convenient addition to your breakfast routine.
Affordable: Fresh fruit can be expensive if it's out of season. Frozen fruit on the other hand is available year-round at a consistent price.
Less waste: Fresh fruit has a relatively short shelf life, which means it can spoil quickly. Using frozen fruit means no waste, as you can simply use what you need and save the rest for another day.
Customizable: There are so many different types of frozen fruit available, allowing you to mix and match flavors and create endless variations of frozen fruit overnight oats!
Ingredient notes
Frozen fruit overnight oats are as simple as it gets when it comes to a healthy make-ahead breakfast. Here are the main ingredients you need plus some simple substitutions: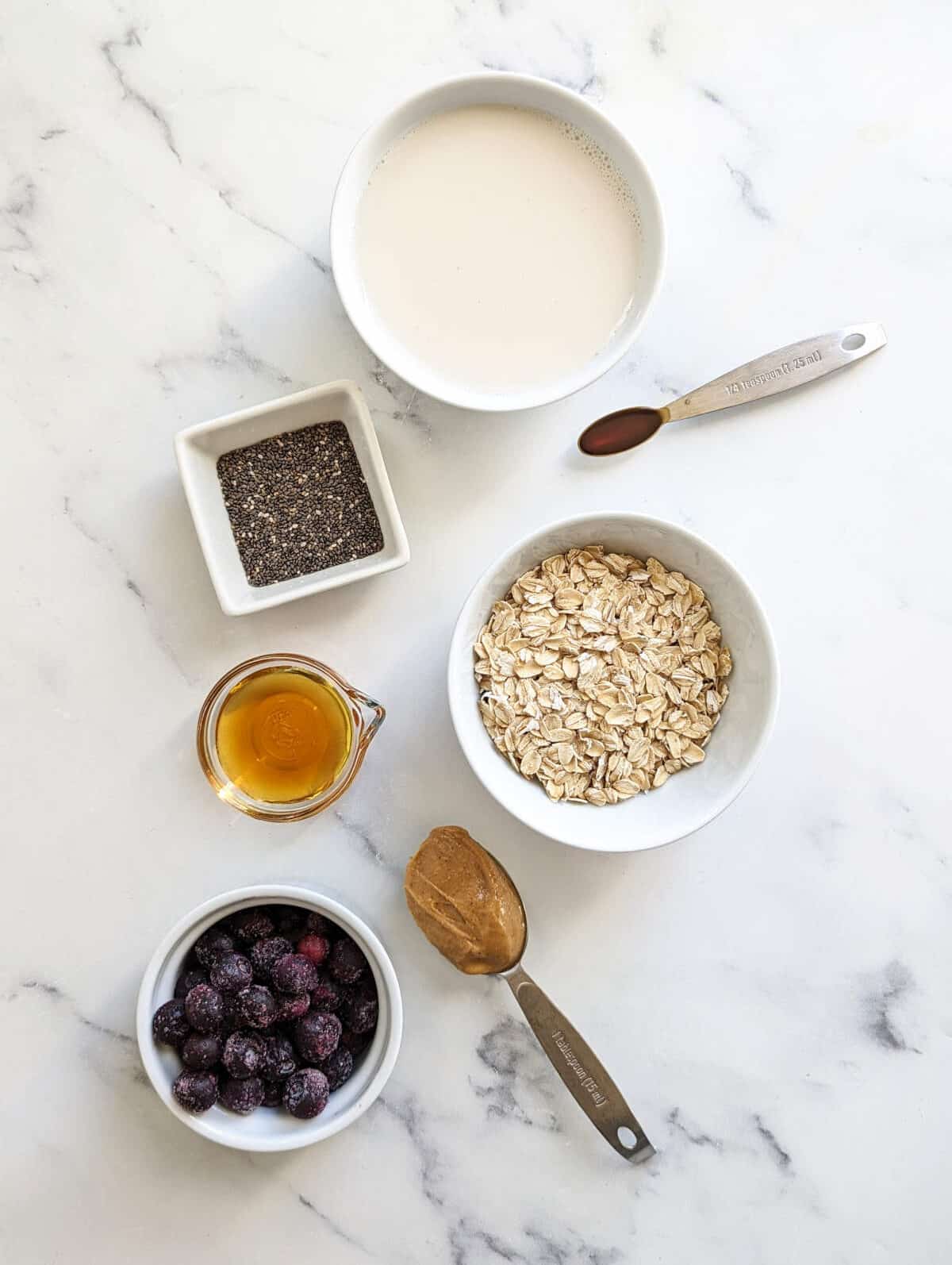 Rolled oats: Also known as old-fashioned oats, these oats are perfect for making any overnight oat recipe. You can use quick oats, just note that the result will be on the soften side. I don't recommend using steel-cut oats for this recipe—those tend to work better for hot oatmeal.
Milk: Any milk will work, even water can be used in overnight oats. For creamy oatmeal, choose coconut milk, soy milk, or oat milk. For a lighter option, try almond milk or cashew milk.
Chia seeds: Chia seeds help to thicken and add some healthy fats thanks to the Omega-3's. Ground flax seeds are also a great addition.
Frozen fruit: The key ingredient! Use your favorite fruit of choice. Frozen berries like a mixed berries blend are my go-to but frozen tropical fruits like mango make for delicious overnight oats too. When frozen fruit thaws overnight, it releases moisture which can make your overnight oats even creamier. It's the best way to have a healthy breakfast without much effort!
Maple syrup: Frozen fruit adds a natural sweetness, which can help to reduce the need for additional sweeteners. If you like your oats on the sweeter side, a little maple syrup is a great option. Agave syrup or coconut sugar also works well.
Peanut butter: Optional but great for adding some healthy fats to mix and making this breakfast more filling and satiating. Almond butter is also a delicious choice.
Check out the printable recipe card below for exact measurements.
How to make overnight oats with frozen fruit
Step 1: To a sealable container like a glass jar, add the rolled oats, milk of choice, maple syrup, vanilla extract, chia seeds, and peanut butter (if using). Stir well to combine.
Step 2: Stir in the frozen fruit to evenly distribute. Depending on your fruit of choice, it may add a lovely pop of color to the oat mixture. I love using frozen blueberries for a pretty purple hue (see below for more frozen fruit suggestions!).
Step 3: Cover and store in the refrigerator for at least a few hours, or overnight, until the mixture has thickened and the oats have softened.
Step 4: The next morning, give it a good stir to loosen everything up as it may have thickened quite a bit. Add a splash of milk if desired and any other toppings you'd like. I used soy yogurt with more frozen blueberries. See serving suggestions below for more ideas.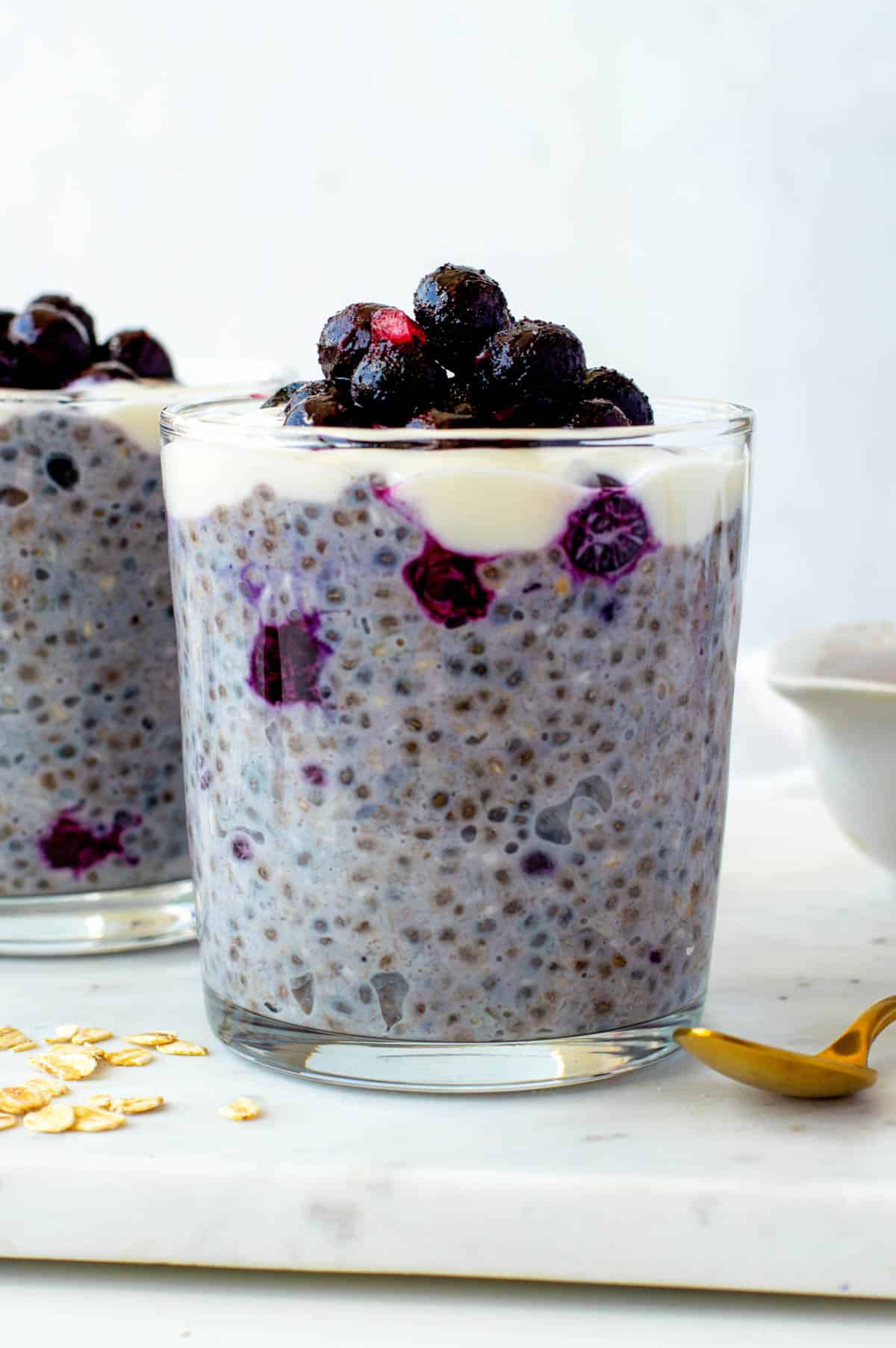 Storage
Store in an airtight container such as a mason jar for up to 5 days in the refrigerator.
Best frozen fruit for overnight oats
Using different types of frozen fruit can add variety to your overnight oats, allowing you to switch up your breakfast routine and keep it interesting. The best types of frozen fruit to use in your overnight oats are the ones you enjoy the most! Feel free to experiment with different combinations and find your perfect match. Here are some recommendations:
Berries: Strawberries, blueberries, raspberries, and blackberries are all great options for adding a sweet and tangy flavor to your overnight oats.
Mango: Adds a tropical flavor to your oats and pairs well with coconut flakes or shredded coconut.
Peaches: Peaches add a sweet and juicy flavor to your oats that's perfect for a summer breakfast.
Pineapple: Gives overnight oats both a sweet tangy flavor and a tropical twist. It goes well with mango and coconut, too!
Cherries: Cherries add a sweet and tart flavor that pairs perfectly with chocolate chips, cocoa powder or cacao nibs for a scrumptious chocolate cherry combination.
​Really any frozen fruit will work but keep in mind that one with a higher water content will add more moisture to the final oats as it thaws. The liquids for this recipe have already been adjusted to account for the extra moisture, but feel free to add a splash of milk or juice in the morning if you'd like thinner, creamier oats.
Let me know in the comments which frozen fruit combination is your favorite!
Serving Suggestions
​There are plenty of fun and creative ways to serve your overnight oats with frozen fruit! Here are some suggestions to add different flavors and crunch:
​Nutty by nature - Add a generous scoop of peanut butter to your overnight oats, then top it off with a variety of chopped nuts like almonds, pecans, and walnuts, to create a "nutty" bowl that's truly nutty by nature!
Granola-mighty - Top your oats with a sprinkle of granola to add a "mighty" crunch to your breakfast bowl.
Cream of the Crop - Mix some whipped cream or plain greek yogurt (use dairy-free to make it vegan) into your oats for a creamy and dreamy breakfast bowl that's the "cream of the crop."
Fruit Frenzy - Mix and match your favorite frozen fruits and dried fruits for a frenzy of flavor and colors that will make your breakfast bowl a fruit-tastic treat.
Protein power - Mix a scoop of your favorite protein powder into your oats for a powerful protein-packed meal! Don't have protein powder? Add some hemp seeds or ground flaxseed instead!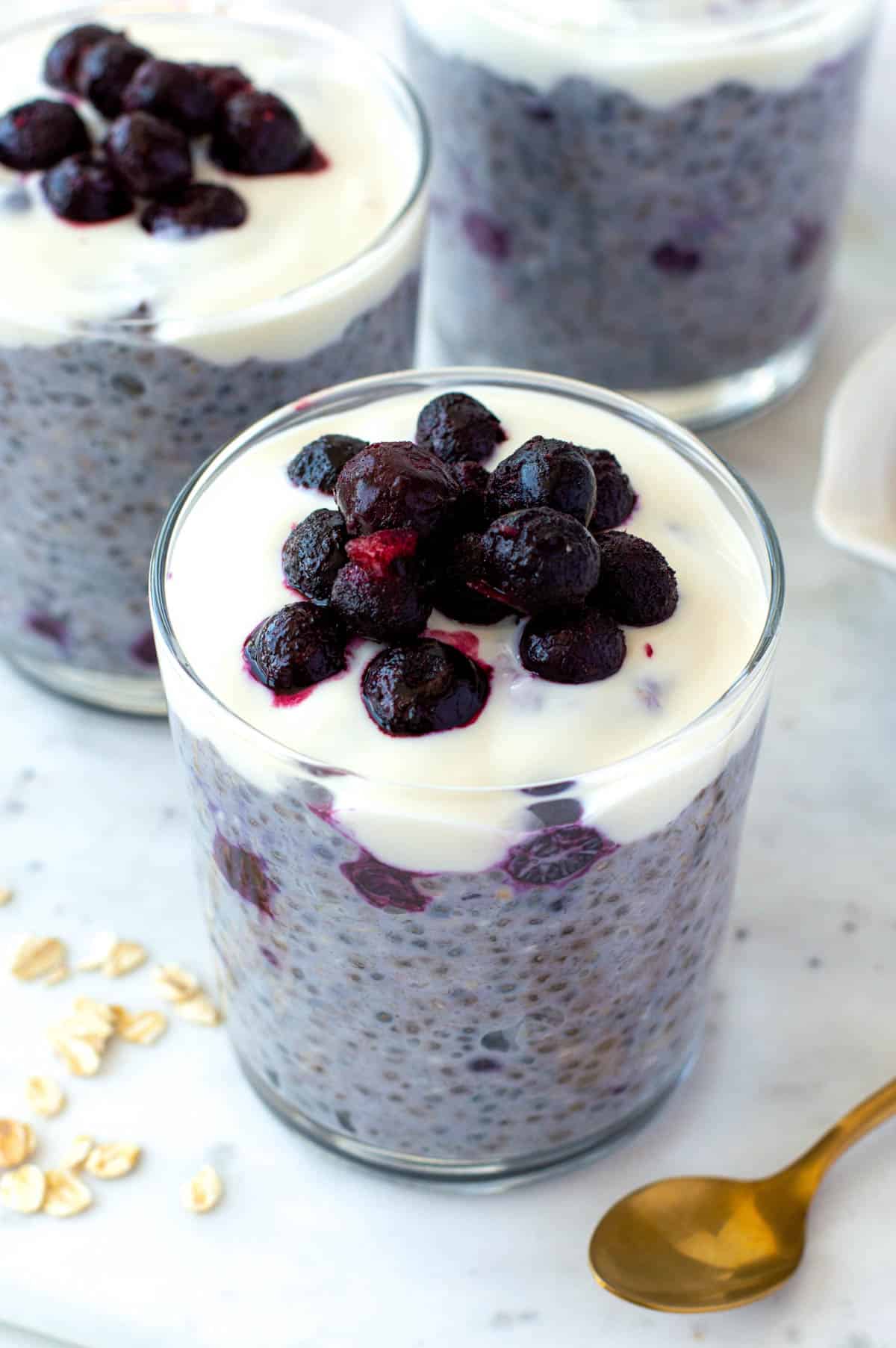 More easy oatmeal breakfast recipes
​If you like preparing all your breakfasts for the week on Sunday night, here are more perfect make-ahead breakfasts using oats that you'll enjoy!
​If you enjoyed this easy overnight oats recipe, make sure to give it a star rating and let me know in the comments!
For more easy meal prep recipes, check out the Health My Lifestyle Meal Planner!
📖 Recipe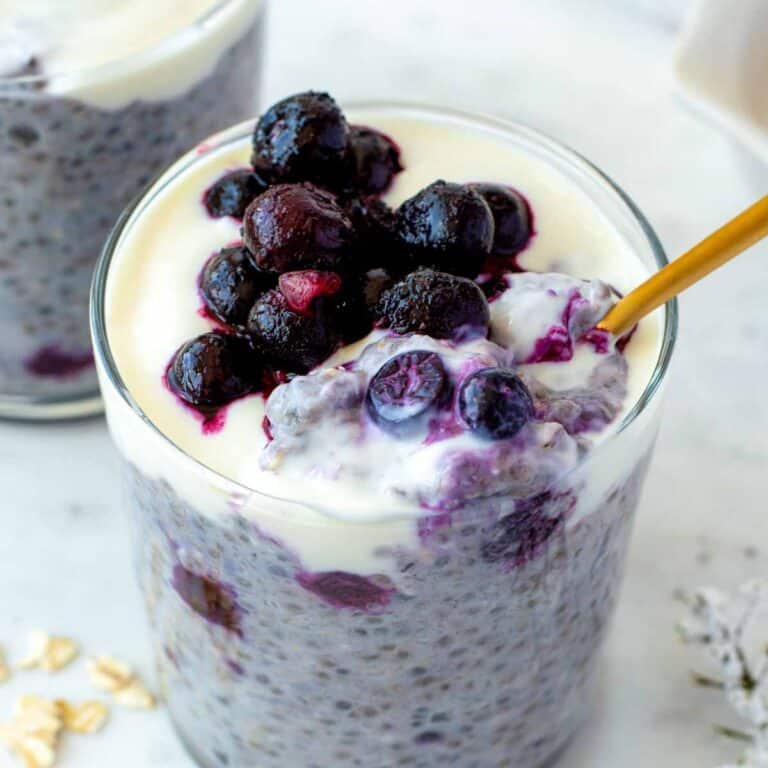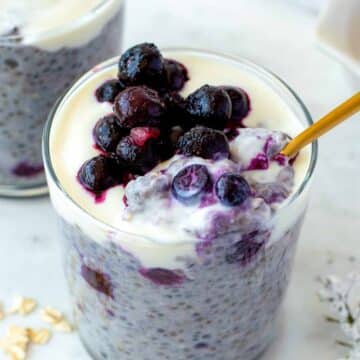 Easy Overnight Oats with Frozen Fruit
Get ready to fall in love with the easiest and most delicious breakfast around—overnight oats with frozen fruit! No cooking is required, just a few minutes of prep the night before, and you'll be waking up to a creamy and sweet bowl of goodness. The frozen fruit adds a burst of flavor and nutrients, while the oats keep you full and satisfied all morning long.
Ingredients
½

cup

rolled oats

use certified gluten-free as needed

½

cup

unsweetened non-dairy milk

1

tablespoon

chia seeds

1

tablespoon

all-natural peanut butter

optional

1

teaspoon

maple syrup

¼

teaspoon

vanilla extract

¼

cup

frozen fruit
Instructions
Add all ingredients, except for the frozen fruit to a sealable container and mix well.

½ cup rolled oats,

½ cup unsweetened non-dairy milk,

1 teaspoon maple syrup,

¼ teaspoon vanilla extract,

1 tablespoon chia seeds,

1 tablespoon all-natural peanut butter

Add the frozen fruit and stir to evenly distribute. Cover and place in the fridge for a few hours or overnight until the oats have softened and most of the liquid has been absorbed.

When ready to serve, stir well, and top with more fruit, maple syrup or peanut butter as desired. Enjoy!
Notes
Storage: Store in an airtight container such as a mason jar for up to 5 days in the refrigerator. Serving Suggestion: I topped mine with soy yogurt and more frozen fruit. See the above article for additional serving suggestions. 
Nutrition
Calories:
403
kcal
|
Carbohydrates:
50
g
|
Protein:
15
g
|
Fat:
17
g
|
Saturated Fat:
3
g
|
Polyunsaturated Fat:
7
g
|
Monounsaturated Fat:
6
g
|
Trans Fat:
0.02
g
|
Sodium:
133
mg
|
Potassium:
498
mg
|
Fiber:
10
g
|
Sugar:
13
g
|
Vitamin A:
490
IU
|
Vitamin C:
12
mg
|
Calcium:
280
mg
|
Iron:
4
mg