These high protein vegan pastas will leave you full and satisfied! With over 15 grams of protein per serving, you can enjoy a filling pasta that won't leave you hungry later. They're also perfect for meal prep and quick to prepare!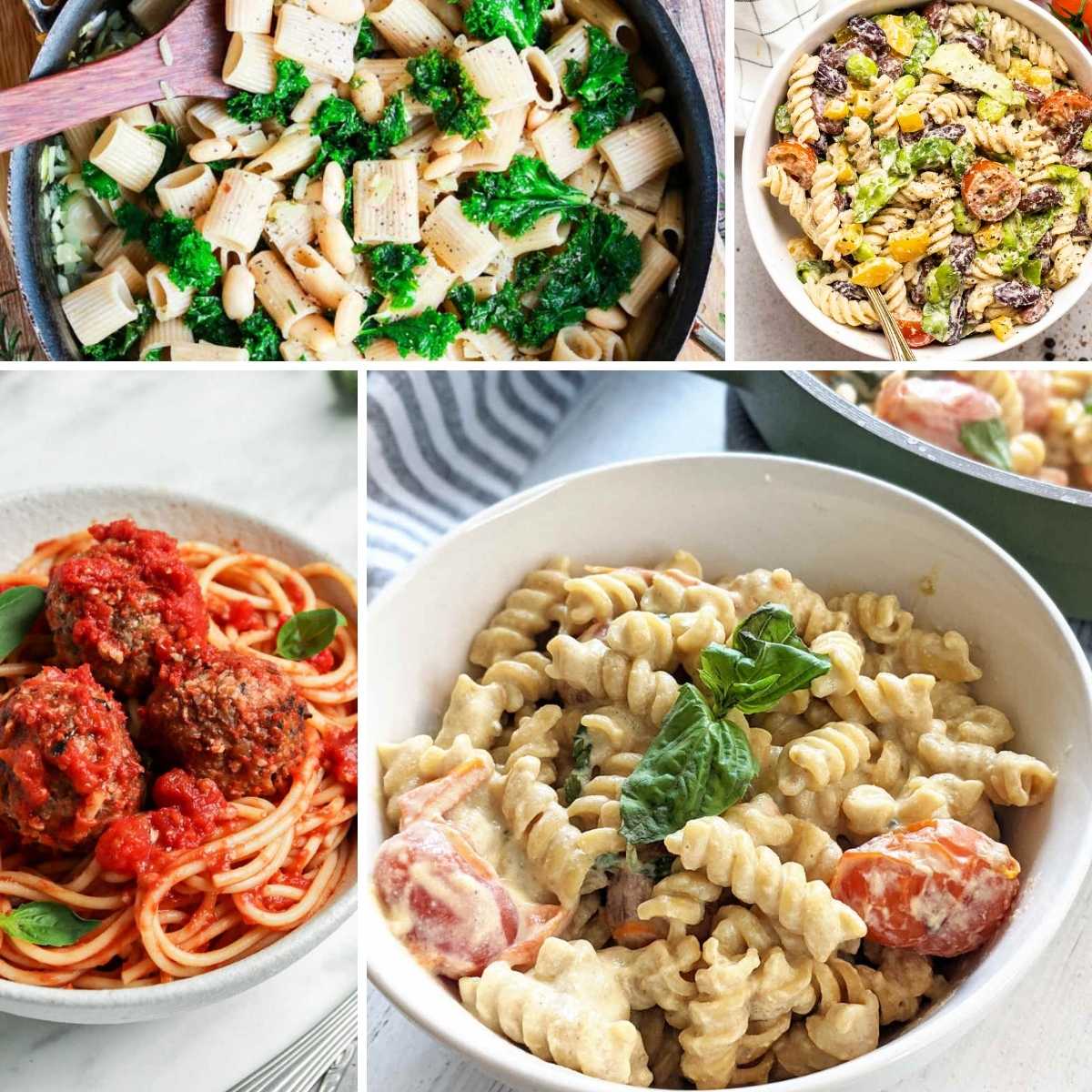 Pasta is the ultimate comfort food, but sometimes it lacks in the satiation department. Ever eat a big bowl of pasta and still feel unsatisfied afterwards? Me too.
Pasta is typically a carb heavy dish, from the flour pasta, to the sweet sauces, it can leave us wanting more.
Unfairly, pasta gets a bad rap for being unhealthy, empty calories. But it doesn't have to be that way!
You can eat pasta, feel good about it and actually feel satisfied after one bowl! I'm going to show you how.
How to add more protein to pasta
There are several sneaky ways to increase the amount of protein in a pasta recipe. One easy way is to change the type of pasta!
100% Whole wheat pasta has more protein than regular refined white flour pasta. There are also pastas made out of beans and legumes which increases the amount of protein and they're naturally gluten-free if that's your jam.
Looking for more vegan pasta options? Check out all the different vegan pasta brands available.
The second way to increase protein is in the sauce. Tofu makes an excellent base for creamy sauces because it has a neutral flavor so it easily takes on whatever seasonings you add to it. With over 36 grams of protein per block, tofu is a no-brainer!
Pesto is also a higher protein sauce option, usually made with nuts or seeds. Pine nuts, which are traditionally used in pesto, have 18 grams of protein per cup.
Nutritional yeast is also a higher protein ingredient that makes a great vegan parmesan alternative! Plus it provides all nine essential amino acids and provides a delicious "cheesy" flavor!
You can also sneak more protein into the sauce with this homemade pea protein powder. Add a couple tablespoons to thicken the pasta sauce while adding extra protein!
Vegan Protein Pasta Recipes
Below you'll find delicious high protein vegan pastas that use a variety of the protein enhancers mentioned above. With a variety of sauces, noodles, and vegetables, there's something for everyone to enjoy!
Make sure to let us know in the comments which ones you're planning to try or have tried! Don't forget to give them a star rating!