Let's first clear the air about salads — salads are not boring! If you think that, you have been missing out my friend because salads can be full of texture and flavor. You just have to know how to make it right.
And with Mason jar salads come so many possibilities!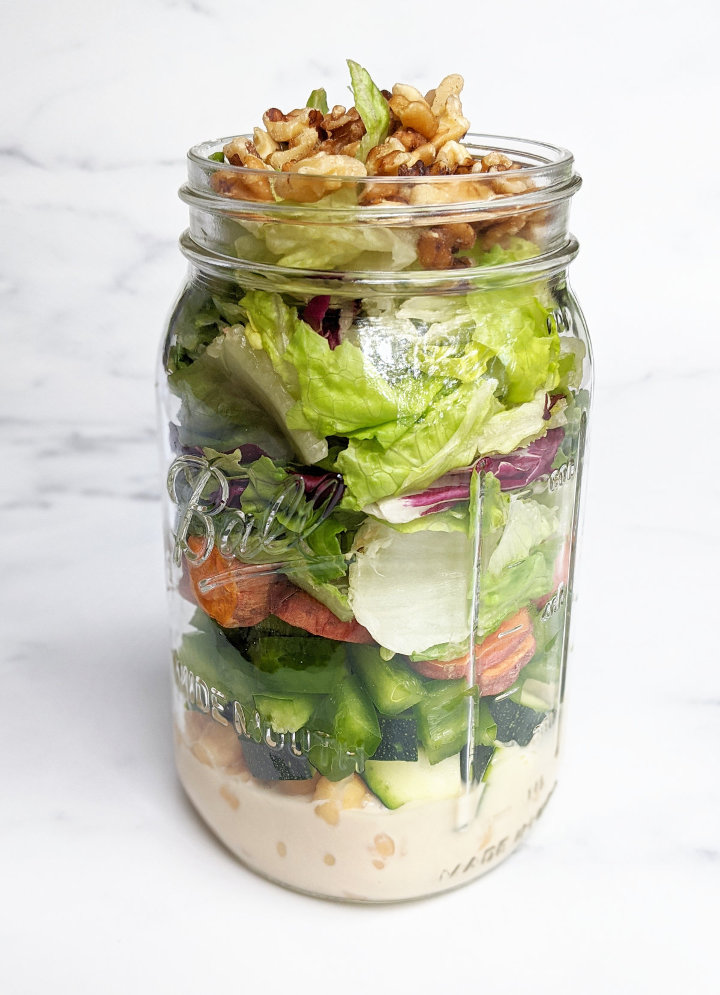 What is a Mason Jar Salad?
It's a salad packed into a Mason jar for meal prep. Packing a salad strategically and tightly keeps it fresh for longer, allowing you to prepare them in advance. They are great for meal prep so that you have a delicious, fresh salad every day of the week without having to wash, chop, and prep vegetables every day.
When you're ready to eat you simply empty the contents into a large bowl. The Mason jar is to keep things fresh but it'd be difficult to eat out of so having a large bowl is necessary. That is another key to satisfying salads — using a big enough bowl. Salads are typically lower in calories so eating a portion that actually fills you up will make your salad experience that much more enjoyable. For more info I have a whole post on how to make satisfying salads every time.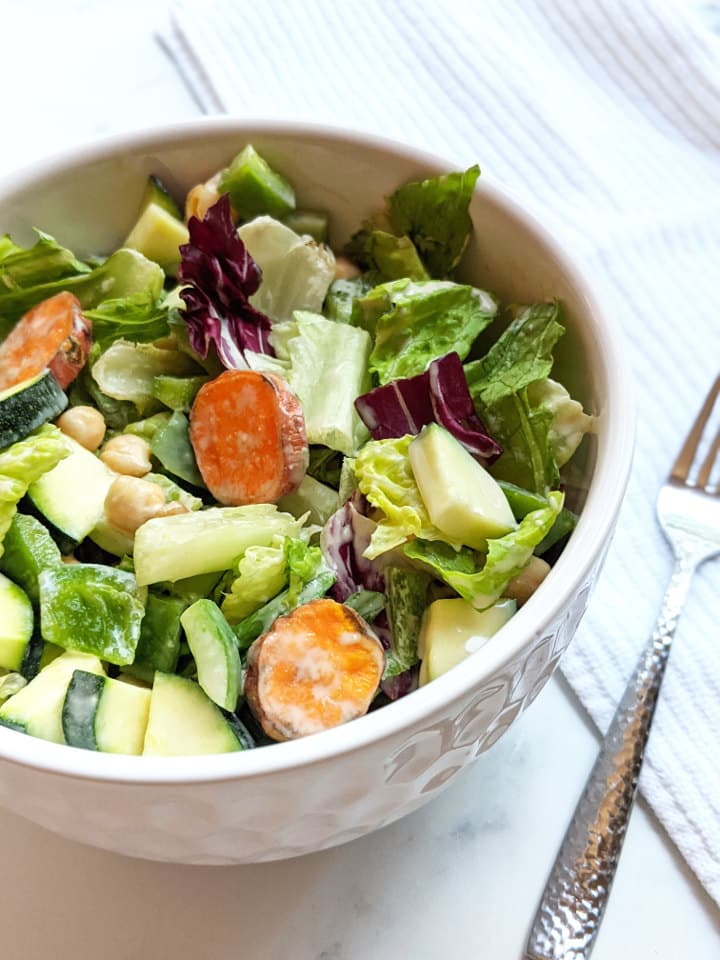 What is the Best Jar Size?
A 32 ounce jar works best for a meal. For a snack size, a 16 ounce jar is fine. Make sure it is a wide-mouth Mason jar. This makes it easier for packing it as well as emptying it into a bowl later.
These are the Mason jars we use and love.
RELATED: See a list of all of our favorite meal prep containers for any situation.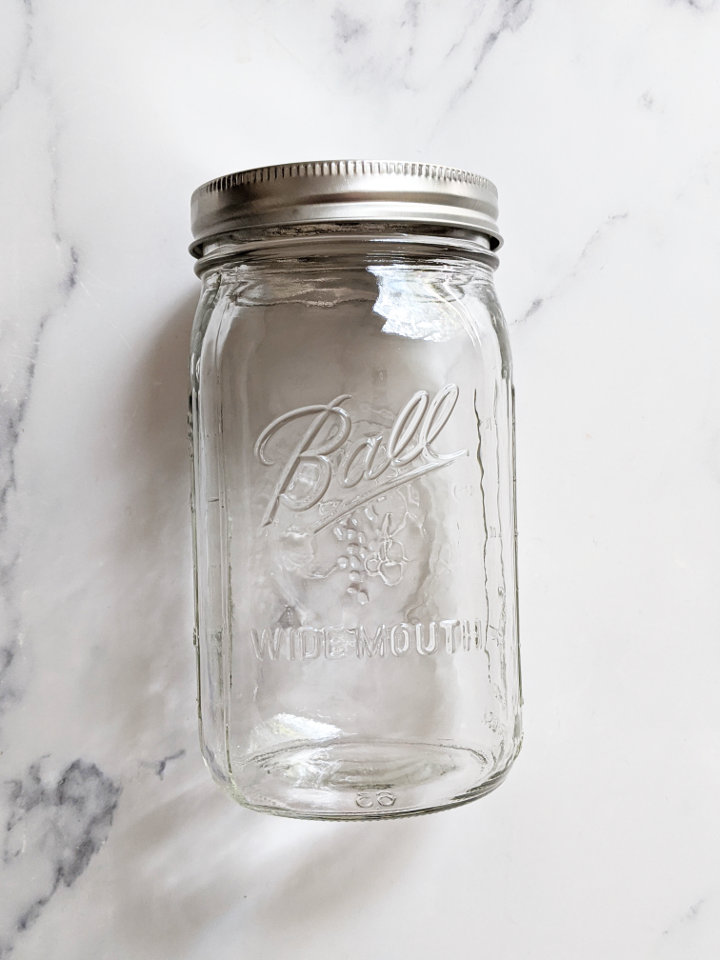 How Much Dressing to Use?
For a meal, about ¼ cup of dressing is ideal. This is enough to ensure that everything is well coated. Again, flavor is key for a good salad! Don't skimp on dressing. For the snack size you can use around 2 Tablespoons of dressing.
How to Pack a Mason Jar Salad for Maximum Freshness
This is arguably the most important factor when it comes to meal prepping Mason jar salads. How you pack it will determine how long the contents stay fresh. Pack it wrong, and you could end up with a soggy mess.
Don't worry, I've laid out the steps below so you can have fresh salads packed the right way every time.
Step 1:
Always start with the dressing. The rule of thumb for making a salad in a jar is to layer it by wetness. The wetter or more liquid an ingredient, the lower in the jar it should be. That way, ingredients that you want to stay dry and fresh until you're ready to serve the salad will be safely at the top away from the liquids.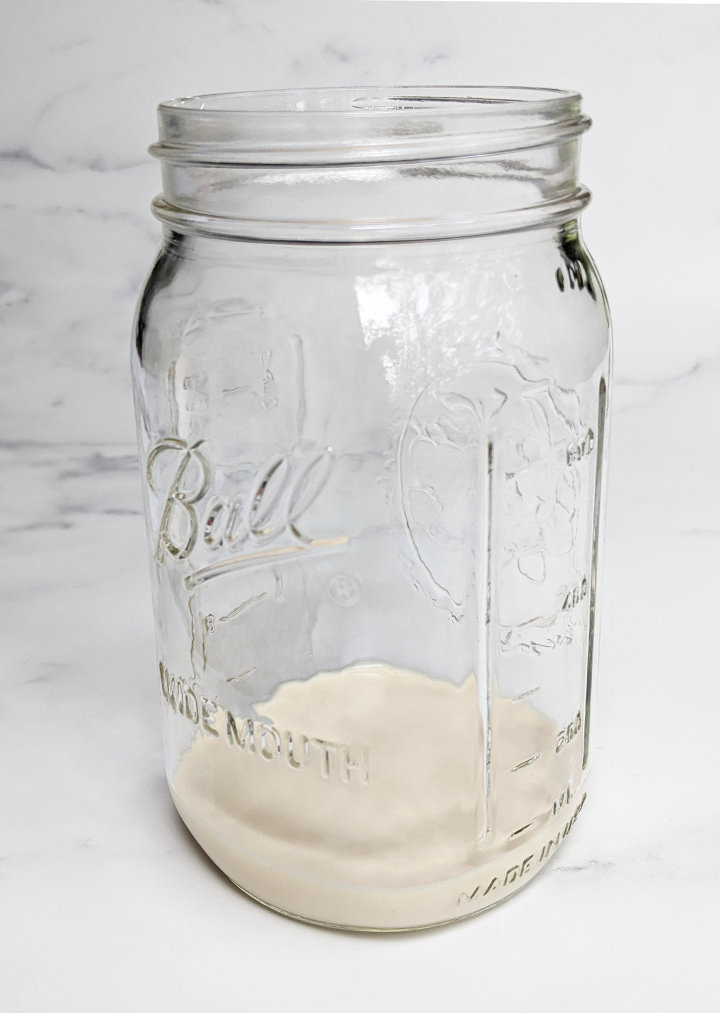 Step 2:
There's some wiggle room with this layer but you can either place cooked beans or lentils next, or crispier vegetables like cucumber, red onion, celery, peppers, carrots, and tomatoes. Basically vegetables that are fine to get wet. Many of these are great for pickling and therefore work well to sit in the dressing for a few days. I recommend a half cup of beans and a half cup of any of these vegetables.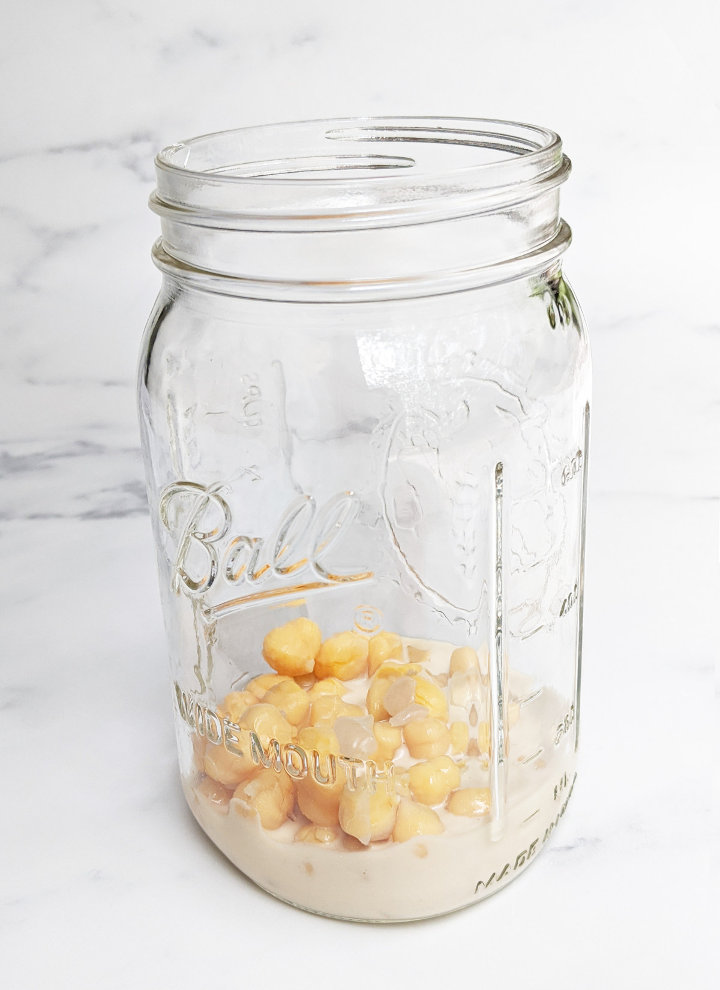 Step 3:
In this layer add your heartier vegetables broccoli, cauliflower, zucchini, or mushrooms. These are foods that shouldn't necessarily be soaked in the dressing but are fine if they get a little wet. I recommend a half cup of any of these vegetables.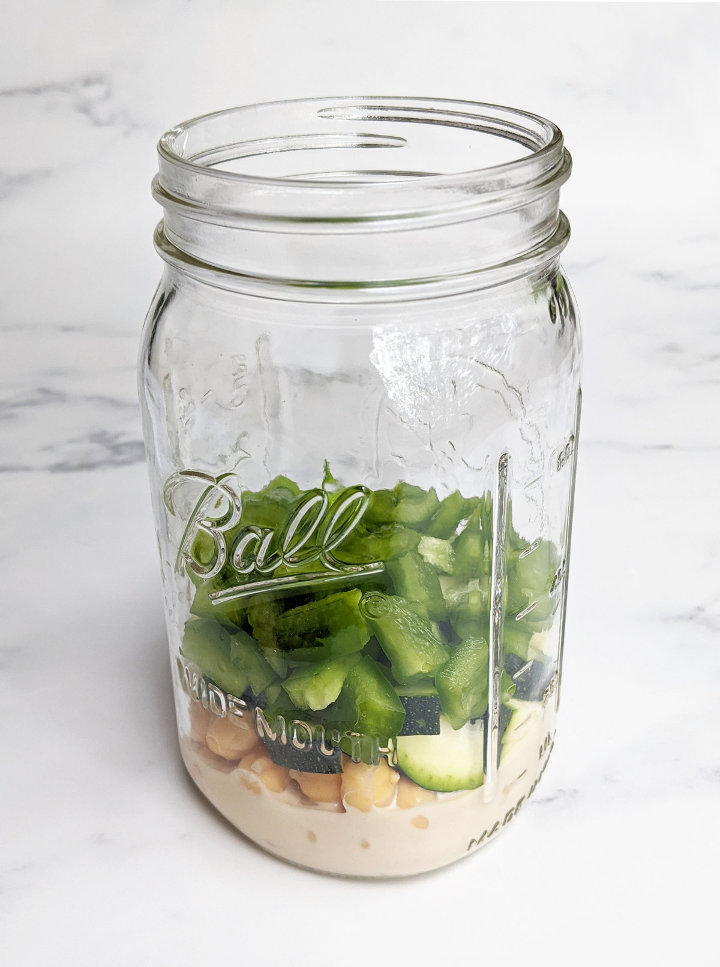 Step 4:
Use this layer for whole grains like quinoa or brown rice, and starches like potatoes to make this salad filling. Whole grains can also be used in step 2 and 3 but if you prefer dry grains, keep them higher. They also work well to seal in the freshness of the other ingredients by packing them last over the vegetables. Potatoes should be up higher so they stay dry and crispy. I recommend a half cup of whole grains or about a half cup of potatoes (either cubed or sliced).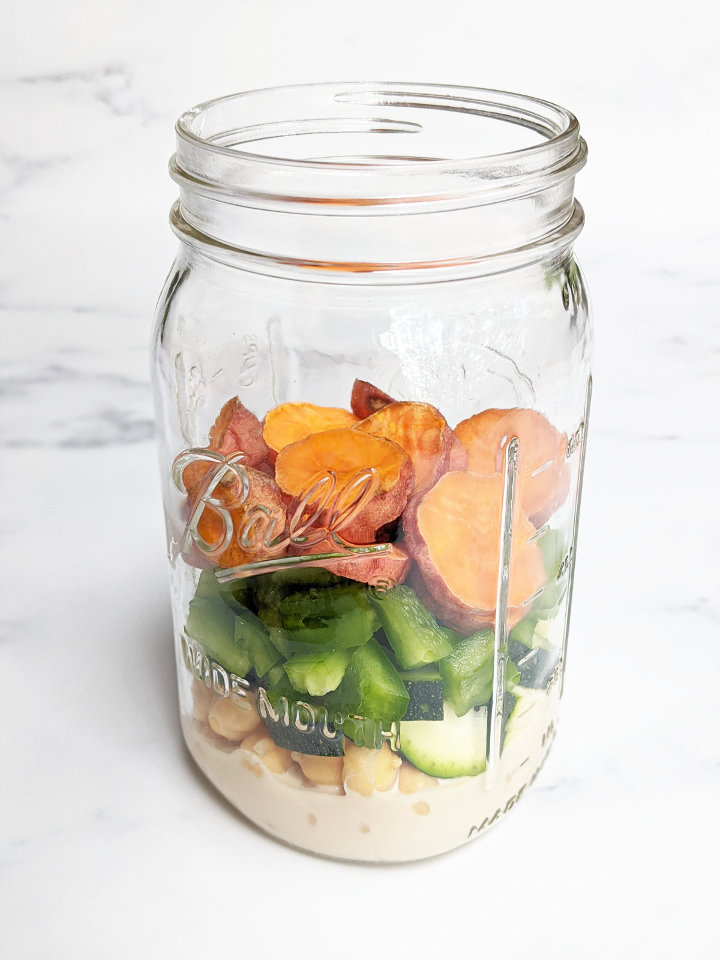 Step 5:
Leafy greens. No one wants a soggy salad so ensure you have enough of a buffer with the other ingredients between your dressing and lettuce. Packed them in tightly to also reduce the amount of air in the jar which will help keep the salad fresh for longer. I recommend two packed cups of your leafy green of choice.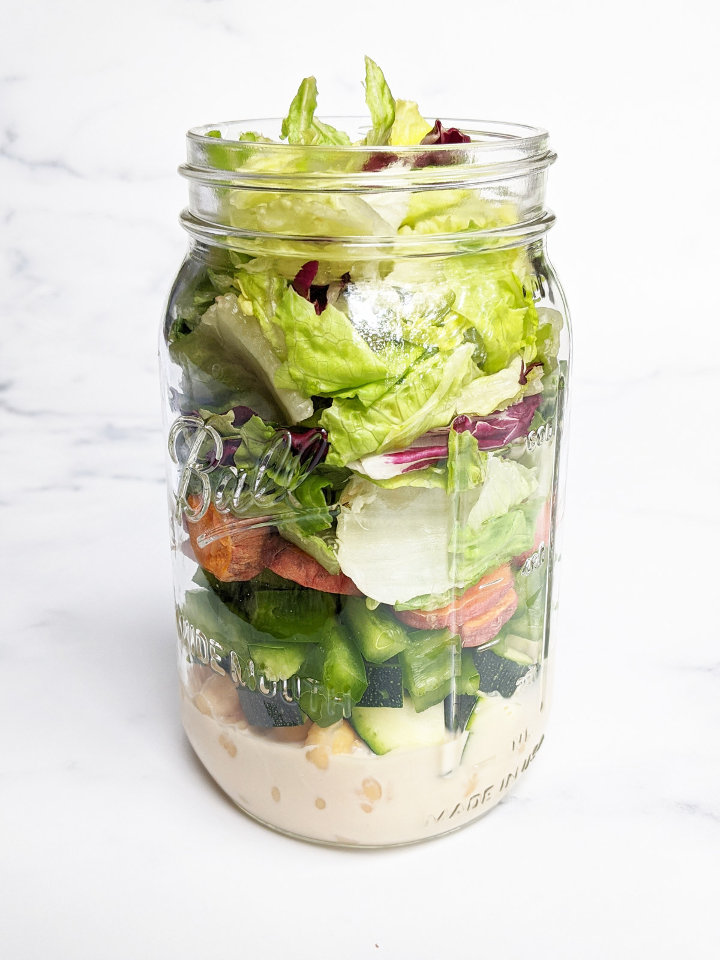 Optional Step 6:
This is for adding any nuts, seeds, or avocado that you may want. Nuts and seeds are best at the top to make sure they don't touch anything wet. I recommend about 2 tablespoons of nuts or seeds. Avocado ideally should be added separately right before you eat your salad, however, you can add some to your salad when you prep it and squeeze a little lime or lemon juice over it to help keep it fresh.
Now I know you're thinking, "but what about the lettuce underneath it? Won't it get soggy from the juice?" Not really, you're just adding enough to cover the avocado.
Also, don't slice or cube the avocado, just scoop out an entire half and place it on top. Less surface area means less oxidizing and browning. Better yet, stick the whole half with the skin still on inside the jar with the lemon juice squeezed over the exposed top. Just make sure you wash the outside of the avocado first. You can slice it up right before you eat it with whatever utensil you're eating with.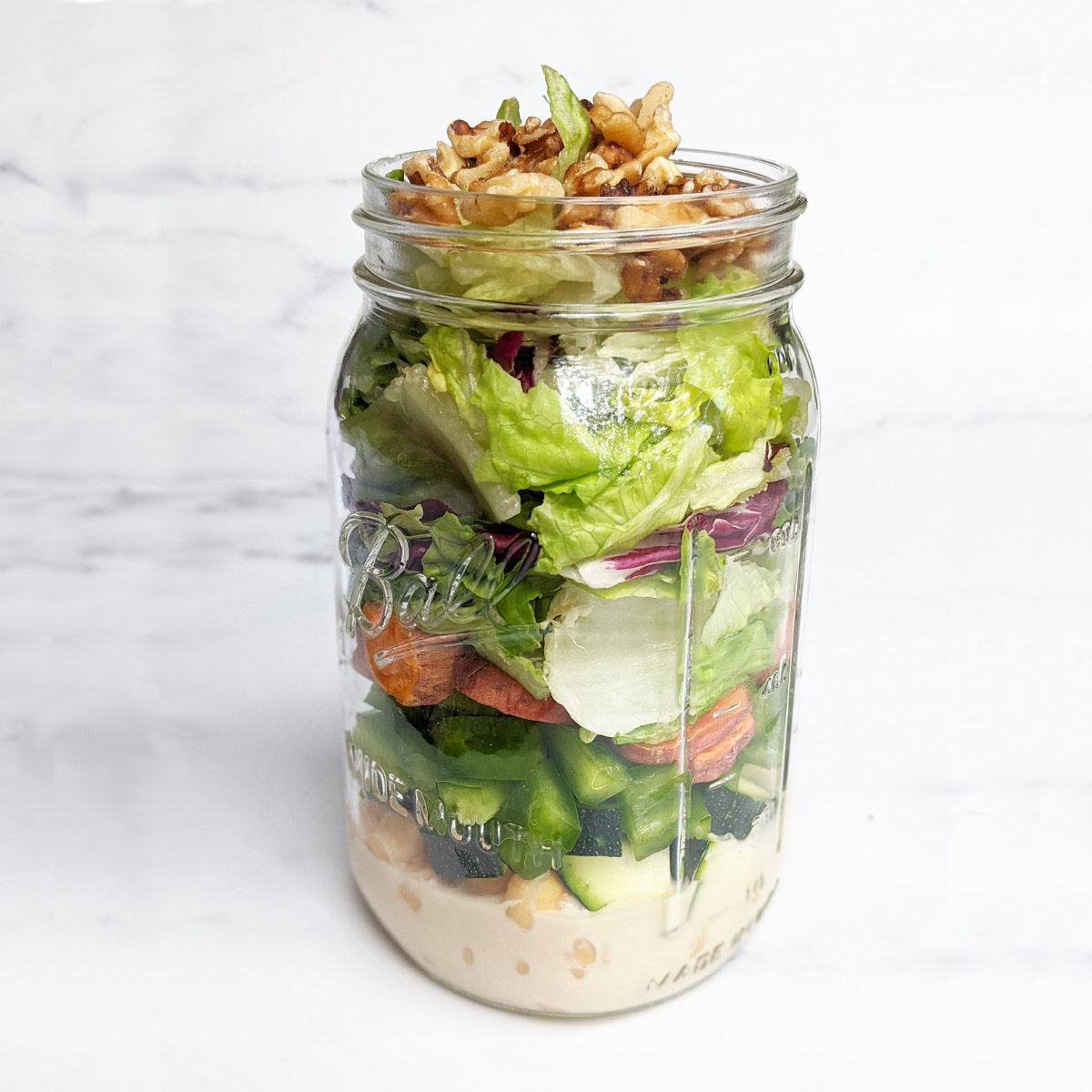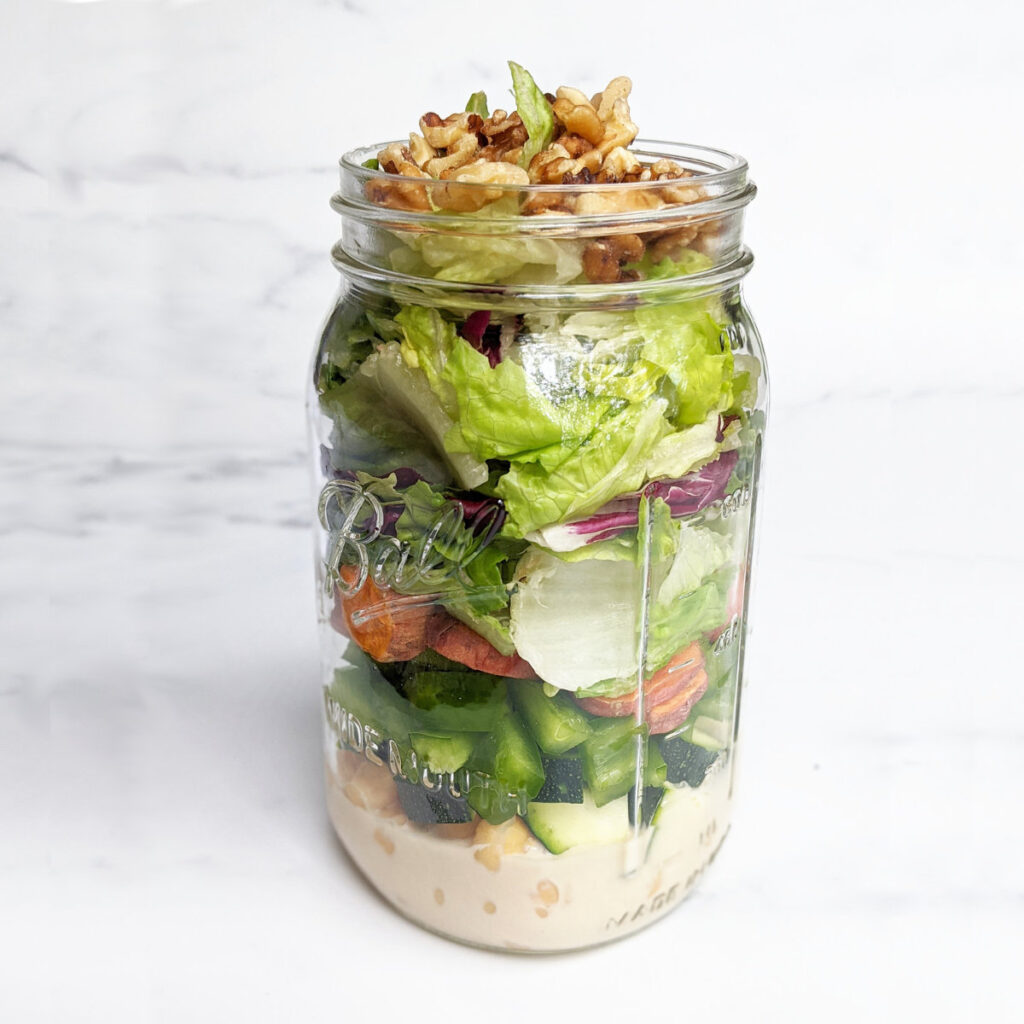 And there you have it! The perfect formula for making a fresh and delicious salad in a jar!
How Long do Mason Jar Salads Stay Fresh?
This can vary widely depending on the ingredients you selected but typically at least 3 days. They can last longer, if you avoid certain fruits and vegetables that don't stay fresh for long. For example, avocado really only stays fresh with lime juice for about 2 days. Bean sprouts for about 3 days. Delicate foods like that will not stay fresh for the full week so that's something to consider.
If you want a full breakdown of when to eat certain foods by I recommend checking out the Eat By Date website. It provides details on how to tell whether the food has spoiled and tips for proper storage.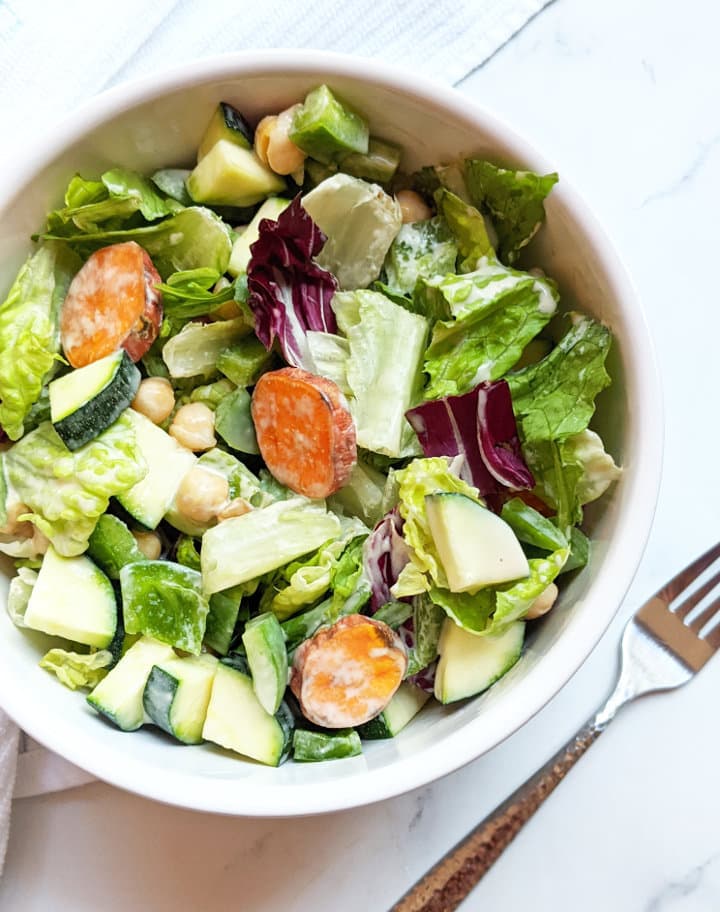 So there you have it - an easy way to add more salads into your weekly meals with salads in a jar. They keep everything fresh until you're ready to eat them.
When you're ready to eat, dump it out into a big bowl and mix it all together so that the dressing evenly coats everything and voila!
Now you know the ends and outs of mason jar salads so here's one of my favorite recipes that you can try out.
📖 Recipe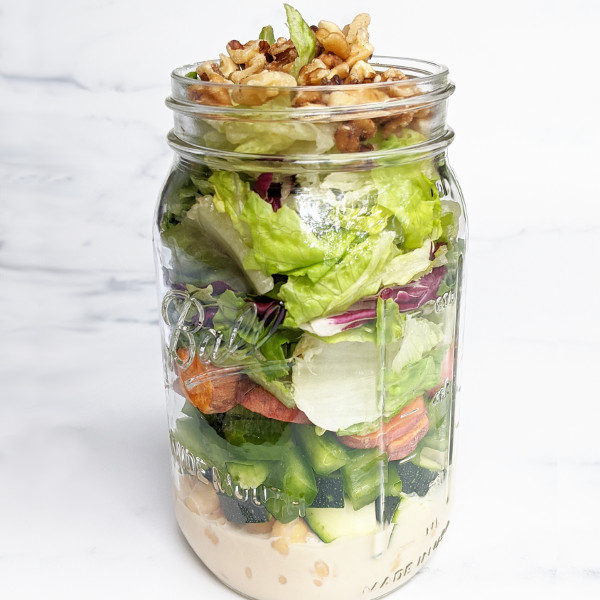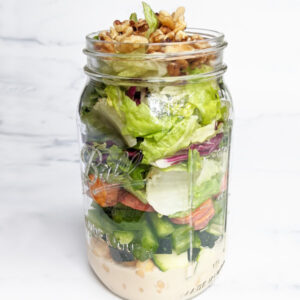 Sweet Potato & Chickpea Mason Jar Salad with Maple Tahini Dressing
This salad in a jar is perfect for meal prep! Make in advance to have salads prepped all week. It's flavor packed and filling for a satisfying lunch or dinner.
Print
Pin
Rate
Ingredients
1.5

cup

sweet potato

,

sliced into rounds

1.5

cup

chickpeas

,

cooked, drained and rinsed

1.5

cup

zucchini

,

chopped

1.5

cup

bell pepper

,

chopped

6

cups

lettuce

,

packed

6

tablespoons

walnuts

,

* chopped
Instructions
Slice the sweet potato into ¼ inch rounds and place on a microwave safe plate in a single layer. Microwave for 5-6 minutes until soft (cooking time may vary depending on whether you're adjusting the servings and the strength of microwave). Set aside to cool.

Meanwhile, make the dressing by combining all ingredients in a small bowl until smooth. Add more or less water depending on how thick you want your dressing. For 3 servings I add around 4-5 tablespoons.

Assemble your salads by placing the dressing in the bottom of your jars or container (32oz Mason jars work best). Then layer in the chickpeas, followed by the zucchini, bell pepper and sweet potato. Then add in the lettuce and place the walnuts on top. Seal your jar with a lid and store in the refrigerator until ready to serve.

To serve, dump the contents of your container into a large bowl and mix everything together to evenly distribute the dressing. Enjoy!
Notes
*In order to be nut-free use sunflower seeds or pumpkin seeds instead.
Store in the refrigerator for up to 4 days.
Nutrition Per Serving
Calories:
573
kcal
Carbohydrates:
61
g
Protein:
19
g
Fat:
32
g
Saturated Fat:
4
g
Sodium:
173
mg
Potassium:
1226
mg
Fiber:
15
g
Sugar:
19
g
Vitamin A:
12656
IU
Vitamin C:
114
mg
Calcium:
171
mg
Iron:
6
mg
If you enjoyed this recipe please leave a comment below and give it 5 stars! Or on Pinterest (don't forget to follow me!) you can now add pictures into reviews, too, and be sure to help me share on facebook!
If you're looking for more delicious and satisfying salad recipes the Health My Lifestyle Meal Planner is full of them! You can easily narrow down exactly what you're looking for with the extensive filtering options, plan out your week in seconds or grab a pre-made plan, track your calories and goals, and more! Try it for free! Check out the Meal Planner here.
Pin this for later: