If you've thought salads aren't filling, you've thought wrong! I'm going to show you how to make a satisfying salad every time that actually leaves you full and satiated. You'll never eat another sad, unappetizing salad again!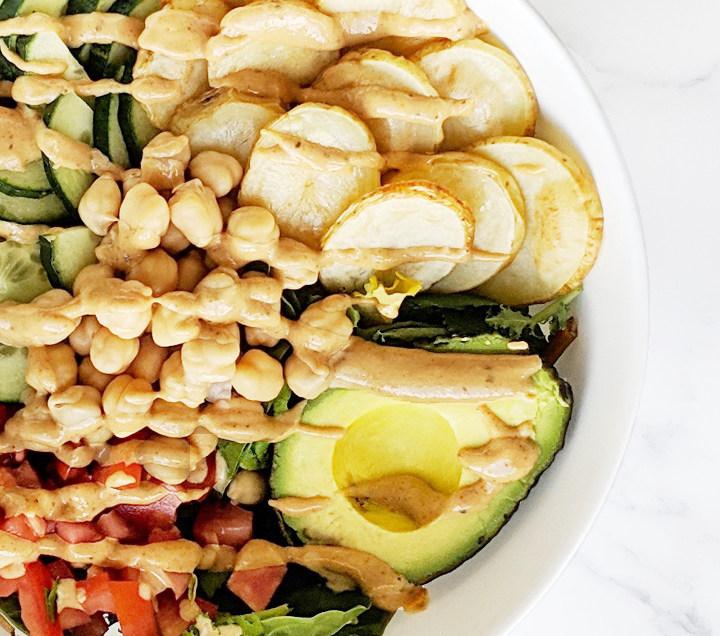 I love salads. Let me teach you how to love salads too.
First we need to understand what salads are and what salads are not.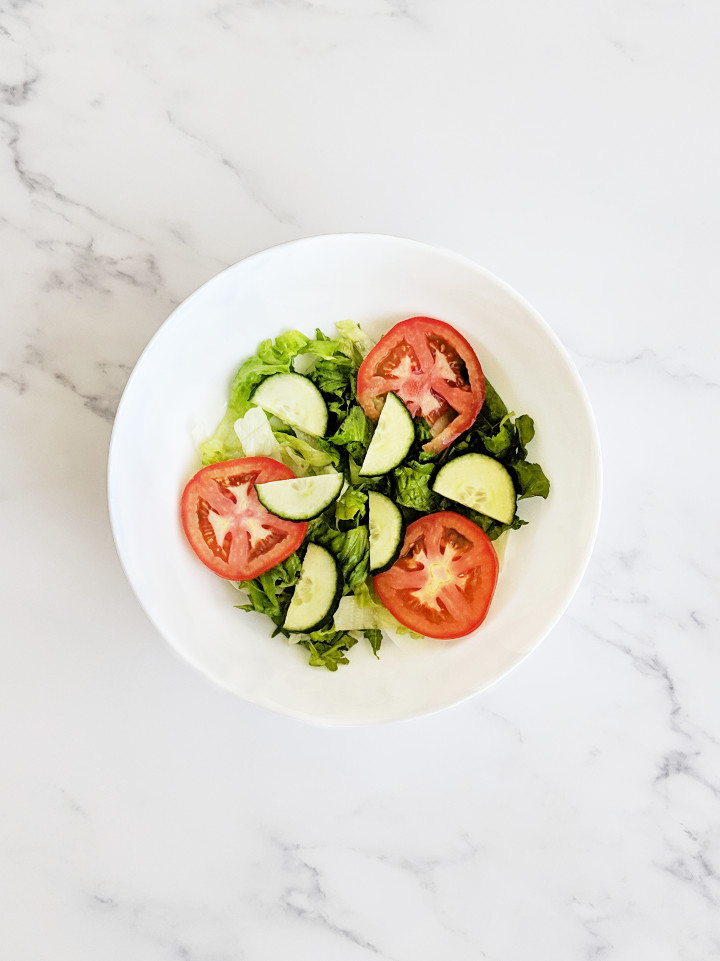 What Salads Are Not
They are not just appetizers. They are not just lettuce and dressing (see image above for reference). They aren't always healthy.
That's right, I said it. Not all salads are healthy.
Here's an example of a classic salad I used to eat before I knew better: a bed of lettuce, a few vegetables, likely some chicken or bacon bits, croutons, loads of cheese, lots of ranch dressing.
Does that sound like a well balanced salad? The correct answer is no! First of all, it's full of saturated fat. Salads should be artery clearing power bowls, not artery clogging sludge bowls. You're welcome for the mental image.
Alright, so what are salads then?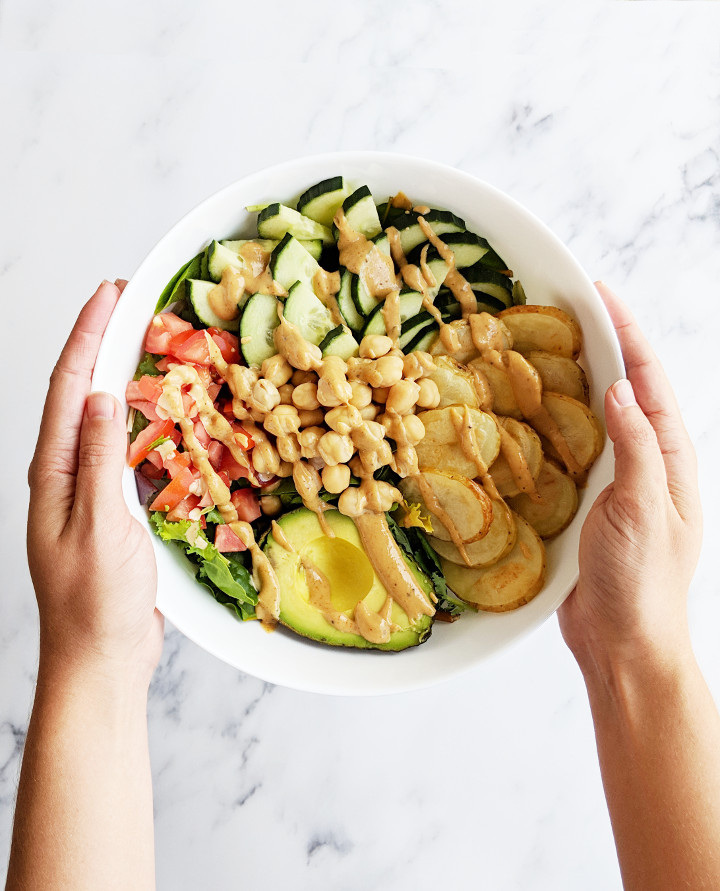 What Salads Are
They are a main dish. They are full of a variety of flavors and textures. They can definitely be healthy AND delicious at the same time.
Whatever time of year it is, is a good time to eat salads. Yes, that includes the winter. Salads may not seem that appetizing when it's cold out, but I still believe having some fresh veggies every day is necessary for our immunity—especially when flu season is upon us. Eating a fresh salad can provide our immune system with many of the necessary nutrients needed to support it such as zinc, vitamins a, d, e, folate, and iron. This is because 70% of our immune system resides in the gut. Pretty incredible!
So what can we do to ensure our salads boost our immune system into top gear while also being tasty and satisfying?
I'm here to show you how!
The Salad Bowl Method?
You know, it's like the plate method but with a bowl ?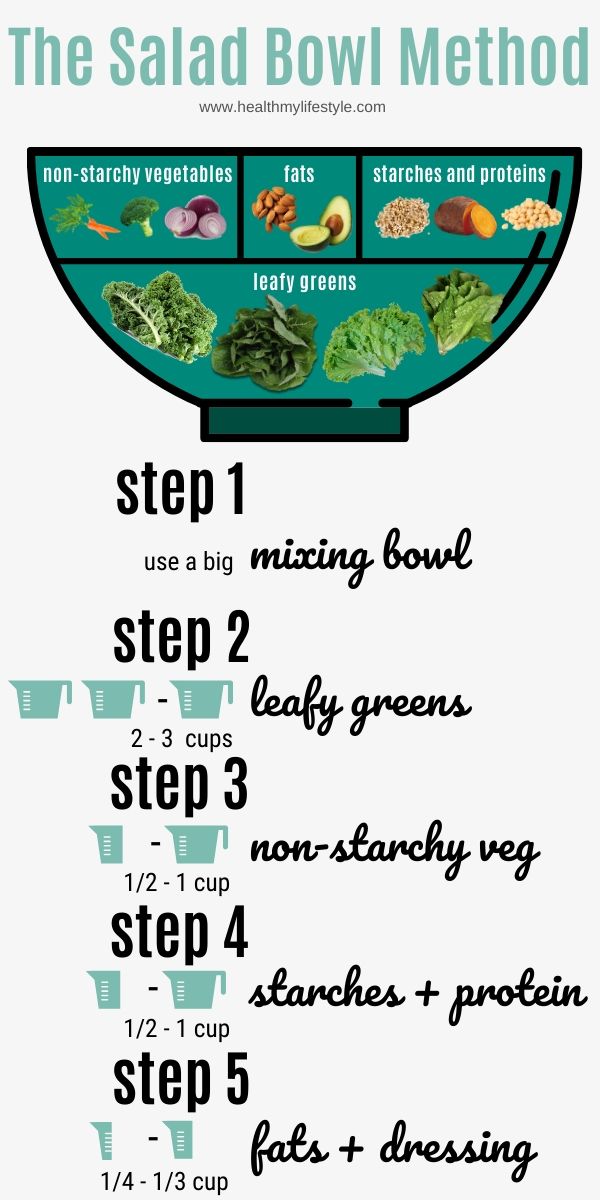 I think the plate method is an awesome tool to help people portion out their food and make sure they're not overdoing it in one area and not getting enough in another.
This holds true for salads too. You want to build a well-balanced bowl so that you end up with something filling and delicious while getting a variety of nutrients. And let's face it, people need to eat more salads. Not as a side, as the main dish!
Here's my method that I use every time I build a salad.
➡️STEP 1
Get a HUGE bowl! If you do not have a salad bowl, use a mixing bowl. Do not use a little soup bowl. It will not be enough and you will get hungry and probably hangry. I know from experience.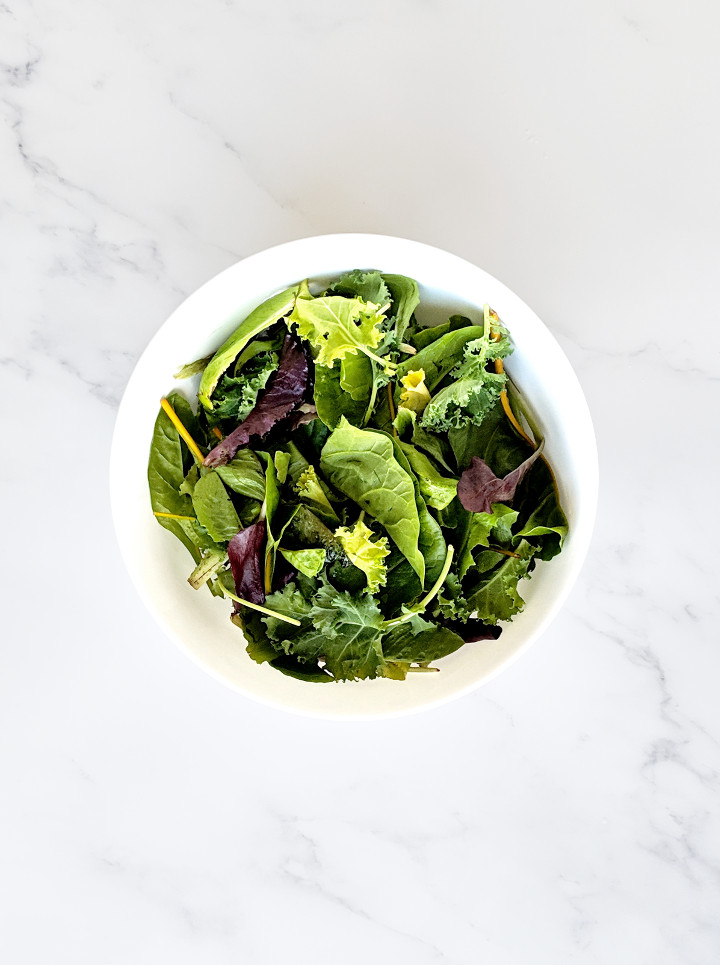 ➡️STEP 2
Load it up with those leafy greens. Try to get 2-3 cups worth in there.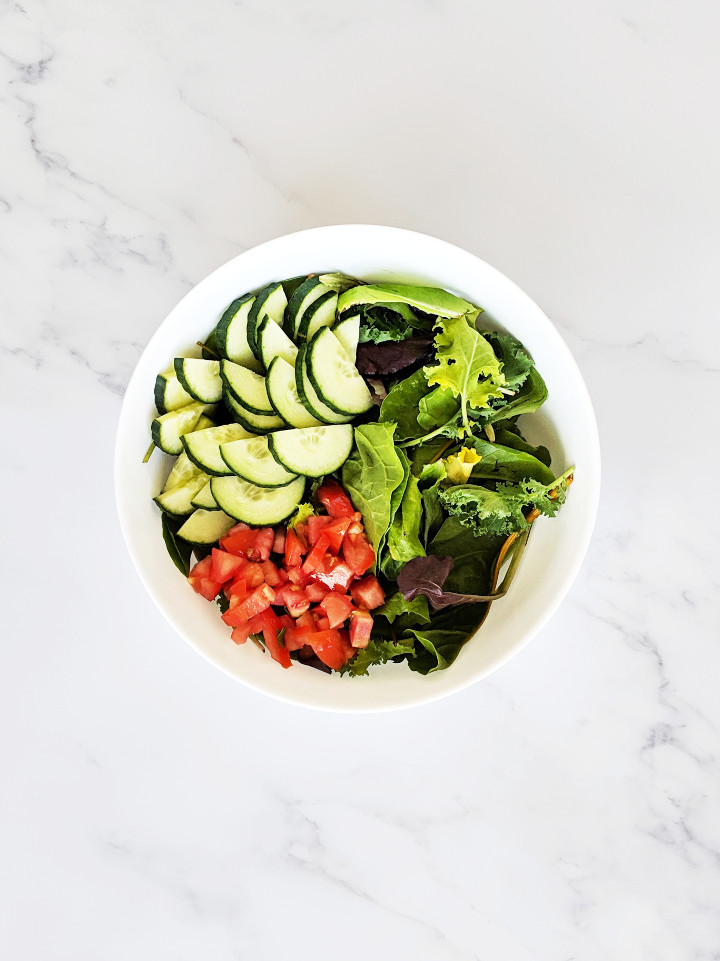 ➡️STEP 3
Non-starchy vegetables are next. Try to get ½ to 1 cup worth of these. Any kind you like. There are no rules, except these.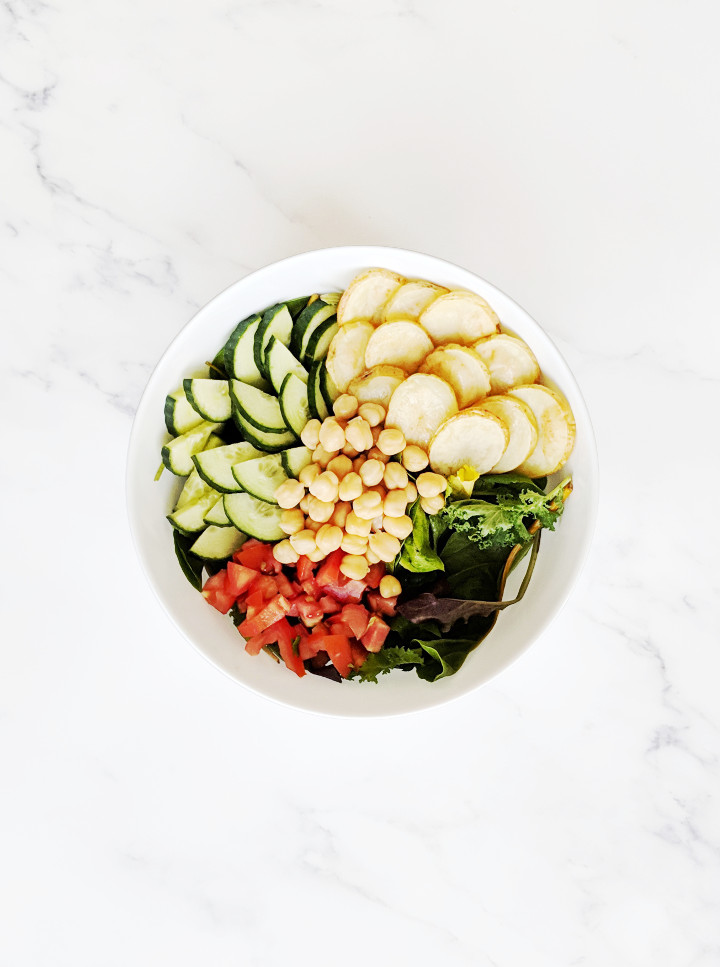 ➡️STEP 4
Time for the starchy veg and the high protein sources. These are the powerhouses of the salad. They are not only going to be a main source of calories (aka energy) but also add a whole other layer of flavor to the salad. Add ½ to 1 cup.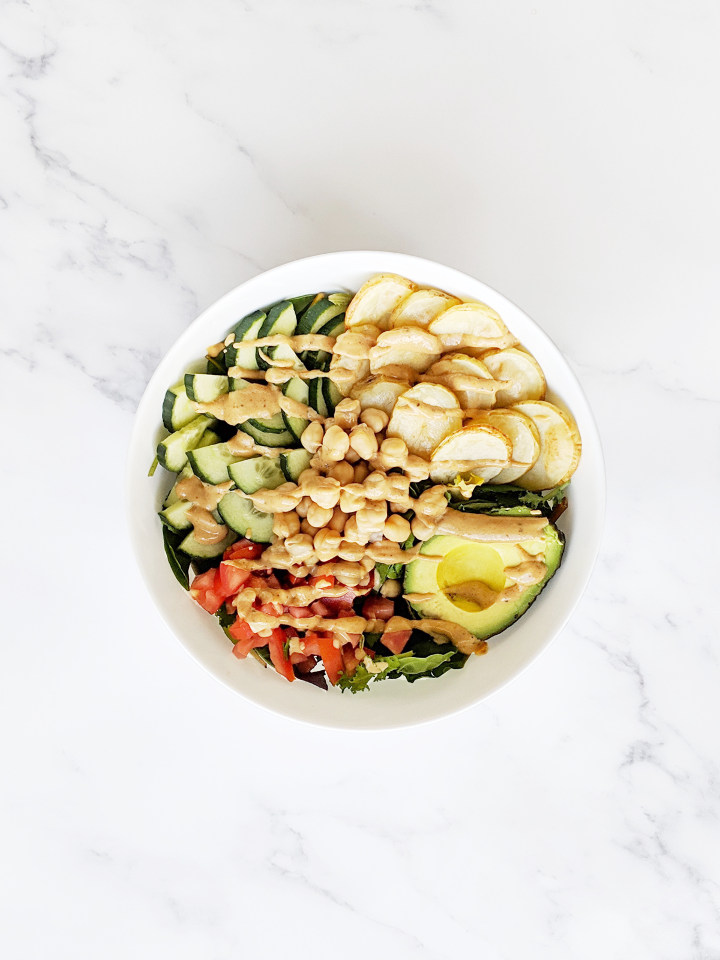 ➡️STEP 5
The tastiest step. The fats that seal the deal. Fats aid in the absorption of nutrients but they are also calorie dense (9 Cal per gram) so you do not want to over do it. Fats can be in the form of a dressing like tahini, or simply nuts and seeds sprinkled on top for some added crunch. Try to use no more than 2-3 Tablespoons of dressing, and no more than ¼-1/3 cup of nuts and seeds. Of course, it depends on your fitness goals and where you're in a calorie surplus or deficit.
I have several oil-free salad dressing recipes available on instagram.
Here are some of my other favorite salad dressings:
Vegan honey mustard
Salsa—tomato-based or this roasted chili corn salsa are light and refreshing!
Tahini-based dressing with balsamic vinegar, lemon juice, and spices
Vegan cottage cheese—it may sound odd but it adds a deliciously tangy flavor and creaminess to salads!
Vinegar-based dressing sweetened with a little maple syrup or pomegranate molasses for a beautiful hue!
The Ultimate Satisfying Vegan Salad Recipe
Now it's time to build your perfect salad! This guide is very versatile and the options are truly endless. However, if you would like to try the exact salad pictured, you can find the recipe below.
If you enjoy this recipe please leave a comment below and give it 5 stars! Or on Pinterest (don't forget to follow me!) you can now add pictures into reviews, too, and be sure to help me share on facebook!
Some call me the Salad Queen, and I happily bear that name. I'm willing to share that title with my fellow Salad Queens (Kings)—show me your #saladoftheday by tagging me @healthmylifestyle on Instagram!
If you're looking for more healthy plant-based meal ideas the Health My Lifestyle Meal Planner is full of them! You can easily narrow down exactly what you're looking for with the extensive filtering options, plan out your week in seconds or grab a pre-made plan, track your calories and goals, and more! Right now it's 40% off your first month! Check out the Meal Planner here.
📖 Recipe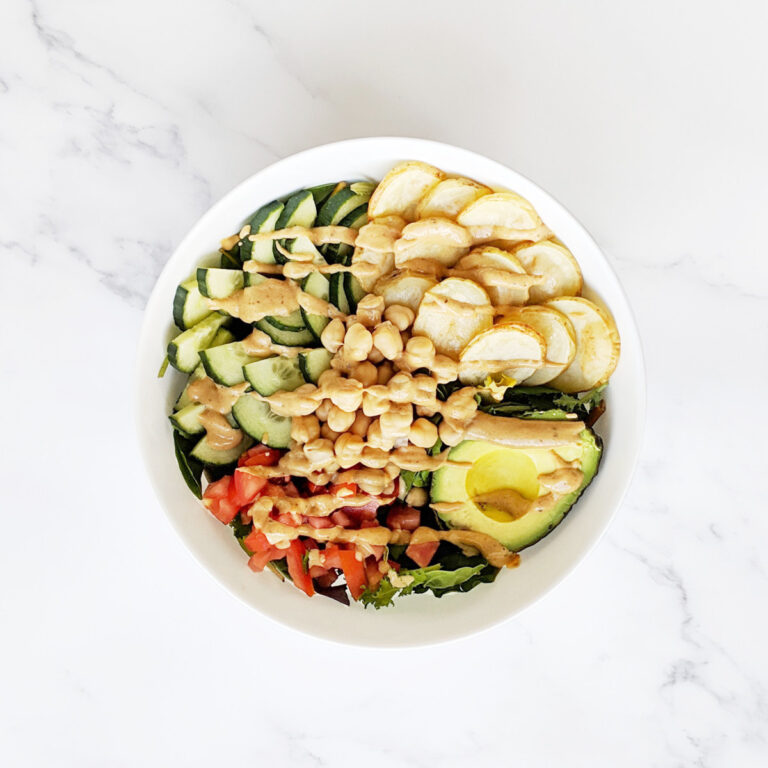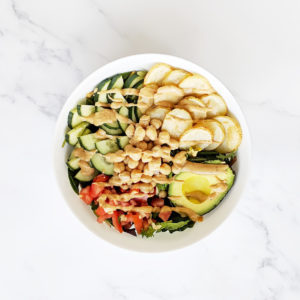 Ultimate Satisfying Vegan Salad Recipe
Not your average salad—this one is filling and satisfying! Topped with tons of veggies, potatoes, chickpeas, avocado and a delicious tahini dressing.
Print
Pin
Rate
Ingredients
1

medium

Yukon potato

,

sliced into ⅛ inch thick discs

3

cups

mixed lettuce

¼

cup

cucumber

,

sliced

¼

cup

tomatoes

,

diced

⅓

cup

chickpeas

,

drained and rinsed

½

avocado

,

cubed
Instructions
Slice the Yukon potato thinly (about ⅛ inch thick), then place on a microwavable-safe plate and microwave on high for 4-5 minutes. Flip and microwave for an additional 4-5 minutes. (A little trick when flipping—take a plate of the same size and place it over your potatoes upside down, then holding both plates tightly together, flip them over. Your potatoes should be perfectly flipped onto the new plate). Set aside.

In a large mixing bowl, start by making the dressing (I do this first to avoid having to dirty another dish). Then layer in your lettuce, cucumber, tomatoes, and chickpeas. Add in your cooked potatoes and top with avocado. Enjoy!
Nutrition Per Serving
Calories:
513
kcal
Carbohydrates:
65
g
Protein:
16
g
Fat:
25
g
Saturated Fat:
2
g
Sodium:
354
mg
Potassium:
1705
mg
Fiber:
18
g
Sugar:
7
g
Vitamin A:
8454
IU
Vitamin C:
60
mg
Calcium:
173
mg
Iron:
4
mg
Pin this for later so you can refer back to it: