These peanut butter overnight oats are reminiscent of the popular Reese's Pieces candy but without any guilt. A secret healthy ingredient gives it the flavor and a boost of nutrition for a delicious and healthy breakfast!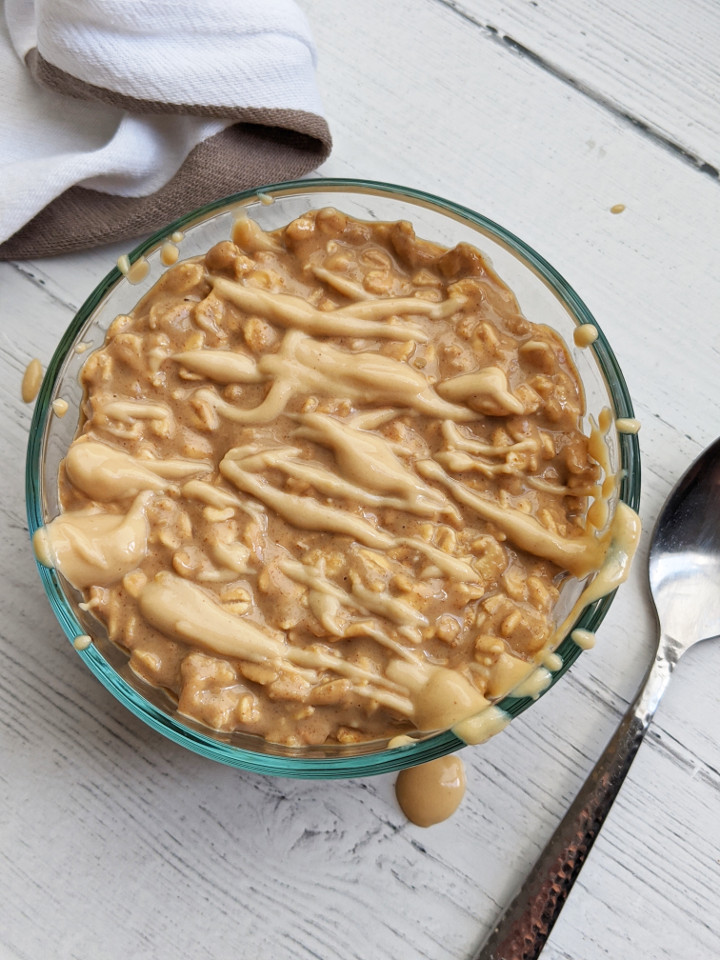 I've been "veganizing" lots of candies lately into delicious and healthy overnight oat recipes like these Snickers Overnight Oats and Almond Joy Overnight Oats. #cantstopwontstop
I just love being able to make something not only tasty but healthy and wholesome too! It's my specialty!
Reese's pieces have a peanut butter vanilla center, covered by a sweet crunchy candy coating. Although Reese's Pieces are supposed to be small bite-sized pieces of their Reese's Peanut Butter Cups, they actually contain no chocolate!
For some reason I always thought the outer crunchy coating was chocolate, but it's not! Don't let the brown pieces fool you, they all taste the same.
What are Overnight Oats?
I know it's not necessarily a new concept but in case you're new to it, it's simply overnight oatmeal, or meal prepped oatmeal. I love it because it provides so much convenience. You can prep them the night before or even several days in advance. And the best part? No cooking necessary!
To make overnight oats you simply mix up your ingredients in a sealable container and store it in the refrigerator for at least a few hours. This allows it time to soften up enough so that you don't need to heat it. However, you totally can if you're not a fan of cold oats. Microwave or heat on the stove to desired warmth.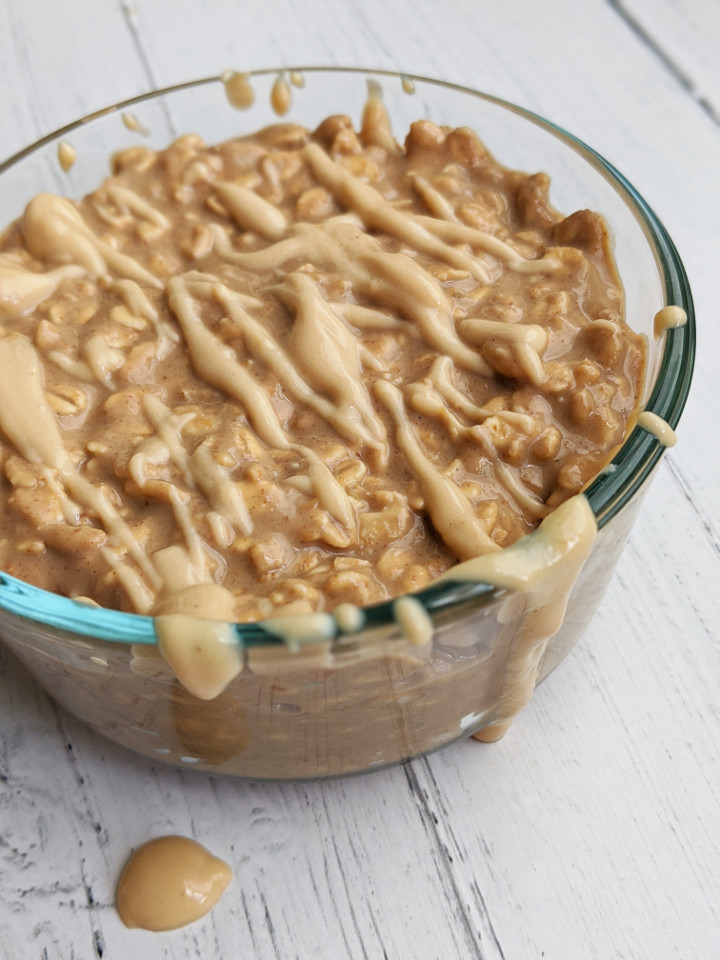 What Type of Oats are Best for Making Overnight Oats?
I've found the best oats for overnight oats to be rolled oats, also known as old fashion oats.
Rolled oats have been steamed and pressed through a roller to flatten them—hence the name. Because of this they absorb liquid more easily, making them the perfect candidate.
You can also use quick oats. These aren't as hearty but they do make for an even smoother, creamier texture. And it's even faster for soaking than rolled oats! With quick oats you can have delicious overnight oats ready in just one hour instead!
For this recipe I not recommend steel-cut oats as they will not become soft enough. However, you could precook them to soften them, but then that just defeats the purpose of having convenient overnight oats, right? Or, if you want a crunchy texture, just add them as is without precooking but give them at least 8 hours to soak.
You're going to love this recipe. This Reese's Pieces Overnight Oats recipe is:
made with only 7 ingredients
convenient if you don't have a lot of time in the mornings to make breakfast
satisfying and filling
delicious served warm or cold
made with maca powder for extra flavor and richness
What is Maca Powder?
It is a root vegetable, similar in appearance to radishes and turnips. The roots themselves can vary in color from yellow, purple, to black. It is native to the Andes Mountains in Peru.
Some people relate the taste to butterscotch or caramel. I'd say it's more a sweet, nutty flavor. I really enjoy the scent of it too—I'd totally buy a maca scented candle.
It's high in iron, copper, and Vitamin C and it can boost energy and mood. It remains unclear how maca increases energy levels, but the fiber content may play a role in this to help prevent spikes and crashes in blood sugar.
One word of caution for those with impaired thyroids is that it contains goitrogens, substances that may interfere with the normal function of the thyroid gland. These compounds are more likely to affect you if you already have impaired thyroid function. Otherwise, maca is considered generally safe.
The additional sweet, nutty flavor of maca gives this recipe the richness of creamy peanut butter without needing milk that the actual candy contains. If you can't find maca, simply omit. Otherwise, I highly recommend adding it!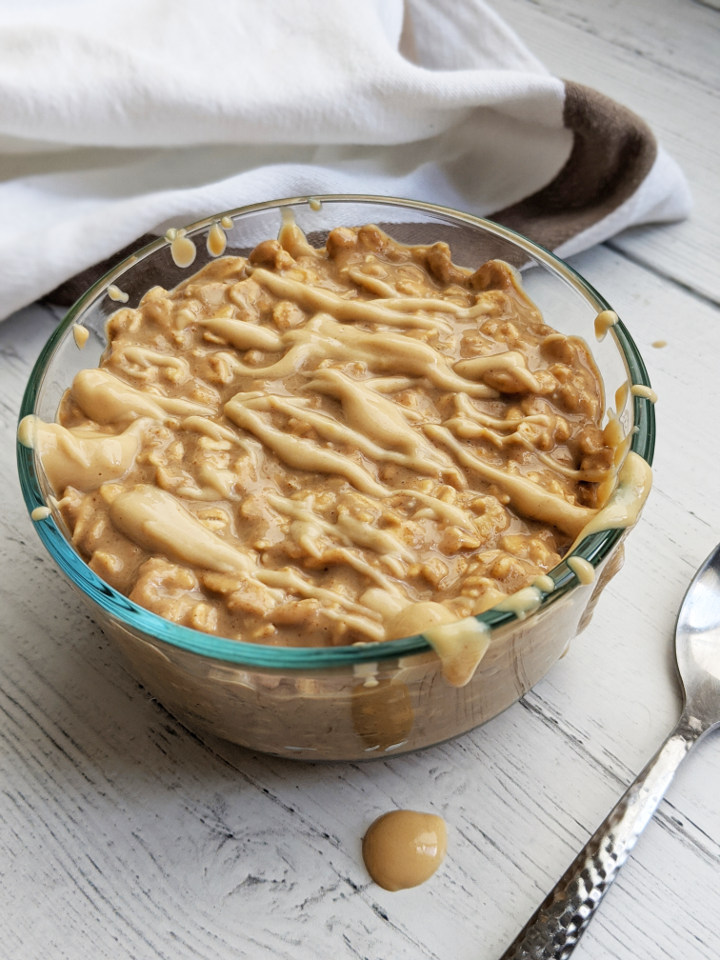 More overnight oat recipes
If you're looking for more healthy breakfast ideas the Health My Lifestyle Meal Planner is full of them! You can easily narrow down exactly what you're looking for with the extensive filtering options, plan out your week in seconds or grab a pre-made plan, track your calories and goals, and more! Check out the Meal Planner here.
If you enjoyed this recipe please leave a comment below and give it 5 stars! Or on Pinterest (don't forget to follow me!) you can now add pictures into reviews, too, and be sure to help me share on facebook!
📖 Recipe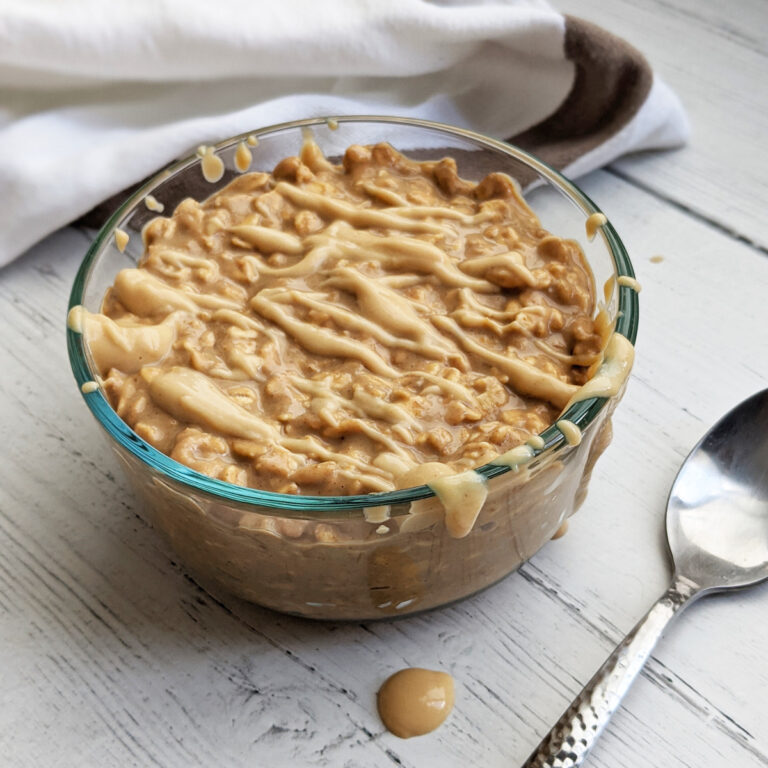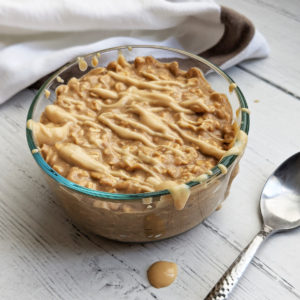 Peanut Butter Overnight Oats (Tastes Like Reese's Pieces!)
If you're a fan of Reese's Pieces then you'll love this! The combination of maca, peanut butter, and vanilla is the perfect blend to recreate a healthy breakfast version of the classic candy.
Print
Pin
Rate
Instructions
In a microwave-safe bowl, heat the peanut butter and maple syrup in the microwave for 10-15 seconds to soften and whisk together with a fork.

Add in the milk and whisk well to distribute the peanut butter. Stir in the remainder of the ingredients.

Cover and place in the refrigerator for at least a few hours or overnight.
Notes
Serving suggestion: Add banana slices.
Nutrition Facts based off of unsweetened soy milk.
Nutrition Per Serving
Calories:
369
kcal
Carbohydrates:
46
g
Protein:
16
g
Fat:
13
g
Saturated Fat:
2
g
Sodium:
133
mg
Potassium:
615
mg
Fiber:
8
g
Sugar:
11
g
Vitamin A:
314
IU
Vitamin C:
2
mg
Calcium:
267
mg
Iron:
3
mg
Pin this for later: