Do you often find yourself wondering what food you're going to eat for the day? Then meal planning may help!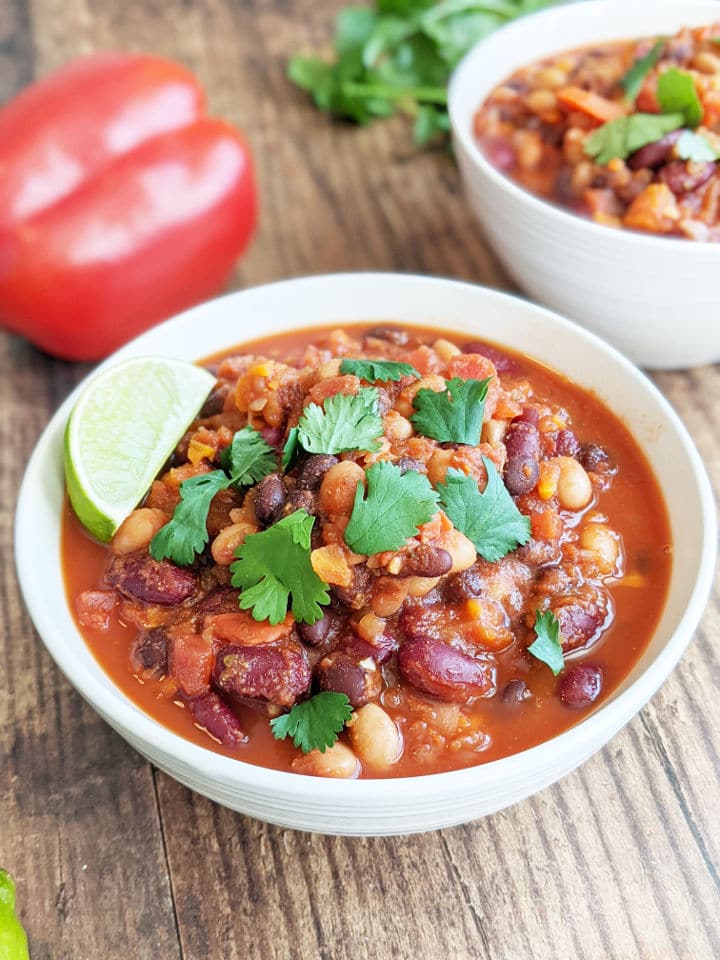 Does this sound familiar:
You find yourself wandering aisles of the grocery store aimlessly looking for inspiration.
You often have to throw out food because it spoils before you use it.
You can't figure out what to make even though you have a full fridge and/or are too tired to cook so you order takeout instead.
There's one simple solution that can not only save you time and stress but also money: meal planning!
Why meal plan
Meal planning is a simple yet powerful strategy that can help you stay on track. It helps immensely with consistency and forming new habits. Once you master meal planning, suddenly a plant-based diet starts to feel easy. Nourishing meals become the norm and you settle into a routine that produces healthy habits.
Benefits of meal planning:
Save time. Planning and preparing meals ahead of time can mean taking back your weeknights. With even just a small investment of an hour on the weekend, you now can come home to healthy and delicious meals each night!
Save money. With meals already prepared, you'll be less likely to buy takeout or expensive prepackaged foods. Armed with a plan that focuses on whole foods, you will be prepared to buy only the food you need for the week while at the grocery store.
Eat healthier. Already having delicious and nourishing meals prepared and within arm's reach means less temptation for unhealthy options. The consistency of meal planning helps with staying on track with health and fitness goals and takes the guesswork out of what to eat.
Meal planning can be easier said than done but there are resources out there that can help. Meal planning services make it incredibly easy but there is only one that is vegan, whole food plant-based, and completely customizable: the Health My Lifestyle Meal Planner.
What is the Health My Lifestyle Meal Planner?
It's not your average meal planning service. Others limit the flexibility and control you have over making meal plans that fit yours and your family's needs. Not so with this one.
It's designed to help you create highly customizable weekly meal plans based on your unique preferences. Choose from a database of hundreds of meal prep friendly, whole food, plant-based recipes with advanced filtering features to find exactly what you're looking for.
Creating a meal plan no longer takes hours, it takes minutes. And the smart system creates a shopping list based on the recipes and number of servings you want. That's right, you can create a grocery list with the tap of a button that you can edit and take with you to the store.
This service is a big deal in the plant-based community. It makes eating a healthy plant-based diet more practical and approachable with it's simple recipes and user-friendly application. Best of all, it is very affordable.
How does it work?
First, you set up how many days and meals you want to plan for. The beauty of this program is that you can plan out as many days as you need. You can plan only lunches, or only weeknight dinners, or every single meal and snack that you need. It's completely up to you.

Then you select recipes you'd like to make based on your preferences. You can select recipes based on meal type, cook time, calories per serving, ingredients, equipment needed, and dietary preference. There's options for gluten-free, soy-free, and nut-free and most recipes have an alternative suggestion if one of the three allergens is listed.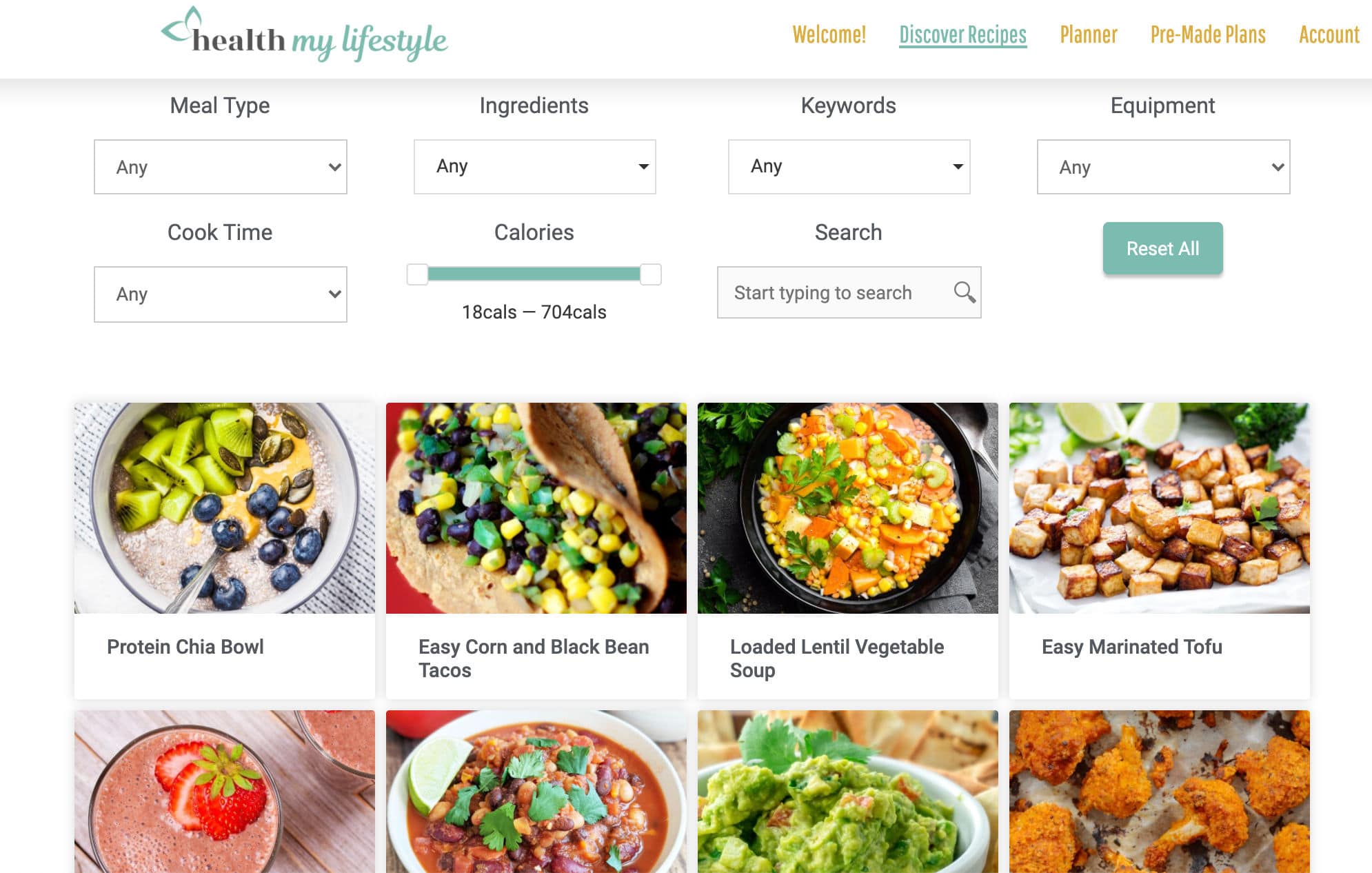 Add the recipes to your meal plan schedule for the days and meals you want. Then, adjust the servings to how many you need.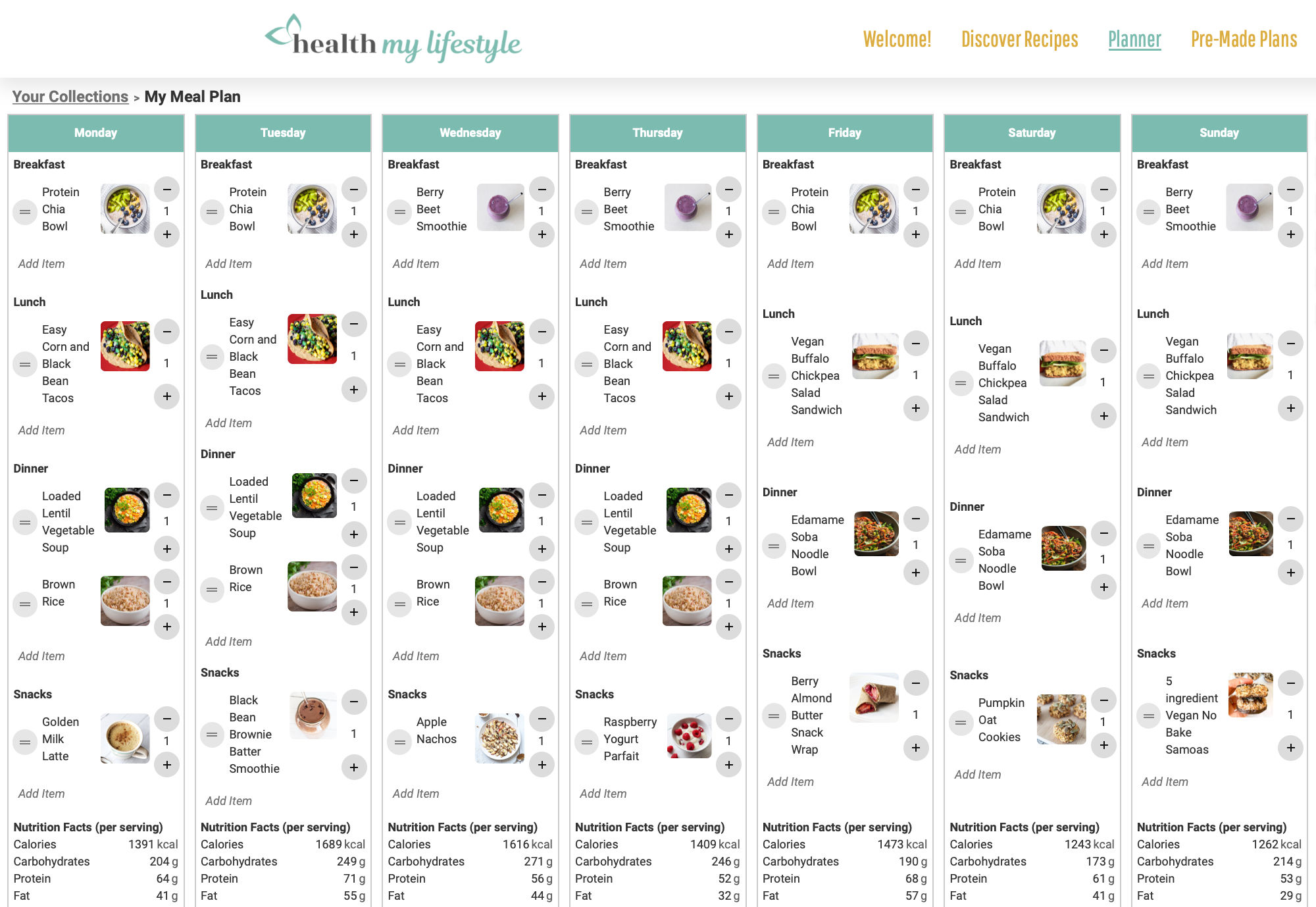 Based on your selections, the software instantly provides a detailed shopping list. Ingredients are itemized so you can quickly find them and cross them off the list, saving you time in store. No more forgetting items or accidentally buying duplicates.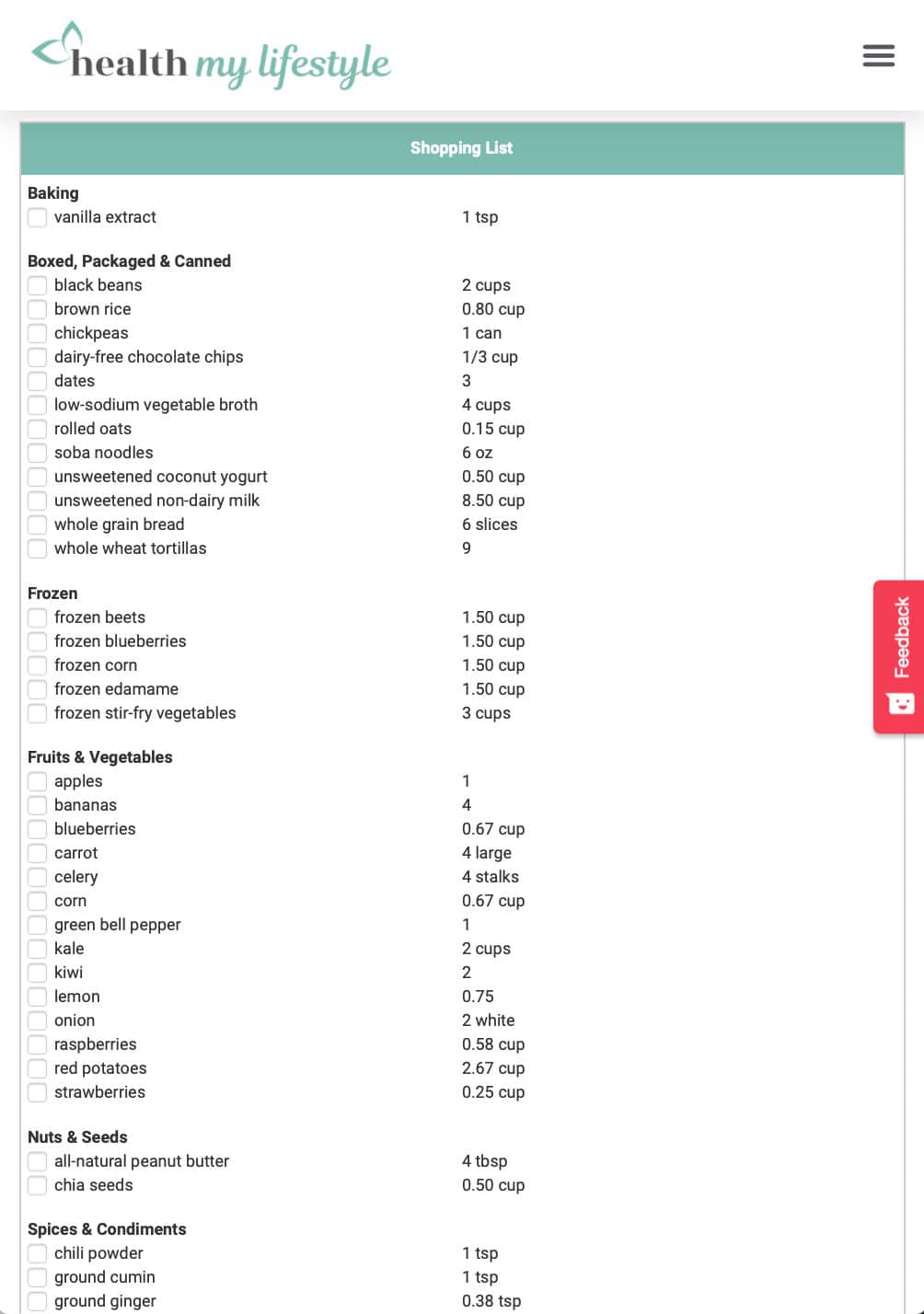 Not sure where to begin? There are also weekly pre-made meal plans to help get you started. Each week a new meal plan becomes available with options for breakfast, lunch, and dinner already planned out for 7 days. You can edit to add snacks, swap recipes, and adjust serving sizes to your needs. It doesn't get easier than that!
Find recipes you actually want to eat
The best part is the database of recipes has something for everyone and more are being added every week! You can find recipes like pasta, pizza, curry, tacos, chili—anything your heart desires! All whole food, oil-free, and 100% plant-based.
Join today and dive into all of our delicious recipes!
Why you'll love it
Recipes are meal prep friendly, include step-by-step instructions, and most can be made in 30 minutes or less, saving you tons of time!
The pre-made meal plans are designed with meal prep in mind to cook only twice a week so you can spend less time cooking and more time doing things you love.
No expensive or hard to find ingredients needed so you can shop anywhere and save money each time you go the grocery store with a plan.
Hundreds of whole food, plant-based, oil free and refined sugar free recipes all in one place! Gone are the days of scrolling through Pinterest trying to find a recipe that works for the whole family.
The Meal Planner is designed to save you a massive amount of time, money, and have zero stress around your plant-based lifestyle.
What you get when you join
Hundreds of whole food plant based recipes
New recipes every week
Easy to follow meal plans
Customizable to calories, family size, serving size, and personal preference
Full nutrition information
Automated grocery lists
No more wondering what to eat!
The degree to which you can customize your experience is truly incredible. You won't find this capability anywhere else!
FAQs
What if my whole family isn't plant-based?
No problem! The recipes are really easy to customize to allow for different eaters to enjoy them. For example, if you make a curry you can cook meat on the side for your family to add or if you're making pasta you can offer them parmesan to add to their individual plates. These are recipes the whole family will love so there's no need to cook more than one meal each night!
Am I able to add my own items to the shopping list or is it only ingredients from the recipes?
Yes! The shopping lists are editable so you can add your own items whether that's additional ingredients or household items. You can even send the link to a family member to allow them to edit and add items.
I use metric measurements, does the Meal Planner include those?
Absolutely! You can switch between US and metric measurements whenever you like. Both recipes and shopping lists have the ability to change measurements. Foodies from all over the world are enjoying the HML Meal Planner.
How much does it cost?
There are two payment options: $9.99/month or $79.99/year. The yearly option works out to be around $6.67 per month. Members can cancel or pause their membership at anytime right on the website.

If you're enjoying the Meal Planner I recommend the yearly plan to maximize savings, but honestly, having the Meal Planner is bound to save you so much money. It means no more takeout or prepackaged meals, fewer trips to the store, and less food waste. It's well worth it.
Nail down your meal routine
Changing your lifestyle can feel like an uphill battle. If you feel like you're spinning your wheels every night trying to figure out what to eat or you're struggling to find a routine that's sustainable, the Health My Lifestyle Meal Planner may just be your answer.