Have a recipe that calls for coconut vinegar and need to replace it? These are the best coconut vinegar substitutes! Many of these you probably already have in your pantry.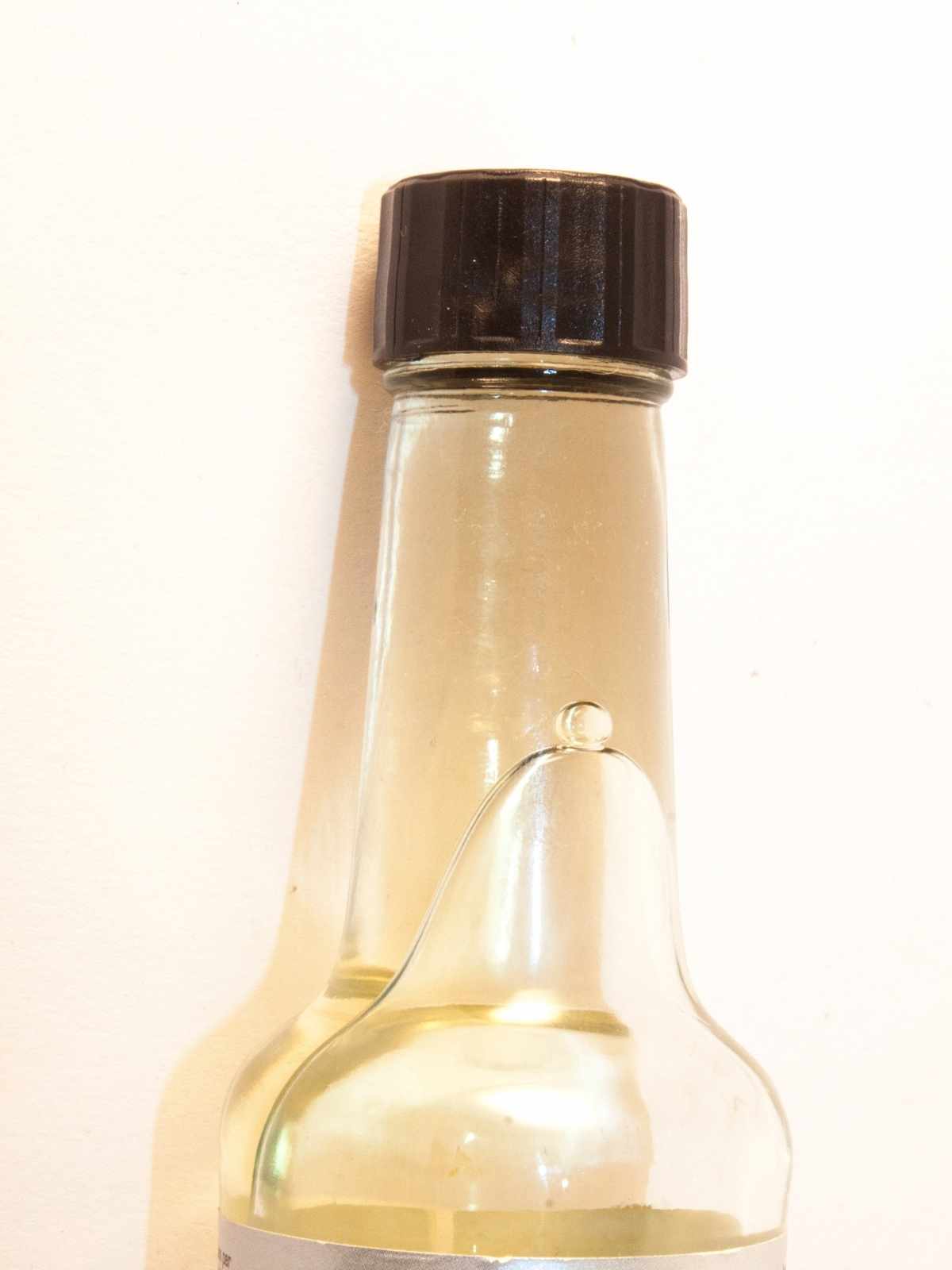 Jump to:
What is coconut vinegar?
Coconut vinegar is becoming increasingly popular as a cooking ingredient. It has a milder taste than some other vinegars, making it really versatile.
It's great in salad dressings but can also be used in sauces and marinades. Any time you need an acid, it can be used. That's because coconut vinegar is a type of acetic acid.
It's made from the sap of flowers from coconut trees, the same sap that produces coconut sugar. The sap is fermented for 8-12 months which turns it into vinegar.
Some manufacturers also make it from coconut water instead of the sap and add sugar to help it ferment.
It's commonly found in Southeast Asian cuisine but is becoming more popular worldwide. It you stumble across it in a recipe but don't have it on hand, don't worry. There's actually several ways to replace coconut vinegar.
Read on to see the best coconut vinegar substitutes and how to use them to get a similar result.
Where can you buy coconut vinegar?
Many health food stores like Whole Foods Market and Natural Grocers have it.
Even Walmart is starting to carry it but it appears to only be available by shipping at this time.
If you can't find it in stores you can buy coconut vinegar online. Or better yet, use the coconut vinegar substitutes below!
Benefits of vinegar
First off, what is vinegar? According to the FDA, it has to have 4% acetic acid to be labelled vinegar. This acid is formed by a two-step fermentation process.
It starts with yeast feeding on the sugar or starch from liquid found in plant foods. In this case it is the coconut sap. This ferments the liquid into alcohol.
The second step is exposing the liquid to oxygen which allows acetic acid bacteria Acetobacter to ferment it again, this time into acetic acid.
Acetic acid has potential health benefits—it may lower blood sugar, improve heart health, and boost the immune system. Just keep in mind that it needs to be diluted as it can damage the esophagus and enamel of your teeth. This typically isn't an issue as it's usually added to a sauce or dressing that sufficiently dilutes it.
Coconut vinegar does contain trace amounts of nutrients including probiotics and polyphenols, however it's much less than what you'd find if you just consumed the sap of coconut blossoms. Vinegar is also typically consumed in small amounts so in general it won't contribute many nutrients to your diet.
Regardless, most vinegars are free of sodium and sugar making it a great low-calorie source of flavor. This is great for people concerned about weight. Just make sure to check the label as not all vinegars are the same.
The indisputable benefit of vinegar is the tangy flavor and dimension it adds to dishes. If you feel like your dish is missing something, add a splash of vinegar! It makes a world of difference and should be a staple in every kitchen.
Best Coconut Vinegar Substitutes
If you can't find coconut vinegar, these are the best replacements. Not all vinegars are created equal and some work better than others when substituting coconut vinegar. Find the best alternatives below and how to use them to get a similar result!
White Rice Vinegar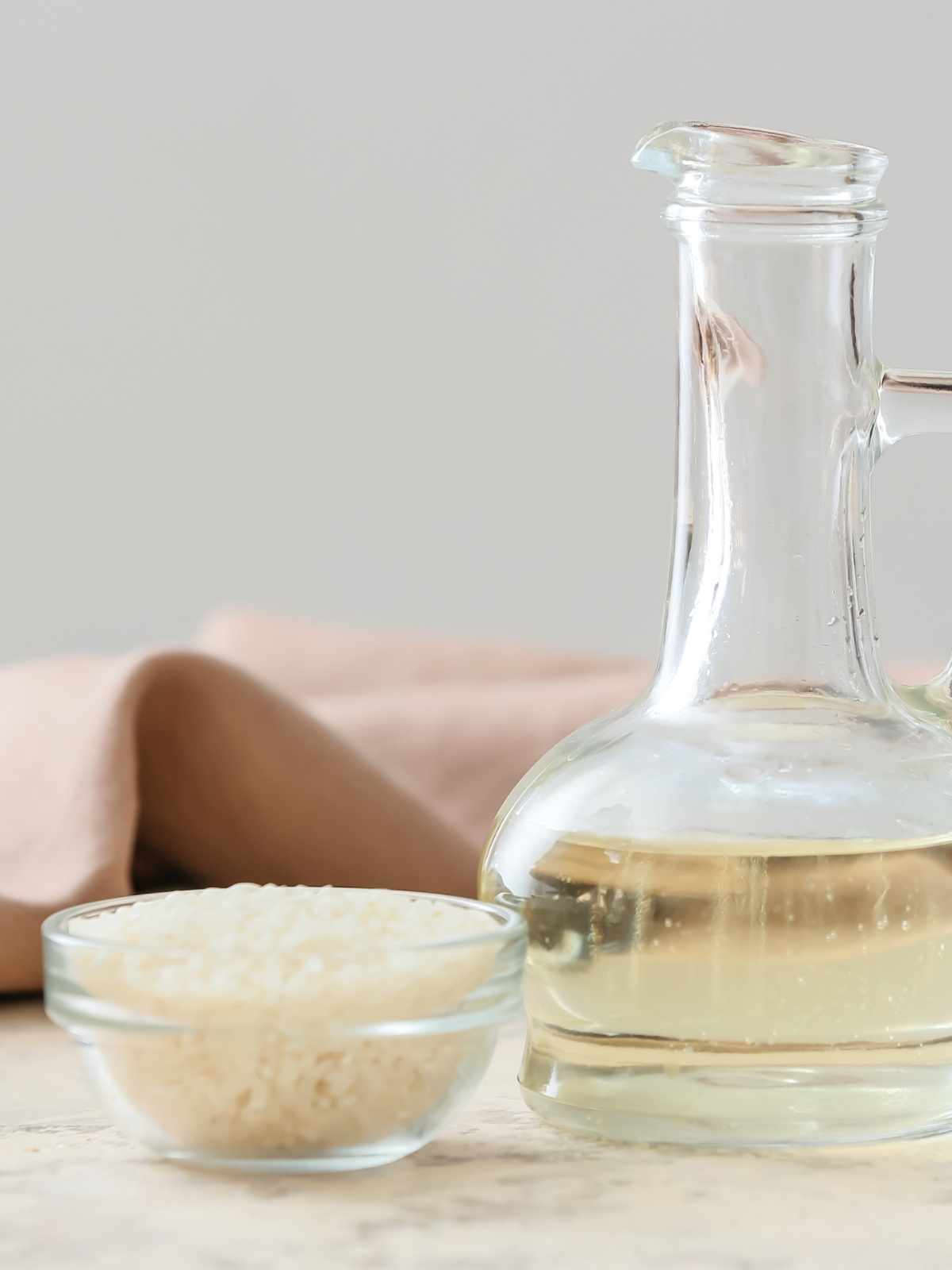 White rice vinegar, also know as rice vinegar or rice wine vinegar, is the best substitute overall. It has a similar color and subtle flavor, much like coconut vinegar. There's a hint of sweetness and it is less acidic than other vinegars.
Don't get it confused with white vinegar. White rice vinegar is very different than plain old white distilled vinegar.
Use 1 cup white rice vinegar for 1 cup coconut vinegar.
Champagne Vinegar
This is different from white wine vinegar which we'll get into in a bit. Champagne vinegar has a mild floral flavor and is made from Chardonnay or pinot noir grapes.
Its mild flavor allows it to be versatile, much like coconut vinegar. This makes it a great substitute!
Use 1 cup champagne vinegar for 1 cup coconut vinegar.
Apple Cider Vinegar
Apple cider vinegar is a bit stronger in flavor than coconut vinegar but is still a good alternative. It's also easier to find and there's a good chance you already have it in your pantry.
Use 1 cup apple cider vinegar for 1 cup coconut vinegar.
Lemon Juice
Lemon juice is a common acid used in a lot of recipes and is a great coconut vinegar substitute. Keep in mind that it will impart a lemony flavor to the final dish if used in large enough amounts.
You can use lemon juice in place of coconut vinegar 1:1.
Balsamic vinegar
Balsamic vinegar originated in Italy and is made from grape must (crushed grapes including the skin, seeds and stems). Traditional balsamic vinegar is aged very slowly. The older it is, the more intense the flavor and the thicker the consistency.
There's also balsamic vinegar of Modena which is a mixture of grape must and wine vinegar. This one is more common to find in grocery stores and has a thinner consistency closer to coconut vinegar.
Lastly, there's non-traditional balsamic vinegars that may be sweeter and have sugar added. Check the ingredient label to know what you're getting.
Whichever balsamic vinegar you choose will add a darker color to the final dish but can typically replace coconut vinegar 1:1.
Use 1 cup balsamic vinegar for 1 cup coconut vinegar.
Malt Vinegar
Malt vinegar is made from malted barley that has been fermented. It has a stronger tart flavor than coconut vinegar. It's most commonly used for topping fish and chips.
Distilled versions are lighter in color, almost clear. Non-distilled can range from light to dark brown.
Use 1 cup malt vinegar to 1 cup coconut vinegar.
White Vinegar
White vinegar, or distilled white vinegar is a decent alternative in a pinch. You are probably very familiar with this one and most likely already have it in your pantry. It's used for a range of things from sauces and baking, to even cleaning.
It's typically 5% acetic acid making it much stronger than coconut vinegar.
Use ½ cup white distilled vinegar to 1 cup coconut vinegar. To keep the liquid ratio equivalent in your recipe, replace the other half with water.
Fruit Infused Vinegars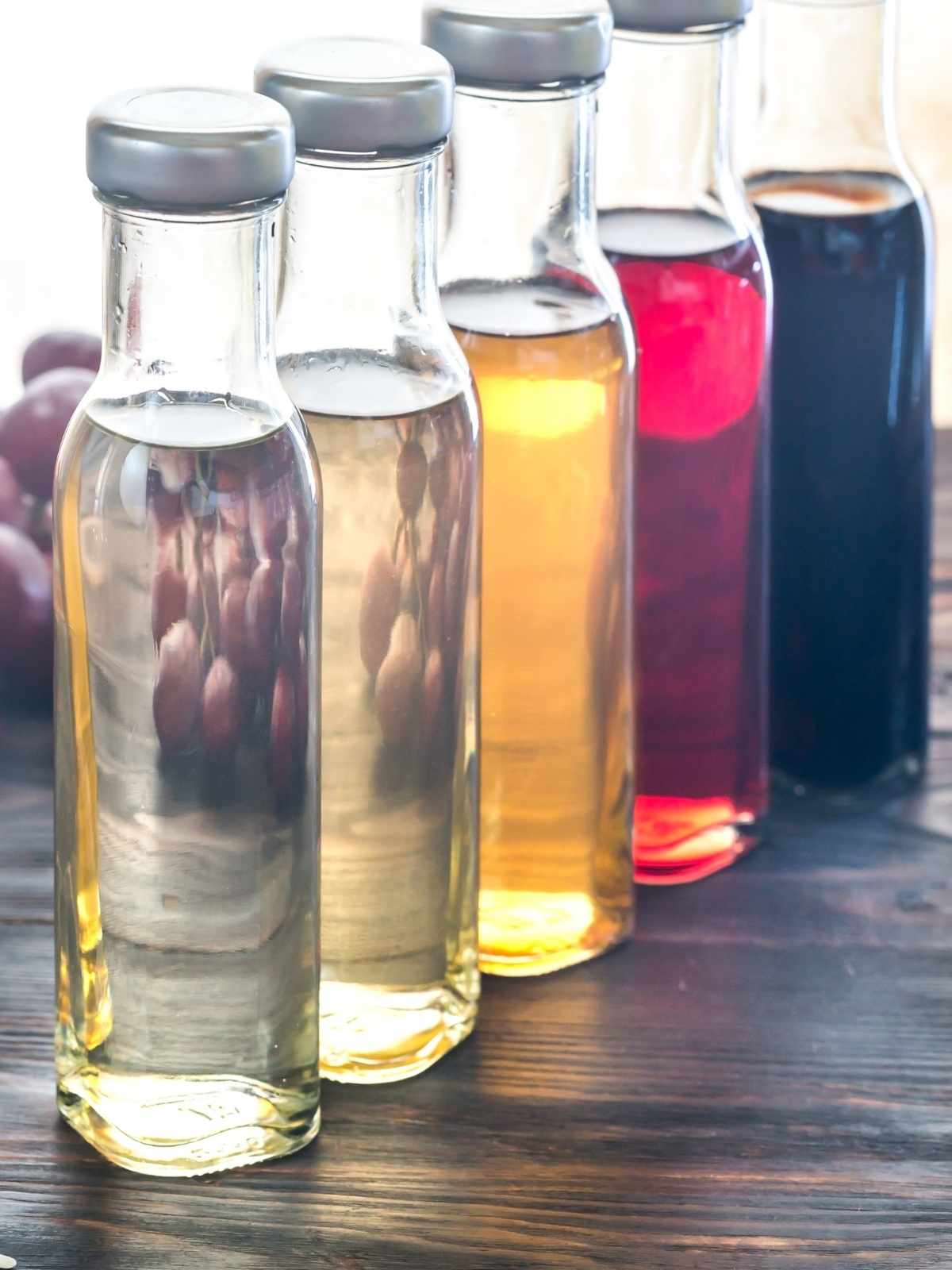 These types of vinegar are lumped together because they all tend to have a mild fruity flavor and are less intense than white distilled vinegar. They may have a sweet flavor so keep that in mind when replacing coconut vinegar and the type of dish you're adding it to. Overall they make a good substitute for coconut vinegar.
Some examples of fruit infused vinegars include strawberry vinegar, pomegranate vinegar, raspberry vinegar, blackberry vinegar and more.
Really any fruit can be used. In fact, you can even make your own at home. Use one cup fruit with two cups of red wine vinegar or white wine vinegar and two teaspoons of sugar. Add to a sealable jar and chill in the refrigerator for 1-2 days. Strain out the fruit and keep the vinegar stored in an airtight container in the refrigerator.
Use fruit infused vinegar 1:1 to replace coconut vinegar.
Wine
Red wine, white wine, or even cooking sherry can be a good choice when wanting to add complexity to a dish without vinegar. Although the result won't be exactly the same, this can be a good option in a pinch.
Use wine 1:1 to replace coconut vinegar.
Homemade Coconut Vinegar
If you have the patience and want coconut vinegar without the high price tag, you can make a coconut infused vinegar to replicate coconut vinegar.
There are also various ways to make coconut vinegar from coconut water but they require more steps and more time to make. This is just a fast alternative! See the recipe card below for the full process.
You can use homemade coconut vinegar 1:1 with store-bought coconut vinegar.
Frequently Asked Questions
What is coconut vinegar used for?
Coconut vinegar is commonly found in Southeast Asian cuisine. It's used to flavor dishes such as curry, fish, sauces and dips, dressings, chutneys and more.
Is apple cider vinegar the same as coconut vinegar?
Both are vinegars containing acetic acid but they are not the same thing. They are made from different plant sources thereby imparting different flavors into the final vinegar. Coconut vinegar tends to have a less acidic taste compared to apple cider vinegar. However, they can typically be interchangeable in recipes.
Can you drink coconut vinegar?
Yes, you can drink coconut vinegar but it must be diluted. Mix one tablespoon of coconut vinegar with 8 ounces of water.
Recipes with vinegar
Vinegars can be used in a variety of ways from adding to a sauce or marinade, mixing into a salad dressing like a vinaigrette, flavoring stir fries or curries, or used in baking to help with leavening.
Here are a bunch of recipes to try that use vinegar!
📖 Recipe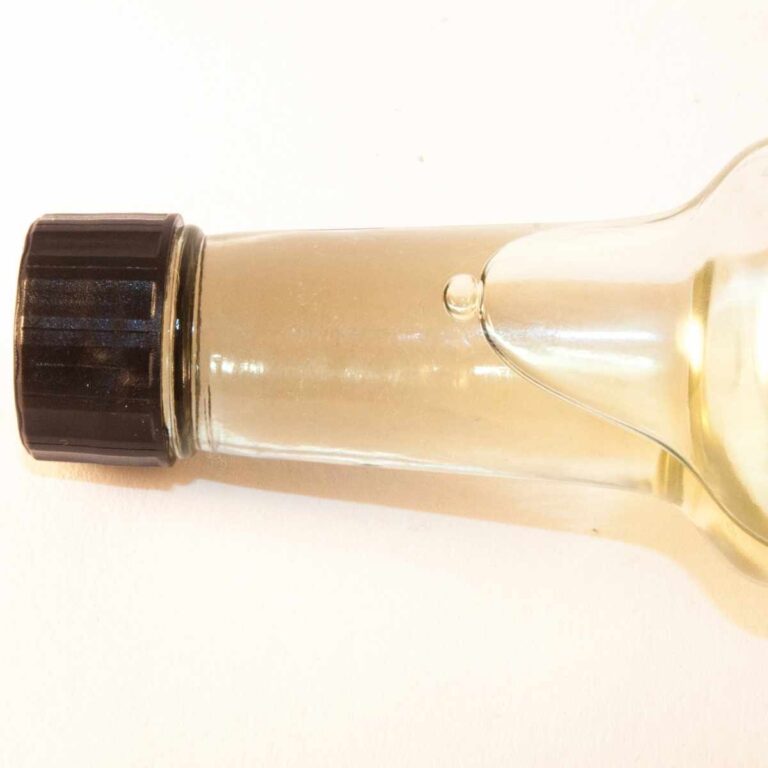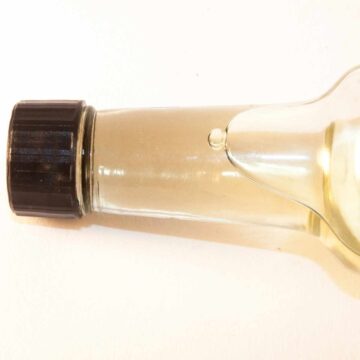 Easy Coconut Infused Vinegar
This easy coconut infused vinegar makes a great coconut vinegar substitute! You only need two ingredients to make it!
Print
Pin
Rate
Ingredients
1

cup

unsweetened shredded coconut

1 ½

cups

vinegar

,

rice vinegar, white wine vinegar, or white balsamic vinegar
Instructions
Combine the coconut and vinegar in a pan over medium heat and heat until steaming but not boiling for 20 minutes, stirring occasionally.

Remove from heat and allow to cool at room temperature for 1 hour. Transfer to a clean mason jar and seal. Store in a cool, dark place such as a pantry for 2-7 days depending on your flavor preference. The longer it sits, the stronger the coconut flavor.

When it's to your liking, strain the vinegar to remove the coconut. Store the coconut in an airtight container in the refrigerator for up to a week and reused in stir fries and curries if desired. Pour the strained vinegar into a sterile glass jar or bottle and seal. Your coconut infused vinegar can be stored at room temperature for up to 6 months or in the refrigerator for longer.
Notes
One serving is approximately 2 tablespoons of vinegar.
Nutrition Per Serving
Calories:
6
kcal
Carbohydrates:
1
g
Sodium:
1
mg
Potassium:
1
mg
Sugar:
1
g
Calcium:
2
mg
Iron:
1
mg