Need some help losing weight on a vegan diet? You've come to the right place!
Starting a vegan diet is one thing, but starting a vegan diet to lose weight is a whole other thing.
Read on to see how to lose weight on a vegan diet with this easy to follow meal plan!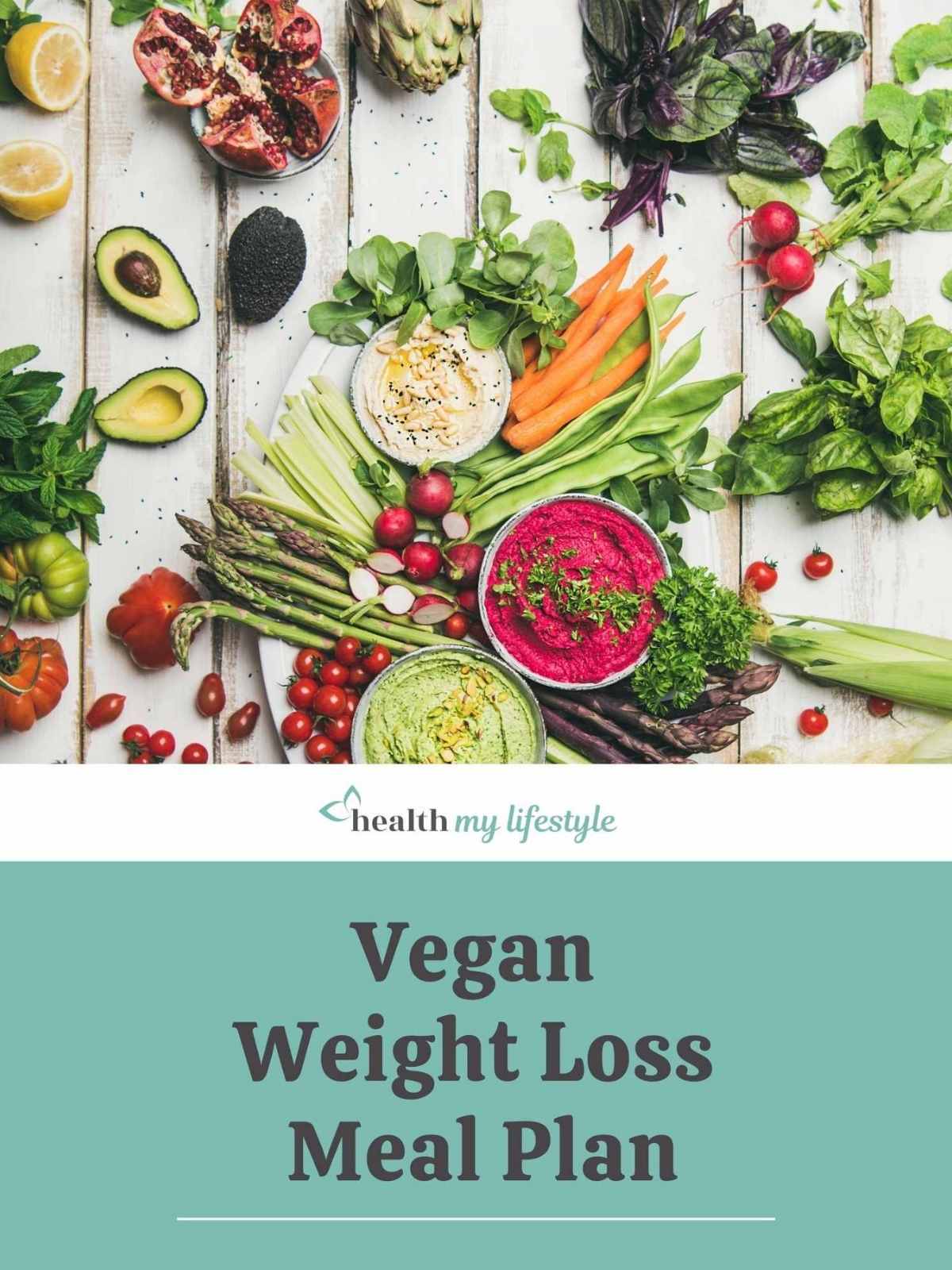 Jump to:
How to lose weight on a vegan diet
It's important to keep in mind that eating a vegan diet does not automatically equate to weight loss. There's plenty of vegan junk food readily available now so just because it's labeled vegan doesn't mean it's healthy or will aid in weight loss.
So how does one lose weight?
Weight loss as a concept is very simple. It comes down to calories in versus calories out. You want to burn more calories than you're consuming.
To better understand this, I have a whole article on how weight loss works on a vegan diet. This will give you a more in depth view on how weight loss works and what you can do to make it sustainable on a vegan diet.
Starting any diet to lose weight can be overwhelming so to make life easier, I created this simple vegan meal plan for weight loss. This meal plan utilizes the research from my vegan weight loss article and puts it into an actionable plan!
How to use this vegan weight loss plan
Disclaimer: This vegan meal plan is meant to be used for educational purposes for adults 18 years and older and is not designed for those that are pregnant or breastfeeding. This does not replace advice from a medical professional or registered dietitian. Talk to your doctor before starting a new diet.
This meal plan focuses on a low-fat, whole food plant-based diet. This means focusing on foods in their whole, unprocessed form such as fruits, vegetables, whole grains, beans, legumes, nuts and seeds. It aims to avoid animal products and highly processed foods, though some minimally processed foods in moderation such as soy milk or whole grain bread are included.
Whole foods are the easiest way to maintain a calorie deficit and promote weight loss without having to go hungry all the time. Whole foods are more filling and less calorie dense, so they fill us up without overeating.
You're probably thinking this sounds completely unappetizing, and I hear you. I thought the same thing too at first but the key to great tasting food is seasonings and sauces. We're not eating big boring salads here.
To make weight loss sustainable, I've brought you the best recipes that are not only healthy, but delicious too (with the most incredible seasonings and sauces)! Meals you'll actually look forward to eating. No will power needed!
This is the best way to lose weight. When you enjoy what you're eating it doesn't feel like a diet.
Customize the meal plan to your unique needs
This meal plan has lower calories (average 1200 calories per day) as a baseline so that you can build upon it and customize it to your unique needs by adding servings, snacks and dessert.
For sustainable weight loss, it is recommended to decrease maintenance calories by no more than 15%. When you go above 20% it can be difficult to maintain and can lead to nutrient deficiencies. If you're not sure what your maintenance calories are, you can use this easy vegan calorie calculator.
For example, if you calculate that your maintenance calories (the amount of calories to maintain your current weight) is 2000 calories, then you should aim to consume around 1,700 calories per day for sustainable weight loss.
When using the meal plan below, this example allows you to add 500 calories of snacks, extra meals or desserts. Feel free to use any of the recipes on this website!
You can also swap out the meals if they are not to your liking. Just look for recipes with similar calories per serving. All recipes on this website come with the full nutrition information.
Week 1 Vegan Weight Loss Meal Plan
Monday
Breakfast: Banana Cream Pie Smoothie
Lunch: 2 servings of Crispy Vegan Tofu Tacos
Dinner: One-Pot Vegan Feta Pasta
Tuesday
Breakfast: Scrambled Tofu Breakfast Sandwich
Lunch: 2 servings of Crispy Vegan Tofu Tacos
Dinner: One-Pot Vegan Feta Pasta
Wednesday
Breakfast: Banana Cream Pie Smoothie
Lunch: Vegan Hearts of Palm Ceviche with a handful of tortilla chips
Dinner: One-Pot Vegan Feta Pasta
Thursday
Breakfast: Scrambled Tofu Breakfast Sandwich
Lunch: Vegan Hearts of Palm Ceviche with a handful of tortilla chips
Dinner: Chili Sin Carne
Friday
Breakfast: Protein Chia Bowl
Lunch: Chili Sin Carne
Dinner: Edamame Quinoa Stir Fry Bowl
Saturday
Breakfast: Fluffy Vegan Pancakes with berries and maple syrup
Lunch: Edamame Quinoa Stir Fry Bowl
Dinner: Chili Sin Carne
Sunday
Breakfast: Fluffy Vegan Pancakes with berries and maple syrup
Lunch: Chili Sin Carne
Dinner: Edamame Quinoa Stir Fry Bowl
Week 2 Vegan Weight Loss Meal Plan
Monday
Breakfast: Banana Bread Overnight Oats
Lunch: Sweet Potato and Chickpea Mason Jar Salad with Maple Tahini Dressing
Dinner: Vegan Pasta Bake
Tuesday
Breakfast: Banana Bread Overnight Oats
Lunch: Sweet Potato and Chickpea Mason Jar Salad with Maple Tahini Dressing
Dinner: Vegan Pasta Bake
Wednesday
Breakfast: Zesty Raspberry Smoothie
Lunch: Sweet Potato and Chickpea Mason Jar Salad with Maple Tahini Dressing
Dinner: Vegan Pasta Bake
Thursday
Breakfast: Chocolate Peanut Butter Banana Protein Smoothie
Lunch: Mediterranean Nourish Bowl
Dinner: One-Pot Coconut Lentil Curry
Friday
Breakfast: Strawberry Oatmeal Breakfast Smoothie
Lunch: One-Pot Coconut Lentil Curry
Dinner: Mediterranean Nourish Bowl
Saturday
Breakfast: Strawberry Oatmeal Breakfast Smoothie
Lunch: Summer Blackberry Salad with Cashew Ricotta
Dinner: One-Pot Coconut Lentil Curry
Sunday
Breakfast: Thick Mixed Berry Smoothie
Lunch: One-Pot Coconut Lentil Curry
Dinner: Summer Blackberry Salad with Cashew Ricotta
FAQ's