If your reaction to hearing the word tempeh is "huh?" Don't worry, we're going to lift the veil on this vegan protein source and make you an expert!
It's a really versatile plant protein that can be used in so many dishes, making it an excellent ingredient to keep on hand. It can be a little intimidating at first if you've never cooked with it before, but don't worry, after this post you'll be cooking it with confidence!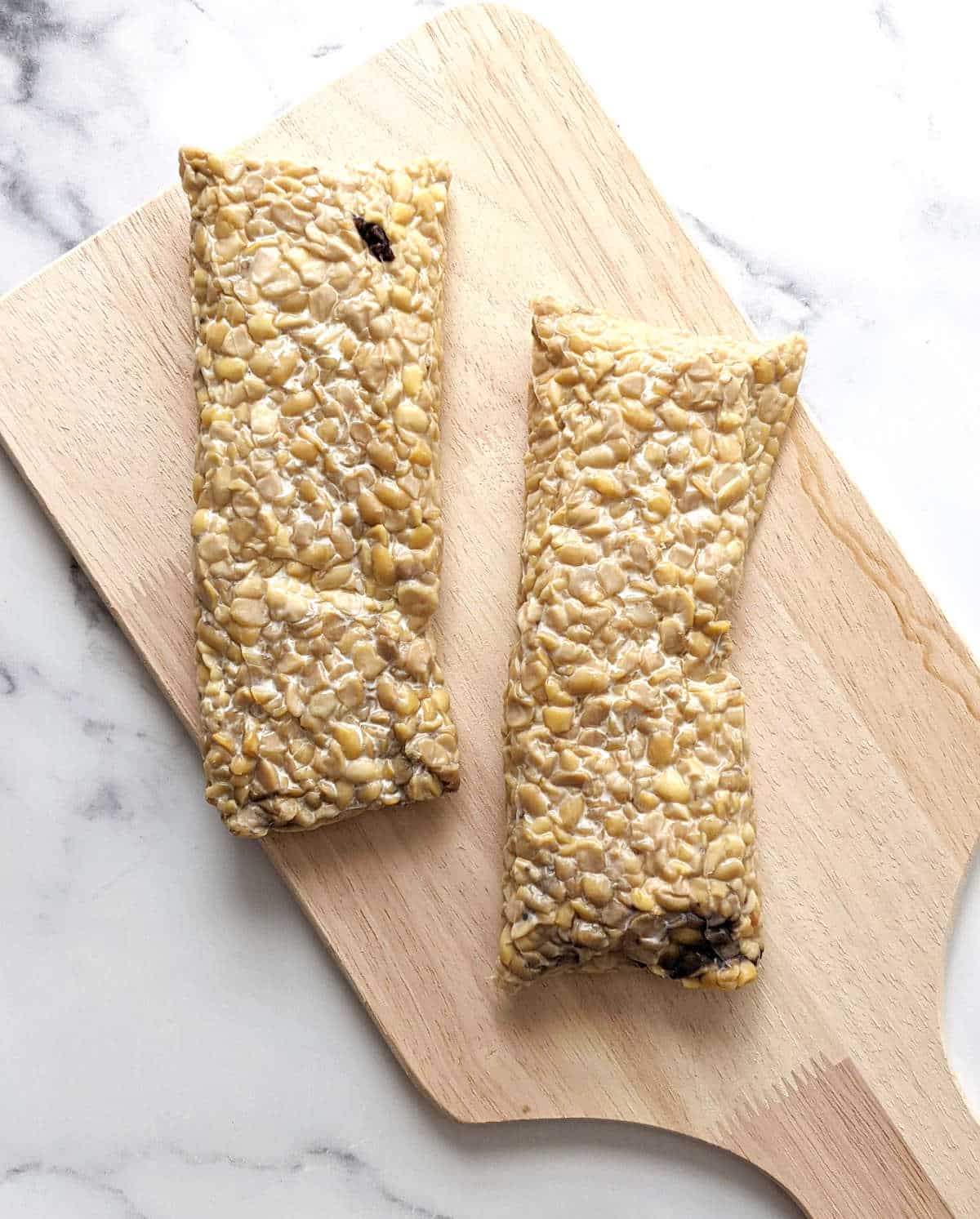 Jump to:
What is tempeh?
Tempeh is a lot like tofu in that it is also made out of soybeans, but in their whole form. Tofu is smoother and more cohesive because it's made out of soy milk from blended soy beans.
Tempeh contains the whole bean and is fermented. It has a firmer, meatier texture than tofu and a bit of a nutty, mushroomy flavor.
It originated in Indonesia on the Island of Java possibly several hundred years ago to a thousand or more. A fungus is used to ferment the soy beans in a process that binds the soy beans into a cake form.
The soybeans are softened first by soaking, dehulled, and then partly cooked. You'll find store-bought ones may also contain other types of beans, wheat, or whole grains.
It can look a little off-putting as some gray or black patches may form on the surface but this is not harmful and does not affect the flavor or quality of the tempeh.
The flavor of tempeh will vary depending on the manufacturer, ranging from mildly nutty to distinctly fermented. It all depends on your taste preference and may require trying a couple brands.
It can be an acquired taste, but when following this guide, it is not a difficult one to acquire! Read to the end for a tasty marinade that makes tempeh irresistible!
You may see it spelled as tempe in other parts of the world but tempeh is the most commonly used spelling in the U.S. to prevent it from being pronounced temp, as it is pronounced tem-pay.
Is tempeh gluten free?
Many brands are gluten-free but it's always best to check the package as it may contain whole grains such as wheat. Most of the time you'll see it mixed with brown rice which is gluten-free.
Some other soy products do contain gluten such as soy sauce but tamari and liquid aminos are good alternatives if you're gluten-free. That's something to keep in mind as a lot of marinades for tempeh use soy sauce.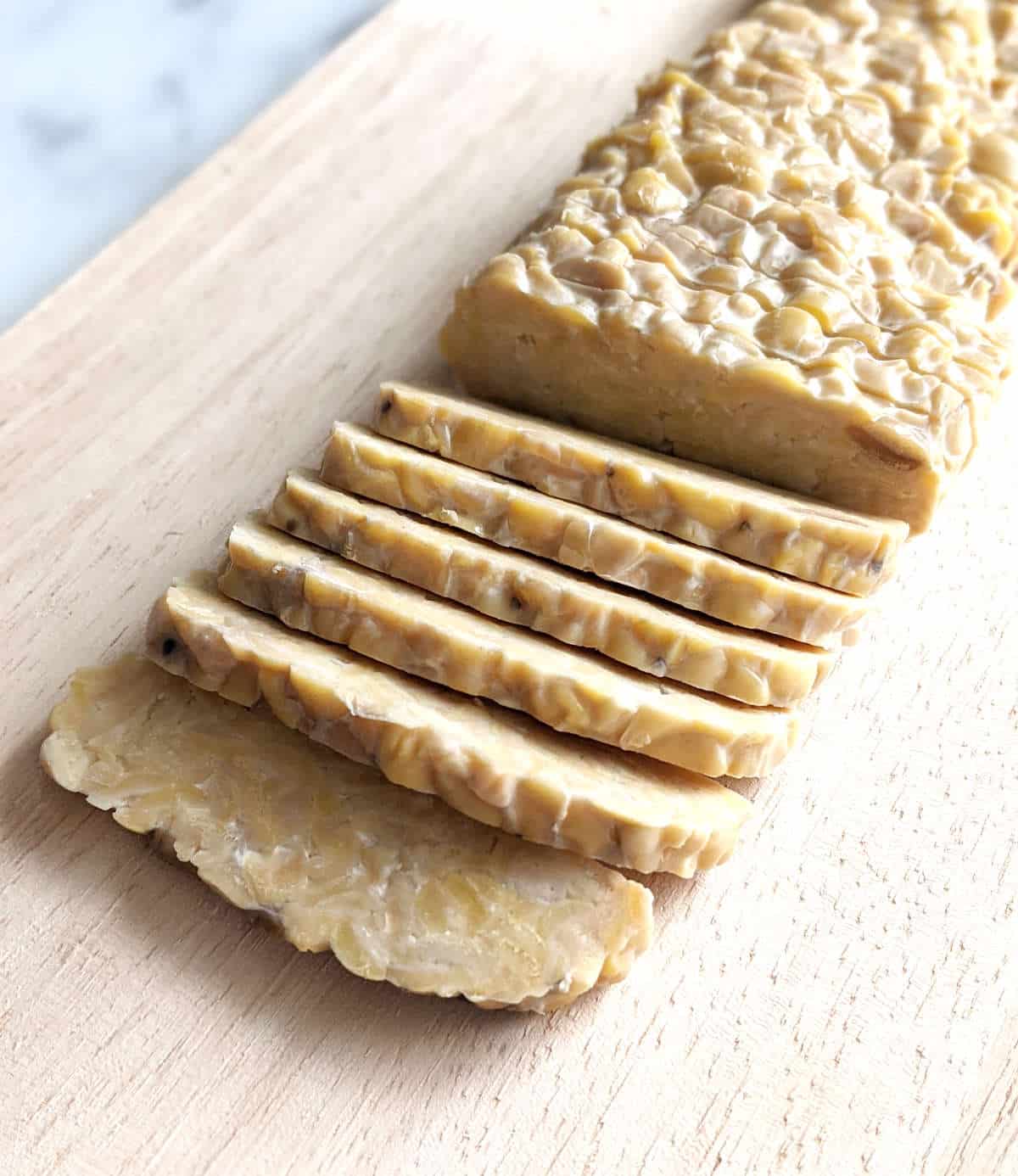 Nutrition
The retention of the whole bean in tempeh gives it a higher content of protein, dietary fiber, and vitamins.
A 3-ounce serving of tempeh has a whopping 18 grams of protein! That's pretty impressive for a plant!
The fermentation process also makes the fiber more digestible and the oligosaccharides associated with gas and indigestion are greatly reduced by the culture used to ferment.
The fermentation process also reduces phytic acid. Phytic acid can prevent the body from absorbing some minerals that soy provides. This allows those minerals to be more bioavailable in tempeh. Score!
Preparation and cooking
You can eat tempeh plain but it is best when seasoned with a marinade or dry rub as it absorbs flavors well.
You can even eat it raw if it is pasteurized (which most store-bought is) but again, flavoring it will really take it to the next level.
You can cube it, slice it, crumble it, or cut it into any shape your heart desires. Then marinate it for at least 20-30 minutes before cooking.
Some swear by steaming it for 10 minutes first to soften it a bit and put some moisture back into it. This may help it absorb more flavor in the marinating step but I honestly don't find it necessary as it still tastes great without steaming.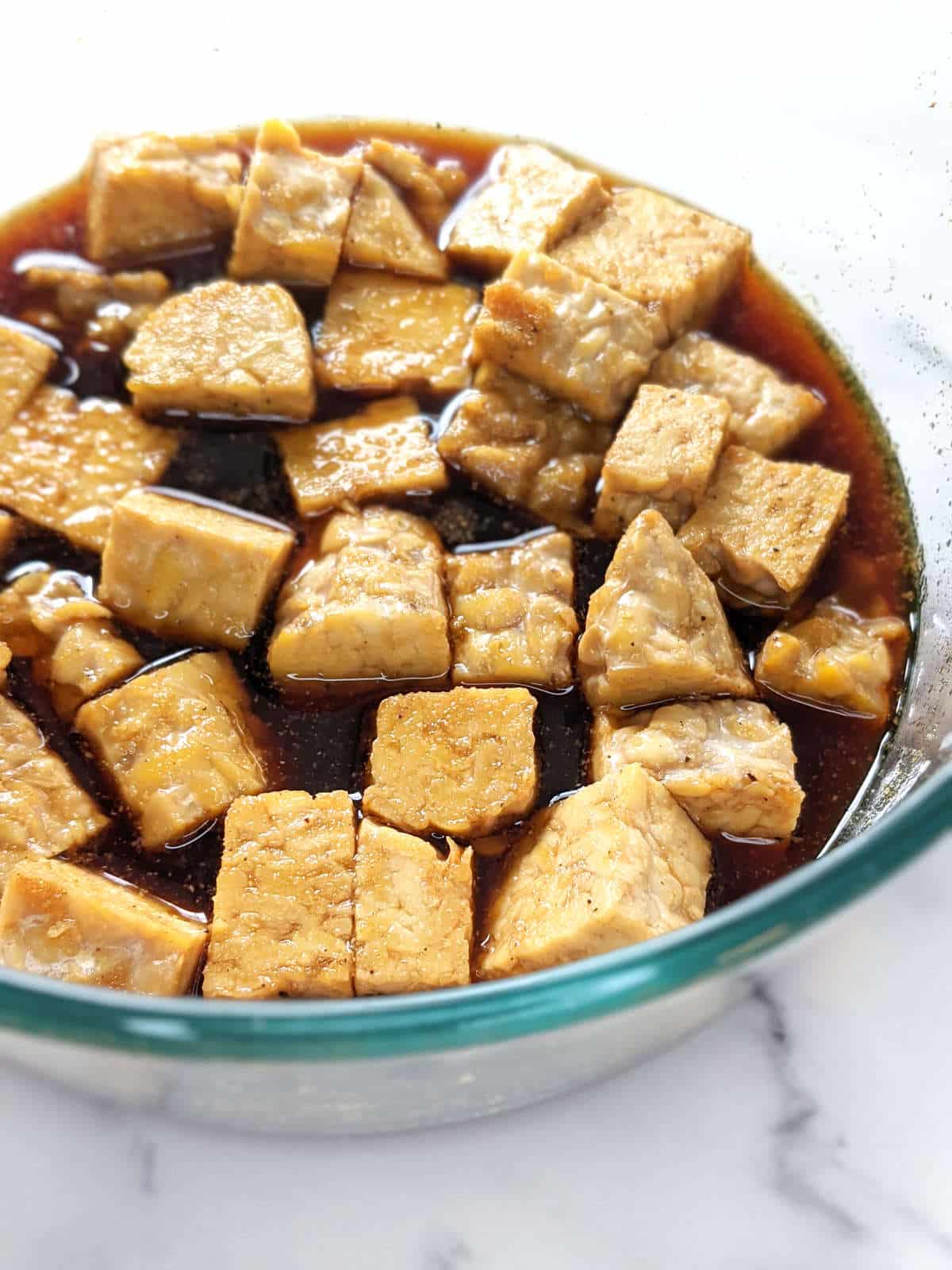 Marinade ideas:
Soy sauce, tamari, or liquid aminos
Liquid smoke
Lemon juice
Apple cider vinegar
Maple or agave syrup
Dijon mustard
Minced garlic
Ground ginger
Check out the marinade recipe in the recipe card below for my favorite tempeh marinade! It is seriously the best!
Dry rub ideas:
Use any of your favorite spices such as paprika, garlic powder, turmeric, coriander, cumin, oregano, chili powder, etc.
How to cook it
Cooking with tempeh is rather easy as you don't have to worry about heating it to a certain temperature like you do with meat. However, if you like it crispy, read on to see my techniques.
In a skillet, heat a few tablespoons of vegetable broth or marinade. Once heated, add the tempeh. Cook on one side for about 3 minutes, until it turns golden brown and crispy, then flip and cook the other side.
In the oven, line a baking sheet with parchment paper or a silicone mat. Place the tempeh pieces in a single layer on the baking sheet. Bake at 350F for about 20 minutes (10 minutes if using an air fryer), or until the edges are lightly browned and crispy.
Which method is best? I've found that air frying tempeh gets it the most crispy but all methods result in delicious tempeh!
How to serve
Cooked tempeh can be eaten on its own but it also makes an excellent meaty addition to almost any dish!
Add tempeh to nourish bowls, salads, sandwiches, wrap, stir fries, soups and stews. Crumble it and use as a ground beef replacement in tacos, pasta sauce, or chili.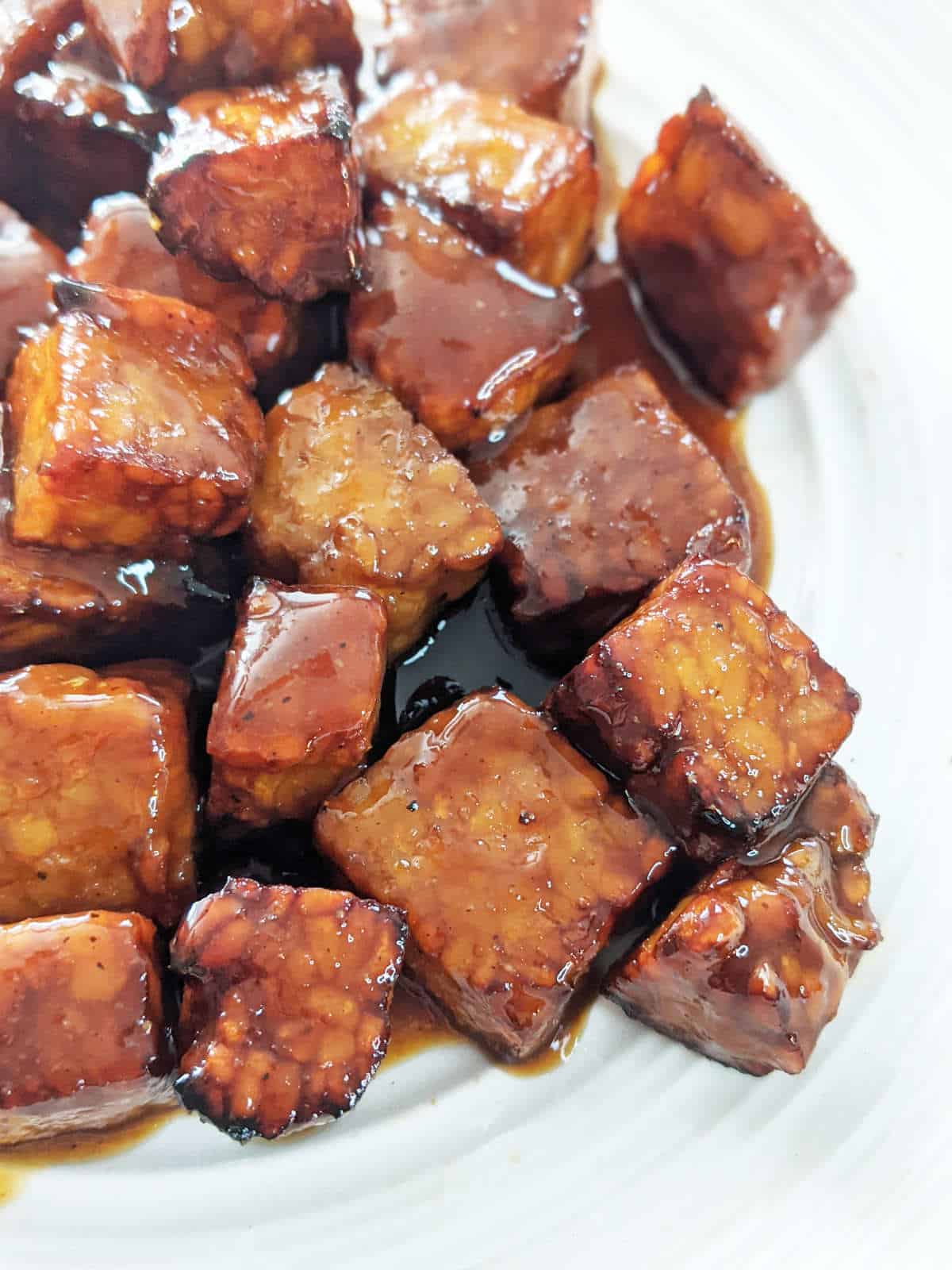 Where to buy
You can find it in most supermarkets in the produce or refrigerated section and also in most Asian markets or health food stores.
It is usually in a vacuum-sealed plastic package and is sometimes even pre-marinated with different flavors, such as a smoked flavor for making 'bacon.'
How to store
It can last for up to 10 days in the refrigerator if left unopened depending on if it was steamed or blanched before packaging. If opened, wrap tightly and refrigerate for 5-7 days.
Tempeh is perishable and must be kept refrigerated or frozen. Make sure to store tempeh in a single layer as stacking can cause overheating and the gradual continuation of fermentation can occur.
Tempeh also freezes well and can last for months in a freezer with minimal loss of texture and flavor.
More plant-based protein sources
New to plant-based and not sure the best protein sources are? Here are some of my favorites:
Seitan
Whole grains like quinoa or brown rice
Beans
Nuts & seeds
RELATED: The top high protein plant-based sources
The following marinade recipe works great for any plant-based protein you want to give more flavor to but I especially love it on tempeh.
📖 Recipe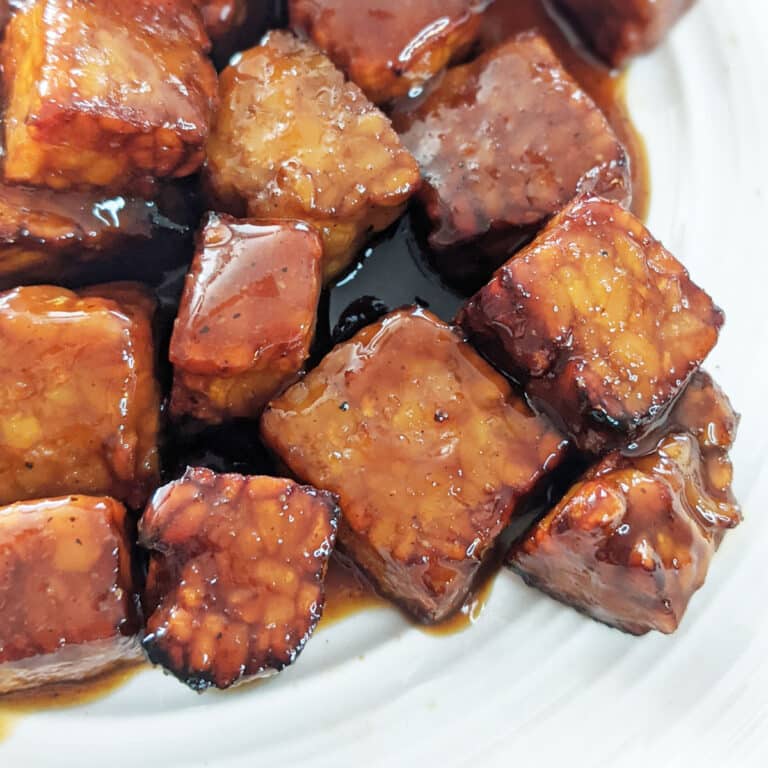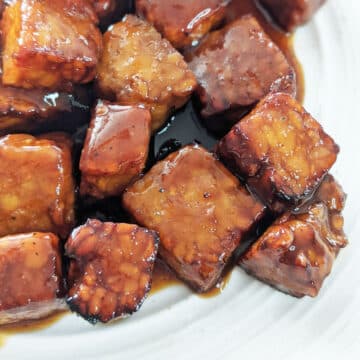 Sticky Tempeh Marinade
This easy marinade is an explosion of flavor, making tempeh irresistible. It's sticky, savory, and incredibly easy to make!
Print
Pin
Rate
Ingredients
¼

cup

soy sauce

,

*tamari or liquid aminos work too

¼

cup

water

2

tablespoons

maple syrup

½

teaspoon

liquid smoke

½

teaspoon

garlic powder

½

teaspoon

onion powder

½

teaspoon

black pepper

1

tablespoon

cornstarch

,

+ 2 parts cold water
Instructions
Add all the ingredients to a small mixing bowl and whisk together.

Pour over sliced tempeh and allow to marinate for at least 20-30 minutes.

Remove tempeh from marinade and cook the tempeh in your preferred cooking method (see above article for cooking options).

In a skillet over medium heat, add the leftover marinade. In a small bowl, whisk together the cornstarch with cold water to form a slurry and add to the marinade. Stir in and bring to a boil.

Boil for a minute, then turn down to a simmer and cook for 3-5 minutes until it thickens, stirring constantly.

Add your cooked tempeh into the marinade and stir to coat. The thickened marinade will stick to the cooked tempeh and create a super flavorful sticky coating. Yum!
Notes
*In order to be gluten free, use liquid aminos.
Nutrition Per Serving
Calories:
46
kcal
Carbohydrates:
10
g
Protein:
2
g
Fat:
1
g
Saturated Fat:
1
g
Sodium:
814
mg
Potassium:
64
mg
Fiber:
1
g
Sugar:
6
g
Vitamin A:
1
IU
Vitamin C:
1
mg
Calcium:
17
mg
Iron:
1
mg