Nutritional yeast is a staple in the vegan pantry. It provides a cheesy, nutty flavor that would otherwise be missing without cheese. But what do you do when you don't have any or can't have it due to a yeast intolerance?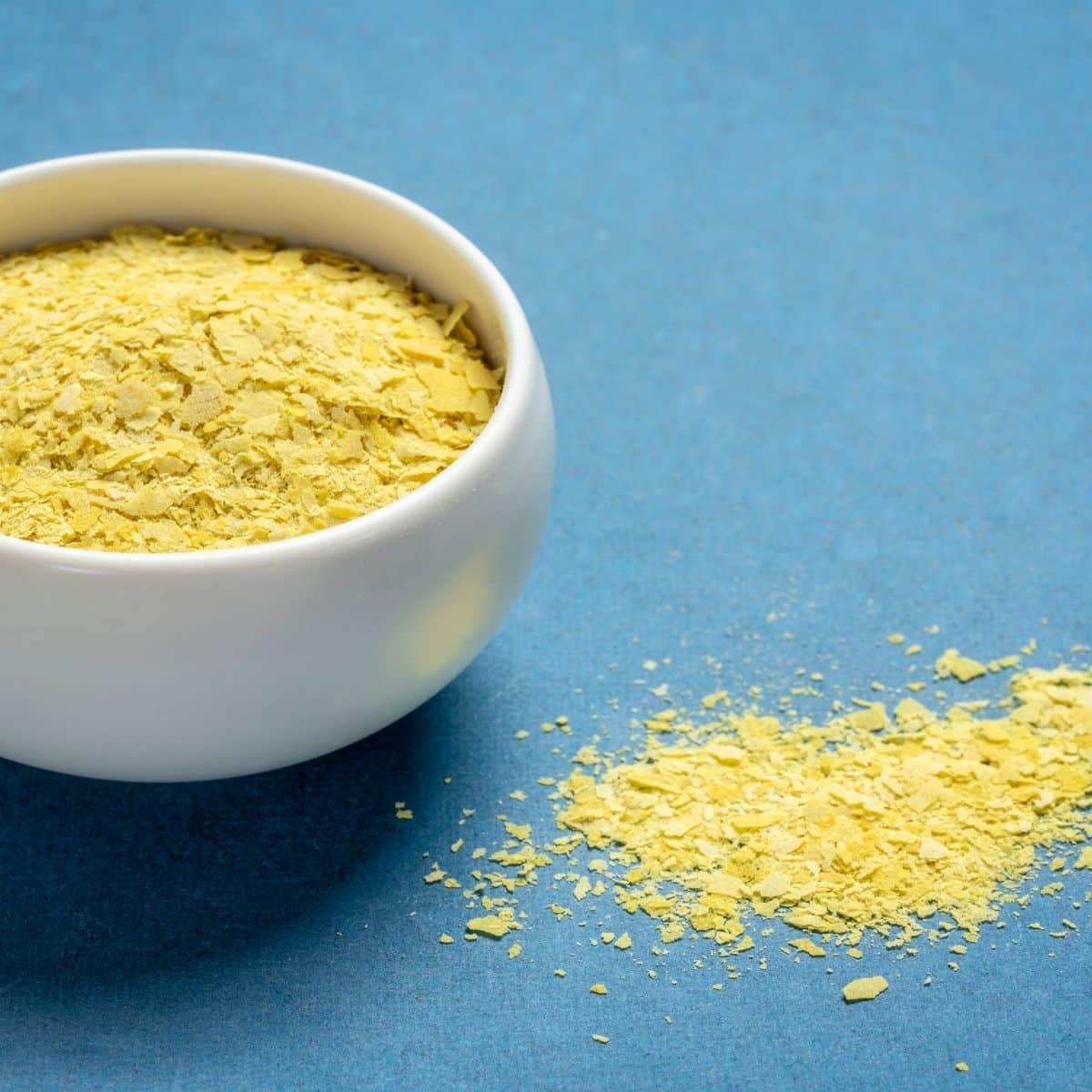 If you haven't tried nutritional yeast yet (also known as nooch), check out everything you need to know about it from what it is, nutritional benefits, to how to use it and more.
Nutritional yeast can be used to make cheesy sauces, thicken soups, or can act like parmesan cheese by being sprinkled on top of pasta or popcorn.
If you're familiar with nutritional yeast then you know it can be hard to replicate the flavor when you don't have it. But fear not, there are actually several ways you can replace nutritional yeast when you've run out or you can't seem to find it at the store. Bonus: many of these you probably already have on hand!
Nutritional yeast provides both flavor and texture so we'll be walking through how to replicate both of these characteristics in different ways.
Flavor Alternatives
First up, flavor. The following are what I recommend to replicate the cheesy, nutty, umami-like flavor of nutritional yeast.
Soy sauce or liquid aminos
Soy sauce imparts a savory flavor to dishes making it a great replacement for nutritional yeast. Liquid aminos look and taste similar to soy sauce but have a milder flavor. It's also a good soy free and gluten free option. Either one will work to replace nutritional yeast.
You may want to adjust the salt in the dish if adding these as they will increase the overall saltiness. Low-sodium soy sauce is a great choice. To replace nutritional yeast, start with about ½ or ⅓ of what the recipe calls for and increase to taste. Consider also adjusting the liquids in the dish if nutritional yeast is a large portion of the recipe.
White miso paste
Miso paste is a savory, salty paste made from fermented soybeans. It's a great substitute for making creamy sauces like a vegan cheese sauce. Same as with soy sauce, use about ⅓ of what the recipe calls for when replacing nutritional yeast with miso paste.
Cashews
Another great substitute is ground cashews. Grind them into a powder and sprinkle on pasta like you would parmesan. Or soak them and blend them into a vegan cheese sauce. In fact, many vegan cheese sauces use cashews as well so you wouldn't need to add another ingredient. For the cashew powder, use equal parts cashew powder to nutritional yeast.
Sunflower seeds
A good nut free option is shelled sunflower seeds. You can soak them and use them in the same way as soaked cashews. You can also grind them into a powder to sprinkle on pasta or popcorn. Adjust salt if using salted sunflower seeds.
Vegetable Bouillon
We love this vegetable bouillon paste that provides a really rich, savory flavor. This is a great substitute for nutritional yeast in cheese sauces and soups. It is very salty so keep that in mind when replacing nutritional yeast with it. Vegetable bouillon cubes also work well.
Dried porcini mushrooms
Dried and chopped mushrooms can help to replicate the flavor of nutritional yeast but porcini does it best. Porcini mushrooms have a deeper nutty and earthy flavor than most other mushrooms, making them the best replacement but any mushroom will do.
Texture Alternatives
Nutritional yeast provides a thickening effect when added to sauces, soups and stews. Here are my recommendations to thicken.
Brewer's yeast
Brewer's yeast is most commonly used for making beer and bread and comes in the form of powder or flakes similar to nutritional yeast. It is more bitter than nutritional yeast but it does provide the thicken effect. This is best used in cheese sauces or soups. Don't worry, your soup won't rise, but it will be thicker than other alternatives. Use ½-1/3 of what the recipes calls for at first and adjust from there depending on taste and thickness preferred.
Chickpea flour
You can use chickpea flour to thicken soups and stews just as you would nutritional yeast. It's a one to one replacement, making it easy and convenient. Best of all, you can make your own chickpea flour in a pinch if you have dried chickpeas in your pantry. You can also use your homemade chickpea flour to sprinkle on top of pasta or popcorn, just make sure to toast the flour in the oven first. Spread the flour out on a baking try and bake at 300F for a few minutes. This also helps bring out the nutty flavor.
And there you have it—lots of great ways to replace nutritional yeast if you've run out or have an intolerance to yeast.
Although these substitutions are not identical to nutritional yeast, they still make excellent replacements in a pinch. It can also help to mix and match the texture and flavor replacements depending on the dish.
Let me know which ones you've tried and if you have any other nutritional yeast alternative recommendations in the comments.
READ NEXT: The best substitutes to replace eggs in baking and cooking.