Start your day on a hearty note with this vegetable hash—a colorful and satisfying dish that celebrates the vibrant flavors of fresh vegetables. The combination of red potatoes, bell peppers, mushrooms, black beans, and a medley of seasonings makes for a scrumptious and nutritious breakfast that's both filling and full of flavor!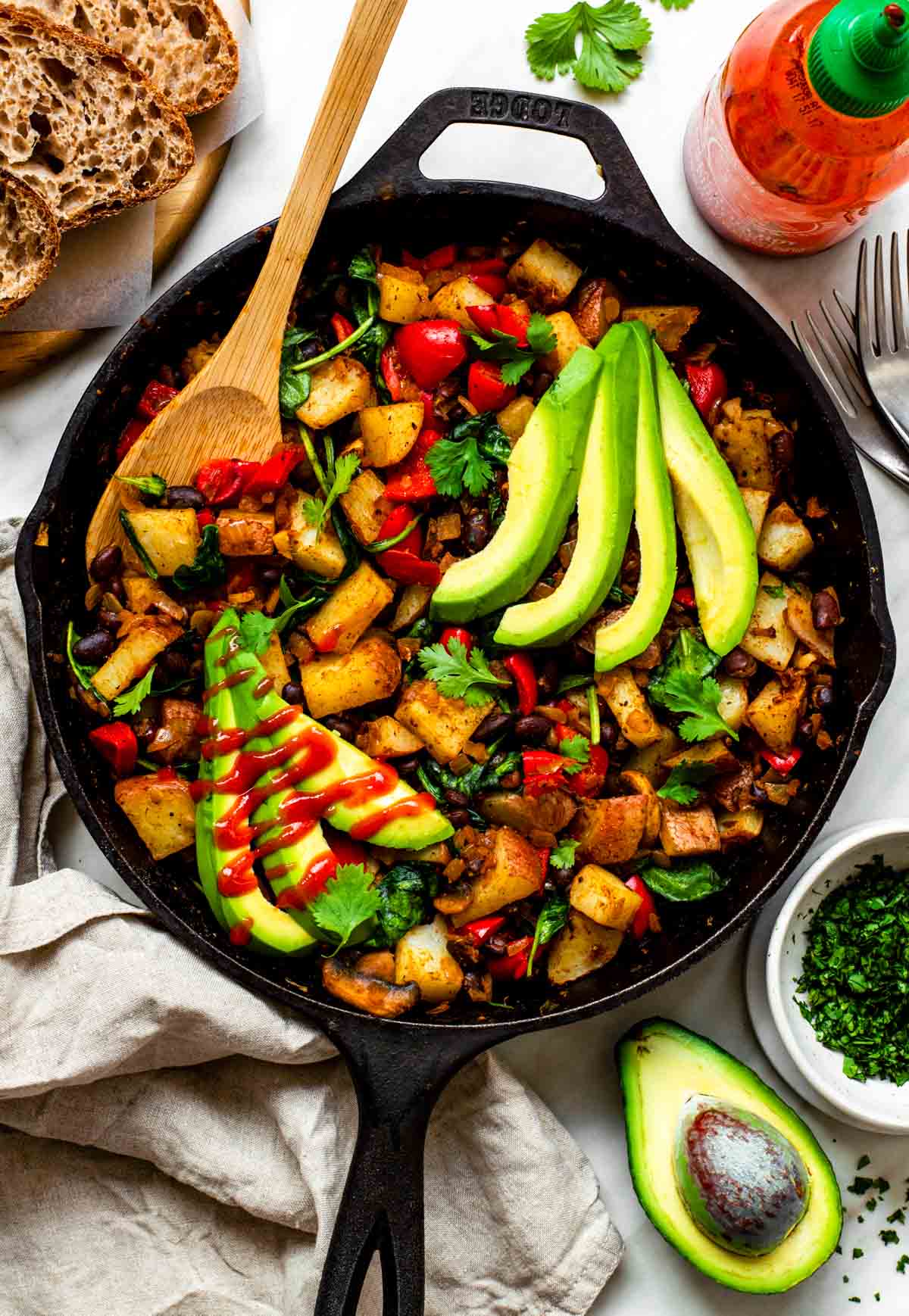 Regardless of whether you're vegetarian or simply looking for a wholesome breakfast option, this veggie hash is a perfect choice for a bright and satisfying morning meal.
Hash may have originated as a way to use up leftovers, but you can make this vegetable hash from scratch any time!
Hash typically consists of diced or chopped ingredients, often a combination of potatoes and various other ingredients like vegetables and meat. It's usually cooked in a skillet or pan, allowing the ingredients to develop a savory, crispy exterior while remaining tender inside. It's great any time of day, whether that's for breakfast, brunch, or even dinner.
While classic hash often includes meat like corned beef, you can create a delicious veggie-packed breakfast hash with a variety of veggies, beans, and crispy potatoes.
Jump to:
Why you'll love this vegetable hash
This vegetarian hash recipe is a treasure trove of colors, flavors, and health benefits. Here's why you're about to fall in love:
Nutrient-Packed: This vegetable hash is brimming with essential vitamins, minerals, and fiber, courtesy of the rainbow of veggies it contains.
Hearty and Satisfying: With the addition of black beans and red potatoes, this dish is not only tasty but filling as well.
Versatile and Customizable: Make it your own by experimenting with various veggies or seasonings.
Quick and Convenient: This recipe is a breeze to whip up in just 30 minutes, making it an excellent choice for busy weeknight dinners.
Ingredient notes and substitutions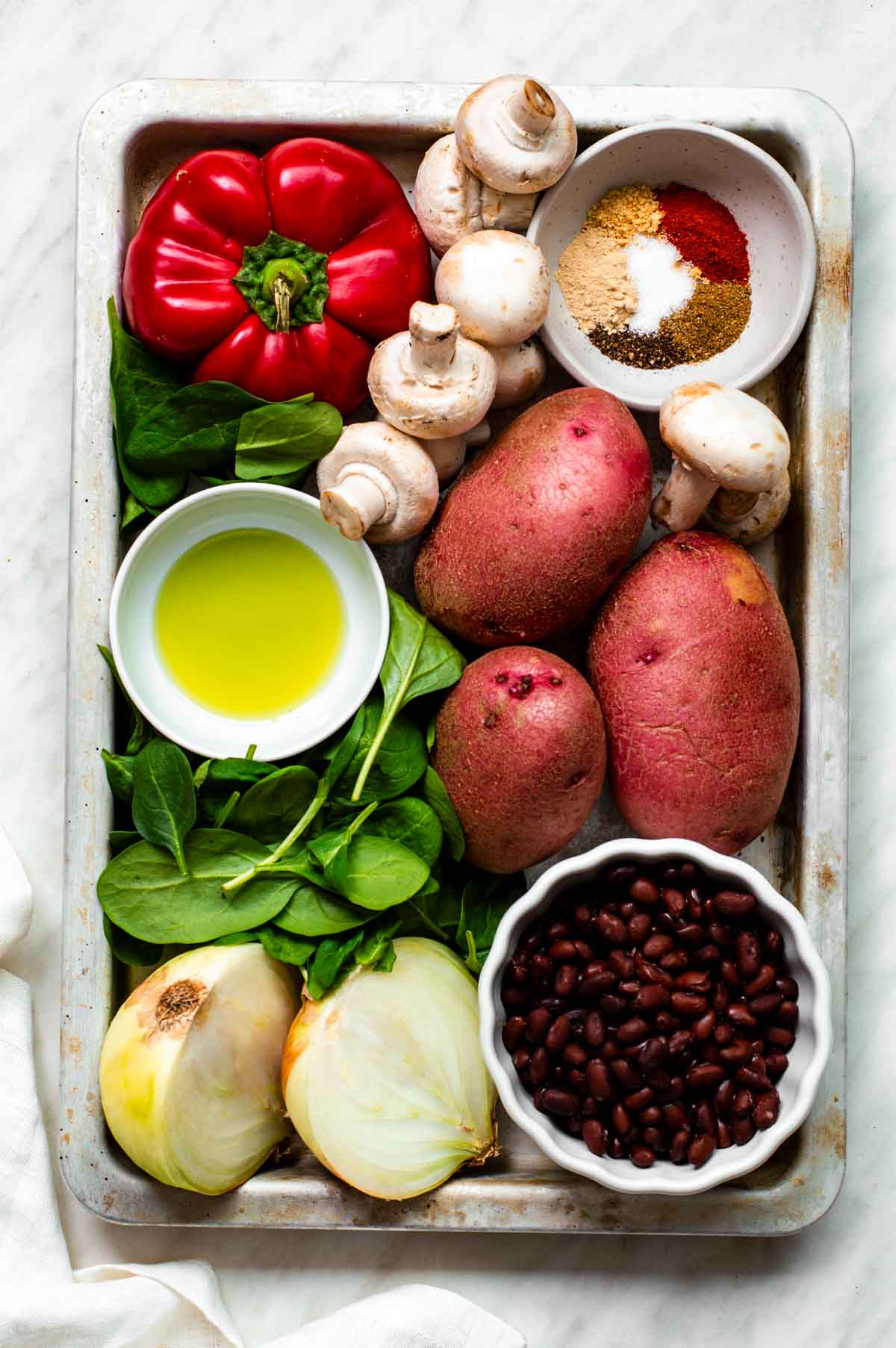 This vegan breakfast hash recipe is super easy to customize. If you have any leftover veggies you need to use up, feel free to throw those in, too, and make it your own. Here are the base ingredients you'll need:
Red Potatoes: The star of the dish, red potatoes add a delightful creaminess and earthy flavor. Leave the skins on for added texture and nutrients. Roasted sweet potato cubes or Yukon gold potatoes would also be great in this! For something quick and easy, you can even use frozen hash browns.
Yellow Onion: The backbone of many savory dishes, yellow onions bring a mellow sweetness and depth of flavor.
Red Bell Pepper: The red bell pepper infuses the hash with a vibrant color and a touch of natural sweetness. Any bell pepper color is a great addition but red are the sweetest.
Mushrooms: The earthy, umami-rich mushrooms provide a meaty texture and savory depth.
Black Beans: These add protein and heartiness to the dish, making it a satisfying meal. You can even add in some vegan sausage for a meatier texture or sprinkle in some vegan bacon bits.
Garlic Powder: For that lovely garlic kick without the fuss of mincing fresh garlic.
Cumin: This spice adds a warm, smoky flavor that complements the vegetables beautifully.
Onion Powder: To enhance the onion flavor without additional chopping.
Paprika: For a subtle smokiness and a pop of color add some smoked paprika. Don't have smoked? Sweet paprika also adds a lovely sweet and peppery flavor.
Baby Spinach: Leafy greens add some extra color and a boost of nutrition. Toss this in at the end to preserve the nutrients.
How to make this vegetable hash
Here's a step-by-step overview for making this easy vegan hash. For exact measurements and details, refer to the recipe card at the bottom of this post.
Step 1: Preheat your oven to 425°F (220°C). Toss the potato cubes with a light drizzle of olive oil, a pinch of salt, and a dash of black pepper. Arrange them in a single layer on a baking sheet, then roast for 20-25 minutes until they turn crispy and achieve a golden brown hue.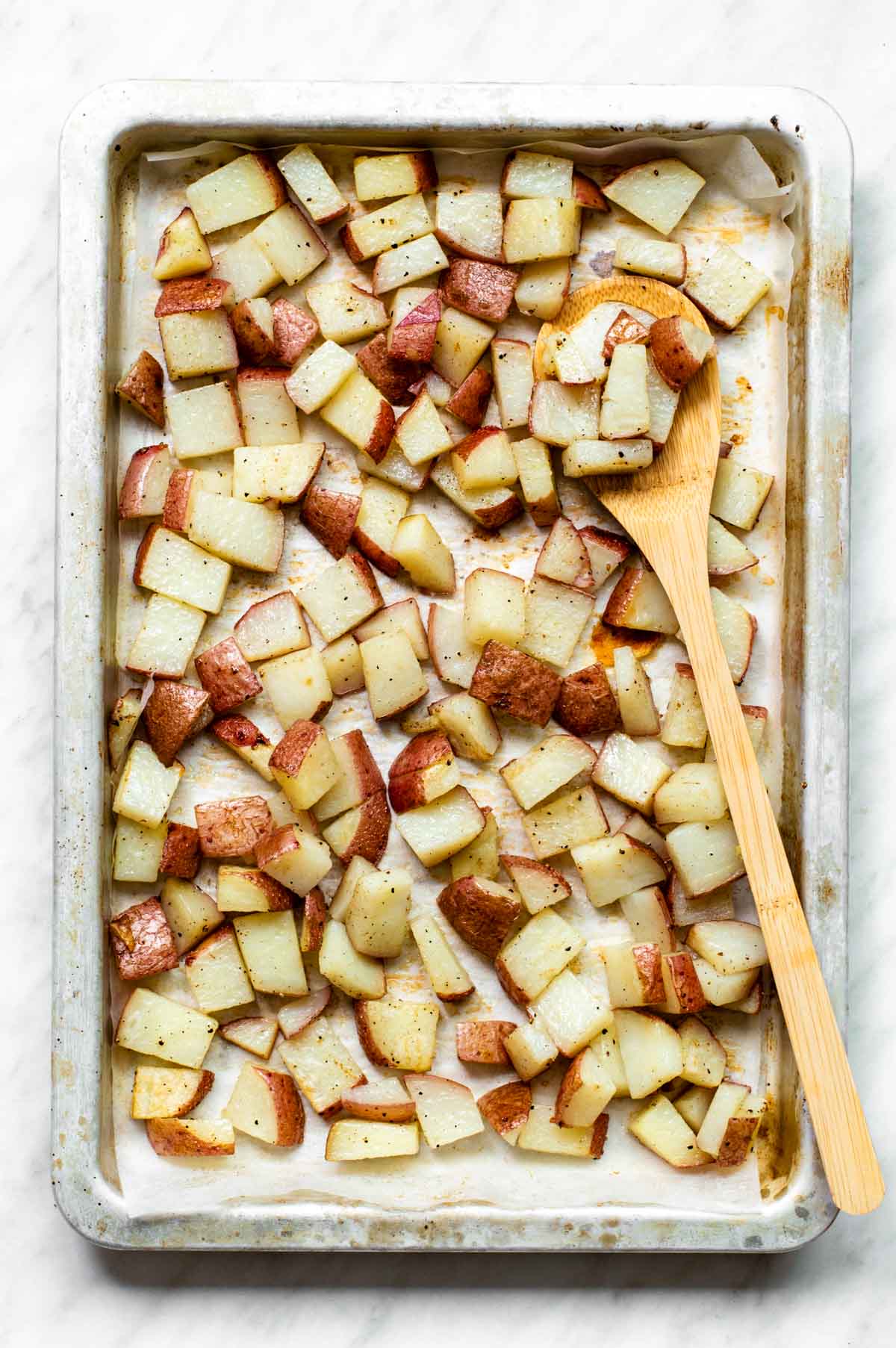 Step 2: As the potatoes roast, heat a small amount of olive oil in a skillet over medium heat. Sauté the diced onion until it turns translucent, then add the sliced mushrooms and red bell pepper, cooking for 5-6 minutes until the vegetables are tender.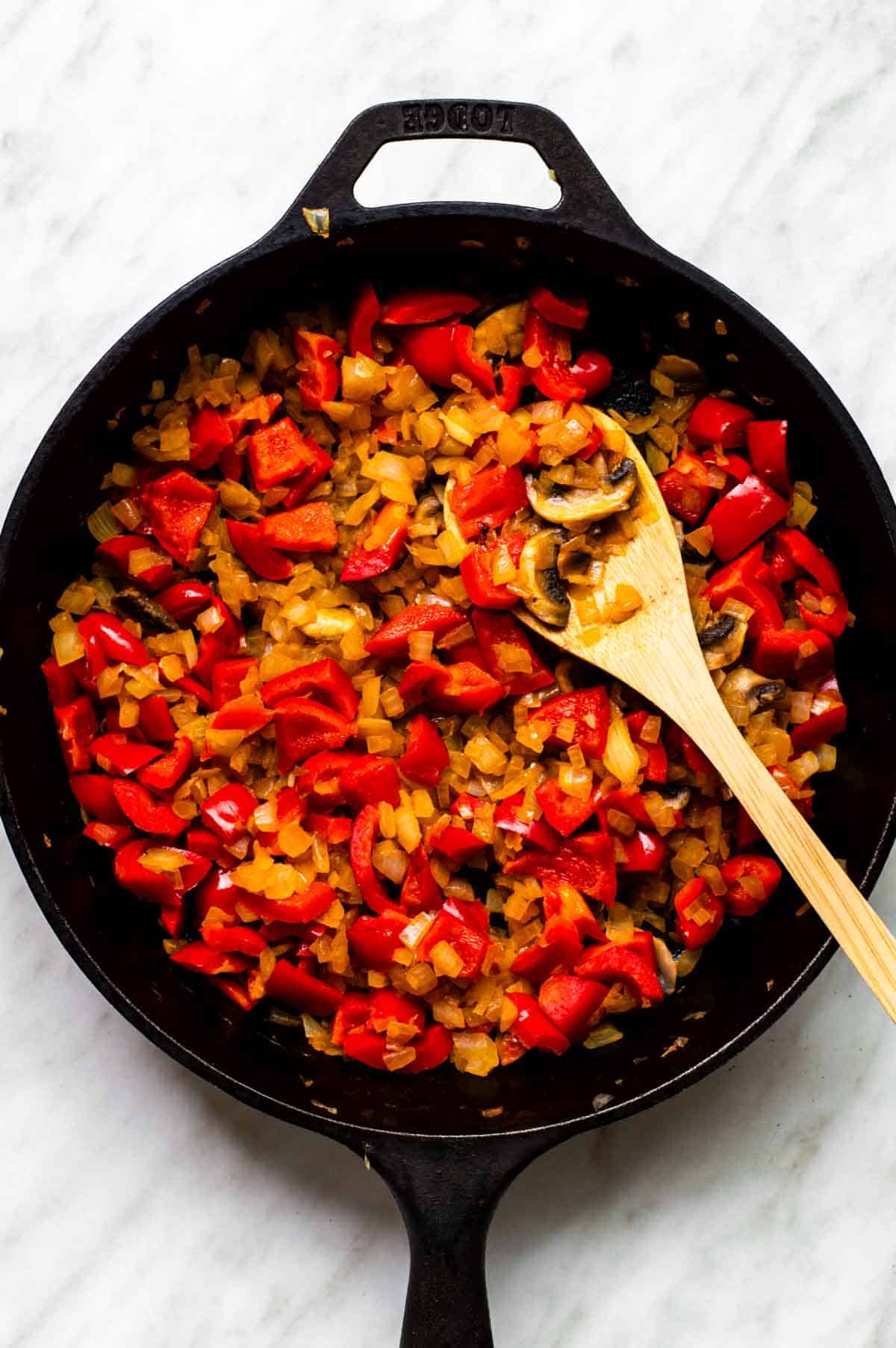 Step 3: Next, add the black beans, along with garlic powder, cumin, onion powder, paprika, salt, and black pepper into the skillet. Mix thoroughly and sauté for an additional 5 minutes.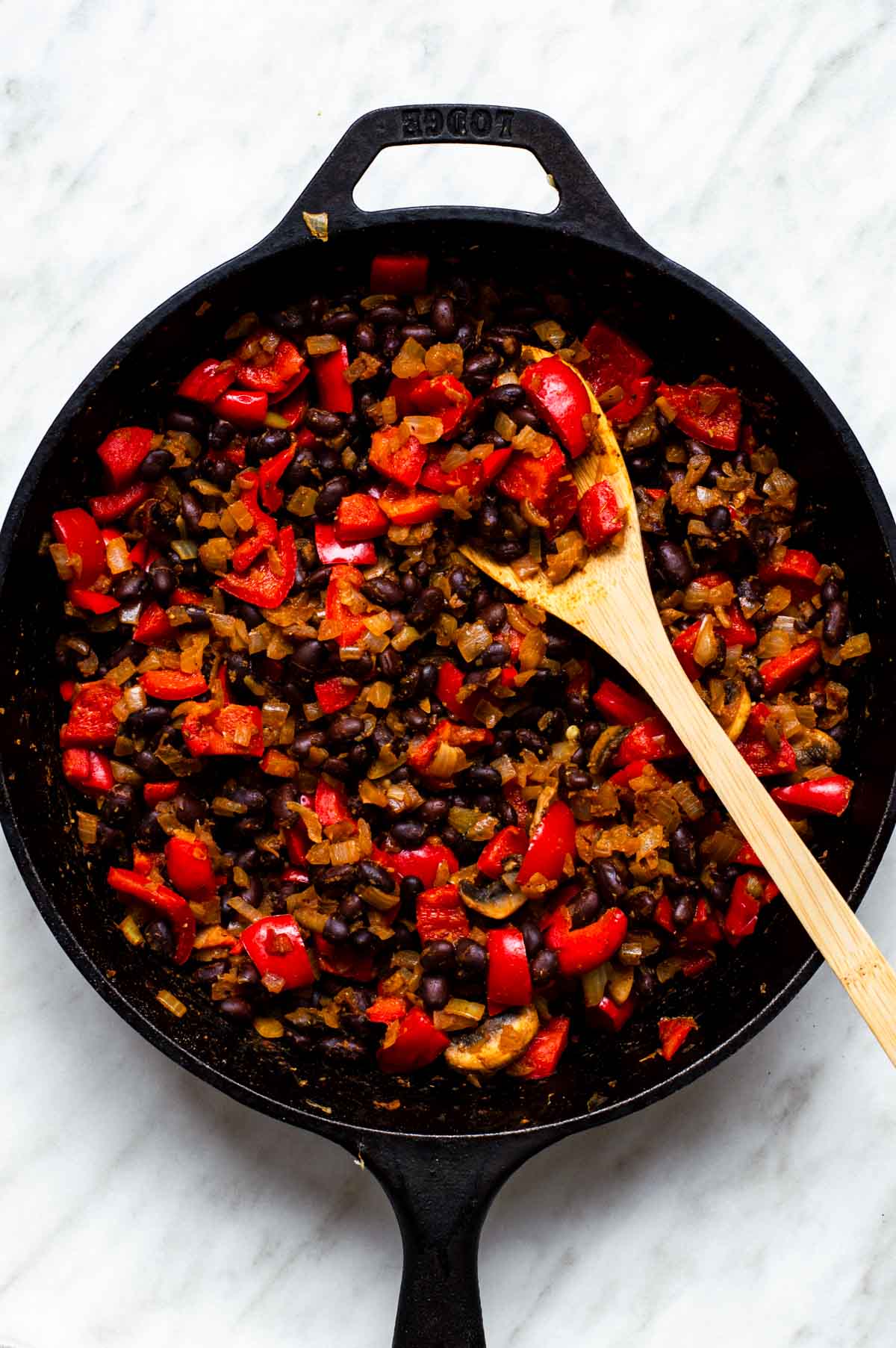 Step 4: Once the potatoes finish roasting, add them to the skillet along with the spinach. Gently combine the ingredients, allowing the spinach to wilt for 2-3 minutes. Serve and enjoy!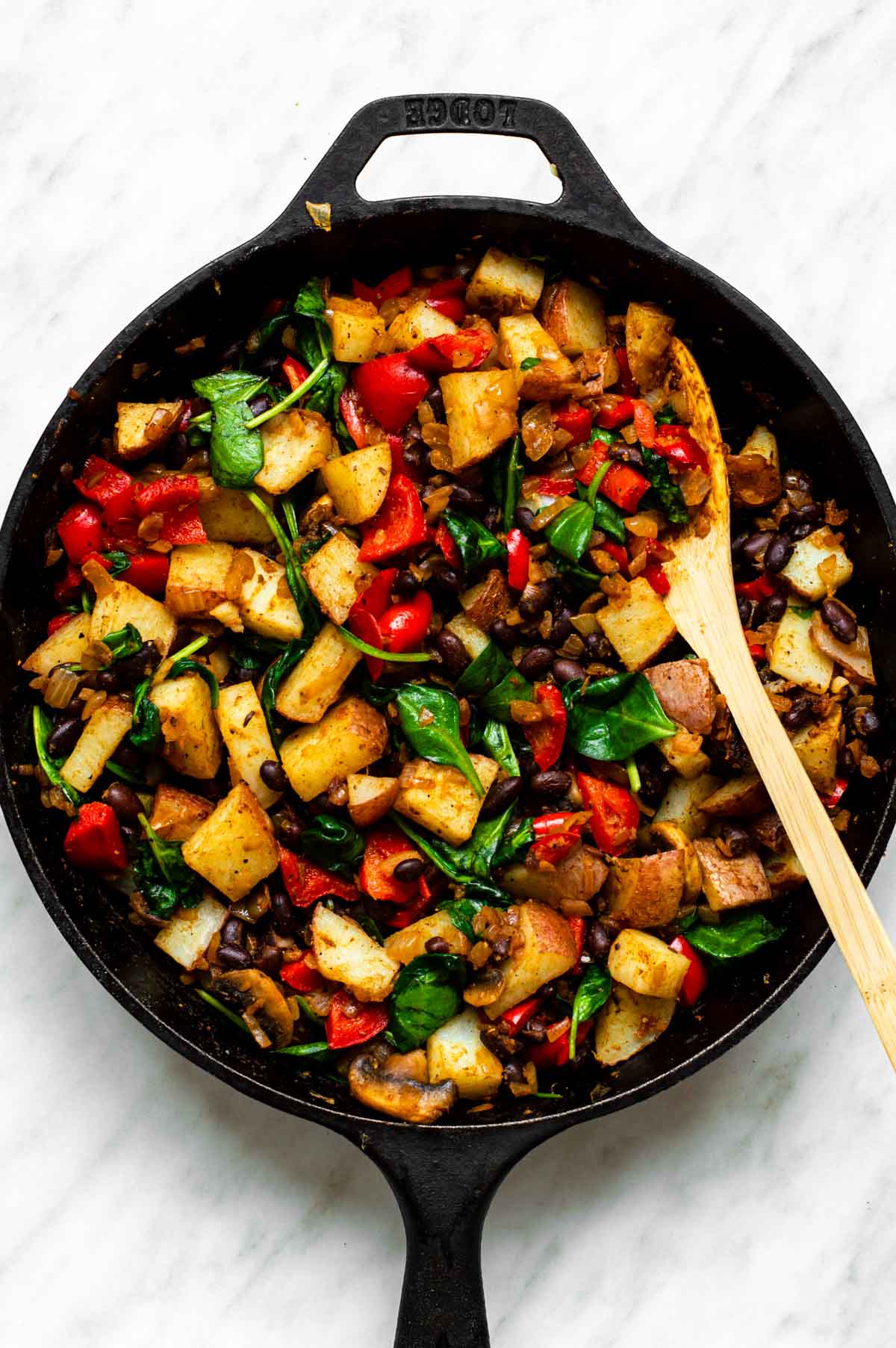 Recipe tips
Consistent Cutting: Ensure uniformity in the size of your vegetable pieces for even cooking.
Prep in Advance: Cut your veggies in advance or use frozen, pre-cut varieties to save time.
Season to Taste: Feel free to adjust the seasonings to match your preferences. Add more spices or a dash of hot sauce for a bolder kick.
Don't Overcrowd the Pan: Cook in batches if necessary to prevent overcrowding and ensure that your veggies brown evenly.
Serving suggestions
This vegetable hash is so versatile! Here are some delicious ways to enjoy it:
Breakfast Delight: Serve it as a hearty and nutritious breakfast dish with a side of tofu scramble. Or wrap it up into a tortilla for a vegan breakfast burrito.
Lunch Brilliance: Pair it with a simple green salad for a satisfying and healthy midday meal.
Dinner Hero: As a main course, this vegetable hash is perfect for both weeknight dinners and special occasions that the whole family will enjoy. Top it with avocado slices, fresh cilantro, ketchup, or your favorite hot sauce!
Sidekick: Use it as a side dish to complement grilled or roasted proteins. This crispy tofu or air-fried tempeh would be delicious with this vegetarian breakfast hash!
Brunch Bonanza: Include it as part of a weekend brunch spread with French toast, carrot bacon, vegan pancakes, and other morning favorites. Don't forget some fresh squeezed orange juice or a matcha chai latte!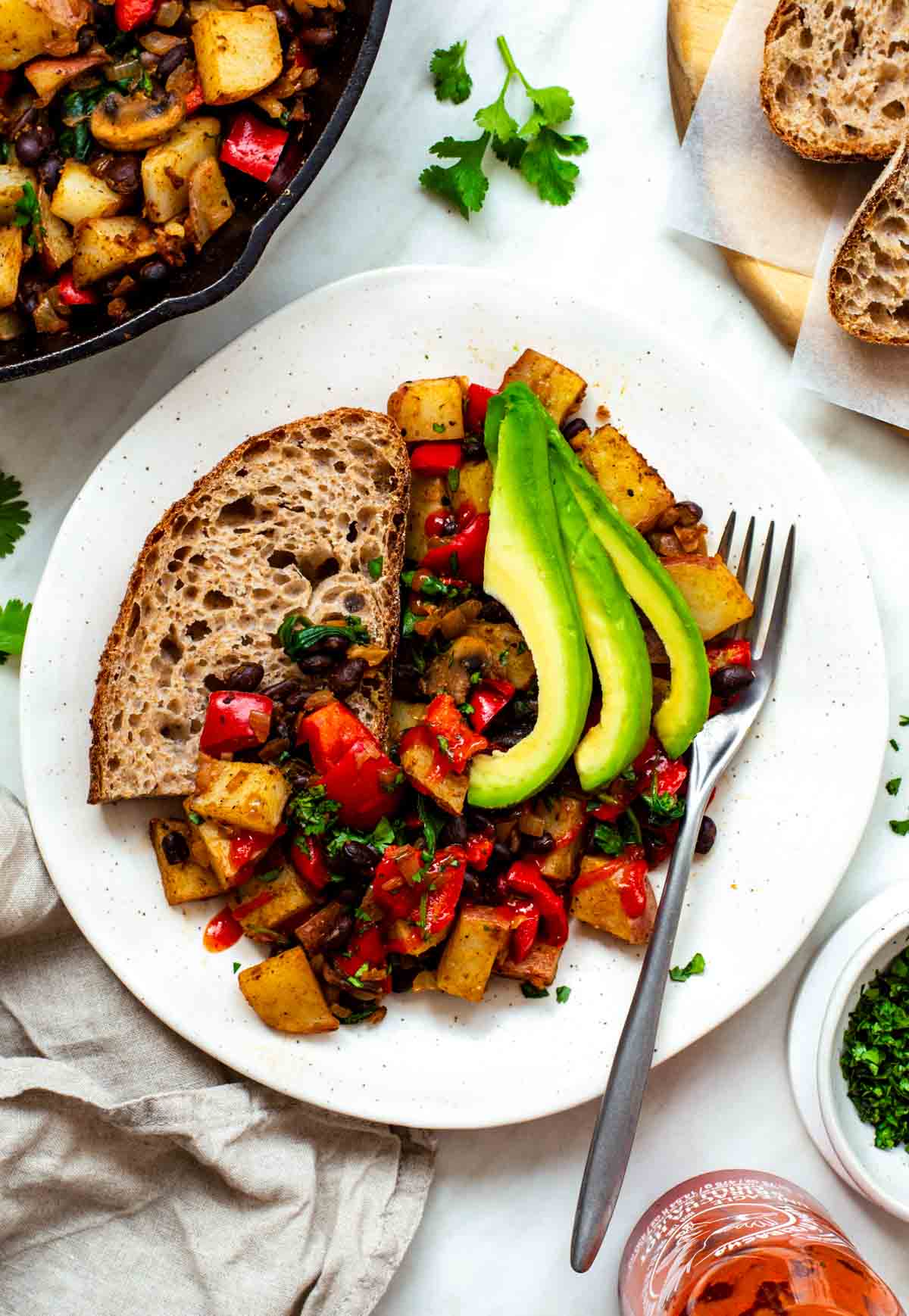 Storage
Allow the leftover vegetable hash to cool, then transfer to an airtight container or resealable bag. Store in the refrigerator for 3-4 days.
To reheat, you can use a microwave, stovetop, or oven. For crispy potatoes, the best option is by oven or air fryer.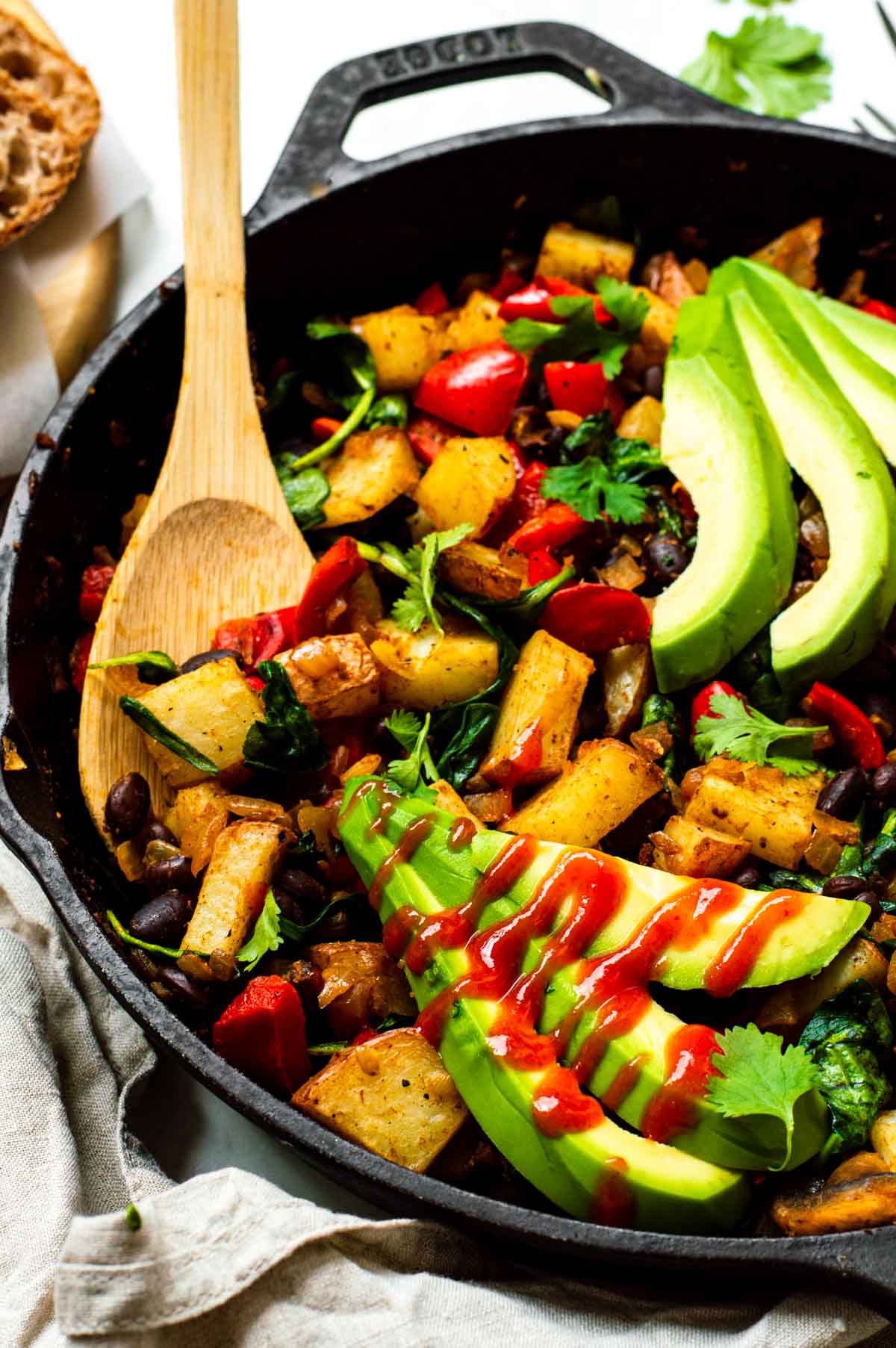 Recipe FAQ's
Can I use other types of potatoes in this recipe?
Absolutely! While red potatoes work beautifully, you can also use Yukon Gold, russet potatoes, or even sweet potatoes, depending on your preference.
Are there other beans I can use instead of black beans?
Of course! You can replace black beans with kidney beans, pinto beans, or chickpeas, depending on your taste and what you have on hand.
Can I make this recipe in advance?
Yes, you can prepare the vegetable hash in advance and reheat it when ready to serve. It's a convenient make-ahead option.
This vegetable hash is truly a testament to the beauty of plant-based cooking! Bursting with vibrant colors and flavors, this dish is not only a feast for your taste buds but also a nutritional powerhouse.
Enjoy it for breakfast, lunch, or dinner, and make it your own by experimenting with different vegetables and seasonings. Bon appétit!
If you enjoyed this recipe please leave a comment below and give it 5 stars! Or on Pinterest (don't forget to follow me!) and please help me share on facebook!
📖 Recipe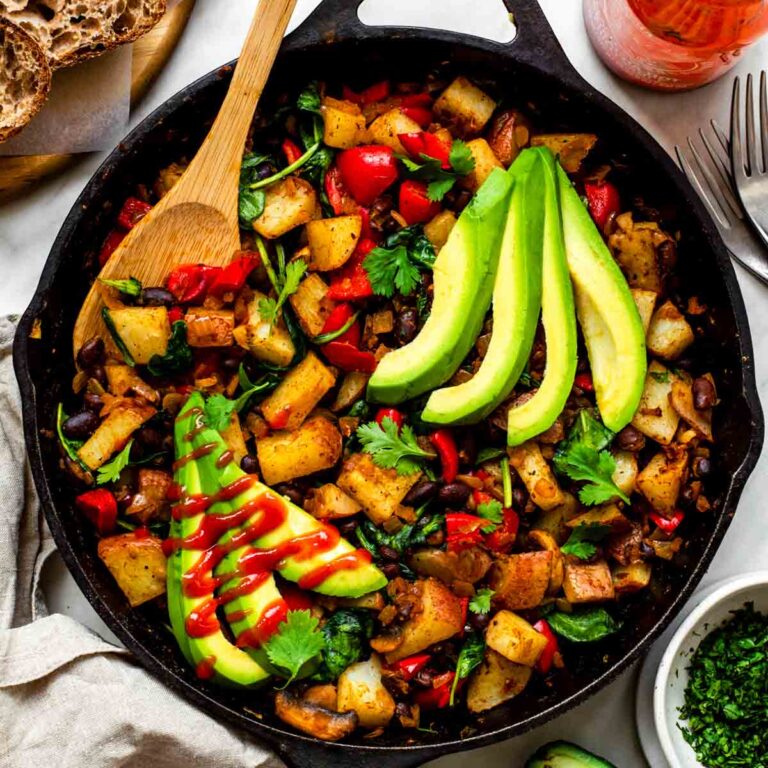 Quick Vegetable Hash
This easy vegan hash with potatoes and beans is the perfect breakfast to start your day!
Ingredients
3

large

red potatoes

cubed

1

yellow onion

diced

½

cup

mushrooms

sliced

1

red bell pepper

chopped

1

15-ounce can

black beans

drained and rinsed

1

teaspoon

garlic powder

1

teaspoon

ground cumin

1

teaspoon

onion powder

½

teaspoon

paprika

sweet or smoked

½

teaspoon

salt

½

teaspoon

black pepper

2

cups

baby spinach

loosely packed
Instructions
Preheat the oven to 425°F (220°C). Toss the cubed potatoes with a drizzle of oil, salt, and black pepper. Spread them in a single layer on a baking sheet. Roast in the oven for 20-25 minutes until crispy and golden brown.

While the potatoes are roasting, heat a bit of olive oil in a skillet over medium heat. Add the diced onion and saute until translucent. Then add the sliced mushrooms and red bell pepper. Cook for 5-6 minutes until the vegetables are tender.

1 yellow onion,

½ cup mushrooms,

1 red bell pepper

Add the black beans, garlic powder, cumin, onion powder, paprika, salt, and black pepper to the skillet. Mix well and saute for 5 more minutes, allowing the flavors to meld.

1 15-ounce can black beans,

1 teaspoon garlic powder,

1 teaspoon ground cumin,

1 teaspoon onion powder,

½ teaspoon paprika,

½ teaspoon salt,

½ teaspoon black pepper

When the potatoes are done, add them to the skillet along with the spinach, and gently mix to combine, allowing the spinach to wilt for 2-3 minutes. Serve and enjoy!
Notes
Alternative cooking methods:
By air fryer - Toss the cubed potatoes with a drizzle of olive oil, salt, and black pepper. Transfer to an air fryer basket in an even layer and cook for 13-15 minutes at 400F. Shaking the basket halfway, cooking until the potatoes are golden brown. Proceed to step 2.
By stovetop - Heat oil on medium in a large skillet. Saute the potatoes until tender and browned, about 25 minutes, tossing every few minutes. When there are about 5 minutes left on the potatoes, add the onion and caramelize for about 5 minutes. Then add the rest of the vegetables and seasonings, sauteing until tender, about 10 minutes. Add the beans and spinach, and saute for a few more minutes until the spinach has wilted.
Leftovers: Store in an airtight container in the fridge for 3-4 days.
Nutrition
Calories:
366
kcal
|
Carbohydrates:
76
g
|
Protein:
16
g
|
Fat:
1
g
|
Saturated Fat:
0.3
g
|
Polyunsaturated Fat:
1
g
|
Monounsaturated Fat:
0.1
g
|
Sodium:
358
mg
|
Potassium:
1889
mg
|
Fiber:
16
g
|
Sugar:
6
g
|
Vitamin A:
2391
IU
|
Vitamin C:
69
mg
|
Calcium:
88
mg
|
Iron:
5
mg
This vegetable hash was originally published April 16, 2017, and has been updated November 8th, 2023 with an improved recipe, new photos, and tips.