Craving a vegan Caesar salad? Make this creamy Tahini Caesar dressing—a plant-based twist on the classic. With tahini as its base, it's rich, tangy, and perfect for enhancing your salads and meals.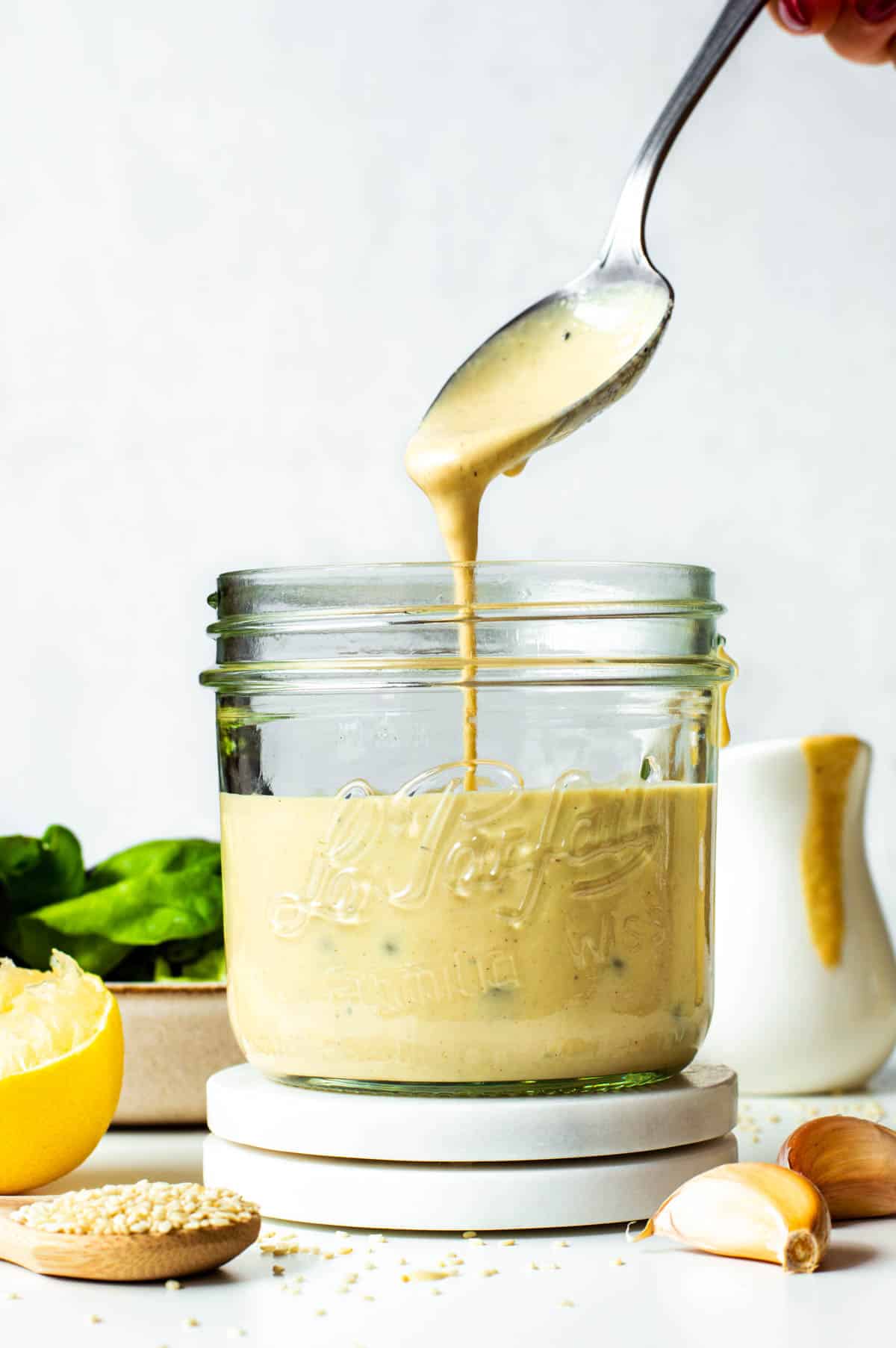 If you're a salad enthusiast, you know that the dressing can make or break the entire experience. And if you haven't tried tahini Caesar dressing yet, you're in for a delightful surprise.
Creamy, tangy, and packed with bold flavors, this dressing is a game-changer. No raw eggs or Worcestershire sauce needed—this creamy dressing is completely vegan yet tastes like a classic caesar salad dressing!
I love making my own homemade salad dressings so I know exactly what is in it. If you prefer making your own salad dressings over store-bought dressings too, you'll love my spicy cashew dressing, vegan honey mustard dressing, maple tahini dressing, and creamy balsamic vinaigrette.
Jump to:
Why you'll love this dressing
Tahini Caesar dressing combines the best of both worlds: the classic flavors of Caesar dressing with a twist of creaminess from tahini. Here's why you'll fall in love with this dressing:
Rich and Creamy: Tahini adds a luxurious creaminess to the dressing that rivals traditional Caesar dressings made with dairy.
Tangy and Umami: The blend of lemon juice, garlic, and capers creates a delightful tangy and umami flavor profile that helps it taste like the real thing!
Nutritional Boost: Nutritional yeast adds a cheesy, nutty note while providing an extra nutritional punch with essential vitamins.
Easy to Make: No need for a food processor or any special equipment—you can make this tahini dressing simply in a bowl!
Simple Ingredients: You don't need anything crazy for this creamy tahini caesar dressing. Most everything required are pantry staples that you likely already have on hand!
Ingredient notes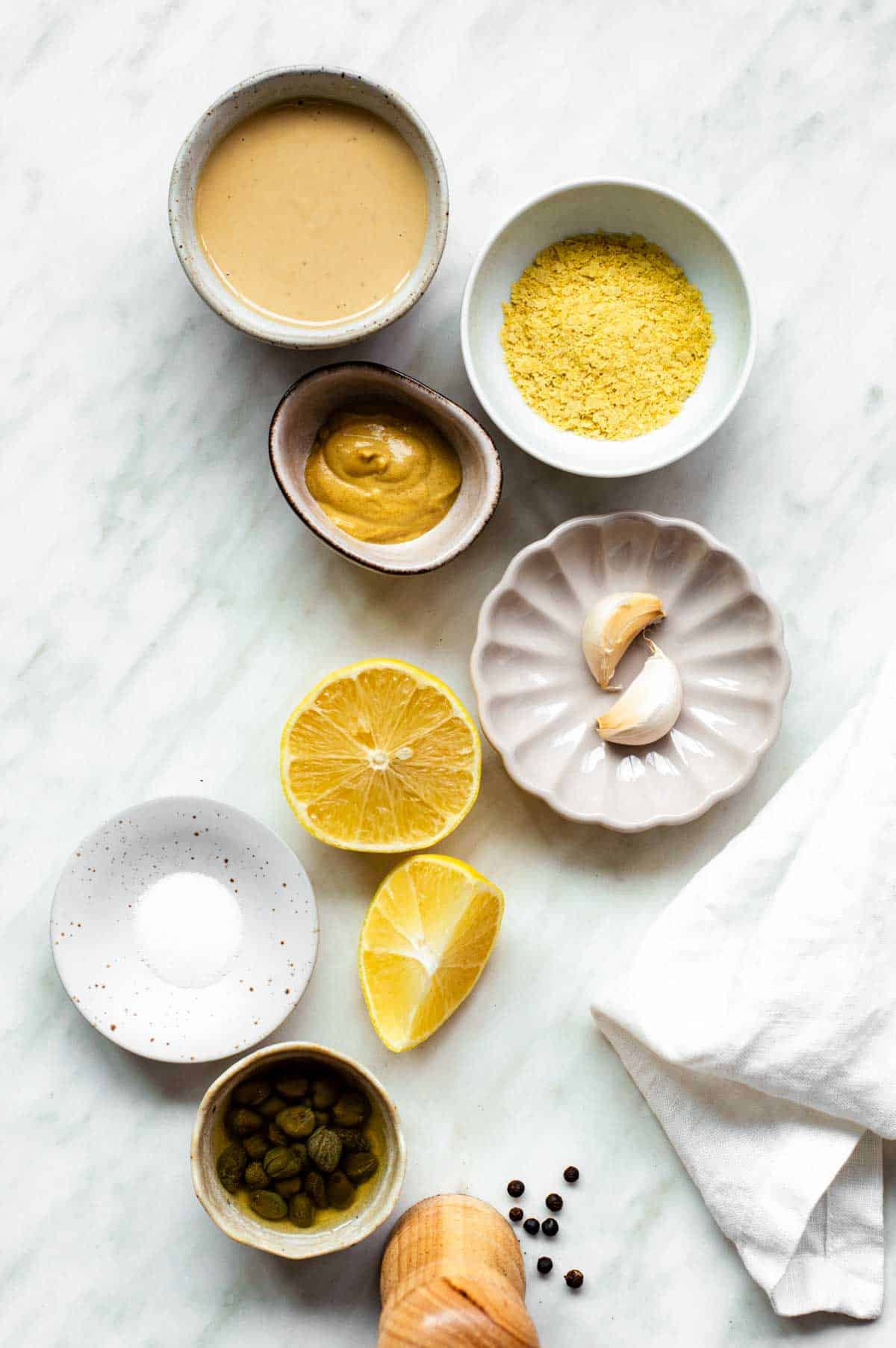 Let's dive into the key ingredients that make this Tahini Caesar dressing a standout.
Tahini: The star of the show, tahini, is a creamy paste made from ground sesame seeds. It's rich in healthy fats, protein, and essential minerals.
Lemon Juice: Freshly squeezed lemon juice provides a burst of acidity and a refreshing, zesty flavor.
Garlic: Fresh garlic cloves give the dressing a robust, aromatic kick.
Dijon Mustard: A little Dijon mustard adds depth and a hint of spiciness to the dressing.
Capers: Capers offer a briny, slightly tangy note that's essential to a Caesar dressing's signature flavor.
Capers Brining Juice: Don't toss that caper brining juice! It enhances the tangy goodness of the dressing.
Nutritional Yeast: Nutritional yeast, often referred to as "nooch," contributes a cheesy and nutty flavor while providing essential B vitamins.
How to make this easy tahini caesar dressing
Combine tahini and lemon juice in a glass jar or small mixing bowl, and mix well until smooth.
Add in the garlic, dijon mustard, salt, capers, caper brining juice, additional salt, black pepper, and nutritional yeast (if using, feel free to omit). Stir well to combine and evenly distribute all of the seasonings.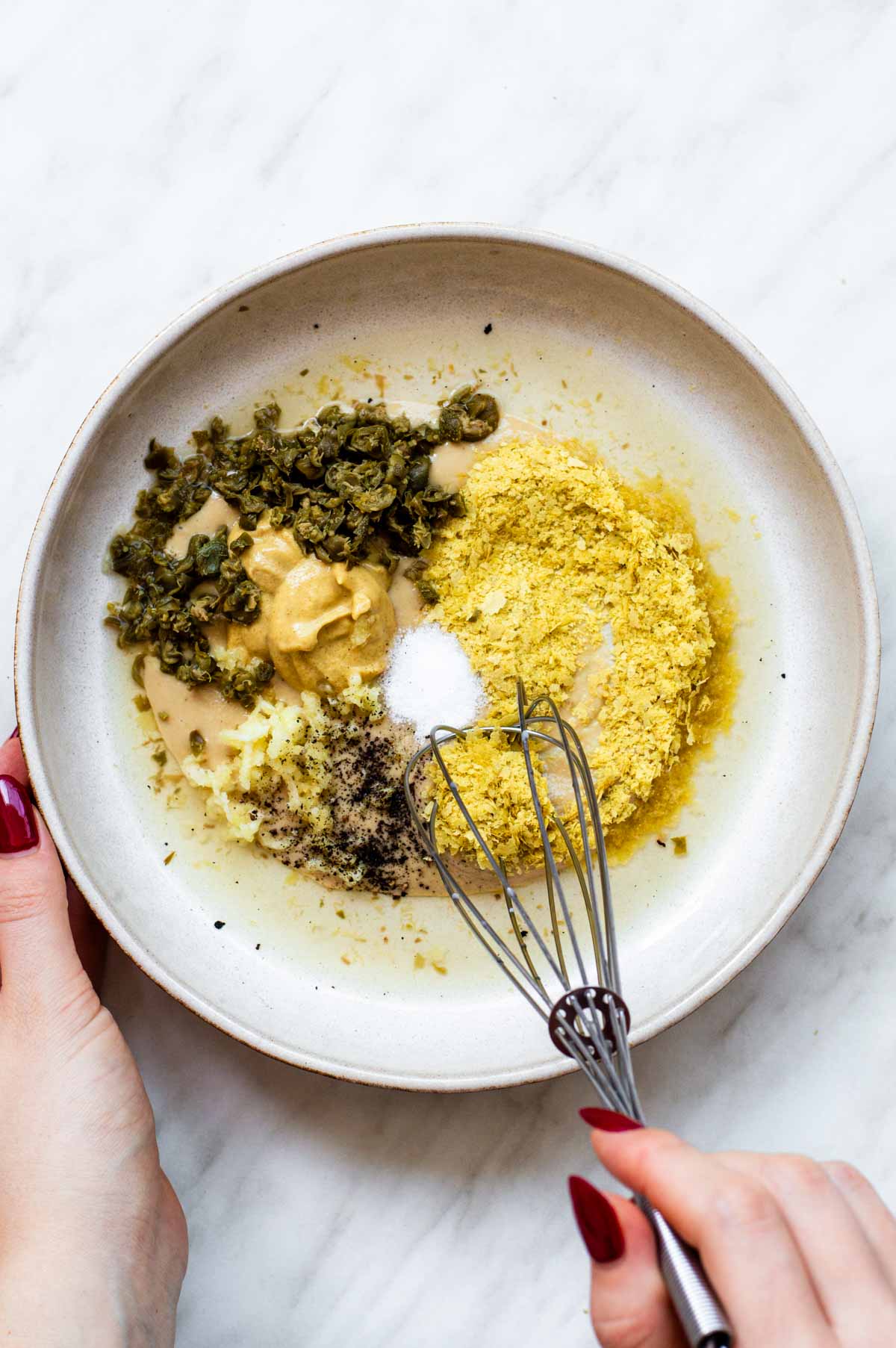 To reach your preferred thickness, gradually add water one tablespoon at a time, adjusting the quantity based on your preference and the initial thickness of your tahini.
Recipe tips
To ensure your tahini caesar dressing turns out perfectly every time, here are some handy tips:
Use fresh, high-quality ingredients for the best flavor. Fresh lemon juice and garlic make a noticeable difference. Naturally creamy tahini can separate so make sure to stir well before using and store your tahini properly to keep it fresh.
Adjust the tahini to achieve your desired level of creaminess. Add a bit more if you prefer it richer. If the dressing is too thick, add water a little at a time until it reaches your preferred consistency.
Experiment with the dressing by adding a pinch of chili flakes for some heat or a dash of maple syrup for a touch of sweetness.
Serving suggestions
Now that you're ready to make your Tahini Caesar dressing, let's explore the many ways to enjoy it: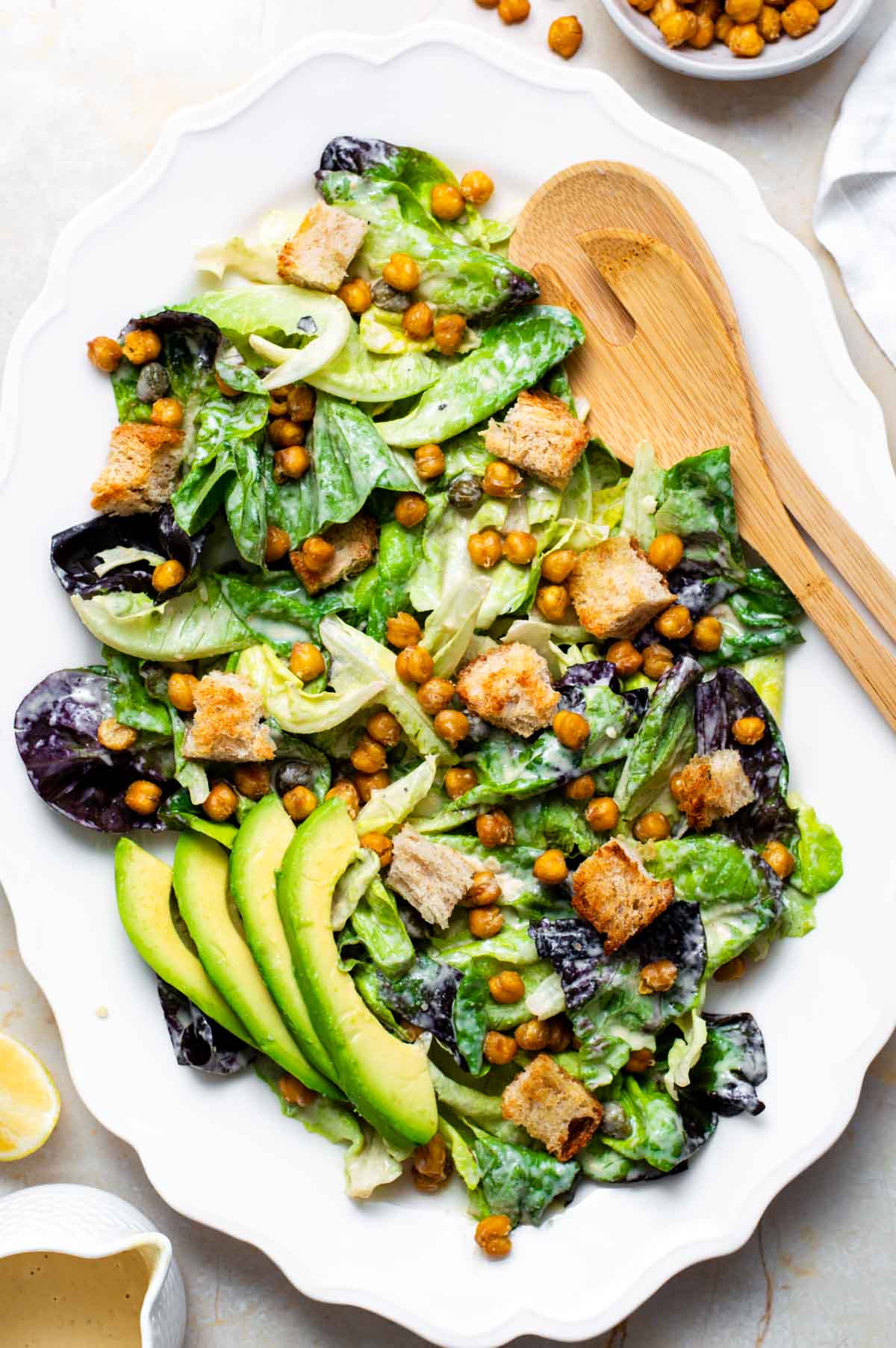 Vegan Caesar Salad: Toss it with crisp Romaine lettuce, croutons, and vegan parmesan for a tahini Caesar salad that taste just like the classic!
Grain Bowl Drizzle: Drizzle over grain bowls for a creamy, flavorful touch. I especially love it over this ancient grain salad.
Veggie Dip: Serve it as a dip for fresh veggies like carrot sticks, cucumber slices, and cherry tomatoes.
Wrap or Sandwich Spread: Use it as a spread for wraps, sandwiches, or pitas for an extra layer of savory flavor.
Roasted Vegetable Dressing: Roast your favorite vegetables and drizzle this dressing over them for a delectable finish. It's delicious on sweet potatoes, broccoli, asparagus, and more!
Potato Salad: Replace traditional mayo in potato salad with this Tahini Caesar dressing for a refreshing twist.
Storage
Store any leftover dressing in an airtight container in the refrigerator. It should keep well for about a week.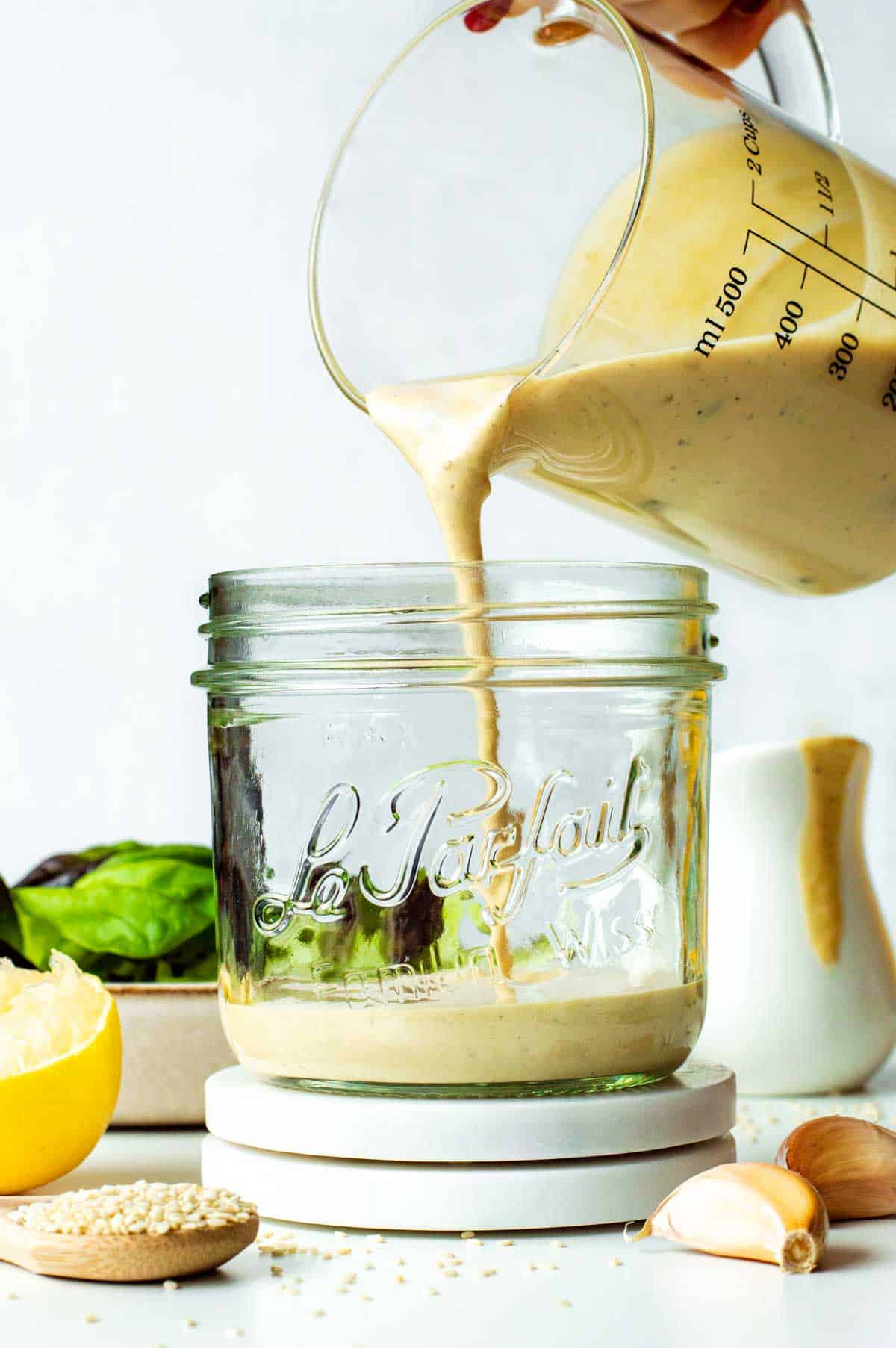 FAQ's
What is tahini caesar dressing made of?
Tahini Caesar dressing is primarily composed of tahini, a creamy sesame seed paste, as its base. It typically includes ingredients like lemon juice, garlic, Dijon mustard, salt, capers, caper brining juice, black pepper, and nutritional yeast for added flavor. The dressing is then thinned to the desired consistency with water. This vegan alternative to traditional Caesar dressing is known for its rich, creamy, and tangy flavor profile.
Is Tahini Caesar dressing suitable for gluten-free diets?
Yes, it is! Tahini Caesar dressing is naturally gluten-free, making it a safe choice for those with gluten sensitivities or celiac disease.
Can I use tahini with a runny consistency?
If your tahini is on the runny side, simply adjust by using less water to achieve your desired thickness. You want the dressing to be creamy, not too thin.
Can I make this dressing in advance?
Absolutely! Tahini Caesar dressing can be prepared in advance and stored in the refrigerator for up to a week. Just give it a good shake or stir before using. 
Is there a substitute for nutritional yeast?
If you don't have nutritional yeast on hand, you can omit it or use vegan parmesan cheese as a nutritional yeast alternative for a similar cheesy flavor.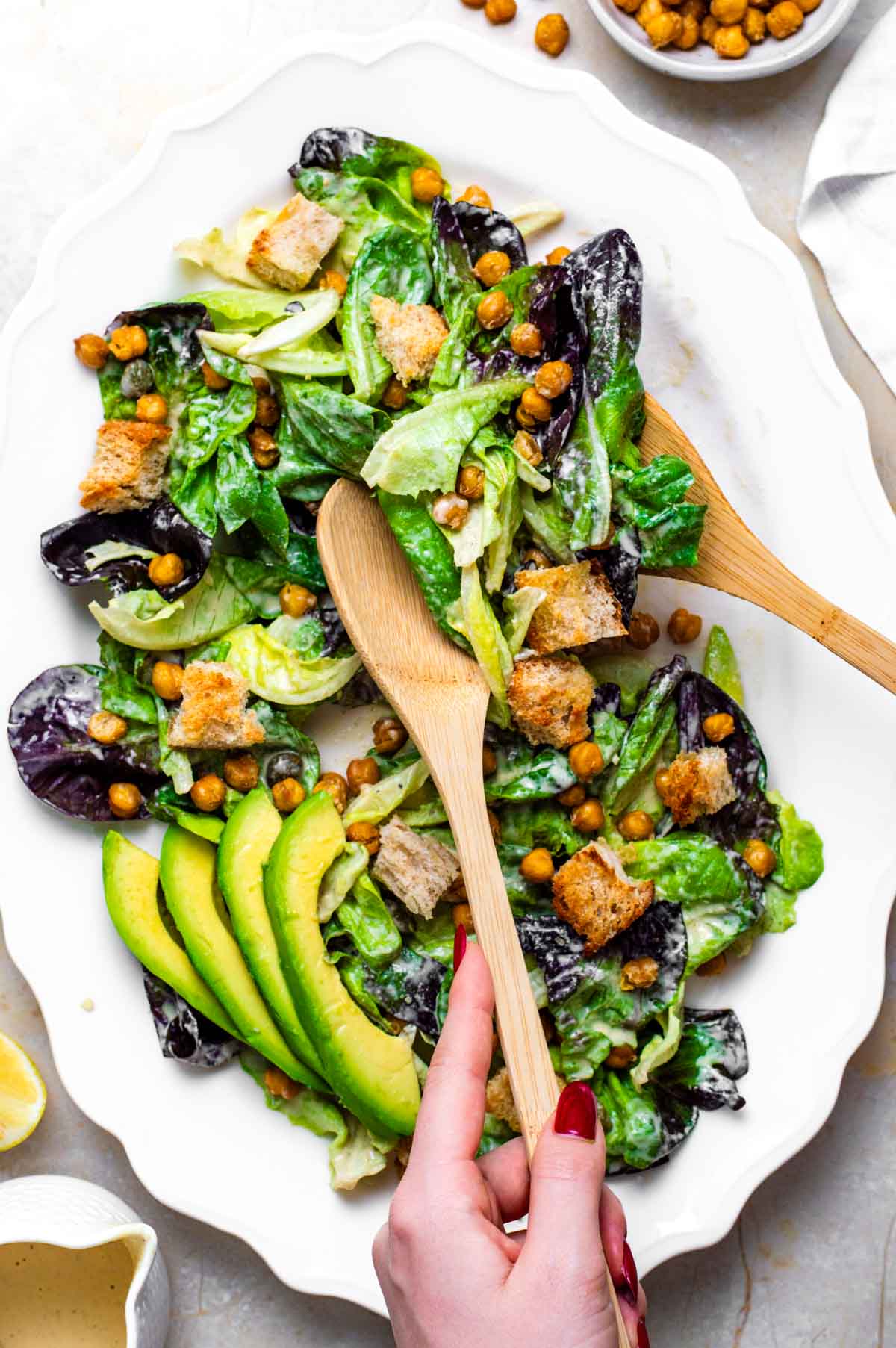 Whether you're vegan, looking to enhance your salads, or seeking a healthier alternative to traditional Caesar dressing, this recipe has you covered. Give it a try and elevate your meals with its rich, creamy, and tangy goodness!
If you enjoyed this recipe please leave a comment below and give it 5 stars! Or on Pinterest (don't forget to follow me!) and please help me share on facebook!
📖 Recipe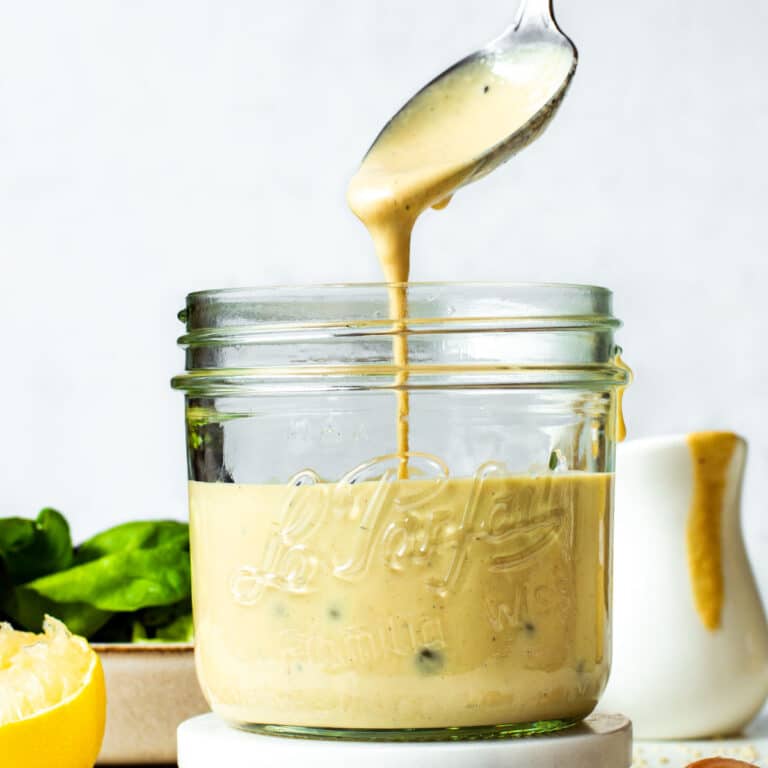 Tahini Caesar Dressing
Get ready to elevate your salads and drizzle excitement onto your favorite dishes with this creamy Tahini Caesar dressing. This plant-based twist on the classic Caesar dressing features a luxurious base of tahini, complemented by zesty lemon juice, garlic, and a medley of savory ingredients. It's the perfect way to add depth and flavor to your meals while keeping things vegan and delicious.
Print
Pin
Rate
Ingredients
¼

cup

tahini,

see notes below

¼

cup

lemon juice

2

cloves

garlic

,

minced

3

teaspoons

dijon mustard

1-2

tablespoons

capers

,

finely chopped

1

tablespoon

capers brining juice

¼

teaspoon

salt

¼

teaspoon

black pepper

1-2

tablespoons

nutritional yeast,

optional

2

tablespoons

water
Instructions
Add the tahini to a large jar or glass. Stir in the lemon juice until well combined.

¼ cup tahini,

¼ cup lemon juice

Add the garlic, dijon mustard, salt, capers, brining juice, salt, black pepper, and nutritional yeast, if using. Stir well to incorporate.

2 cloves garlic,

3 teaspoons dijon mustard,

1-2 tablespoons capers,

1 tablespoon capers brining juice,

¼ teaspoon salt,

¼ teaspoon black pepper,

1-2 tablespoons nutritional yeast

Add the water, one tablespoon at a time, mixing as you go, to thin the dressing out to your desired consistency. Feel free to use more or less depending on your preference and the thickness of your tahini.
Notes
Note: Make sure your tahini is well-mixed before using since tahini tends to separate much like natural nut butters.
Each serving is about 2 tablespoons.
Nutrition Per Serving
Calories:
52
kcal
Carbohydrates:
3
g
Protein:
2
g
Fat:
4
g
Saturated Fat:
1
g
Polyunsaturated Fat:
2
g
Monounsaturated Fat:
2
g
Sodium:
124
mg
Potassium:
68
mg
Fiber:
1
g
Sugar:
0.2
g
Vitamin A:
9
IU
Vitamin C:
4
mg
Calcium:
14
mg
Iron:
0.5
mg