Is Pasta Vegan? Here's everything you need to know in this quick vegan pasta brand guide as well as easy homemade recipes!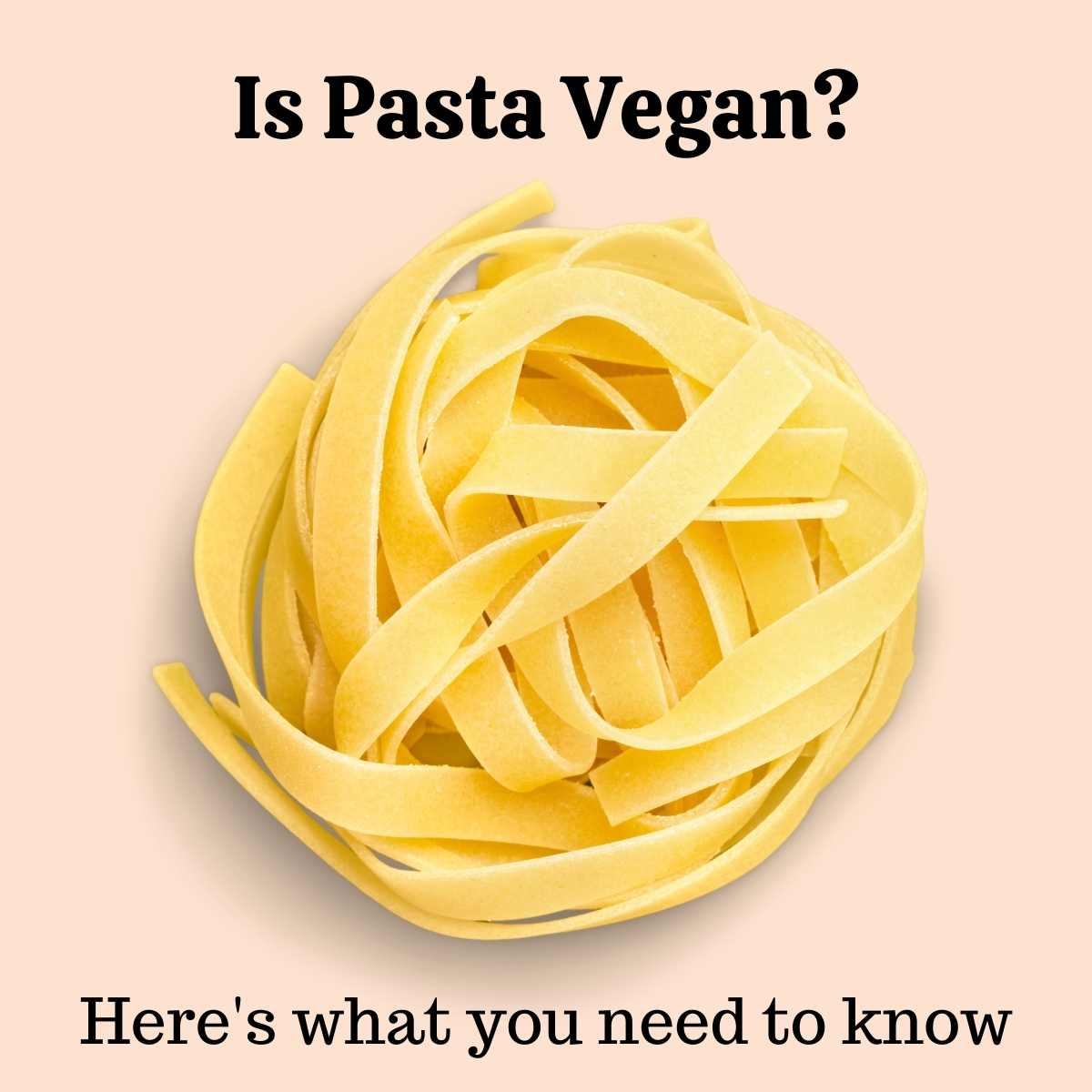 Before going vegan you probably never had the thought cross your mind. There are so many dishes with ingredients you've probably never thought too hard about. But what actually is pasta made of? Does it contain any animal products?
Pasta is the ultimate comfort food and luckily vegans don't have to miss out. There are tons of vegan pasta brands and naturally vegan pasta. Here's how to know if it's vegan.
Jump to:
Is all pasta vegan?
The short answer: no.
However, most of the packaged pastas that you'll find in stores will be vegan. These dry pastas are typically made with one or two ingredients—Durum wheat flour or Semolina wheat flour.
Durum wheat is specifically grown for pasta production because it has higher protein content, strong gluten (to hold the pasta shape), and high water absorption.
Semolina is the flour extracted from Durum wheat. You'll see either/or under the ingredient list for boxed pasta.
Manufacturers have also come out with a lot of varieties that are naturally vegan such as 100% whole wheat pasta. Gluten-free pastas made from beans like black bean, lentil, and chickpea pastas are also a safe bet (and a good source of protein!).
Pastas that are not vegan are usually fresh pastas as they contain eggs. These are typically Italian-style pastas that are made with a combination of flour and eggs. You'll often find these in the refrigerated section but there are some dry pastas made with eggs.
This is where things get tricky. It's best to always check the ingredient list to be sure that it's vegan. To save you time, we'll go through which brands and their types of pastas are vegan next.
Vegan Pasta Brands
Here are the brands that have vegan pastas available. Not all brands are completely vegan so I've listed out which pastas are vegan or not from each brand to make your life easier.
Barilla
Barilla pastas are easy to find as most major retailers carry them and luckily they have tons of vegan pasta options! In fact, only the Barilla Oven-Ready Lasagna (contains eggs), and Barilla filled pasta are not vegan (filled with cheese).
You may often see on their label that their products are manufactured on equipment that processes products that contain eggs. This does not mean there are eggs in the product. It is meant as a caution for anyone with an egg allergy.
Banza
Banza makes pasta from chickpeas, making their pastas both vegan and gluten-free. All Banza pastas are vegan and they have pretty much every shape of pasta you can think of!
Kroger
Kroger Lasagna Noodles and Oven Ready Lasagna Noodles do not contain eggs, making both a great vegan option for lasagna lovers.
Their dry pastas are all vegan-friendly.
Mueller's
Mueller's makes several vegan pastas including semolina pastas, organic, 100% whole grain, gluten-free, hidden veggie, and flavor infused pastas.
Their noodles and ribbons varieties are not vegan as they contain egg. This includes their yolk free ribbons as these still contain egg whites.
Ronzoni
Ronzoni has several varieties of vegan pasta. Most of their dry pastas are vegan but there is egg in their Oven Ready Lasagna noodles, Small Egg Bows and Egg Fettuccine, as well as their Homestyle line such as the Homestyle Fettuccine and Homestyle Penne.
Their regular lasagna noodles are egg-free as well as the rest of their dry pastas.
American Beauty
American Beauty provides a bunch of vegan dry pasta options!
Their Wide Egg Noodles, Extra Wide Egg Noodles, Medium Egg Noodles, and Oven Ready Lasagna are not vegan.
Private Selection
Private Selection makes great vegan pastas. The only one I've seen not vegan is their Basil Pesto Gnocchi which contains dairy.
San Remo
San Remo has recently started producing fresh vegan pastas as part of their vegan ravioli range. The range includes the flavors Roast Capsicum & Olive, Sundried Tomato & Basil, and Spinach & Garlic.
Vegan Pasta Recipes
As you can seen, there are tons of convenient dry pastas that are vegan and readily available at most grocery stores. Finding fresh vegan pasta on the other hand can be difficult.
If you want to up your pasta game, these homemade vegan pasta recipes are surprisingly easy!
This simple homemade pasta only requires 3 ingredients and less than 30 minutes to make!
And this one has a spinach pasta option which is a delicious way to sneak vegetables into a meal!
Vegan Recipes with Pasta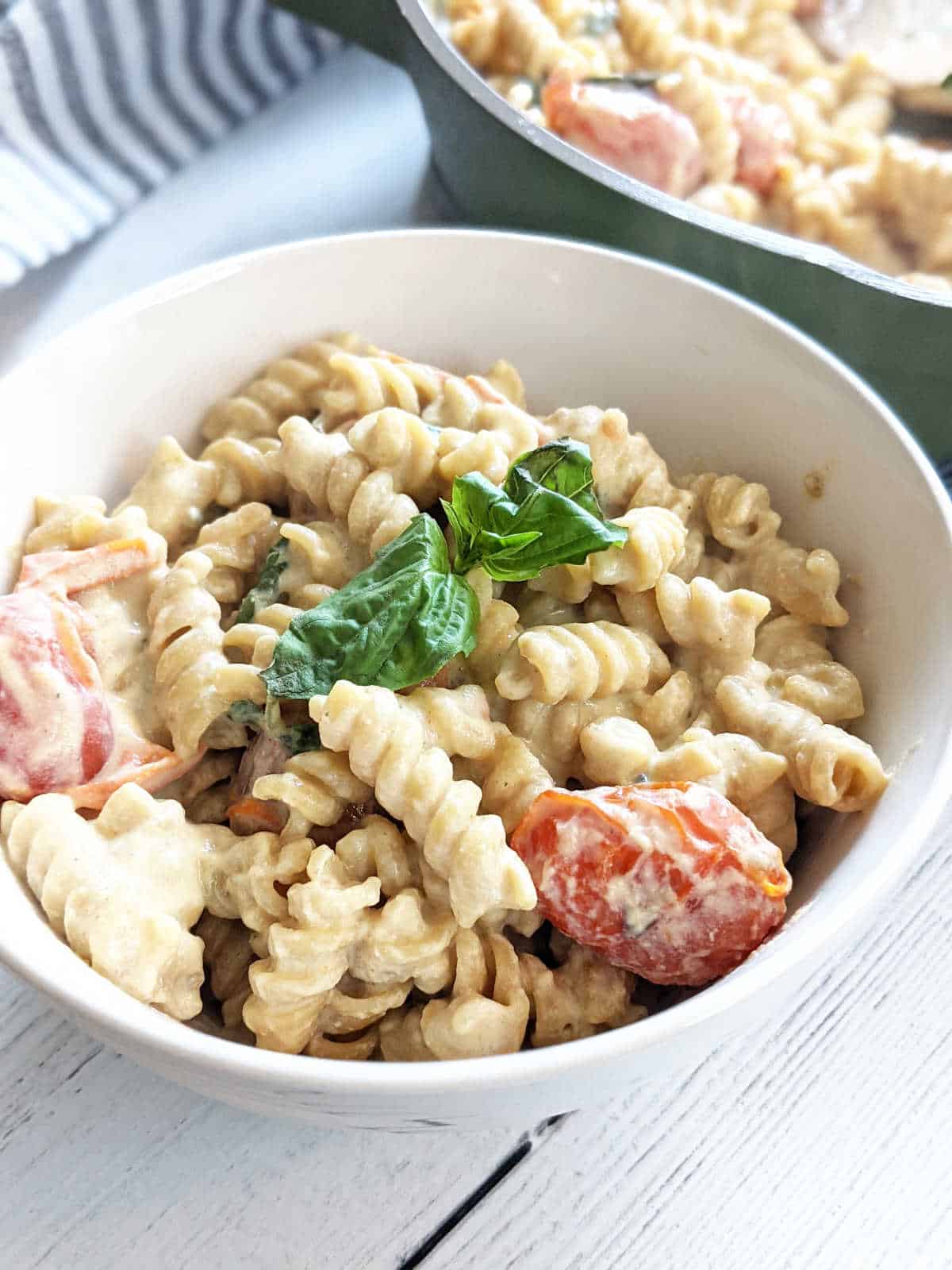 Now that you've found some vegan pasta, let's make some dishes!
Try this no-bake Vegan Feta Pasta recipe based on the viral baked feta pasta from TikTok and Instagram. Same great taste but way easier to make!
If you want an easy dump and bake recipe this Tofu Baked Pasta Casserole is incredible and low-effort.
An easy snack or appetizer are these pasta chips! They're crispy, yet healthier—no deep frying necessary! And so deliciously addictive!
And who doesn't love some lasagna? This may be the easiest vegan lasagna ever but also the tastiest. My family requests this recipe often!
FAQ's
Is dry pasta vegan?
Most dry pasta will be vegan, made with only flour and water. However, occasionally you'll find eggs on the ingredient list so it's best to always check the packaging to be sure.
Is penne pasta vegan?
Penne is typically sold as a dry pasta, so most stores will have vegan penne pasta. Dry pastas are usually egg-free, making them vegan. When in doubt, check the ingredient label to be sure.
Is pasta sauce vegan?
Most tomato-based pasta sauces will be vegan. Creamy ones like Alfredo and Vodka sauce often contain dairy, though there are vegan versions. Check the ingredient list on the label to be sure. Any mention of cream, milk, butter, or cheese is a non-vegan product.
Is gnocchi vegan?
Gnocchi is made from potato and flour and sometimes may contain egg. It's best to check the ingredients to be sure. De Cecco, Private Selection, Simple Truth Organic, and Sam's Choice are all egg-free, just to name a few.
Are egg noodles vegan?
Egg noodles will always contain eggs regardless of the brand, making them not vegan. This makes determining whether a dish is vegan friendly easier. If you see egg noodles on the menu, you know to avoid it and swap it with something like rice noodles.


New to eating a vegan diet and don't know where to start? Check out our easy meal planner that makes eating vegan ridiculously easy with hundreds of delicious recipes in under 30-minutes. Includes shopping lists and pre-made customizable meal plans to save you time!