There are many vegan tortilla brands and tons of homemade vegan tortilla recipes—but which ones are the best? Find below our recommendations for best brands and where to buy them as well as easy recipes in case you like fresh, homemade tortillas! (Who doesn't?!)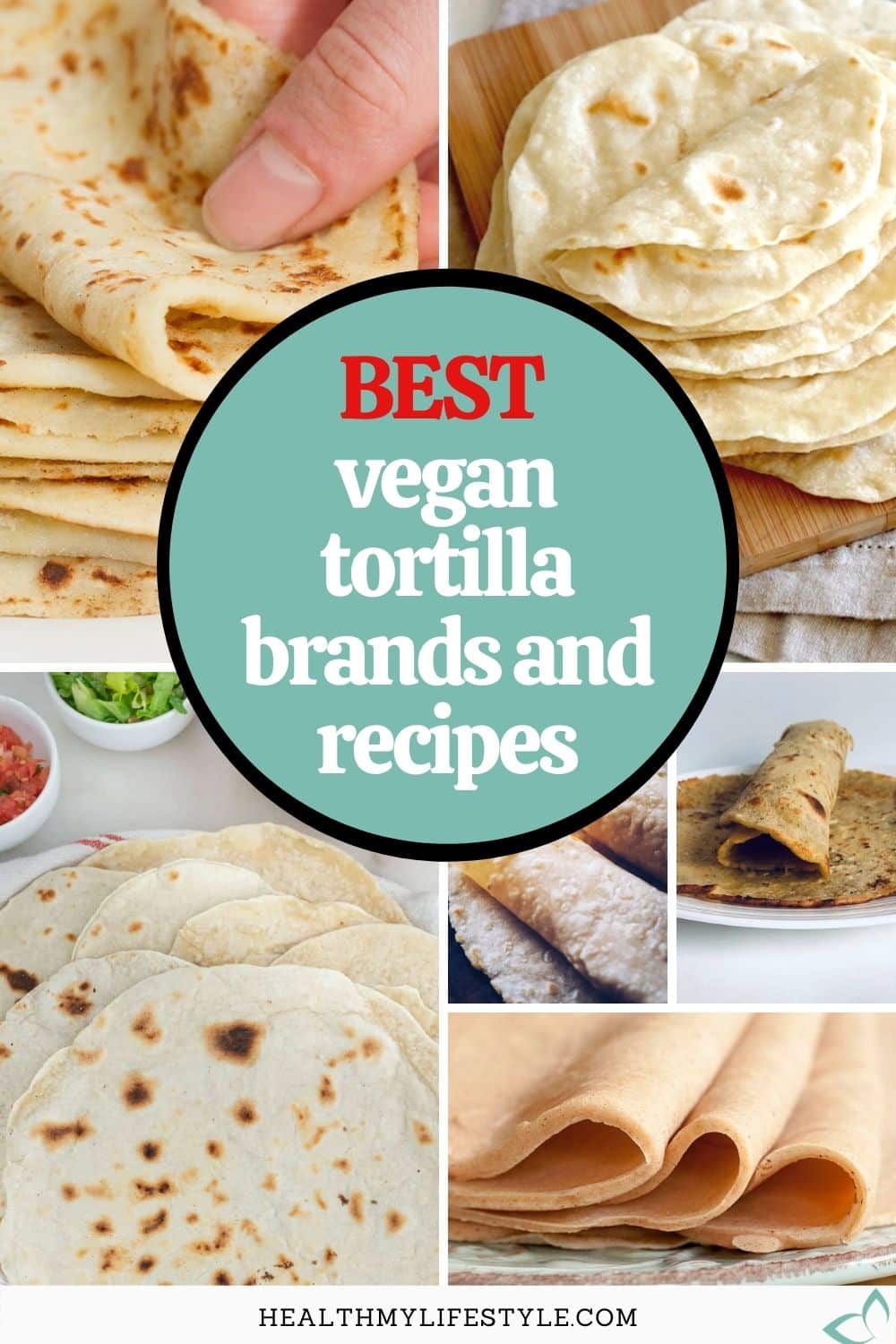 Are Tortillas Vegan?
These delicious flatbreads seem innocent enough but what really is in a tortilla? Although the main ingredients in tortillas like flour or corn are vegan, the extra additives may not be depending on the brand.
Flour tortillas are traditionally made with lard (animal fat). Sometimes butter is used instead or whey, which is a milk derivative. Vegan versions use vegetable oil as an alternative.
Store-bought tortillas also often use preservatives which may or may not be vegan. This includes mono- and diglycerides which can be vegetable or animal based.
Ingredients in Tortillas
To better understand when tortillas are vegan let's take a look at their ingredients.
Main ingredients in corn tortillas include:
masa harina (corn flour)—treated in a lime solution essential for flavor, color and texture
water
salt
Corn tortillas are traditionally made vegan so when in doubt, opt for corn. Yellow or white corn tortillas are both safe vegan choices.
Main ingredients in flour tortillas include:
flour
fat—shortening or oil
water
salt
Optional ingredients in flour tortillas:
baking powder—for leavening
sugar
lard
butter
milk powder
mono- and diglycerides—can be derived from plants or animals so it is not always clear if a brand is vegan (used as a preservative)
This is where things get tricky. As you can see, several of the optional ingredients are not vegan-friendly so it's important to keep an eye out for these on ingredient lists when looking for vegan tortillas.
Best Vegan Tortilla Brands
Here are the best vegan tortillas on the market right now. Check out the brands, learn which flavors are vegan, and see where to find them.
I've tried my best to only include options that are widely available so that you can find them locally but I've also included online links incase they're not yet available in your area.
Mission
Probably the most well-known tortilla brand and yes, their tortillas are vegan! According to their website, "Mission wraps, tortillas and chips do not contain any ingredients coming from animal-based products, making them acceptable for vegetarian and vegan diets."
They have a variety of flavors including flour, corn, whole wheat, spinach herb, and gluten-free.
You can find them at Walmart, Kroger stores, Safeway, Hy-Vee and other large grocery retailers.
Guerrero Tortillas
Guerrero tortillas use vegetable based mono- and diglycerides, making their tortillas vegan. They state "The only products that are animal based are the Guerrero pork cracklins and chicharrones."
They have corn, flour, whole wheat, low carb tortillas and tostadas that are all vegan!
They can be found at major grocery retailers such as Kroger stores, Target, Safeway, Sam's Club, and Walmart.
La Banderita
La Banderita line of tortillas produced by Ole Mexican Foods contains no lard and their mono- and diglycerides are vegetable based. This makes all their tortillas completely vegan!
They have corn tortillas, sopes (thicker corn tortillas), whole wheat, and low carb varieties.
You can find them at Kroger stores, Family Dollar, Target, and Walmart.
Old El Paso
Another popular brand, Old El Paso has several tortilla options. Their hard shells and corn tortillas are vegan, however, they have not stated whether the mono- and diglycerides used in their flour tortillas are animal or vegetable based. For this reason I would stick to only their corn tortilla options.
You can find them at Target, Walmart, Sam's Club, Kroger stores and other major grocery chains.
La Tortilla Factory
La Tortilla Factory has a huge selection of tortillas ranging from low carb, whole wheat, gluten-free and grain-free (made of cauliflower or cassava), to traditional corn and flour tortillas.
Get them at your local Kroger store, Walmart, Target or buy them online.
Toufayan Tortilla Wraps
Their wraps are naturally vegan and gluten-free. They come in a variety of flavors including Savory Tomato, Smart Grain, Spinach, and Original.
You can find them online here.
Siete Foods
Siete Foods make completely grain-free vegan tortillas and tortilla chips. They don't use any preservatives so you'll want to store them in the refrigerator or freezer.
They have a bunch of options including cassava flour, chickpea flour and almond flour.
You can find them at major retailers like Kroger, Target, Sprouts, Walmart and Whole Foods or online.
Rudi's
Rudi's makes gluten-free tortillas and doesn't use any mono- or diglycerides making their tortillas vegan.
You can find them at Kroger, Sprouts, Natural Grocers, and Whole Foods or online.
365 Whole Foods Market
All tortillas from the 365 brand by Whole Foods are vegan! They make flour, whole wheat and corn varieties.
You can find them at Whole Foods or online.
Food for Life
Food for Life makes several healthier vegan tortilla options including brown rice tortillas which also happen to be gluten-free as well as sprouted whole grain tortillas and sprouted corn tortillas. This is a great no-oil option if you're looking to eat a more whole food plant-based diet.
Their vegan tortillas can be found at Kroger stores, Walmart and Whole Foods or online.
BFree
BFree makes some pretty awesome vegan and gluten-free wraps including sweet potato, quinoa & chia seed, and multigrain.
Find them at Costco, Kroger, Walmart, Publix, or online.
Wrawp
Wrawp makes low-carb vegan wraps made from veggies and coconut.
Find them at Whole Foods, Natural Grocers or online.
Best Vegan Tortilla Recipes
Can't find vegan tortillas near you or just want to try your hand at some homemade tortillas? Making your own guarantees that everything going into it is vegan and fresh tortillas can't be beat!
These are the best vegan tortilla recipes that also happen to be easy!
Handmade Vegan Flour Tortillas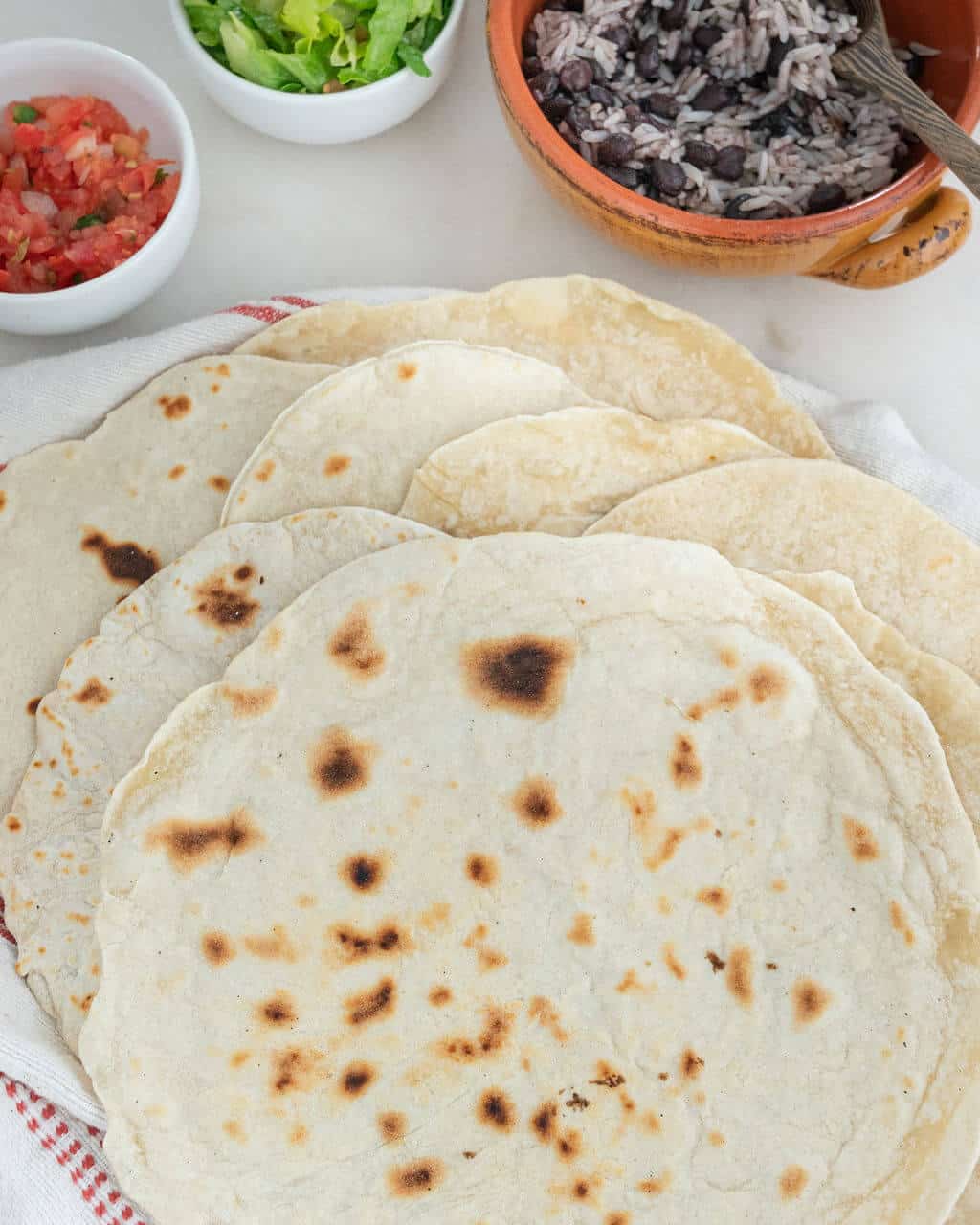 These delicious handmade flour tortillas are a must-try. Easy to make and lard-free!
Oat Tortillas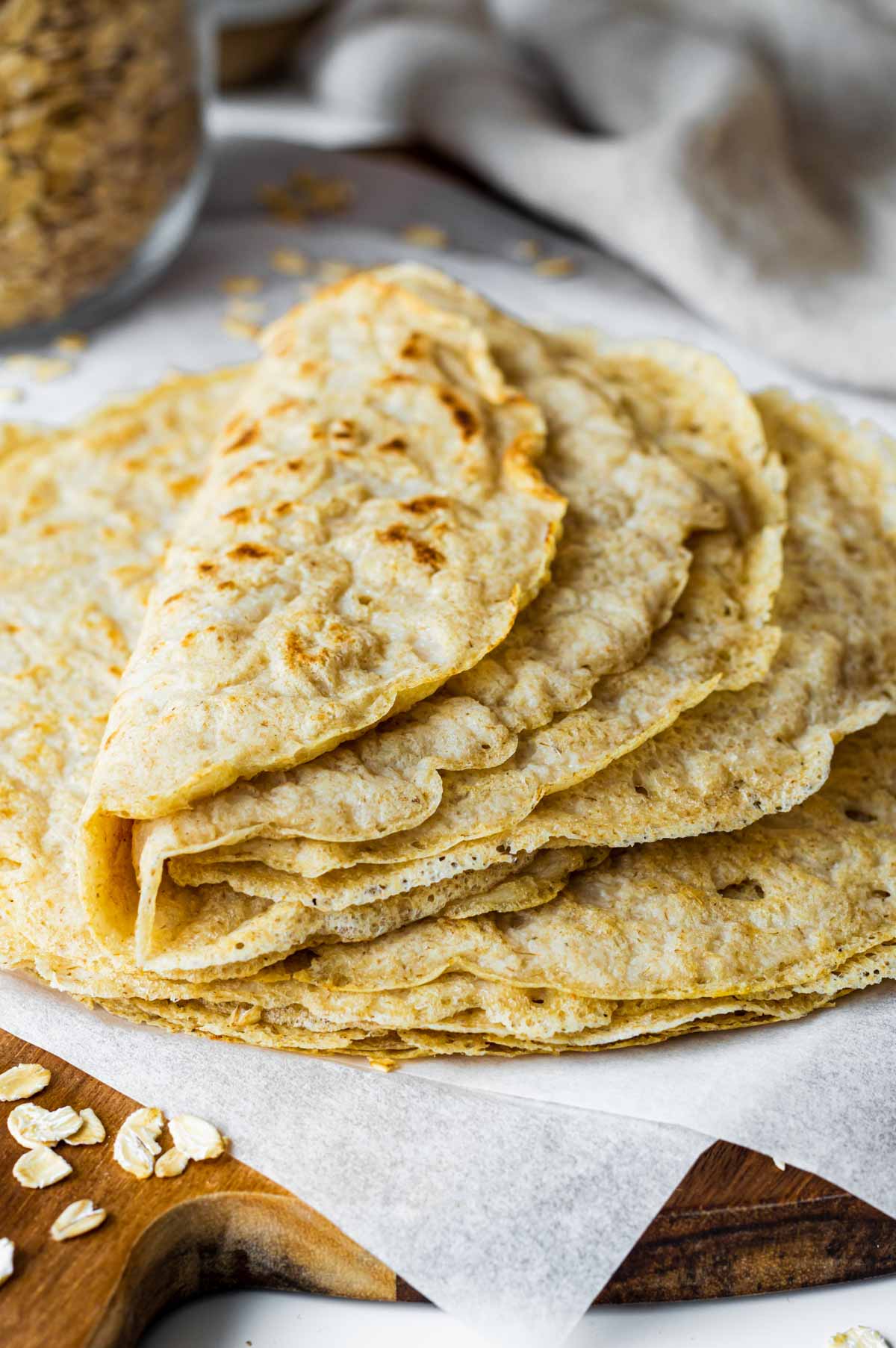 For a gluten-free option that's quick to make, these easy oat tortillas are the answer! Prepping the batter takes no time at all and the cooking process is similar to a pancake making it perfect for beginners.
Chickpea Flour Wraps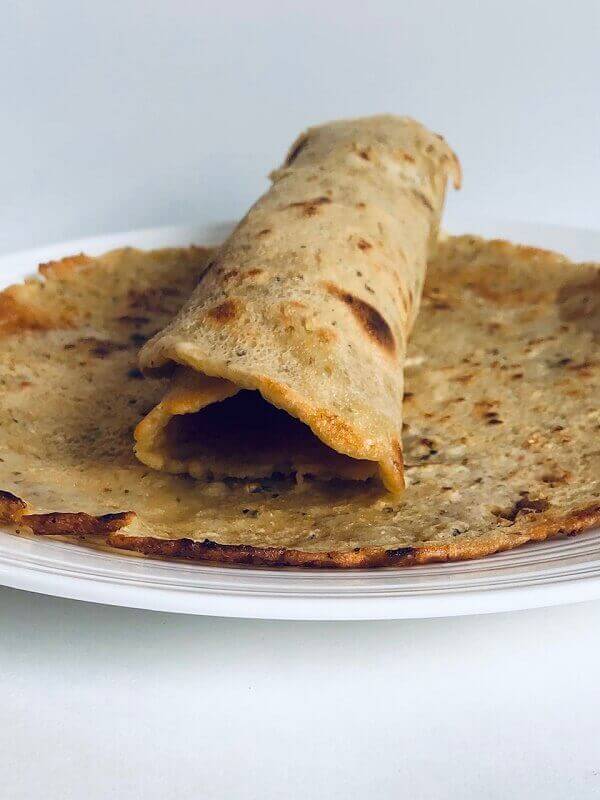 These chickpea flour wraps are gluten-free and can be easily adapted to sweet or savory fillings!
Mushroom Tortillas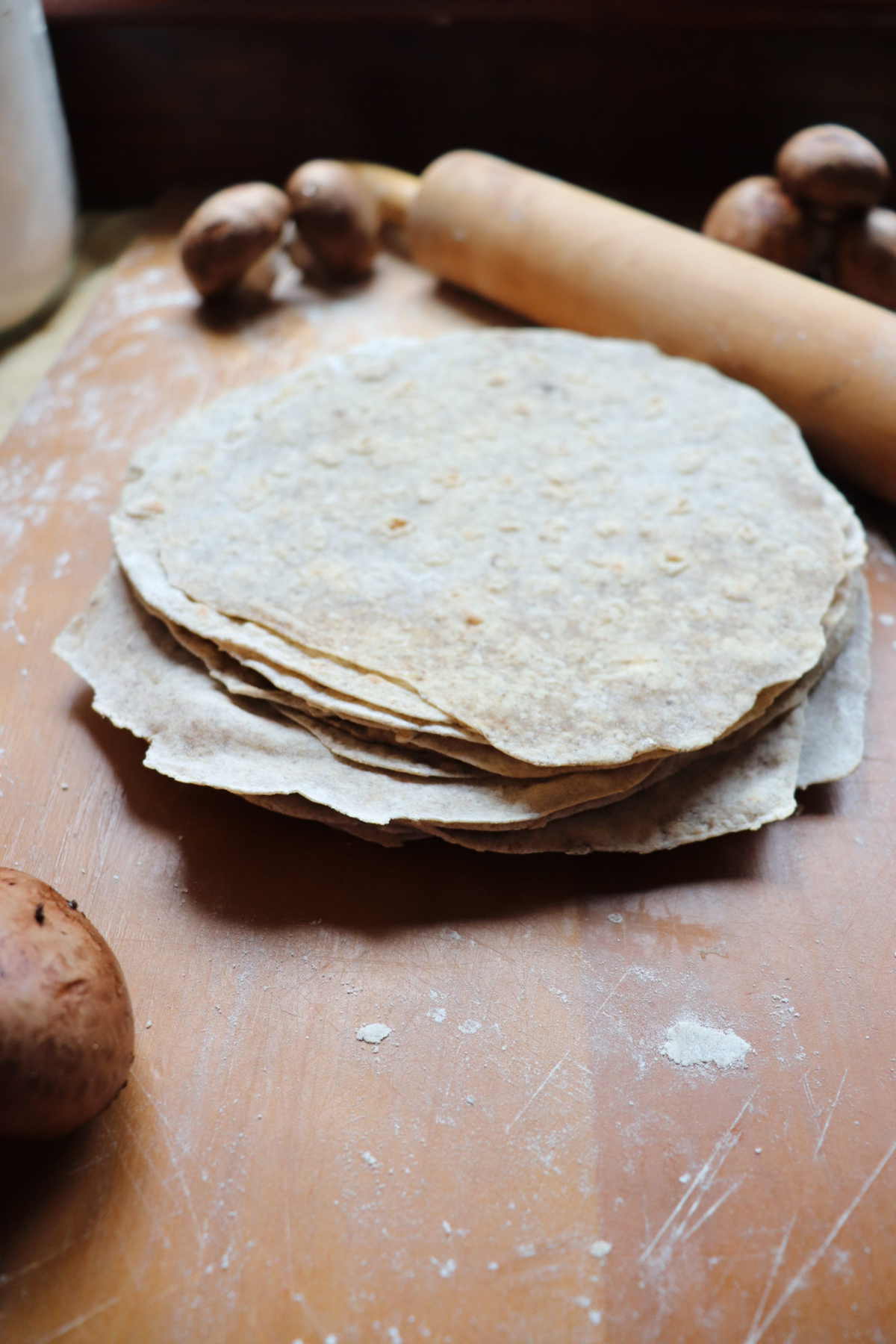 A brilliant way to hide veggies—add mushrooms to your tortillas! Chopped mushrooms give it a subtle savory flavor and boost the nutrition.
Easy Gluten-Free Tortilla Wraps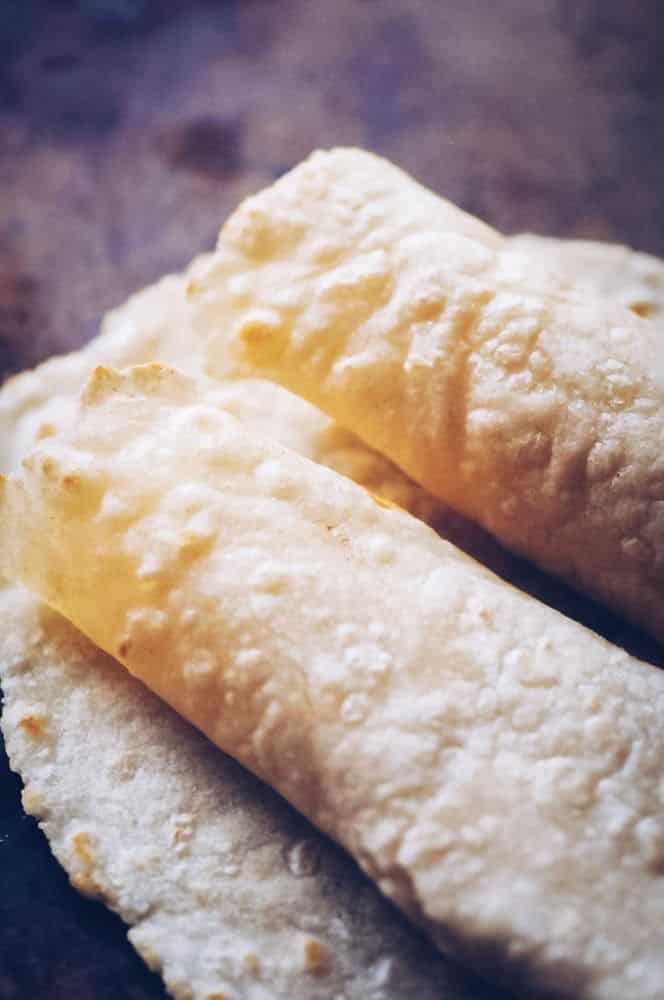 These vegan gluten-free tortillas are made with brown rice flour. They're pliable, foldable, and only require 4 ingredients!
Grain-Free Tortillas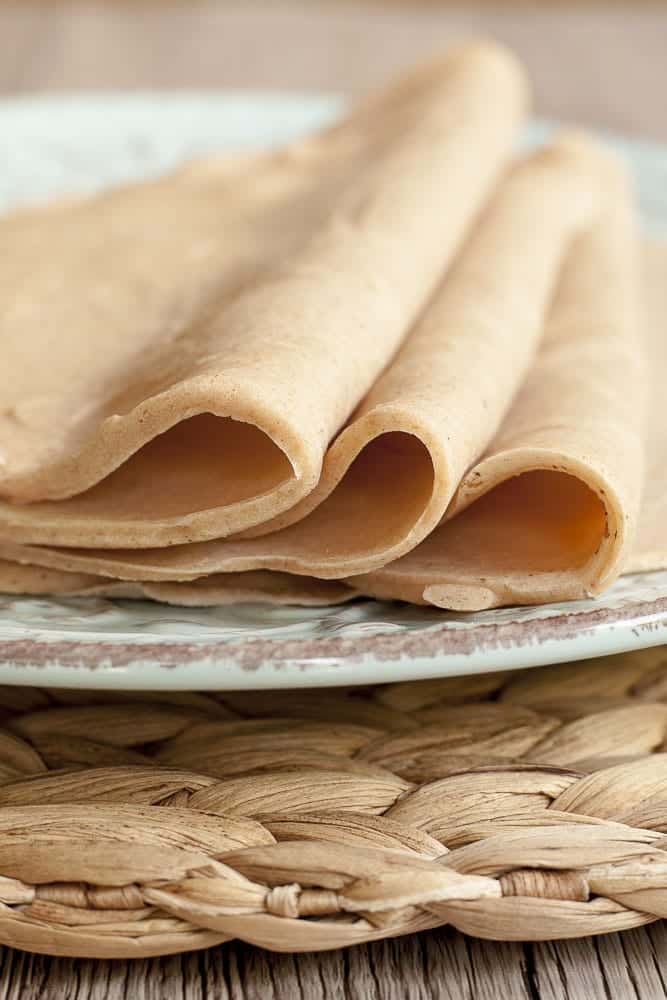 These flourless grain-free tortillas are made with red lentils and buckwheat seeds. They're soft, easy to make, and oil free!
Vegan Potato Tortillas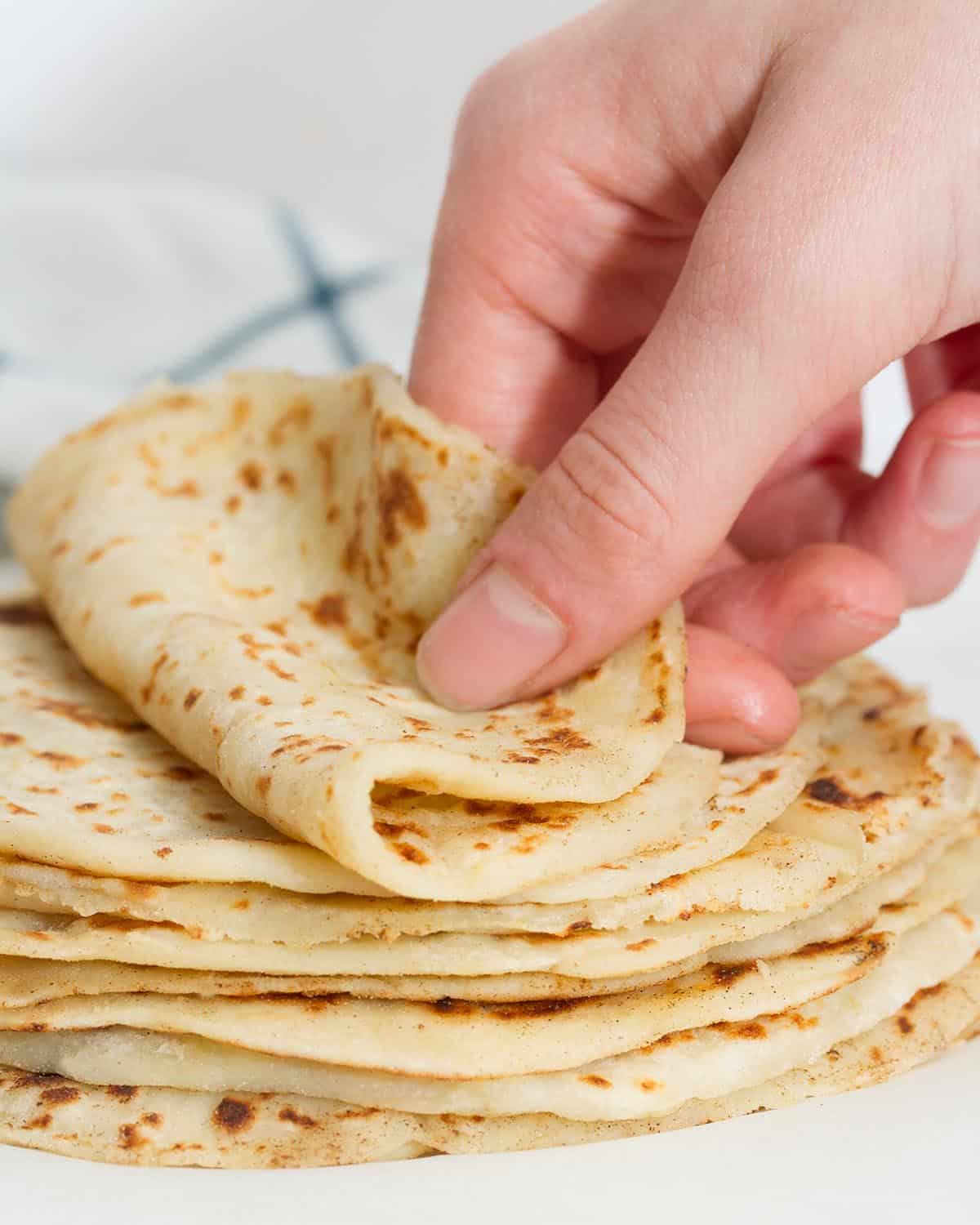 These potato tortillas are easy to make with only 3 ingredients. They're pliable and perfect for burritos, tacos, wraps and enchiladas.
Vegan Flour Tortillas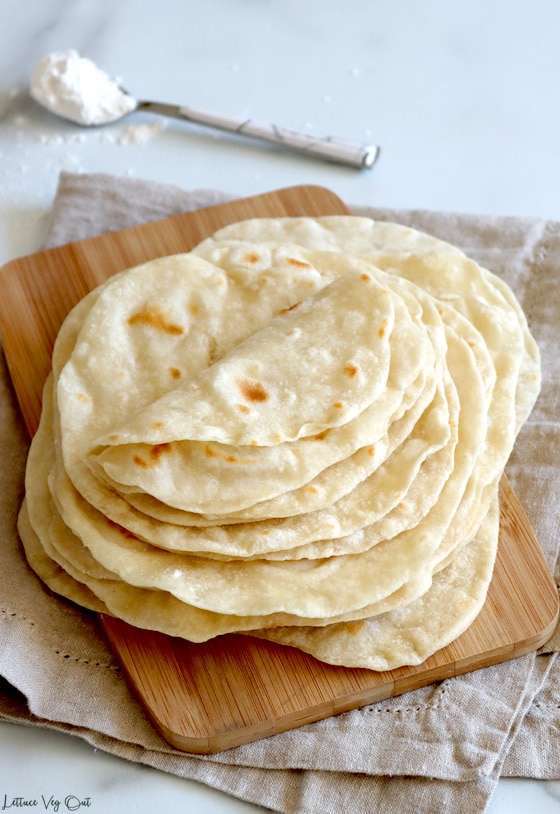 These flour tortillas are deliciously soft and easy to make!
Vegan Corn Tortillas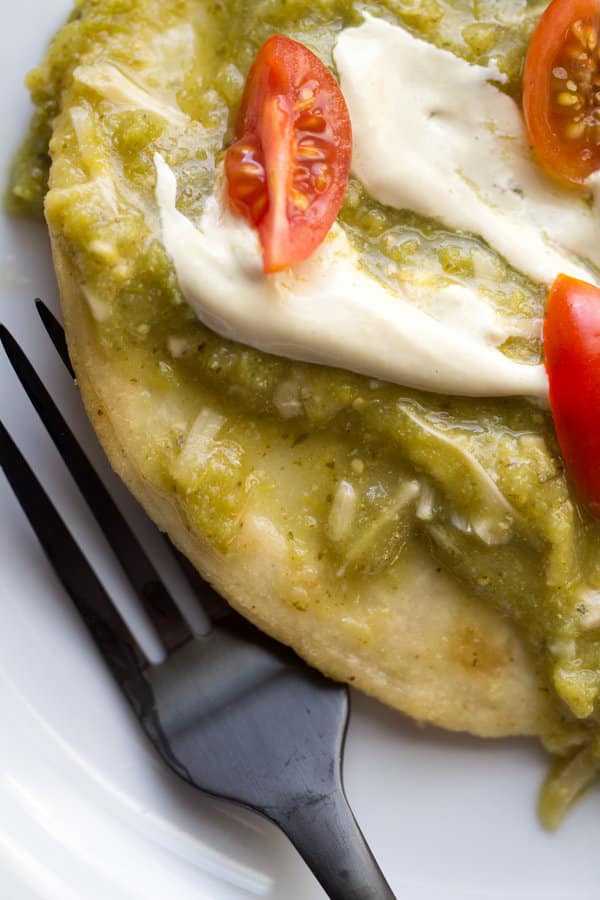 These healthy homemade corn tortillas are simple to make and packed with flavor!
What to serve with vegan tortillas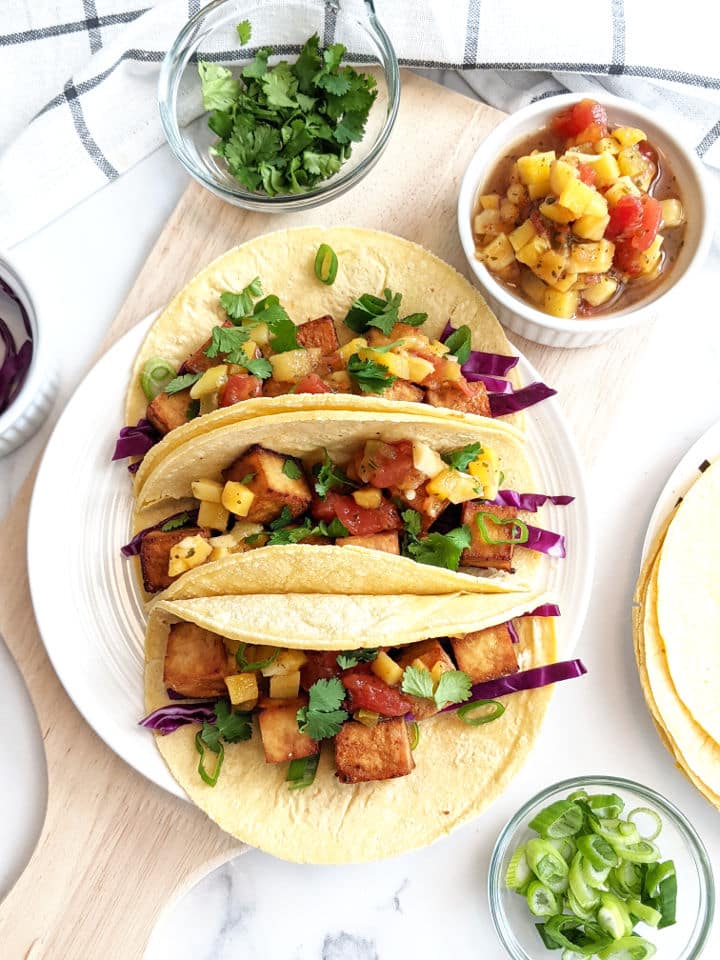 Tortillas are perfect for making tacos, burritos, tostadas, enchiladas, and so much more!
For your next Taco Tuesday try out these amazing Crispy Tofu Tacos!
If you've never had enfrijoladas (black bean enchiladas) you must try these delicious Vegan Enfrijoladas. Seriously, stuffed tortillas smothered in a creamy black bean sauce are a must-try!
Tortillas also go great with ceviche! This vegan ceviche uses hearts of palms (palmitos) instead of seafood and it makes a delicious and refreshing dish. Adding tortillas makes it more filling and really rounds out the dish.
Make a delicious breakfast burrito with this chickpea flour scramble. Add some salsa, black beans, and avocado for a filling and hearty breakfast or brunch.
FAQ's
Are traditional Mexican tortillas vegan?
There are two types of traditional Mexican tortillas: flour tortillas found in the northern regions, and corn tortillas found in the southern regions. Mexican corn tortillas are vegan friendly as they are made with corn flour and water. Flour tortillas, however, are traditionally made with lard which comes from animal fat and is therefore not vegan.
Are tortilla chips vegan?
Tortilla chips are cooked in vegetable oil making them vegan friendly. We've never run into a tortilla chip that wasn't vegan yet!
Are Chipotle tortillas vegan?
All of Chipotle's tortillas are vegan. Yes, even the large flour tortillas! And their tortilla chips are also vegan.
Are Taco Bell tortillas vegan?
The taco shells, tortillas and tostadas are all labeled vegan. In fact, they have quite a few vegan options.
Are Qdoba tortillas vegan?
All tortilla varieties including whole wheat, regular, corn, and taco shells are vegan at Qdoba according to this ingredient list.
Are tortillas gluten-free?
Traditional corn tortillas are completely gluten-free as they're made with masa harina (corn flour). Flour tortillas can be made gluten-free with a gluten-free flour such as coconut or almond flour but are traditionally made with wheat flour which is not gluten-free.
What other vegan tortilla brands or restaurants are you curious about? Leave a comment below and let us know if you found this article helpful as you navigate vegan food!