Get ready for burger bliss with vegan hamburger bun options that will blow your taste buds away! From top-notch store-bought brands to homemade recipes that will make your mouth water, we've got the ultimate guide to elevating your plant-powered burger experience.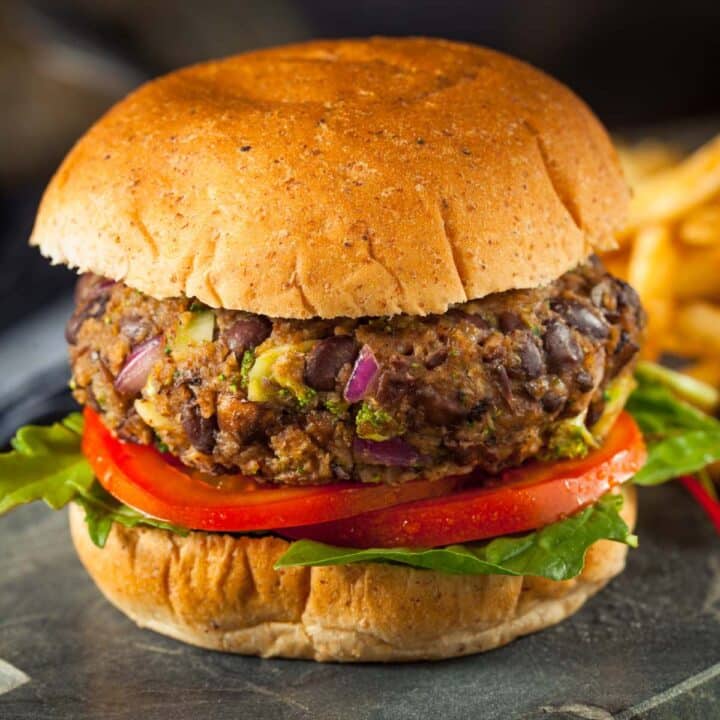 It's burger season and nothing sounds better than sinking your teeth into the most delicious and plant-powered burgers. But are burger buns vegan? You may or may not be surprised to learn that not all burger buns are vegan.
The humble yet essential component of burger perfection, the bun, comes in so many varieties these days and every brand seems to have a surplus of options that can be overwhelming. Whether you're a fan of store-bought convenience or enjoy rolling up your sleeves for some homemade magic, we've got you covered.
Read on to learn which top vegan burger bun brands that will leave you craving for more, and share some delightful homemade recipes for those adventurous souls who love to bake with a side of burger bliss. Get ready to elevate your burger game to new heights!
Jump to:
Non-Vegan Ingredients to Look for in Hamburger Buns
When checking the ingredients list of store-bought hamburger buns, here are some non-vegan ingredients to look out for:
Eggs: Although not super common, some hamburger buns may contain eggs. Look for egg-free alternatives if you're seeking vegan options.
Milk or dairy derivatives: Some buns may include milk, whey, butter, or other dairy ingredients.
Honey: Hamburger buns might sometimes contain honey, which is not considered vegan. If you follow a strict vegan diet, check for honey-free options.
L-cysteine: L-cysteine is an amino acid often derived from animal sources, such as feathers or hair, and is sometimes used as a dough conditioner. This is more common in bagels and hard rolls but still something to keep an eye out for.
Mono- and diglycerides: These additives can be derived from animal fats, so it's important to ensure they are not present in the ingredient list. Always carefully read the labels or contact the manufacturer if you have specific dietary restrictions.
Fortunately, with the increasing popularity of veganism, many brands now offer explicitly labeled vegan buns, making it easier than ever to find suitable options.
Best Vegan Burger Buns
Here are the best store-bought buns to look for when you're grilling some veggie burgers and need a guaranteed vegan option.
Dave's Killer Bread
Known for their hearty and wholesome bread products, Dave's Killer Bread offers vegan burger buns with a soft texture and delicious taste. Thankfully, all of Dave's Killer Bread bread products are vegan. Some of their snacks contain honey but are otherwise vegan, so you can rest easy knowing your fluffy burger bun is vegan.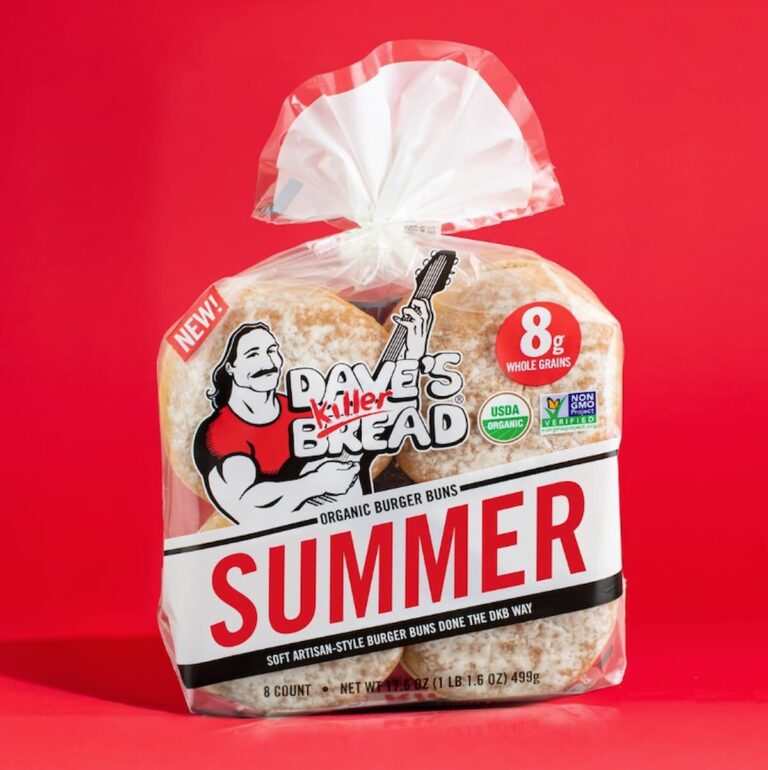 BFree
BFree specializes in allergen-friendly and gluten-free products. Their vegan burger buns are not only free from common allergens but also deliver a satisfying and fluffy experience.
Angelic Bakehouse
Angelic Bakehouse produces sprouted grain buns that are both nutritious and vegan-friendly. These buns provide a unique and wholesome twist to your burger creations. Bonus: All of their products are free from animal-products!
Alvarado Street Bakery
Known for their organic, sprouted grain products, Alvarado Street Bakery offers sprouted grain hamburger buns that are vegan-friendly. Their hearty texture and nutritious profile are perfect for serving with veggie burgers.
Food for Life
Food for Life is well known for their sprouted grain products made with organic and wholesome ingredients.They have Sesame Sprouted Grain Burger Buns, Ezekiel 4:9 Sprouted Whole Grain Burger Buns, and Sprouted Whole Wheat Burger Buns that are all vegan!
365 Organic
Whole Foods Market brand, 365 Organic, has a couple of fluffy vegan burger buns to choose from. Both their classic white regular burgers buns and whole wheat buns are vegan.
Little Northern Bakehouse
Little Northern Bakehouse is a brand that specializes in gluten-free and plant-based bakery products. They have a Millet & Chia Hamburger Bun that's gluten-free as well as a whole grain hamburger bun, made from a combination of nutritious whole grains for those looking for a heartier and healthy bun.
Remember, this is just a small sample of the diverse range of vegan burger bun brands available. Exploring local bakeries or specialty stores might also reveal unique and delicious options to satisfy every vegan burger lover's cravings.
Vegan-Friendly Hamburger Bun Brands
Several hamburger bun brands offer accidentally vegan options, meaning their products are free from animal-derived ingredients by default. Here are a few well-known brands to keep an eye out for:
Kroger
Whether you're shopping at Kroger. Ralph's, King Soopers, Dillon's, Fred Meyer, Smith's, Baker's, or one of the other many names they go by, you're sure to find these vegan-friendly bun options:
Classic White Hamburger Buns (vegan)
Sesame Hamburger Enriches Buns (vegan)
Smart Way Enriched Hamburger Buns (vegan)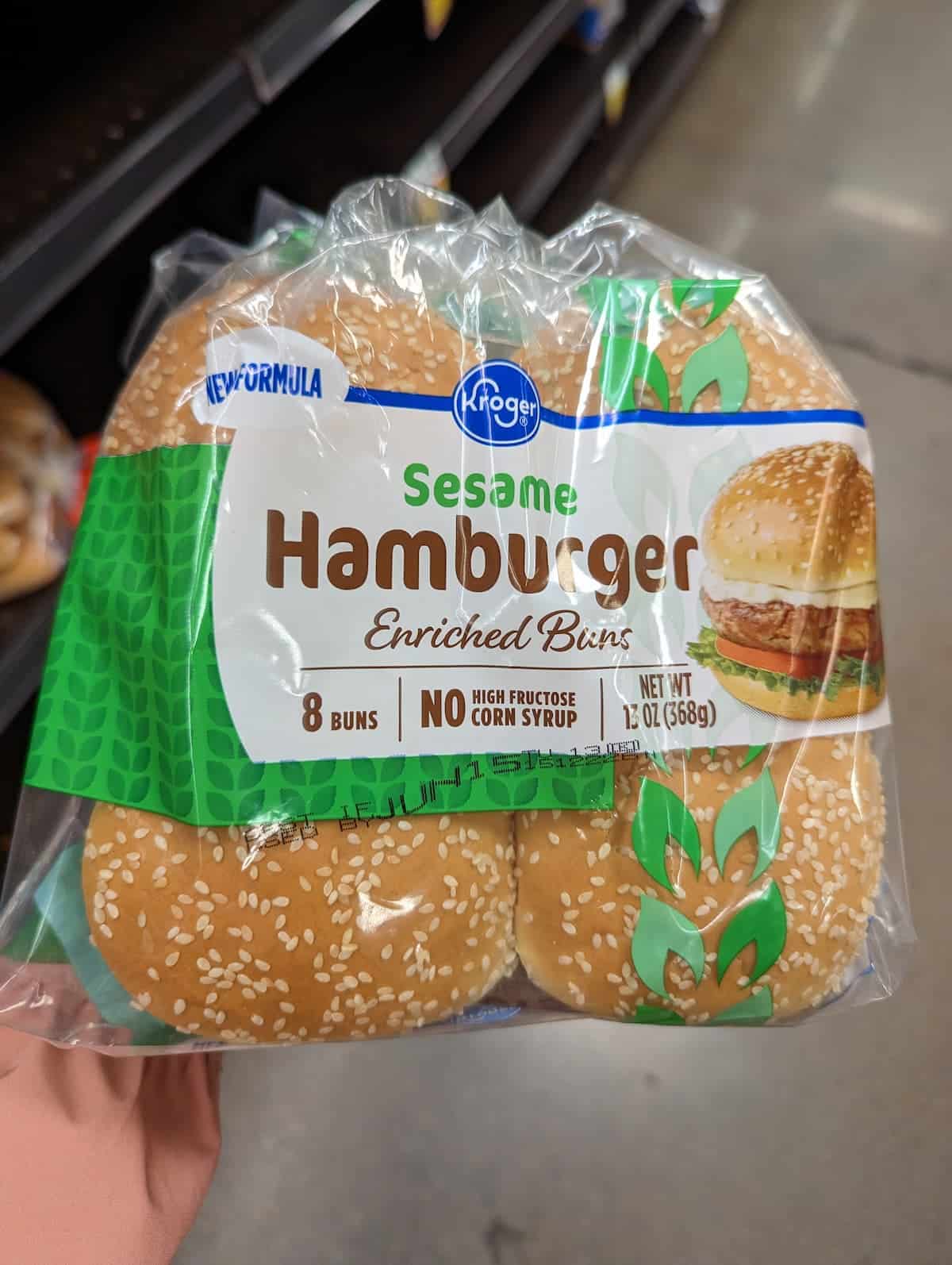 Nature's Own
Nature's Own offers a variety of vegan burger buns that are made with simple ingredients and have a soft, bakery-fresh taste. Not all of their buns are vegan though.
Here are their vegan hamburger bun options:
Butter Buns (not vegan)
100% Whole Wheat Hamburger Buns (vegan)
Brioche buns (not vegan)
Artisan Style Everything Buns (vegan)
Franz Bakery
Their enzymes are derived from fungus and their sodium steroyl lactylate is derived from soybean oil, however, not all of the hamburger buns are vegan.
Here are the vegan bun options at Franz Bakery:
Keto Hambruger bun (vegan)
Hamburger Buns (vegan)
Wheat Hamburger buns (vegan)
Kaiser Premium Buns (vegan)
Sesame Premium Buns (vegan)
Onion Premium Buns (vegan)
Potato Premium Buns (vegan)
Hawaiian Hamburger Buns (not vegan)
Trader Joe's
Trader Joe's carries a selection of vegan-friendly hamburger buns, including their Classic Hamburger Buns and Whole Wheat Hamburger Buns. Their Brioche Buns are not vegan.
Rudi's Bakery
Rudi's Gluten-Free breads are not vegan as they contain egg whites and organic honey. However, their organic line does have several vegan bun options:
Rocky Mountain Sourdough Hamburger Buns (vegan)
White Hamburger Buns (vegan)
100% Whole Wheat Hamburger Buns (vegan)
Wheat Hamburger Buns (vegan)
Brioche Burger Buns (not vegan)
Unbun Foods
This certified keto brand does offer a vegan option with their Unbun Plant-based buns. Make sure you're grabbing the plant-based one as their regular buns contain liquid eggs.
Wonderbread
This classic and recognized brand known for its soft and fluffy bread products does have several hamburger buns free from animal products! If you're looking for regular burger buns with nothing fancy, these are easy to find:
Wonder Classic Hamburger Buns (vegan)
Wonder Classic Hawaiian Buns (vegan)
Ball Park
Well known for both their burger and hotdog buns, Ball Park is a great brand when you're on the hunt for fluffy buns that are also vegan. They can be found in most grocery stores.
Here are the burger bun offerings:
Burger Buns (vegan)
Everything Burger Buns (vegan)
Golden Hamburger Buns (not vegan)
Tailgater Gourmet White XL Buns (vegan)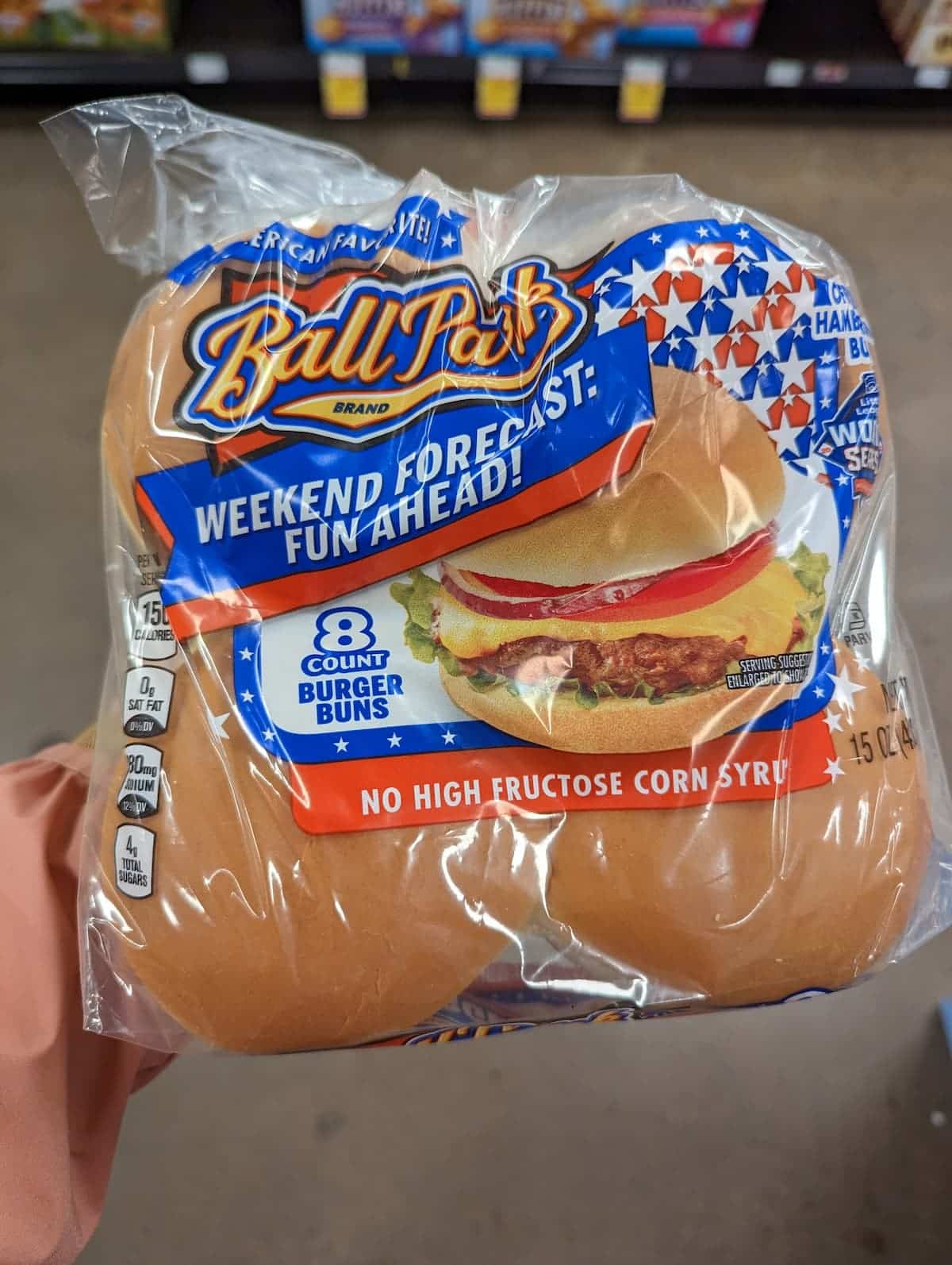 Oroweat
Also sold as Brownberry and Arnold depending on location, the label, and the product is much the same. Although not all of Oroweat's bread option are vegan, luckily their current hamburger bun line is!
Potato Buns (vegan)
Potato Buns Large (vegan)
Sesame Seed Buns (vegan)
Golden Seeded Buns, Large (vegan)
100% Whole Wheat Buns (vegan)
Hawaiian Buns (vegan)
Onion Buns (vegan)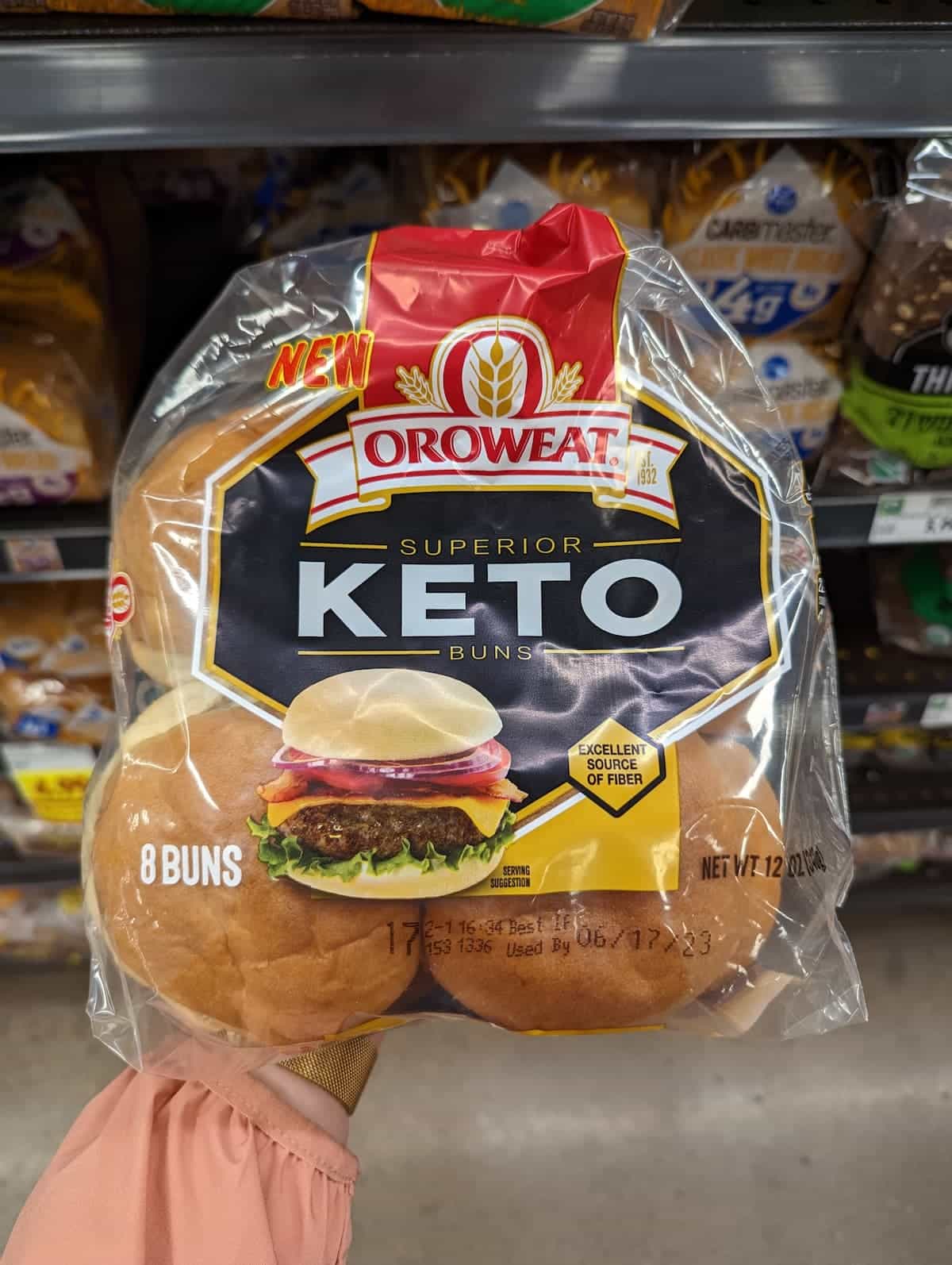 Sara Lee
Sara Lee's Artesano Bakery Buns are often accidentally vegan and are known for their rich flavor and soft texture.
Artesano Bakery Buns (vegan)
Brioche Buns (not vegan)
Aunt Millie's
Brioche Buns (vegan)
Kaiser Buns (vegan)
Onion Buns (vegan)
Butter Hamburger Buns (not vegan)
Live Carb Smart Hamburger Buns (vegan)
Stadium White Hamburger Buns (vegan)
Whole Grain Hamburger Buns (vegan)
Honey Hamburger Buns (not vegan)
Hawaiian Hamburger Buns (not vegan)
Sesame Hamburger Buns (vegan)
Perfection Deli Onion Buns (vegan)
Artisan Style Sandwich Rolls (vegan)
It's important to note that product availability and formulations can change over time, so it's recommended to check the most up-to-date information on the packaging.
Non-Vegan Hamburger Bun Brands
The following brands do not offer any vegan hamburger buns:
Martin's Potato Rolls: Martin's Potato Rolls contain milk.
Pepperidge Farm: All of their hamburger buns contain milk.
Udi's: Both their whole grain and classic hamburger buns contain egg whites.
Against The Grain: All of their rolls contain cheese, milk, and eggs.
Homemade Burger Buns
If you're looking for some vegan homemade hamburger buns made without dairy products or eggs, these ones are perfect to try out. They all have easy to follow step-by-step instructions to ensure the best results. Pick your favorite vegan burger bun recipe and get baking: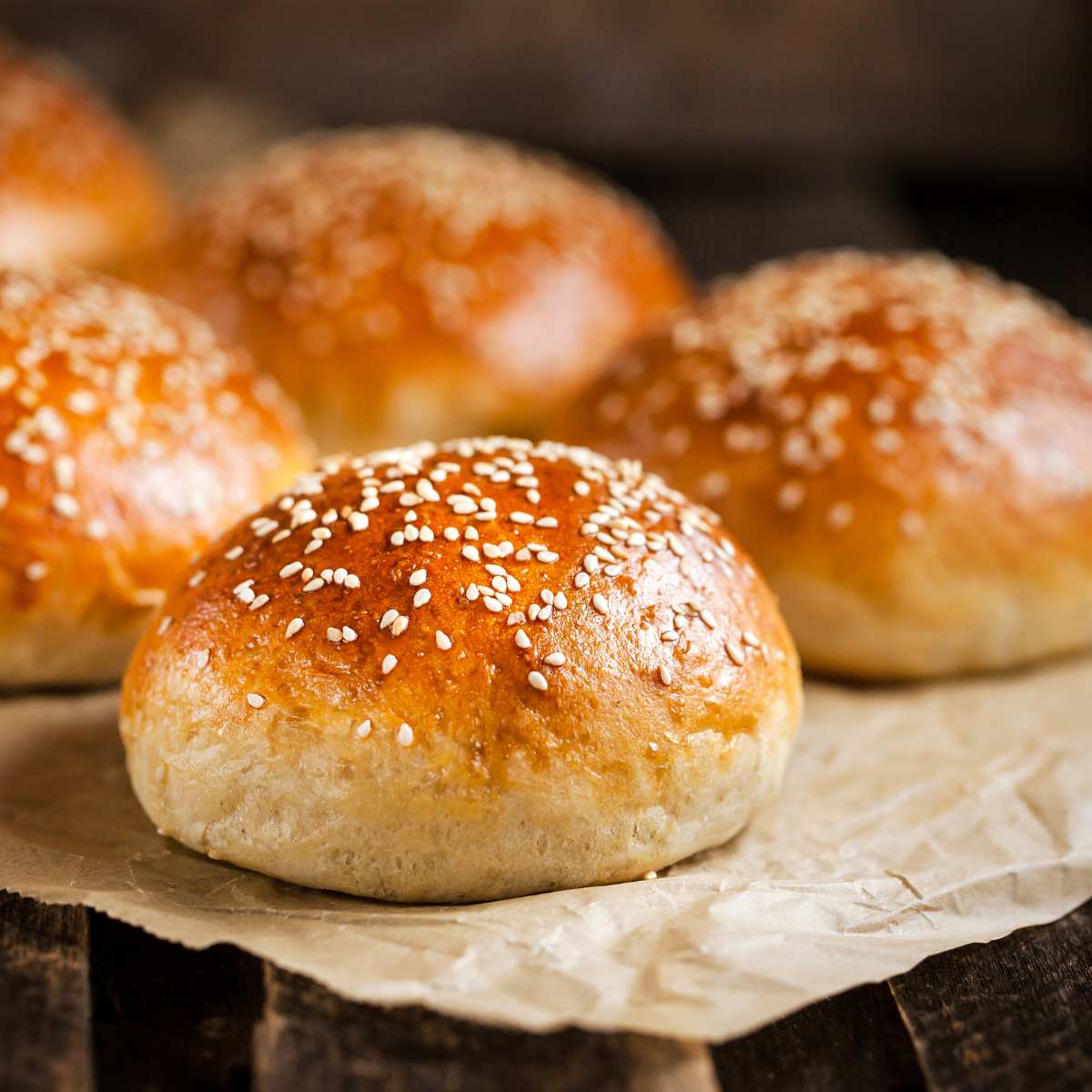 With an array of delicious options from both store-bought brands and homemade recipes, the world of vegan burger buns is waiting to be explored. From vegan choices like Dave's Killer Bread and BFree to specialty options like Little Northern Bakehouse and Food for Life, there's a vegan bun for every taste and dietary preference.
Whether you're looking for gluten-free, organic, sprouted grain, or plant-based keto buns, the market continues to expand to meet the demands of vegan burger lovers. So, fire up the grill, gather your favorite toppings, and get ready to enjoy mouthwatering vegan burgers with the perfect vegan bun to complement them. Happy burger feasting!