Got some ripe mangoes and don't know what to do with them? Make this easy, homemade mango juice! With just two ingredients and no juicer needed, you can have fresh mango juice in minutes!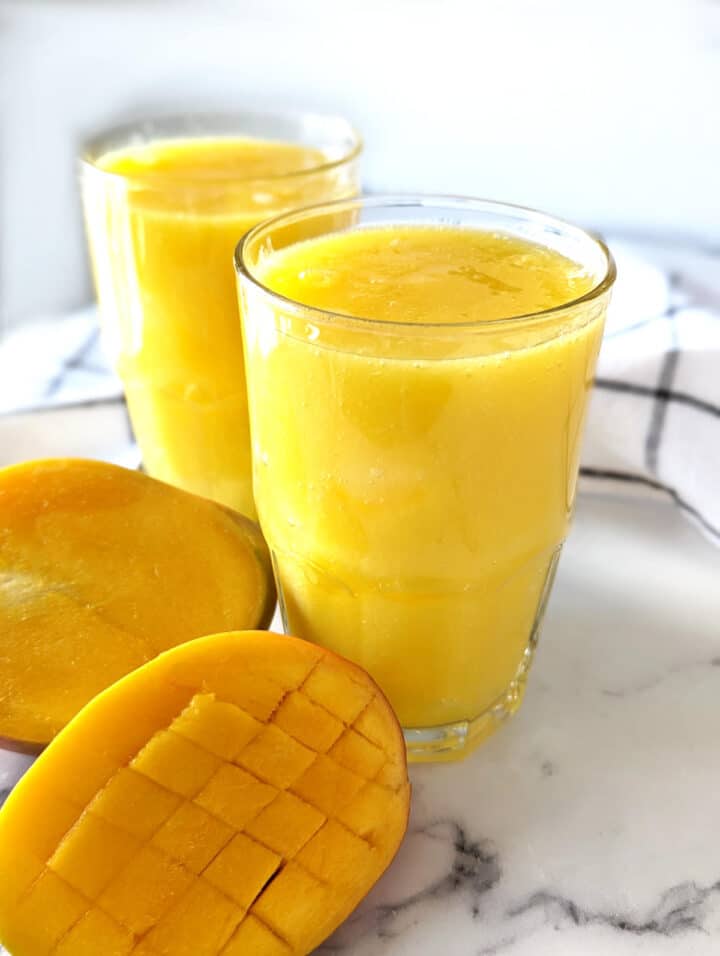 I love making fresh juices at home so I'm here to show you how easy it can be! These tips are especially handy when you have a bunch of produce and aren't able to eat it before it goes bad. When your strawberries are looking sad, make some strawberry juice! Have some peaches that are ripe? Make peach juice! Or when your mango is getting too soft, make mango juice!
Why make mango juice
There are so many varieties of mangos that mango season is essentially all year long! You can find mangos at the grocery store most times of year. What better use of this fresh fruit than a delicious and nutritious juice? Here are some of the reasons we love making mango juice:
Easy to make at home in a matter of minutes
No special equipment needed like a fancy juicer—just need a blender!
Refreshing and perfect for hot summer days
Healthier than store-bought juice—this juice has no added sugar!
Health benefits of mango
Fresh mangoes contain over 20 different vitamins and minerals! They're a rich source of vitamin A, provide a lot of vitamin C to help support the immune system, and are a good source of vitamin B6, folate, and copper.
They're also low in calories with around 200 calories per mango and considered a high fiber fruit. One serving (¾ cup) has 7% of your daily fiber.
Mango is also a great source of magnesium and potassium, both of which can help to lower blood pressure.
As you can see, there are a lot of health benefits to enjoying mangos and mango nectar!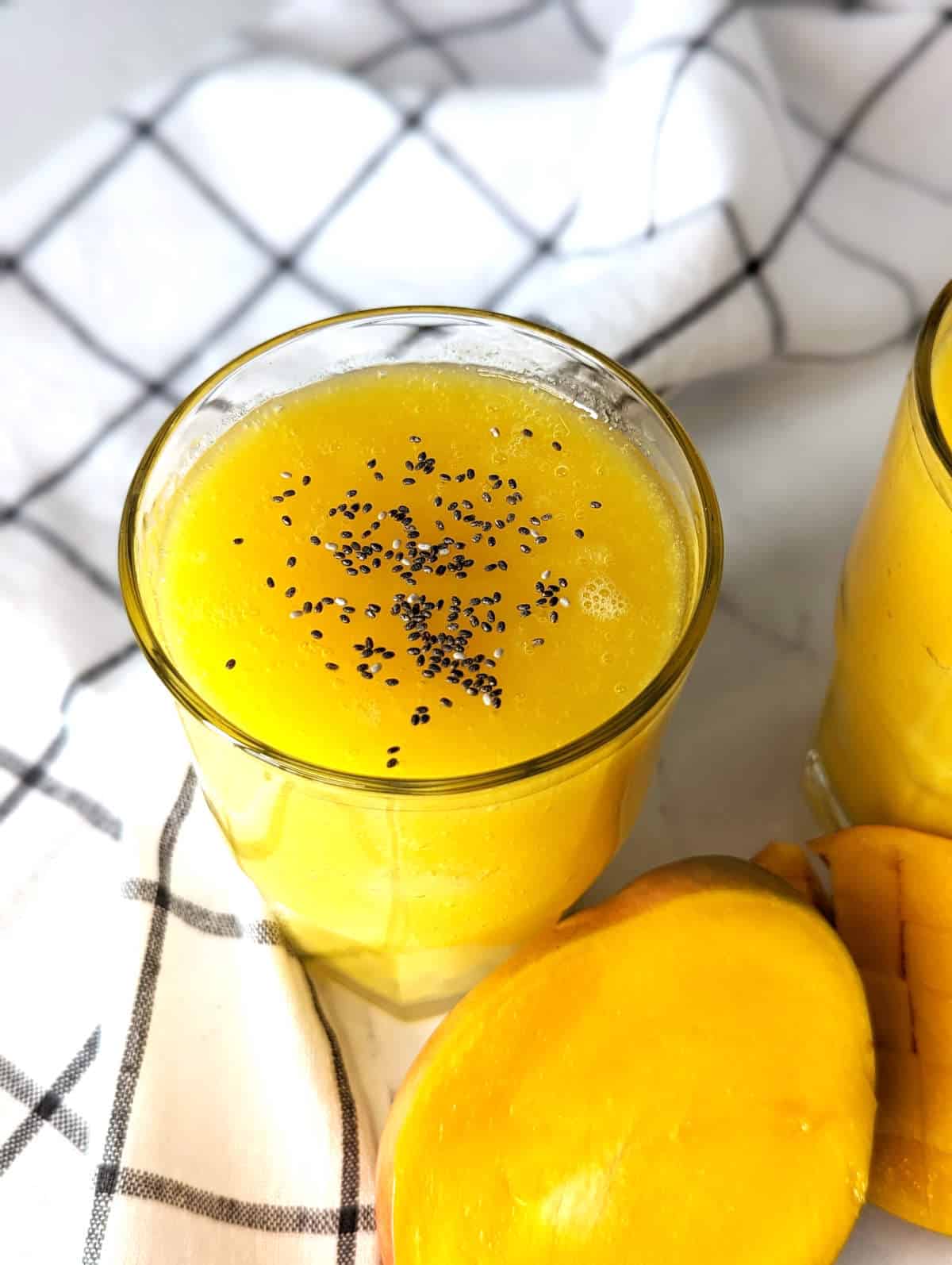 How to cut a mango
Wash the mango before cutting and place on a clean cutting board. Use a sharp knife to slice the mango lengthwise, about ¼ inch from the center. Mangos have a long, flat seed (often referred to as a stone) in the center that you need to cut around. Do the same thing on the other side, slicing next to the sides of the stone.
Slice the flesh without breaking through the skin. You can either slice or cube the mango.
Scoop out the flesh with a spoon or use the glass method. Take a drinking glass and slide the mango flesh along the rim in a downward motion to separate the flesh from the peel, allowing the mango flesh to fall into the glass.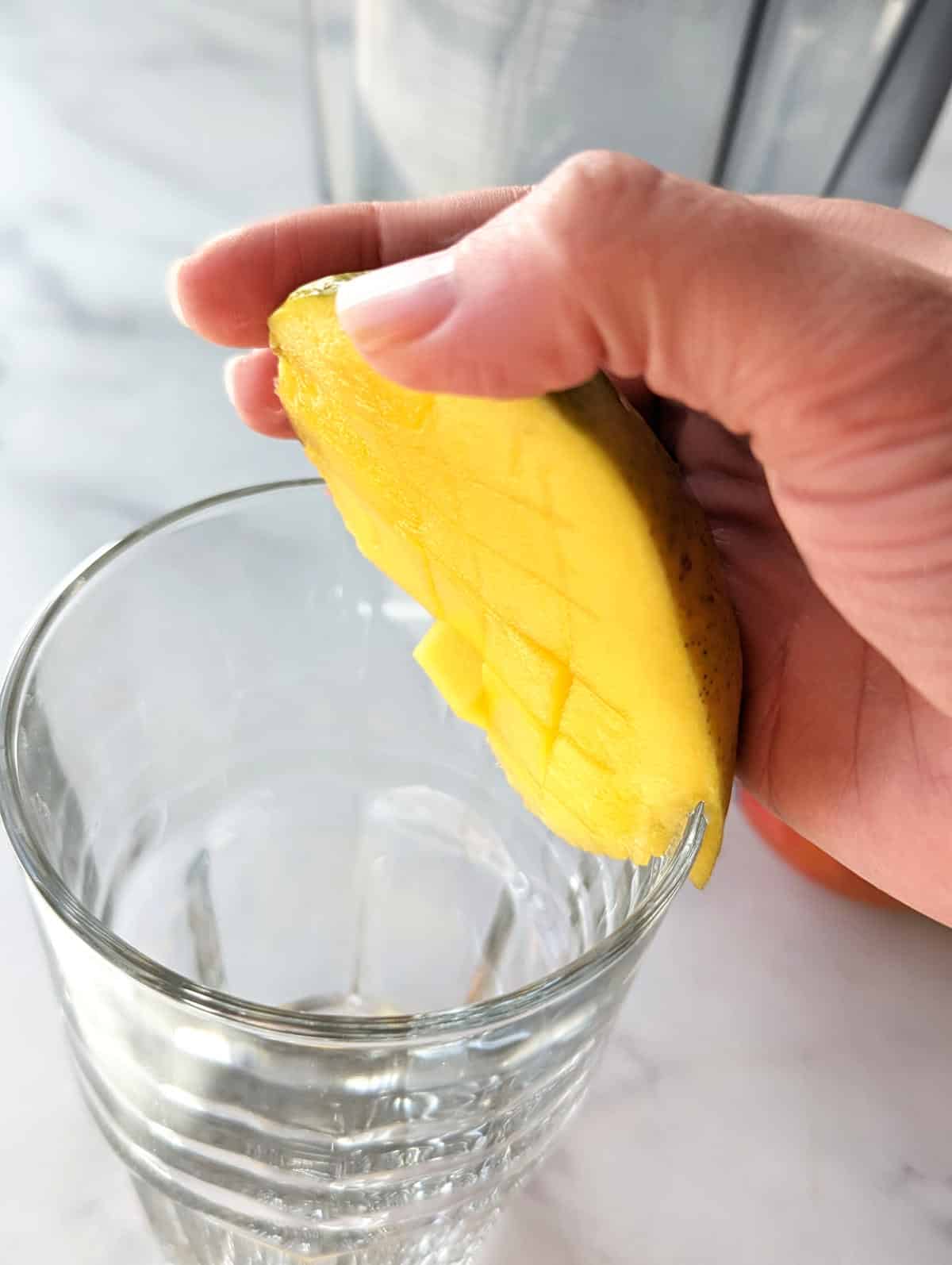 How to make mango juice
Step 1: To a blender, add sliced mango cubes, with the stone and peel removed.
Step 2: Add cold water and blend until smooth. If you prefer a thinner juice, add more water and blend a little longer to incorporate.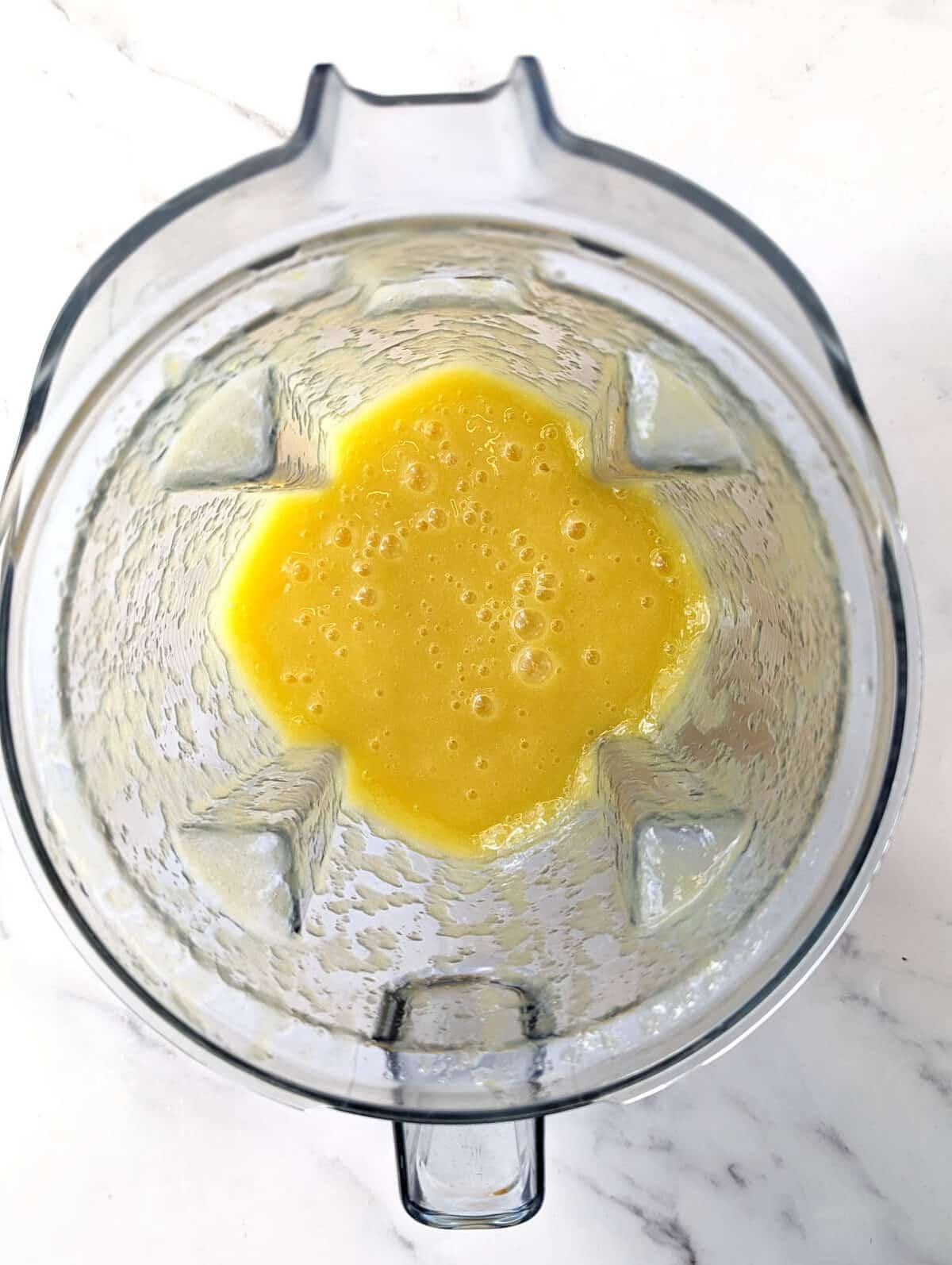 Step 3: Fill a glass with ice cubes and pour over the juice.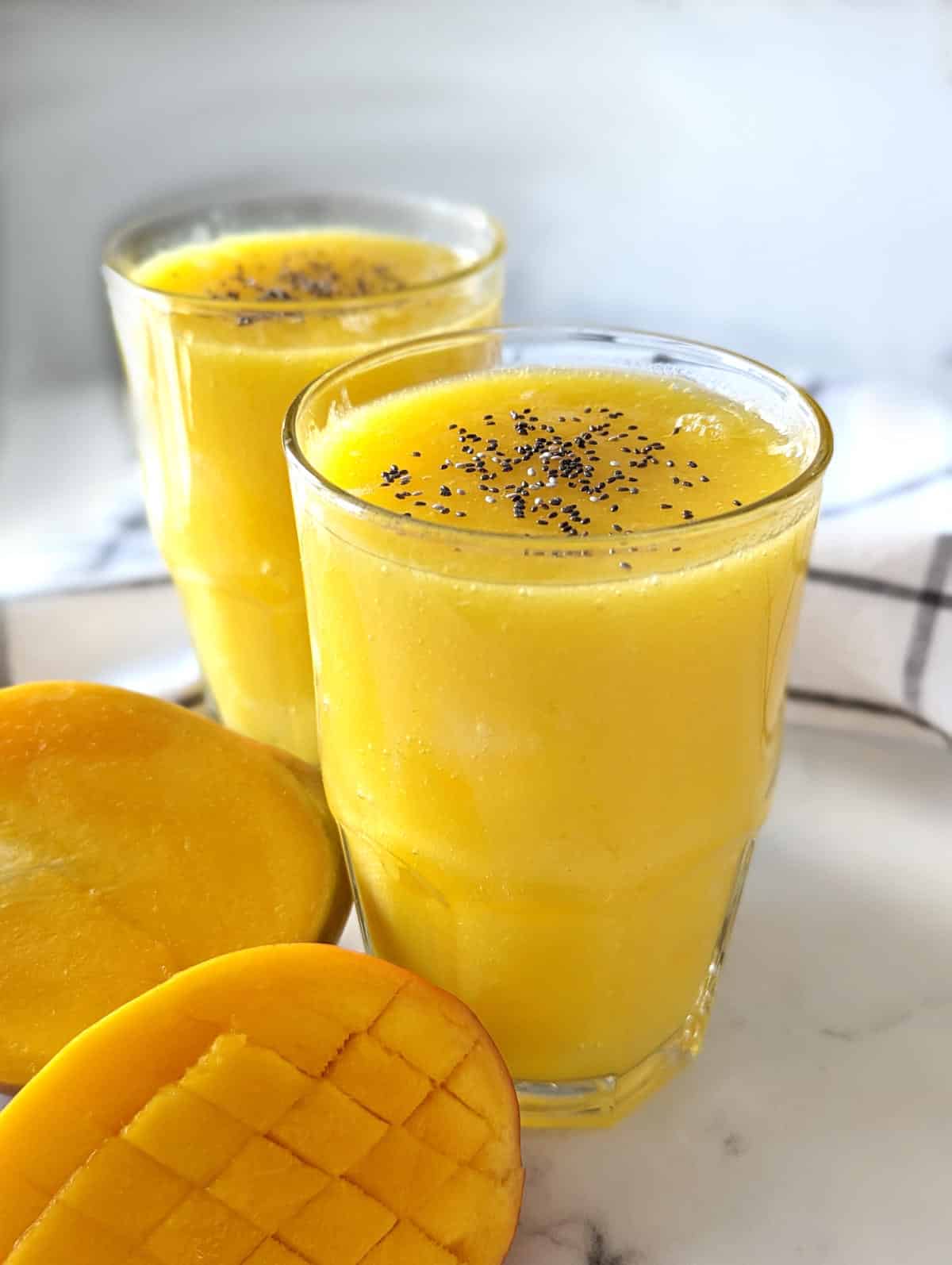 That's it! Now you have a refreshing glass of mango juice.
Optional Ingredients
This fresh juice is perfect as-is but here are some easy ways to mix it up:
Pro Tips
Use the ripest mango you can find. Each variety is a little different in terms of color for determining ripeness so the best indicator is by touch. Gently squeeze the mango and if it has a little give, it's ready. If its on the firmer side, allow it to ripen longer. The riper, the sweeter. Unripe mangoes will not work to make juice.
Roll the ripe mangos on a hard surface with the palm of your hand to soften it even more. This trick helps it to release even more juice.
For less mango pulp, use a fine mesh strainer over a large bowl to strain the mango puree and remove any pulp.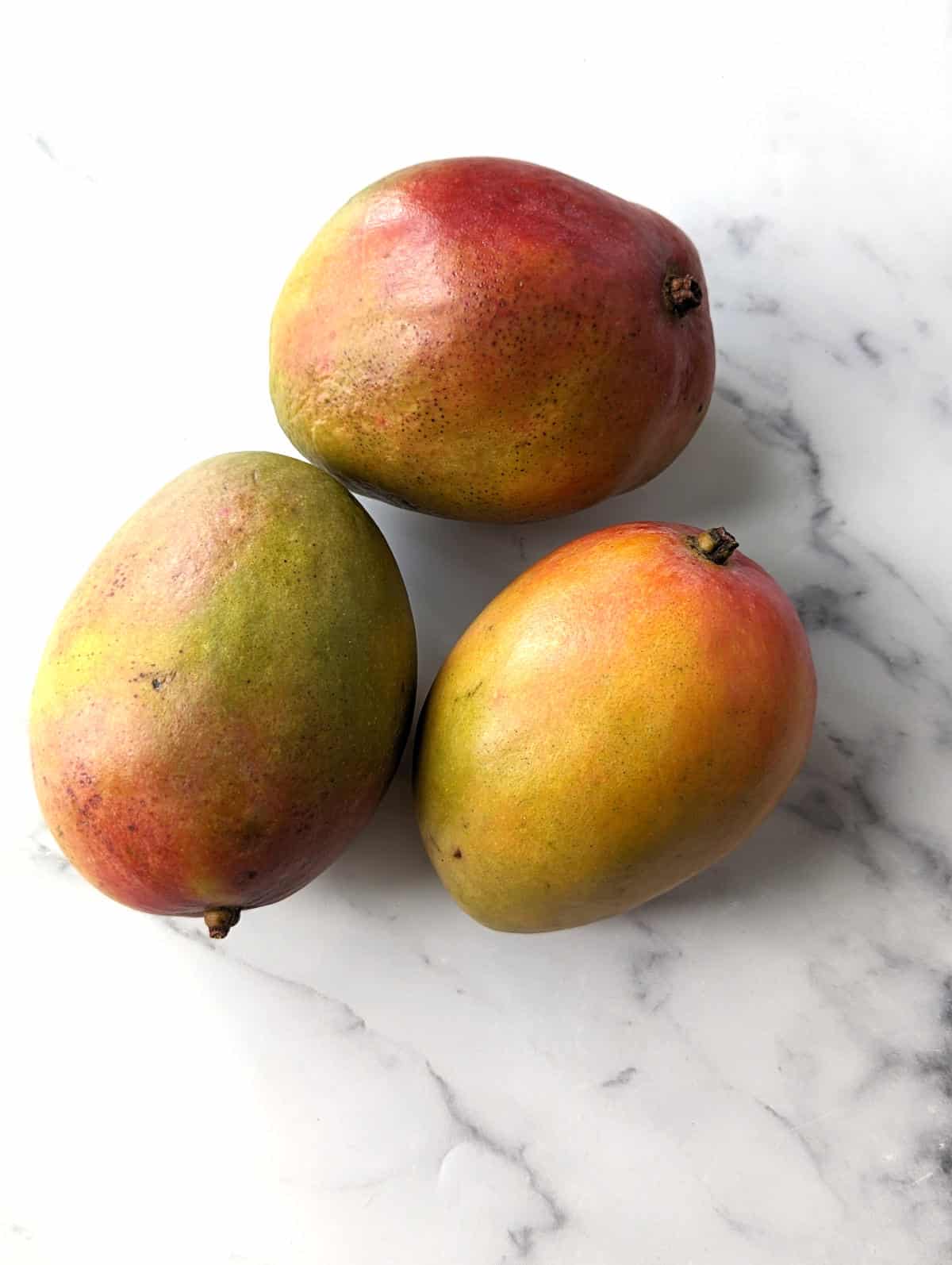 Best type of mango for juicing
To get the most delicious mango nectar, here the are best types of mango for juicing:
Honey mango: Also known as Ataulfo, this small yellow mango is extra sweet and never stringy or pulpy. It also has a smaller seed than other varieties, allowing you to enjoy more of its flesh. It's the perfect mango for juicing but peak season is only half the year, typically March through July.
Kent: A larger, sweet variety, the Kent mango is juicy and tender with few fibers. It's an excellent variety for juicing and is easiest to find in December and January.
Kiett: These large, green mangos are sweet and tangy. Don't be fooled by their color, they stay green even when ripe. You can typically find these July through September.
Francis: Sweet and fruity, this variety is a great option to make a delcious juice with. It does have more fibers than other varieties but can easily be strained out if you prefer less pulp.
Manila: The Manila mango, or Carabao, is considered the sweetest mango variety according to the Guinness Book of World Records. If you're lucky enough to try one you'll quick see why they are touted for having the best taste. These are harder to find in the US but are very similar to the Honey/Ataulfo variety.
Frequently asked questions
Can you make mango juice with frozen mango?
Yes, you can make mango juice with frozen mango, but it will be thicker and frothier.
How to tell when mango is ripe?
This is best determined based on feel. Gently squeeze the mango and if it has a little give, its ripe. This technique is similar to checking the ripeness of an avocado. If it's firm, it's not ripe.
Can you make mango juice in a food processor?
Yes, you can make mango juice in a food processor, just make sure that it can seal tightly so that juice does not splatter out of it.
Recipes with Mango Juice
Want more great ways to use mango juice? It's perfect for adding to a variety of recipe that call for mango juice, mango nectar, or mango puree. Here are some recipes to get started with:
If you enjoyed this recipe please leave a comment below and give it 5 stars! Or on Pinterest (don't forget to follow me!) and please help me share on facebook!
📖 Recipe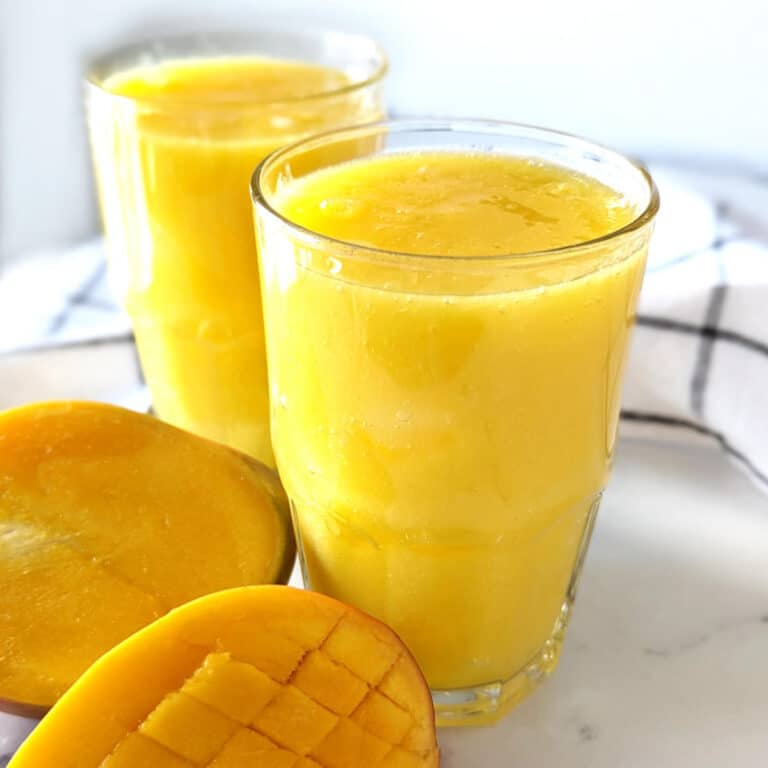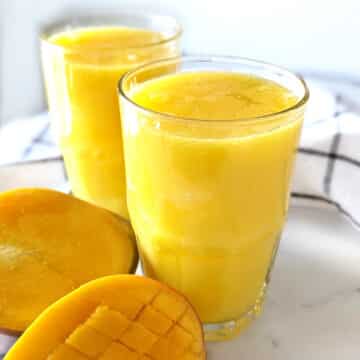 Easy Mango Juice
Mango juice is healthy and refreshing but store-bought can be pricey and full of added sugar. Instead, make homemade mango juice in just 5 minutes with just two ingredients!
Print
Pin
Rate
Ingredients
2

mangoes

,

ripe, peeled, stone removed

1 ½

cups

cold water
Optional
1

tablespoon

maple syrup

,

for extra sweetness

¼

cup

lime juice

,

or lemon juice

1

teaspoon

chia seeds

,

for topping
Instructions
Add mango flesh to a blender along with the water. Blend until smooth; about 30 seconds to 1 minute.

If you prefer it to be thinner, add ½ cup more water and blend a little longer to incorporate. You can also add in optional ingredients at this time such a sweetener, thickeners like chia seeds, or other juices like pineapple juice, orange juice, lemon or lime juice.

Fill a glass with ice and pour the juice over. Serve immediately and enjoy!
Notes
If you prefer less mango pulp, use a fine mesh strainer over a bowl to strain the mango juice and remove any pulp.
Best consumed immediately for freshness. If needed, store in an airtight container in the refrigerator and consume within 2 days.
Nutrition Per Serving
Calories:
124
kcal
Carbohydrates:
31
g
Protein:
2
g
Fat:
1
g
Saturated Fat:
0.2
g
Polyunsaturated Fat:
0.1
g
Monounsaturated Fat:
0.3
g
Sodium:
11
mg
Potassium:
348
mg
Fiber:
3
g
Sugar:
28
g
Vitamin A:
2240
IU
Vitamin C:
75
mg
Calcium:
28
mg
Iron:
0.3
mg