As the days get shorter and the nights get colder, there's nothing like curling up to a warm bowl of stew. Here are over 30 of the best vegan stew recipes to enjoy ASAP! These are stews I make time and time again. They're fool proof, hearty, and completely satisfying!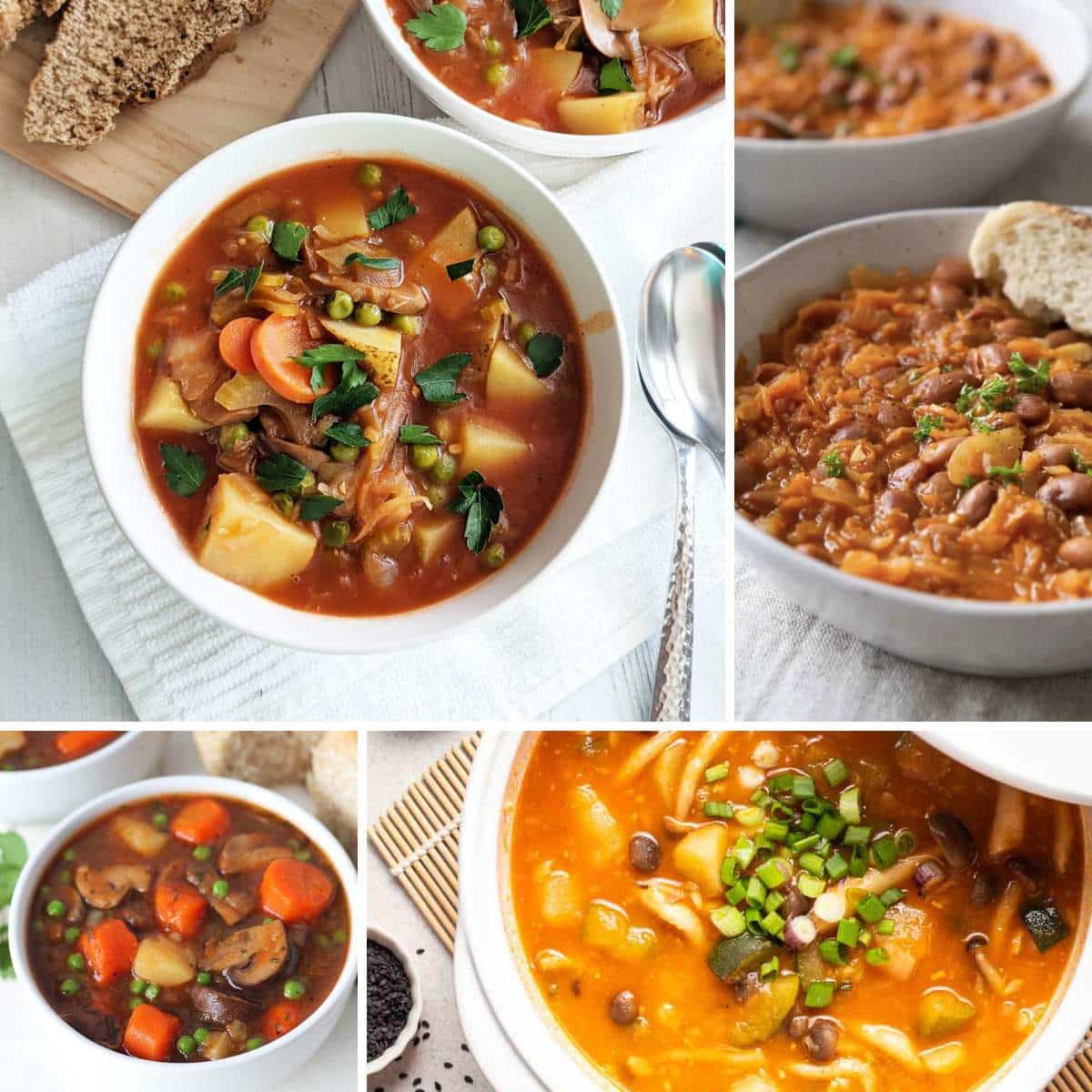 Jump to:
Why these are the best vegan stews
Ultimate comfort food—These bowls are super satisfying and savory.
Hearty and warming—Like a hug in a bowl, these stews warm you up from the inside out!
Easy to make— Many are made in one pot without much preparation!
Fast—Vegetarian stew doesn't contain any meat so there's no need to let it cook for hours! Some of these vegan stews are ready in less than 30 minutes!
Tips to make a great vegan stew
Vegan stews most often contain a thickener—the key difference between soup and stew. Use flour, cornstarch, arrowroot powder, chickpea flour or even homemade pea protein flour to add some thickness to your stew.
Another key ingredient to making a stew vegan, aside from the meat, is veggie broth. A good vegetable broth or vegetable stock adds lots of umami flavor to the meal. If you want even more flavor you can use a rich red wine broth or add some soy sauce or balsamic vinegar for more depth.
Best vegetables to add to stews
Fresh vegetables are the most common but canned or frozen vegetables work in a pinch! I personally prefer canned or frozen for the time saving aspect of not needing to wash or chop.
Here are the best vegetables to add to stews:
sweet potatoes
yukon gold potatoes
carrots
green peas (or frozen peas)
green beans
celery
broccoli
cauliflower
eggplant
baby spinach
baby bella mushrooms
Best meat alternatives for vegan stew
Traditional stew often contains beef or chicken, but vegan and vegetarian stew omits the meat. To still get a meaty texture and make it extra filling, here are the best meat substitutes in stew:
soy curls
tempeh
jackfruit
kidney beans or black beans
brown rice
quinoa
red lentils
Which cookware is best for stew
There are many ways to make stew and it really depends on what you have on hand and your cooking prevence.
Many people enjoy cooking stew in a Dutch Oven, a wide, thick pot with a tight fitting lid. This heavy-duty pot helps to distribute and maintain the heat evenly. It can be used on the stovetop or in the oven. Enameled cast-iron Dutch oven have grown in popular for the ease of use and its non-stick surface.
A large stockpot or soup pan can work just was well. This is my personal preference for the affordability. It also comes with a lid and in the case for stew, the lid doesn't need to fit super tight since we don't need to cook it for hours.
Ultimately, whichever large, deep pan you have on hand will work just fine for cooking stew!
Best Vegan Stew Recipes
We scoured the internet for the best, cozy vegan stews to save you time. Rest assured that these are packed with flavor, full of hearty root vegetables, filling grains, and the best vegan meat alternatives.
You'll find classic stews made vegan, plus new ones to enjoy! Whether it's a cold fall night or you're just craving a comforting warm bowl of stew, you'll find exactly what you need here!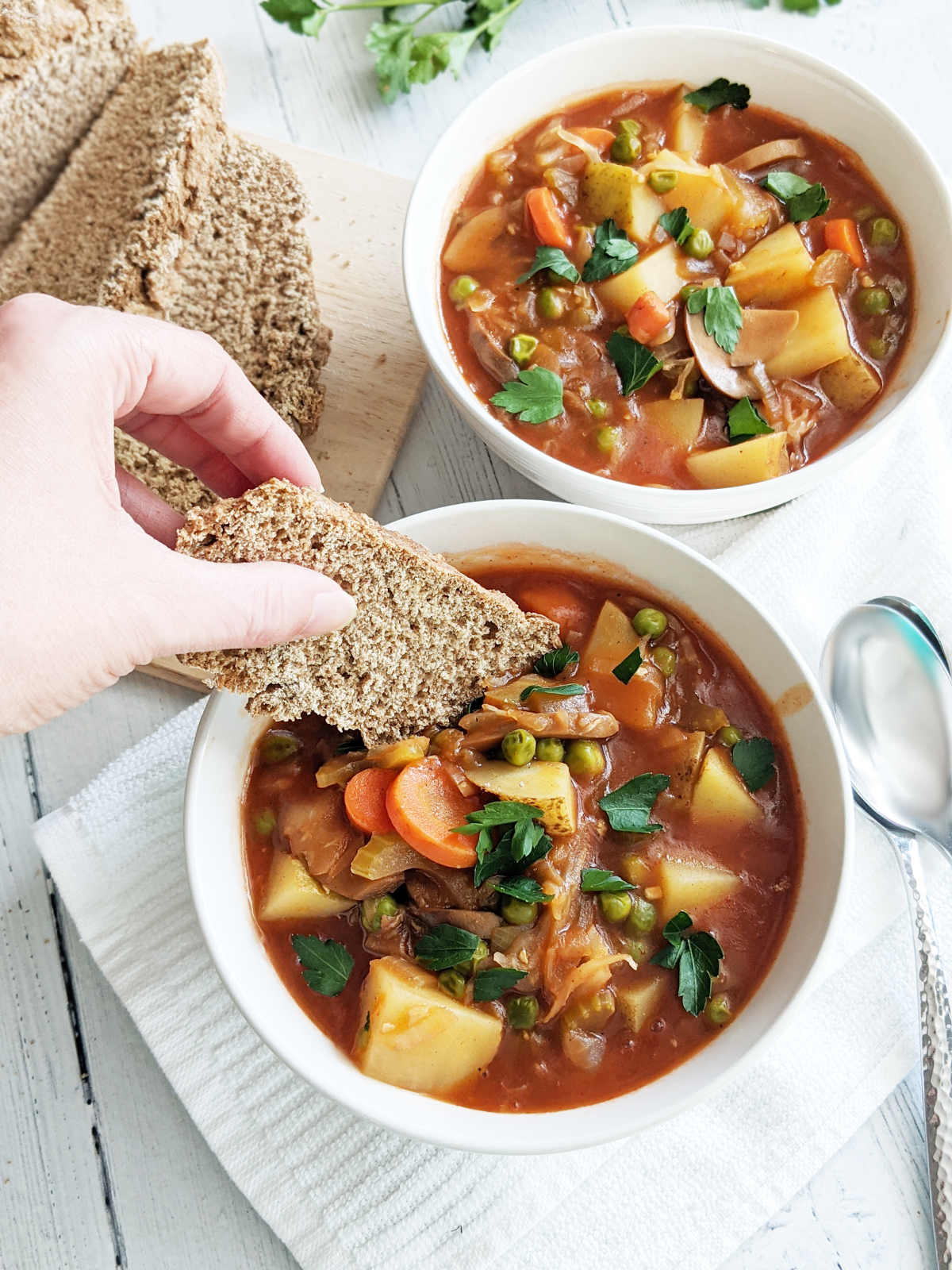 Starting off with a classic, this Irish stew made vegan is the ultimate comfort food! It's full of peas, potatoes, and mushrooms for a healthy yet filling meal. It's also easy to make—all you need is one pot and 45 minutes!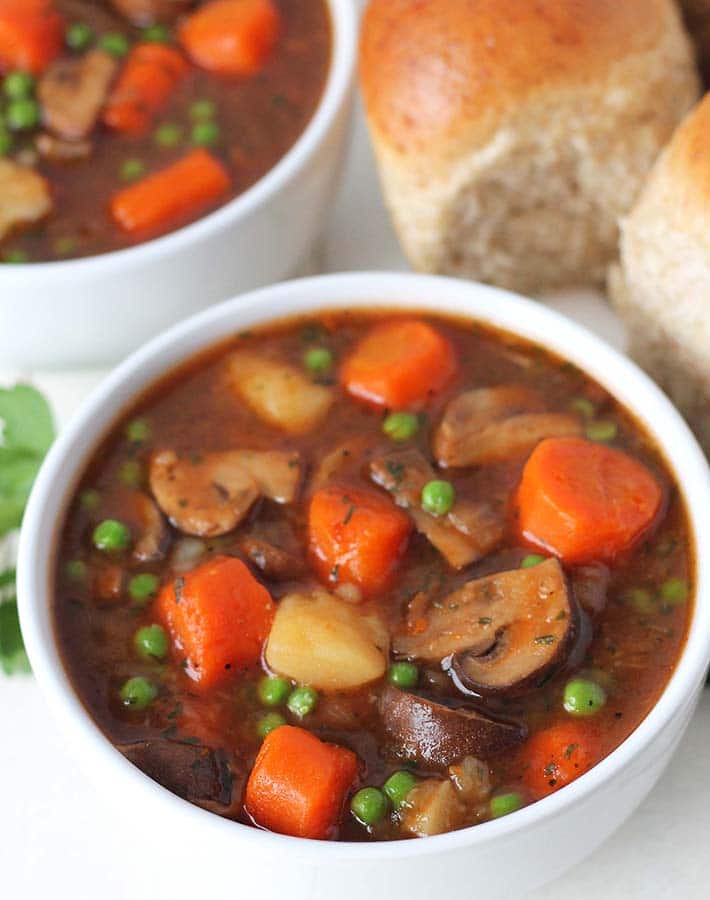 This vegan mushroom stew will quickly become a new family favorite. It's chockfull of mushrooms and chunky vegetables and can be made by stovetop or in an Instant Pot to save time!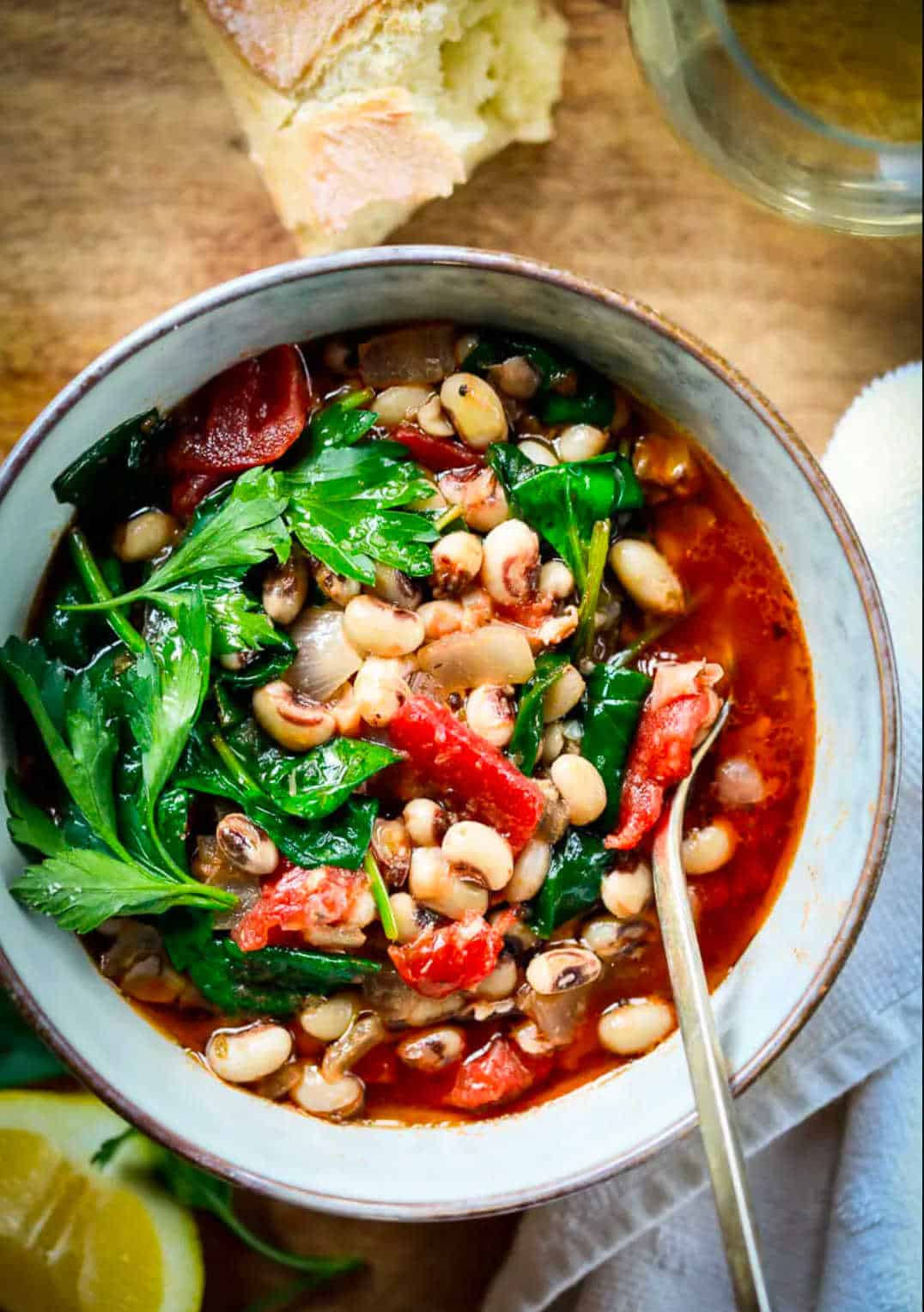 If you're looking to mix up your usual stew routine, try this Greek-style Mediterranean black eyed pea stew. It's a wonderful one-pot meal that can be made either by Instant Pot or stovetop and is packed with plant-based protein, fiber, and tons of nutrients.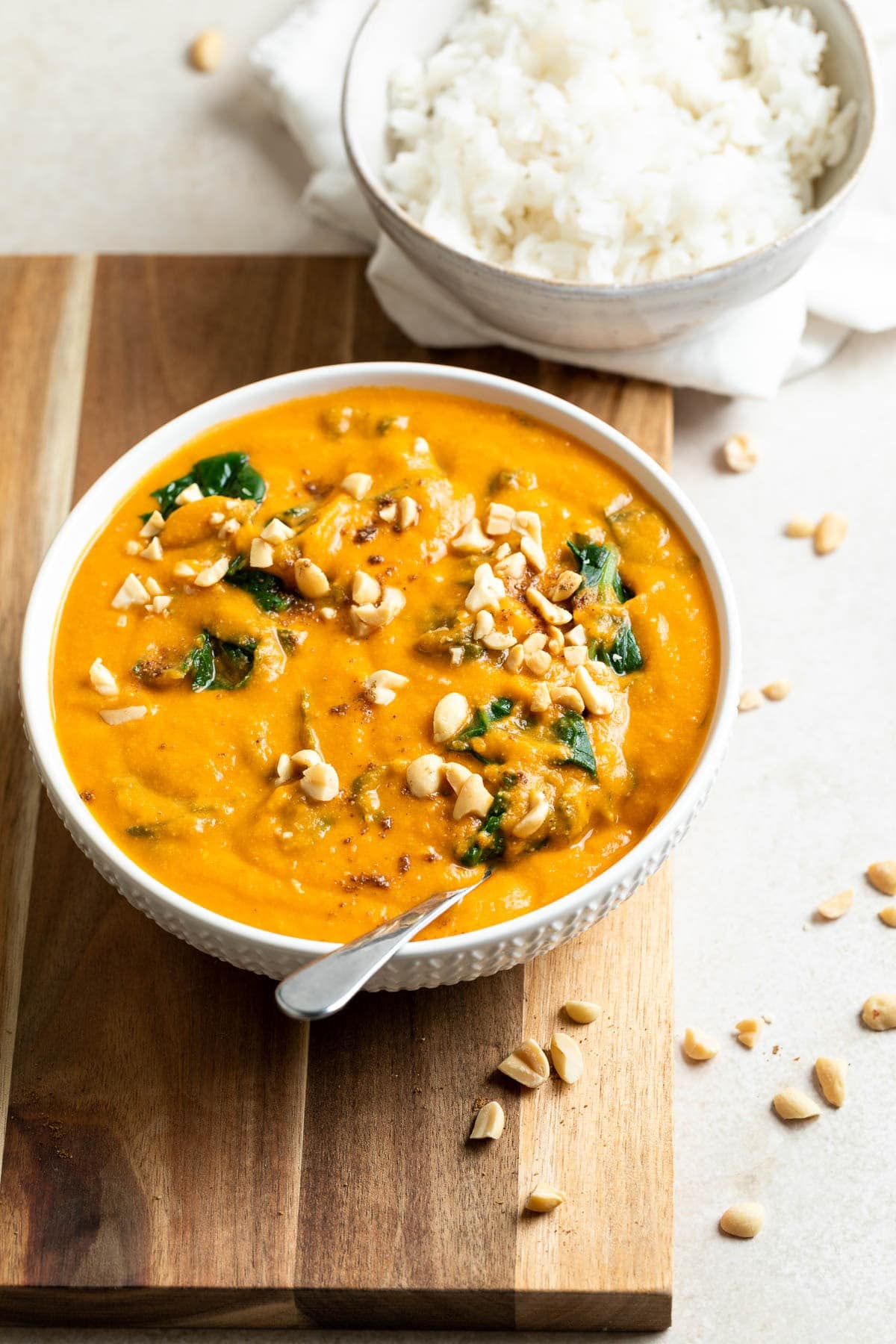 Looking for something rich and creamy and kid-friendly? This West African peanut stew is it! Made with peanut butter, tomatoes, and pumpkin, this healthy Domoda recipe is a delicious Gambian peanut stew that the whole family will love!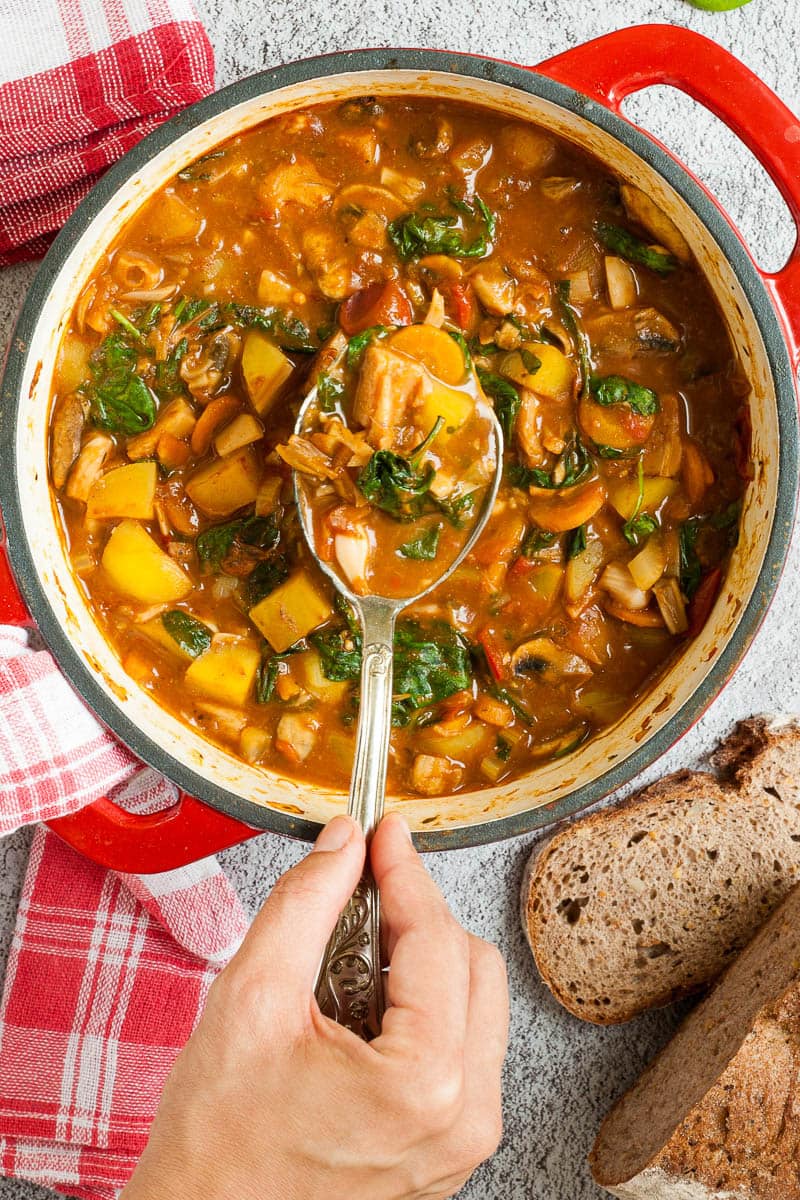 When you're craving something "meaty" this jackfruit stew hits the spot! Young canned jackfruit easily turns into vegan beef for a hearty and filling stew!
Use store-bought vegan beef tips (or your favorite vegan beef substitute) to make this traditional beef stew. With an Instant Pot you can have it ready in just 25 minutes!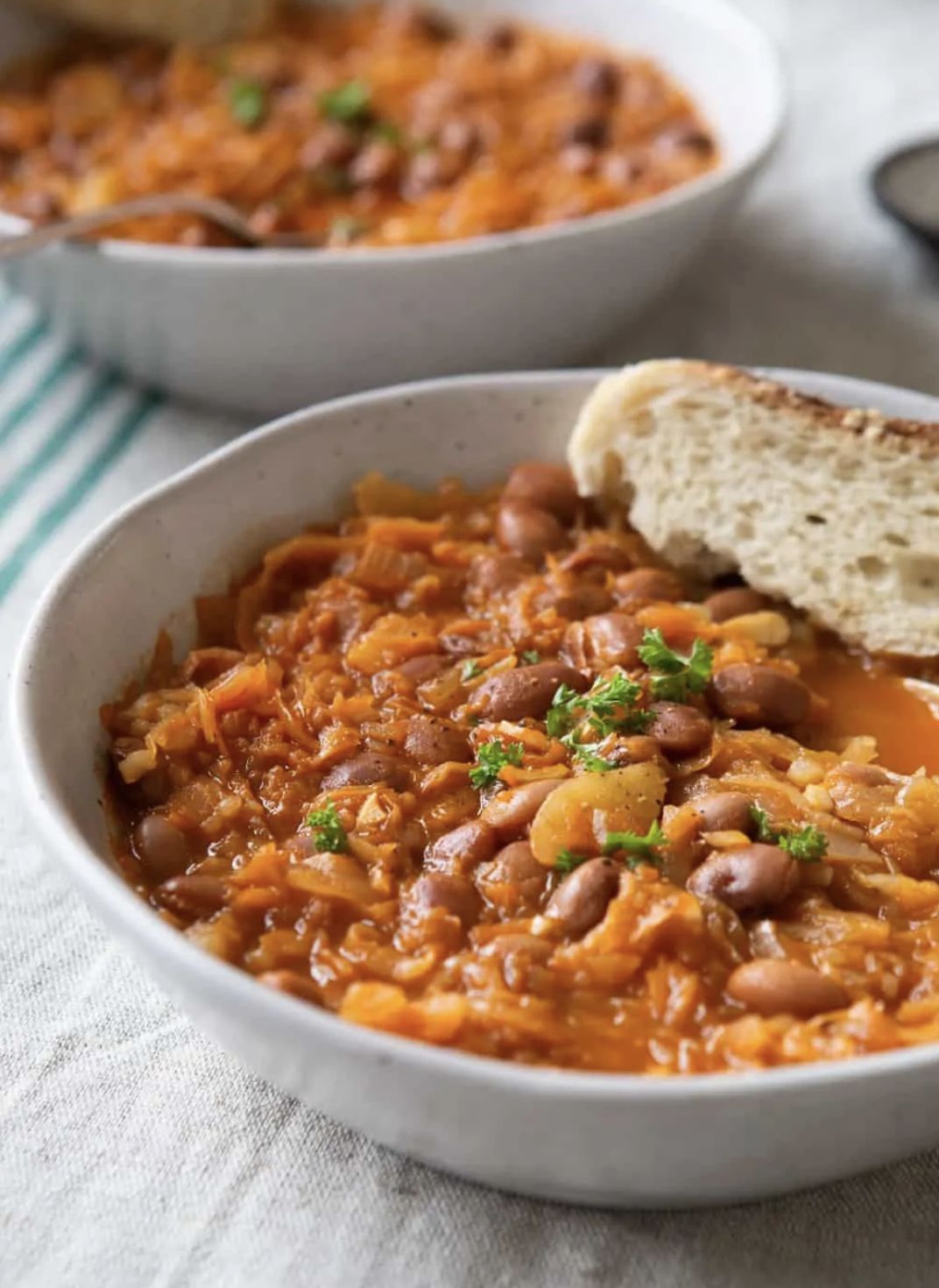 If you're a fan of sauerkraut, you're going to love this sweet and sour Slovenian stew! Combined with hearty potatoes, beans and smoked paprika to replicate the smoky meat typically found in this dish, this stew is so flavorful, you'll be wanting seconds!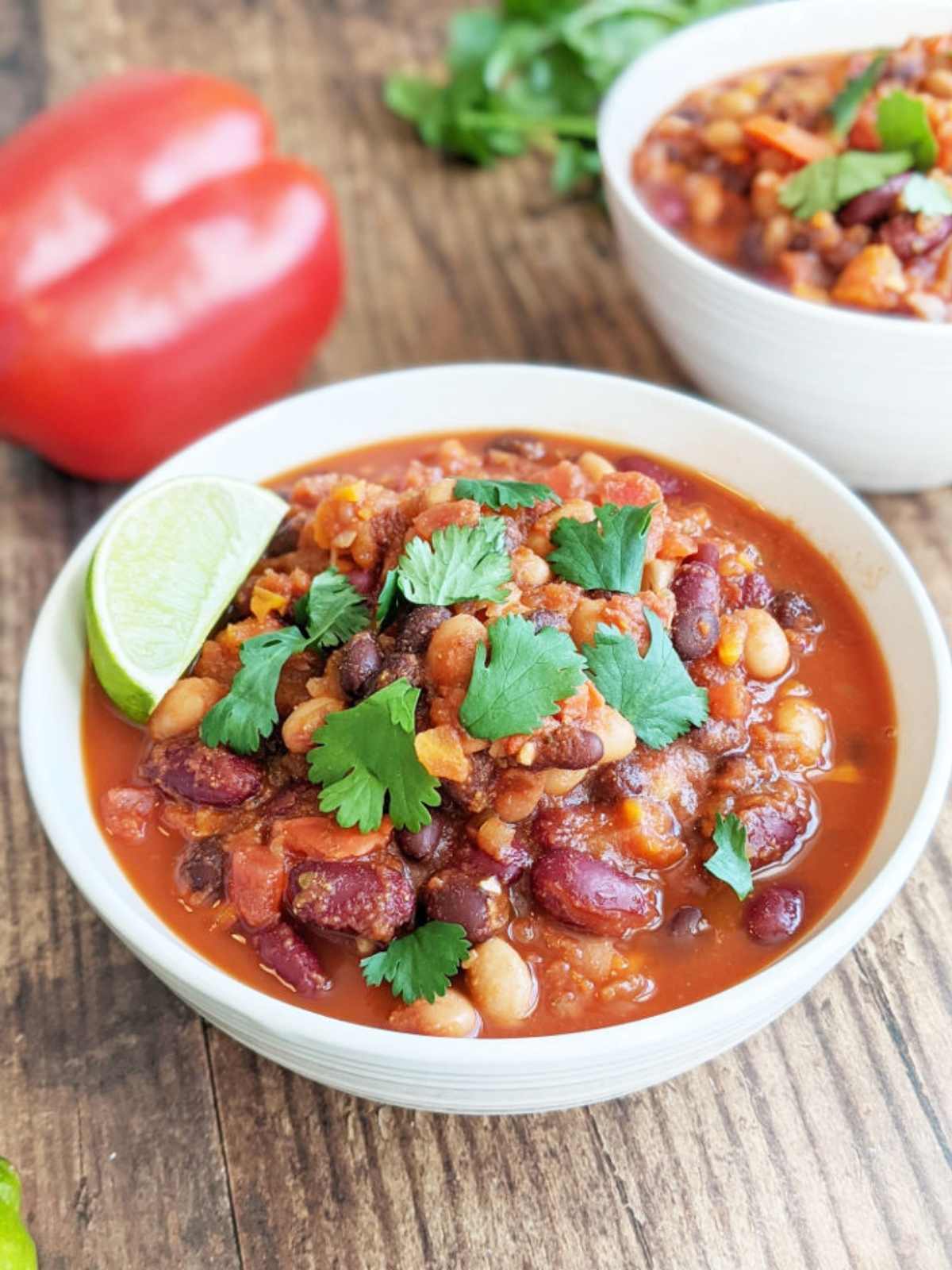 This Tex-Mex stew is extra hearty using three different beans! It only needs 30 minutes to cook making it great for meal prep or busy weeknights. And it gets better with time as the flavors infuse, so make a big batch and enjoy it all week long!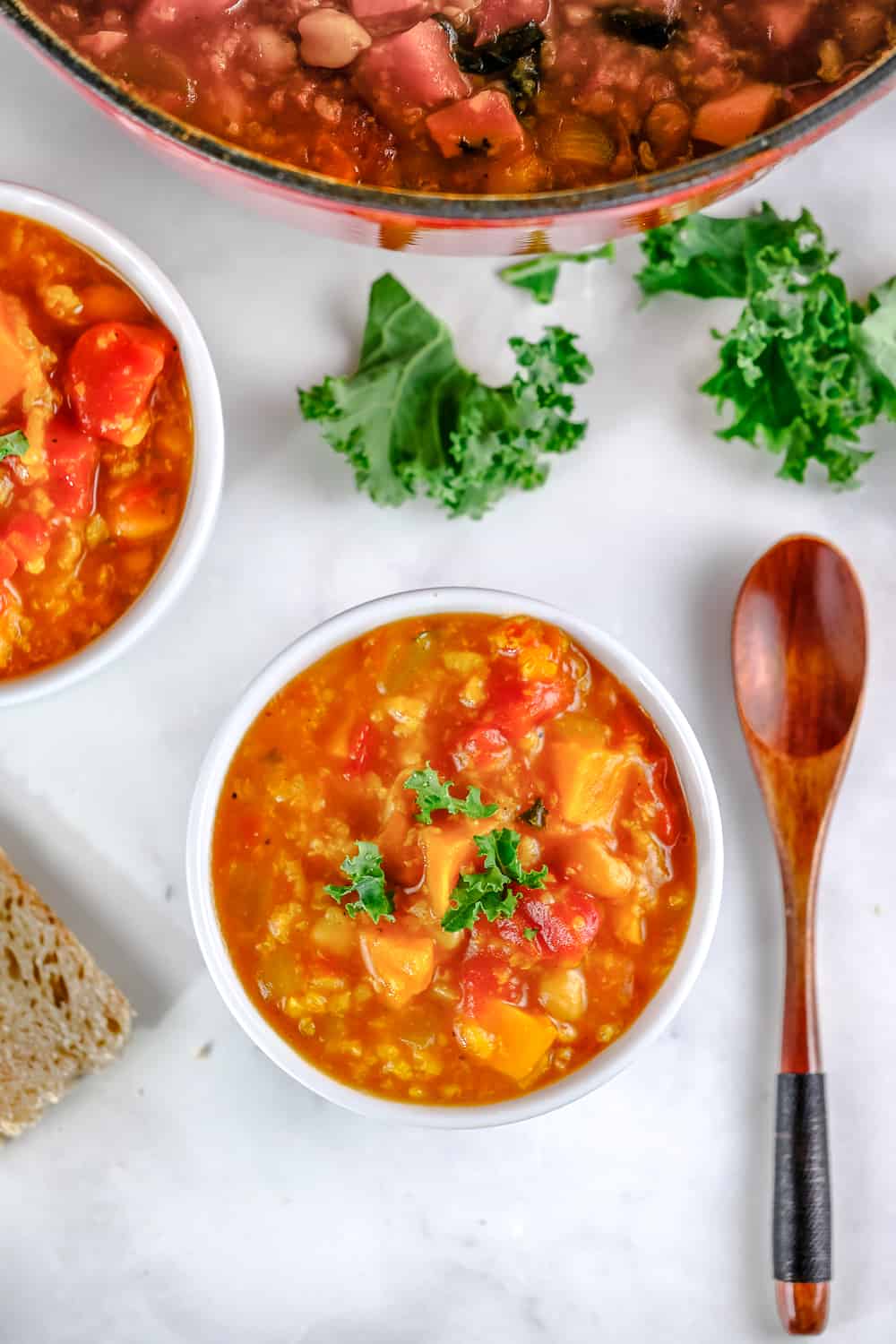 This vegan sweet potato stew is rich and comforting, while being full of healthy whole foods. It's oil-free and made with a unique and delicious seasoning combination including cinnamon, ginger, garlic, and basil.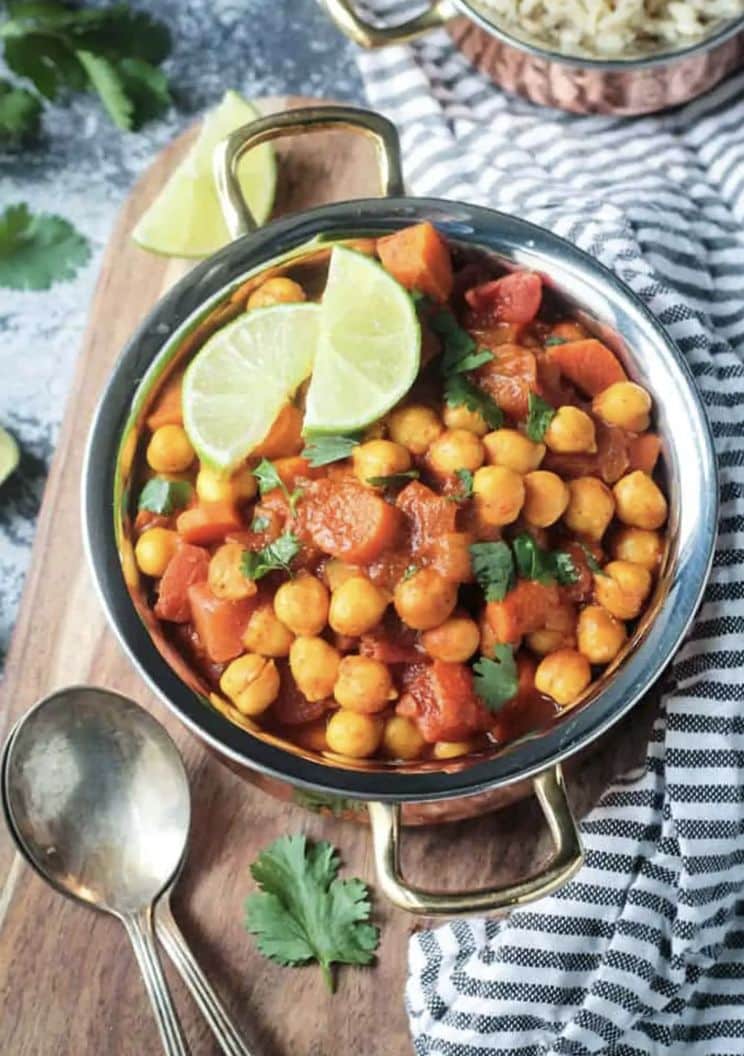 This chunky, saucy, spiced chickpea stew is full of healthy plant based protein! It also couldn't be easier to make and is ready in just 30 minutes. Serve it with a side of rice for a complete meal.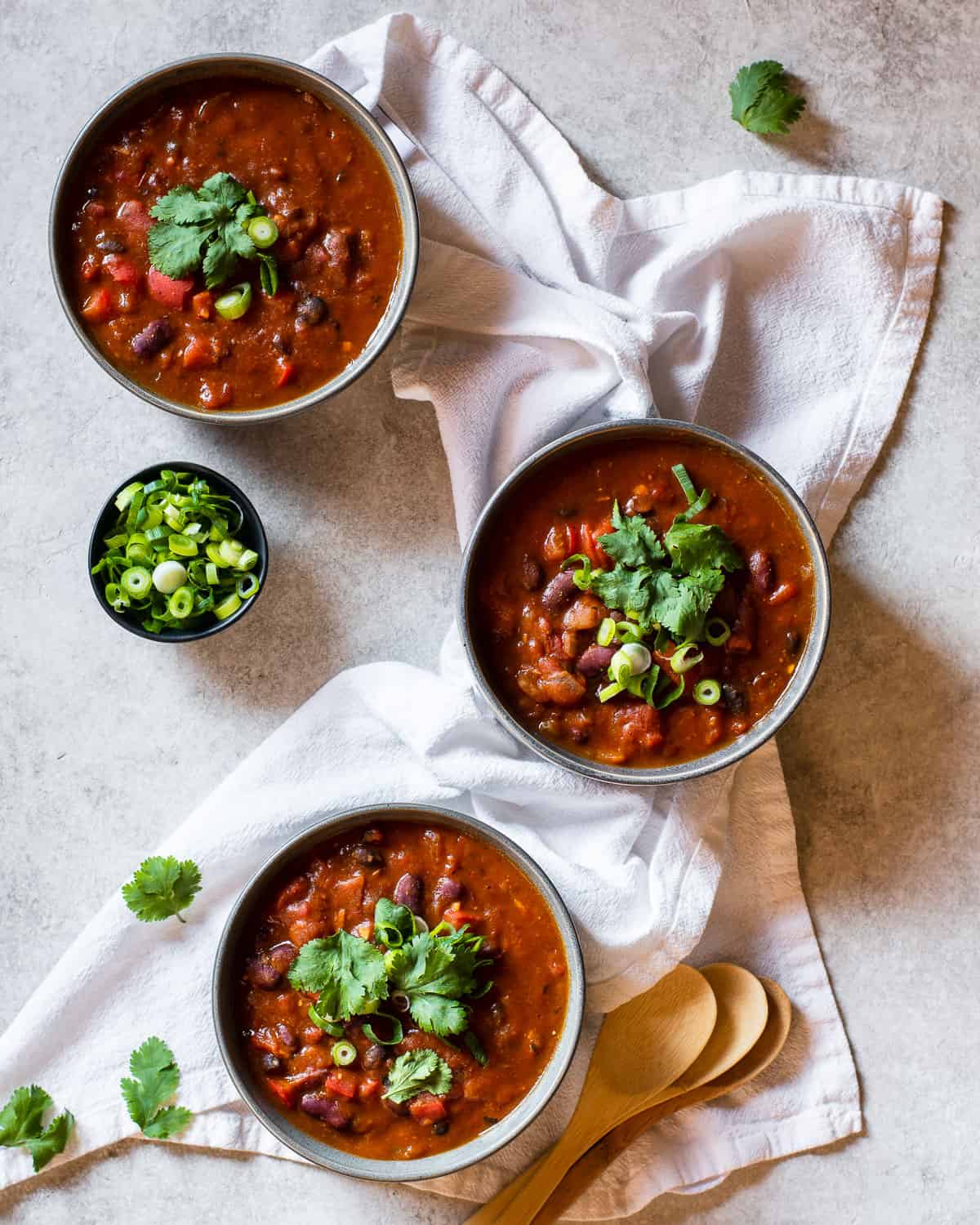 Turn pumpkin into a delicious and warming stew on a cold day! This oil-free and filling pumpkin stew is packed full of veggies and plant-based protein to keep you full and satisfied!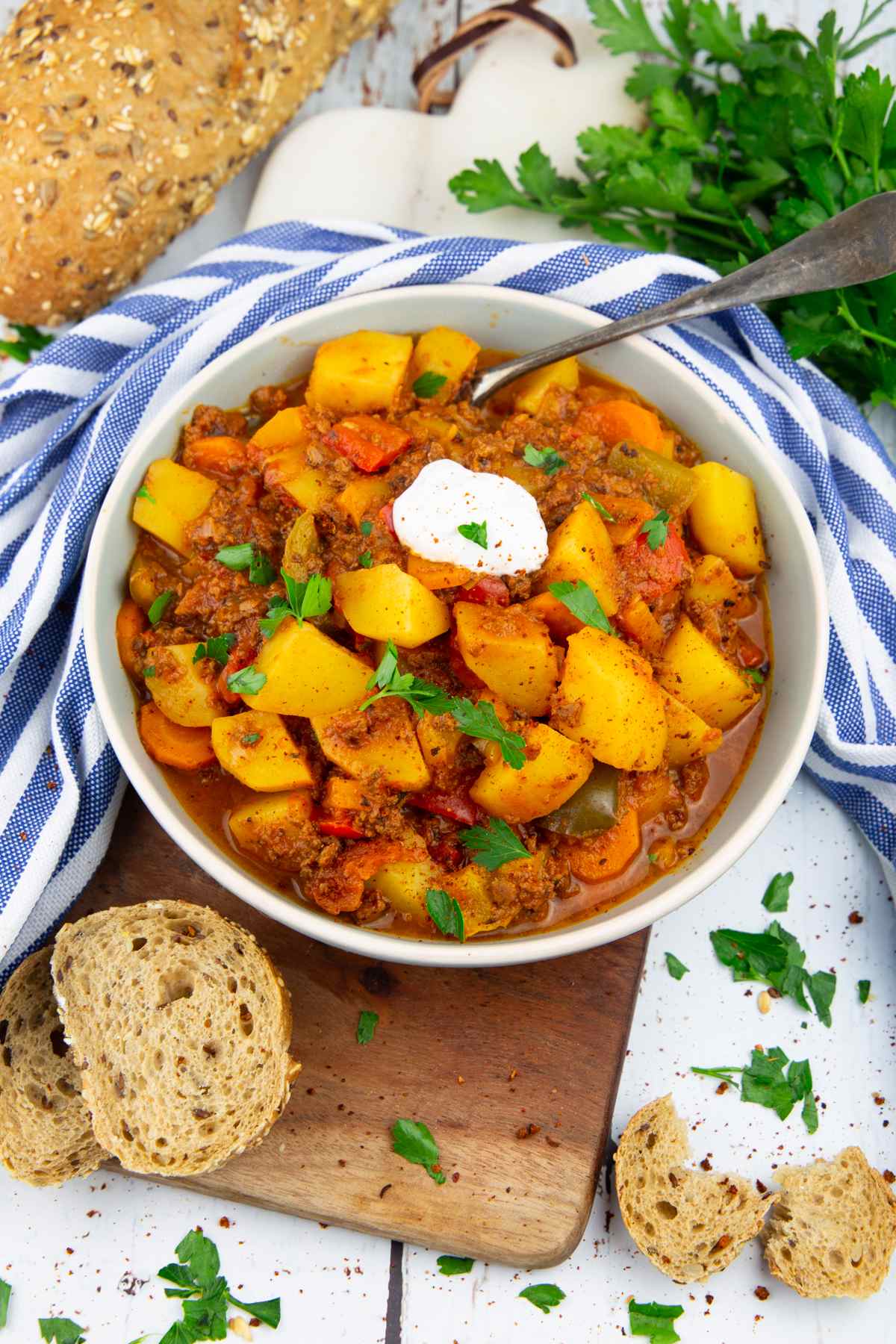 Chunky potatoes and bell peppers make this vegan stew extra hearty and filling. Packed with flavor and ready in just 30 minutes, this stew is perfect colder days when you need something quick.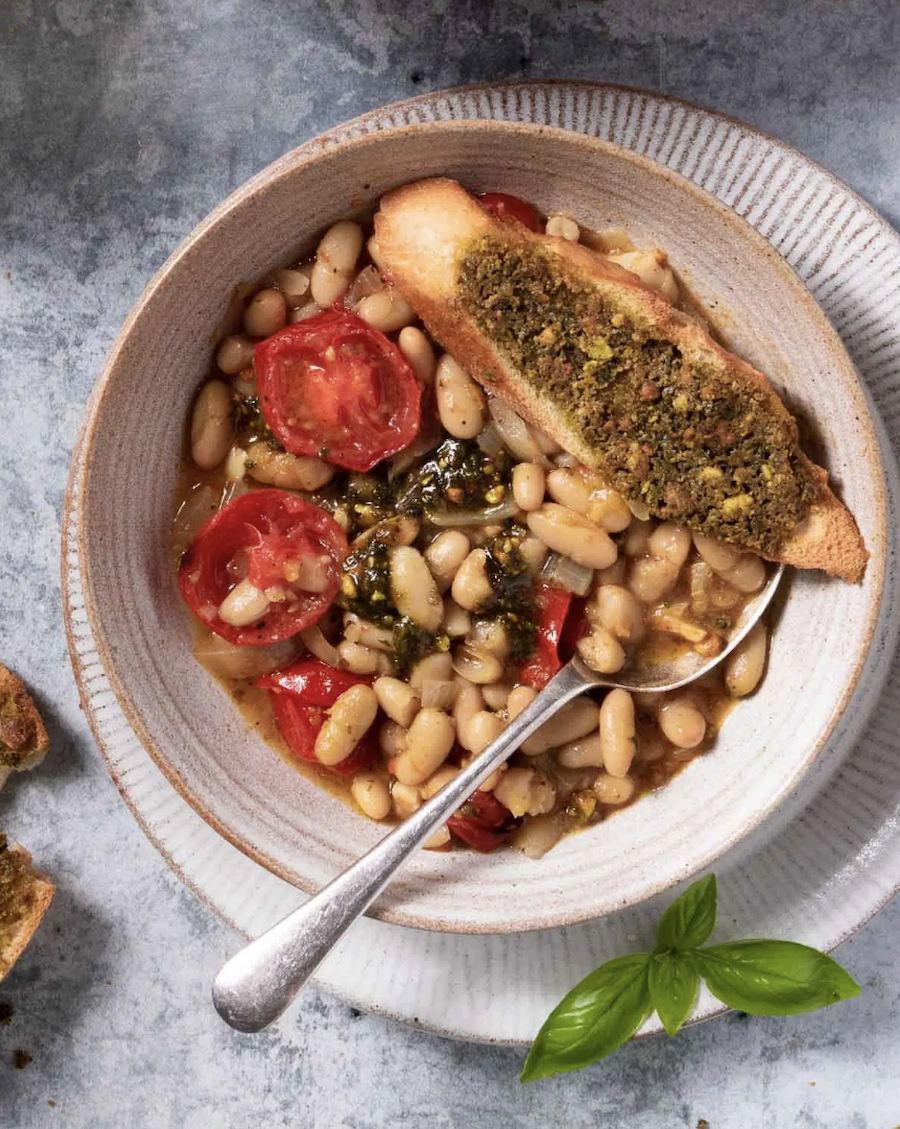 The sweetness of the roasted tomatoes combined with the savory, creamy beans is the perfect balance of flavor in this comforting vegan stew! Top it with some vegan pesto for some zing and enjoy a comforting bowl with a slice of crusty bread.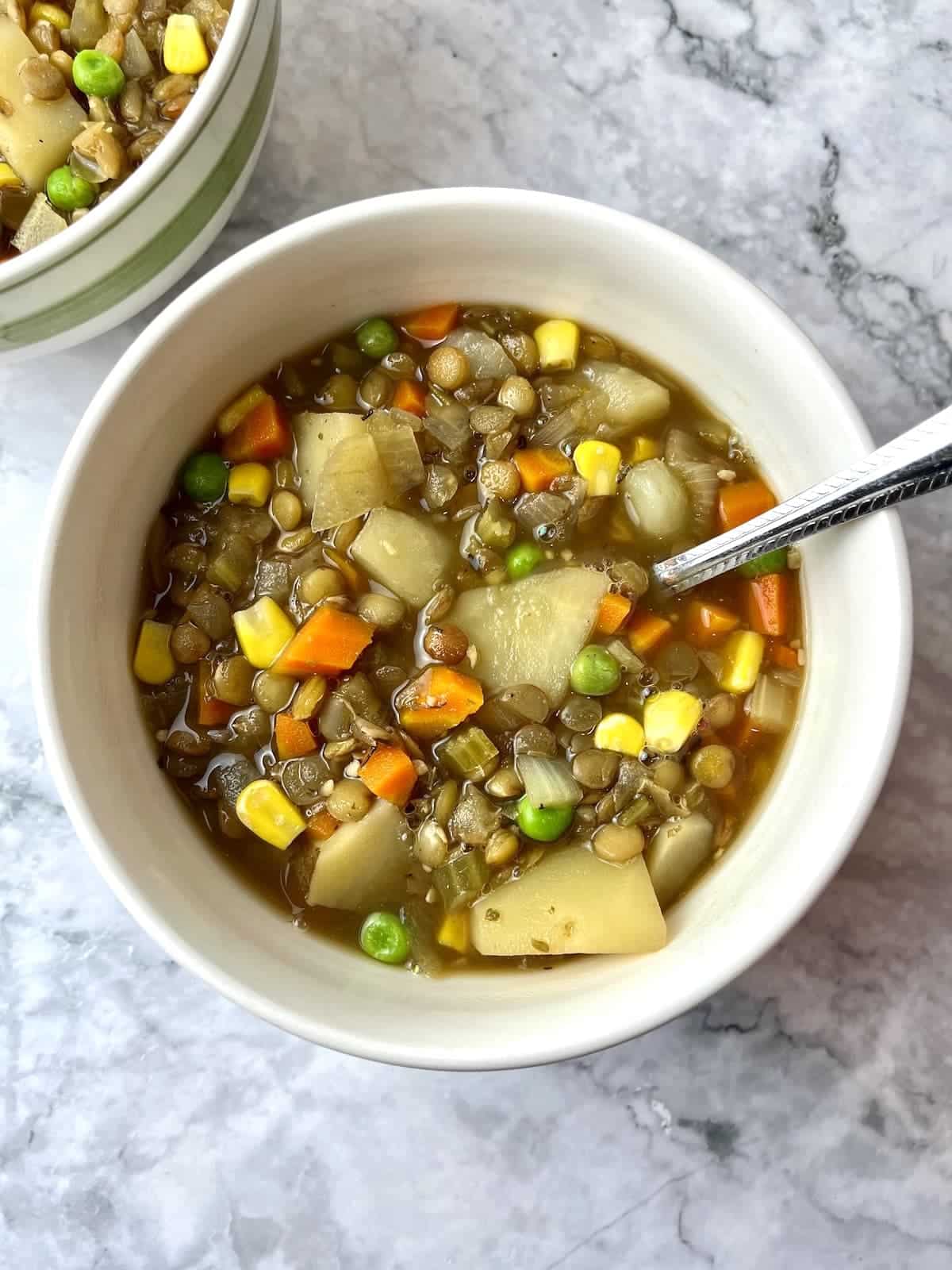 This potato stew is made extra filling with lentils. It also happens to be gluten-free and oil-free and full of plant-based protein, fiber, and flavor!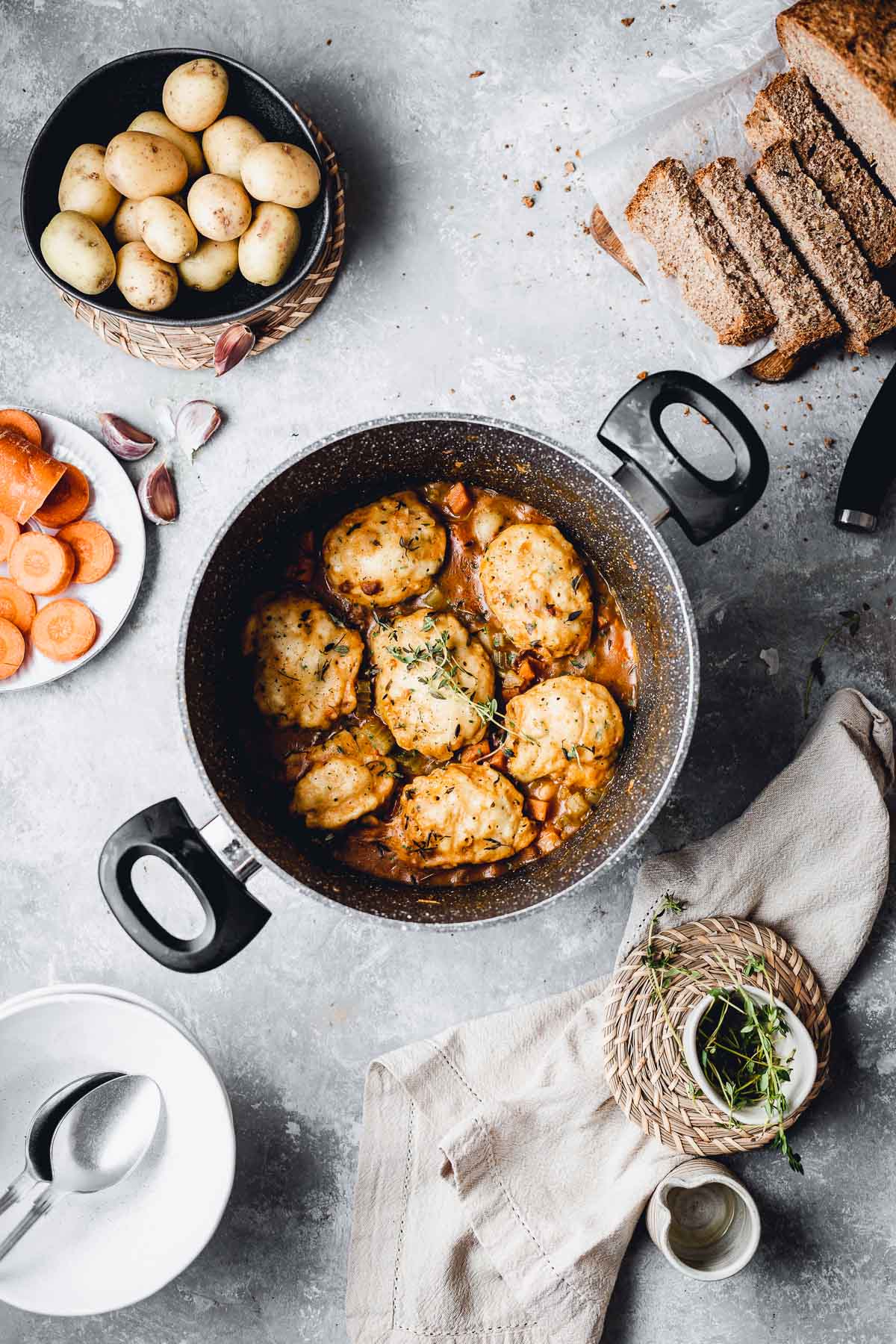 If you love a dumpling stew you will love this vegan version. It's more affordable and faster than regular stew and packed with flavor!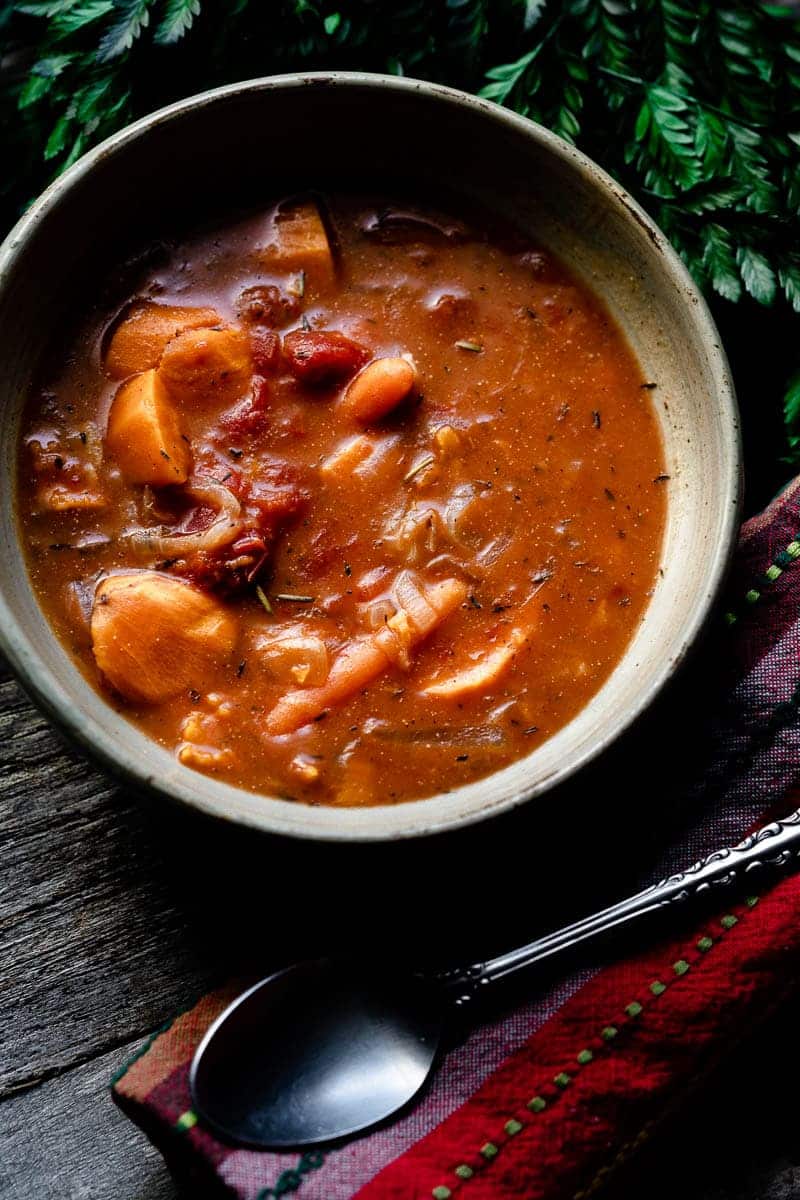 This veggie-packed stew is loaded with all the best vegetables for stews including potatoes, onion, garlic, and carrots. Simmered in a rich and delicious broth, this vegan stew will not disappoint!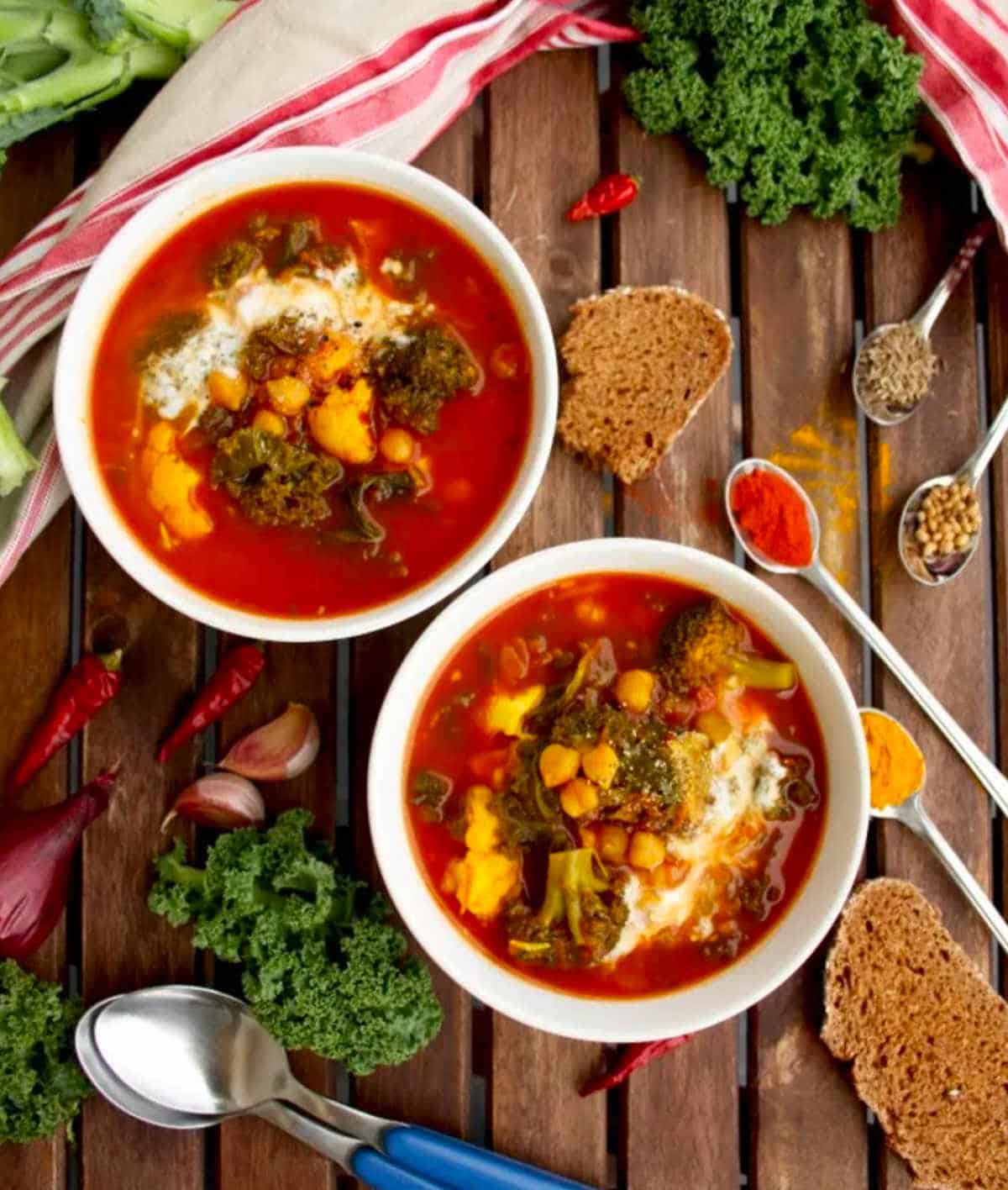 This healthy and easy cauliflower stew is loaded with lots of plant-based goodness including broccoli, chickpeas and kale. It's also gluten-free and ready in just 30 minutes!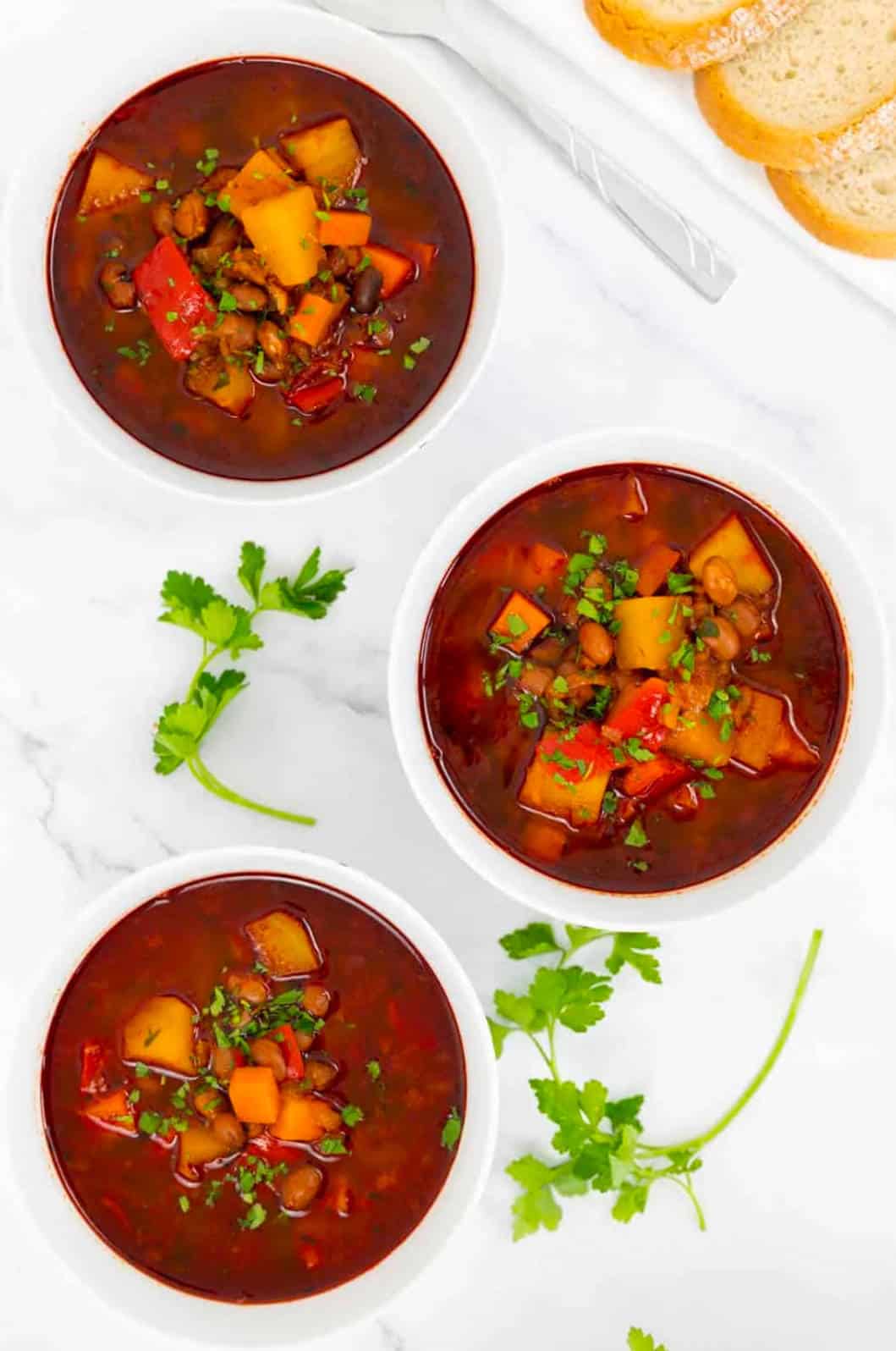 With a few minor tweaks you can achieve the traditional goulash flavor while making it vegan-friendly. This Hungarian recipe is a classic, made with potatoes and paprika and the vegan version is absolutely lavish and delicious!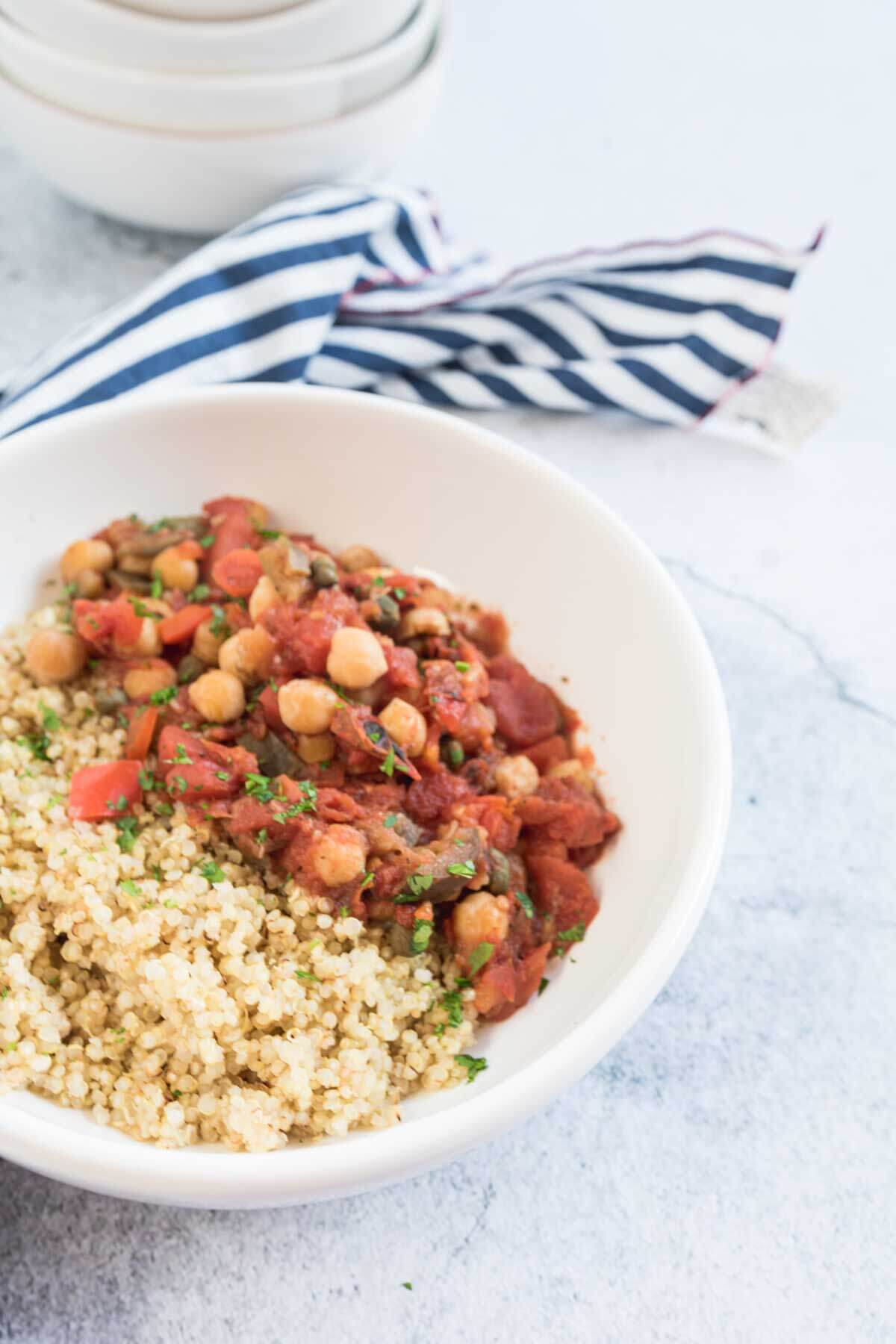 This spicy eggplant stew is simmered in an incredibly savory tomato sauce with olives and capers. Make it in the slow cooker or Instant Pot for an easy and simple weeknight meal.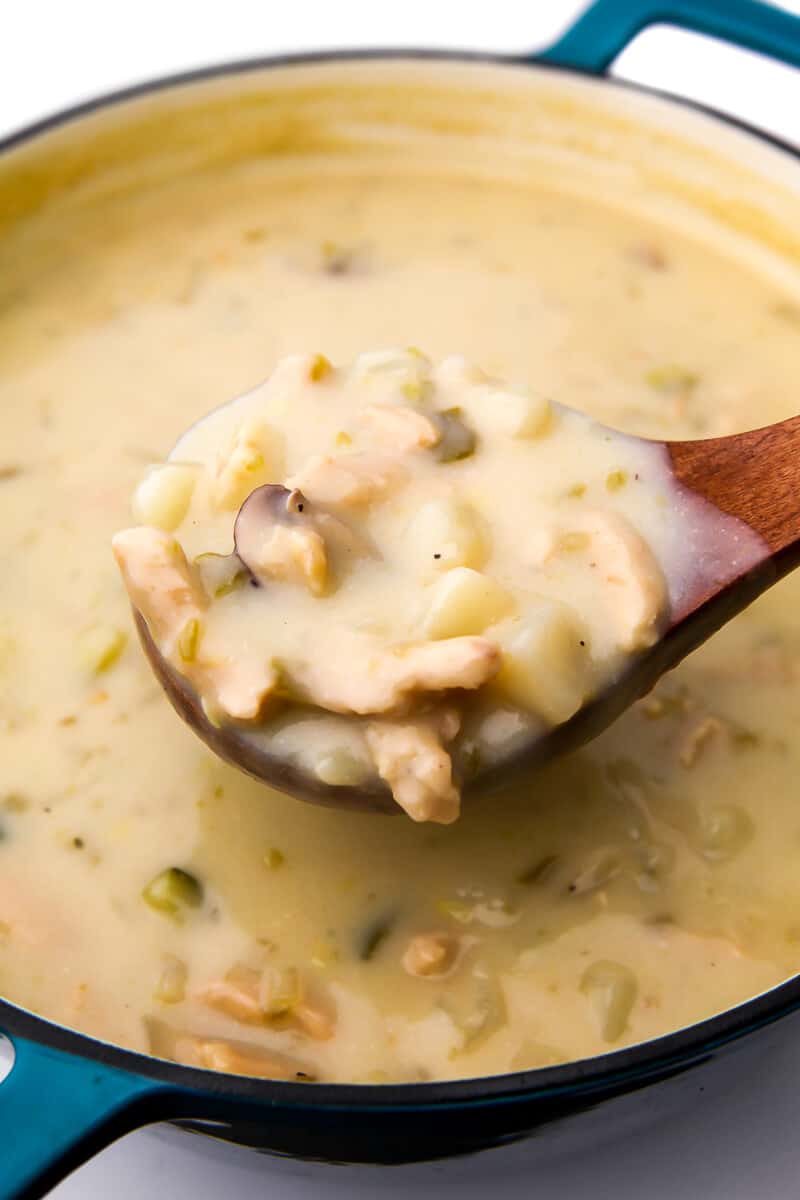 If you love New Mexican green chiles you are going to love this green chile stew! Fresh roasted green chiles are served up with vegan "chicken," potatoes, and veggies in a cream-based broth for an easy and delicious dairy-free meal.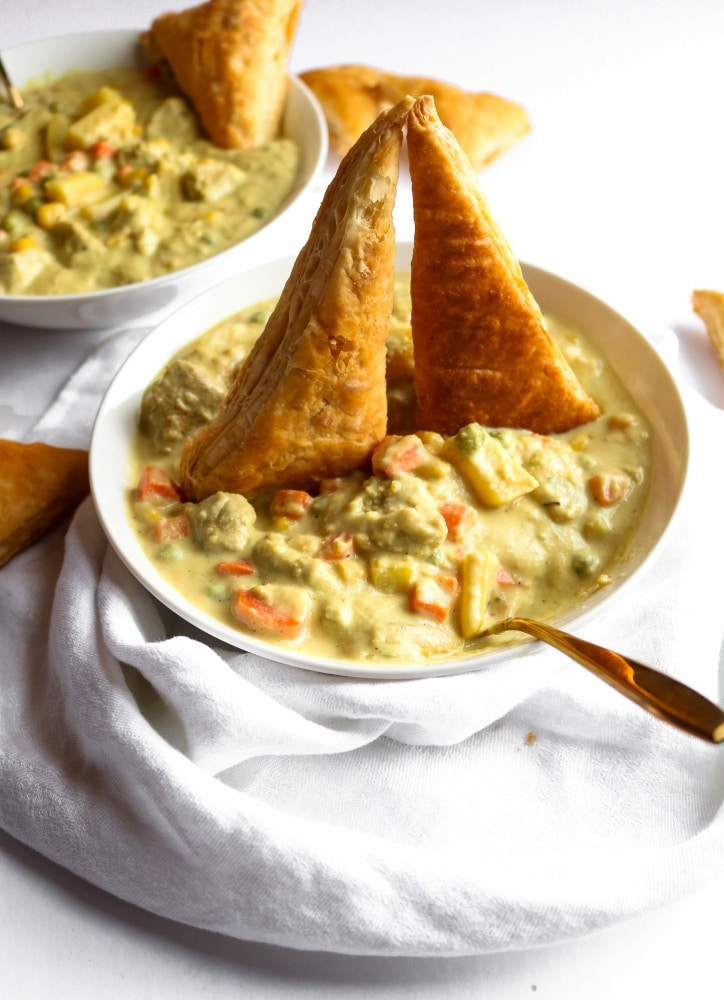 Nostalgic for chicken stew? This vegan chicken stew made with soy curls does the job! Just like the classic stew in a creamy broth with loads of vegetables and full of flavor. And it's great for meal prep!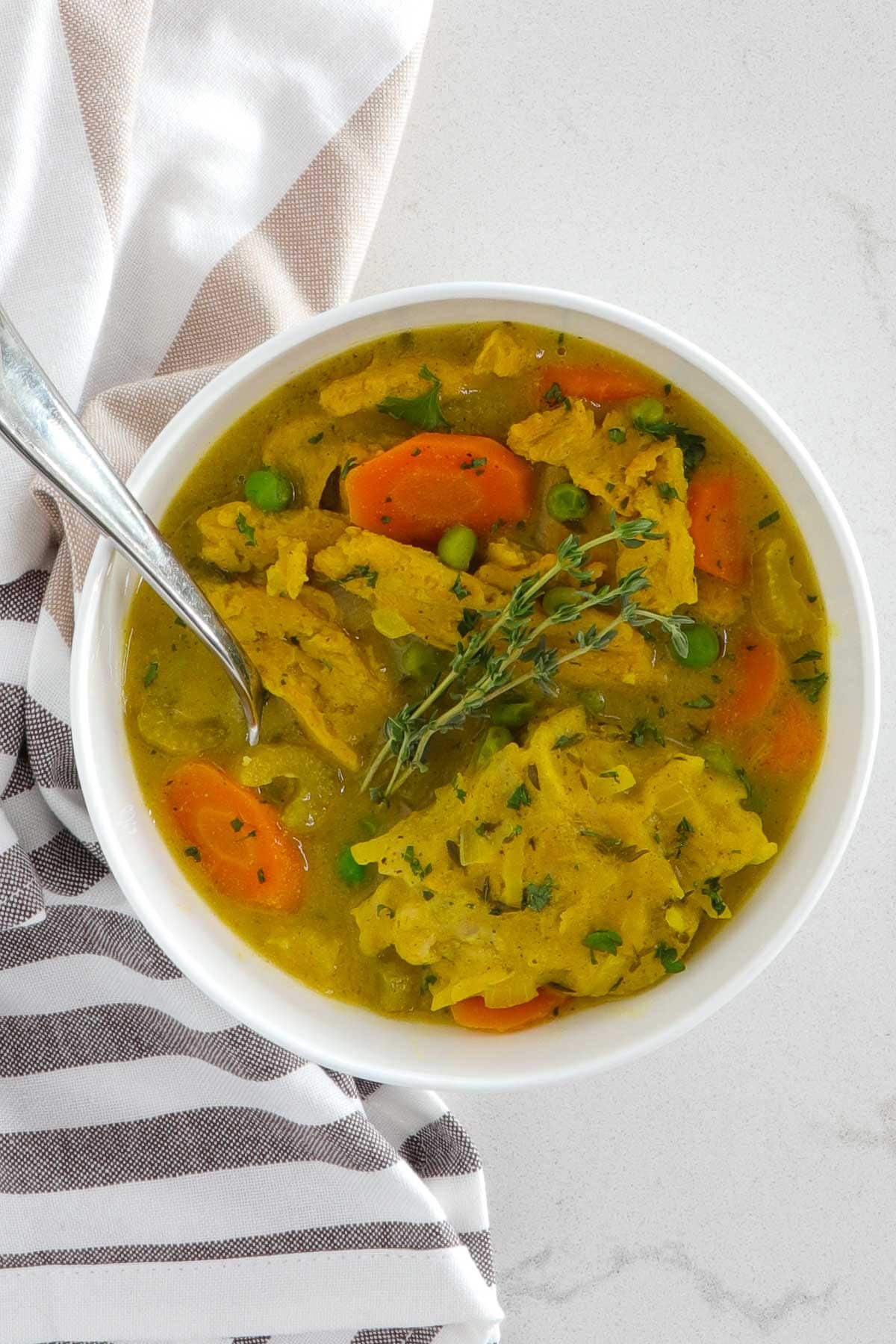 Vegan chicken and dumplings is the ultimate comforting stew. This stew combines plump potato dumplings with vegan chicken and nutritious veggies for a lighter, healthier alternative to an old-time favorite.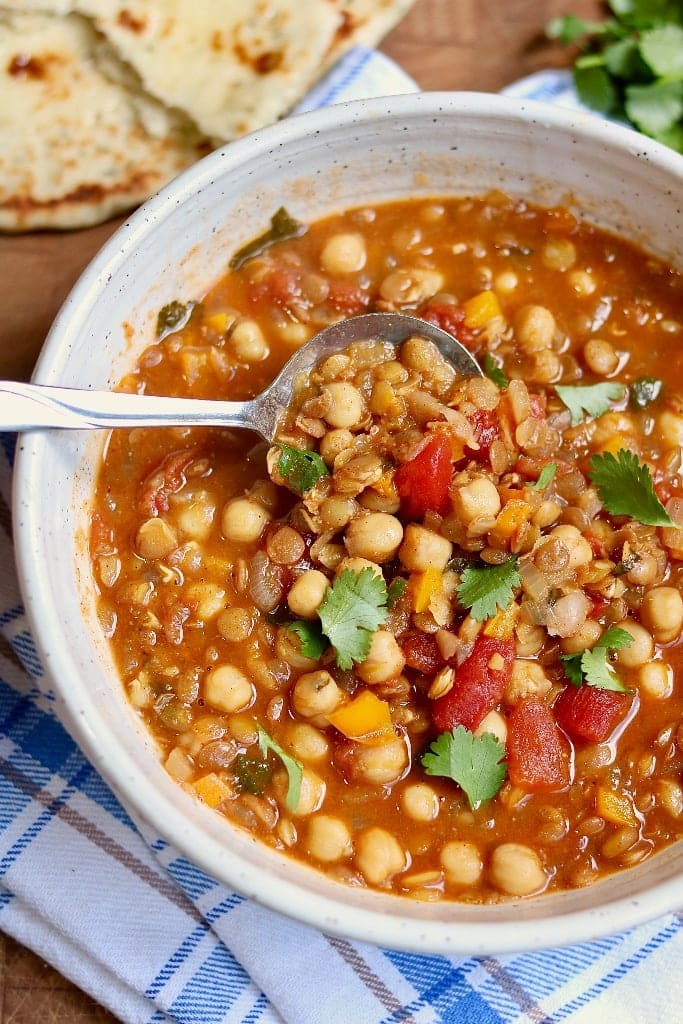 This North African inspired Moroccan Stew is full of lentils, chickpeas and veggies simmered in a delectable savory veggie broth. It blends a variety of spices together like cinnamon, cumin, allspice and coriander for an incredible flavor experience!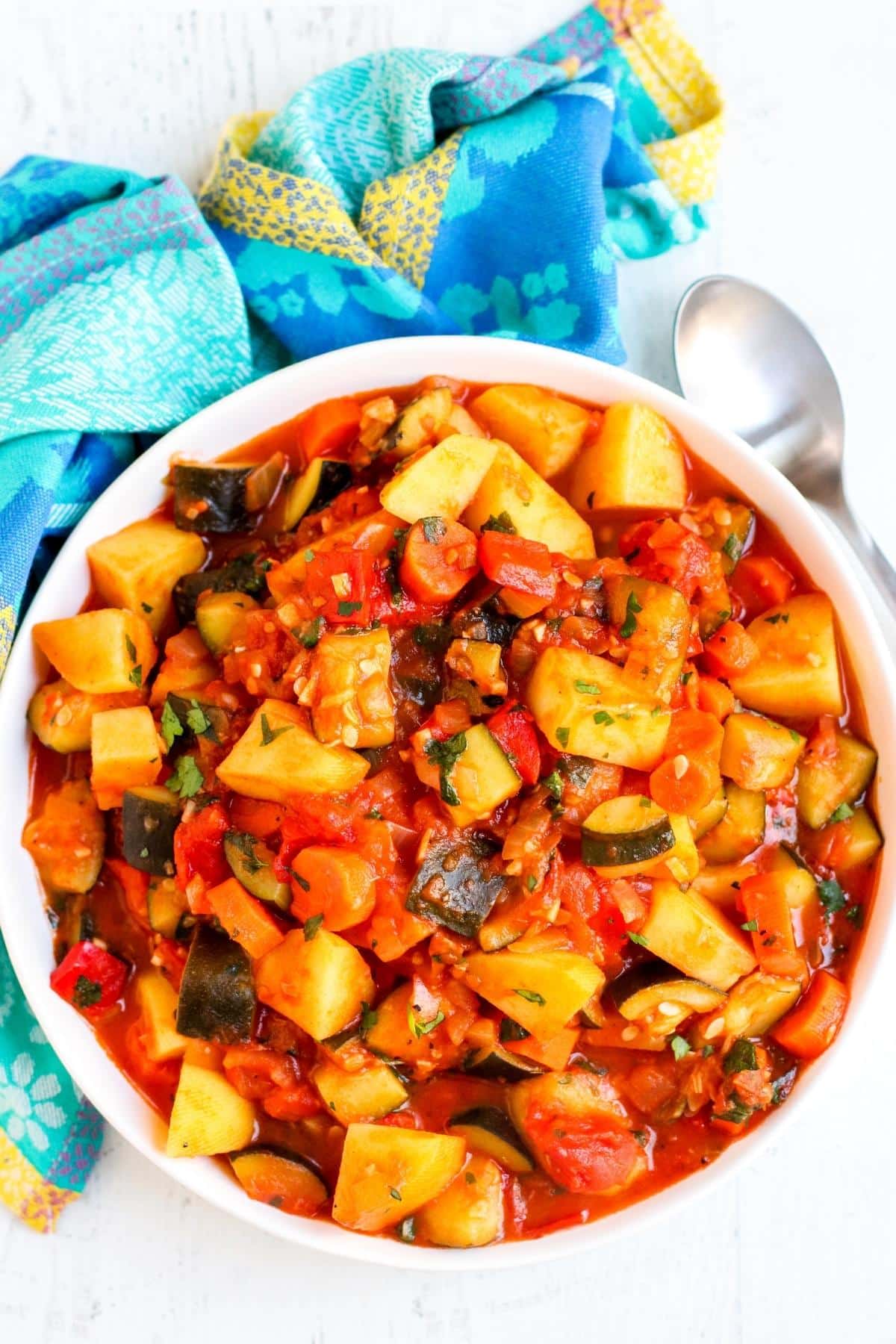 This rustic Italian-inspired stew is full of zucchini and potatoes. It's also vegan, gluten-free, loaded with vegetables, and quick to prepare. Enjoy a warm bowl of this tasty stew on its own or with some thick, crusty bread.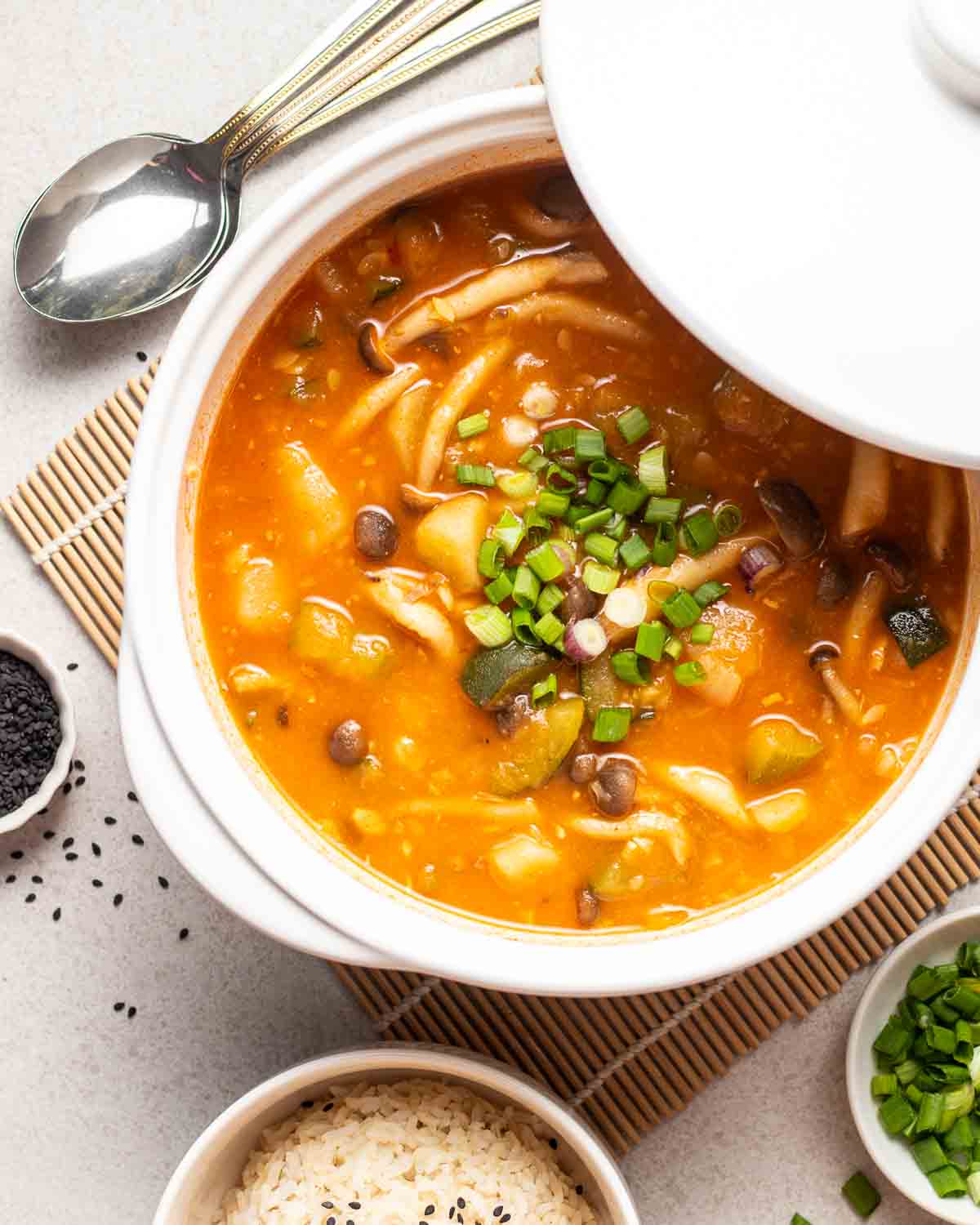 Mix up your typical stew routine with this spicy and flavorsome Korean gochujang soup. It features refreshing vegetables cooked in a savory and rich broth made with gochujang paste and is ready in 30 minutes!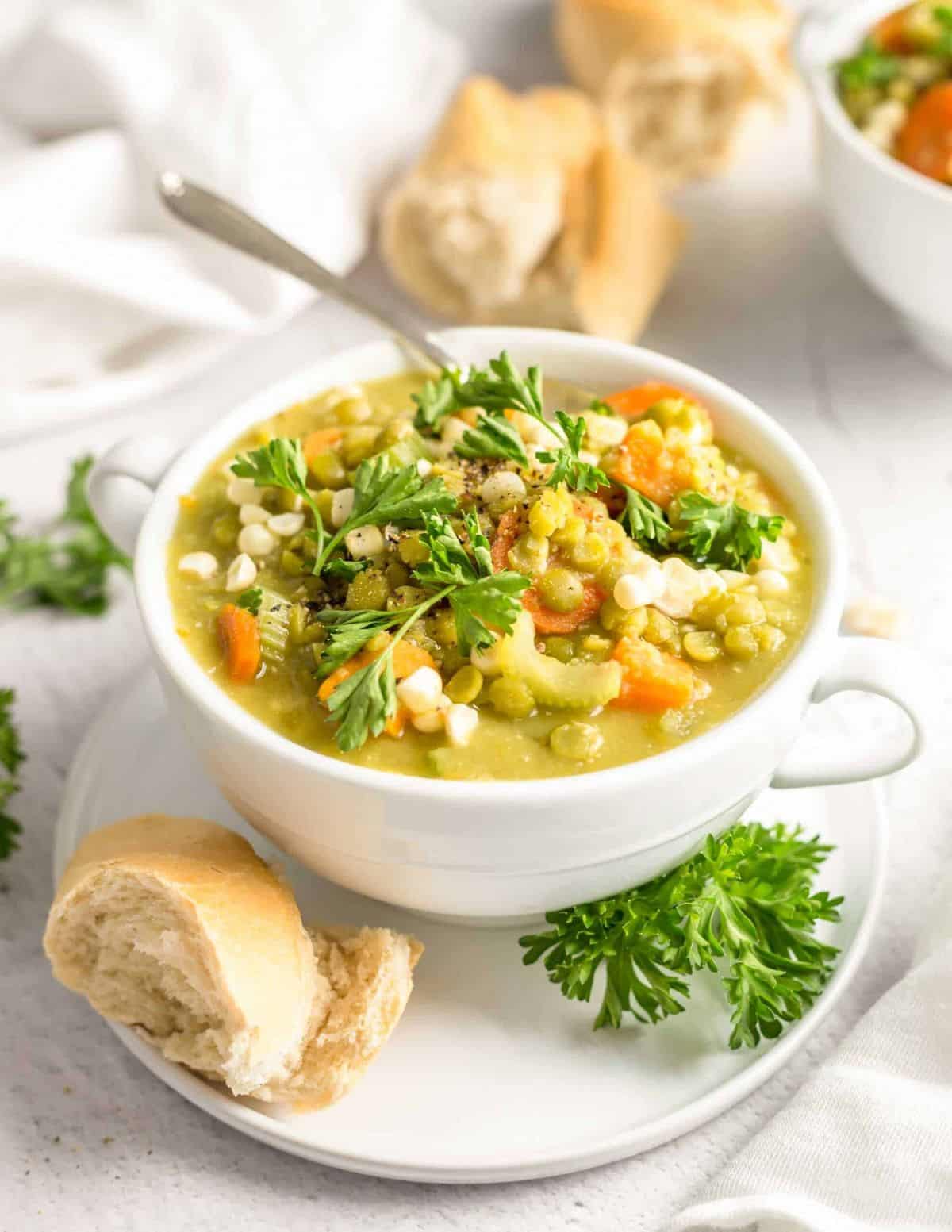 This savory stew is loaded with chunks of sweet potato, carrots, and sweet corn. Split peas create a thick and hearty base that takes vegan stew to a whole new level. This recipe has all the cozy comforts and more!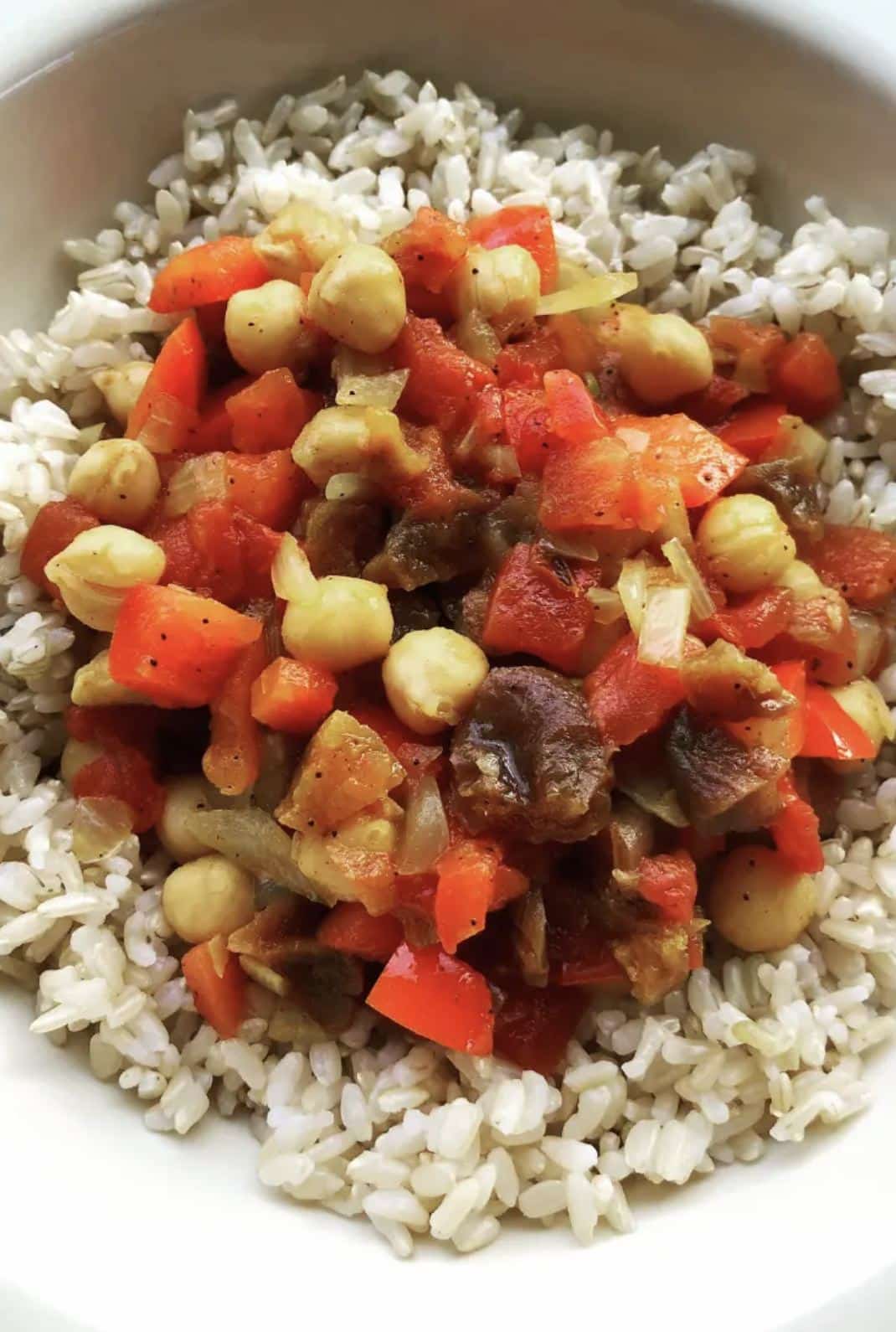 Heart healthy and full of fiber, this apricot vegan stew is worth a try! It's healthy and delicious, low in sodium, but definitely not lacking in flavor!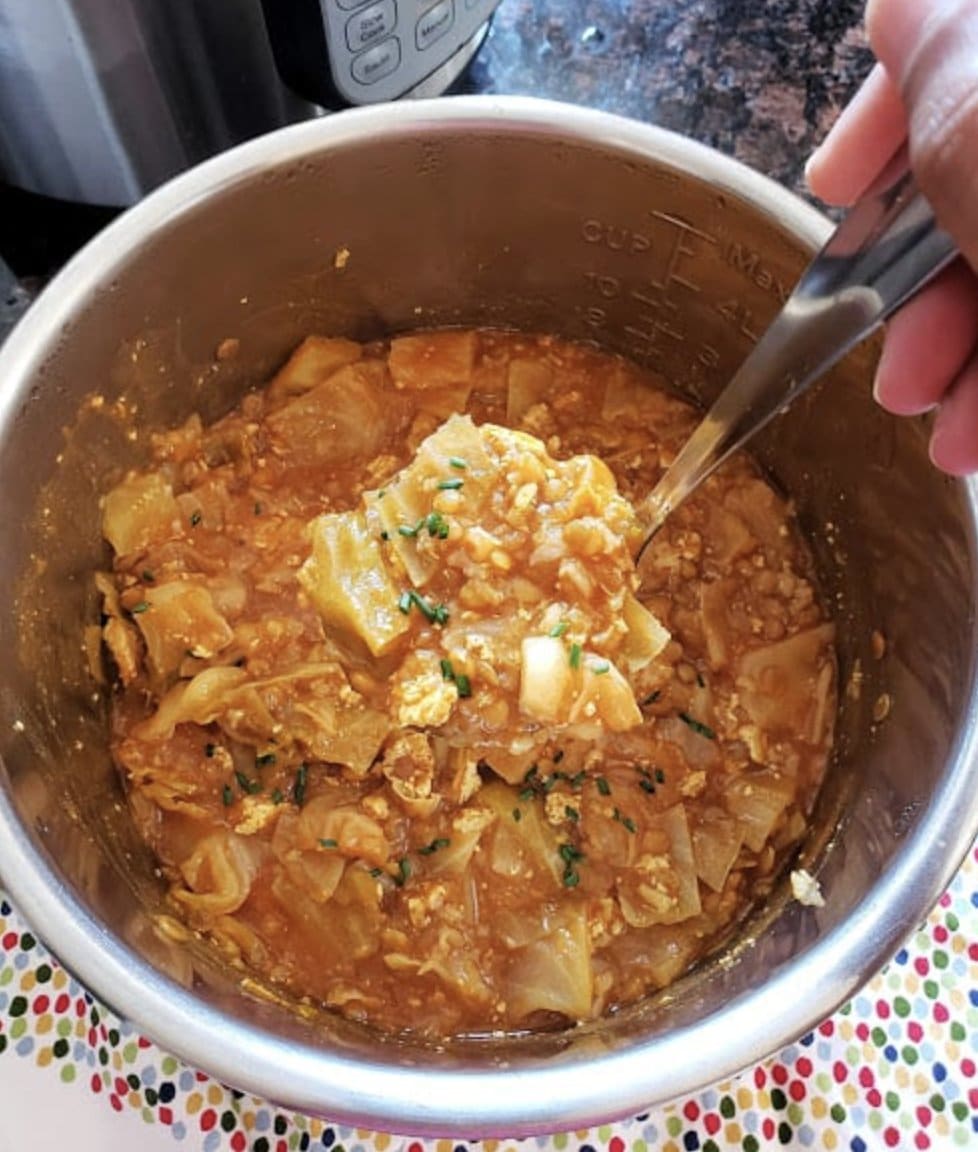 When you are craving classic comfort food this one pot cabbage stew is perfect! You can make this in the Instant Pot, stove top or slow cooker. It is full of cozy, hearty and comforting vibes that everyone in the family will enjoy.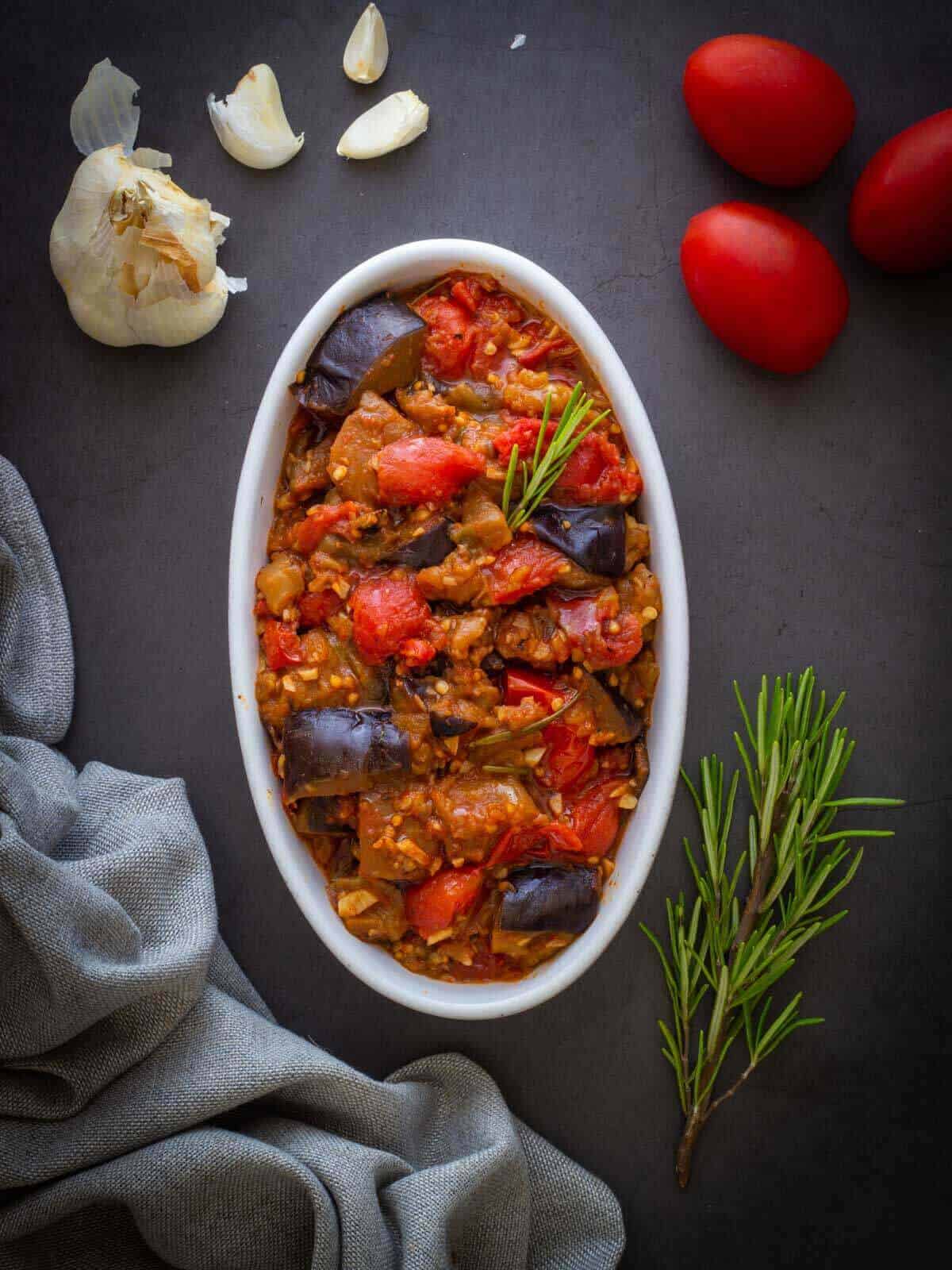 This Italian eggplant stew (Melanzane in Potacchio) is from the Marche region in Italy. Although simple, it is surprisingly flavorful and great for meal prep!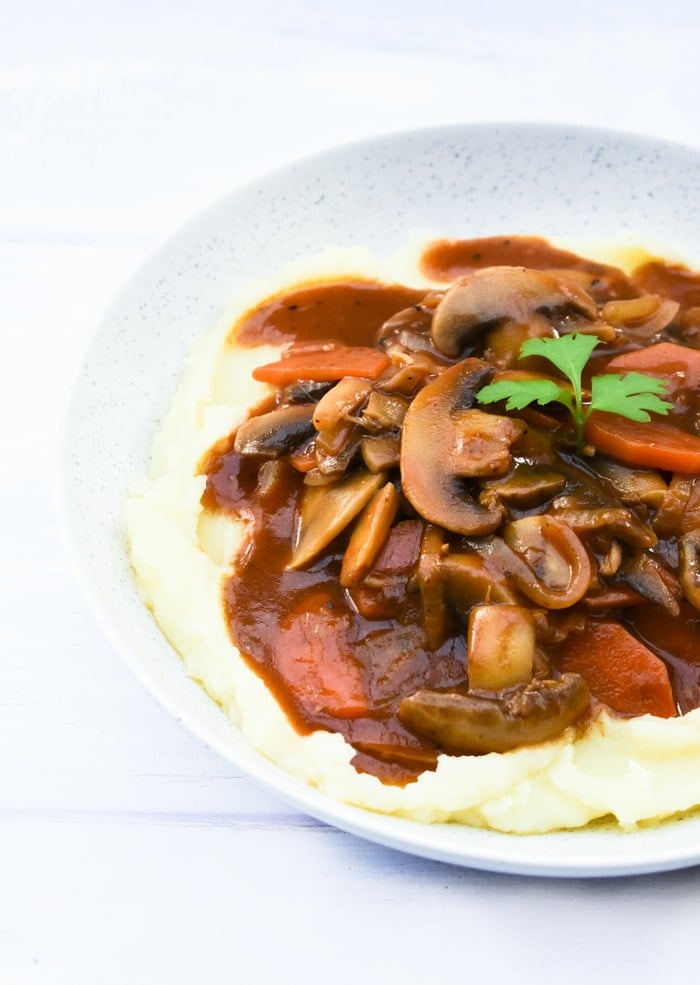 Stew served over mashed potatoes? Sign me up! This traditional Scottish stew is made with mushrooms served over creamy mashed potato, with just a few everyday ingredients!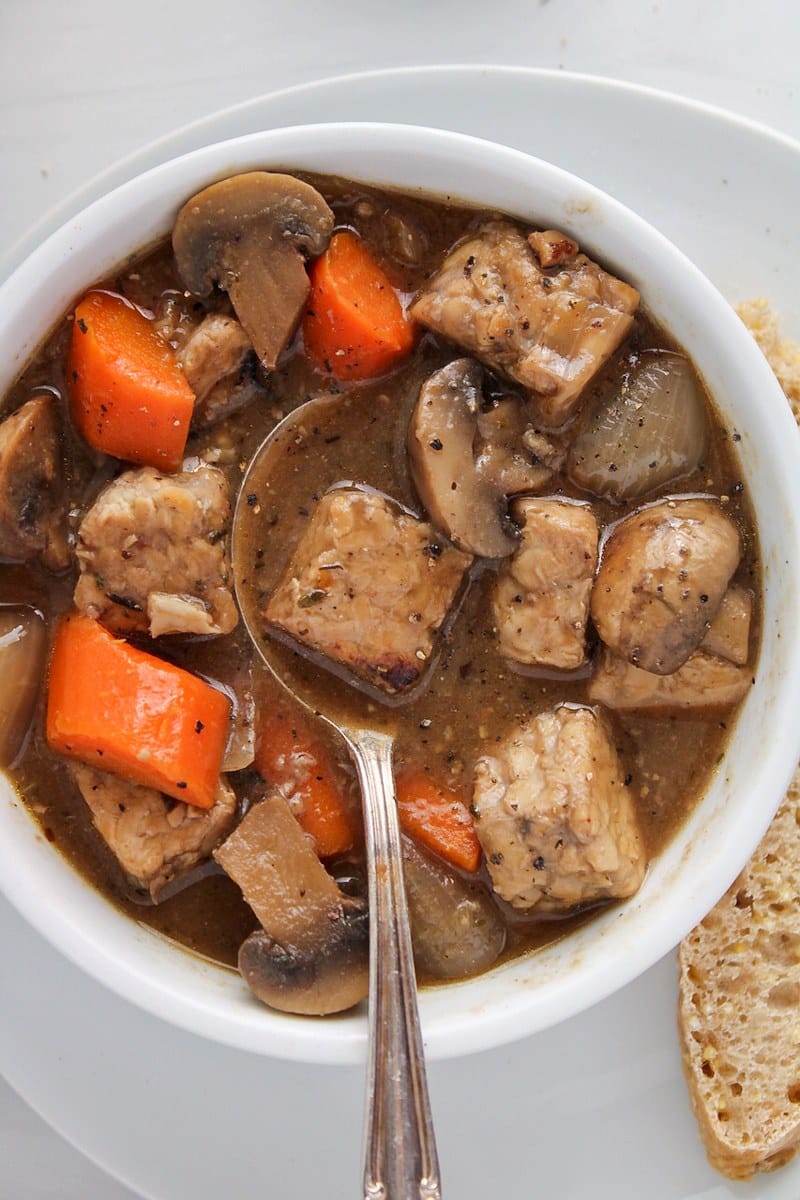 Vegan tempeh 'beef' stew features tender vegetables and hearty cubes of tempeh that are slowly cooked in a savory gravy brown sauce. It's extra flavorful, high in protein, and makes for an amazing vegan comfort food dish that's a crowd pleaser!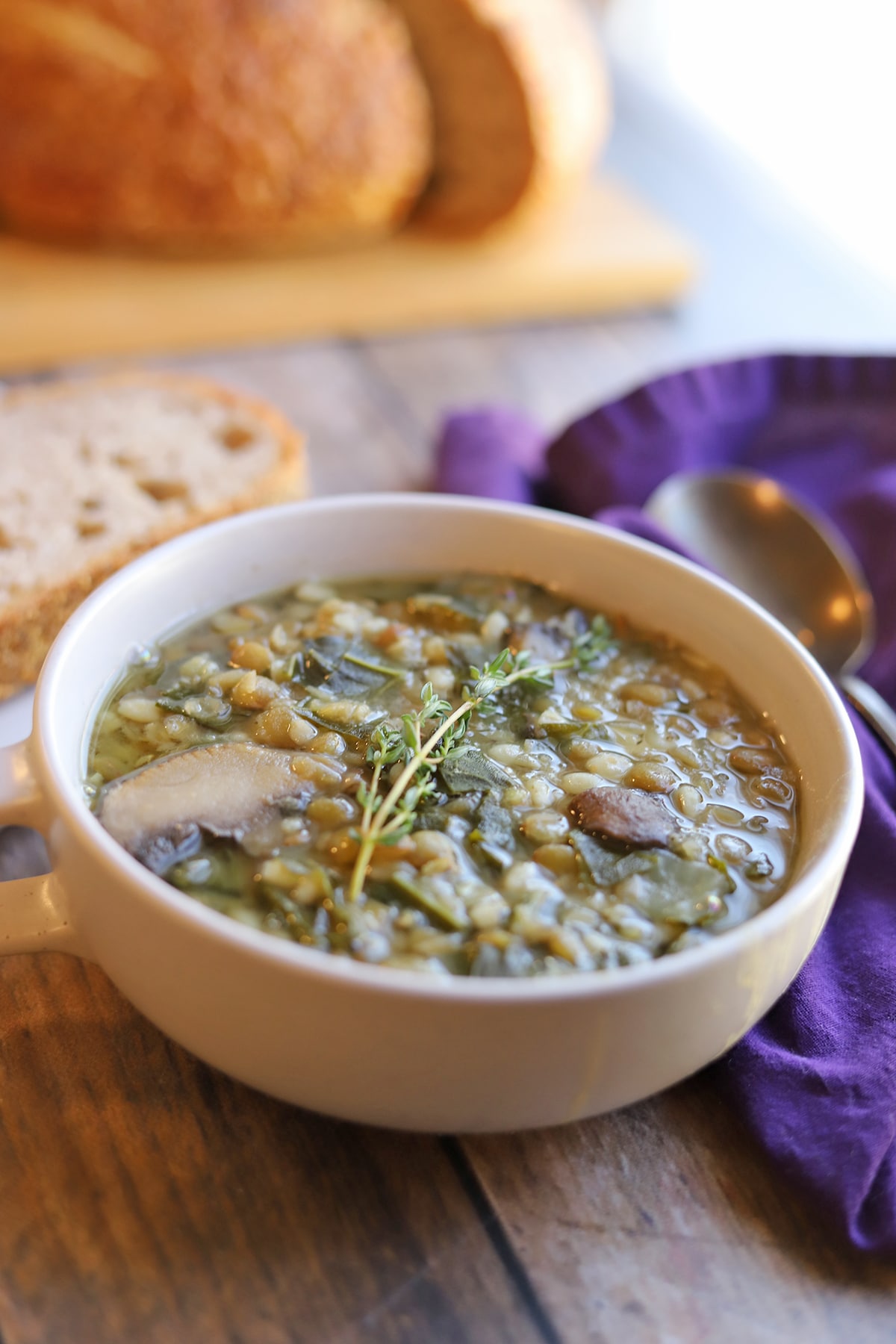 For an extra satiating and warm meal, try this double lentil mushroom barley soup. One bowlful is a complete meal on its own—full of fiber, plenty of plant-based protein, and loaded with veggies.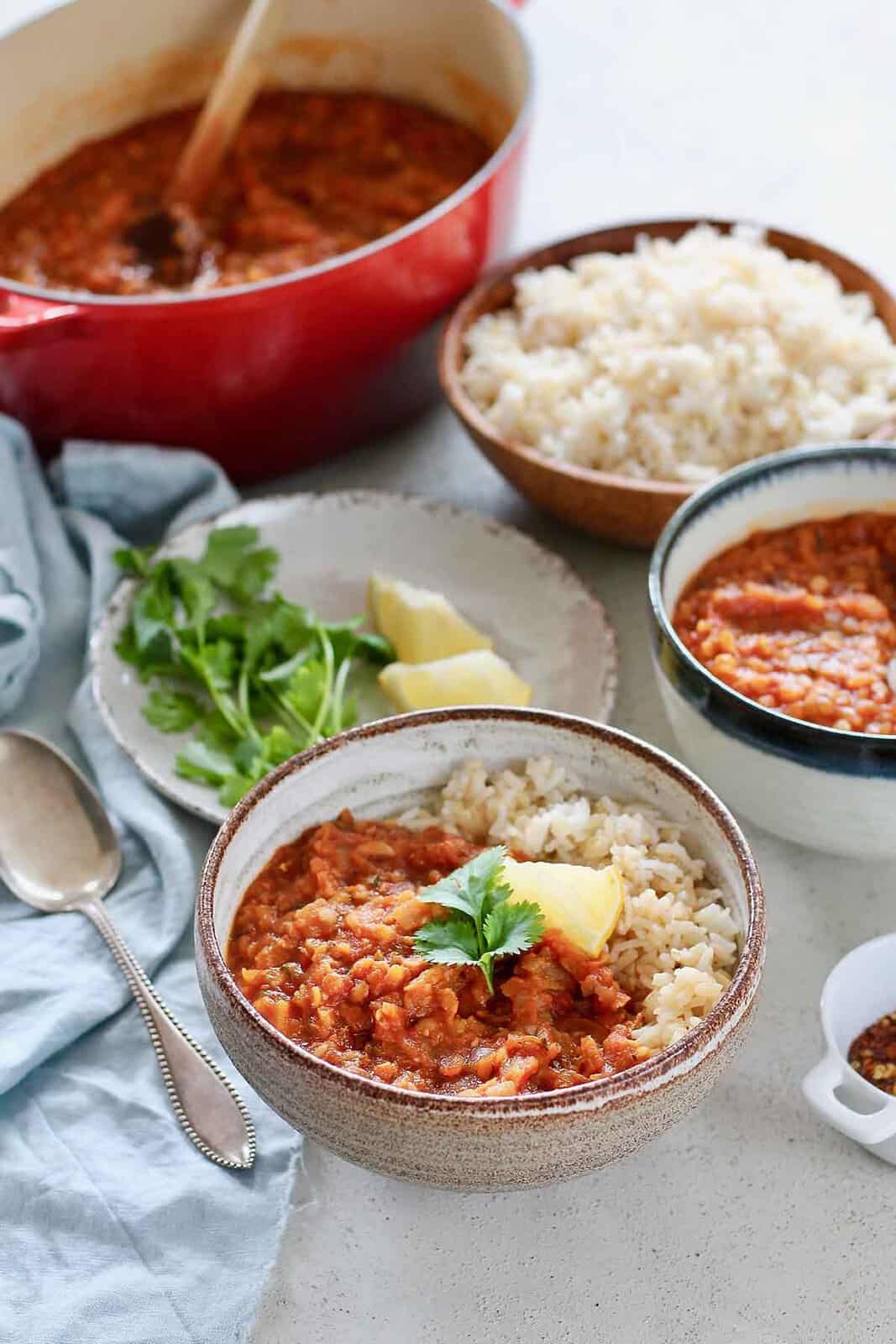 This easy Red Lentil Stew recipe is perfect when you want something healthy, quick, and delicious. It's completely vegan, loaded with veggies, and comes together in under 30 minutes. Make it in the Instant Pot or cook it on your stove top, and serve with rice or pasta for a filling meal!
How to Store
Made a big pot of stew and don't know what to do with leftovers? Transfer to an airtight container and store in the refrigerator for up to a week.
If you meal prep large batches like me, sometimes I have extra so I freeze the leftovers to enjoy later. To freeze, allow the stew to cool to room temperature before storing in a freezer safe container, leaving a little room for expansion. Store in the freezer for up to 3 months.
What to serve with vegan stew
Crusty bread—any kind will do. I love to toast mine in the air fryer for a few minutes.
This vegan soda bread is a great, easy homemade bread that pairs perfectly with stew!
Whole grains like brown rice or quinoa also pair well with stew to turn it into a filling meal.
For a fun twist, serve stew over mashed potatoes! They add a creaminess that can't be beat and makes for an ultra comforting meal!
FAQ's
What vegetables work well in stew?
Hearty root vegetables are best known for working well in stews but really any vegetable will do! Potatoes, squash, cauliflower, carrots, parsnips and peas are some great options to include in stew.
Which spices are best for stew?
Aside from the classic salt and black pepper, here are some of the best spices to use in stew: Garlic powder, onion powder, dried basil, dried thyme, dried oregano, bay leaves, paprika powder, dried rosemary, celery seed and dried parsley. There's no hard rule for which spices you must use, but a variety of these will get you the best flavor.
Is stew good for weight loss?
Weight loss on a vegan diet is controlled by many factors. However, when eating a stew full of whole foods with hearty vegetables, you're more likely to feel full before over eating. These high fiber meals will also keep you full for longer and help prevent snacking later. So don't be afraid to enjoy a bowl of hearty vegan stew on your weight loss journey! You can easily fit stew into this vegan weight loss meal plan.
Which vegan stew recipe is your favorite? Let us know in the comments which ones you plan to try and don't forget to comment and leave a star rating on the ones you make so the recipe author knows how much you enjoyed it!