Being vegan doesn't mean missing out on grilling season! You can still put that grill to good use. This round up features the best vegan BBQ recipes to make for your next grill out.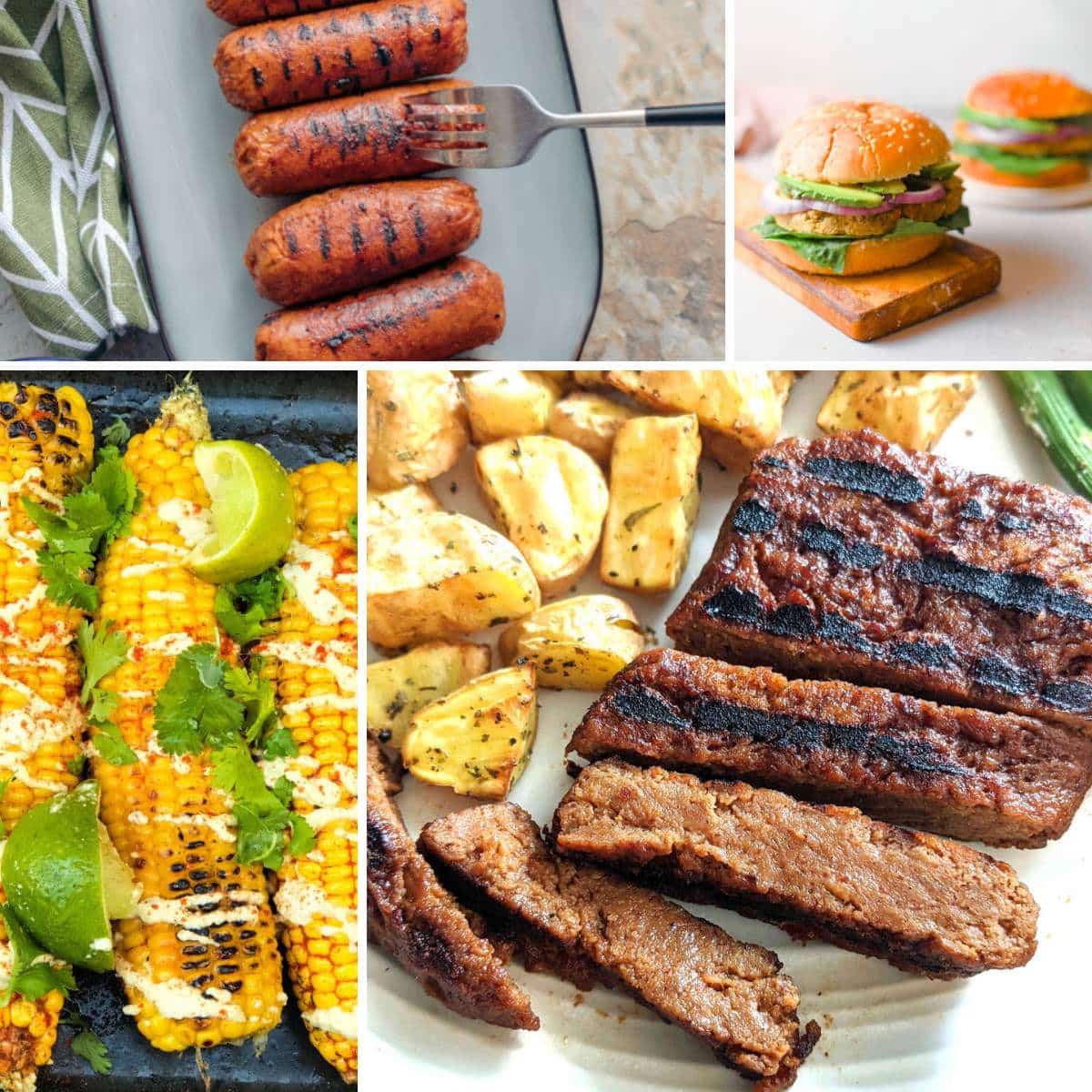 Yes, we still have some of the usual attendees like grilled corn and veggie burgers, but we've thrown in some more creative variations to mix it up! Whether you're a seasoned vegan griller or just starting to explore the world of plant-based BBQ, we've curated a selection of mouthwatering vegan BBQ recipes that prove you don't need meat to enjoy a smoky, charred feast.
Save this post for your next cookout or to have in your back pocket for Memorial Day, Labor Day or Fourth of July celebrations so you can impress your fam and guests.
These vegan grilling recipes are crowd-pleasers from vegan burgers and hot dogs to zesty grilled vegetables and tangy BBQ sauces. I'm sure you'll find something delicious to grill this summer season!
Don't forget the vegan bbq sauce!
Jump to:
Vegan Appetizers and Sides
There are so many good vegan BBQ recipes to serve for appetizers and sides. Salads, veggie skewers and kabobs, and even a sushi recipe! There's really no limit to vegan cooking.
Vegan BBQ Main Dishes
Now on to what I'm sure you've all been waiting for—the "meat" of the menu! We've got plant-based burgers, sausages, steaks, and chicken all with irresistible meaty textures that are perfect for the main course and will satisfy even meat eaters! You won't find any processed mock meats here though. Just tasty homemade vegan BBQ recipes made from wholesome ingredients!
Desserts
A backyard BBQ wouldn't be complete without delectable vegan treats! Now that we know what vegan food options are available for the main dish, here are some incredible vegan desserts to indulge in!
Drinks
Wash it all down with these refreshing drinks that are more fun than the typical soda and beer!
Which of these vegan barbecue recipes do you want to try first? Let us know in the comments!
More Vegan Summer Recipes
Looking for more delicious recipes that are perfect for summer?