This strawberry bubble tea will be your new favorite way to drink boba! It features chewy tapioca pearls, fresh strawberries, and black tea, all coming together for the perfect refreshing drink.
It's creamy, fruity, and delicious, and has just the right amount of sweetness!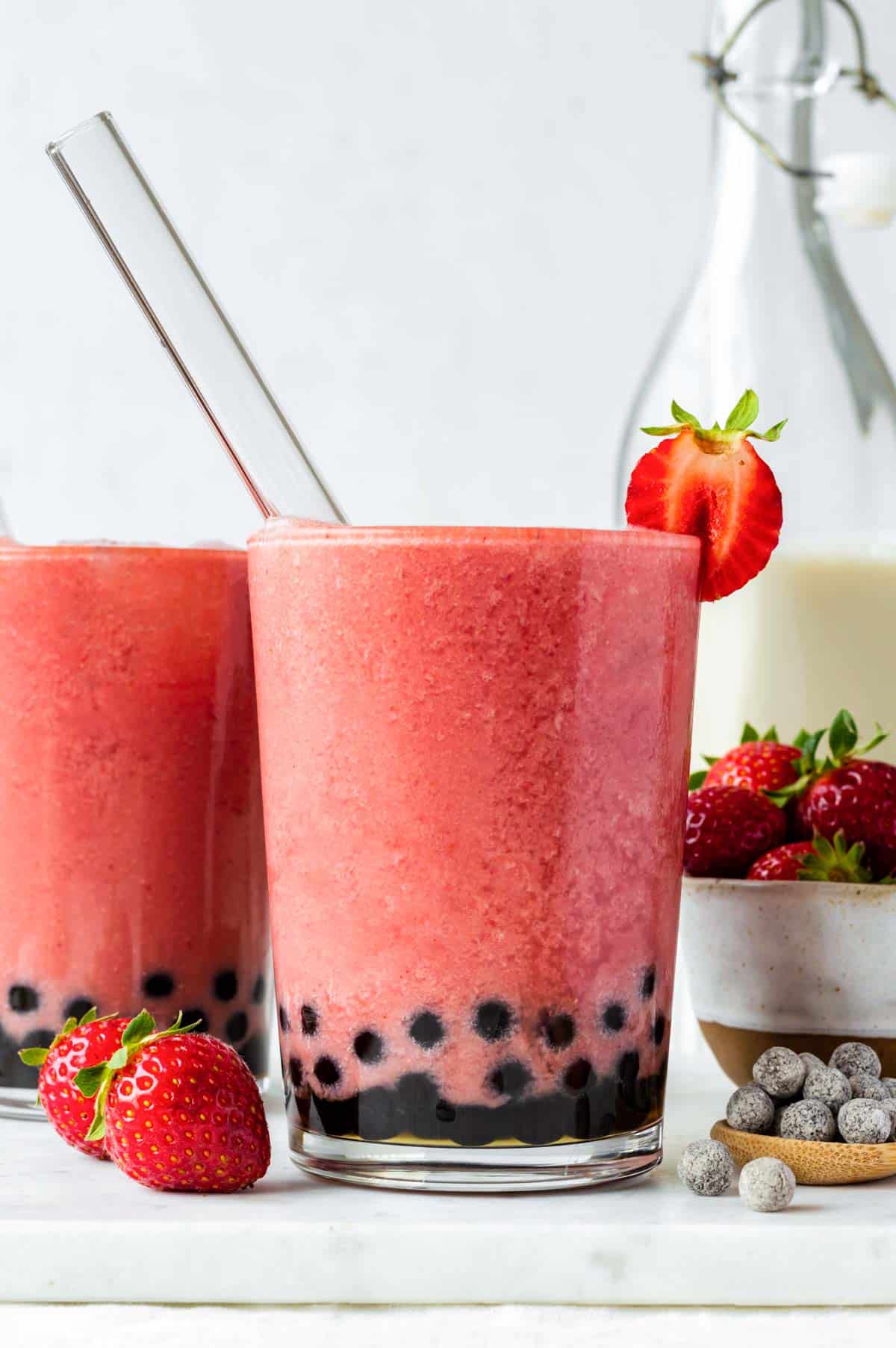 Jump to:
What is bubble tea?
Bubble tea, also known as Boba tea, is a Taiwanese drink that originated in the early 1980s.
It features brewed tea (usually black or green), tapioca pearls (aka boba), milk, and some type of sweetener.
Nowadays, there are many variations of bubble tea all over the world. From strawberry bubble tea to mango bubble tea, to even popping bubble tea, the options are endless!
Why you'll love this recipe
This strawberry milk bubble tea recipe is so refreshing and delicious! Here are more reasons to love it:
Made with 5 simple ingredients, and is naturally vegan and gluten-free.
Way cheaper than any of the boba shops!
Made with real strawberries (not strawberry powder or syrup) and black tapioca pearls.
It's customizable, meaning you can get to control the sweetness, consistency, flavor, etc.!
Ingredient notes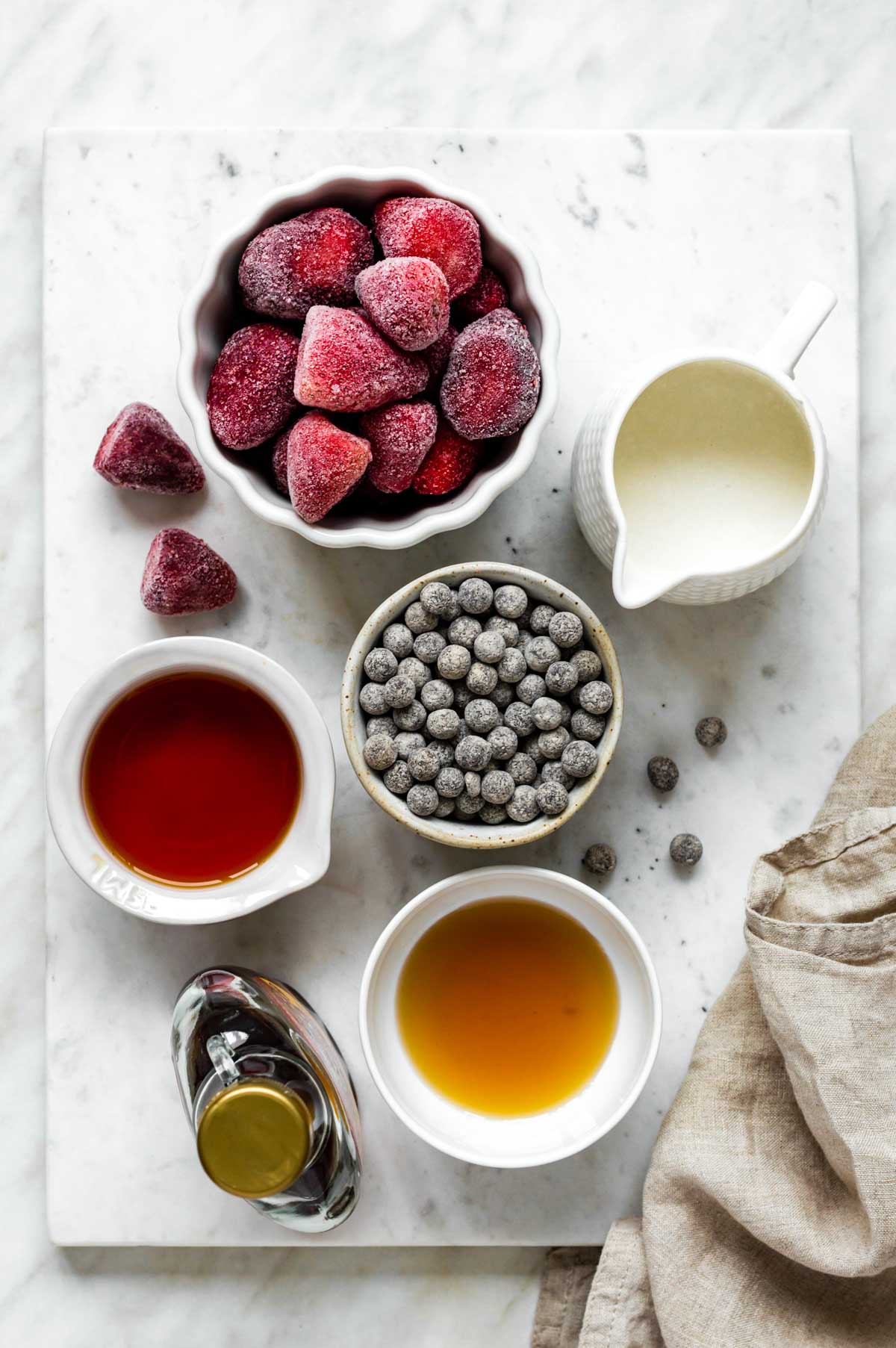 Strawberries: For best results, use ripe and seasonal strawberries. If you can't access fresh strawberries, it's best to use frozen ones.
Non-dairy milk: I'm using almond milk, but any plant-based milk will work here such as oat milk, coconut milk, soy milk, etc.
Tapioca pearls: Aka boba pearls, are made from tapioca flour and are chewy and slightly sweet. I'm using brown sugar-flavored ones, but any flavor will work here!
Black tea: This is a traditional ingredient in bubble tea that adds a bold and robust flavor. You can also use green tea.
Maple syrup: For coating the tapioca pearls to prevent them from sticking and sweetening the chewy boba. You can also use another liquid sweetener of choice such as agave syrup or simple syrup.
Ice cubes: This is optional, you can skip them if you don't like your bubble tea cold.
Scroll down to the recipe card for exact measurements.
How to make strawberry bubble tea
If you haven't already, start by brewing your tea. Bring water to a boil, then remove from the heat and add the tea bags.
Let steep for 3-5 minutes before removing them, then let the tea cool to room temperature or place in the refrigerator to speed up the cooling process.
In the meantime, prepare the tapioca balls. Fill a small saucepan with water and cook them over medium heat following the packaging instructions.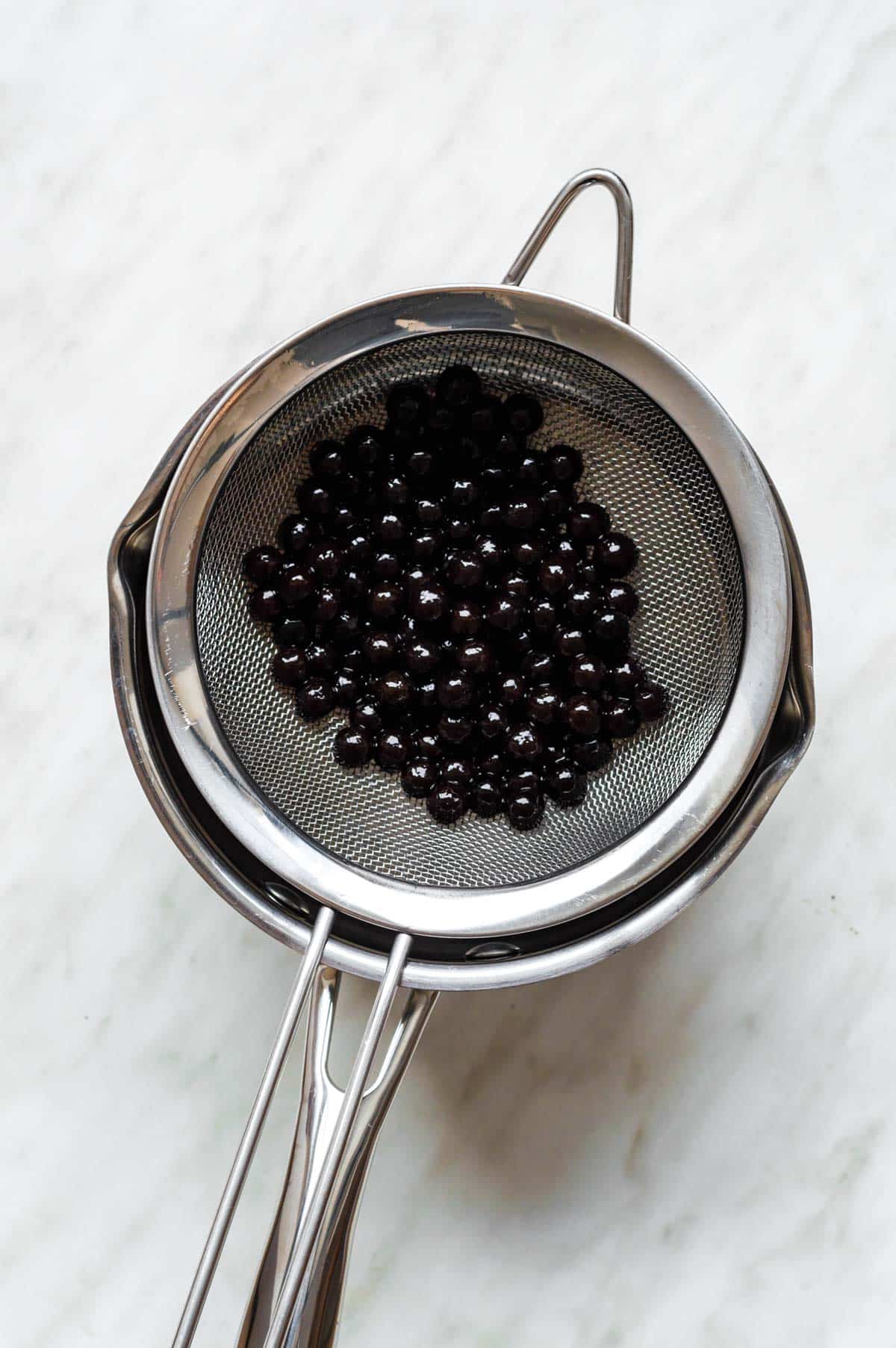 Once ready, drain the boba and rinse it under cold water until it's completely cooled down.
Add to a bowl, and stir the maple syrup. Set aside.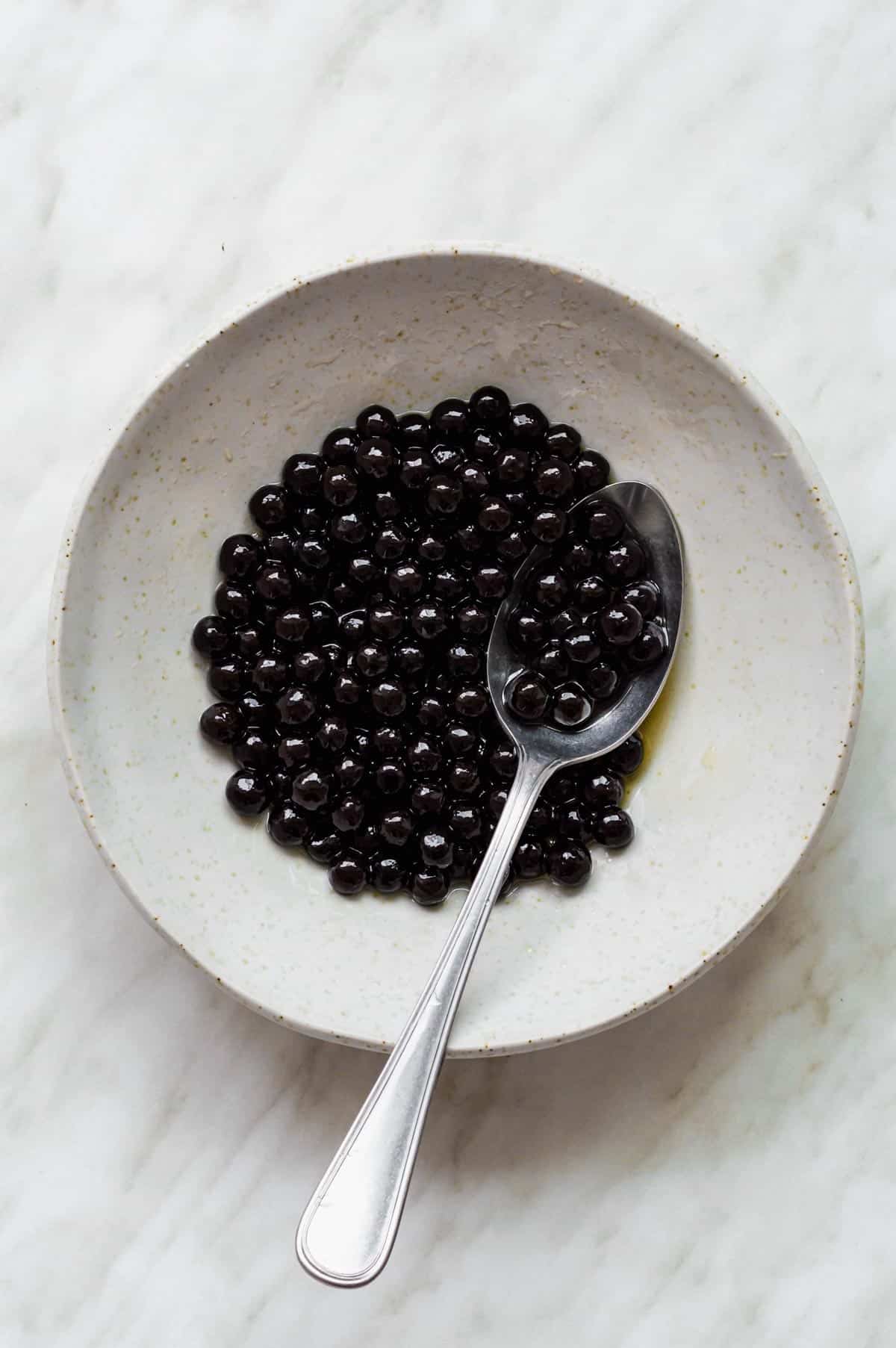 Make the sweet strawberry milk tea by adding strawberries, non-dairy milk, and the cooled black tea to a blender.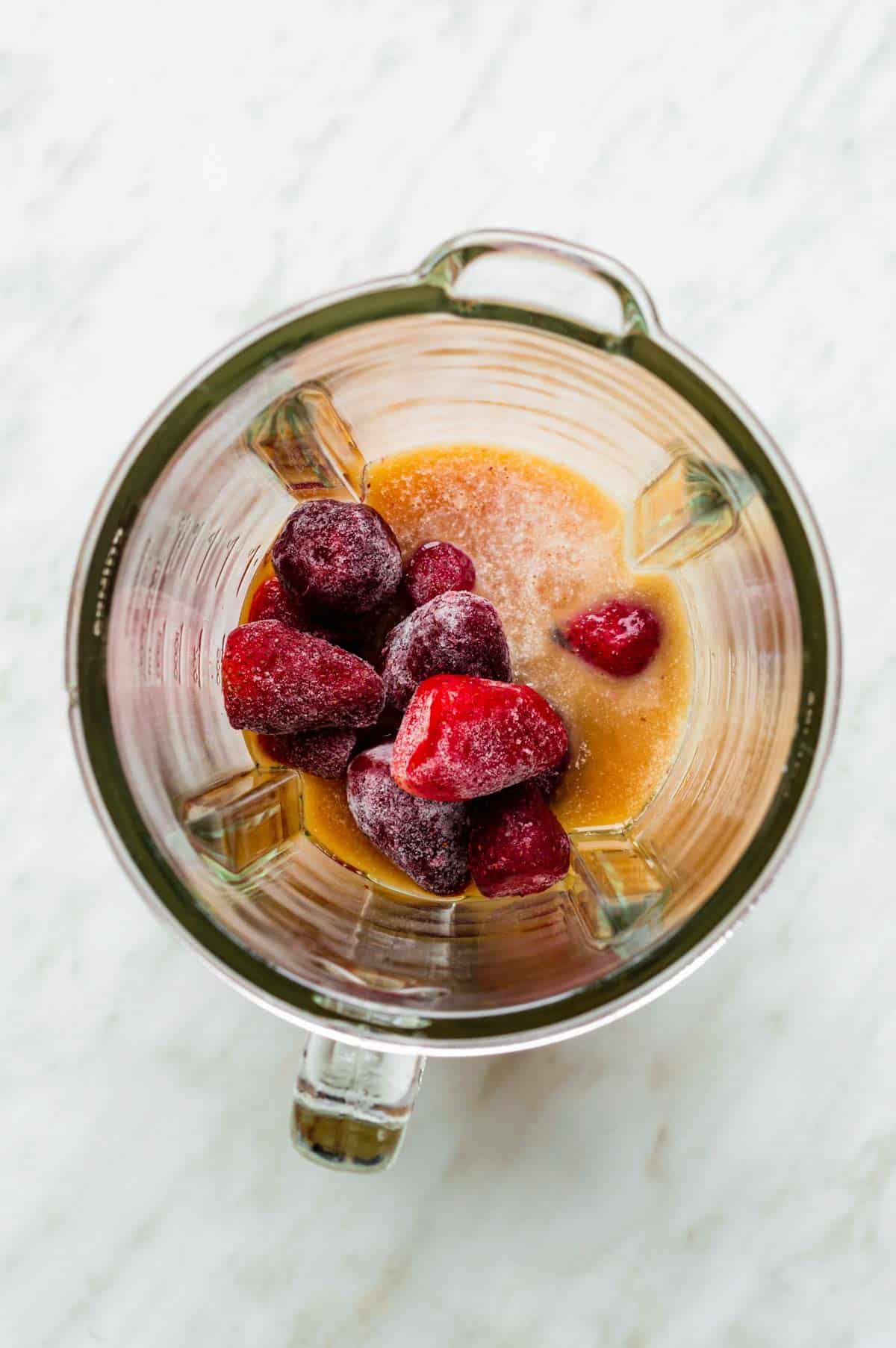 Blend on high for 1 minute, or until completely smooth.
If your strawberries were not sweet enough, feel free to add a splash of maple syrup.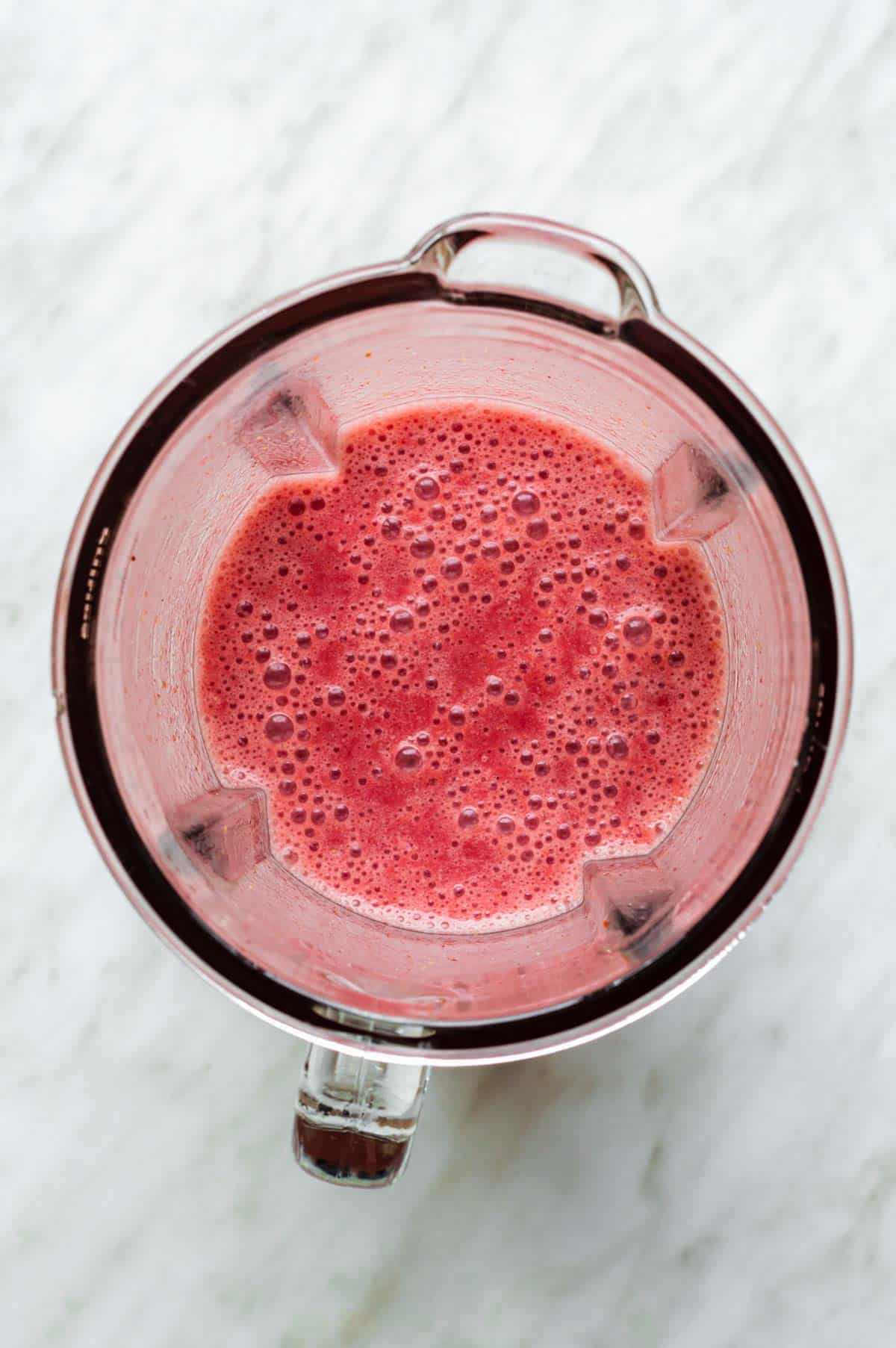 Finally, assemble the strawberry bubble tea.
To a large glass, add cooked boba tapioca pearls to the bottom, then top with as much ice as you want.
Pour over the strawberry shake and insert a boba straw. Stir well and enjoy right away!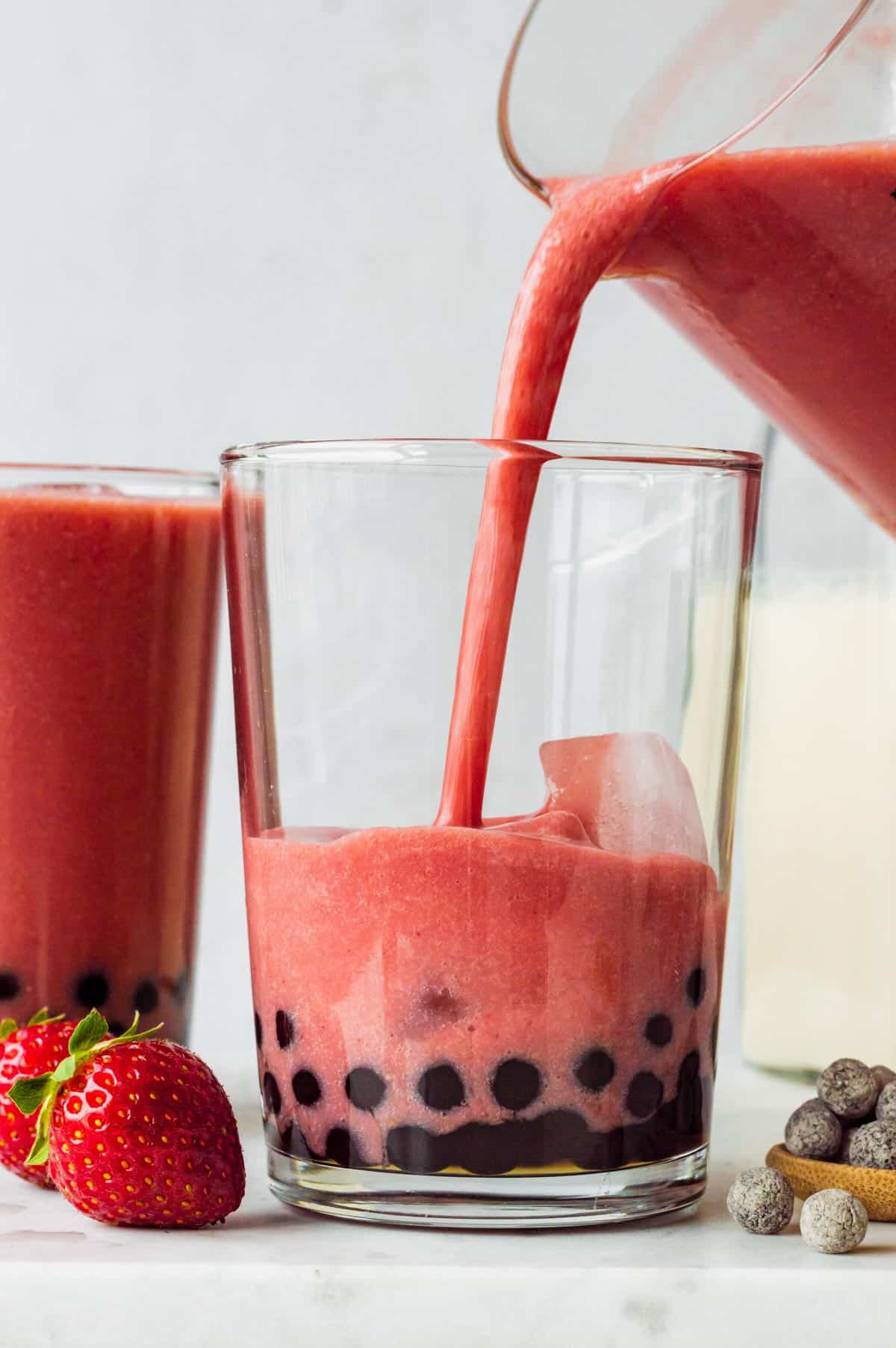 Top Tips
Cook the tapioca pearls according to the packaging. The preparation changes depending on the brand, flavor, and size, so it's hard to give exact instructions. Make sure to follow the steps on the package for the best results.
Serve with freshly-cooked boba. Ideally, you'd want to cook the tapioca pearls right before you make the bubble tea. I don't recommend preparing them in advance as the texture changes quite a bit—they get firm and hard to chew.
Coat with maple syrup immediately. The pearls can stick to each other easily and turn to mush, so make sure to be generous with the maple syrup and toss them right after rinsing with cold water.
Brew the tea correctly. Depending on the type of tea you're using, the brewing method can change quite a bit. Make sure to not leave the tea bags in the hot water for too long or it will turn bitter!
Use ripe and seasonal fruit. Since we're using fresh strawberries and not fruit syrup, it's important to find the best ones you can, ideally in season!
FAQ's
What is strawberry bubble tea made of?
This recipe features fresh strawberries, black tea, sweetener of choice (such as coconut sugar or maple syrup), milk (almond milk, oat milk, or coconut milk are all great options), and tapioca pearls (also known as boba). It is often served with ice and can be customized with additional toppings like fruit jelly, fresh fruit, shredded coconut, or chia seeds.
Where can I buy tapioca pearls?
You can get your hands on them in most big grocery stores such as Walmart and Target, or you can order them online on Amazon.
If not, be sure to check your local Asian market.
Can I make boba in advance?
No, I don't recommend cooking the boba in advance since the pearls change their texture and get firm after just a few hours.
Does this drink have caffeine?
Yes, this strawberry bubble tea contains caffeine because of the black tea. If you want to make a caffeine-free version, you can use herbal tea such as chamomile or skip the tea altogether.
Is strawberry boba good for you?
While strawberry bubble tea can be a tasty treat, it's important to note that its nutritional value depends on the specific ingredients and preparation method. Strawberry bubble tea typically contains added sugar and some bubble tea recipes may also use artificial flavorings or sweeteners. Moderation is key, as consuming excessive amounts of bubble tea with added sugars can contribute to calorie intake and potentially impact overall health.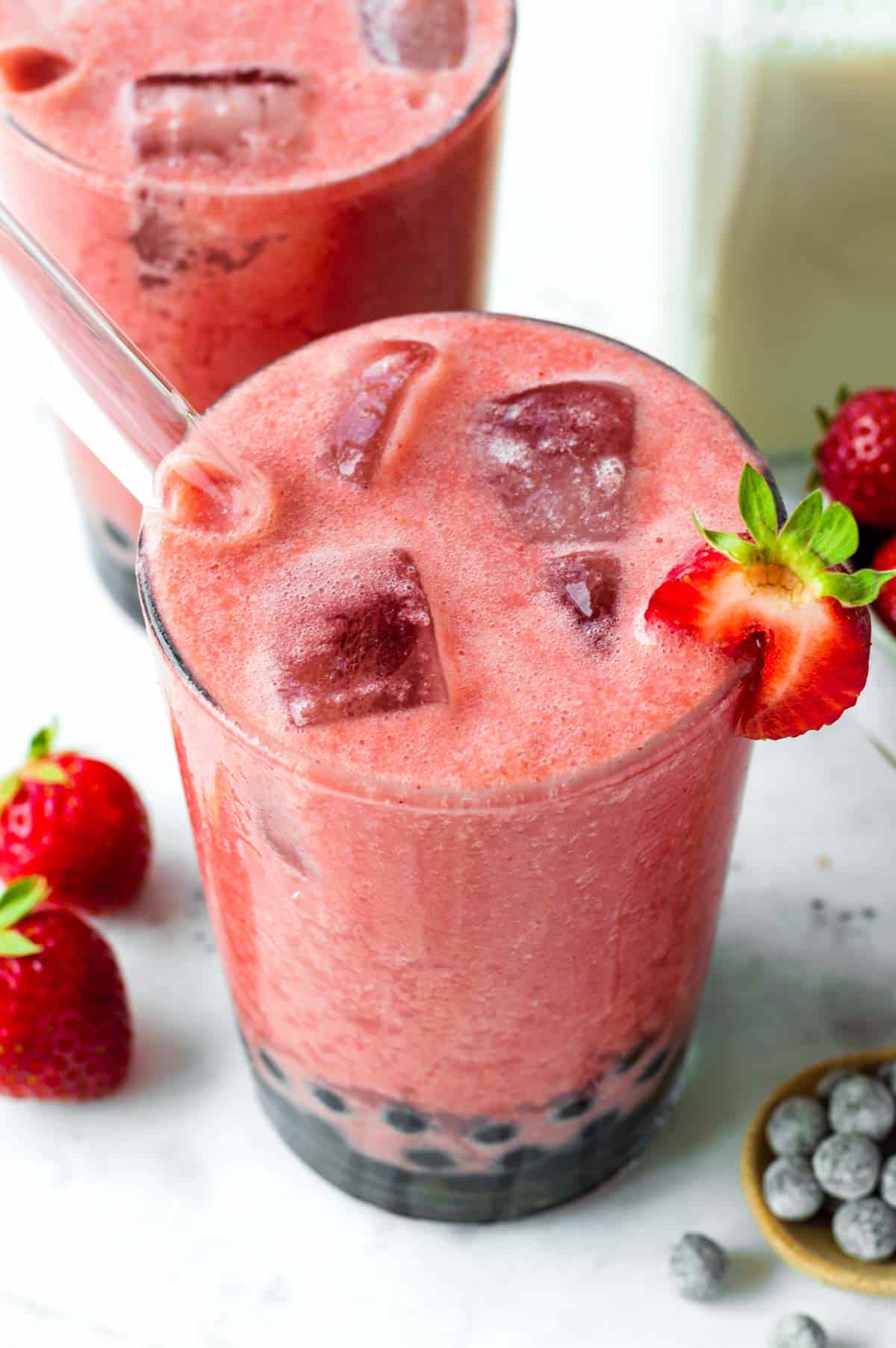 Variations
The best part about making this strawberry milk tea recipe at home is that you get to customize it however you want!
Here are some flavor variations you can use to switch things up. Comment below which one is your favorite!
Strawberry matcha: Instead of using black tea, use matcha! Prepare the base as you would if you were making a matcha latte—whisking 1 teaspoon of matcha powder with 1 cup of hot (not boiling) water. Let cool and blend with the rest of the ingredients for the bubble tea.
Strawberry cheesecake: Top with coconut whipped cream and crushed cookies!
Strawberry coconut: Use full-fat coconut milk from a can instead of almond milk. This will make the strawberry mixture thicker and creamier.
Strawberry rose: Use rose tea and brew it according to the packaging instructions. Let it cool and use it in place of the black tea in this recipe.
Strawberry chocolate or vanilla: Use chocolate-flavored or vanilla-favored almond milk. Or add 1 teaspoon vanilla extract.
Strawberry Oreo: Add a handful of crushed Oreo cookies when blending the strawberries, then sprinkle some more on top.
Storage
For best results, I recommend serving this strawberry bubble tea as soon as you cook the tapioca pearls.
If you have any leftover cooked boba, store it in an airtight container covered with a lid, at room temperature for a maximum of 4 hours.
You can prepare the strawberry mixture 24 hours in advance.
More refreshing drinks
If you enjoyed this recipe please leave a comment below and give it 5 stars! Or on Pinterest (don't forget to follow me!) and please help me share on facebook!
📖 Recipe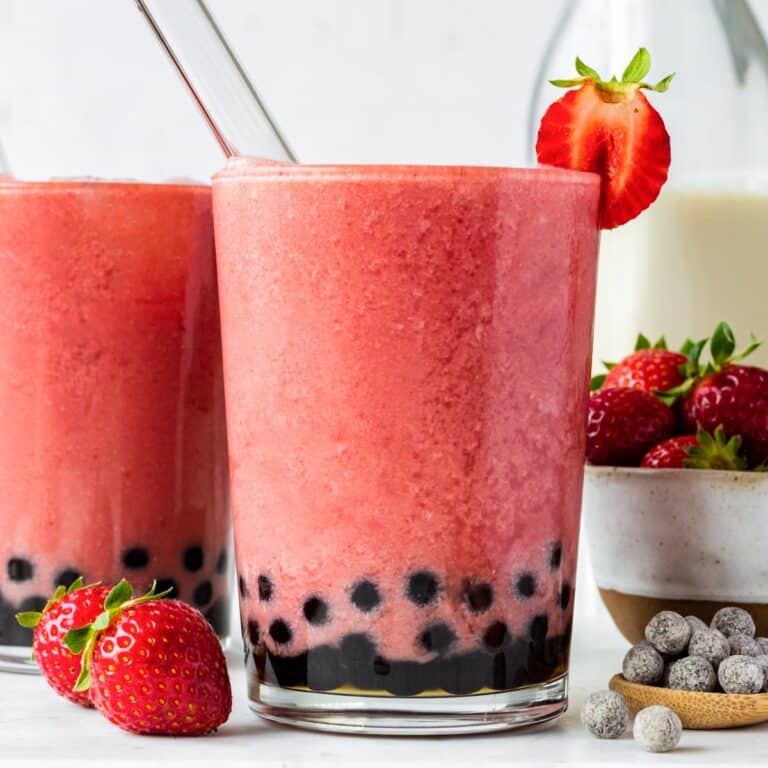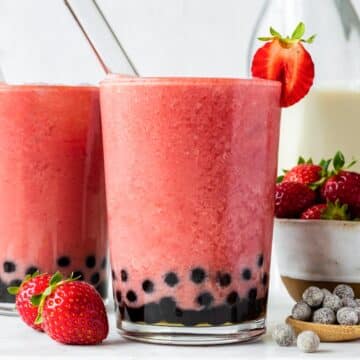 Strawberry Bubble Tea
This strawberry bubble tea will be your new favorite way to drink boba! It features chewy tapioca pearls, fresh strawberries, and black tea, all coming together for the perfect refreshing drink.
Print
Pin
Rate
Ingredients
1

cup

brewed black tea

,

cooled

½

cup

cooked tapioca pearls,

(boba)

2

cups

frozen or fresh strawberries

,

or 1 cup strawberry juice

½

cup

almond milk

,

or any other non-dairy milk

2

tablespoons

maple syrup

,

or another liquid sweetener like agave syrup

Ice cubes

,

for serving
Instructions
Prepare the tapioca pearls (boba) and black tea according to the package instructions. Once cooked, drain and rinse the tapioca pearls with cold water to remove any excess starch. Set aside. Add the maple syrup and stir to sweeten.

1 cup brewed black tea,

½ cup cooked tapioca pearls,

2 tablespoons maple syrup

In a blender, add the strawberries, brewed black tea, and almond milk. Blend until smooth and well combined.

1 cup brewed black tea,

2 cups frozen or fresh strawberries,

½ cup almond milk

Add 1⁄4 cup of the tapioca pearls to each glass, then fill with a handful of ice cubes. Pour the strawberry milk mixture over the ice. Insert a wide bubble tea straw into the glass and give it a gentle stir to mix the tapioca pearls with the strawberry milk tea mixture. Serve immediately and enjoy your refreshing strawberry bubble tea!
Notes
You can customize your bubble tea by adding other toppings such as sliced strawberries, chia seeds, or coconut flakes if desired.
Nutrition Per Serving
Calories:
245
kcal
Carbohydrates:
58
g
Protein:
1
g
Fat:
1
g
Saturated Fat:
0.02
g
Polyunsaturated Fat:
1
g
Monounsaturated Fat:
0.4
g
Sodium:
85
mg
Potassium:
270
mg
Fiber:
3
g
Sugar:
20
g
Vitamin A:
17
IU
Vitamin C:
85
mg
Calcium:
127
mg
Iron:
1
mg