Are you a bubble tea lover? If so, you have to make it at home!
This mango bubble tea is quick and easy to make and is ready in just 5-10 minutes! It's creamy, fruity, and refreshing, the perfect drink for summer and spring. The best part—the chewy tapioca pearls at the bottom.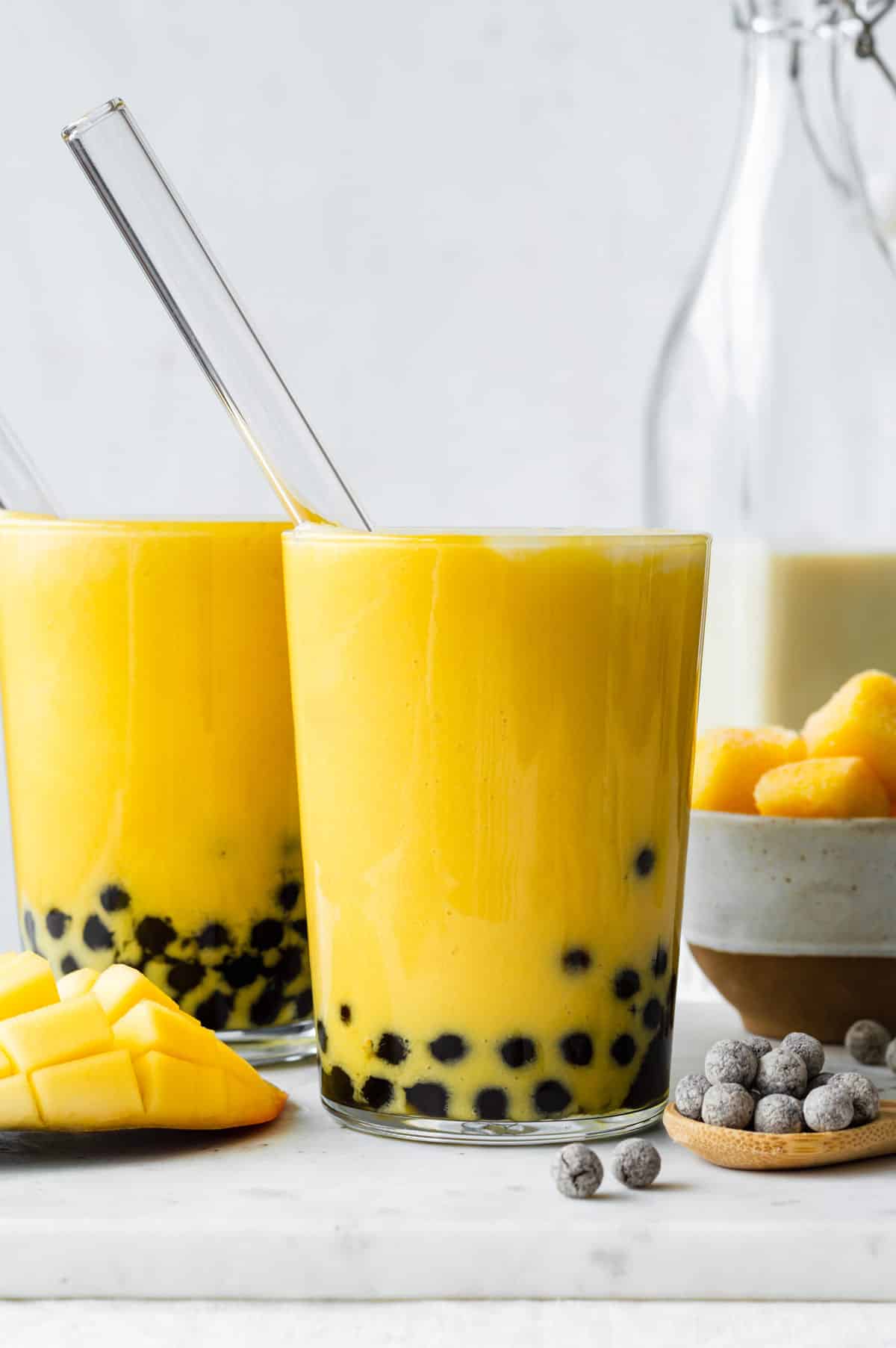 Traditional bubble tea features tapioca pearls (made from tapioca starch), black tea, brown sugar syrup, and milk of choice.
This version uses canned coconut milk and ripe mangos to add creaminess, as well as natural sweetness and flavor.
Perfect to enjoy on a hot summer day, or when you're craving something sweet and fruity!
Jump to:
Why you'll love this recipe
Easy to make at home with no "fancy" kitchen tools needed!
Budget-friendly and made with just 5 ingredients.
Customizable and versatile. You get to control both the sweetness and the consistency!
It's naturally vegan, gluten-free, and dairy-free!
Ingredient notes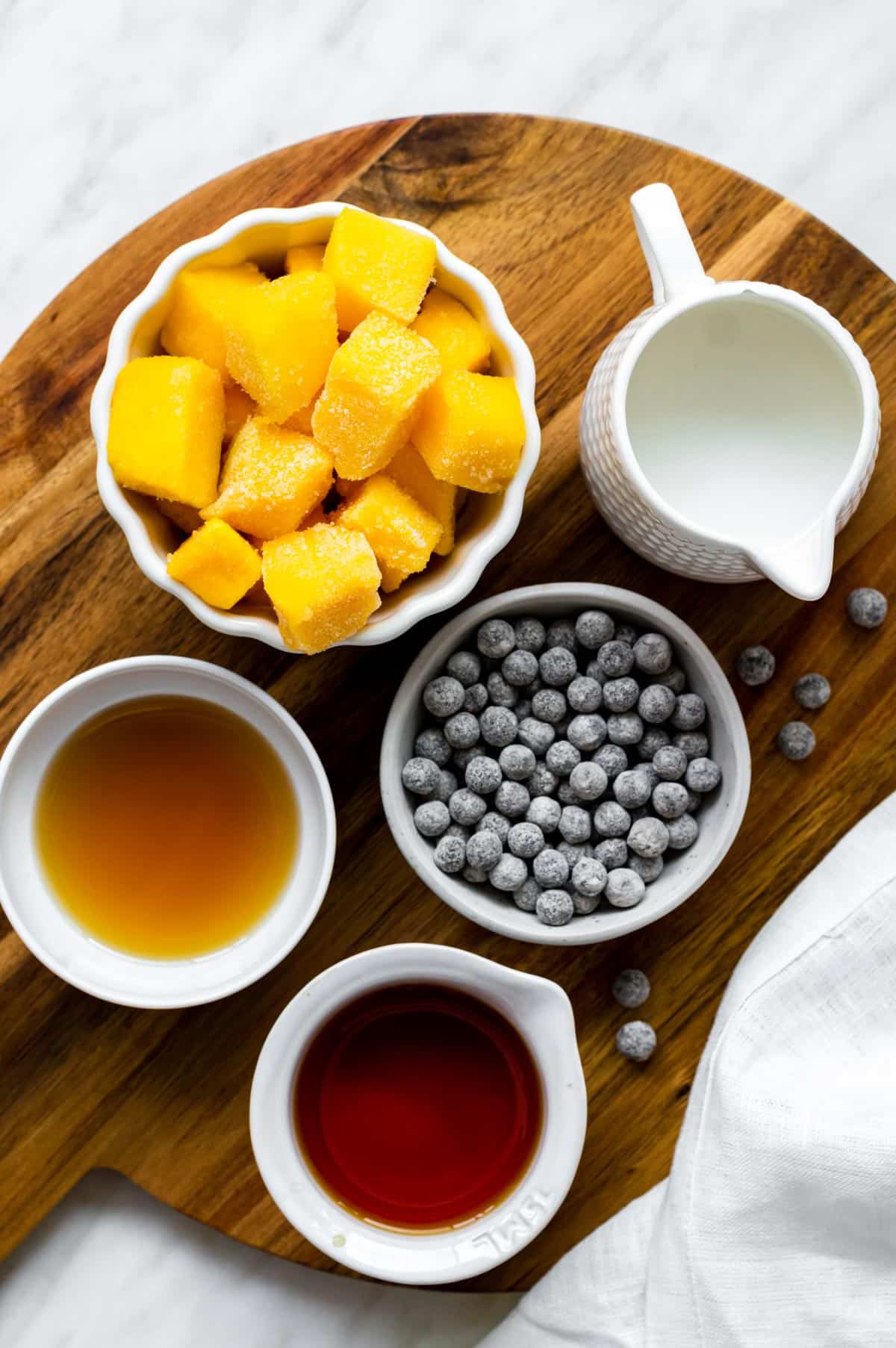 Mango: This bubble tea recipe can be made with fresh or frozen mango. Alternatively, mango juice can also work but it will produce a thinner consistency.
Canned coconut milk: It adds creaminess and richness to the mango smoothie. You can also use oat milk, soy milk, or almond milk.
Tapioca pearls: It's important to use quick-cooking tapioca pearls to make this recipe fast and efficient. I'm using brown sugar boba (aka black tapioca pearls), but any flavor will work!
Maple syrup: For tossing the cooked boba. Agave syrup, simple syrup, or any liquid sweetener will also work.
Black tea: Traditionally, boba drinks have some type of tea in them, usually black tea, hence the name "bubble tea".
Ice cubes: Add more or less depending on how cold you like your drink to be. Omit if you want it to be at room temperature.
How to make mango bubble tea
You don't need a lot of time to make this fruity mango milk tea recipe. Here are the step-by-step instructions to show you just how easy it is!
Step 1: If you haven't already, go ahead and prepare the black tea following the packaging instructions. Set it aside to cool completely.
Start by cooking the tapioca pearls over medium heat, following the packaging directions.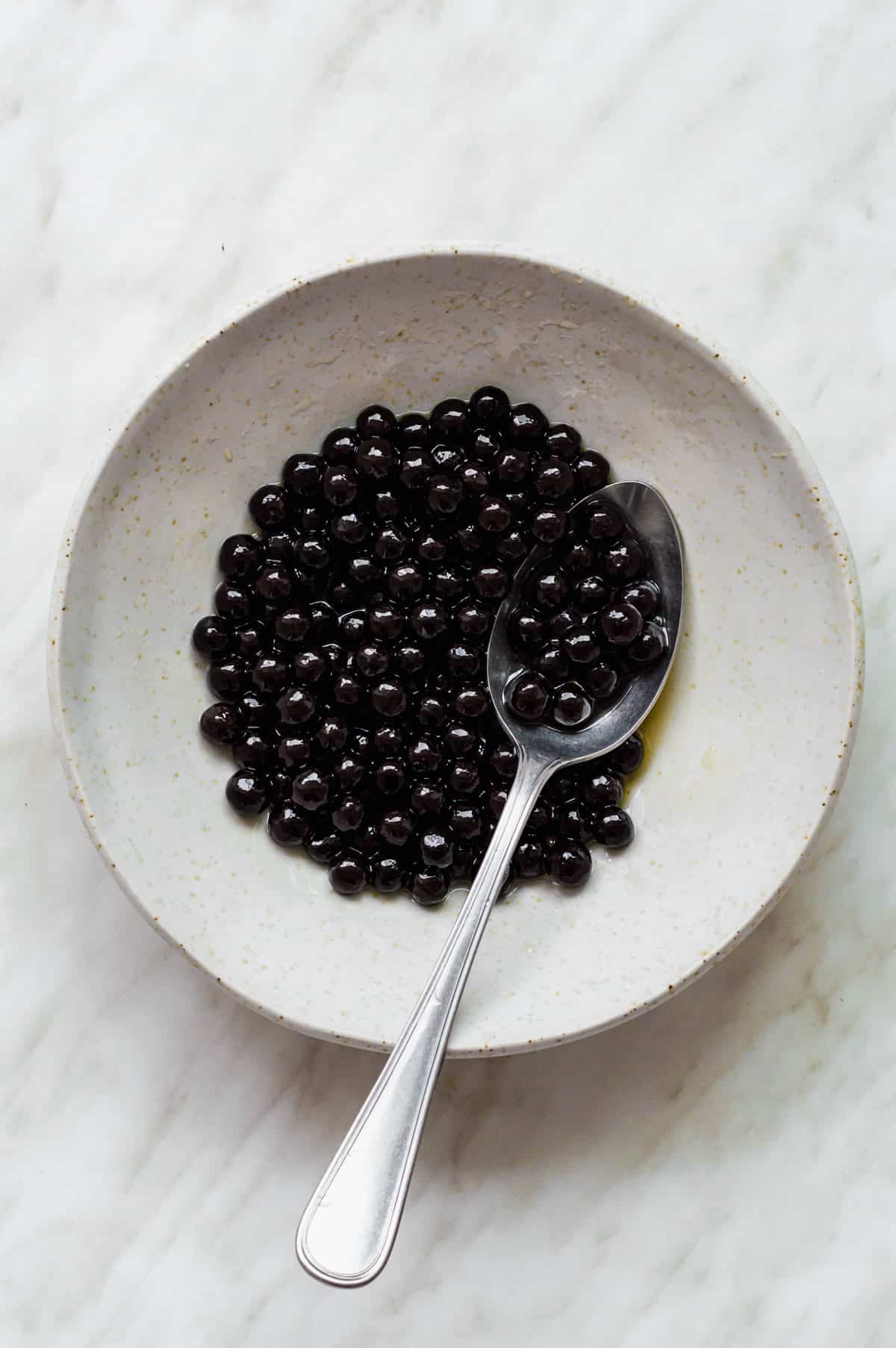 Then, drain and rinse the pearls with cold water to remove excess starch and prevent them from sticking.
Add the cooked boba to a bowl and stir the maple syrup. Set aside.
Step 2: To a blender, add mango, coconut milk, and cooled black tea.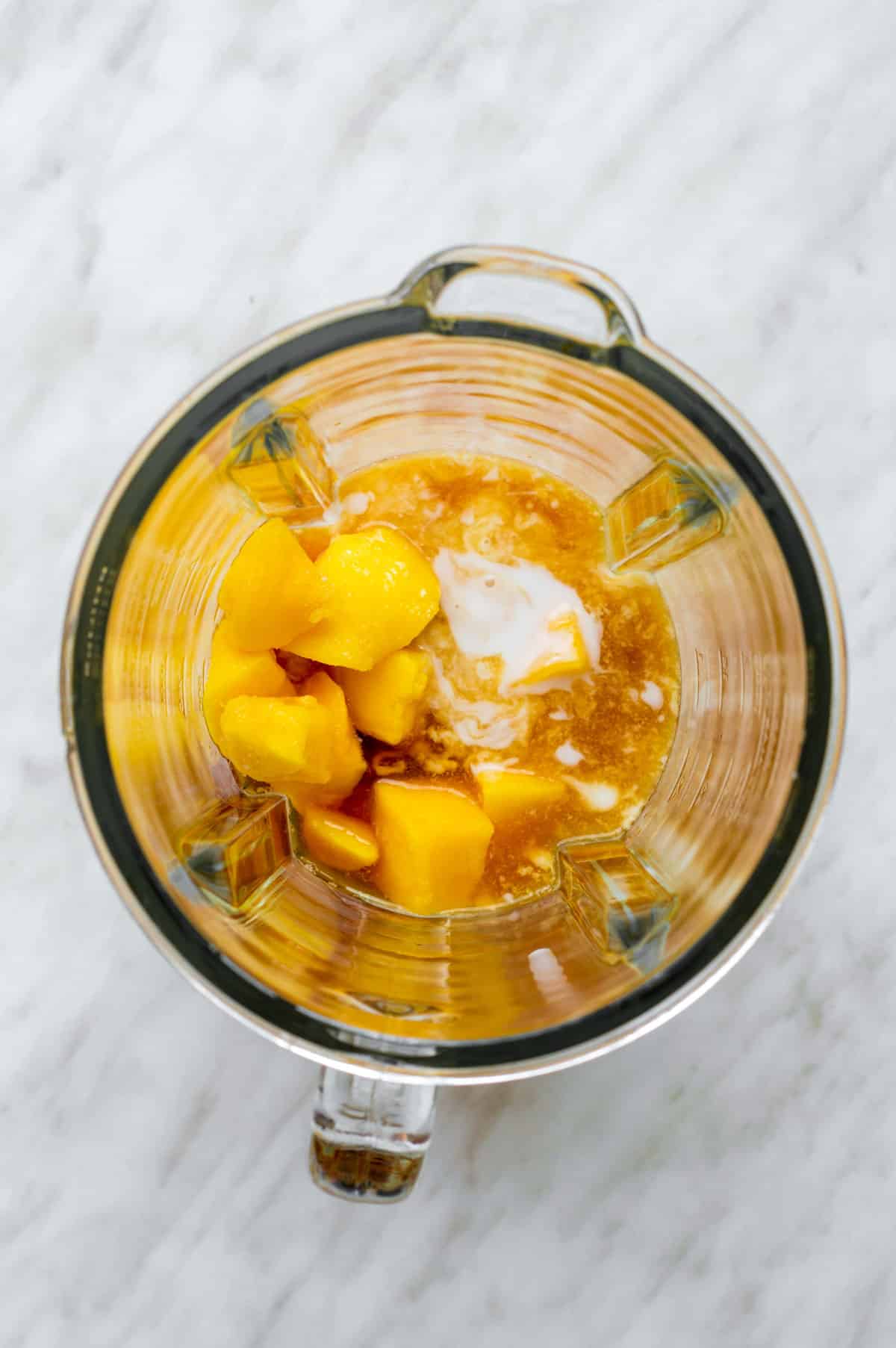 Blend on high speed for 1 minute, or until completely smooth and creamy.
At this point, you can taste the mango milk and adjust the flavor and constituency if needed. If your mango wasn't ripe enough, you can add a splash of maple syrup for sweetness.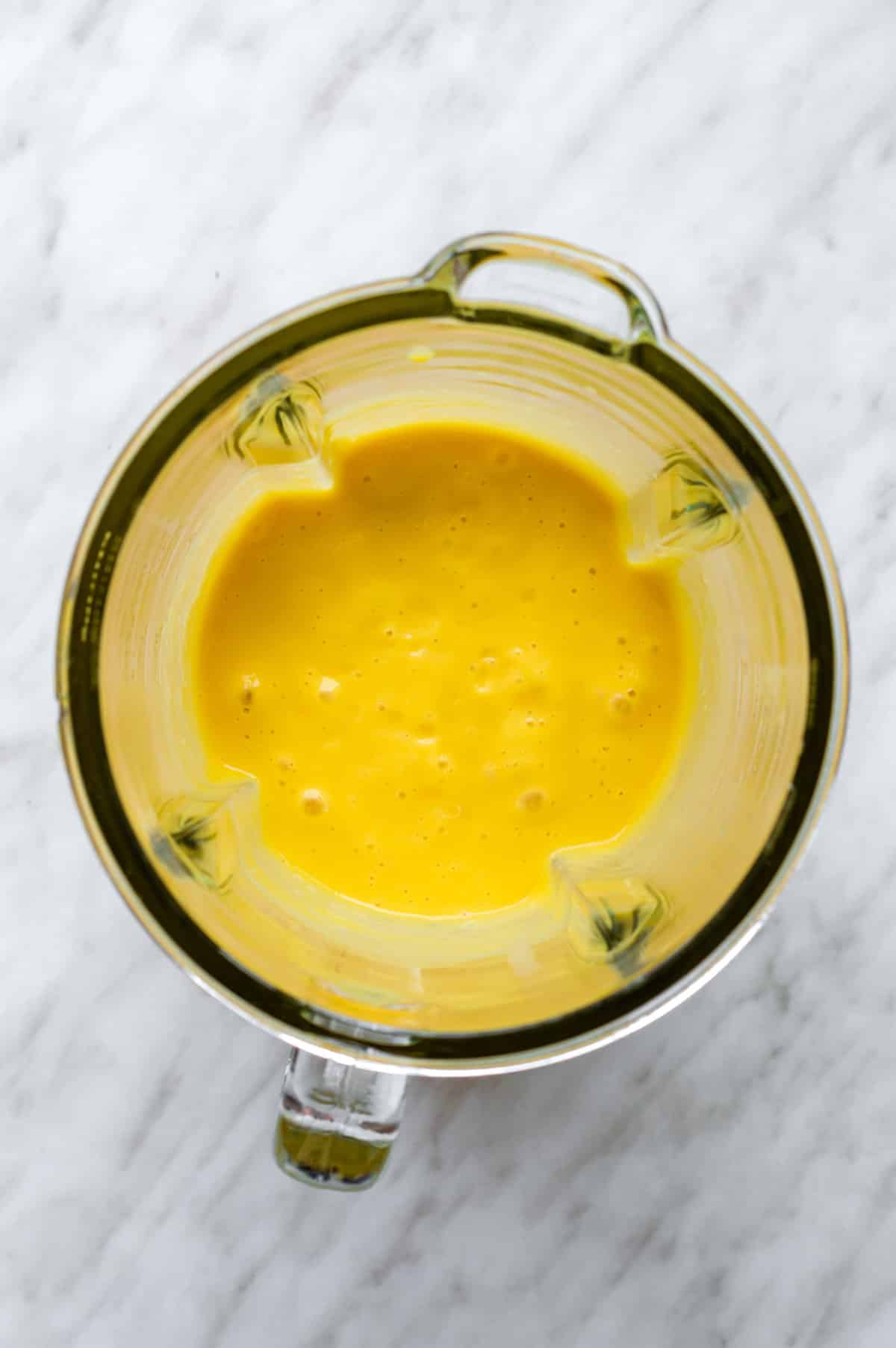 Step 3: Finally, assemble the mango bubble tea. To a glass, add the cooked tapioca pearls to the bottom followed by as many ice cubes as you'd like.
Pour the mango-coconut mixture on top. Using a wide boba straw, stir gently to combine everything. Serve right away!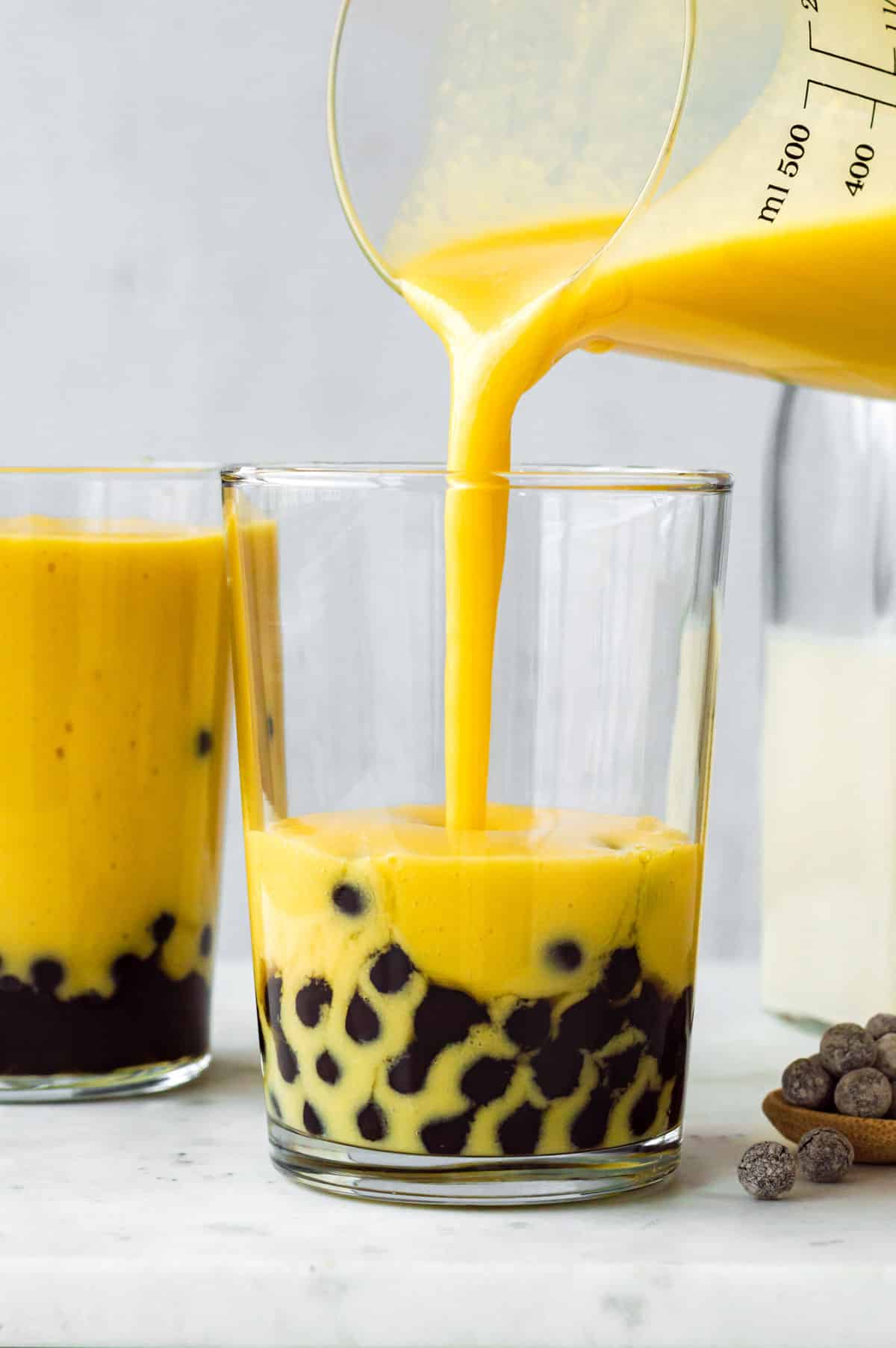 Top tips
Cook the tapioca pearls right before serving. Boba tastes best when it's freshly cooked, ideally served within the first 4 hours. I don't recommend cooking them in advance, as the texture changes quite a bit.
Coat the boba with maple syrup immediately. They're very high in starch and can stick and become mushy. To prevent that, stir the maple syrup as soon as you're done cooking them.
Use wide boba straws! This mango bubble tea is best enjoyed with jumbo straws, so you can get the delicious pearls at the bottom. If you don't have those, however, you can use a spoon instead. Regular straws won't work.
Adjust the sweetness as needed. The best part about making boba tea at home is that you get to control how sweet it is. Don't be afraid to adjust it to your taste, adding more or less maple syrup as needed!
FAQ's
Is Mango bubble tea good for you?
While bubble tea is not considered a health food, the addition of mango adds nutrients like vitamins C, A, and E, potassium, dietary fiber, and more.
However, this drink should be consumed in moderation since it can be high in added sugar.
Can you make bubble tea in advance?
You can make the mango-coconut mixture 24 hours in advance and store it in the fridge.
However, it's important to serve it with freshly-cooked tapioca pearls. For best results, assemble the drink right before serving.
What does boba taste like?
Boba pearls are generally neutral in taste, with a slight sweetness. What is more special about them is their texture—they're chewy, soft, and so satisfying to eat!
Where can I buy tapioca pearls?
Nowadays you can purchase them from most big grocery stores such as Walmart and Target. They're also available in your local Asian supermarkets, or order them online on Amazon or other online stores.
Does it contain caffeine?
Yes, this mango bubble tea contains caffeine coming from black tea. If you want to make this recipe caffeine-free, you can use your favorite herbal tea, or cold water instead.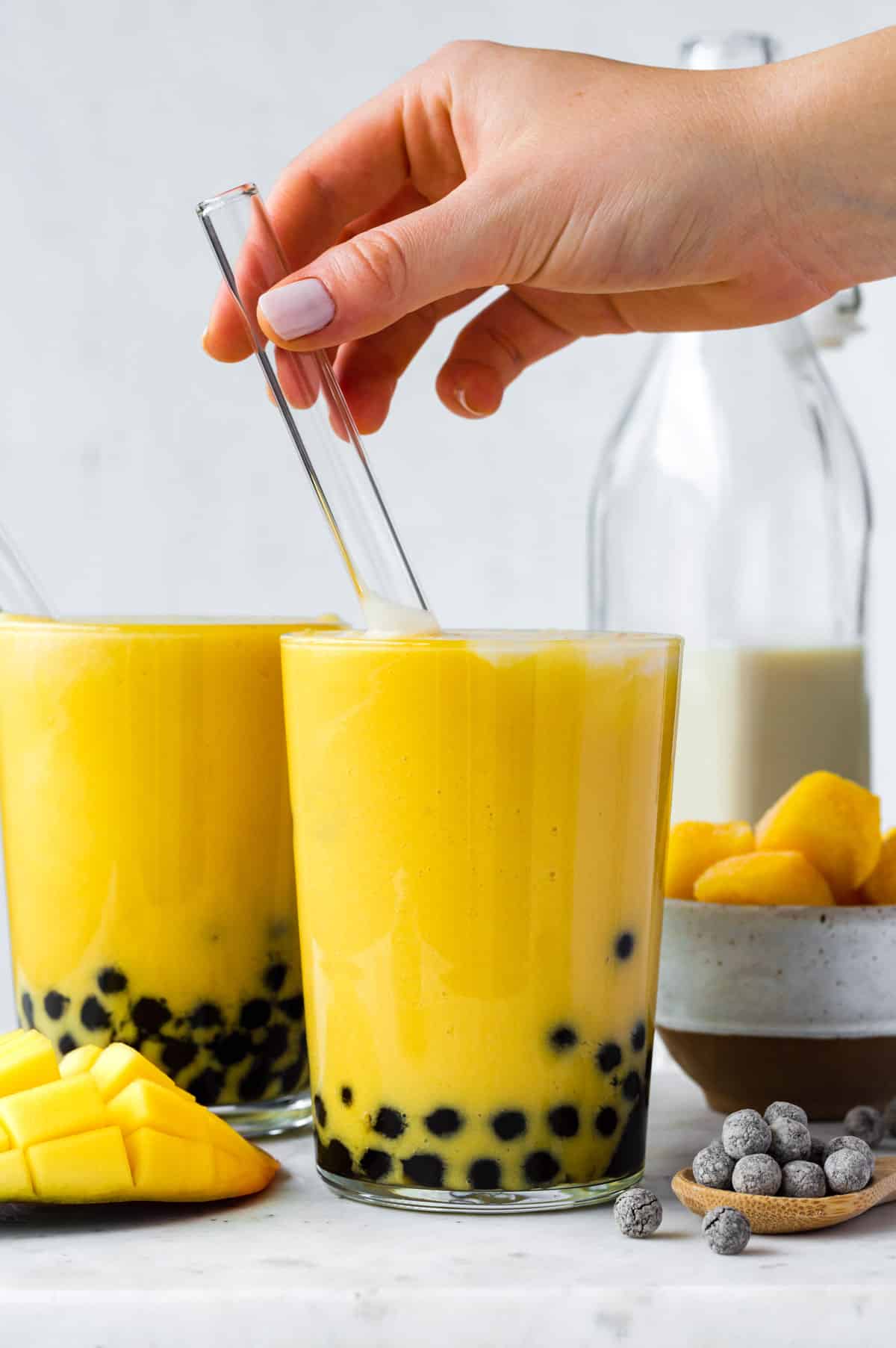 Variations
Make the perfect bubble tea drink of your dreams! Are are some delicious variations to try:
Pineapple: While the mango gives amazing flavor and some natural sweetness here, this recipe can work very well with pineapple only or a combination of both!
Pina colada: For a tropical flavor, use half banana and half pineapple chunks, as well as a dash of vanilla and 1-2 tablespoons shredded coconut.
Passion fruit: Either use frozen passion fruit puree or passion fruit concentrate and blend it with the rest of the ingredients.
Lime juice: A squeeze of lime or lemon juice will add tanginess and brightness to this mango boba tea.
Use mango syrup: For even more mango flavor, use mango syrup instead of maple syrup to coat the tapioca balls.
Switch up the tea: Instead of black tea, you can also use steep white tea or green tea bags for a few minutes.
Add more fruits: Strawberries, peaches, blueberries, and kiwis are just some examples of what you can add to this recipe to switch things up.
Storage
If you have any leftover cooked boba, transfer it to an airtight container and cover it either with plastic wrap or a lid. Store at room temperature for a maximum of 4 hours.
You can store the mango smoothie in a mason jar or an airtight jar in the fridge, for up to 24 hours.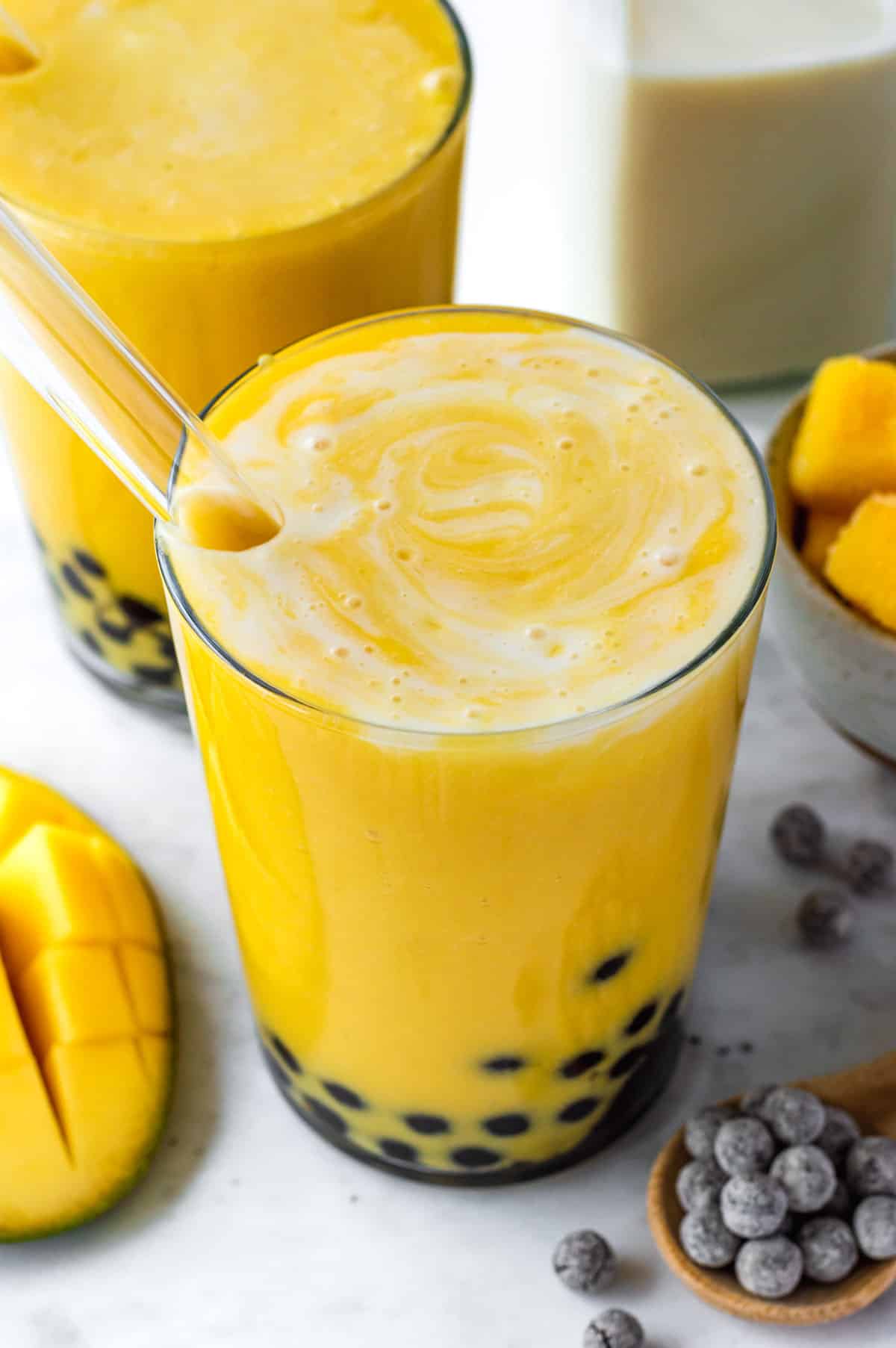 More refreshing drinks to try
Looking for more tasty and refreshing drinks to cool down with? Here are more you'll love:
📖 Recipe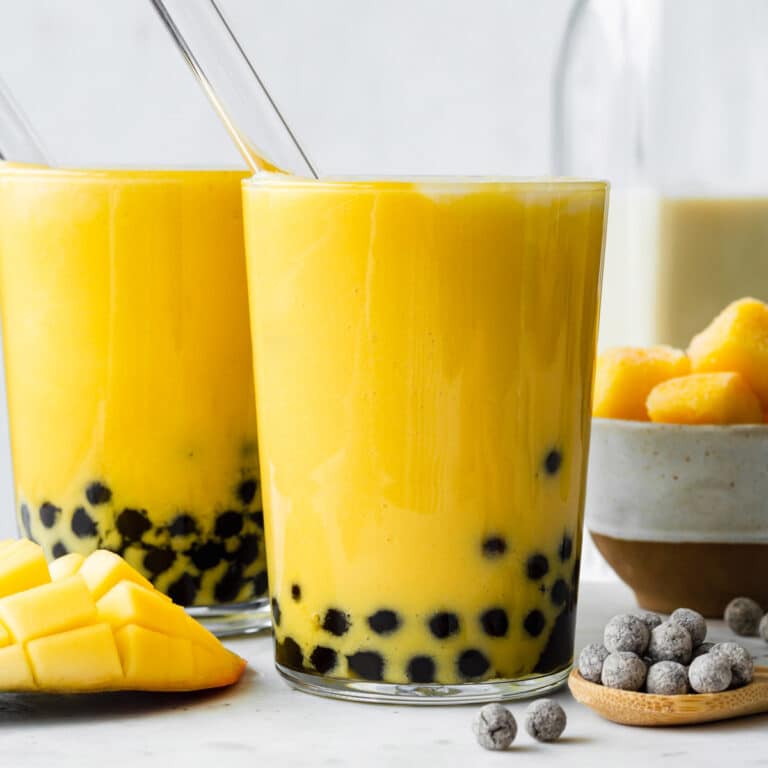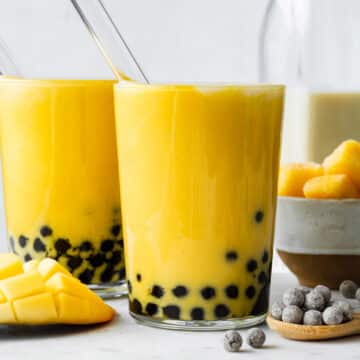 Easy Mango Bubble Tea
This mango bubble tea is quick and easy to make, and is ready in less than 15 minutes! It's creamy, fruity, and refreshing, the perfect drink for summer and spring.
Print
Pin
Rate
Ingredients
1

cup

brewed black tea

,

cooled

½

cup

cooked tapioca pearls

2

tablespoons

maple syrup

,

or sweetener of choice like agave syrup

2 cups

(~2 medium)

ripe mango, peeled and diced

,

or 1 cup mango juice or 2 cups frozen mango

½

cup

canned coconut milk

Ice cubes

,

for serving
Instructions
Prepare the tapioca pearls (boba) and black tea according to the package instructions. Once cooked, drain and rinse the tapioca pearls with cold water to remove any excess starch. Set aside. Add the maple syrup and stir to sweeten.

1 cup brewed black tea,

½ cup cooked tapioca pearls,

2 tablespoons maple syrup

In a blender, add the diced mango, brewed black tea, and canned coconut milk. Blend until smooth and well combined.

1 cup brewed black tea,

2 cups (~2 medium) ripe mango, peeled and diced,

½ cup canned coconut milk

Add 1⁄4 cup of the tapioca pearls to each glass, then fill with a handful of ice cubes. Pour the mango-coconut milk mixture over the ice. Insert a wide bubble tea straw into the glass and give it a gentle stir to mix the tapioca pearls with the mango-coconut milk mixture. Serve immediately and enjoy your refreshing mango bubble tea with coconut milk!
Notes
You can customize your bubble tea by adding other toppings such as mango chunks, chia seeds, or coconut flakes if desired.
Nutrition Per Serving
Calories:
452
kcal
Carbohydrates:
82
g
Protein:
3
g
Fat:
15
g
Saturated Fat:
13
g
Polyunsaturated Fat:
0.3
g
Monounsaturated Fat:
1
g
Sodium:
13
mg
Potassium:
555
mg
Fiber:
5
g
Sugar:
44
g
Vitamin A:
2240
IU
Vitamin C:
77
mg
Calcium:
62
mg
Iron:
2
mg