If you've ever run across nutritional yeast in a recipe, it was most likely a dairy free recipe. In vegan recipes, nutritional yeast is a great way to replace cheese since it provides a similar flavor.
It is kind of an odd ingredient and can leave people scratching their heads in confusion when they come across it so today we're breaking down everything you need to know about it from what it is, how it's used, where to find it, health benefits and more!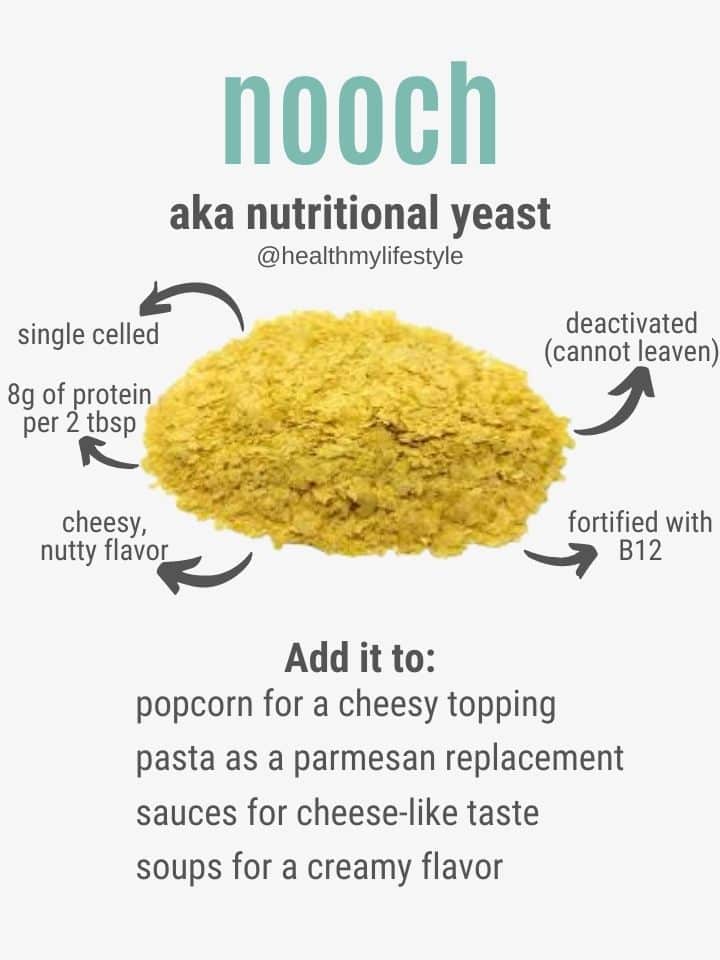 Jump to:
What is nutritional yeast
Nutritional yeast, also referred to as nooch, is a deactivated yeast, meaning the yeast is not alive and cannot leaven. It comes from a strain of Saccharomyces cerevisiae, a single celled fungus used in winemaking, baking and brewing (and yes, it's vegan!).
It's made by growing yeast in a medium typically made from glucose. When ready, the yeast is deactivated with heat then washed, dried and packaged.
It's often sold in the form of yellow flakes, granules or powder (the flakes resemble fish food to me if you've ever had a pet fish). I know this doesn't sound super appetizing so far but it imparts a wonderfully delicious flavor in foods.
This is a great additive for all people except those with Crohn's Disease, as yeast can make symptoms of the disease worse. For everyone else, it is perfectly safe to eat.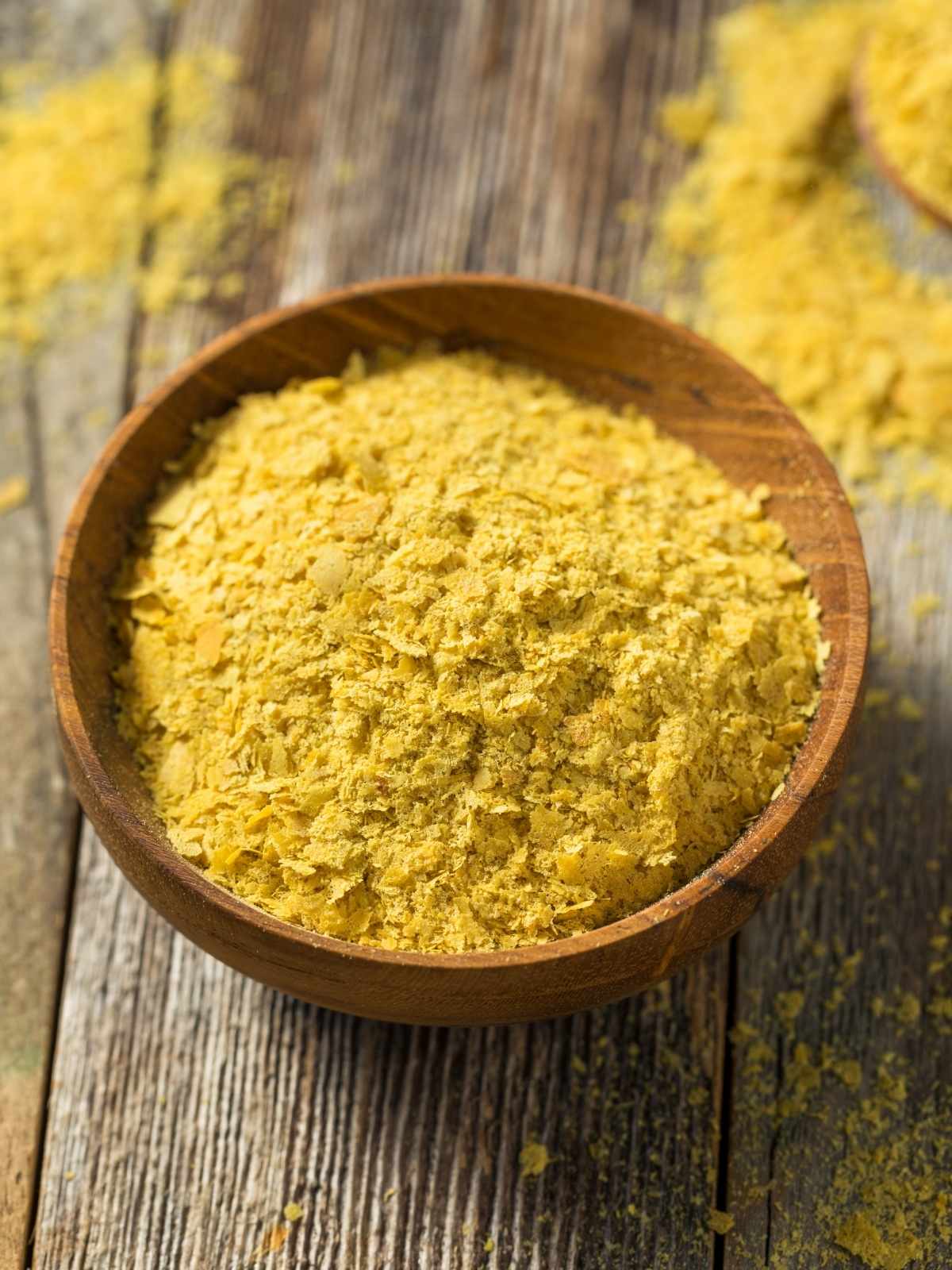 What does it taste like?
Nutritional yeast has a nutty, cheesy flavor which is why it is often used to replace cheese in dairy-free dishes. Some describe it as an umami flavor—a rich savory flavor.
It can enhance the flavors present in a dish, provide a creamy thickening effect to soups, and provide a cheesy flavor.
Nutritional benefits
It holds up to its name and has a lot of nutritional benefits! However, the nutritional values can vary from one manufacturer to another. Some are fortified and some are not. In the vegan community it is often recommended as a source of vitamin B12 but it must be fortified with it as yeast cannot produce B12.
RELATED: Learn all about vitamin B12, why we need it and how to get it.
Fortified is the most common form sold but you'll want to check the packaging to be sure. Unfortified still has a moderate amount of B vitamins that naturally form as the yeast grows but it will not contain B12.
Here are the main nutritional benefits of nutritional yeast:
Is a complete protein meaning it has all nine essential amino acids in the recommended amounts.
Has around 8 grams of protein per two tablespoons (16 grams).
When fortified, it's an excellent source of thiamine, riboflavin, niacin, vitamin B6 and vitamin B12.
Contains zinc, selenium, manganese and iron.
Source of powerful antioxidants glutathione and selenomethionine
Where to find it?
Nowadays you can find nutritional yeast at most supermarkets either prepackaged or in the bulk section. It's also often sold at health food stores like Natural Grocers and Whole Foods. If you can't find it in stores, it's also available online.
How to use it
Nutritional yeast can be used in a variety of ways. Here are some of the most common:
Make delicious and convincing cheese sauces with it.
Use as popcorn seasoning.
Sprinkle on top of pasta as a parmesan alternative. See below for any easy vegan parmesan recipe!
Add to soups for a creamy flavor and thickening effect.
If you can't find nutritional yeast or have a yeast intolerance, there are a few alternatives you can try when you come across it in recipes. If the recipe calls for only a small amount, you can simply omit it. If you're missing the umami flavor, add a little miso paste or soy sauce.
How to store nutritional yeast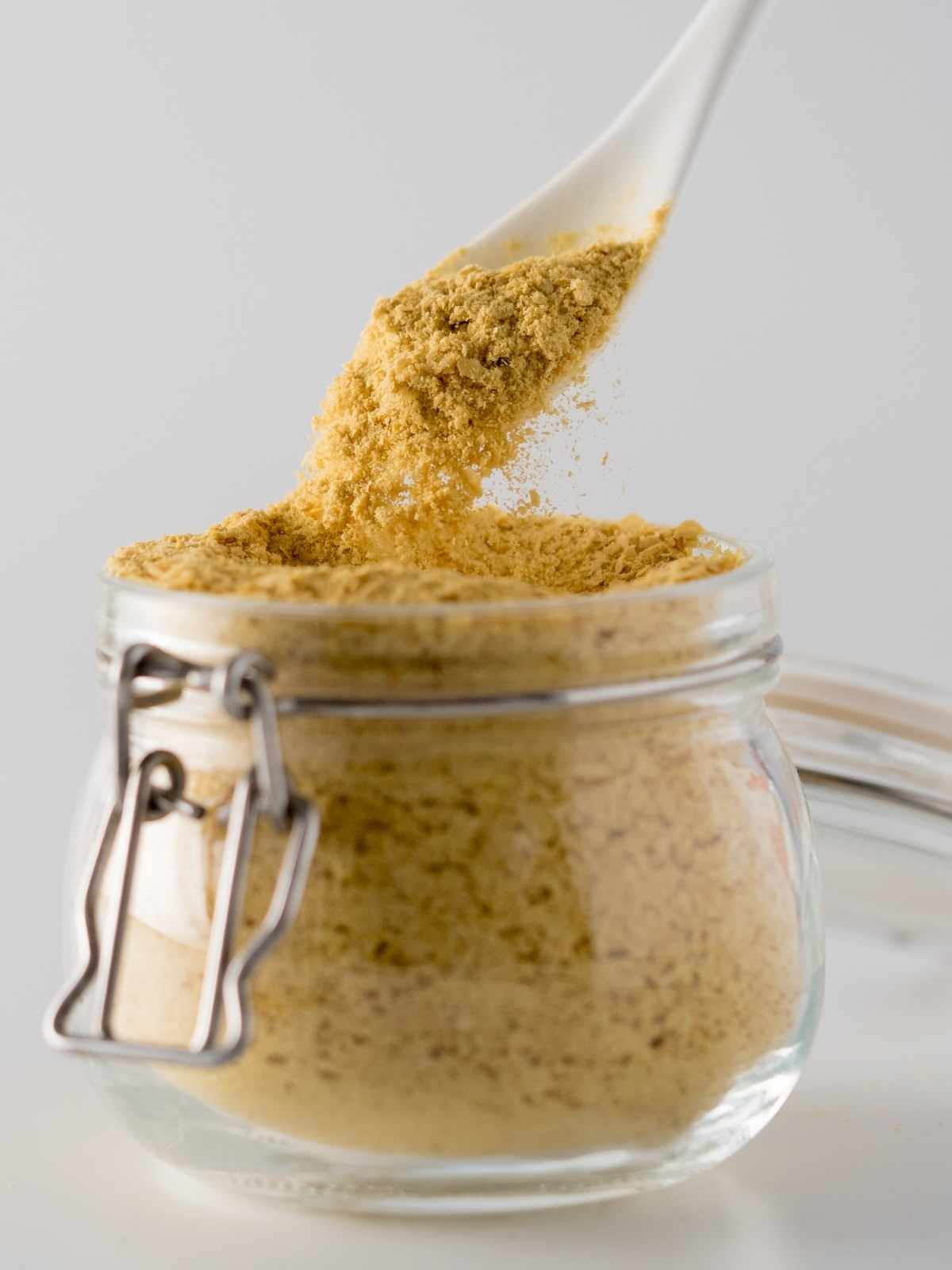 Nutritional yeast is best kept in an airtight container in a cool dark place such as a pantry. A refrigerator works well too.
The key is keeping moisture out. If stored properly, nutritional yeast can last up to two years.
Does nutritional yeast go bad?
If exposed to moisture or high heat it can oxidize and become bitter. It may even darken in color and become clumpy. If that happens it's best to throw it out.
Recipes with nutritional yeast
Ready to start experimenting with nutritional yeast? Check out these tried and true recipes!
Easy Vegan Lasagna is made with a tofu ricotta using nutritional yeast.
Epic BBQ Seitan Sandwich has a savory umami flavor thanks to nutritional yeast.
Easy Vegan Gravy with nutritional yeast gives it a depth of flavor that's irresistible!
Baked Chickpea Flour Frittata has a subtle cheesy flavor that takes this egg-free frittata to the next level!
Baked Zucchini Chips have a delicious breading using nutritional yeast.
Kale Chips (check out the different flavor variations)
📖 Recipe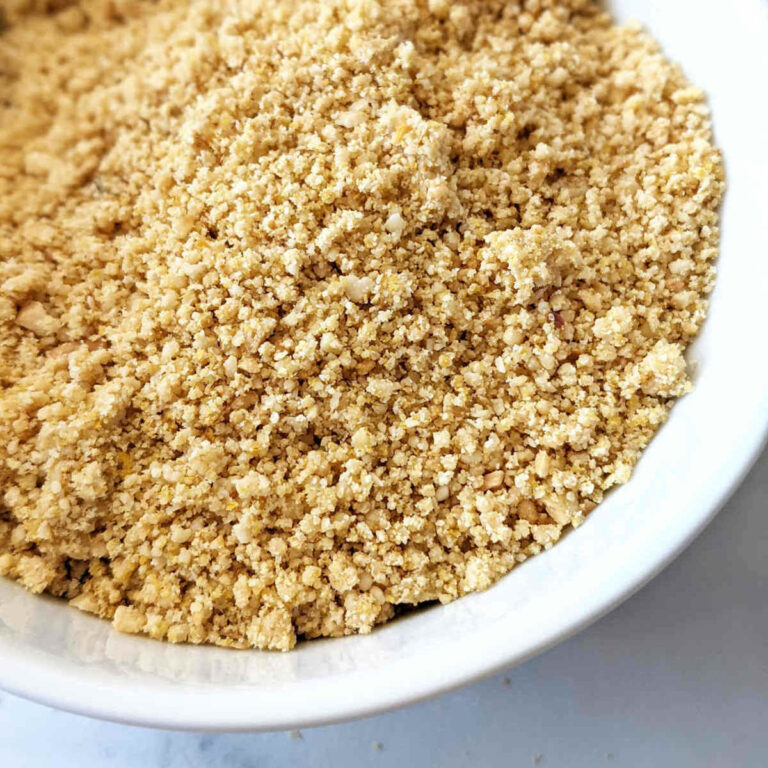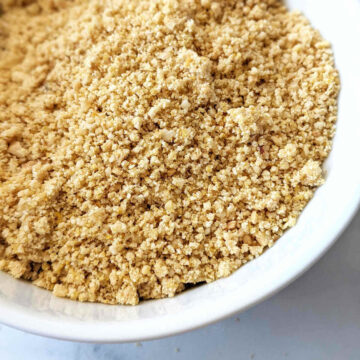 Nutritional Yeast Parmesan
This easy vegan parmesan using nutritional yeast and a few other ingredients is so quick to make and perfect for replacing grated parmesan in any recipe!
Print
Pin
Rate
Instructions
Add the nutritional yeast parmesan ingredients to a small food processor or blender and pulse until it resembles grated parmesan.
Notes
Storage: Store nutritional yeast parmesan in an airtight container in the refrigerator. Will stay fresh for several weeks.
How to serve: This nutritional yeast parmesan goes great on pasta, popcorn, lasagna, or this easy Vegan Elote!
Nutrition Per Serving
Calories:
52
kcal
Carbohydrates:
3
g
Protein:
2
g
Fat:
4
g
Saturated Fat:
1
g
Sodium:
1
mg
Potassium:
93
mg
Fiber:
1
g
Sugar:
1
g
Vitamin C:
1
mg
Calcium:
3
mg
Iron:
1
mg
If you found this article helpful make sure to leave a comment and share with friends!