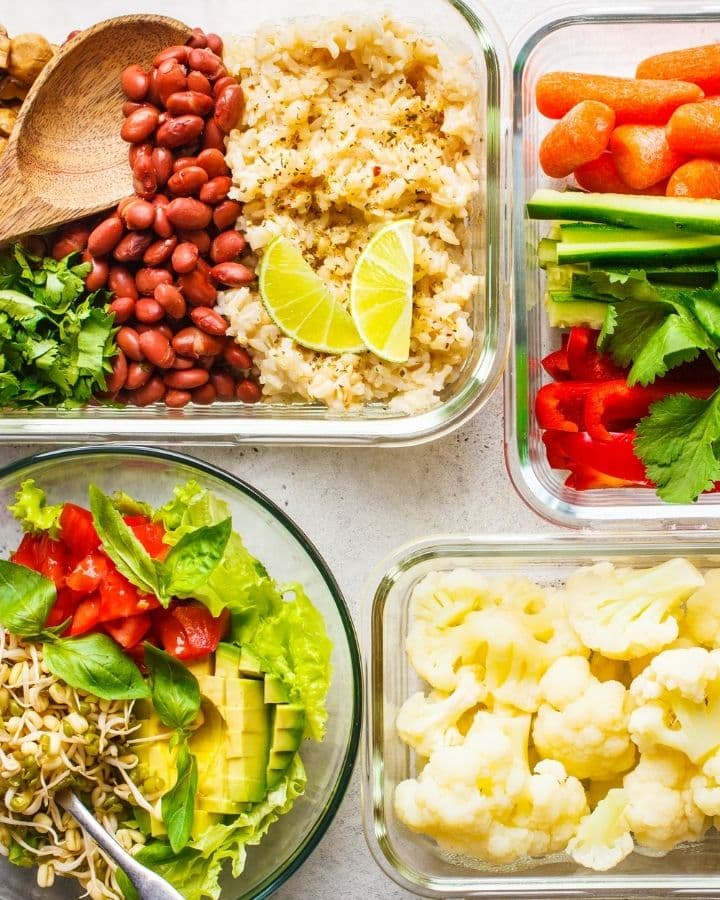 Jump to:
Why meal planning works
If you're new to a vegan diet and are struggling to figure out what to eat every day, meal planning can help! It can be overwhelming to cook and clean daily and when we're in a rush it's all too easy to order take out. But that can get expensive and most of the time leaves us with unhealthy options.
Meal planning can also help eliminate decision fatigue that comes with constantly deciding what to eat. Did you know that people on average make 200 food decisions a day? That's a lot of brain power thinking about just food!
Think of all the other things in your life you wish you had more time for? What if you put the time you're thinking about food towards that?
I'm going to show you how to meal plan efficiently so that you spend less time thinking about food and more time doing what you love!
You'll find my best tips for meal planning on a vegan diet, free meal planning resources, and lots of meal planning ideas to get you started. I'm also sharing my best meal planning strategies for beginners all while doing it on a budget!
What is a vegan diet?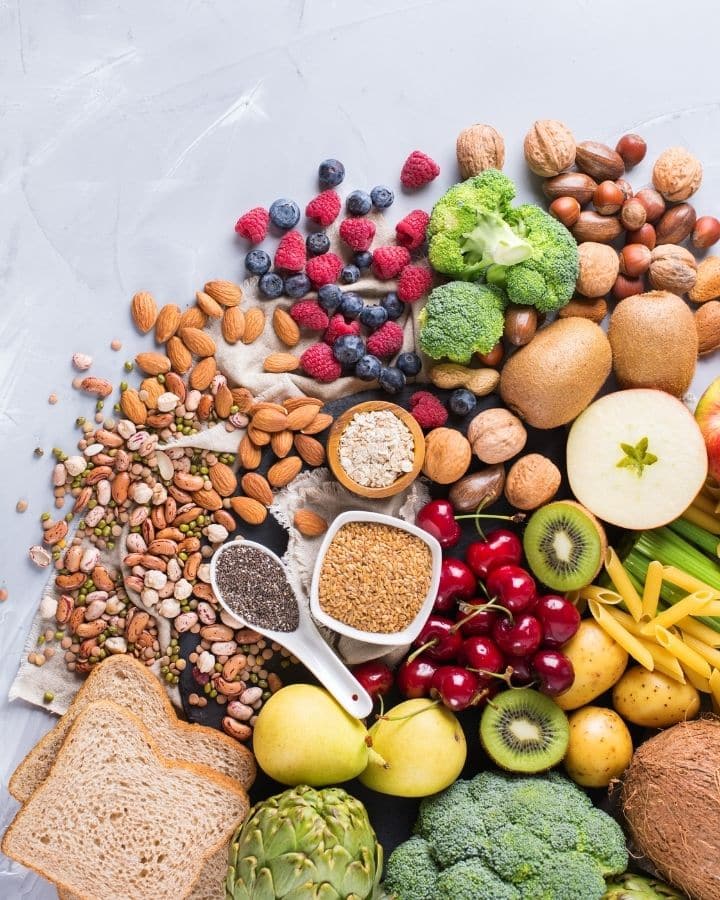 First off, you may be wondering what even is a vegan diet? A vegan diet, also referred to as a plant-based diet, is similar to a vegetarian diet but goes one step further by eliminating all animal products, not just meat. This includes excluding meat, dairy, poultry, fish, eggs, and honey from the diet.
People adopt a vegan diet for various reasons such as for health or ethical reasons. Whatever the case may be, it's important to plan the diet properly to avoid any deficiencies.
You may be asking, "if people go vegan for health, how is risking deficiencies healthy?" Deficiencies can occur on any diet and most diets must be supplemented in our modern society, not just vegan or plant-based diets.
Many foods are fortified with supplementation e.g. Vitamin D and Iodine in dairy and folic acid in bread. It is not a reflection of an inadequate dietary pattern, more an indication that our global food system is sometimes missing nutrients due to soil deficiency, sanitation, and food processing.
For this reason it's important to replace, not simply remove foods from the diet as a vegan.
Health Benefits of a vegan diet
There are so many health benefits to a vegan diet which was the initial reason I made the switch. There is a growing amount of evidence demonstrating that those who eat predominantly plant-based, exercise regularly, and have lower amounts of stress live the longest and healthiest lives.
This is the position statement of the Academy of Nutrition and Dietetics, the United States' largest organization of food and nutrition professionals, and represents over 100,000 credentialed practitioners:
"Plant-based diets, when appropriately planned, are associated with a lower risk of developing lifestyle diseases such as heart disease, type 2 diabetes and some cancers."
Plant-based diets, including a vegan diet, tend to be higher in fiber, antioxidants, and phytonutrients, as well as lower in calories and fat, particularly saturated fat which likely explains the decreased risk of disease. This also explains why many experience a weight loss benefit as well.
It also may relieve symptoms of joint pain and swelling from osteoarthritis and reduce risk of some cancers such as breast and prostate.
The list goes on. It's truly incredible what diet can do! If you want to reap these benefits too, read on. Making healthy eating a priority in your life takes careful planning and I'm going to show you how to make it easy and practical!
What do vegans eat?
After talking all about what vegans don't eat, you're probably wondering what's left?
There's actually so many options and possibilities that many people report eating more variety after going vegan! Hard to believe? Keep reading.
Now more than ever there are so many vegan options at the store that there's not much that can be missed on a vegan diet. There's vegan burgers, hot dogs, cheese, milk, yogurt, and even eggs! Many of these items are highly processed though and not recommended for every day consumption. To truly reap the health benefits we need to be focusing on a whole food plant-based diet.
A whole food plant-based diet aims to eat mostly whole or minimally processed plant foods and reduce or eliminate the consumption of processed foods. This is where the magic happens.
Let's do a quick walk-through of the different food groups of a whole food plant based diet.
Fruits and Vegetables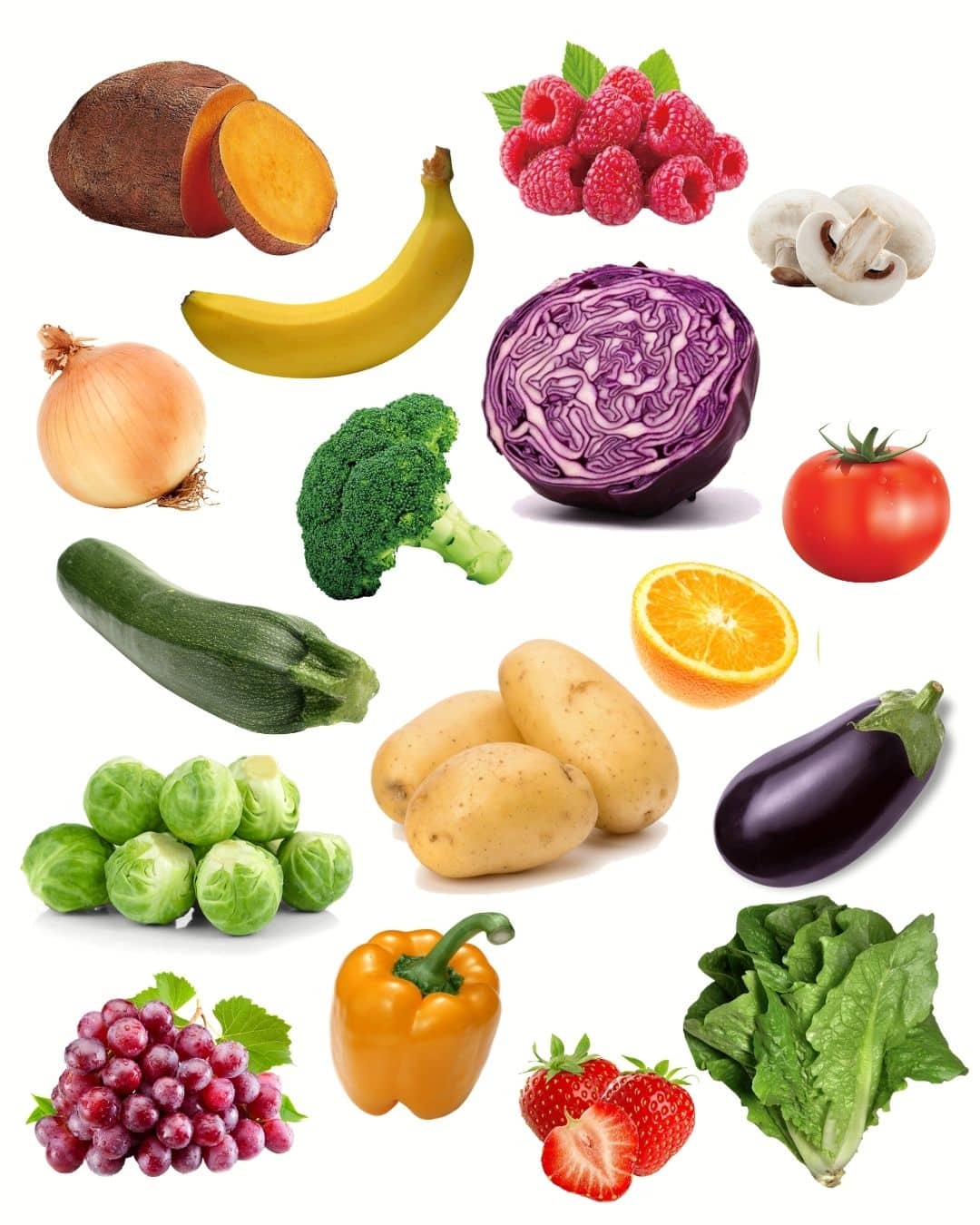 Vegans eat all fruits and vegetables. These are great sources of many essential vitamins and minerals and antioxidants. Antioxidants are plant compounds that help fight free radicals aka cancer-fighting compounds. And you can't forget fiber! It's incredibly important for our gut health.
Whole Grains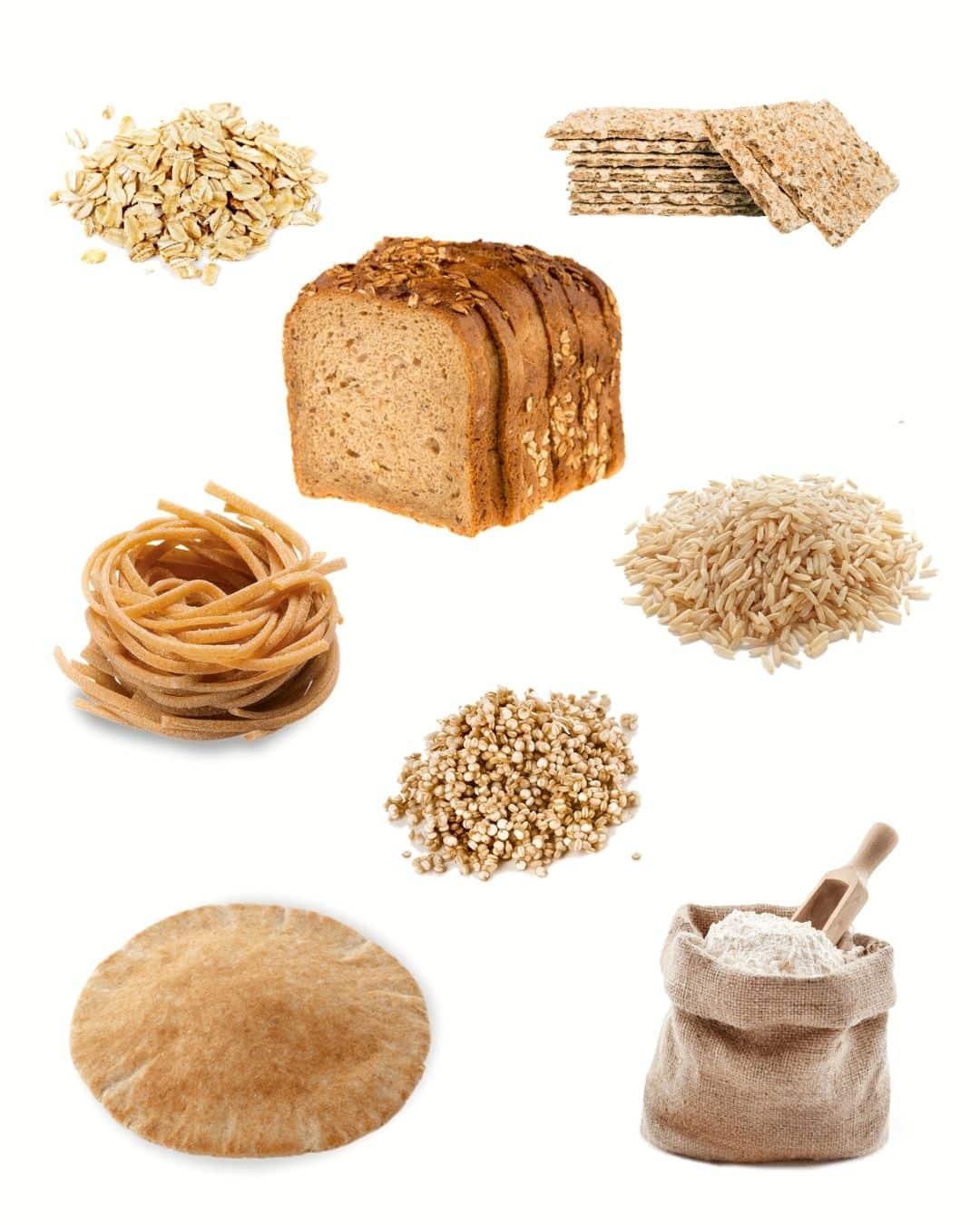 Whole grains are great sources of protein, B vitamins, trace minerals and antioxidants. And if you're wondering whether gluten is ok to eat—absolutely! The only people who should be avoiding it are those with Celiac Disease.
Beans and Legumes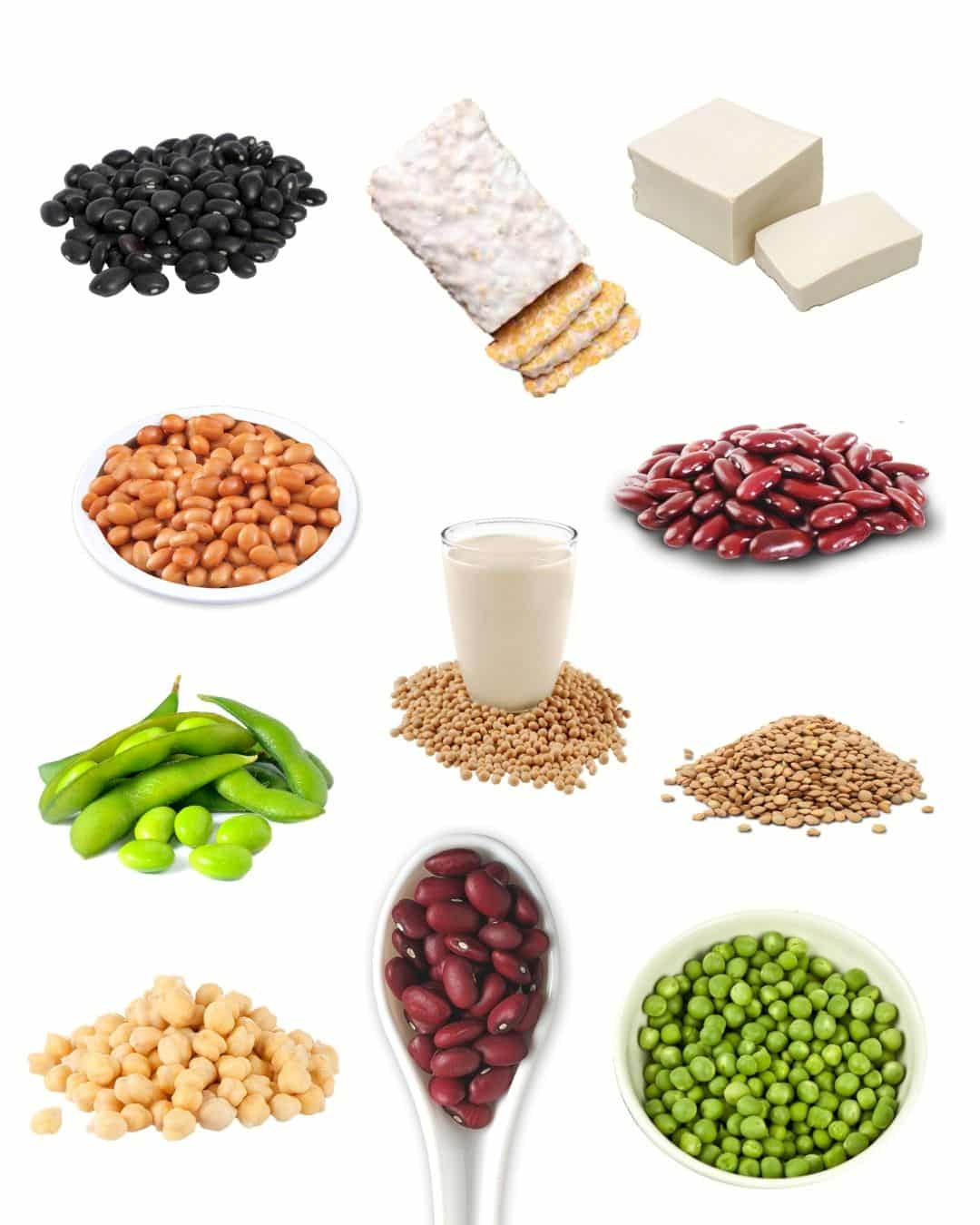 Beans really are the magical "fruit." They are nutrient powerhouses and a staple in a healthy plant-based diet. They're full of a fiber, a good protein source, and a good source of several important minerals such as iron, folate, calcium, potassium, phosphorus, and zinc. They're similar in nutrition to meat but without the saturated fat and cholesterol.
Nuts and Seeds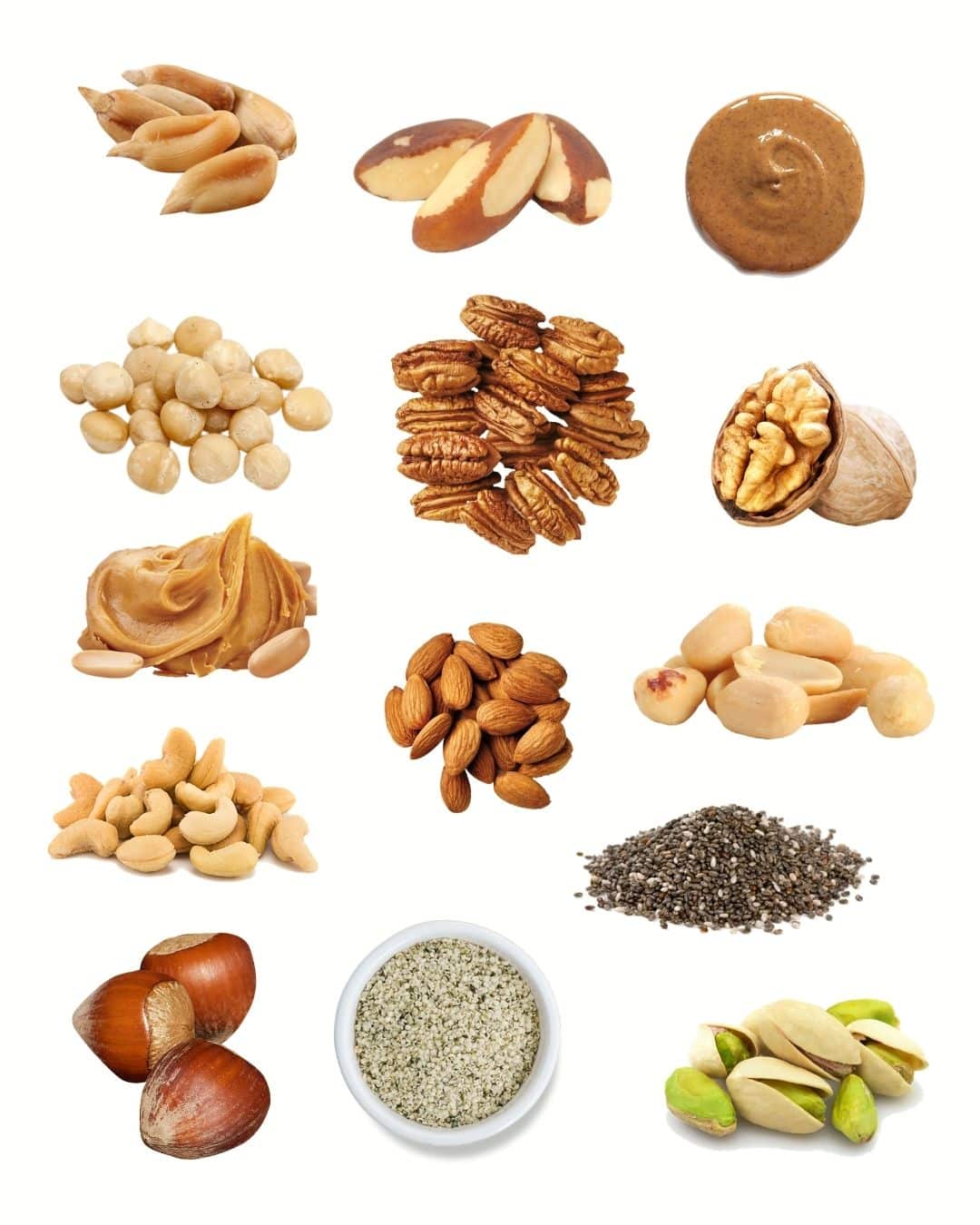 Nuts and seeds are an excellent source for healthy fats like Omega-3's. They're also a great source of protein, fiber, vitamins and minerals. And contrary to their high calorie content—they don't cause weight gain but are actually linked with helping to regulate food intake and weight maintenance.
In order to have a well-balance plant-based diet you want to make sure you're planning meals that contain something from each of the food groups above.
Why You Should Meal Plan
Whether you like meal prepping food for several days in advance or like to cook daily, meal planning is incredibly beneficial.
Benefits of meal planning:
Saves time—helps with time management both in the kitchen and at the store
No more wondering what's for dinner
Less food waste—every ingredient has a purpose
Saves money—you won't be eating out nearly as much unless you want to and it reduces impulse buys
Helps with fitness goals—whether wanting to gain or lose weight, planning ahead can help you stay on track (need a little more help in the weight loss department? We have a free vegan weight loss meal plan!)
More meal variety—when planning ahead you can branch out to try new things more often and get out of a food rut
You don't have to meal prep to enjoy the benefits of meal planning. Just having the recipes in mind and the ingredients already purchased and ready when you need them can save significant amounts of time and energy.
Next I'll share my tips on how I do this in the most efficient way possible.
How to Meal Plan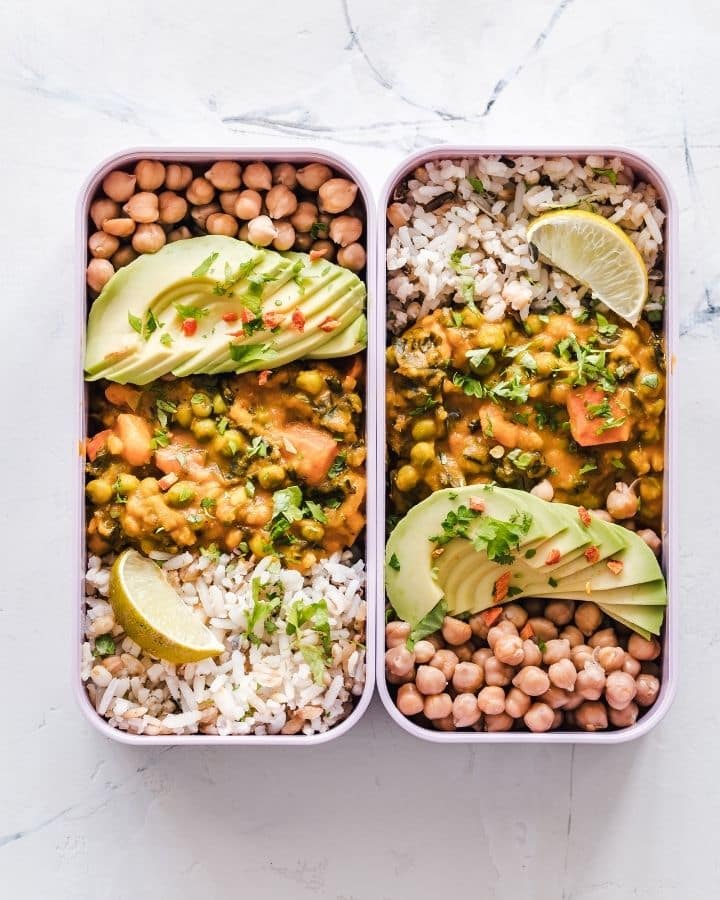 Now on to the specifics of meal planning on a vegan diet. Planning ahead is the key to success. This also translates to our food and planning ahead can be the difference between sticking to a healthy food plan and constantly falling to temptation and take out.
I like to plan almost everything I eat not only to save time and eat better, but it helps me stay on track with sticking to a vegan diet. No more coming home hungry with nothing to eat and being tempted to eat the first thing in front of me, vegan or not. Meal planning helped me so much in the beginning of switching to a vegan diet by eliminating any temptation.
Having a meal plan can make the transition to a plant-based diet so much easier. It removes the stress of figuring out what to eat after a long day. No need for willpower when you have a delicious meal ready in the fridge that you're looking forward to!
Make a plan to plan
I know that sounds silly but you need to plan a day to plan your meals as well as a day to plan to shop and cook. I like to set aside time on Fridays to plan my meals. Every Friday I sit down and take inventory of what I have in the refrigerator and freezer and decide what I want to make that week. Then Sundays I typically shop and prep.
This allows me to break up the big looming task of meal planning into smaller tasks. You don't have to do all of it in one day. You can plan one day, shop another, and cook the next. Make it more manageable and plan it however way it fits your schedule best.
Clean out the fridge
I like to include this on my day of meal planning because I want to make sure I'm using up foods I already have. I take note of what I have that needs to be used up plus throw out any old or expired items.
This also helps me clear out space for the new food I'll be prepping for the upcoming week. Sometimes I consolidate things into smaller containers or freeze anything that I didn't finish eating but could be reheated at a later date.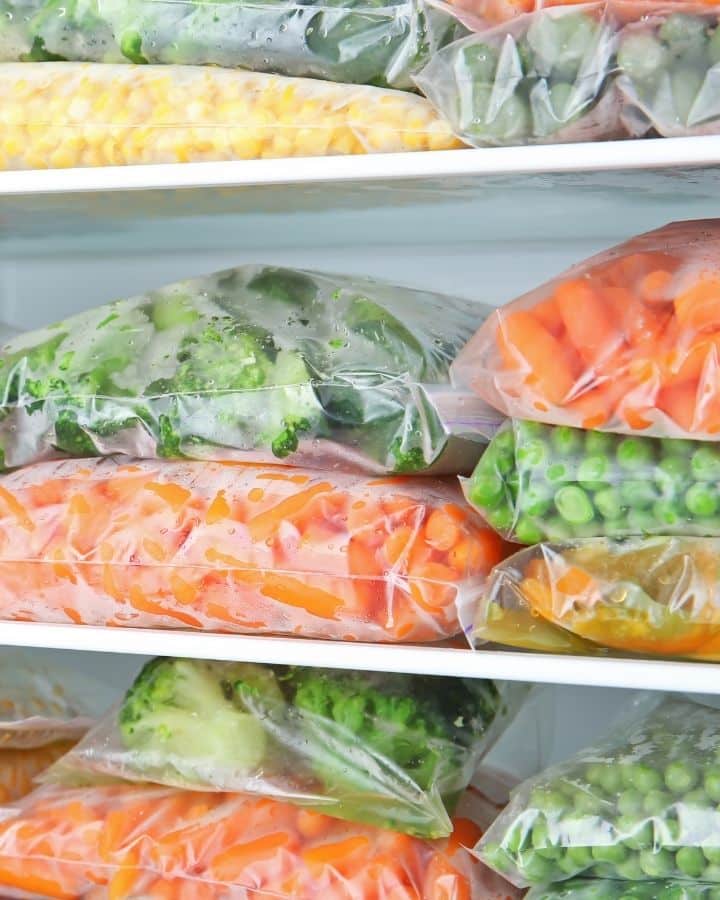 Find Vegan Recipes
For some, this can be the hardest part. Finding recipes the whole family will love that make enough portions for everyone plus leftovers can be tricky. There are lots of ways to find recipes: Google, Pinterest, cookbooks, etc. but this arguably may be the most time consuming part of meal planning.
If you have tried-and-true recipes I try to make one or two every week so that I'm not overwhelmed by new recipes. I typically plan one new recipe a week and the rest are ones I'm familiar with or slight variations of my favorites.
I also use our Health My Lifestyle Meal Planner to find recipes for the week quickly since it allows me to filter by meal type, cook time, ingredients, allergens, and calories per serving. I can find exactly what I'm looking for in seconds. If you're new to a vegan diet and have no idea where to start with recipes or are in a food rut, this will be an excellent resource for you.
Create your meal plan for the week
However way you do this that is the most efficient for you is best. That could be using a pen and paper, whiteboard or chalkboard, or filling out this free meal planning printable. You can print it off and laminate it so you can use it over and over again!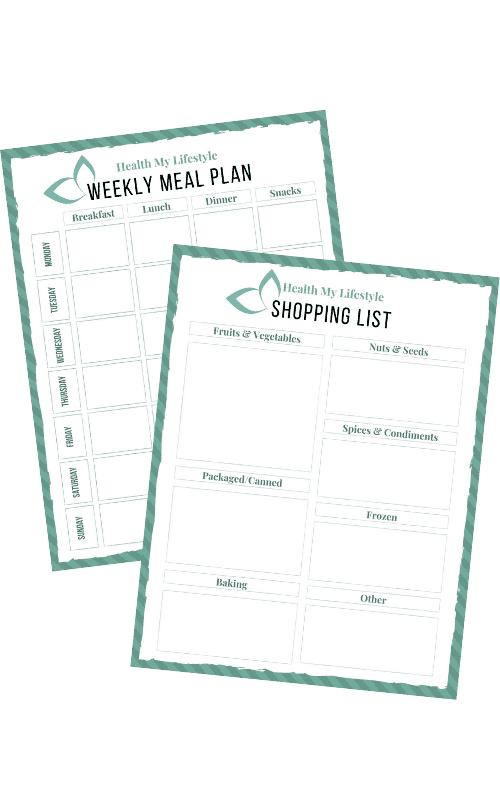 Or better yet, use an app like our Health My Lifestyle Meal Planner. Not only does it make finding recipes a breeze but you can drag and drop them into your plan for the week and quickly adjust serving sizes to fit your family's needs. You can even save favorites into its own collection to refer back to when you're short on time to meal plan.
Make a shopping list
Once your meals are planned it's time to make a list. Look at all of the recipes and ingredients needed for the week. Exclude any items you already have in your pantry and fridge so that you don't overbuy. You may also have substitutes like using limes for lemons that you can cross off the list.
You can write down everything you need with this handy free shopping list download below. You can also make a list on your phone or write it down in your journal. I use the Meal Planner which generates an itemized shopping list for me based on what's on my meal plan for the week. Again, the key is using whatever is most efficient for you.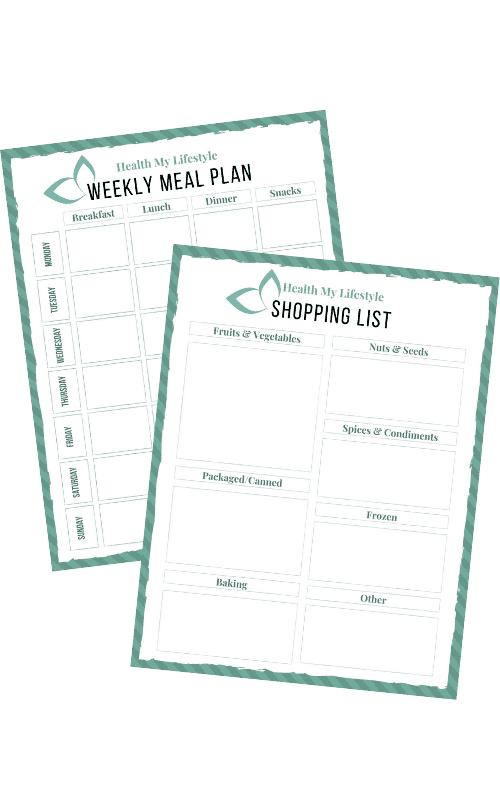 Now that I meal plan with a shopping list, I'm much less likely to impulse buy because I already know everything I'm going to eat for the week. If I buy something off plan, it most likely will go to waste or something else will go bad before I eat it, and knowing that reduces the temptation of impulse buys for me.
Meal Prep
Now that you have all the ingredients you need for the week it's time to meal prep! I try to meal prep on Sundays but typically within a day or two of getting my groceries.
There are several ways to meal prep for the week to make it work for your schedule.
prep produce by washing and chopping before storing
batch cook things like rice or roasted vegetables that you'll use throughout the week
batch cook recipes for a few days of meals or even for the whole week
For the latter, here are some great meal prep recipes:
You don't have to cook everything ahead of time if that's not your style. Simply prepping the ingredients you need ahead of time can help tremendously in saving time later when it's time cook.
I also find having the right tools can speed up the time I'm in the kitchen which makes meal prep more enjoyable. Here's a full list of kitchen gadgets I recommend for making vegan cooking a breeze.
Another must for meal prepping is having good meal prep containers. You don't want all your hard work to go to waste with containers that don't keep your food fresh or potentially leak when you're on the go. Check out this list of the best meal prep containers for any situation.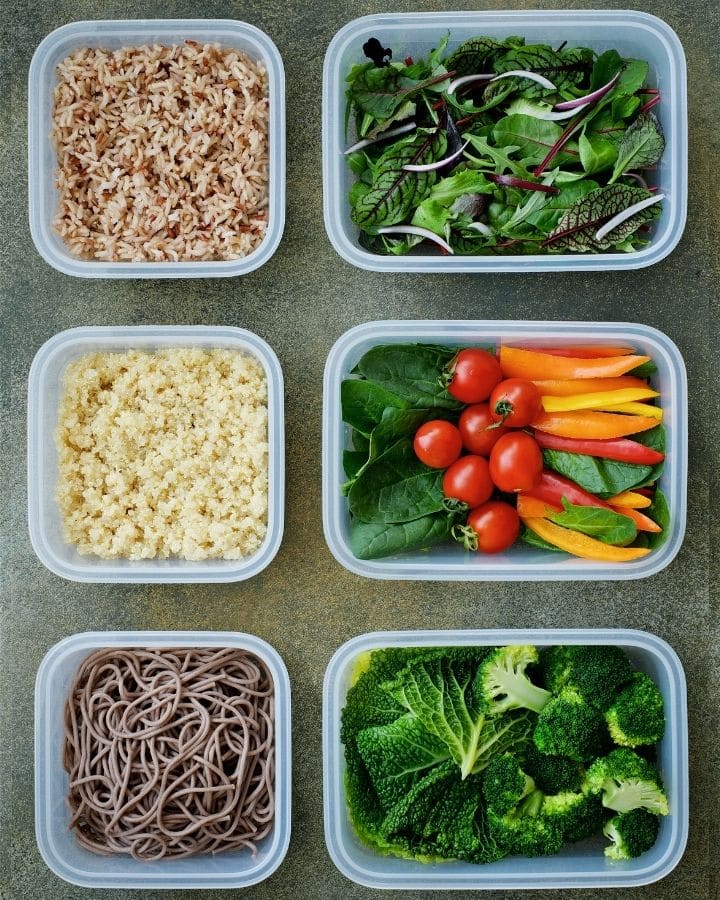 Now that you know the basics of meal planning on a vegan diet it's time to get started! Jumpstart your success with our popular meal planning application and following these strategies. You will reduce stress, save on groceries, and eat healthier!
And if you need someone to do it all for you...
Sometimes you just need an easy-to-follow plan that takes the guesswork out of it.
For less than the price of one fancy latte you can have dozens of pre-made meal plans at your fingertips in the Health My Lifestyle Meal Planner! Easily customize them to your family's needs in seconds and be on your merry way, armed with a plan and ready to take action!
Join us in the Meal Planner to start freeing up your weeknight's today!