Tools and gadgets for your kitchen to make vegan cooking easier and more efficient. These are the best cooking tools that every vegan kitchen needs!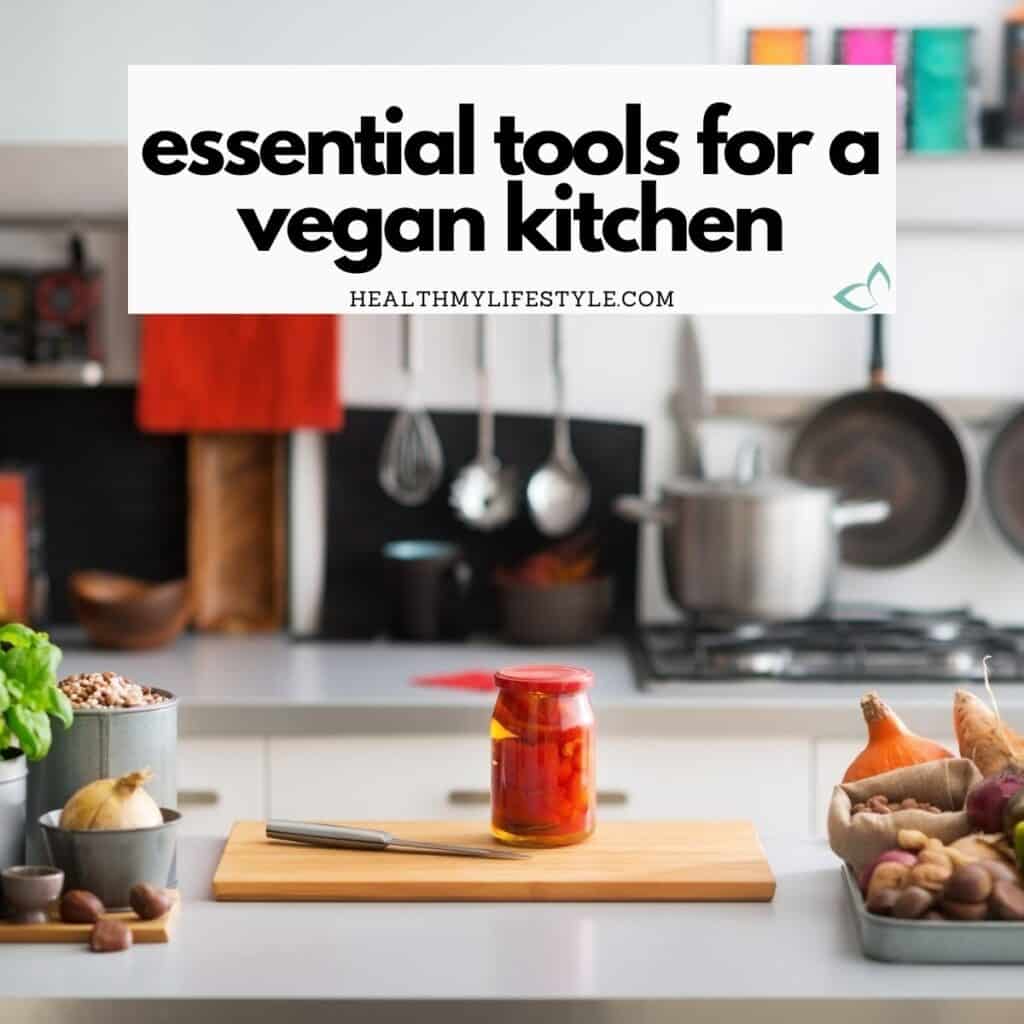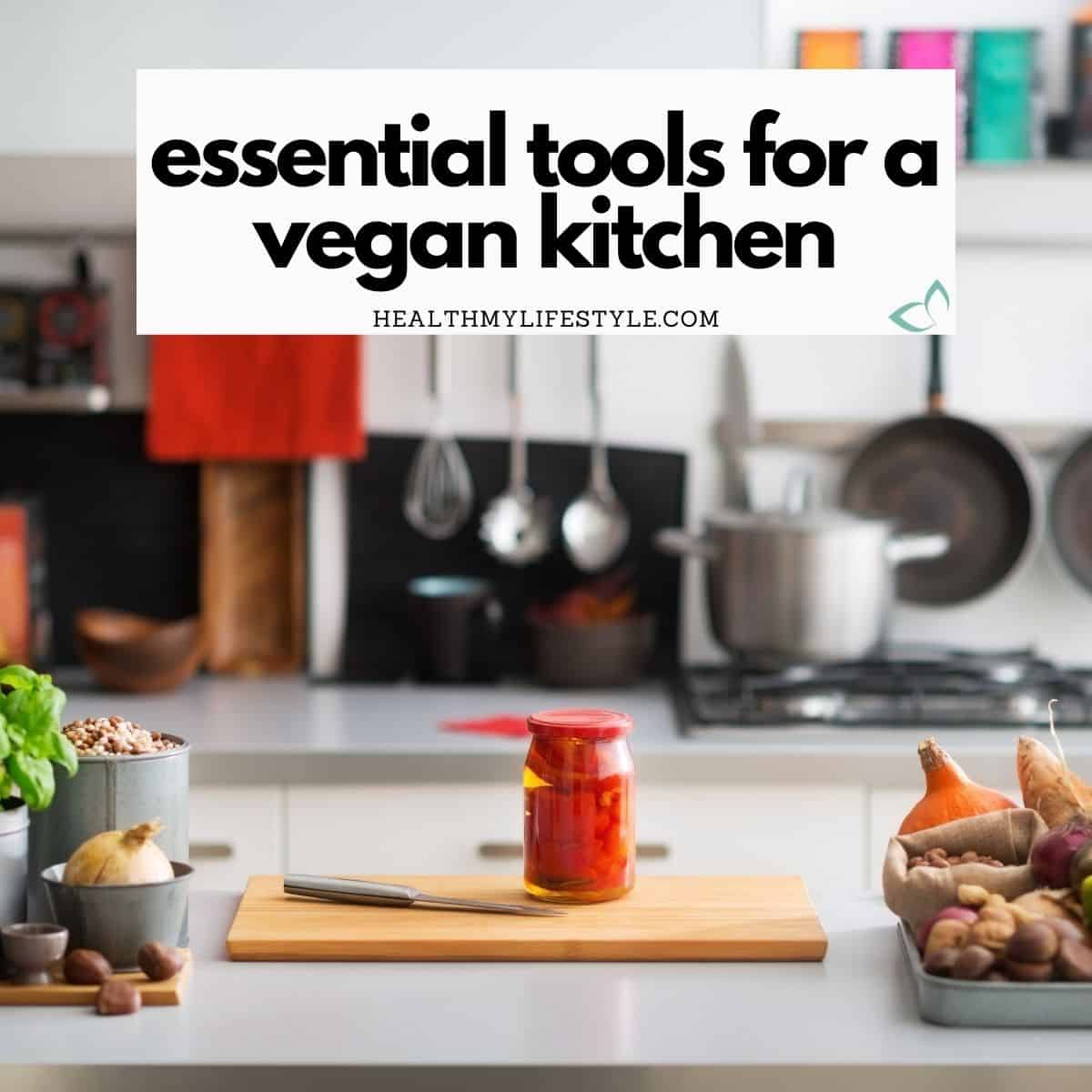 There are so many kitchen gadgets out there that it can be overwhelming to decide what's worth it and what's not. Now that my husband and I have been vegan for over 4 years, we've found that there are some tools absolutely necessary to make vegan cooking as practical and approachable as possible.
Today we're sharing what we've found to be the essential tools and utensils needed in a vegan kitchen. All of these items are things we use on a regular basis.
Some of these might be more obvious things you already have on hand but we didn't want to leave anything out just in case you're not only new to veganism but also new to cooking at home in general.
We use all of these to make a variety of foods and each one has its unique purpose in our kitchen.
Although you could get by without some of these, I think they are essential for the added convenience they provide. When you have the tools to make meal prep that much easier you're more likely to actually get in the kitchen and get it done—which makes sticking to a plant-based diet so much easier!
Note: this page contains affiliate links. We only recommend products we own, have tried and love, or truly trust!
Sharp knives are essential—especially for kitchen safety! A dull knife requires more pressure to cut which increases the chance of slipping. Make sure to get a knife sharpener too for maintenance. I love this set because it comes with everything and its at a reasonable price for what you get! We've had this exact set for years and love it!
Trust me, you're going to want at least one large cutting board. Preparing your fruits and veggies for dishes is that much easier when you have a large enough work space to accommodate.
We love our large stockpot and use it weekly for chilis, curries, soups, and stews. We love to cook in large batches and have leftovers throughout the week which saves us tons of time so a large pot is essential.
I can't speak highly enough about a food processor. Not only can it speed up prep time by chopping, slicing, and shredding for you, but it also is perfect for making your own oat or chickpea flour, nut butters, or dips.
I like this small 3.5 cup one from KitchenAid for small batches but we also have this Hamilton Beach 12 cup one as well for larger batches.
Way better than a garlic press for mincing garlic and way more fun to use! If you enjoy fresh garlic in your dishes, this is an absolute must!
Perfect for rinsing dry legumes and rice before cooking, as well as rinsing off canned beans.
You can't rinse those cooked canned beans without first opening them with a can opener!
Great for trimming off the ends of herbs and greens. Some knife sets come with kitchen shears, but if not, this is a great pair!
Mixing bowls of varying sizes are really helpful to have on hand. Small ones are great for making sauces or dressings. Large bowls are great for preparing salads, making bigger batches, or for mixing together your favorite vegan banana bread.
The convenience of setting and forgetting your rice while it cooks comes in handy! And you're not limited to just cooking rice in your rice cooker, we've cooked quinoa and legumes as well! This one is our favorite because it comes out perfect every time (no burnt rice on the bottom!).
To avoid extra waste in the kitchen from throwing out parchment paper and to eliminate the need for oil—we love having silicone mats on hand. These nonstick mats are perfect for baking your favorite vegan cookies!
Helpful for baking and cooking so that your recipes turn out perfect every time! Especially for baking where accurate ratios are necessary for the end result.
If you want to be super accurate, a kitchen scale is the best way to go. Plus then you don't have to wash all the cups and spoons. It's also handy for calculating accurate nutrition information.
We use a blender for things like smoothies, soups, and vegan cheese sauces. Things that are more liquid-y are prefect for the blender. This one can also double as a food processor.
Another option is an immersion or handheld blender. Though not absolutely necessary, we still wanted to mention it because it comes in handy (pun intended) for soup when you want to puree it but you don't want to transfer hot soup to a blender.
We like spatulas for cooking over spoons. They can stir mixtures, flip bean burgers and fluffy vegan pancakes, and scrape the sides of bowls, food processors, and blenders to get every last drop of that tasty smoothie out.
Whisks are great for whipping dressings, sauces, and dips together quickly. Especially when you don't have any solid items that need put through a food processor or blender.
Soups, chilis, and stews are a staple in the vegan diet as they are so easy to throw together with some veggie broth, beans, and an assortment of vegetables. That's why a ladle is a staple in our kitchen as it makes serving so much easier than a thousand scoops with a spoon (okay, maybe one thousand scoops is an exaggeration but you get the idea).
We love mason jars for meal prepping salads as they keep everything fresh for days. Other glass storage containers are great for storing soup, stews, curries, veggie burgers, or anything else you meal prepped for the week. Silicone bags are great for snacks or even portioning leftovers as they can stand on their own, are leak-proof, and microwaveable!
RELATED: See all of our favorite meal prep containers for any situation!
If you find yourself with minimal time to cook or meal prep, this might be your answer. Although we cook a lot on the stove with our big stock pot, sometimes we just want to throw everything into the slow cooker and let it do its thing while we get on with our lives. It's nice to just dump everything in it in the morning, give it a good stir, set it and then come back to it in the evening for a delicious, home cooked meal.
We typically leave the vegetable skins on but some recipes turn out best peeled like mashed potatoes. Also, you can't make carrot bacon without it!
Makes draining pasta so much easier, or rinsing your fruits and vegetables.
Technically gloves! We received these as a wedding gift years ago and love them! They can withstand heat up to 1472°F. Safety first! And they have held up great over the years!
Don't feel like you have to buy everything at once. You can take time to accumulate these things and start with the things that will immediately save you time and fit your budget. Then ask for everything else as gifts for birthdays/holidays 😉
Pin this for later: