Velvety tomato risotto can be made with mostly pantry staples for a quick and easy weeknight meal! This recipe combines the rich flavor of juicy tomatoes and aromatic herbs with the creamy texture of risotto, all without the need for any dairy products. Just 8 ingredients and 35 minutes to make this tantalizing dish!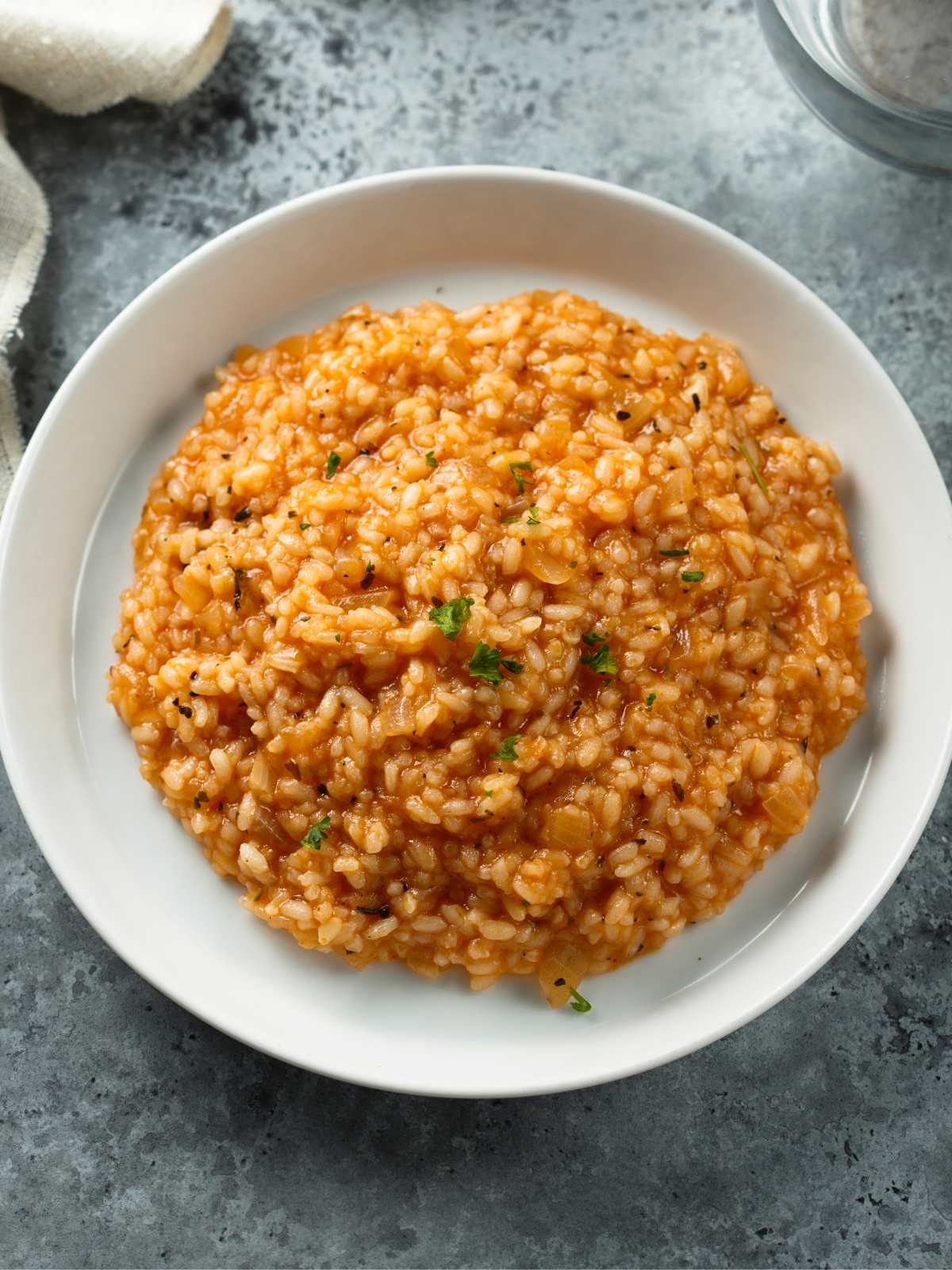 I had never had risotto before until I visited a restaurant in London. It was super creamy with goat cheese. Also something I had never had before (thanks to growing up in Kansas). So when I first started delving into the vegan diet, I came a cross a vegan cookbook containing the recipe that inspired this. Unfortunately I don't remember the name of the book!
When I saw this risotto, I knew I had to make it. Though it's not the same creamy, goat cheesy one I had in London, it still was a delicious meal and one that I love to make often!
Jump to:
What is risotto
Risotto originated in Italy and is a traditional dish that hails from the northern regions of the country, particularly Lombardy and Piedmont. It has been a staple in Italian cuisine for centuries, with variations and regional specialties found throughout the country.
The dish's precise origins are debated, but it is believed to have emerged during the Renaissance era in northern Italy, where rice was cultivated in abundance. Risotto has since gained international popularity and is enjoyed as a beloved culinary classic in many parts of the world.
Risotto is a traditional Italian dish made with a specific type of short-grain rice called Arborio or Carnaroli rice. It has a creamy and rich texture, achieved through a cooking process that involves gradually adding hot broth or stock to the rice while continuously stirring. This technique allows the rice to release starch, creating a creamy consistency.
Risotto is often flavored with ingredients such as onions, garlic, white wine, butter, cheese, and various additions like vegetables, mushrooms, or seafood. It is a versatile dish that can be enjoyed as a side or main course.
Tomato risotto, or risotto al pomodoro in Italian, is the variation where ripe tomatoes are used as a key ingredient to infuse the dish with their vibrant flavor. Additional ingredients like fresh herbs, Parmesan cheese (or vegan alternatives for a dairy-free version), and a drizzle of olive oil can be added to enhance the flavors further. The natural sweetness and tanginess of the tomatoes make this recipe irresistible!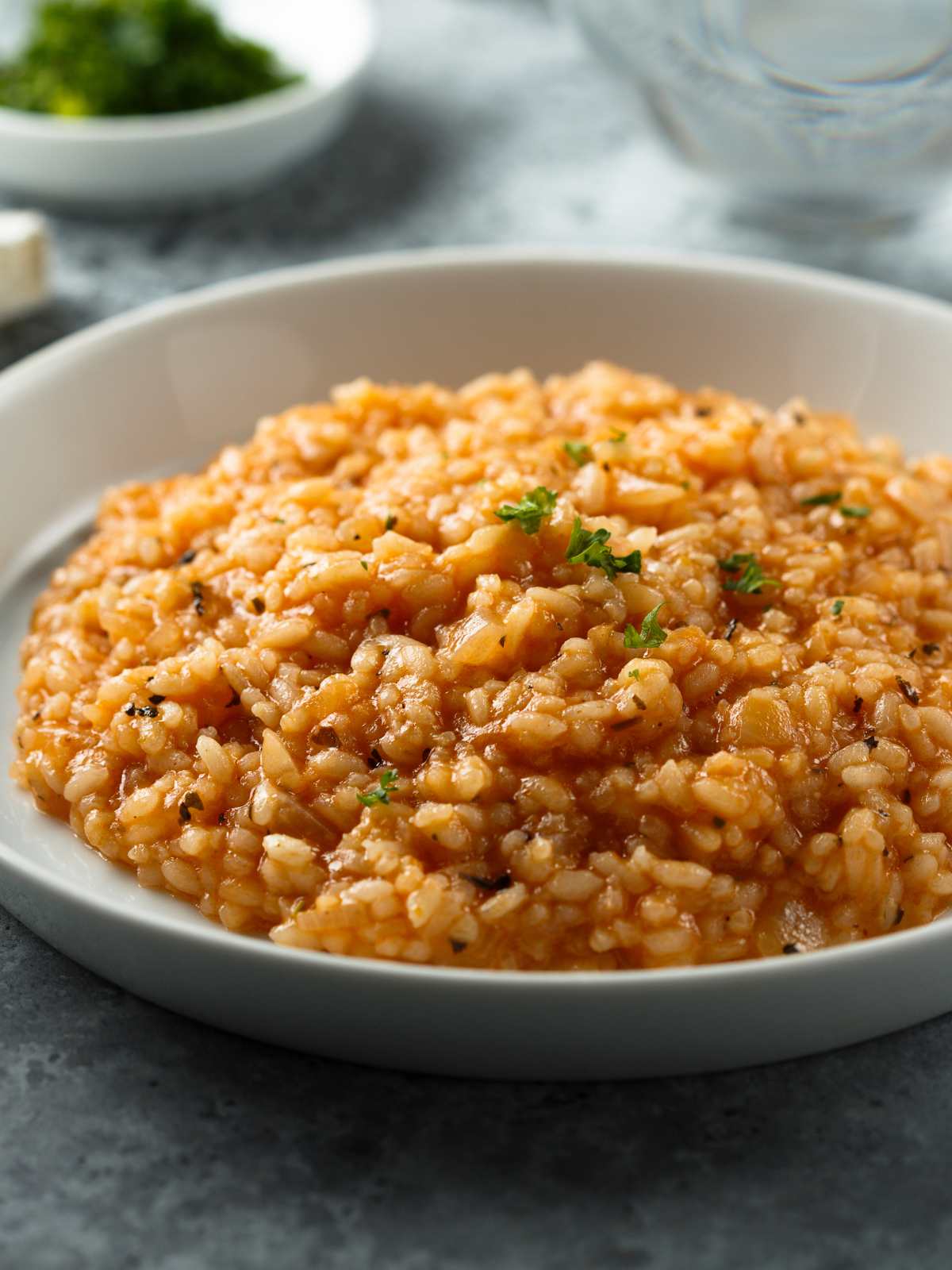 Why you'll love this tomato risotto recipe
Quick and easy: Make a restaurant-quality dish at home even on a busy weeknight!
Minimal effort: This simple recipe can be made with mostly the microwave!
Easy-to-find ingredients: The recipe utilizes common pantry staples, making it convenient to whip up this flavorful dish whenever you have a craving for a delicious and comforting meal. With just a handful of ingredients, you can create a delightful risotto bursting with tomato goodness. 
Impressive for any occasion: Whether you're cooking for yourself, your family, or hosting a dinner party, this tomato risotto is a showstopper. Its vibrant colors and inviting aroma will surely impress your guests, making it a perfect centerpiece for any occasion.
Suitable for various dietary needs: This recipe can be easily adapted to accommodate different dietary preferences. If you're following a vegan or dairy-free diet, you can use plant-based alternatives for butter and cheese without compromising on taste or texture. 
It's a dish that brings together simplicity, versatility, and a burst of Mediterranean flavors, offering a memorable comforting meal that will leave you craving more.
Key ingredients
Risotto rice: Aka a short grain rice like arborio rice. The starch content in it is what causes the creaminess in the dish. You can use short-grain white rice but it won't be a creamy risotto.
Diced canned tomatoes: To keep this recipe simple, I used canned tomatoes but if it's tomato season feel free to use fresh tomatoes! Fresh cherry tomatoes or even vine-ripened tomatoes from your garden would all taste amazing in this summery tomato risotto. 
Vegetable broth: Many risotto recipes call for chicken stock but I opted for vegetable stock to keep it vegan.
Onion: A fundamental component of this creamy tomato risotto, onions play a vital role in developing the dish's savory foundation! White or yellow onions both work well. Or use shallots for a milder flavor. 
Kale: To up the nutritional profile of this, greens are the perfect addition! I used kale but feel free to use spinach or whatever dark leafy green you prefer.
Garlic: No risotto is complete without the aromatic and flavorful addition of garlic cloves. These pungent little powerhouses infuse the risotto with so much depth of flavor and savory goodness!
Nutritional yeast: Adds a cheesy flavor. Optional but highly recommended! If you don't have it on hand, these nutritional yeast alternatives can work or use vegan parmesan cheese.
How to make this tomato risotto
Rinse the kale and remove the stems from the leaves. Take a large pot and fill it halfway with water. Bring the water to a boil and blanch the kale for 5 to 8 minutes until it becomes tender. Drain the kale and chop it into smaller pieces.  Set aside.
In a large skillet, combine the broth and tomatoes. Bring the mixture to a boil and then reduce the heat to a low simmer. Keep it simmering until needed. 
In a 3-quart casserole dish, microwave the onion and garlic with the oil on high for a couple of minutes until the onion softens. Add the rice to the dish and stir it well to ensure it gets coated with the flavored oil. 
Pour the hot stock mixture over the rice, cover the dish, and microwave it on high for 6 to 7 minutes until it starts boiling. Adjust the microwave setting to medium and continue cooking for 10 minutes until the rice is just tender and the liquid is absorbed. If desired, blend in the nutritional yeast or dairy-free parmesan and stir in the kale. Cover the dish and let it stand for about 5 minutes before serving.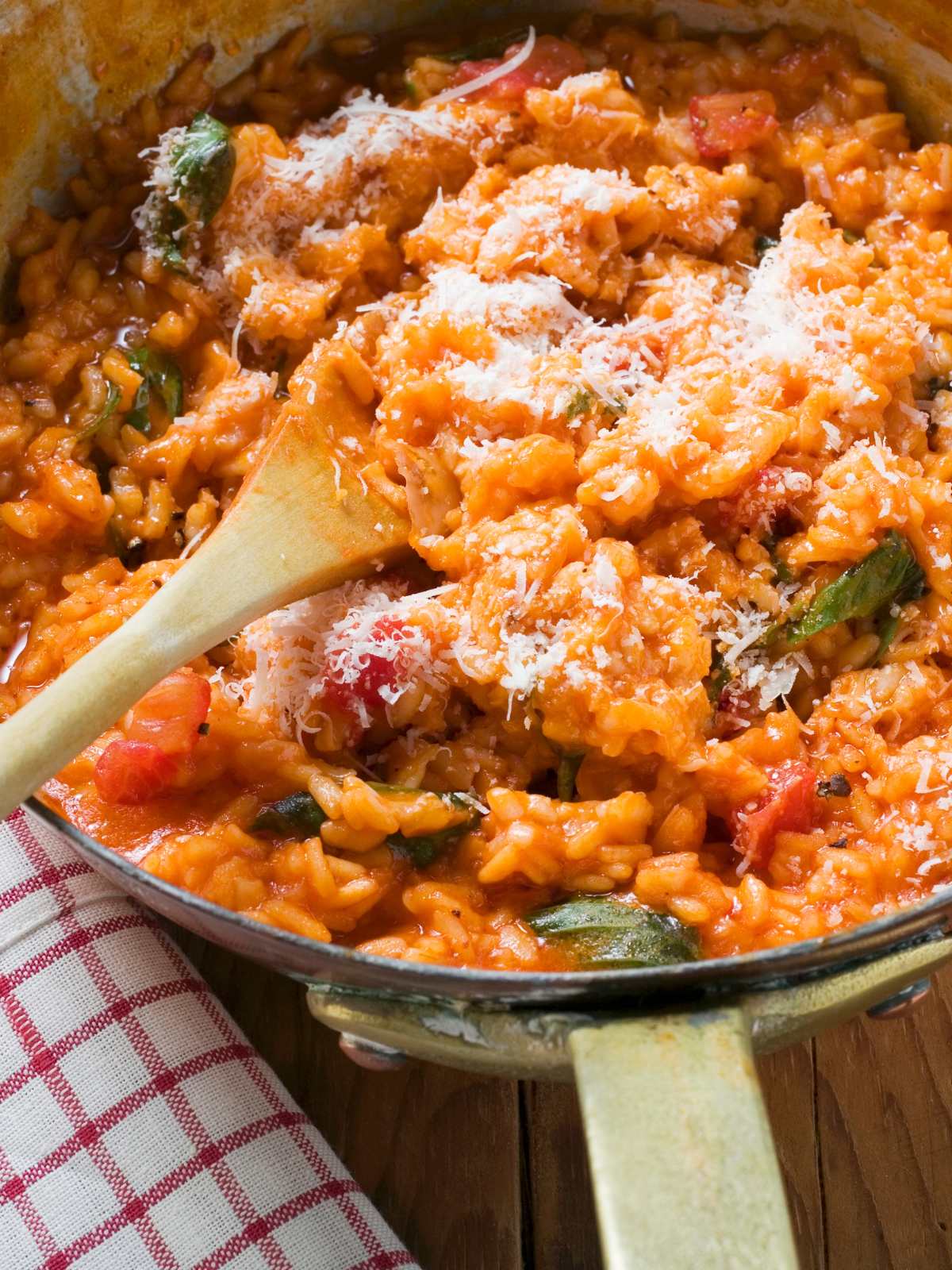 ​Storage
Store leftover tomato risotto in an airtight container in the refrigerator for up to a week. Reheat in the microwave or on the stovetop until warm. Add a splash of wine or broth before reheating to add back moisture as needed.
What to serve with tomato risotto
This kale and tomato risotto is great on its own or you can round out the meal with some delicious sides. Try serving it with a side of this roasted cherry tomato soup which mirrors the flavors nicely. For something heartier, serve with a slice of thick, wholesome bread.
More tomato recipes you'll love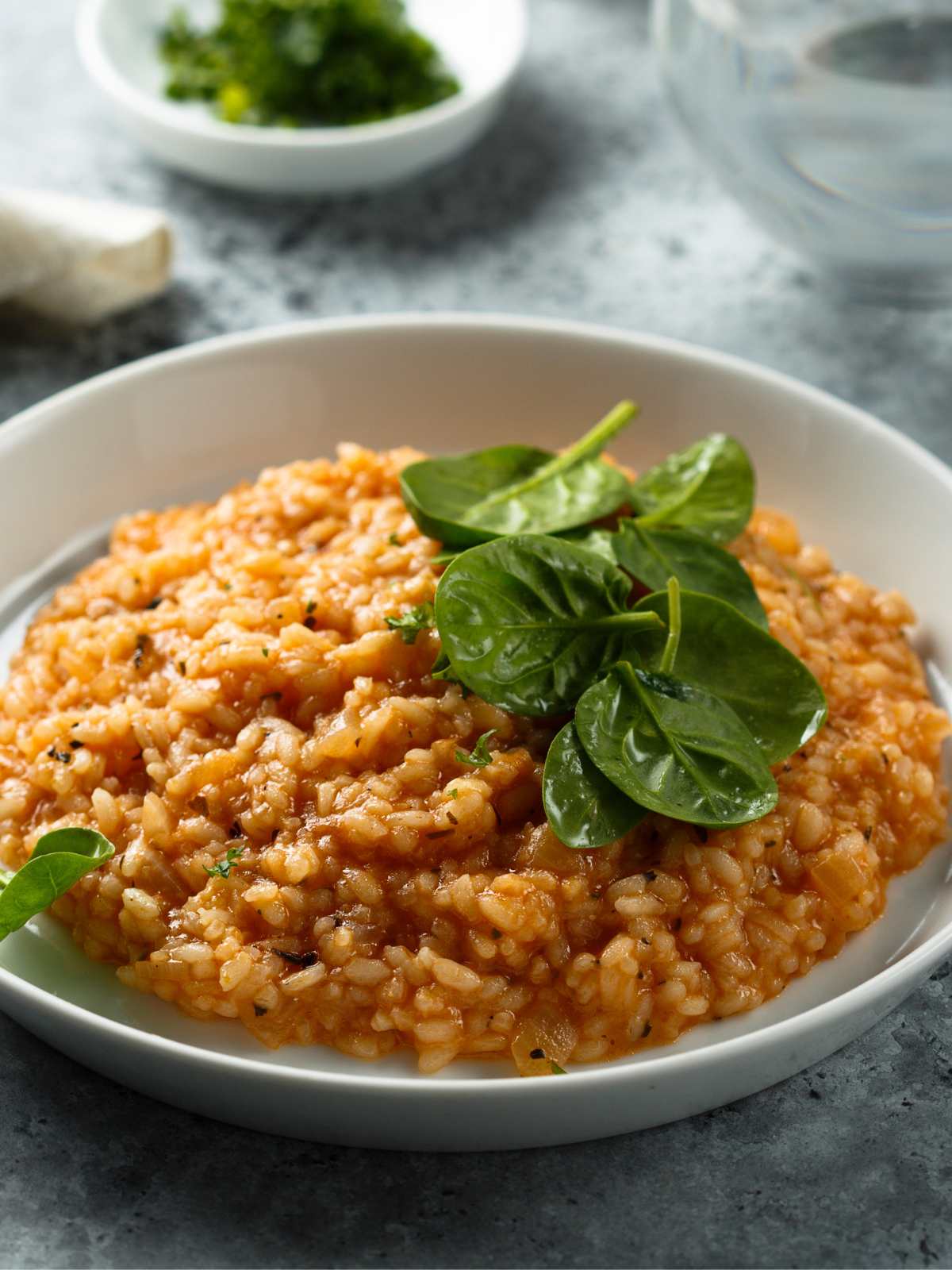 If you enjoyed this recipe please leave a comment below and give it 5 stars! Or on Pinterest (don't forget to follow me!) and please help me share on facebook!
📖 Recipe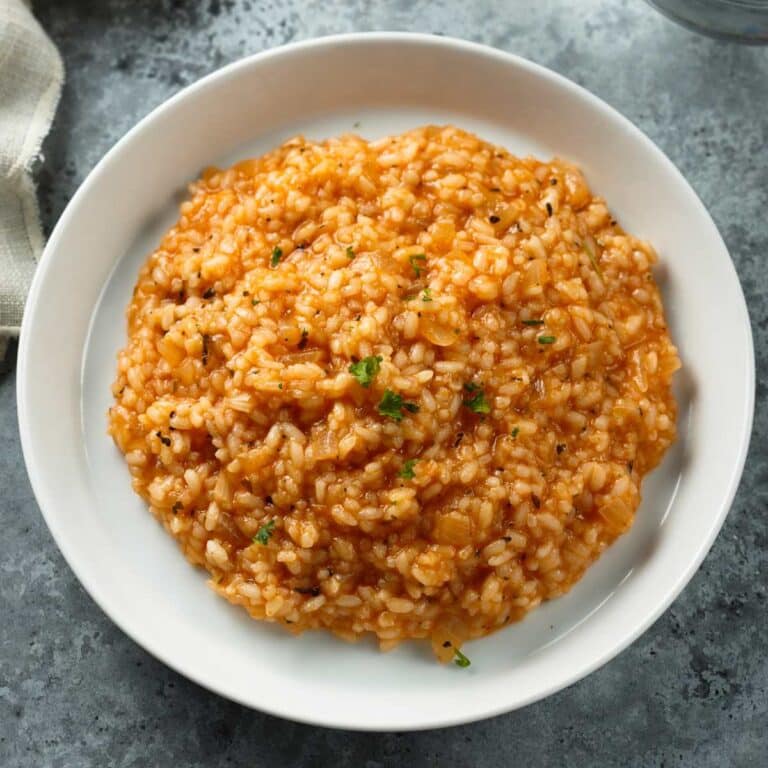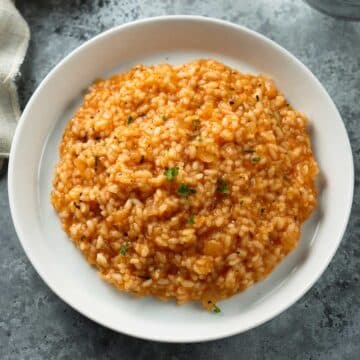 Kale and Tomato Risotto
This dish a full of flavor yet so easy to make! In fact, it can be made mostly in the microwave!
Ingredients
½

pound

kale

1

13-oz can

low-sodium vegetable broth

½

cup

dice canned tomatoes

1

tablespoon

tomato paste

2

tablespoons

olive oil

1

medium

onion

chopped

1

clove

garlic

minced

1

cup

risotto rice

arborio or carnaroli

2

tablespoons

nutritional yeast

or vegan parmesan cheese (optional)

salt and black pepper

to taste
Instructions
Wash kale and cut stems off of the leaves. Fill a large pot halfway with water, bring to boil and blanch the kale for 5 to 8 minutes, until tender. Drain and chop the kale. Set aside.

Combine the broth, tomatoes, and tomato paste in a large skillet and bring the mixture to a boil, then turn down to a low simmer until needed.

1 13-oz can low-sodium vegetable broth,

½ cup dice canned tomatoes,

1 tablespoon tomato paste

In a 3-quart casserole dish, microwave the onion and garlic in the oil on high for 3 minutes, until the onion is soft.

1 medium onion,

1 clove garlic,

2 tablespoons olive oil

Add the rice and stir well to coat it with the flavored oil. Add the hot broth mixture, cover, and microwave on high for 6 to 7 minutes, until boiling. 

Change the setting to medium and continue to cook for 10 minutes, until rice is just tender and the liquid has absorbed.

 Blend in the nutritional yeast if desired and stir in the kale, cover and let stand for about 5 minutes before serving. Taste and adjust seasonings by adding salt and pepper to taste.

2 tablespoons nutritional yeast,

salt and black pepper
Notes
Store leftover risotto in an airtight container in the refrigerator for up to a week.
Nutrition
Calories:
295
kcal
|
Carbohydrates:
48
g
|
Protein:
8
g
|
Fat:
8
g
|
Saturated Fat:
1
g
|
Polyunsaturated Fat:
1
g
|
Monounsaturated Fat:
5
g
|
Sodium:
106
mg
|
Potassium:
451
mg
|
Fiber:
6
g
|
Sugar:
3
g
|
Vitamin A:
5761
IU
|
Vitamin C:
59
mg
|
Calcium:
164
mg
|
Iron:
4
mg
This tomato risotto article was originally published on January 24, 2014, and was updated with new photos and tips on July 5, 2023.q