Interested in trying out Meatless Mondays but not sure what to eat? Here are over 50 breakfast, lunch, and dinner ideas! They're easy, delicious, familiar recipes that are perfect for Meatless Mondays.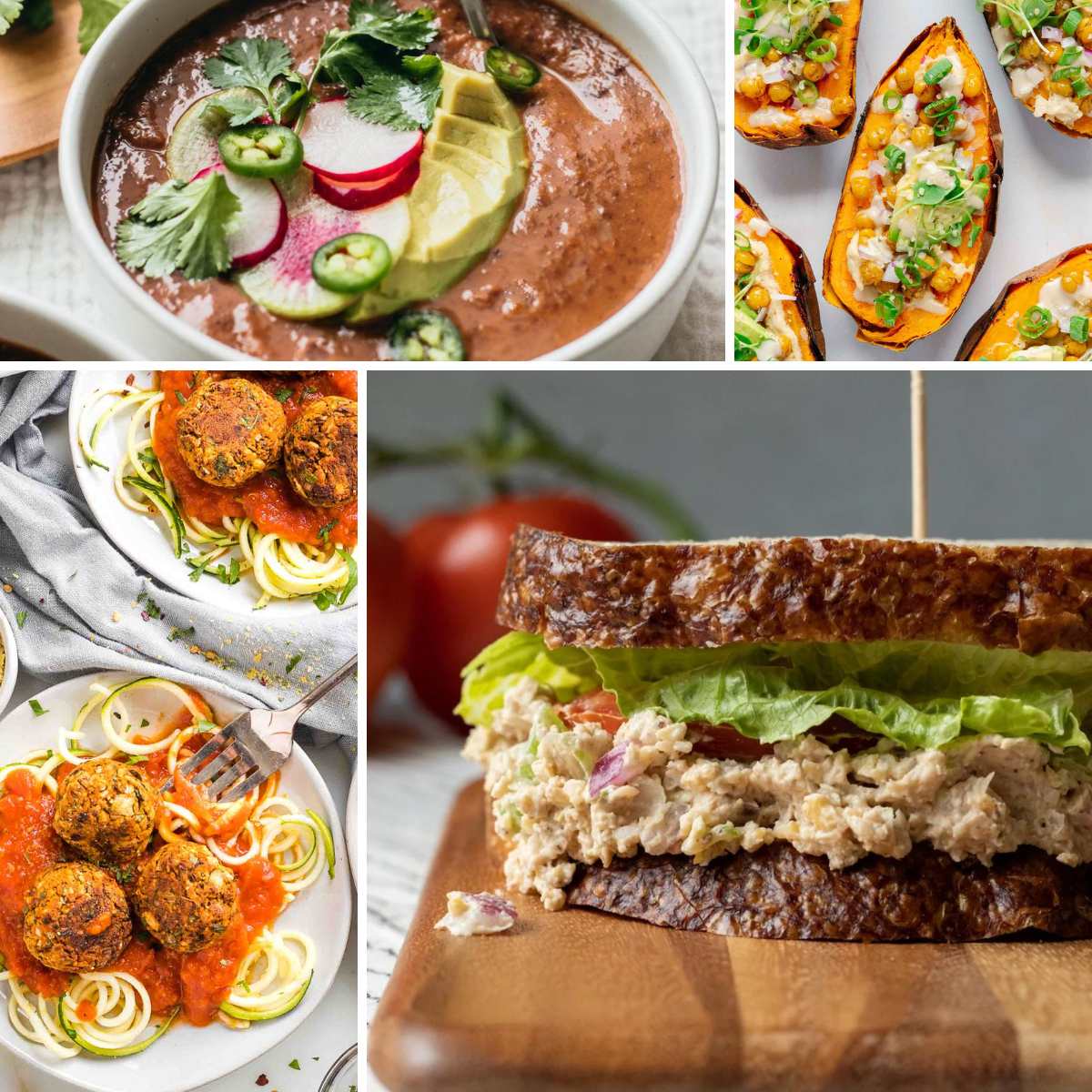 Jump to:
What is Meatless Monday?
You may have heard the term before, but what does it really mean? It is a global movement with the goal of encouraging people to reduce meat in their diet both for their own health and the health of the planet. The campaign started back in 2003 by Sid Lerner, the Founder of The Monday Campaigns, in conjunction with the Johns Hopkins Center for a Livable Future.
The idea behind the campaign is to show how easy it can be to reduce meat in the diet by eliminating it one day a week. Mondays are perfect for it as research shows that this is the day people are most likely to adopt a new healthy behavior.
The best part is it's completely free! There's no need to sign up for anything, all you have to do is decide to eat vegetarian meals one day a week. Monday makes it easy because this is the day you're most likely to eat at home which may make it less tempting to eat meat.
Frequently Asked Questions
What can you eat on Meatless Mondays?
The goal is to not eat any meat such as beef, chicken, pork, lamb, turkey, or seafood. Some people still choose to consume animals products like milk, yogurt and cheese. Start with what you're comfortable with but don't be afraid to try all of the amazing plant-based alternatives for these items!
Are eggs OK on Meatless Monday?
It's up to you whether to include eggs but it's encouraged to try out new plant-based sources of protein instead. There are endless possibilities as you'll see from the recipes below.
What is a good meal without meat?
We have hundreds of delicious meat-free recipes for you to choose from, but we've rounded up the easiest, least complex, and familiar recipes below to make taking the Meatless Monday pledge as easy as possible!
Meatless monday recipes
The following delicious recipes are plant-based meals that the entire family can enjoy! They have been carefully selected to be easy to make, familiar, and incredibly delicious so you won't be missing out on anything!
Many of these meatless recipes are comfort meals that are probably familiar, but made simply without meat or with a plant-based protein substitute instead. This is a great way to introduce vegetarian recipes to the diet. You'll find options like meatless pasta recipes, veggie burgers, vegetable soup, vegan ground beef, vegetarian chili, and meals packed with lots of veggies!
So whether you're reducing meat consumption for your own personal health or because you want to shrink your carbon footprint and lessen the impact on climate change, these easy meatless meals will make it a breeze!
Breakfast
Start Meatless Monday off on the right foot with these easy plant-based and vegan breakfast recipes. Whether you need something grab-and-go or you prefer a fresh, hot breakfast, there's something for everyone!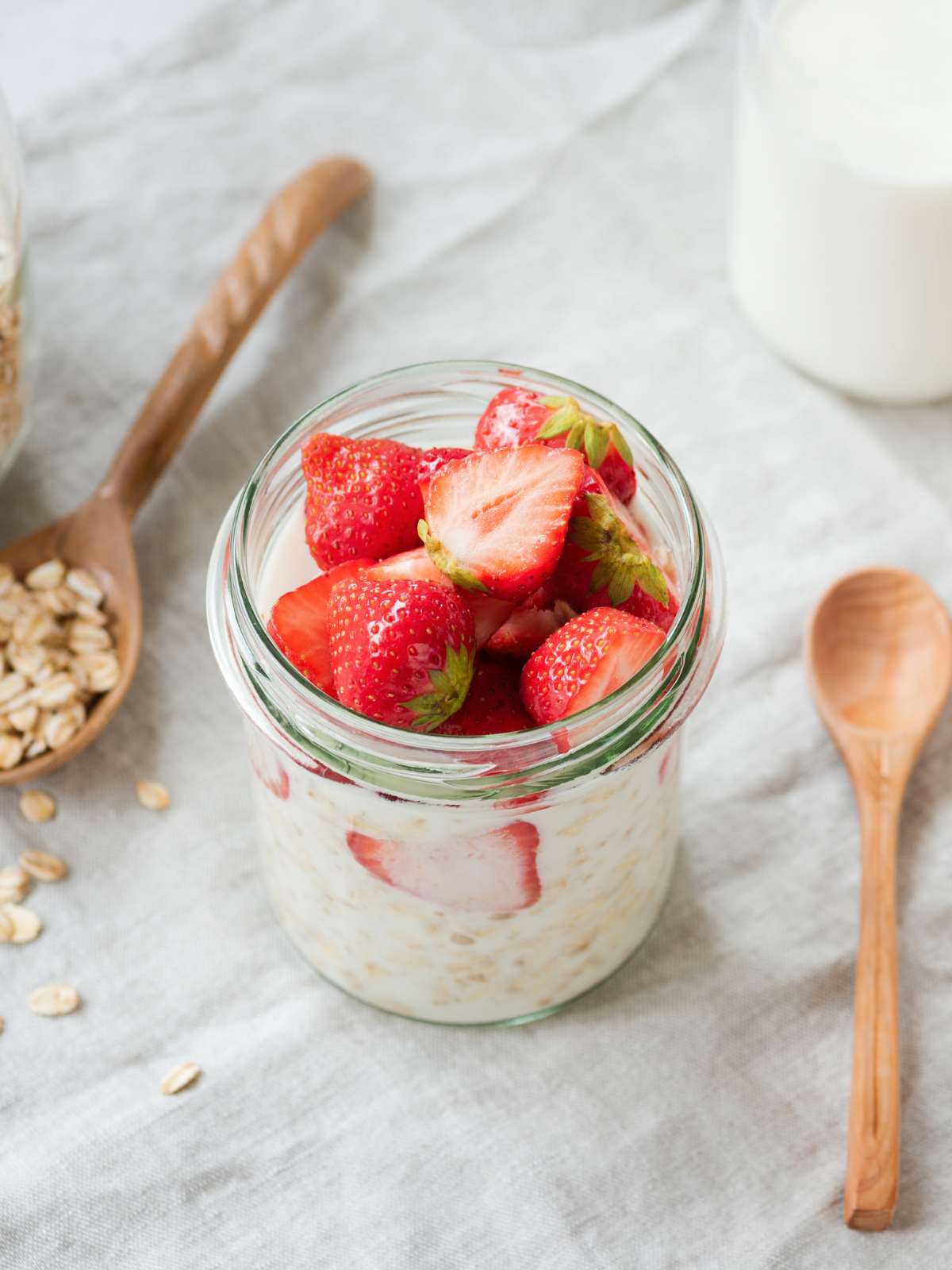 A delicious and healthy breakfast option with 33 grams of protein! It's easy to prep the night before for busy mornings and the perfect way to get in a filling meal when you're low on time!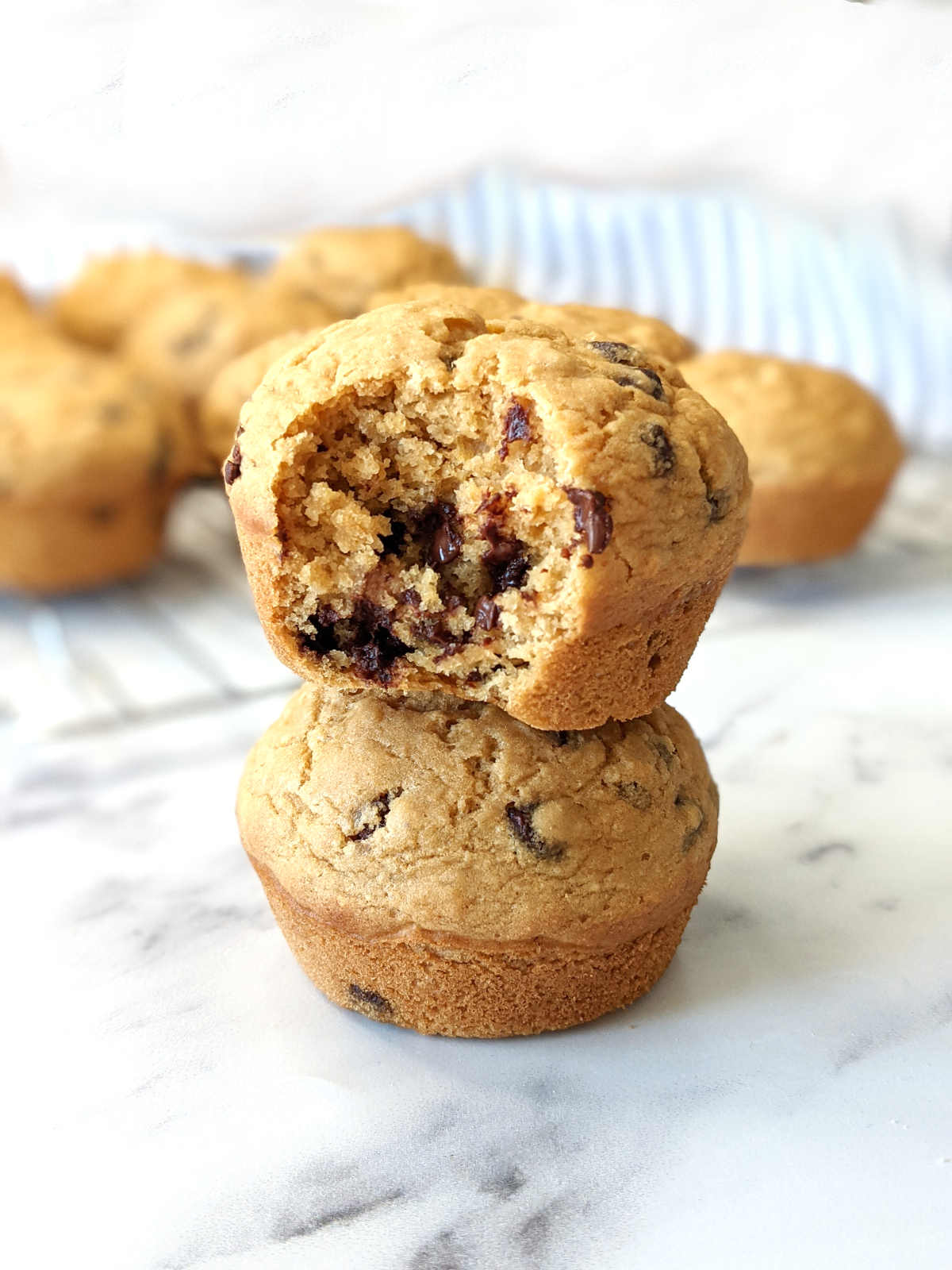 Got a sweet tooth? These chocolate chip muffins are perfectly sweet, soft and fluffy and full of chocolate chips! They're made healthier with whole wheat flour but you'd never know, making them a great breakfast option.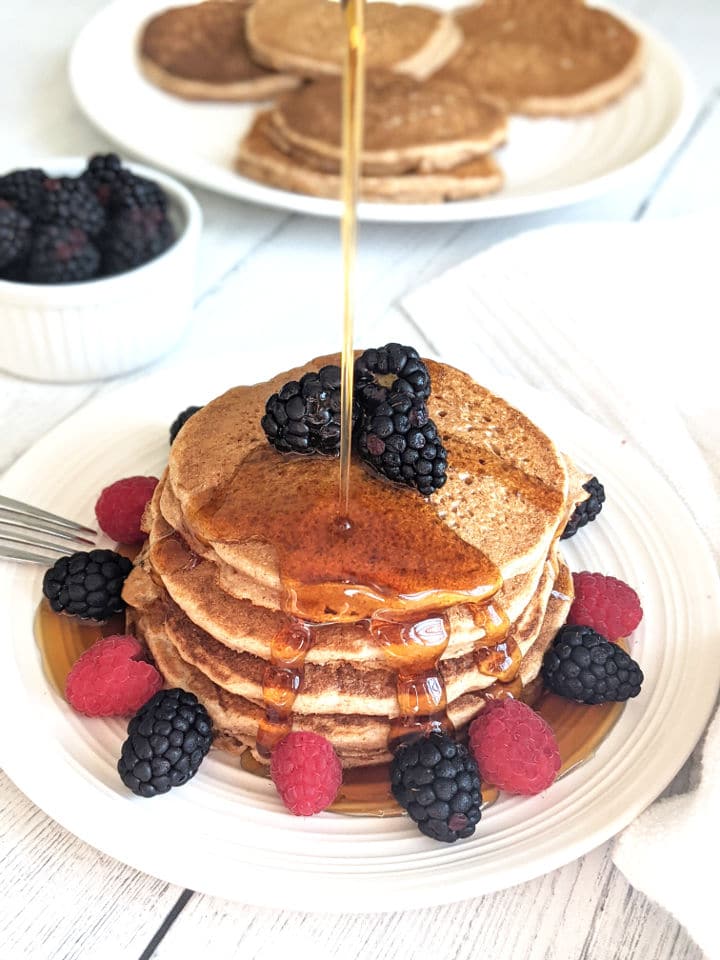 You heard that right, you can make fluffy pancakes without using eggs! They're made heartier with whole wheat flour and will quickly become a new favorite—you'll never need eggs for pancakes again!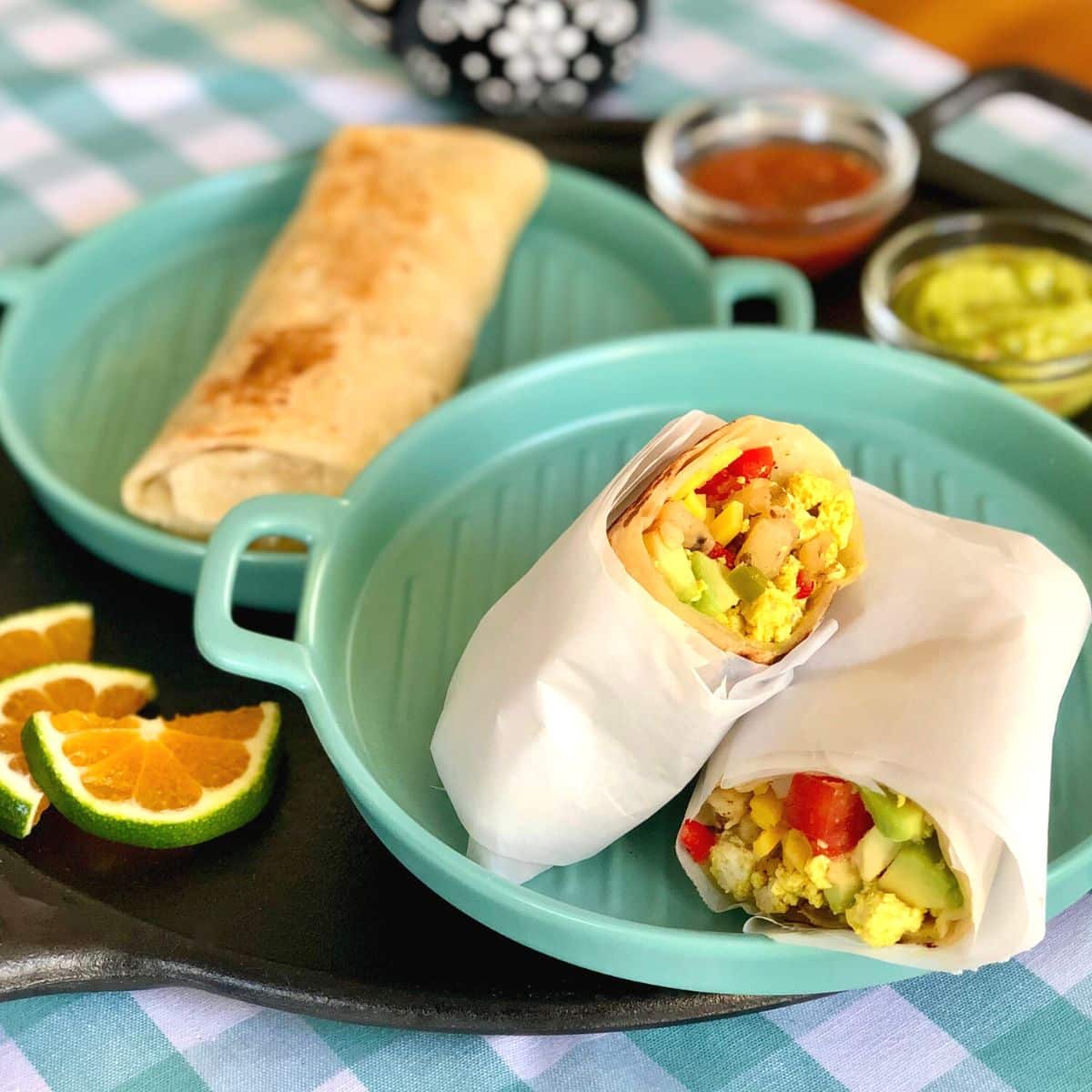 Start your day with a delicious plant-based and protein-packed meal rolled up in a warm tortilla! A colorful combo of the best tofu scramble with hash brown potatoes, avocado, vegan cheese & salsa is a great grab & go meal!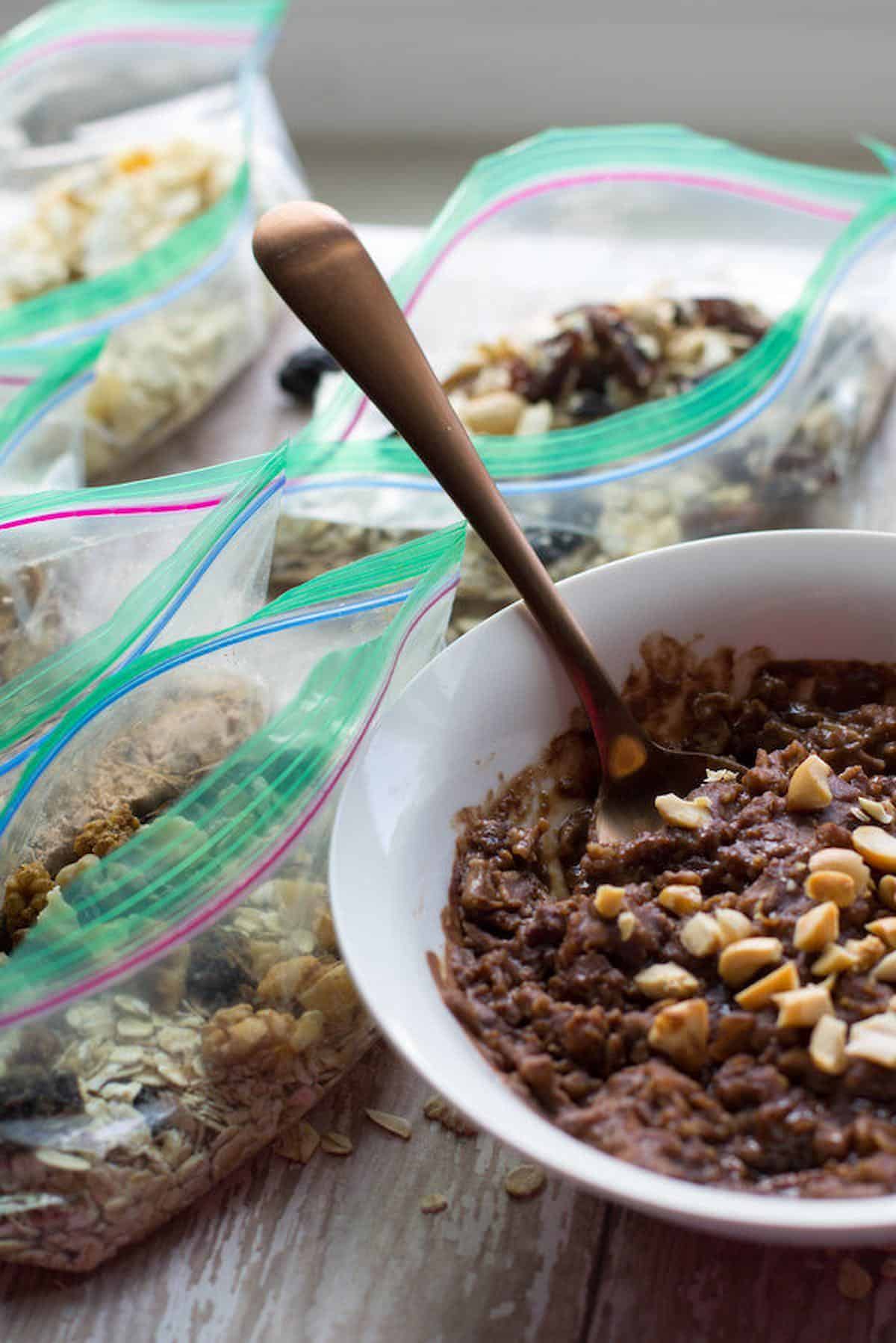 You will save calories, sugar and time with these Healthy Homemade Oatmeal Packets. You can make a variety of different flavors for a quick, nutritious on the go breakfast. All you have to do is add water and microwave!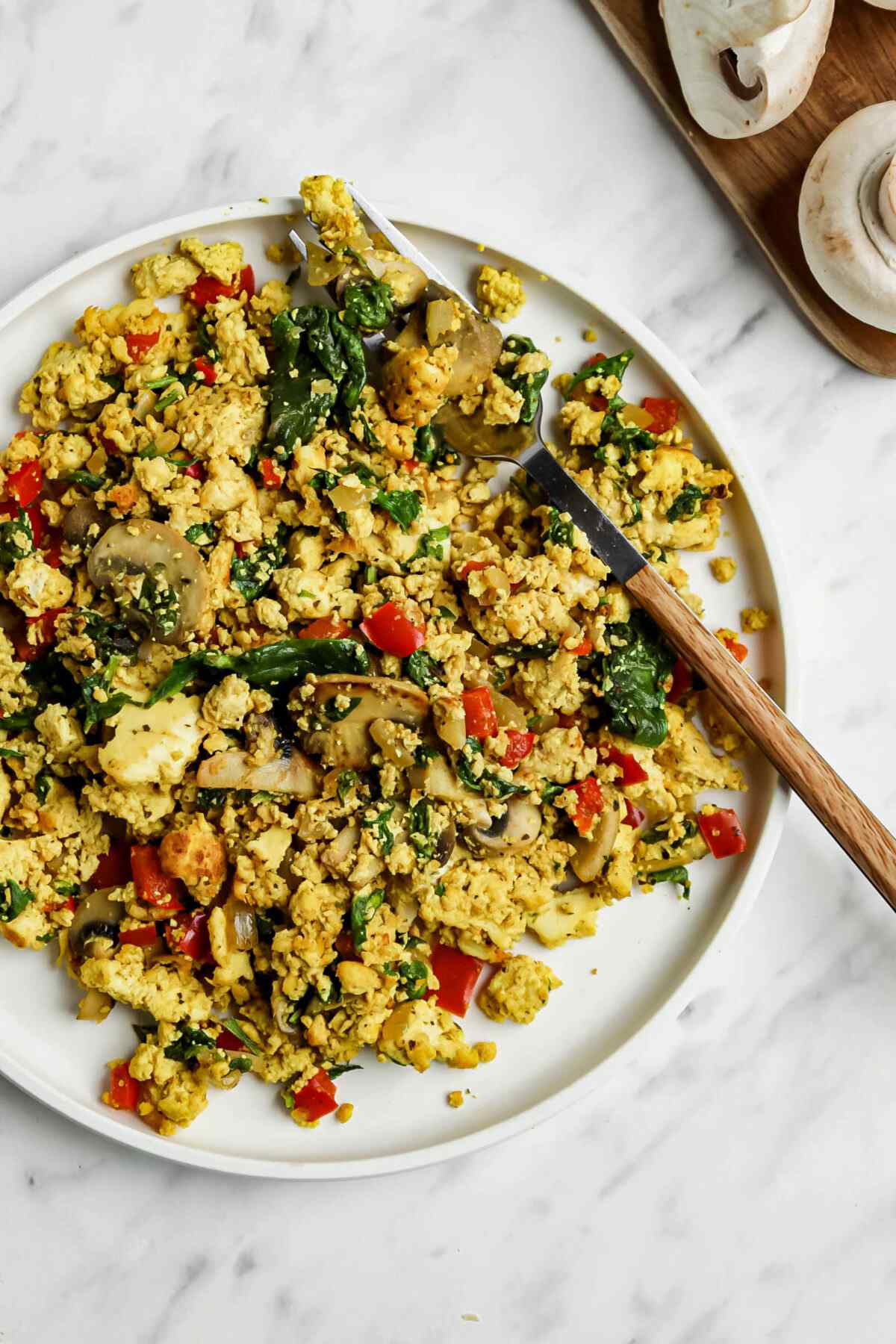 Want a delicious variation of scrambled eggs? Check out this Indian curried tofu scramble with spinach! It's the perfect egg-less breakfast that's quick to make and full of flavor!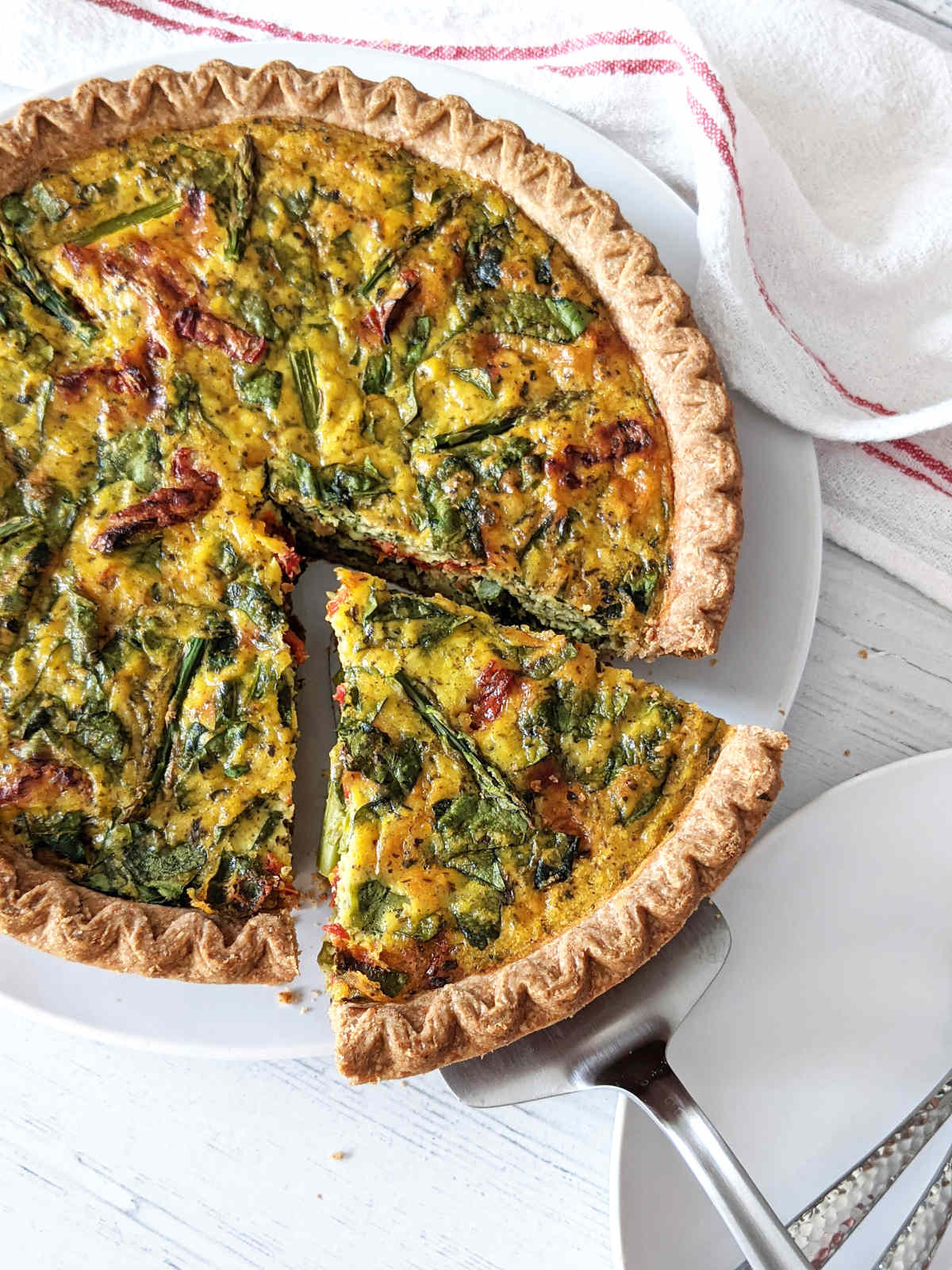 If you haven't tried JUST Egg you're in for a treat! This completely egg-free products cooks up just like an egg! Use it to quickly and easy make this quiche with sun-dried tomatoes and asparagus.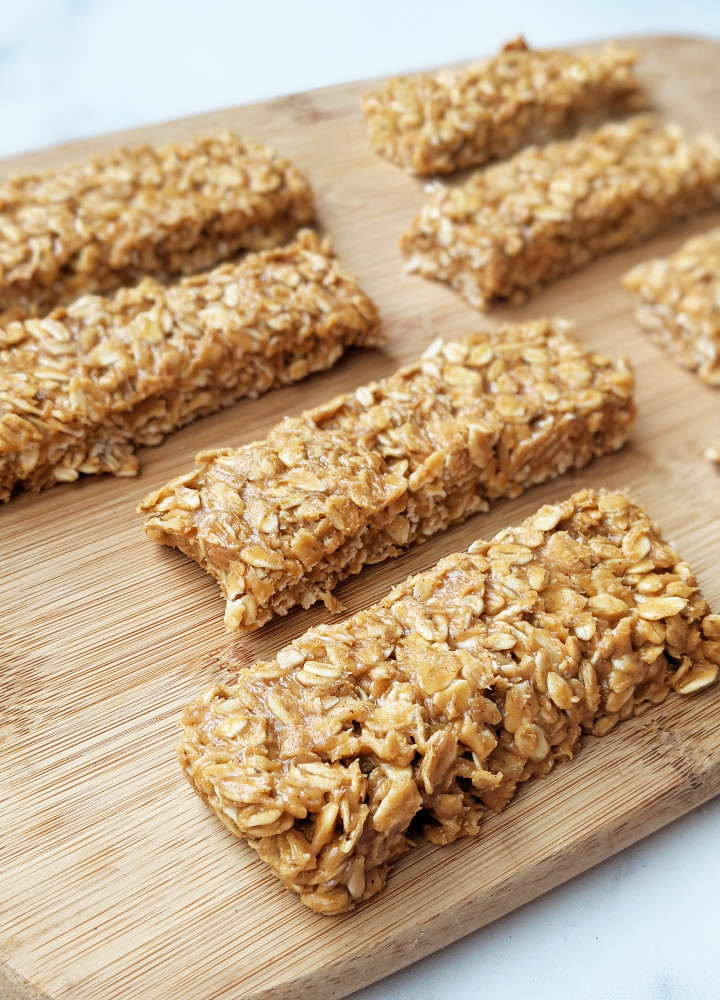 For a grab-and-go breakfast, these no-bake granola bars are key. You can make these bars in just 5 minutes with 5 ingredients. They are very filling, boasting 9g of protein using only whole food ingredients, and are vegan and gluten free!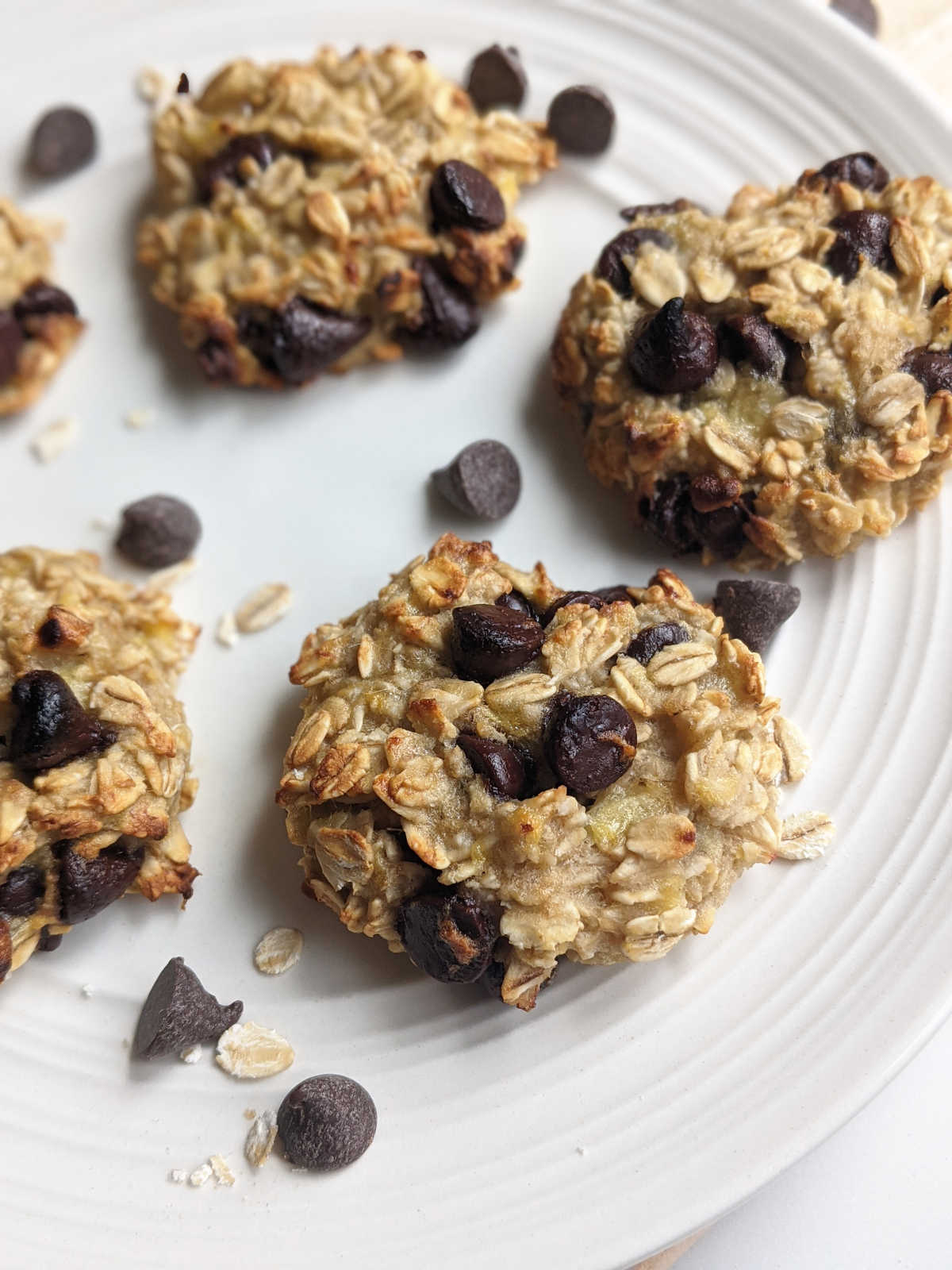 These 3-ingredient cookies are perfect for breakfast, snack or dessert! They're ready in less than 20 minutes and are gluten-free, dairy-free, and egg-free. They're the perfect healthy treat when you have a sweet tooth!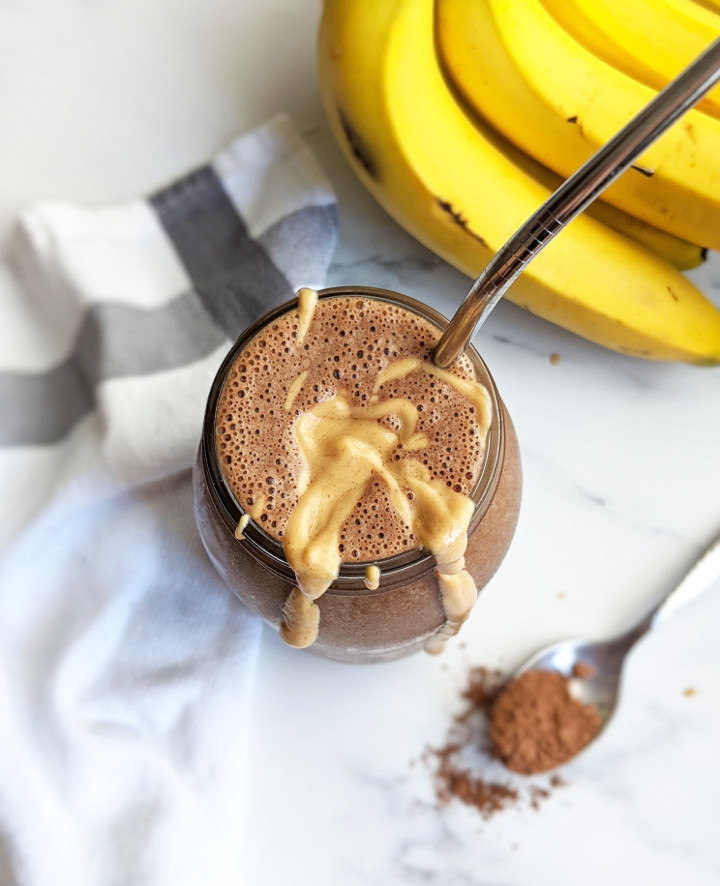 Skip the whey protein and go for naturally high protein sources. This Chocolate Peanut Butter Protein Smoothie has over 25 grams of protein from whole food ingredients only and will keep you full all morning long!
Lunch
Make lunch time a snap with these easy new recipes. Do you need to pack a lunch or maybe you have access to a microwave to reheat your food? Find what works best for you below!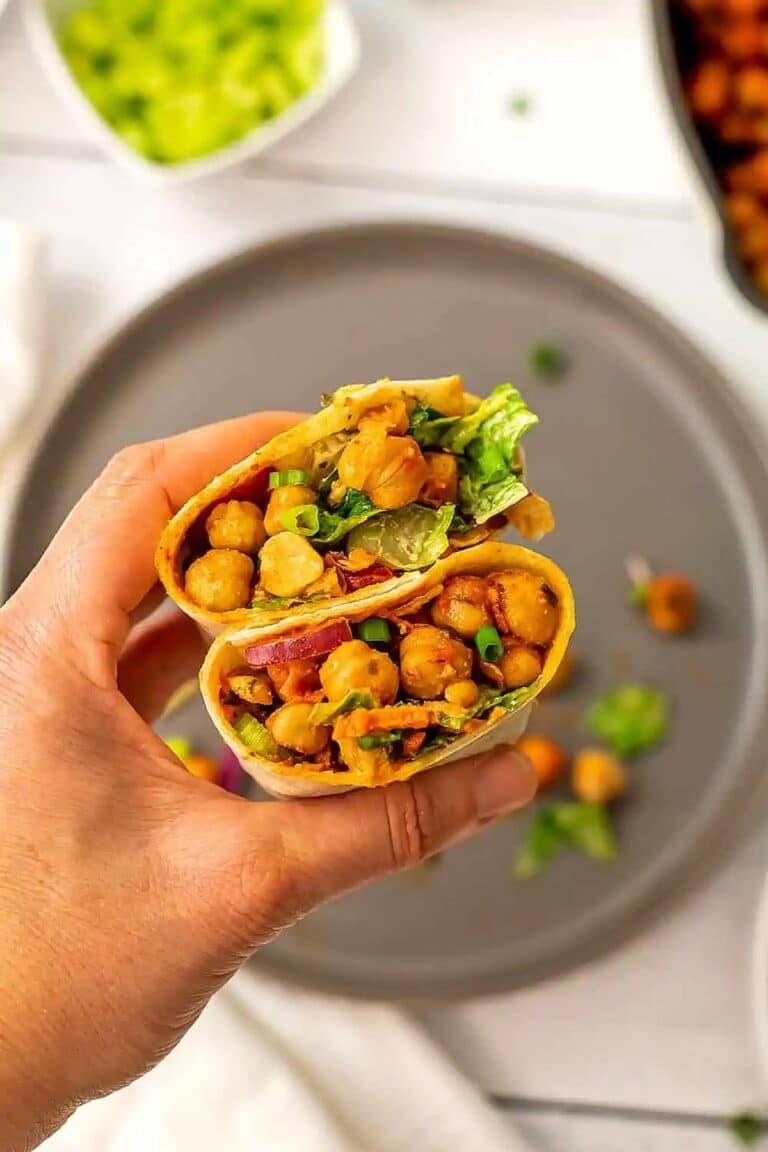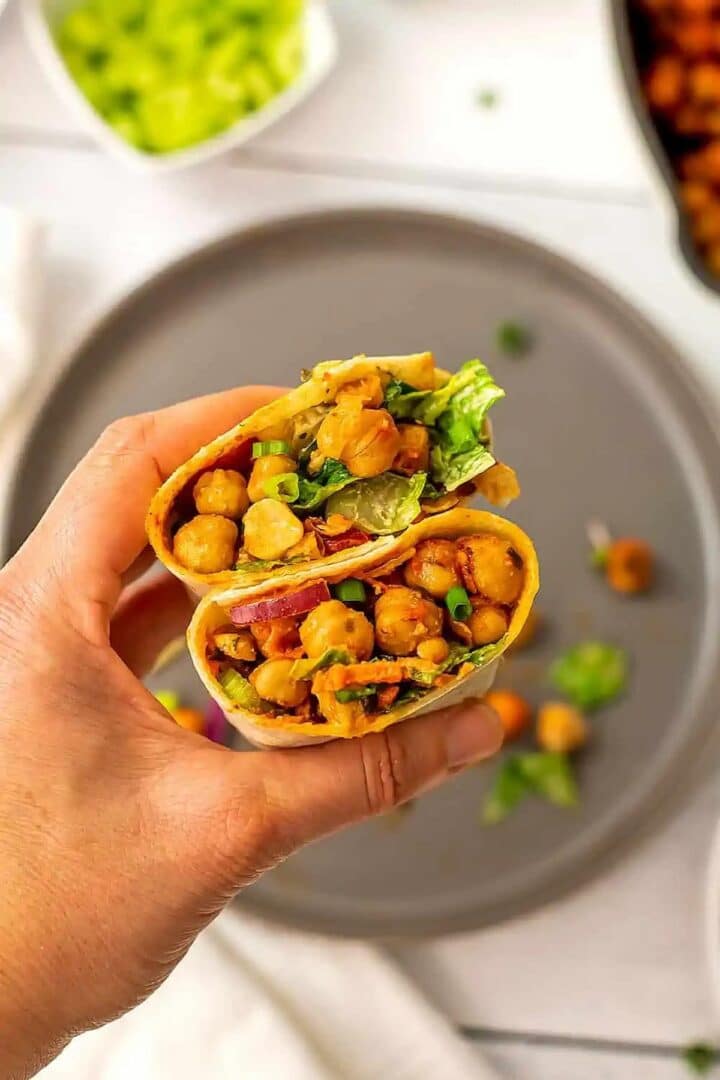 Buffalo chickpea wraps will become your new favorite meat-free lunch. They're spicy, tangy and so delicious made with an irresistible tahini ranch dressing wrapped in a tortilla or pita. It is a budget friendly, healthy meal that is ready in about 10 minutes!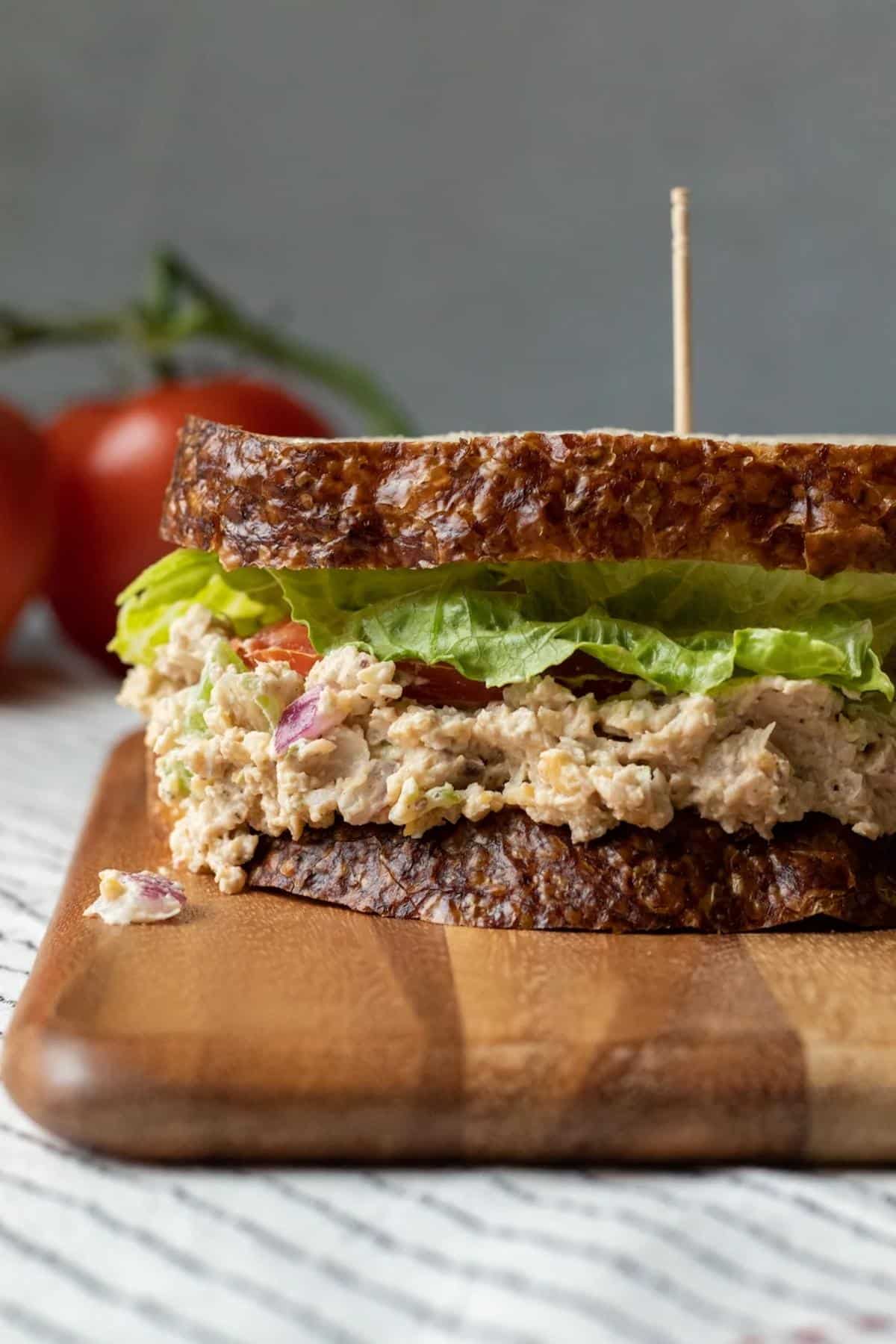 Going meatless doesn't mean giving up your favorite flavors, textures, or convenience! This vegan "tuna-less" salad is wonderfully creamy and easy to make. Perfect for snacks and lunch.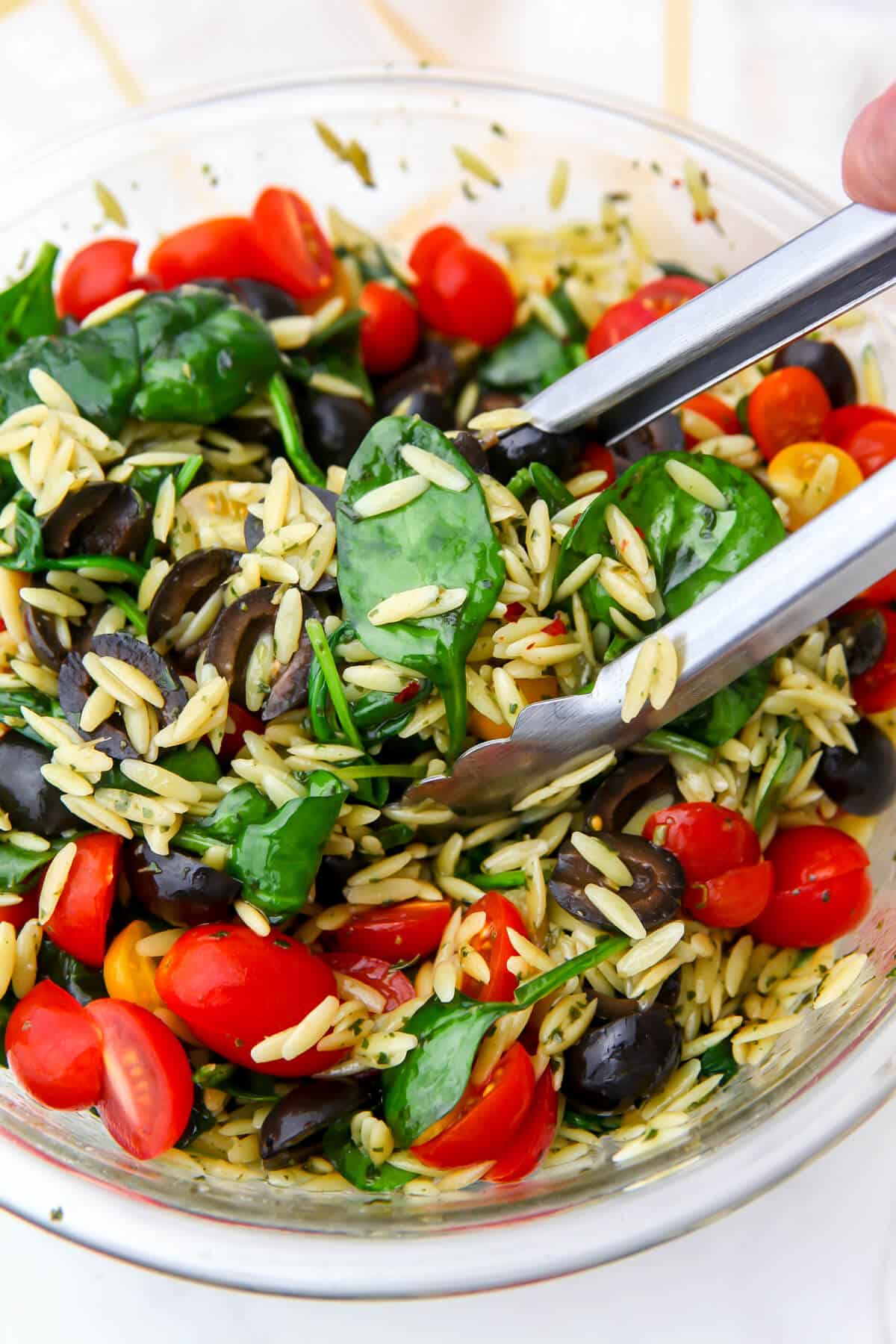 Orzo pesto salad is a colorful, healthy pasta salad bursting with flavor. Perfect for an easy meatless Monday meal, this salad is packed with whole grains, healthy spinach, cherry tomatoes, and olives and is easily made gluten-free and vegan.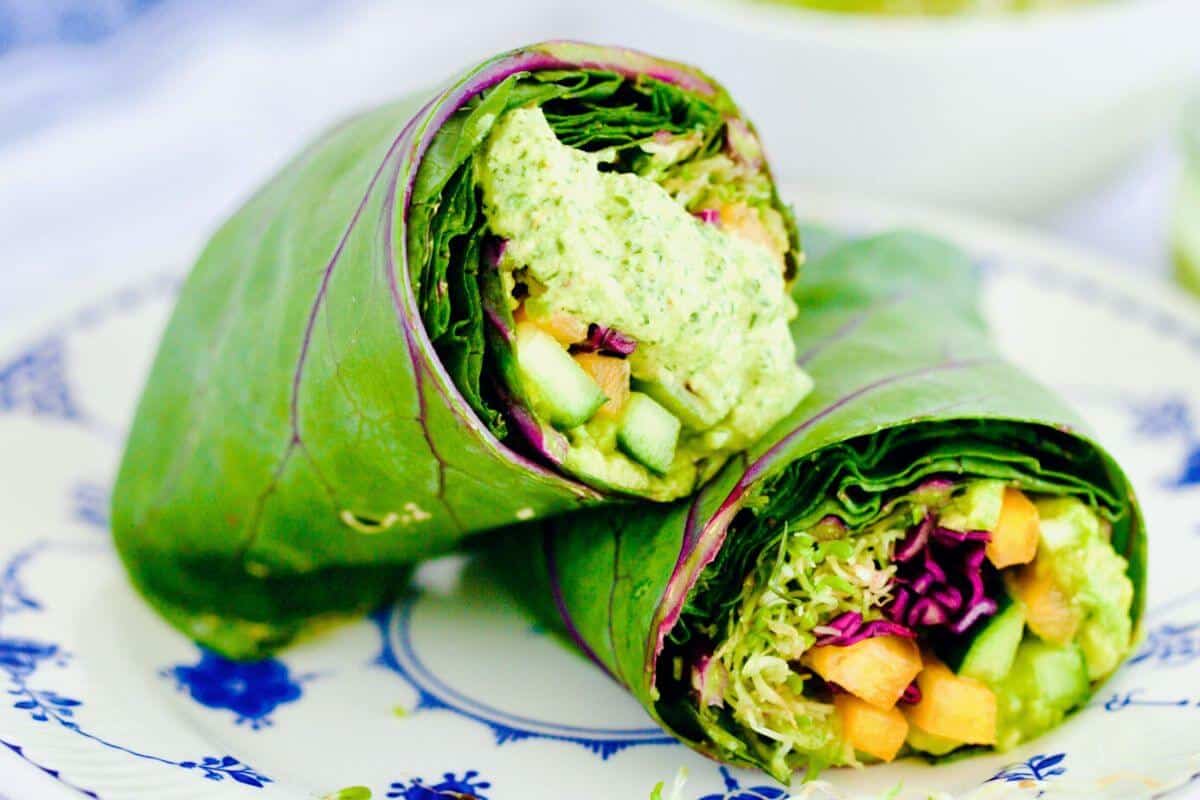 For a quick, easy to make and deliciously healthy meatless lunch, try these rainbow raw veggie wraps. Using either cabbage or kale leaves, fill them with sliced raw vegetables and your favorite dressing to dip them in for a plate full of utter delight. I love these with a tasty peanut sauce or spicy mayo dressing!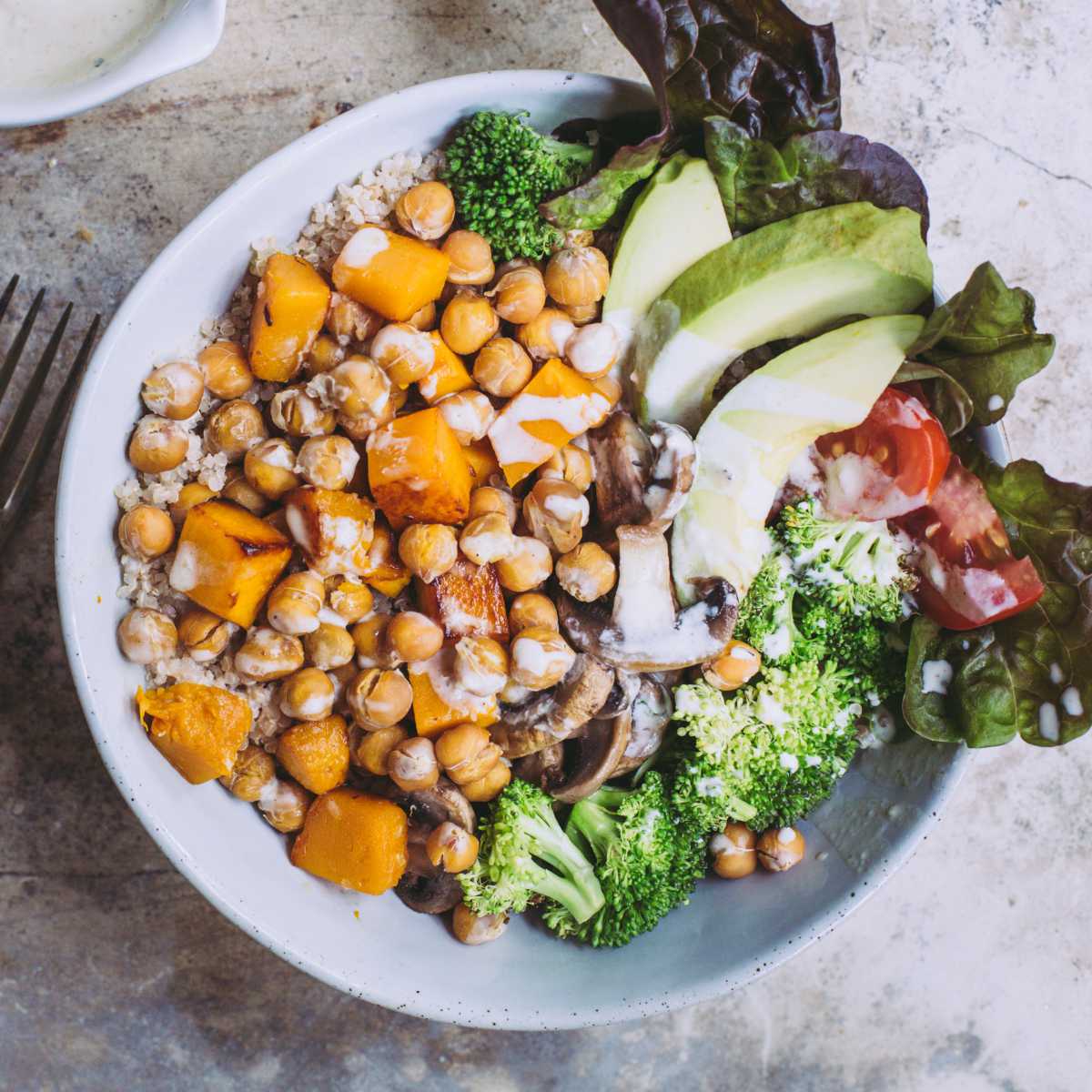 This delicious vegan bowl recipe offers a punch of plant-based protein from chickpeas, quinoa and tofu dressing! It comes together in only 40 minutes total, works well for meal prep, and is perfect for busy days.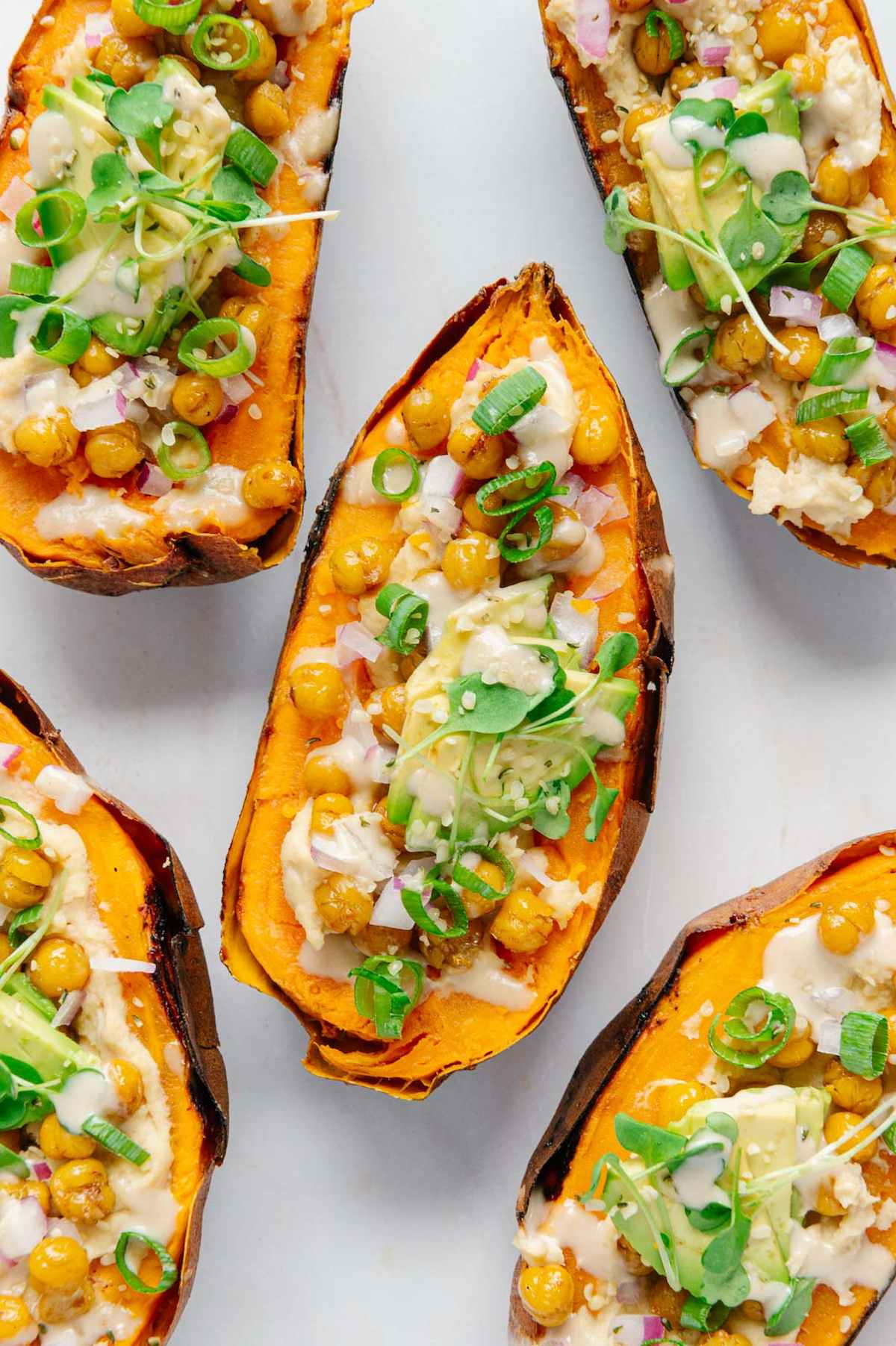 This simple weekday lunch or dinner is easy to prep ahead of time, has well-rounded nutrition, and it's an absolute crowd pleaser! Perfectly roasted sweet potatoes are stuffed with plant-based protein, creamy hummus, crispy chickpeas, savory tahini sauce, and sliced avocado for an explosion of flavor!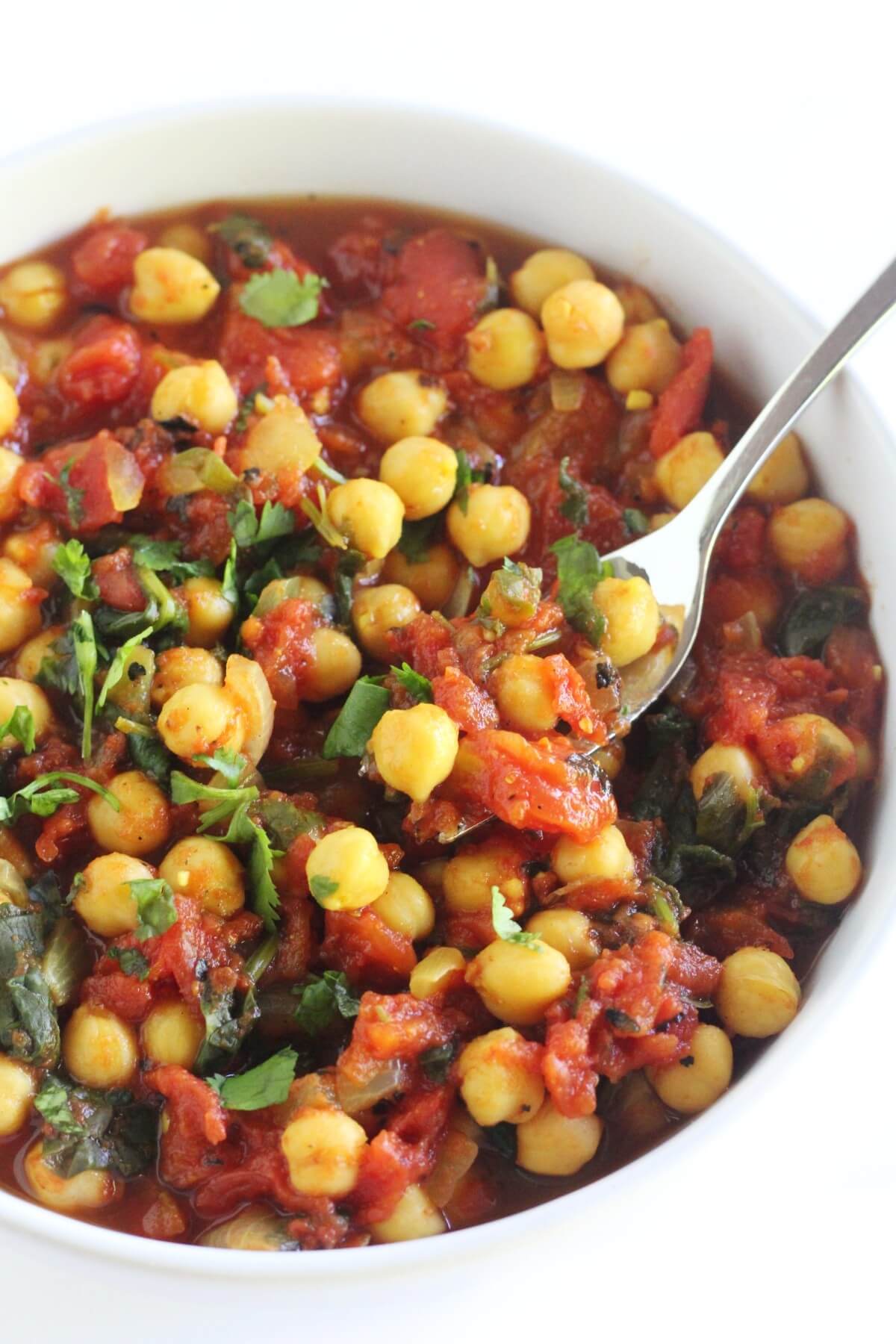 Try this easy Chana Masala recipe that's simple and quick to make for meatless mondays. Made with chickpeas, tomatoes and tons of aromatic and authentic Indian spices, this one-pot meal is perfect for lunch or dinner and great for meal prep! It's healthy, veggie-packed and satisfying for everyone!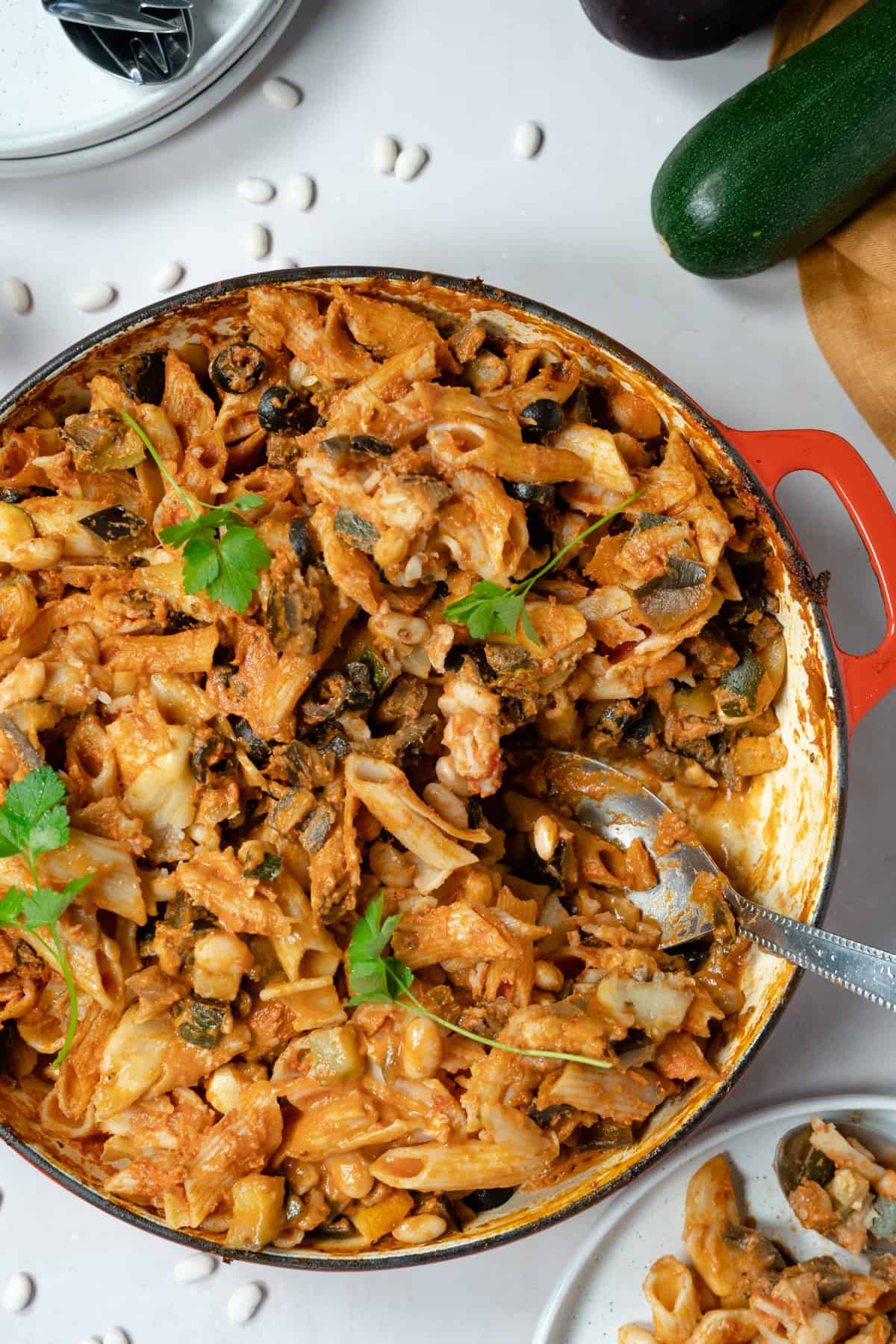 For a truly effortless meal, try this wonderfully creamy dump and bake style pasta dish. It's easy, gluten free, packed with veggies and can be enjoyed both warm or cold (great for packing a lunch!).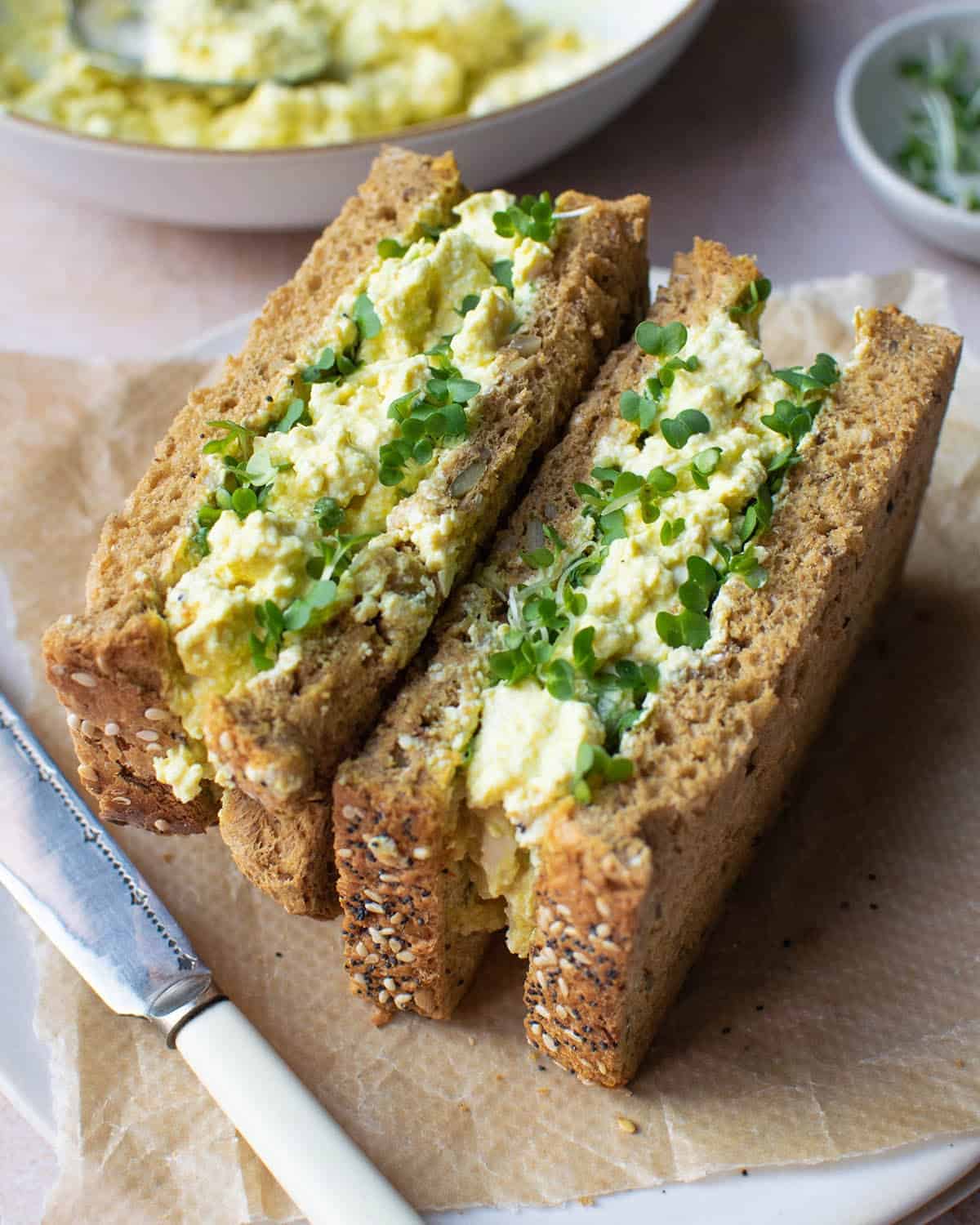 Vegan egg mayo is one of the easiest lunch recipes out there! With no prep time needed, this recipe makes a perfect lunch in almost no time at all.
Dinner
Stumped on what to eat and need some meatless dinner ideas? These easy meatless monday recipes are your answer to a stress-free night. Most of these recipes are quick to make or easy to meal prep so you can relax come dinnertime knowing you'll have a plate of incredible food with minimal effort!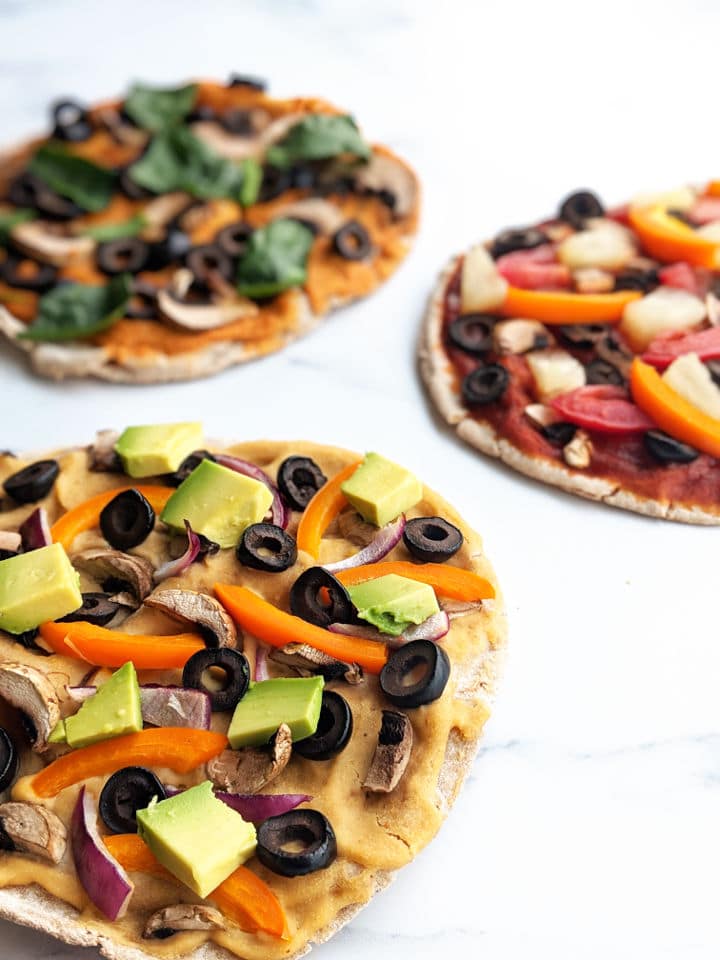 If dinnertime overwhelms you, make these 10-minute pita pizzas. They're a breeze to make—no need to make pizza dough from scratch, just use pita bread! They're also easy to customize with your favorite toppings for a healthy and delicious dinner in no time!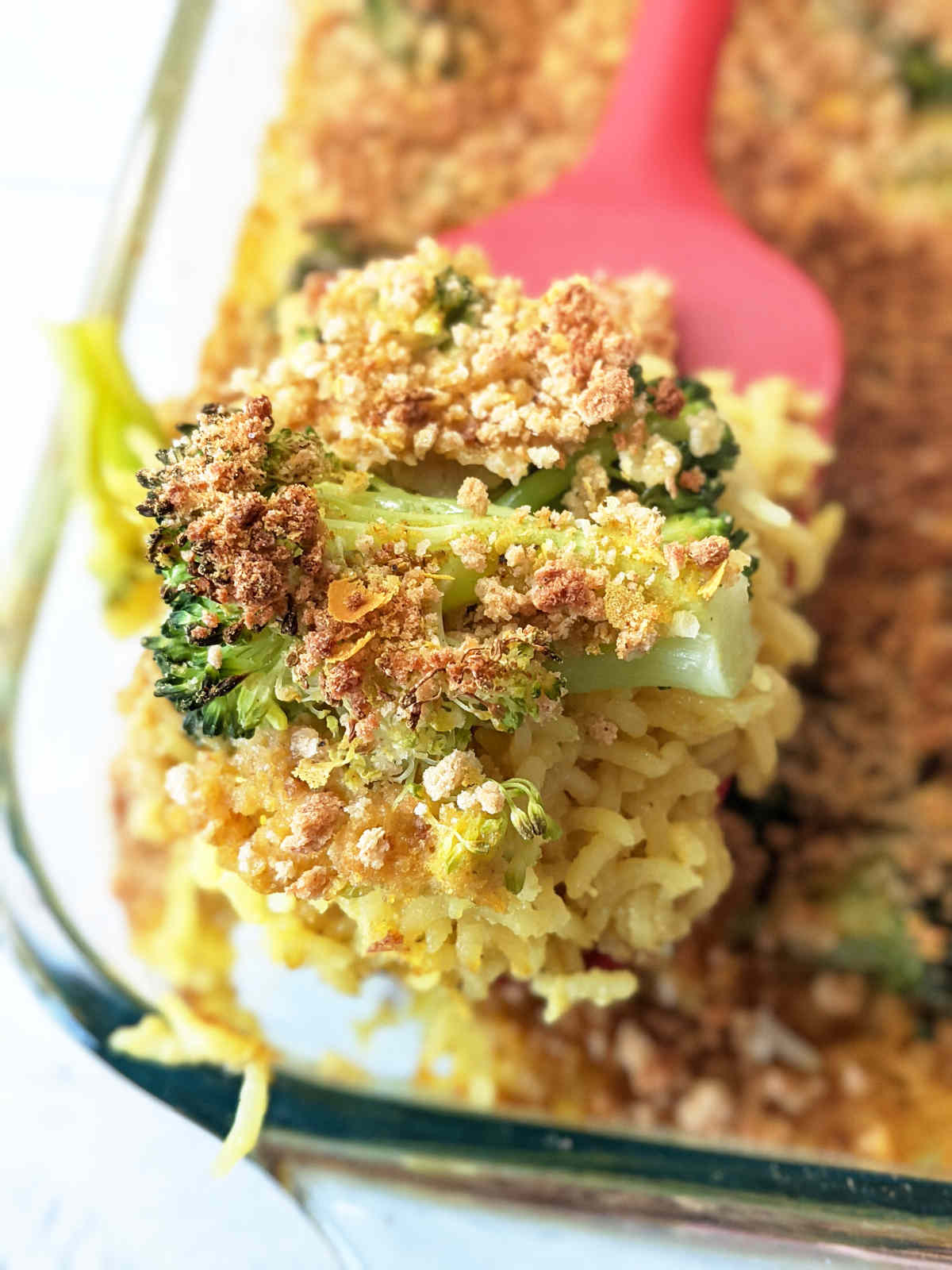 Do you love chicken and rice casseroles? Then you're going to love this creamy broccoli rice casserole. It's incredibly easy to make—just dump and bake! Great for meal prep and a recipe the whole family will love!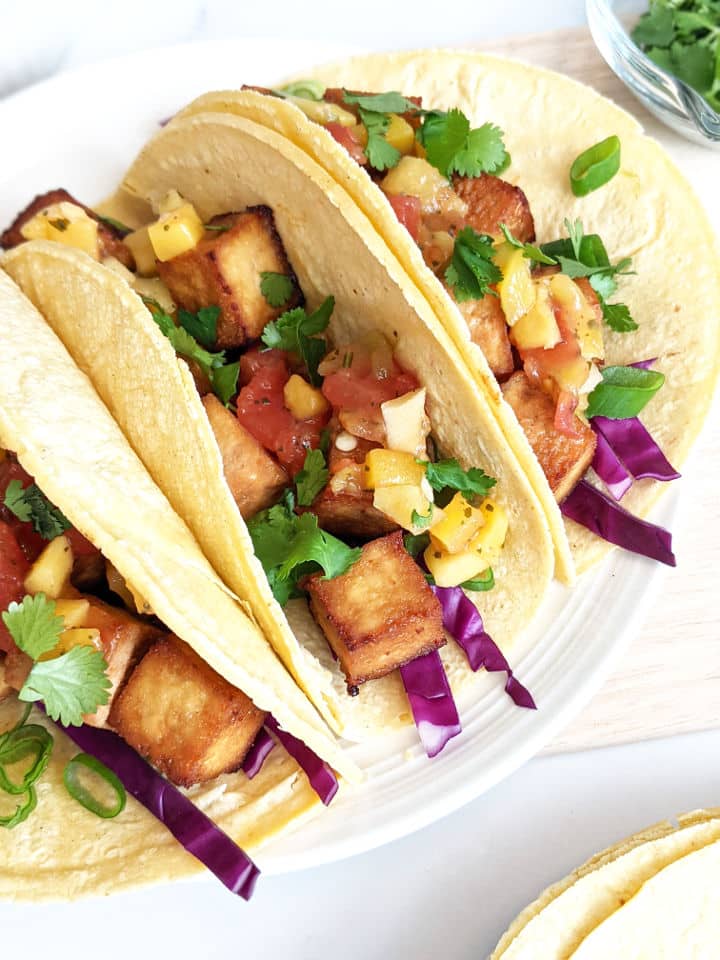 It's easy to make meat-free tacos with beans, but if you really want to up your game, make crispy tofu tacos! Packed with protein, fresh veggies, fiber and flavor and comes together in 30 minutes!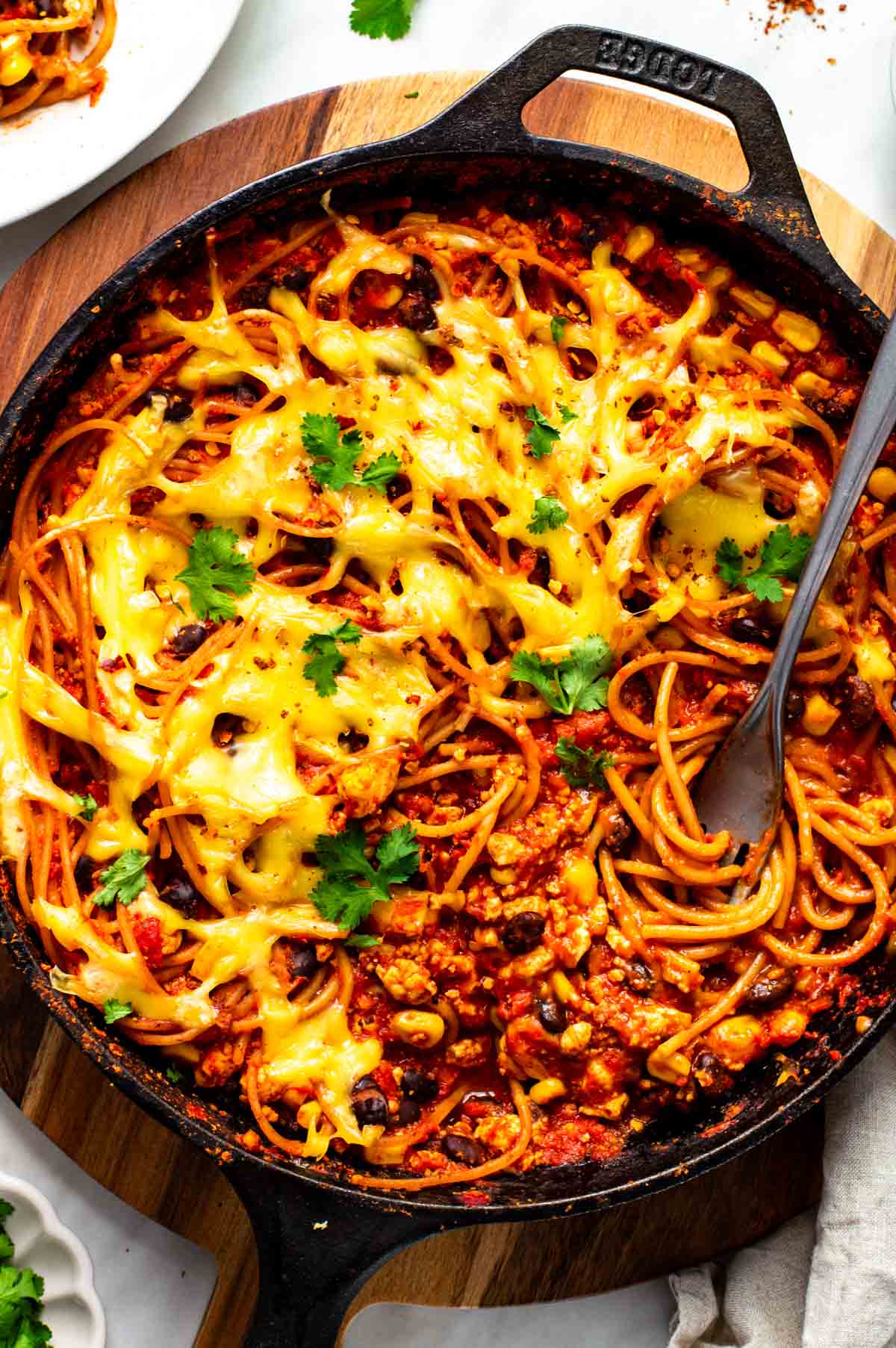 This fusion dish blends the beloved Italian classic with the bold and vibrant flavors of Mexico. Made in one pot, perfectly cooked spaghetti bathes in a zesty, spicy tomato sauce.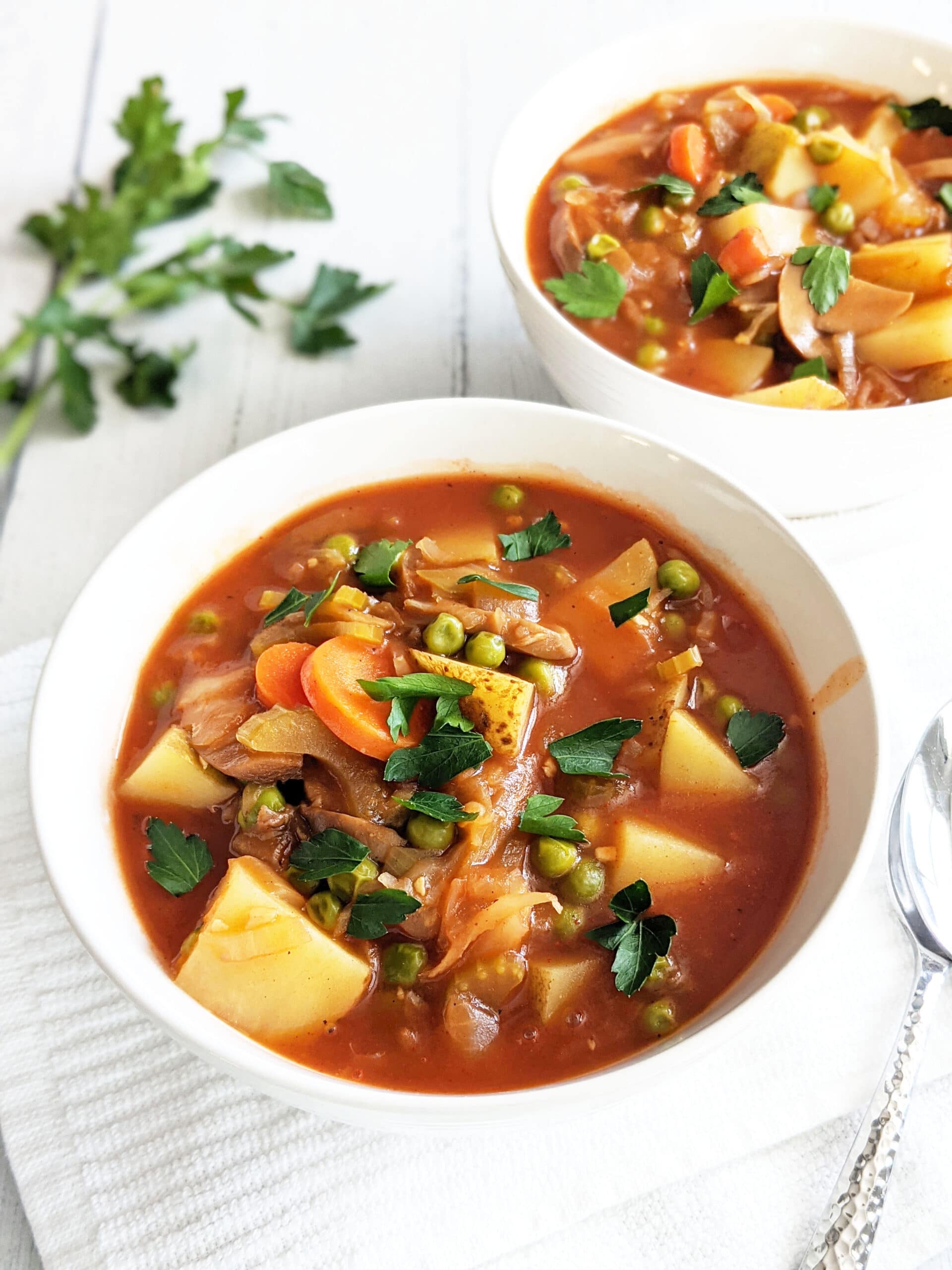 Enjoy this hearty vegetable Irish Stew that's easy to make and super savory! Made with peas, potatoes, and mushrooms—it's the ultimate comfort food! All you need is one pot and 45 minutes.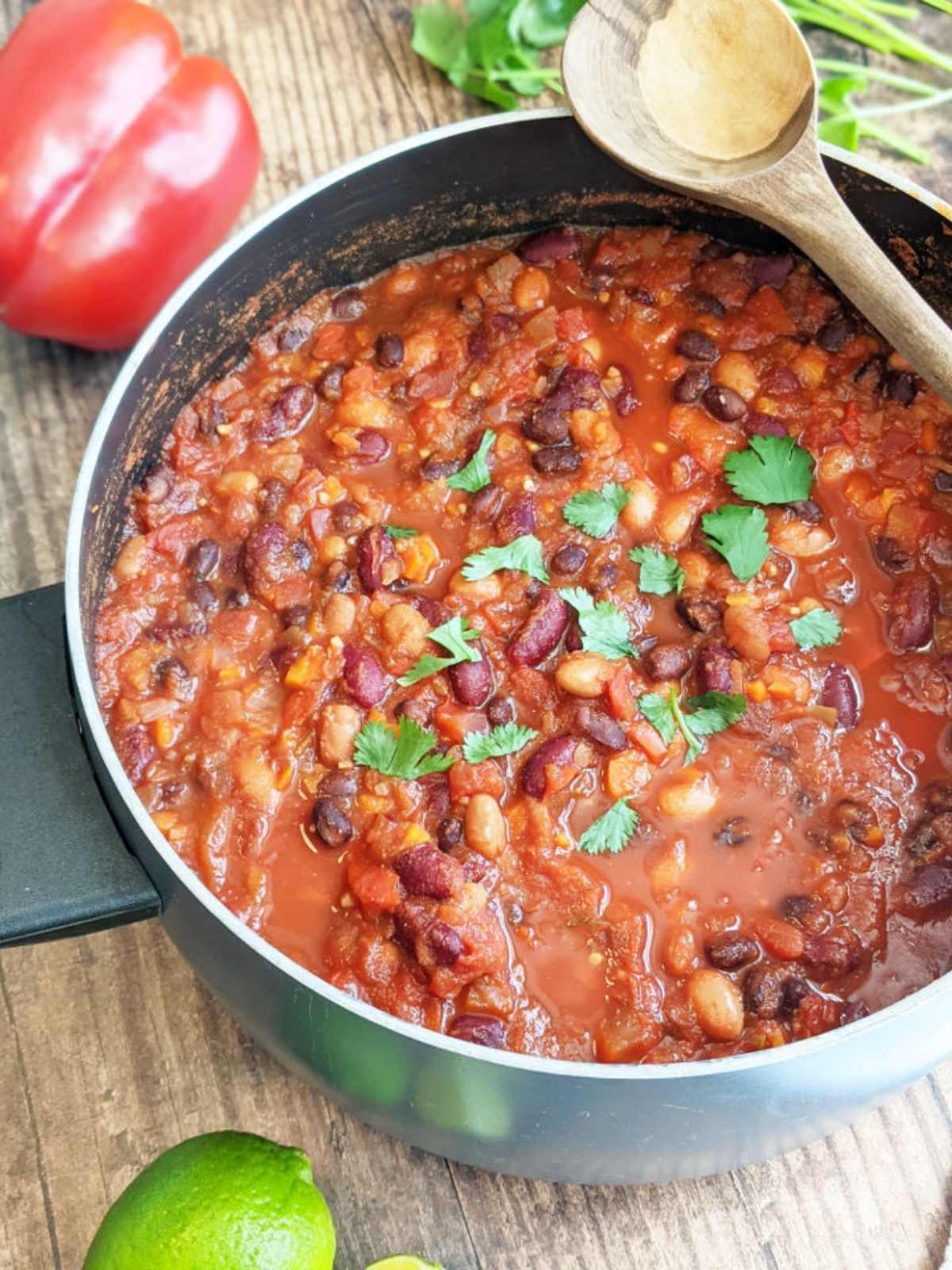 This Chili Sin Carne is the best vegan and vegetarian chili! It's extra hearty using three different beans and is easy to customize—like it spicy? Up the chili powder! Got some veggies about to go bad? Throw them in! To round it out, serve it over rice and top it with some vegan sour cream.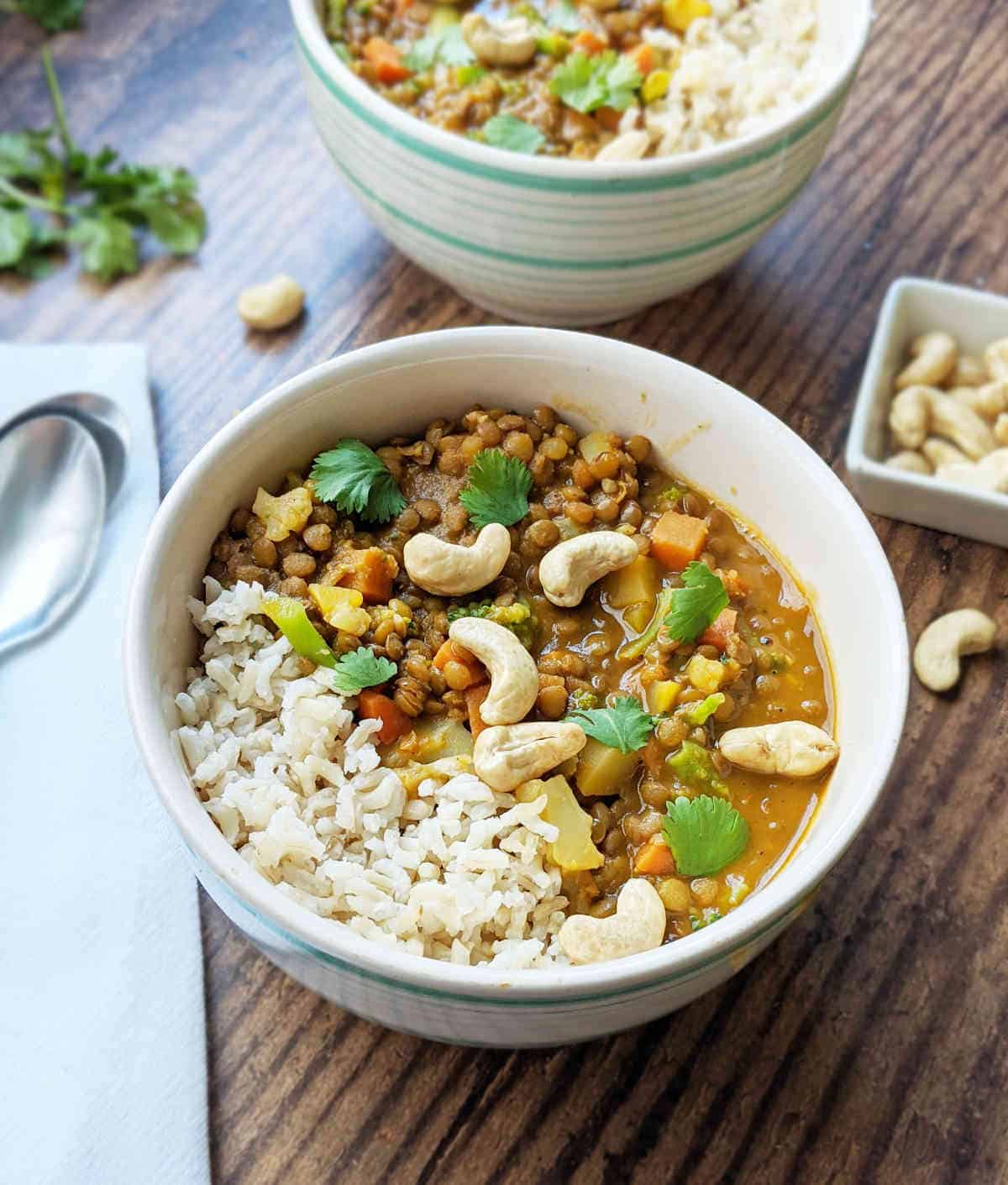 This curry is on repeat in our household because it's so simple to make, and requires only pantry and freezer ingredients. You can easily whip this up on a weeknight or meal prep it ahead of time on the weekend. It reheats so well, and I might even argue it gets better with time!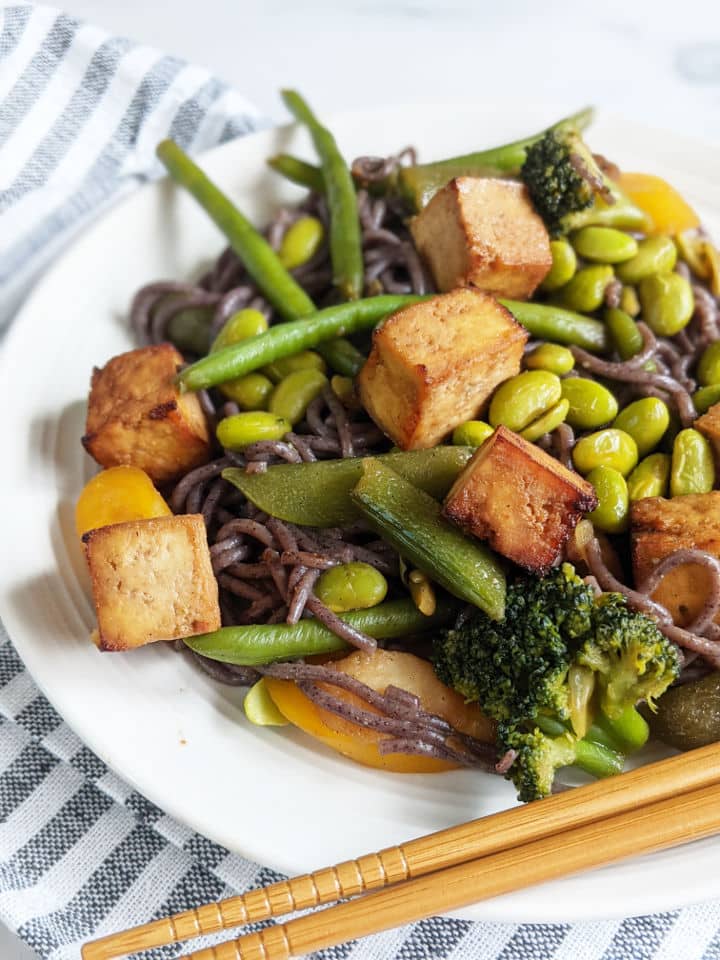 This tofu stir fry is an easy and filling meal, packed with over 30 grams of protein! Requiring only 45 minutes to make, it's perfect for when you want something delicious without spending hours in the kitchen.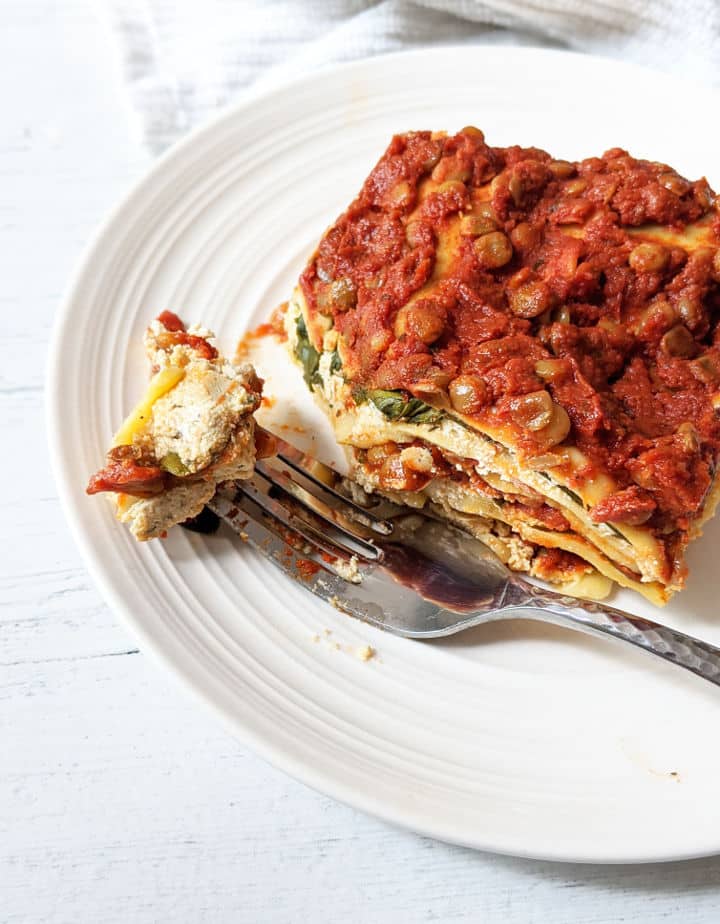 No meat needed to make a truly delicious and meaty lasagna! This vegan lasagna replaces the meat with lentils for a healthy plant-based meal that's full of flavor! You'll be wanting seconds!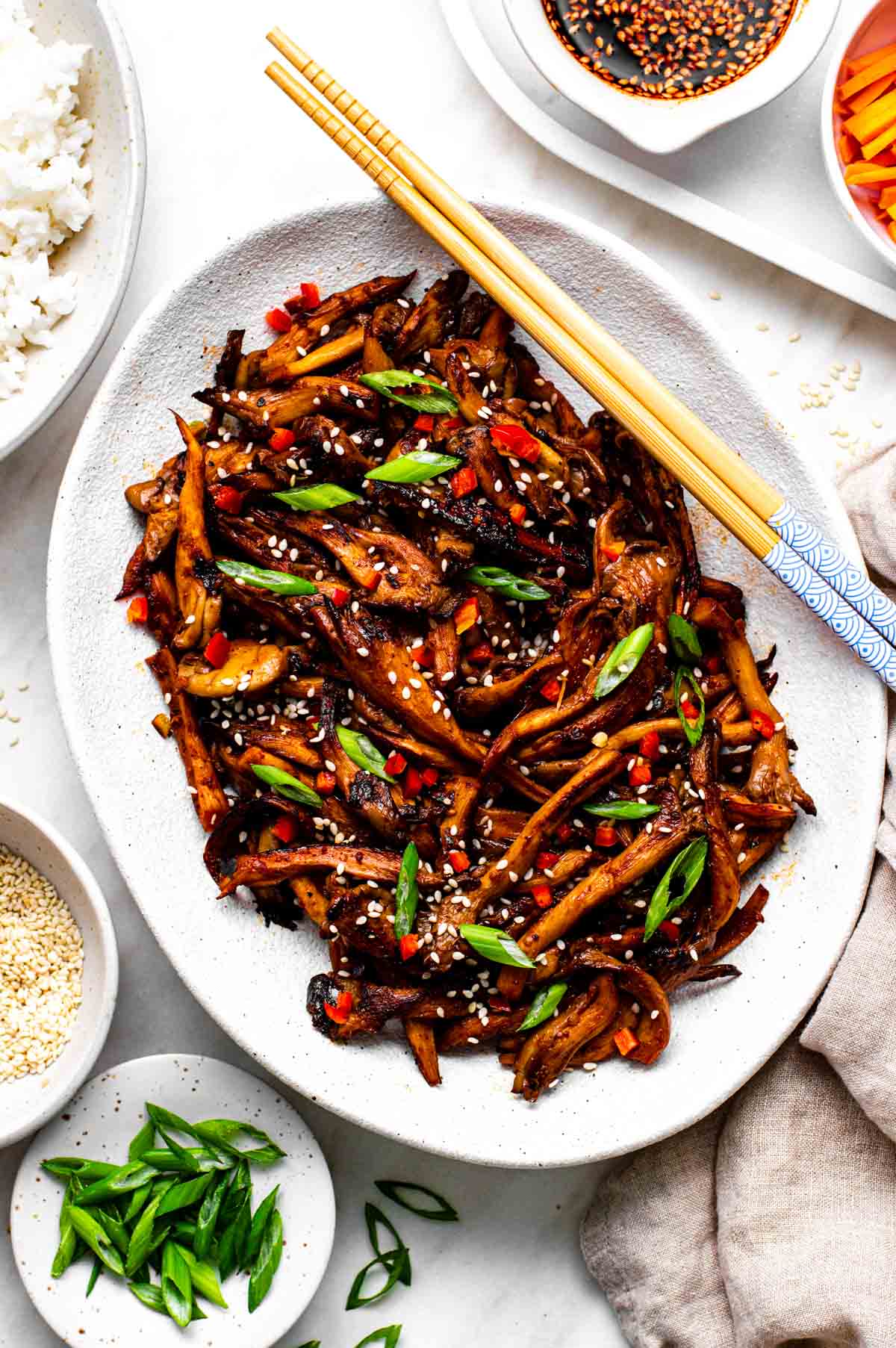 This veganized version of Korean BBQ beef is made with oyster mushrooms to provide that meaty texture! Simply marinate, sauté and serve over a bed of rice!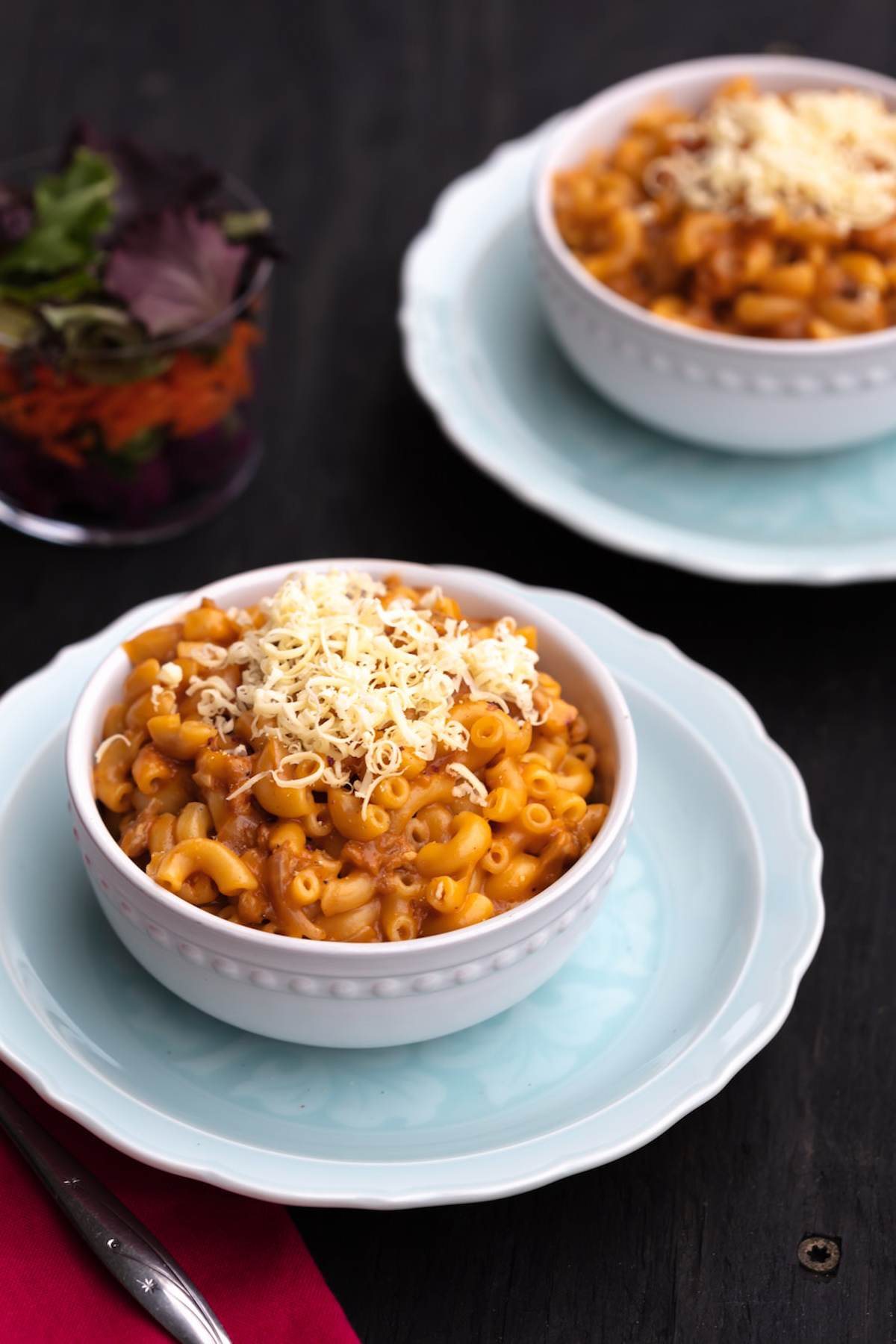 This recipe for vegan homemade hamburger helper has both stovetop and instant pot instructions that are easy to follow and healthier than the packaged version.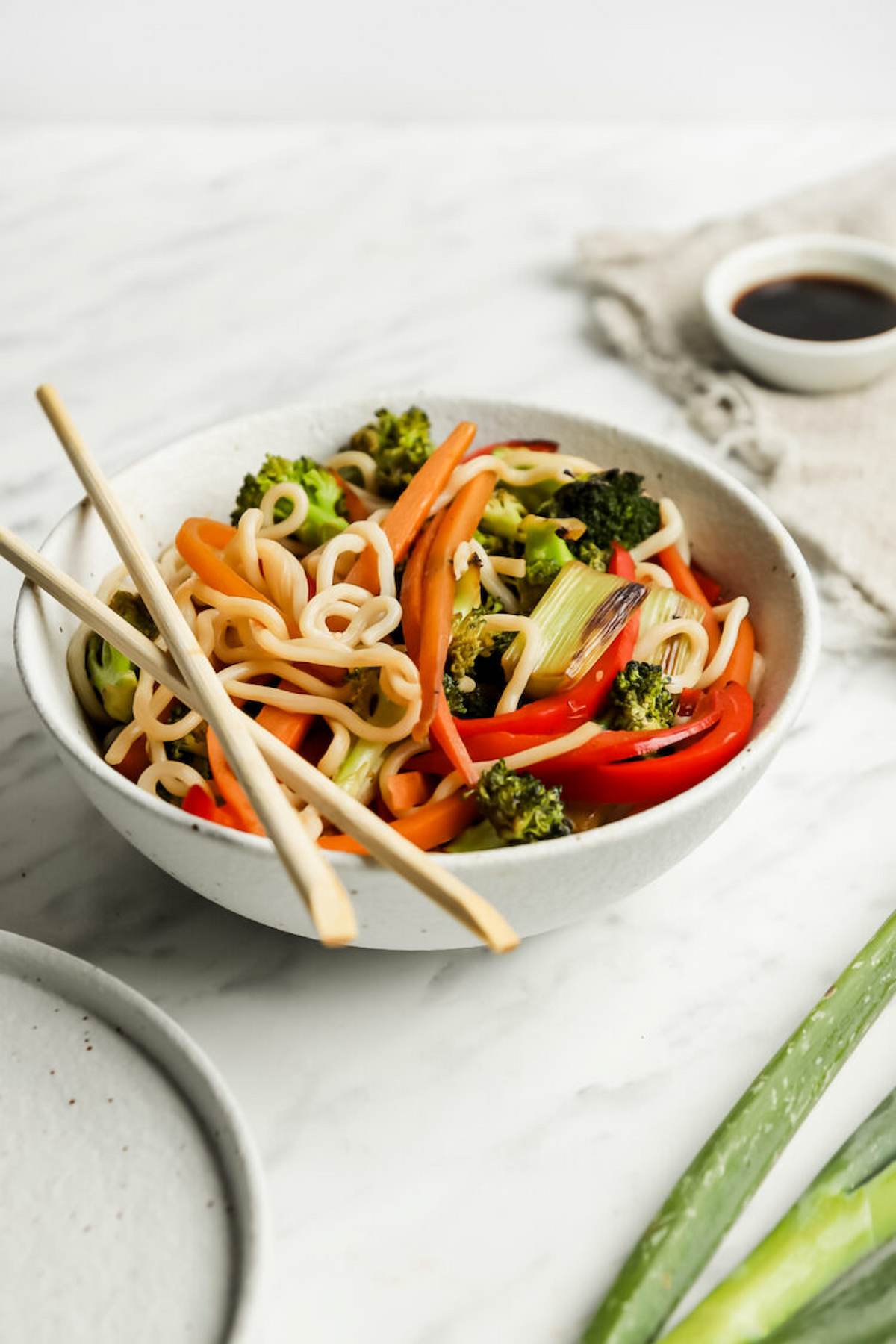 This is an easy veggie ramen recipe ready in 10 minutes that satisfies both kids and adults alike. Just combine vegetables, ramen noodles, and mirin for a quick and simple meal.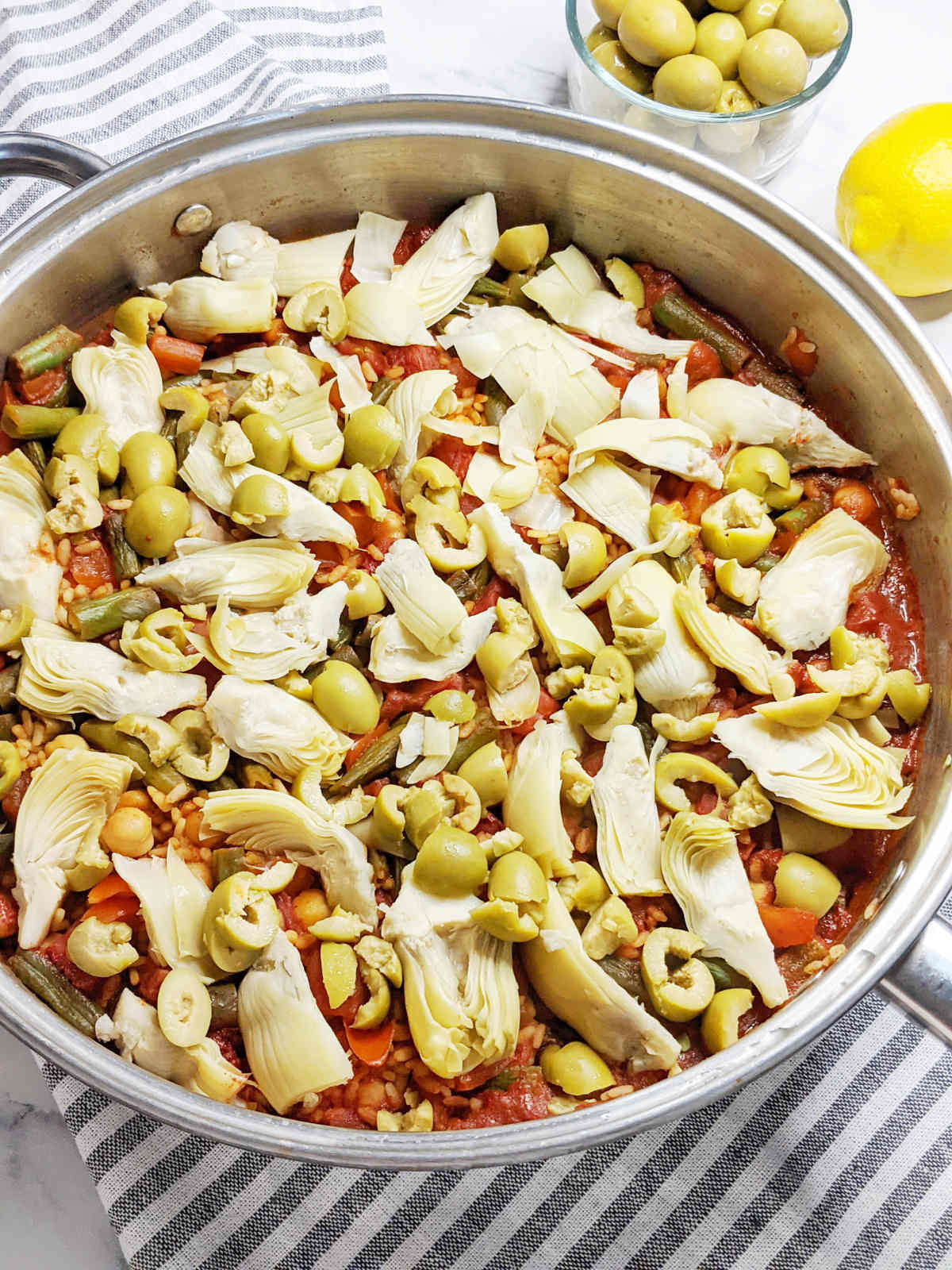 A classic Spanish Paella is easy to make without any meat! It's topped with artichokes and European olives that are bursting with flavor and can be made in one pan for easy kitchen cleanup!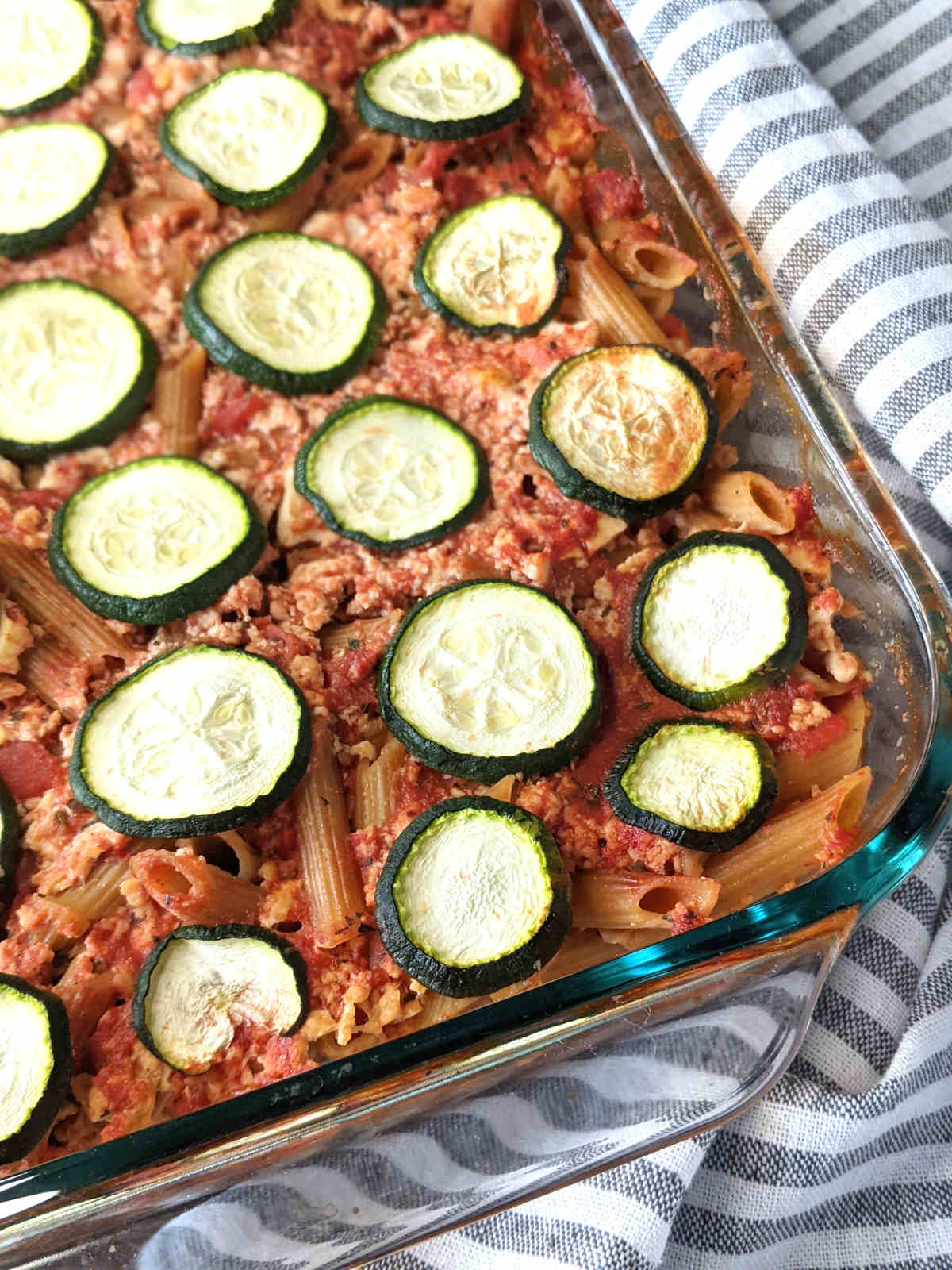 Are you the kind of person that likes truly low effort meals? Then this easy dump and bake recipe is for you! Baked vegan pasta takes hardly any time to prepare—simply mix your ingredients together, dump them into your baking dish, and bake. It couldn't get easier!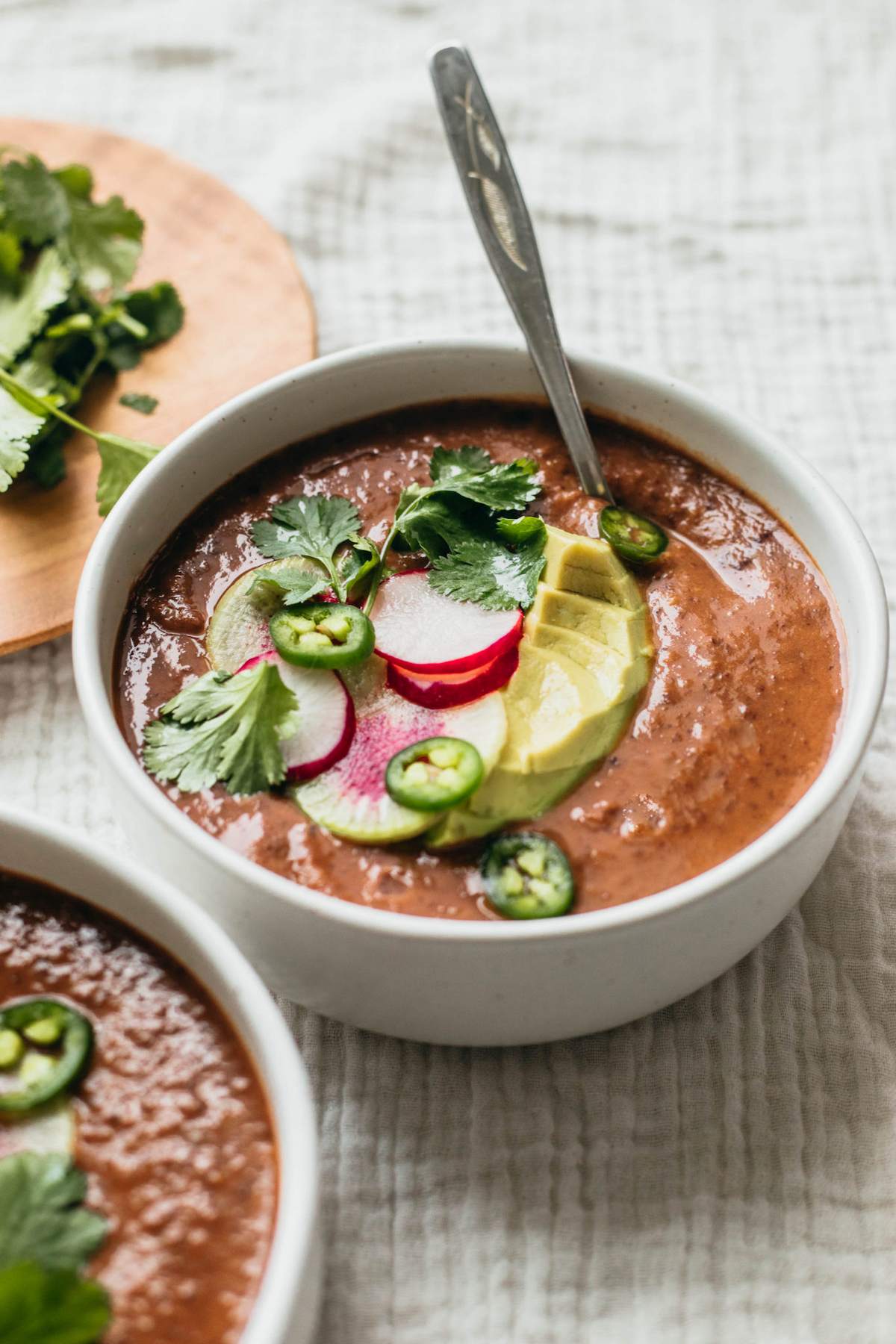 Quick and easy spicy black bean soup is loaded with protein thanks to black beans and is affordable to make. Bonus: It's ready in just 45 minutes!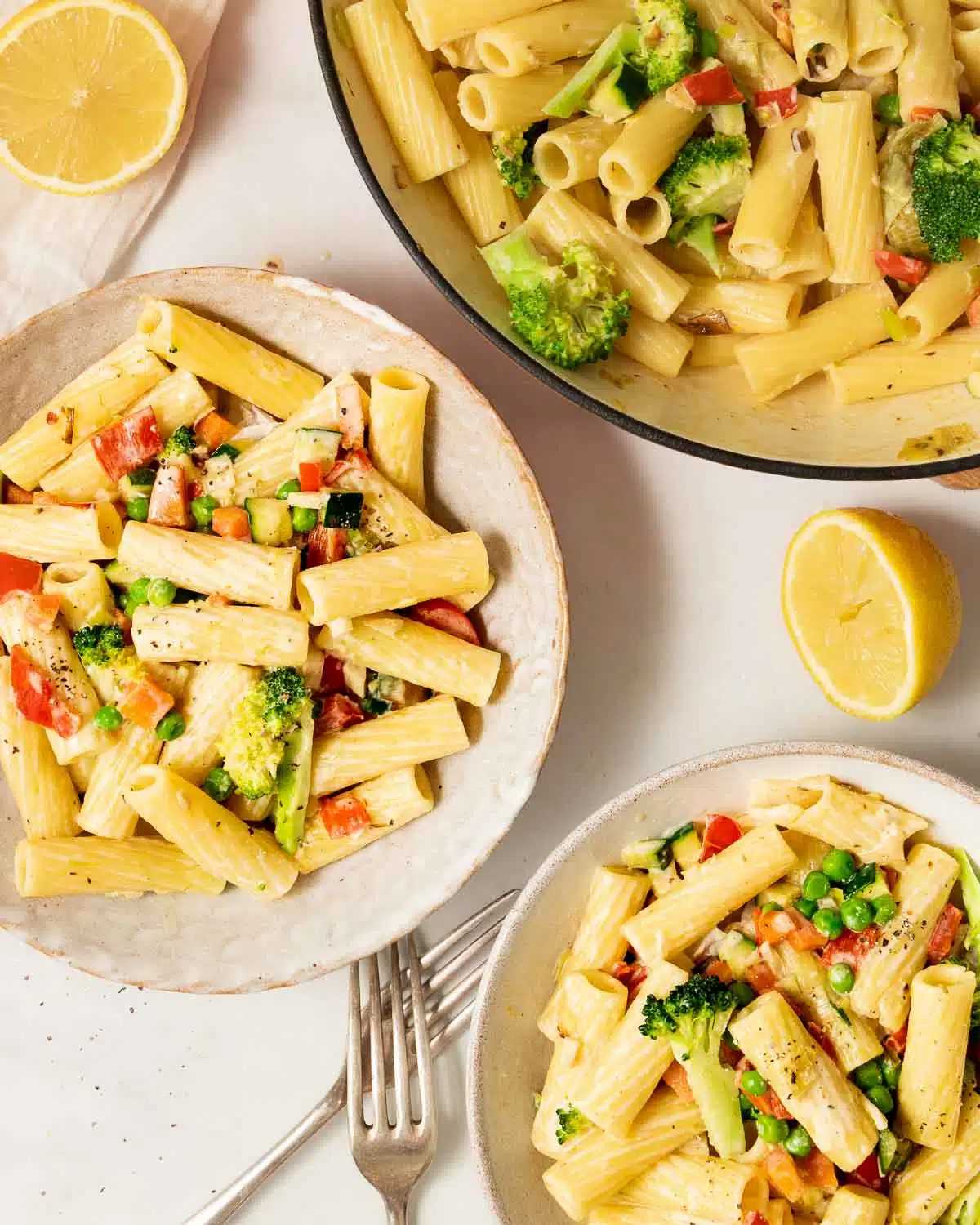 Vegan dinner doesn't need to be complicated. This easy creamy veggie pasta is made in under 20 mins, is super cheap plus you can use all your fave veggies.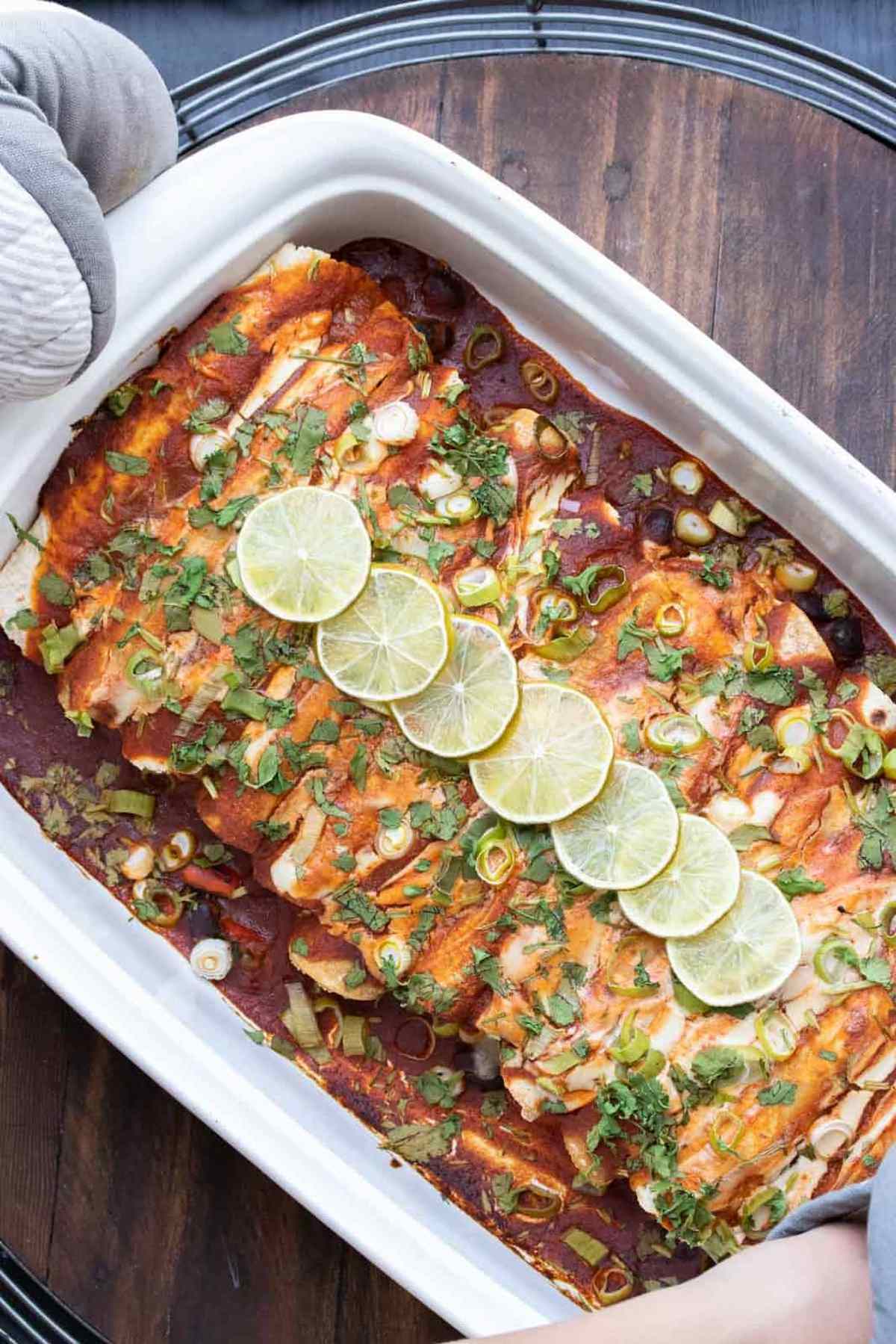 These black bean enchiladas are absolutely incredible. Easy to make and perfect for feeding the whole family!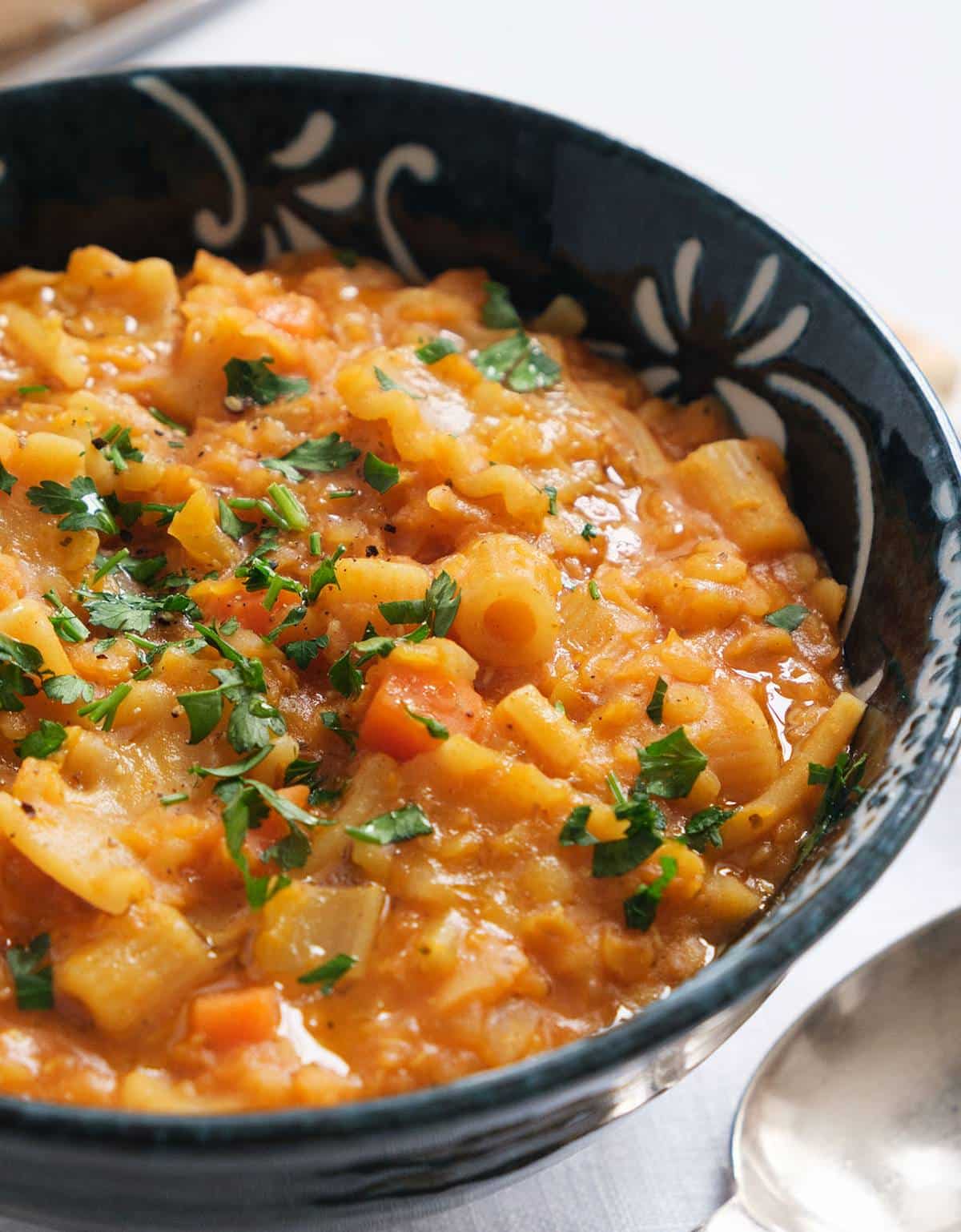 Looking for a meatless recipe that uses everyday ingredients and tastes delicious? This easy red lentil pasta is filling, slightly spicy and makes the perfect family meal.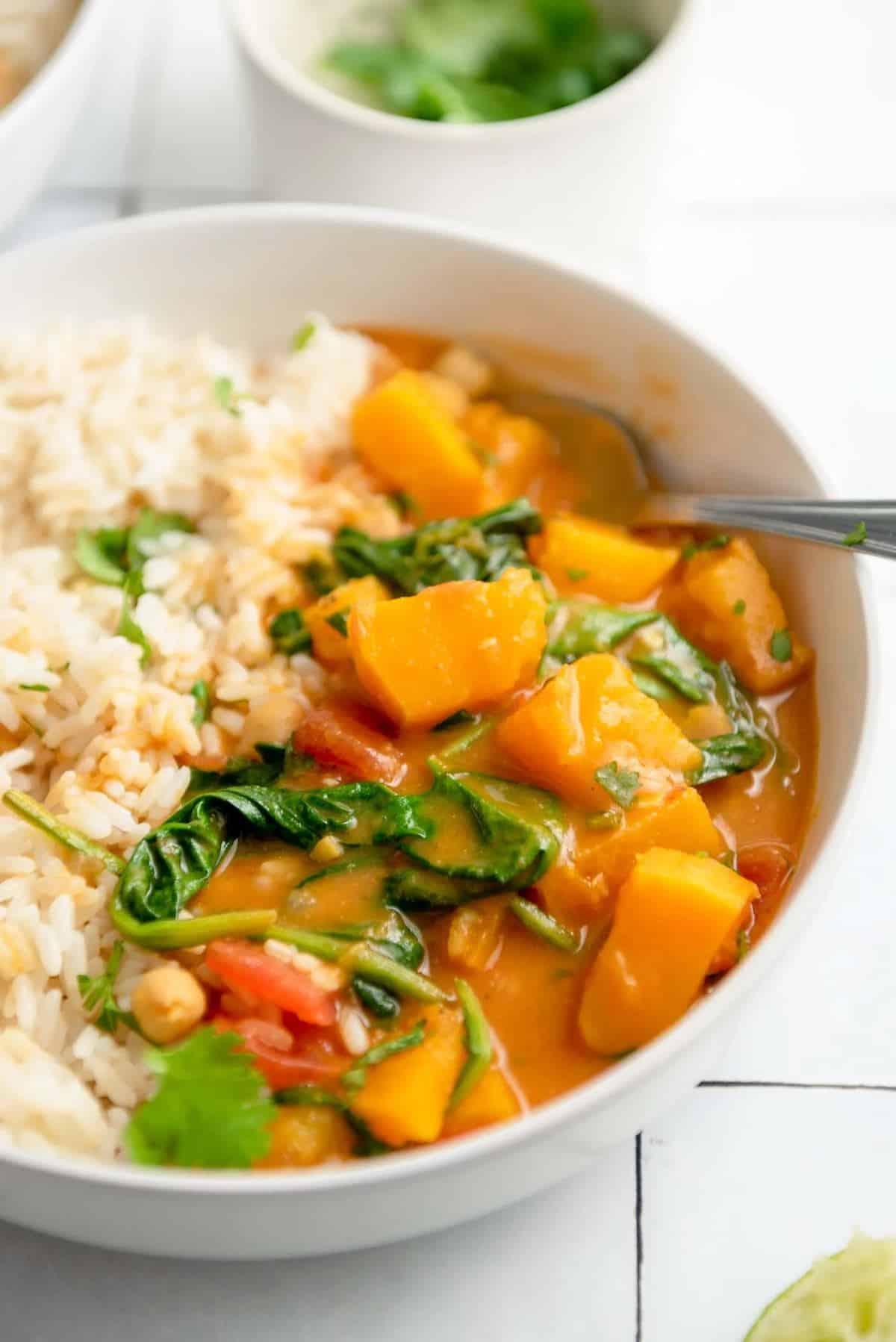 This Thai-inspired butternut squash curry is a flavorful and filling Monday night meal. Serve with rice for a comforting and easy to prepare meal in 45 minutes.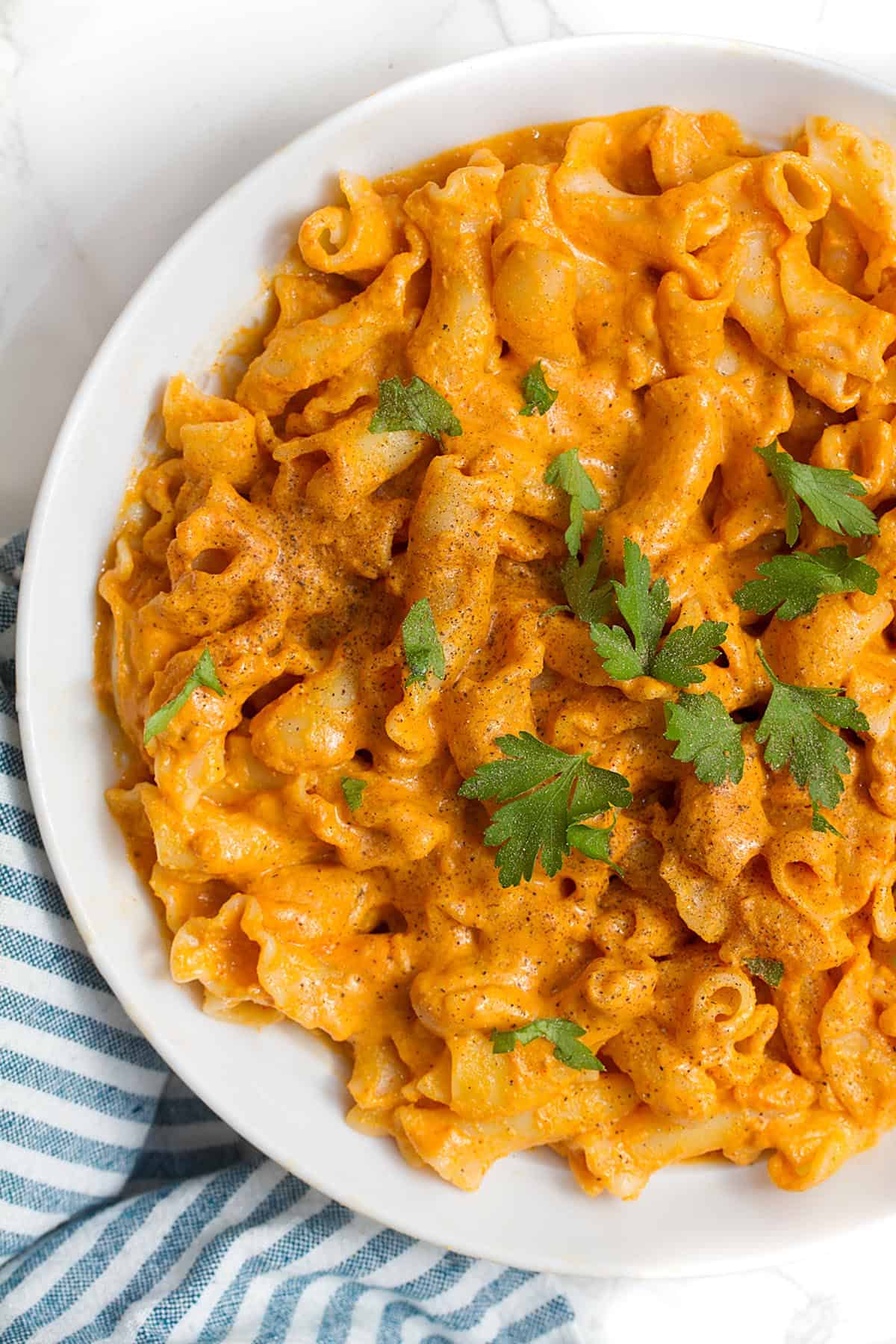 This creamy paprika pasta is made using a combination of smoked paprika and roasted red peppers. It's simple to make and the whole family will love it.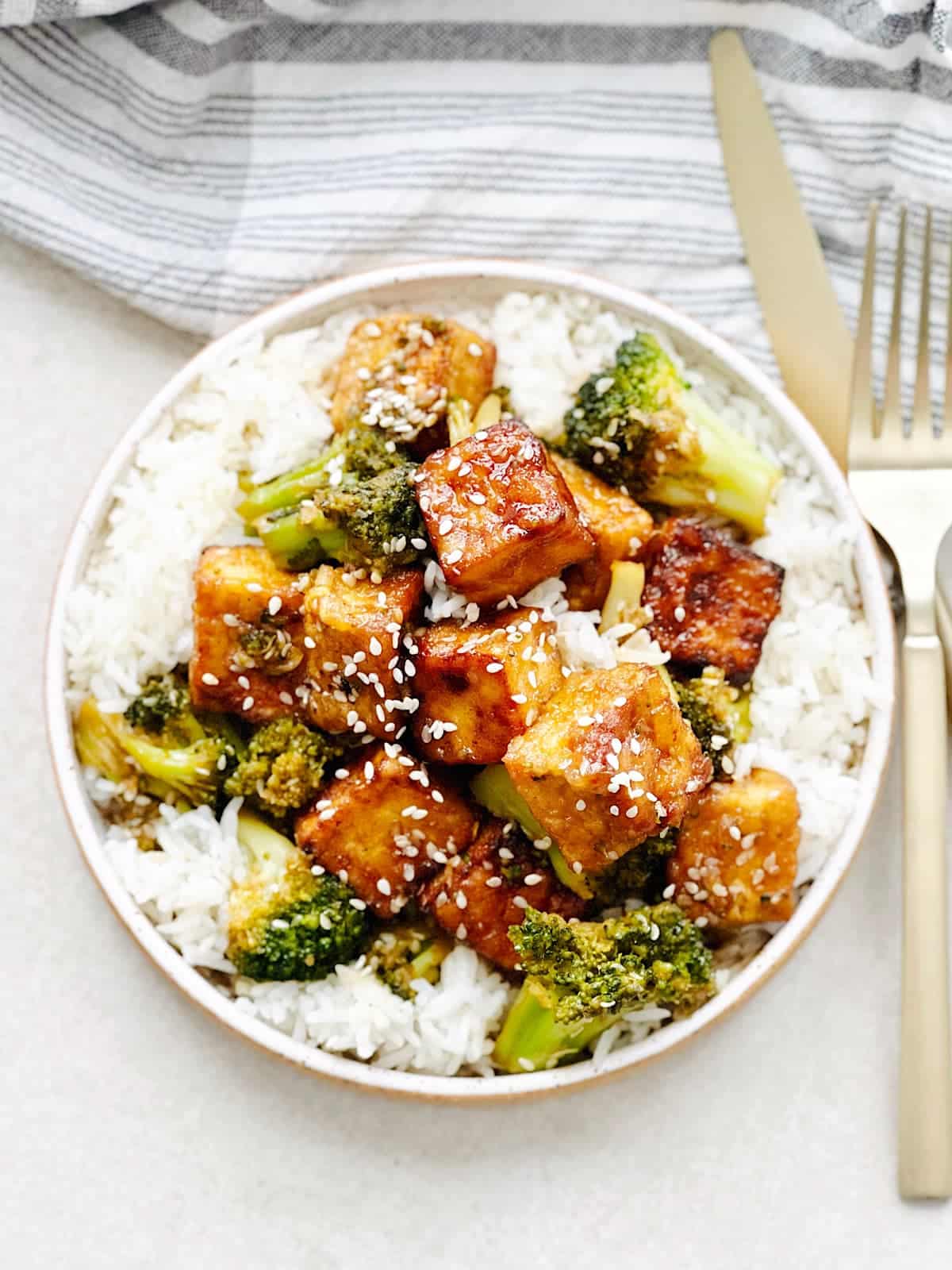 This Crispy Sticky Tofu is delicious and easy to make. It's lightly pan-fried and goes with anything for a quick weeknight dinner. Serve it with brown rice and bean sprouts or your favorite meat-free side dish.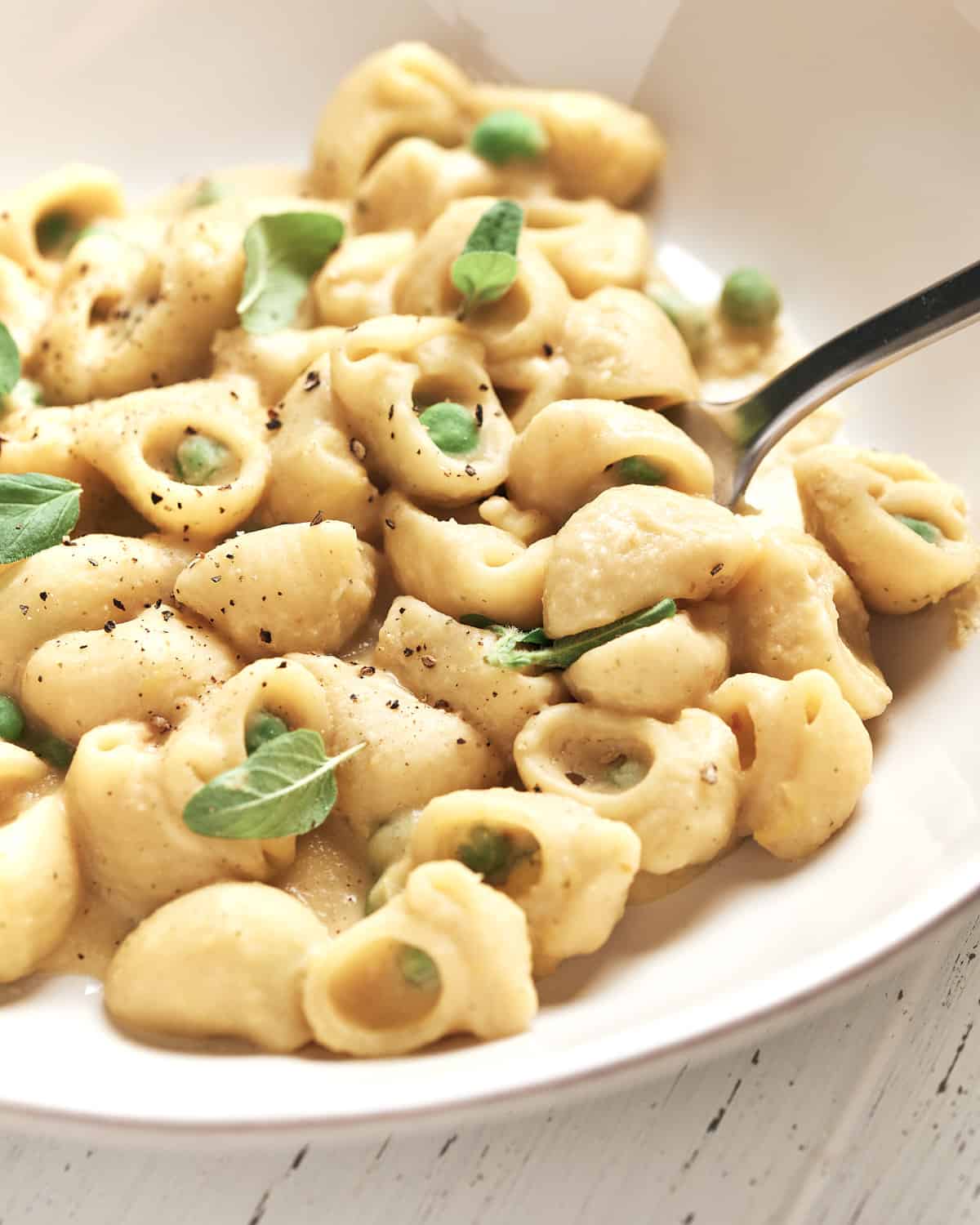 Try this vegan creamy pasta with peas for a delicious dinner! It's easy to make and perfect for Meatless Mondays.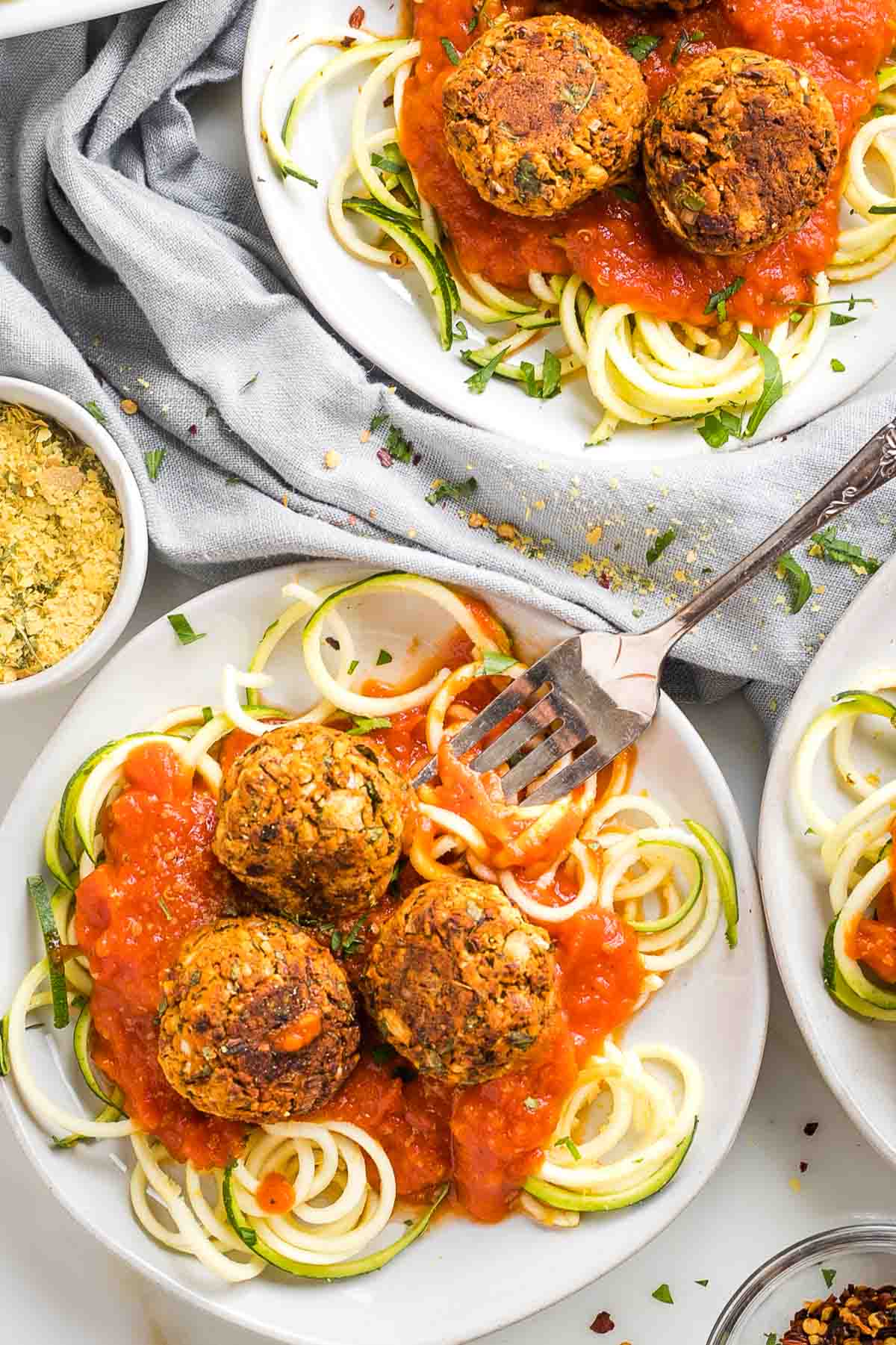 Plant based meatballs are easy to make and so delicious. For a quick meat-free dinner, pair them with your favorite sauce and serve over zucchini noodles or pasta.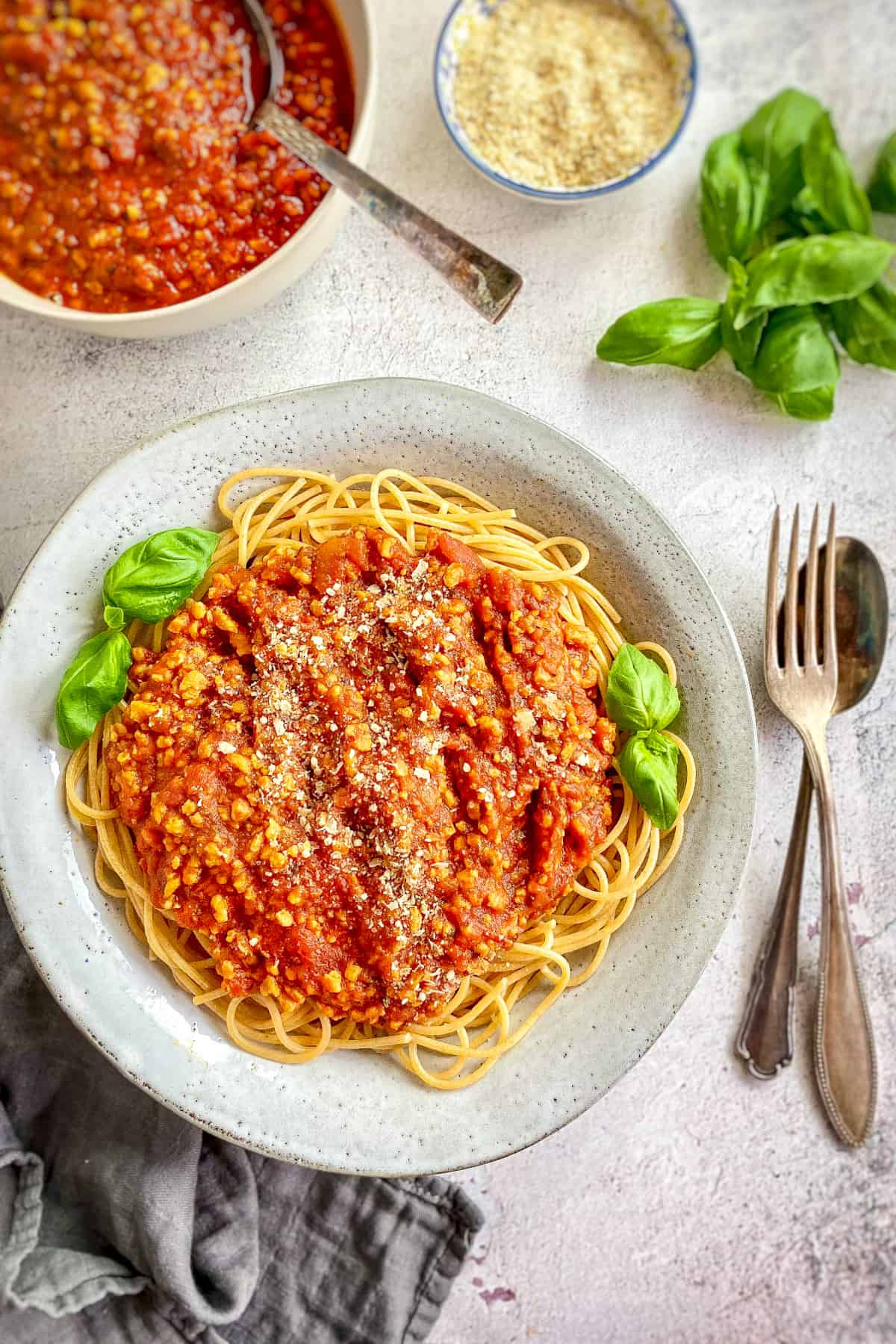 Want something familiar and easy? This Vegan Spaghetti with "meat" sauce is your answer! It comes together in minutes and is great for kids and picky eaters!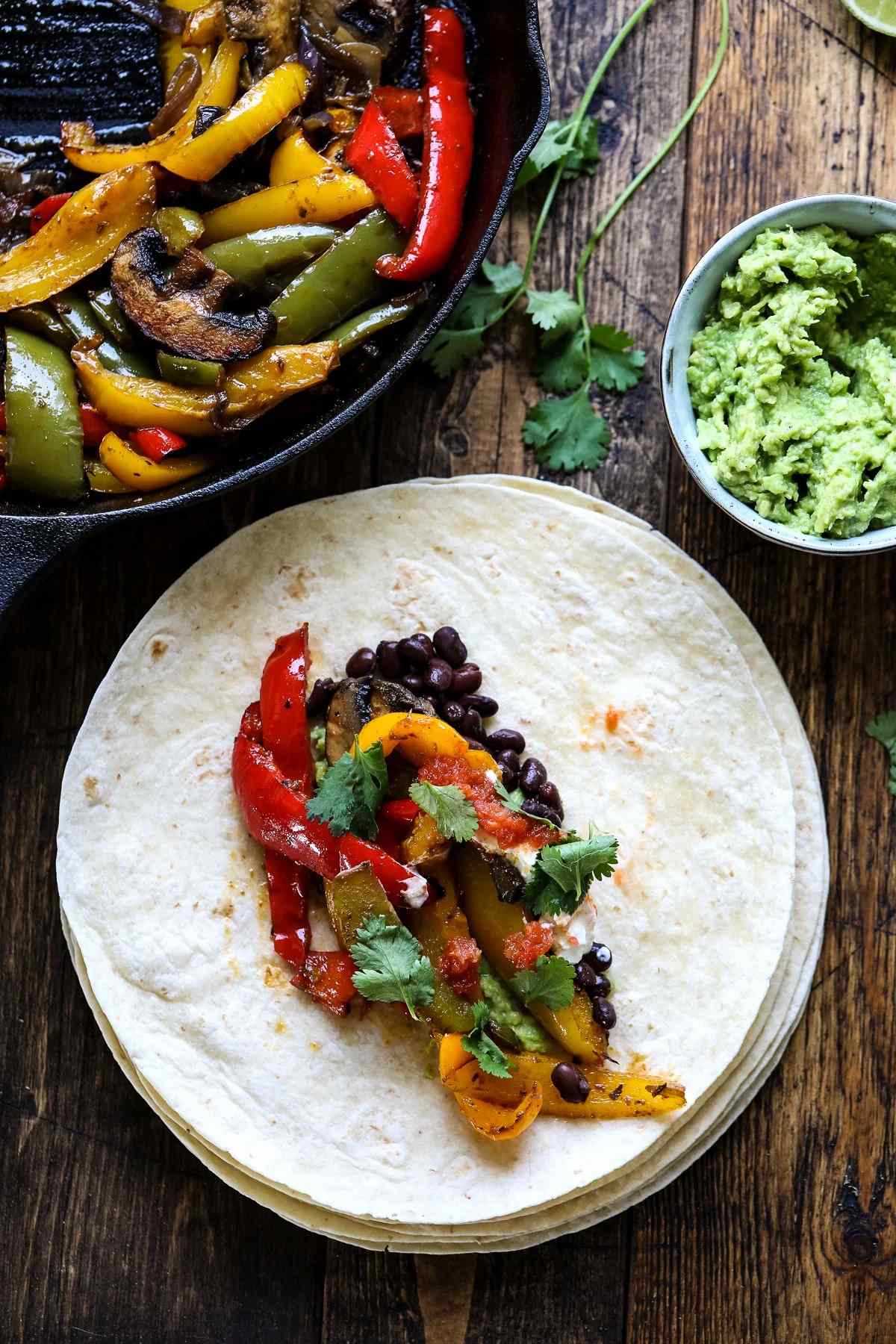 With a handful of simple ingredients you can enjoy this quick and easy veggie fajita recipe. It's loaded with plant-based protein and makes a satisfying dinner in under 30 minutes.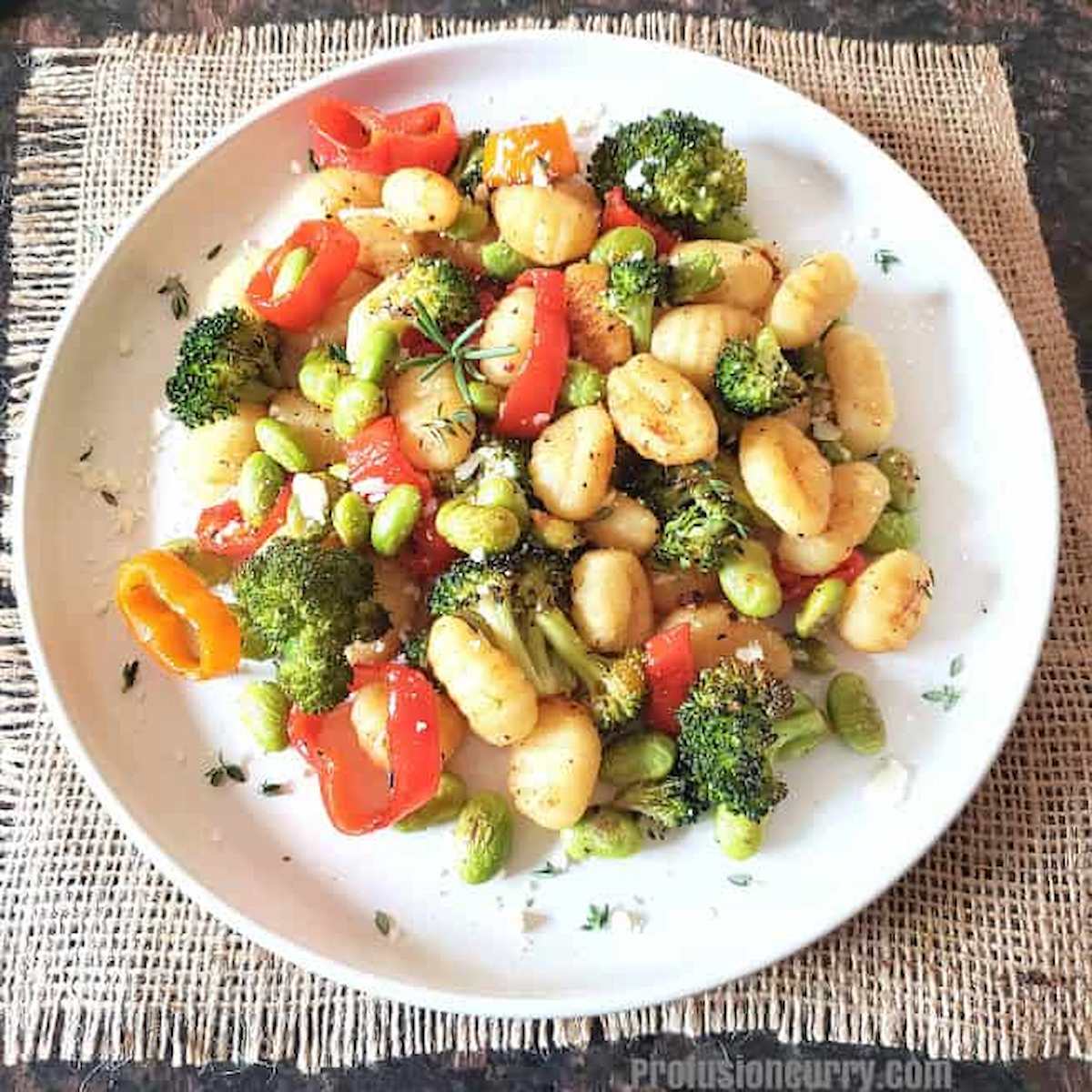 This Sheet Pan dinner with gnocchi and vegetables is simple, healthy, quick and easy. It also is hearty, comforting and wholesome. And the best part? It's completely customizable so the whole family will love it.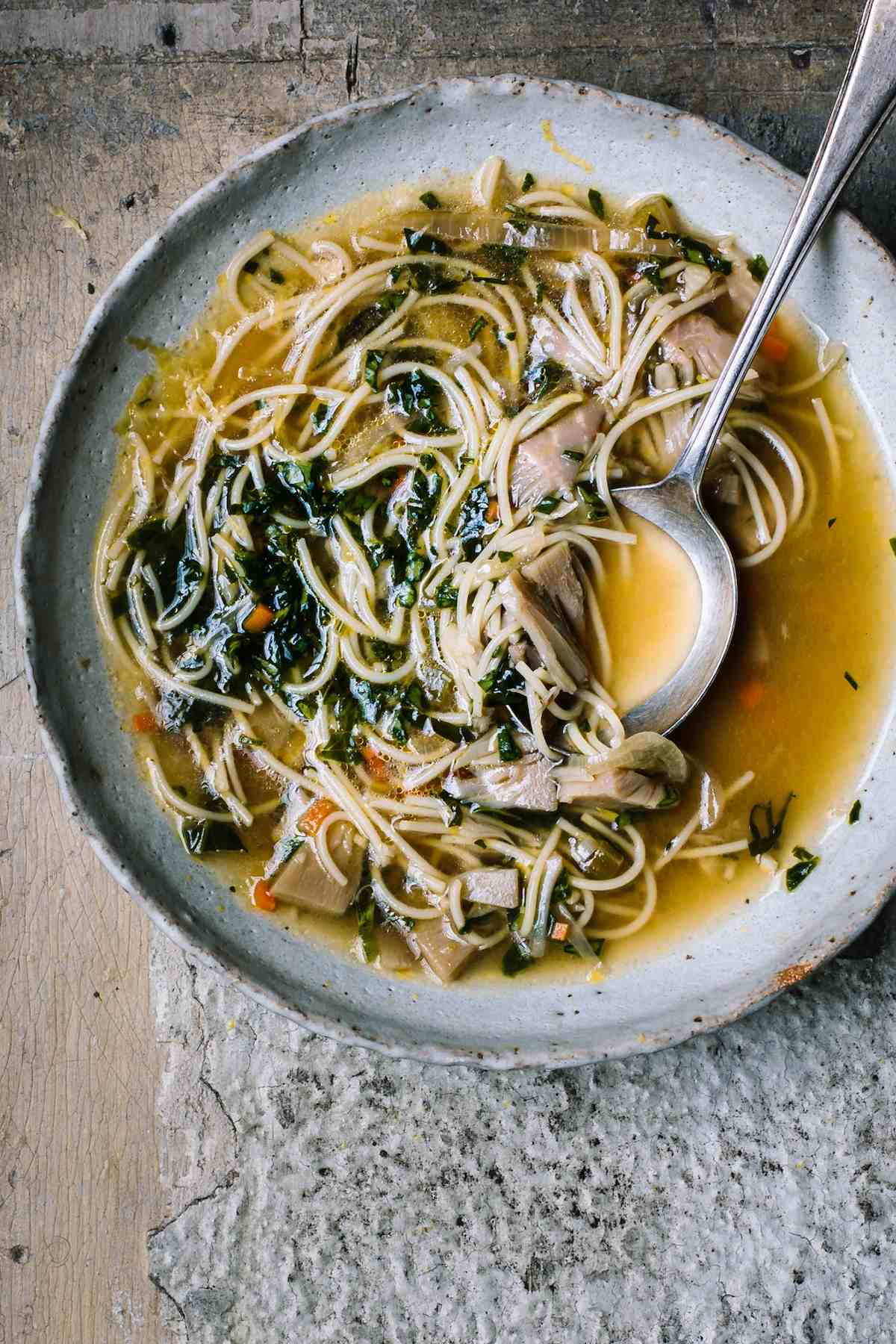 A completely authentic tasting chicken noodle soup made with jackfruit. This soup is comforting and familiar but made with plants to make eating less meat as seamless as possible!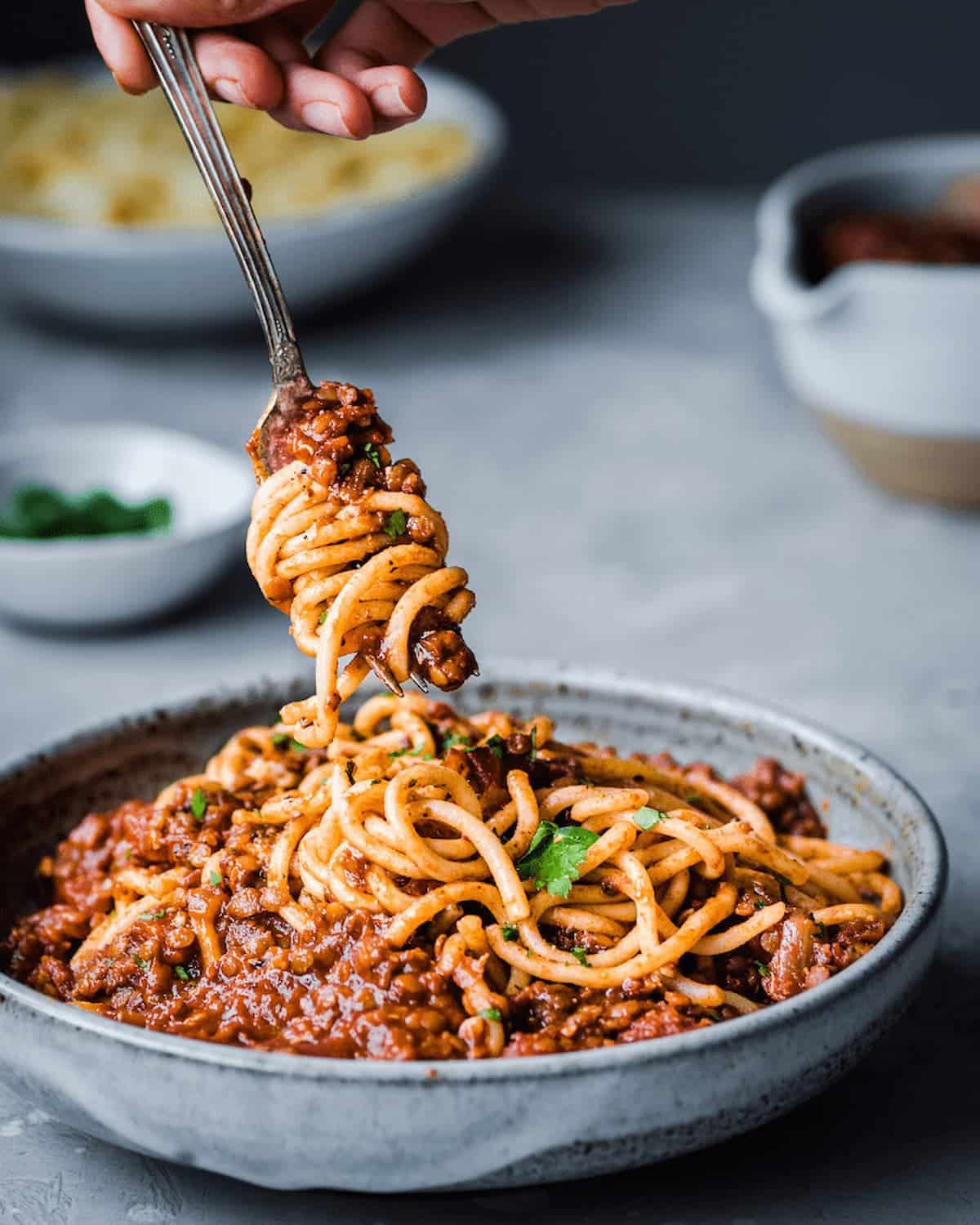 For a hearty, meaty meal that's packed with umami flavor, this lentil bolognese is a must! It's 100% wholesome, vegan, gluten-free, and made with just 10 main ingredients—all pantry staples!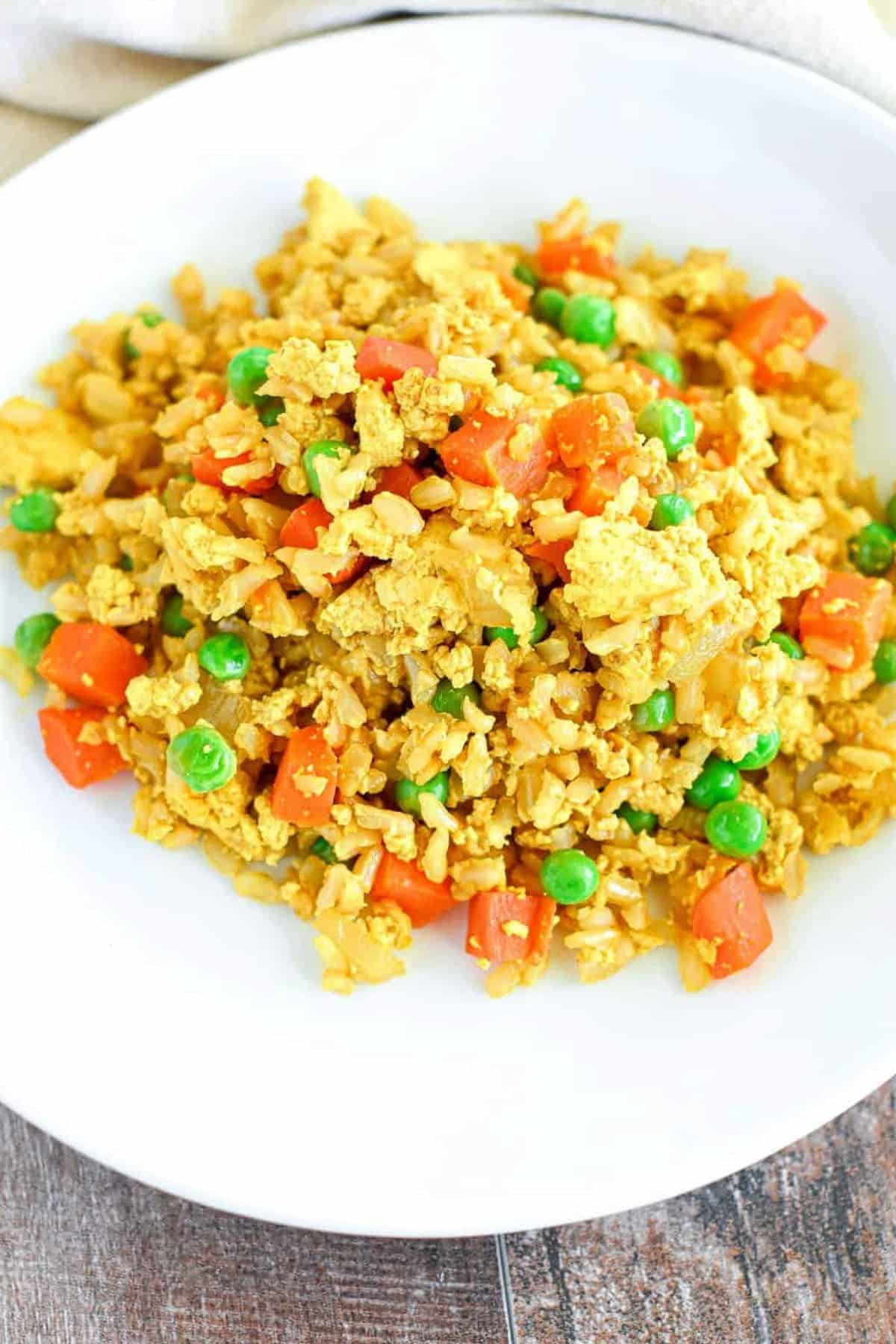 This easy vegan fried rice is made with simple ingredients and cooks up in just 10 minutes! Enjoy it on its own or serve it with your favorite plant-based protein.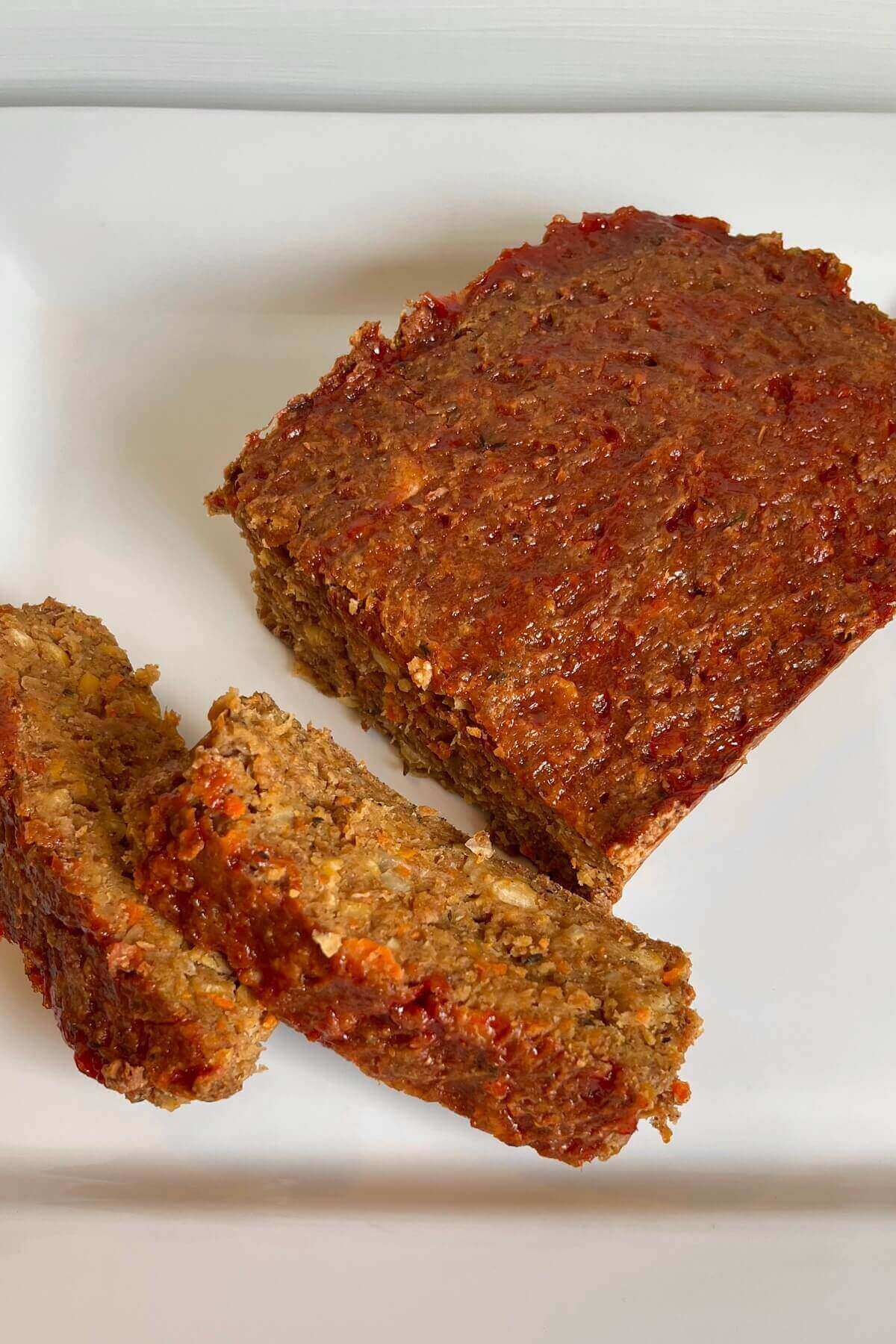 This mouthwatering meatless meatloaf is filling and flavor loaded. It's easy to make and nutrient dense.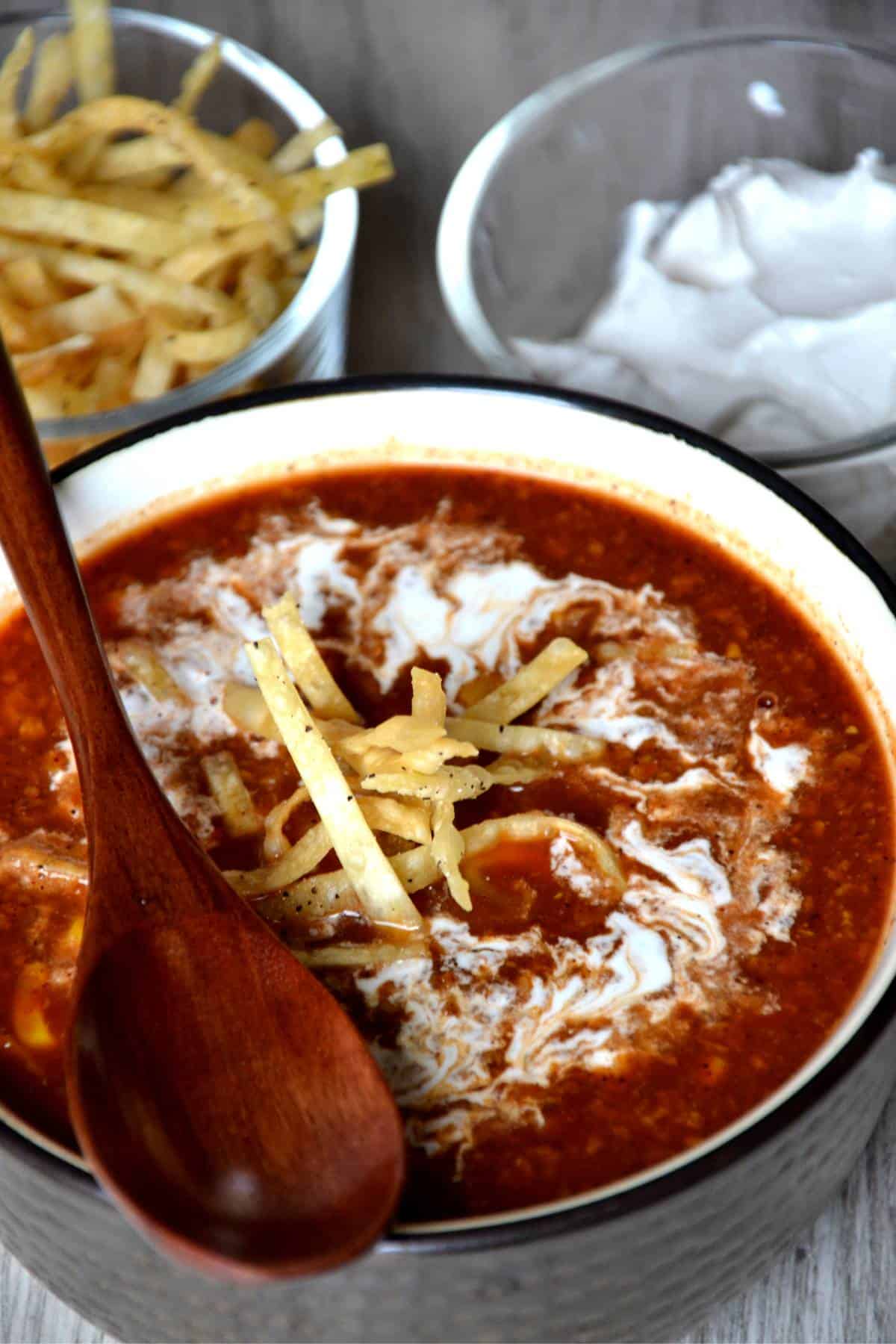 This vegan slowcooker taco soup is the perfect meal for any day of the week whether that's Meatless Mondays or Taco Tuesdays! Take it easy on yourself and just throw everything in, set it and forget it. It's also perfect for using up leftover rice or corn!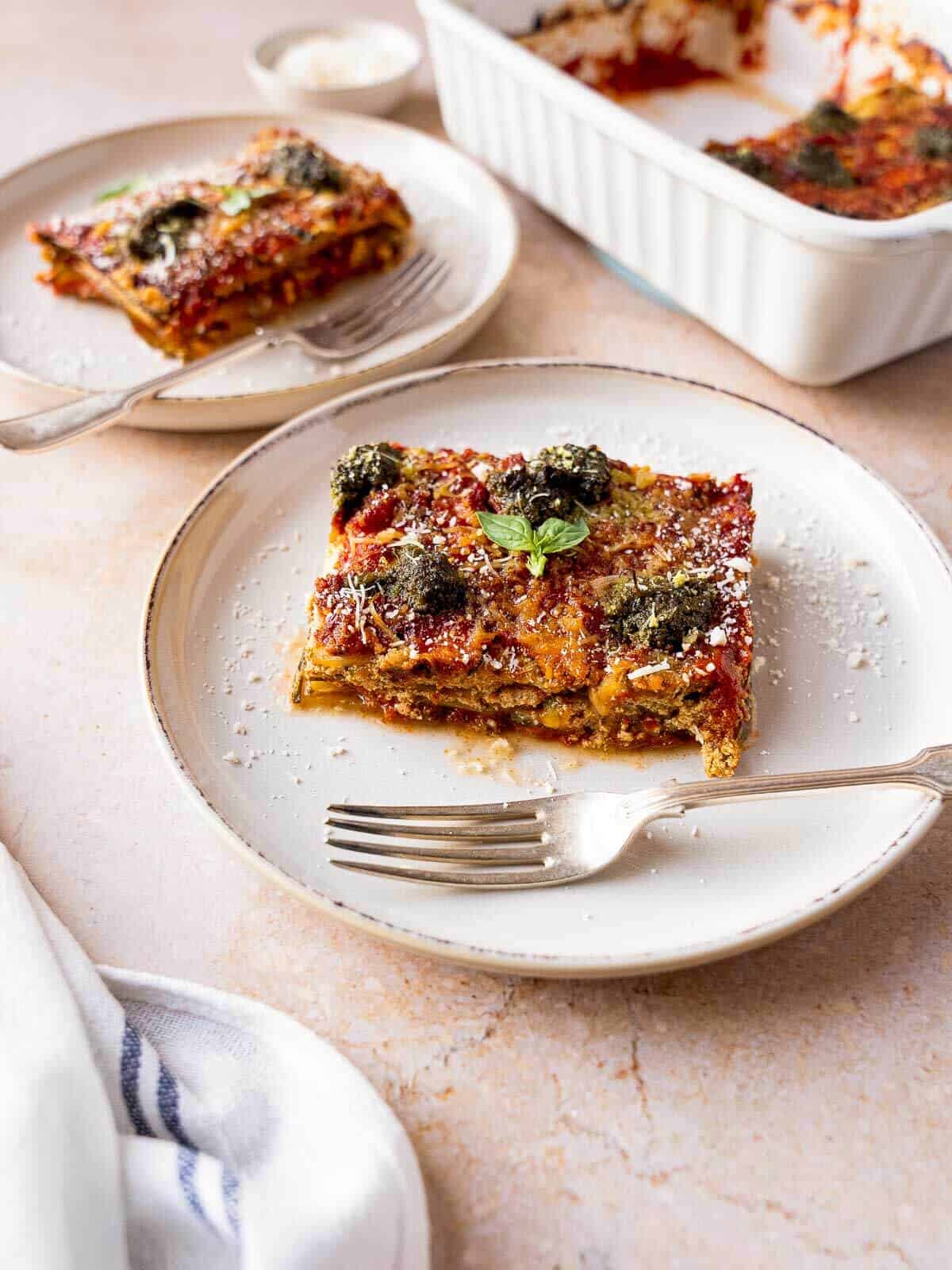 Do you love lasagna, but don't love all the carbs? Then this easy vegan gluten-free lasagna is for you! Featuring zucchini and spinach, it's a delicious and healthy alternative to the classic dish. Plus, it's so simple to make that you'll be able to have dinner on the table in no time.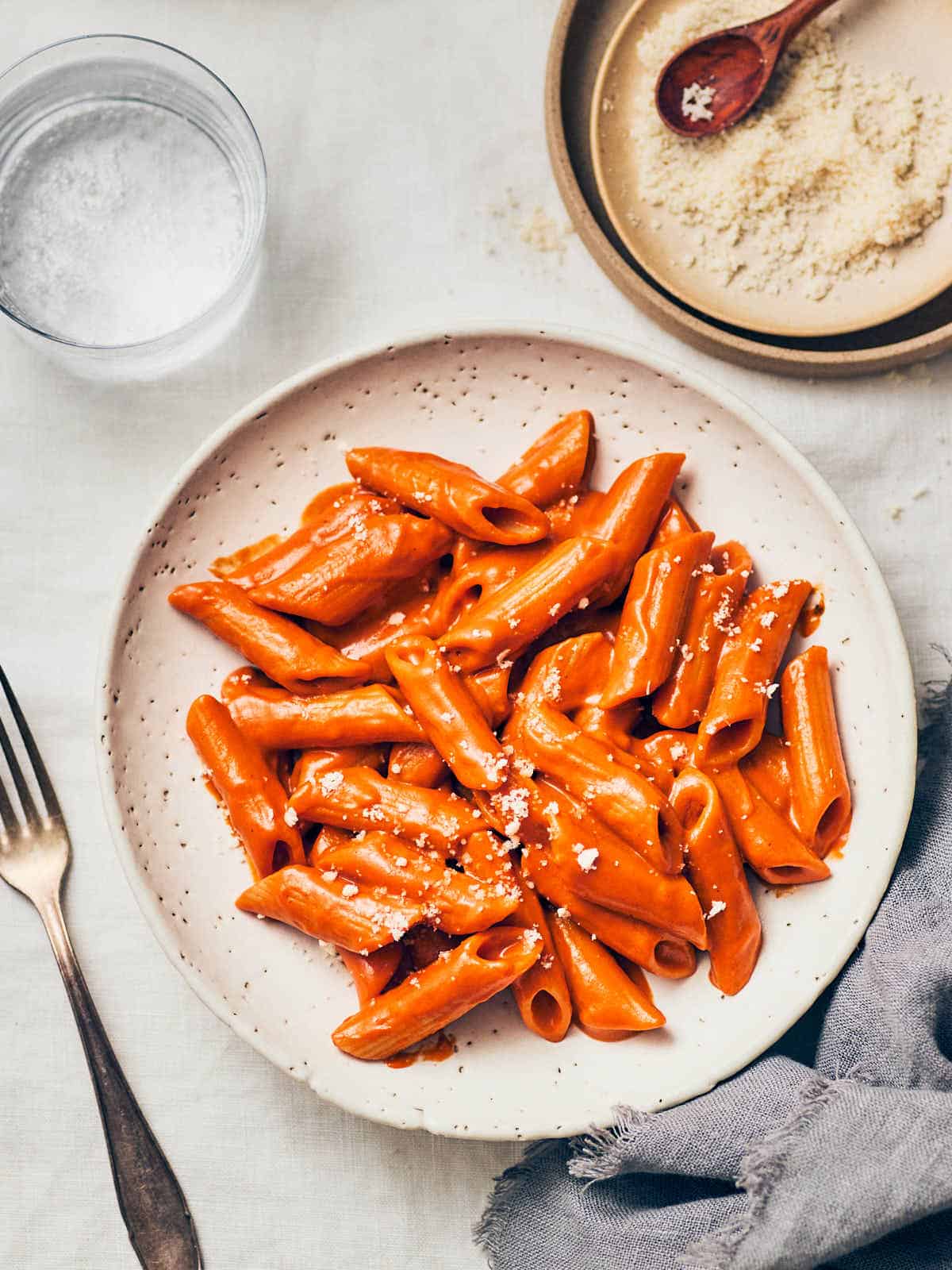 This easy vegan vodka sauce pasta (penne alla vodka) is the perfect weeknight dinner. It's bursting with flavor and made with simple pantry ingredients.