Meal prepping can make all the difference in sticking to a healthy plant-based diet, but it can be time consuming. To make it as easy as possible I've rounded up the best vegan meal prep recipes that take only 30 minutes or less to make!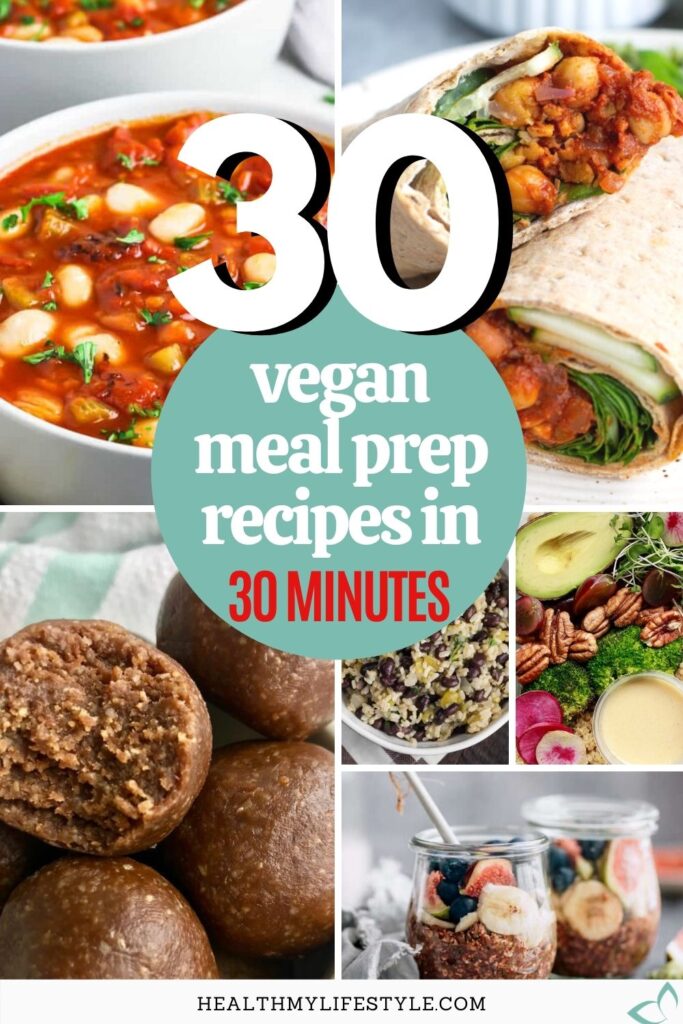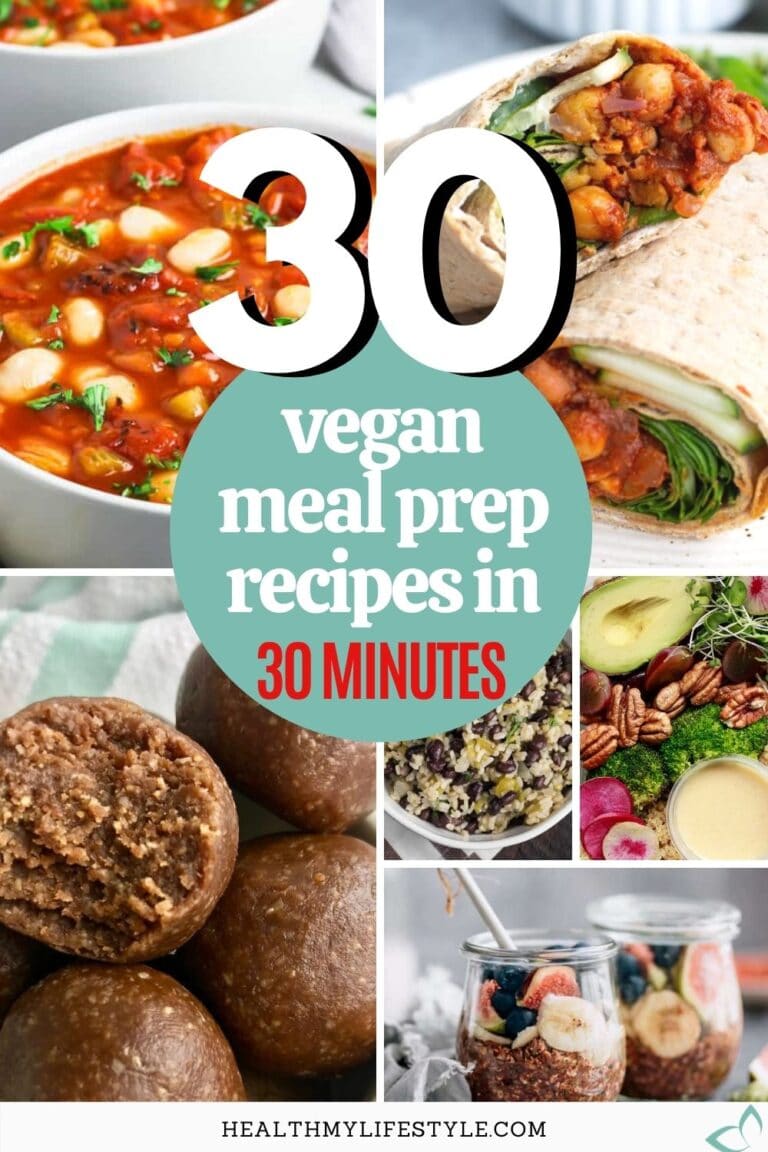 Why Meal Prep?
Meal prepping can save time and frustration later by having meals ready to eat when hunger strikes. Have you ever had a long day and come home to an empty fridge? What do you normally end up doing? I don't know about you but I usually end up ordering takeout. That not only gets expensive but is usually unhealthier than what I could make at home.
With meal prep I have control over what goes into my food. I can make it as healthy or unhealthy as I want. I can tailor it to my fitness goals by adjusting calories to my needs. It takes the guesswork out of what to eat so that I'm more likely to stay on track.
Meal prep is perfect if you are looking to:
eat healthier meals more consistently
reduce food waste
lower your grocery bill
save time in the kitchen
With meal prepping I find that I consistently save money on groceries, save time, and eat more healthy foods on a regular basis allowing me feel my best.
Sometimes vegan recipes can seem complicated and overwhelming. That's why I put together this list of vegan meal prep recipes that are not only delicious but easy to make, requiring 30 minutes or less, and only simple, easy to find ingredients.
Whether you are just starting out on a vegan diet, you are just trying it out for Veganuary, or you've fallen into a food rut, meal prep is a great way to sort out your meals in less time.
Make a plan
In order to get the full benefit of meal prepping, you first need to start with meal planning. Some people may have the gift of throwing together a meal without a plan or recipe but for the rest of us, we need a recipe and a shopping list.
This also ensures that we have everything we need to make our meals by having a detailed shopping list. I hate the feeling of getting ready to cook only to realize I don't have an ingredient. Do you continue cooking, or do you stop and run to the store real quick?
This Vegan Meal Planning Guide for Beginners runs through my whole process of meal planning each week. Learn to meal plan efficiently and get ready to save tons of time and stress each week!
To get you started, I've created some free printables for planning your week and making your shopping list. As you go through these 30 easy meal prep recipes, select the ones you want to make for the week and write them down in the weekly meal planner. Then add the ingredients to the shopping list so you never forget an item.
Lastly, having the right tools can speed up the time I'm in the kitchen which makes meal prep infinitely more enjoyable and less like a chore. Here's a full list of kitchen gadgets I recommend for making vegan cooking a breeze.
RELATED: See which meal prep containers are best for each situation and what to look for when selecting food storage containers.
Breakfast
There's just something about having breakfast ready to go in the morning that makes the day go more smoothly. These recipes are all easy to make the night before or at the beginning of the week to grab and go on those busy mornings.
Find more easy vegan breakfast recipes here
Lunch
These are the perfect meal prep recipes for lunch. Great to pack for school or work or just to have a healthy meal prepared when needed.
Dinner
Dinner is usually the most labor-intensive of the meals—but not these! All of these can be easily batched cook to make several servings for the whole week at once. And yes, they're all ready in 30 minutes or less too!
Find more healthy vegan lunch and dinner ideas here
Snacks
I'm always looking for easy meal prep snack recipes because this is one area where I frequently rely on processed foods. These easy snack recipes will save you the snack stress and stop reaching for the chips.
Find more healthy vegan snack ideas here
More vegan recipe ideas
Looking for more delicious meal prep recipes to make?
Vegan Stews are perfect for meal prep and batch cooking!
Meatless Monday recipes are great for beginners with minimal prep and simple ingredients.
Lazy Vegan Recipes are even easier and take hardly any time at to prepare—perfect for when you don't have time to meal prep!
Pin this for later: